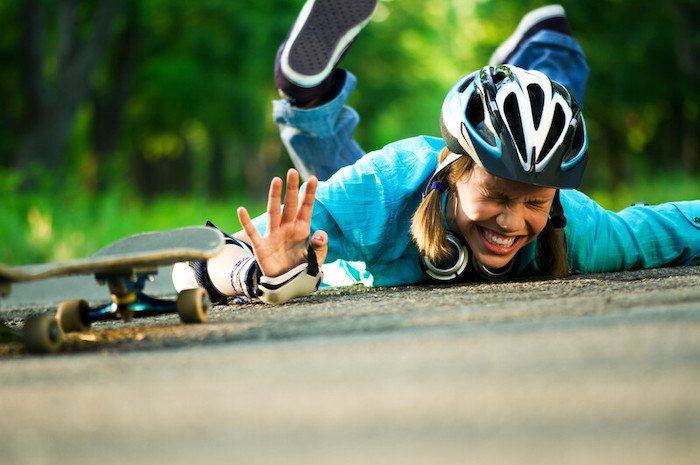 Your website can experience traffic drops no matter how successful it is SEO-wise. The moment you assume you're safe is often when a declining traffic trend starts. It's human nature – we're just more likely to relax when things are going well in our lives. Today I'm going to discuss how to reverse a declining traffic trend.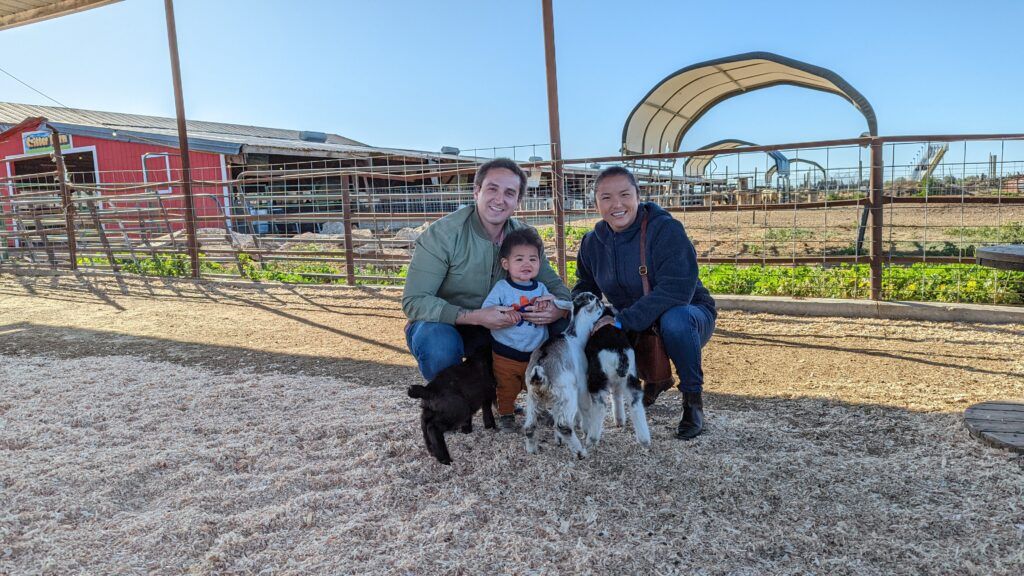 Are You Ready To Work Your Ass Off to Earn Your Lifestyle?
Are you tired of the daily grind? With a laptop and an internet connection I built a small website to generate income, and my life completely changed. Let me show you exactly how I've been doing it for more than 13 years.
Firstly, it's important to gather evidence before creating a plan of action. Have a thorough look at your analytics software, GSC (Google Search Console) or/and Bing Webmaster tools to determine if the decline is truly out of place.
Declines in traffic happen for several reasons, some of which cannot be helped or aren't a huge concern. For example, seasons can have an impact on your traffic depending on the industry. For example, online apparel sales or snow removal services rise and fall with seasonal changes.
Another example may be due to declining popularity of your main traffic pages. If one product review makes up for 50% of your daily traffic, but that product is now "old news", the decline is to be expected.
Once you're certain that the decline is something to be worried about, then it's time to dig a little deeper and hopefully reverse the trend.
Answer: ASDF
asdf
FIND THE REASON FOR THE DECLINE
1. Start From Ground Zero
At times plenty of focus is placed on more complicated SEO activities that we neglect the simple stuff. Audit your on-page SEO to identify problems you can fix by using tools like Screaming Frog and Yoast if you're running WordPress.
You should always start diagnosis at the page-level. Check your HTTP status code. These are standard response codes web servers use to specify the cause of a problem. A status code 200 means that your server successfully processed the given request. Screaming Frog will let you know how your server is responding for each page request.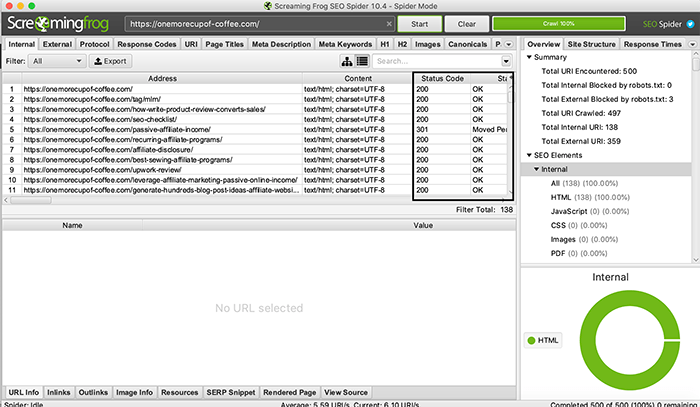 Work to correct any problem you find or reach out to your web developer for assistance. There's usually no cause for alarm if you're getting 200s and 301s unless your server is returning status codes like 404 (page not found) or 500 (server-side error).
2. Have You Made Any Significant Changes to Your Site?
Significant updates to your website such as migration or a complete redesign may impact your SEO negatively. Normally, this is easy to spot as the root cause of your problems since ranking drops occur almost immediately.
That's why it's important to plan out any considerable change to your site. The three most common errors that occur are crawl coverage issues, redirect problems, and broken links. Start by checking GSC for much-needed insights.
Log in and select your domain name from the dropdown menu located on the left. Click on "Coverage" from the left navigation menu. There, you'll find information on how Google is crawling your site and any errors you need to concern yourself with.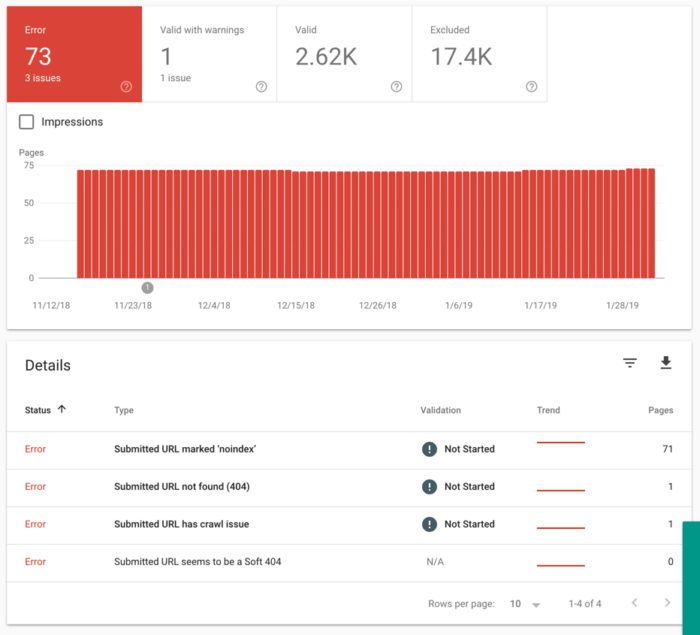 Scroll down to see more detailed data, including status, type, URL, and validation. You can do the same thing or similar to Bing Webmaster Tools.
Fix any broken links you find. They usually appear as 404 errors (page not found). Make sure you're not accidentally excluding important directories or web pages with the Robots.txt file. That file holds important directives that search engine bots use to crawl and index your site.
In addition, ensure your redirects are working. Search engines see every version of your domain as an individual site. This means SSL (with https), the long version (www.mysite.com), and the short version (mysite.com). If you don't know how to check this, ask your host.
If left unchecked, this can cause a flood of duplicate content to appear in the SERPs, especially, when you have a massive website with loads of content. Though Google doesn't penalize duplicate content, having thousands of pages of duplicate content could create a negative user experience and may affect your quality score within Google.
3. Manual Penalties & Security Breaches
Search engines aren't afraid to bring the pain whenever a website is blatantly violating their guidelines without plausible deniability. Periodically check the "Manual Actions" section of GSC. Located under "Security & Manual Actions".
The following are things to look out for if you want to avoid a potential penalty.
Spammy Incoming & Outgoing Links – Whom you link to and those that link to you matter. However, external links from your site matter most in terms of avoiding penalization. Any evidence of paid linking can be cause for de-indexing as far as big G is concerned.
Black Hat SEO – This is the utilization of harmful or spammy tactics to increase one's rankings on search engines. Things like shady redirects, cloaking, and keyword stuffing among others can cause your site to become penalized. Correct course if you're partaking in any of these tactics or similar and your rankings will eventually return. you can send a request for review if you have a manual action notice in GSC.
Spam Generated By Users – User-generated spam happens often but can be avoided, assuming you've got a spam filtering software and moderation process in place. For instance, you can make all your comment links or external links that are in user-generated content pages "nofollow". This will prevent "link equity" from passing through to the site in question.
With regards to security, traffic drops exponentially whenever a website is hacked. Search engines like to return the best and safest web pages for their users. In this situation, contact your web hosting provider to secure your site with security software.
4. Lost Backlinks
Losing backlinks is a natural occurrence that won't affect your sit very much, but if you have any authoritative links pointing to your site that get removed, it may significantly reduce your rank in search engines. What's more, if you are getting referral traffic from that website, you would see a decline in traffic as well.
Use SEMRush to track added and lost backlinks over time.
5. Unfavorable Traffic Trends
Traffic trends are the most common reason I've experienced traffic declines. There are several events which may fall under this headline.
a. Competition: Nothing is static in business, life, or Google. Your #1 spot is not guaranteed, no matter how hard you work. If people are analyzing your website using tools like SEMRush, or using the same keyword tool as you, they will probably discover the same keywords and compete with you for that spot. Check your previously top ranked posts and see if you are still ranked well. You might have been outdone by the competition!
If you're getting outdone by fresh competition, check out this post about comprehensive on-page SEO and this in-depth post about keywords for SEO.
You may also want to look up white hat backlinking tactics. I don't do any of that myself, but things like outreach and link-attraction (creating link-worth content) are decent ways to grow a good backlink profile.
b. Winds of Change: Topics and products go in and out of favor over time. That's just how the world works. If built a crossfit website 10 years ago, you will have most likely seen a decline in traffic over the past decade. It's way less popular now! This can really be fixed by tweaking your niche to include other, trending topics.
Though Crossfit is less popular now, related topics like the keto diet, intermittent fasting, and boutique gyms are as popular as ever.
Don't Freak Out
Whenever you're experiencing a declining trend in traffic, never panic. Instead, investigate the issue and take appropriate actions to rectify the problem. In general, if you follow the best SEO practices and avoid things that violate search engine guidelines, you'll be able to address most declining traffic trends effectively.
What you don't want to do is take big action without understanding the pros and cons. Installing a rogue plugin could hurt your authority. Buying a backlink package could get you a manual penalty. Hiring crappy writers could waste hundreds or thousands of dollars over time as they publish garbage.
There's a lot that can go wrong!
That being said, there's always a solution to every problem. Even if you cannot identify exactly what's going wrong
HOW TO REVERSE THE UNIDENTIFIED TREND
If you really don't know what's going on with your website, there are a few things to do.
Firstly, you need to rule out technical problems. Crack open Search Console. Invest in SEMRush. Consider hiring someone to do an SEO audit. Spending a few hundred or a thousand bucks might save you six months and countless hours/dollars of wasted resources.
Once you can for sure say it's not a technical issue, it's time to get to work.
Your main tool for recovery is going to be content creation. That does NOT have to mean publishing written content 24/7. It just means that you need to think about how to grow your business. What you're doing now either isn't working, or isn't working anymore.
Here are the steps I recommend:
Add more written content to your site
Do keyword research and find new things to write about
Try keywords in a different competition bracket (lower/higher) than you usually do
Start making YouTube videos
Post more on social media (focus on one account!)
Spruce up old content with fresh ideas and new media (infographics, video, original images)
Mostly what I try to do is double down on what seems to be working the moment. Look at your top pages in Google analytics. Pick up to three pages, then brainstorm 10 topics related to those top pages. Not only will you send link equity and traffic to those already popular pages, you'll also signal to Google that you are publishing more on a topic they already consider you an expert in.
Using a similar method, you can look at the "Performance" section of search console to see what keywords you rank for, and which ones garner the most traffic. This data will also indicate which direction you should take your content in order to double down on what's already working for you.
A traffic reversal could take months or years. Check out these two websites below. Both are in the same niche. Both got hit in a 2013 Google update. One spend FOUR YEARS publishing content before he recovered, then surpassed his previous traffic scores. The other gave up.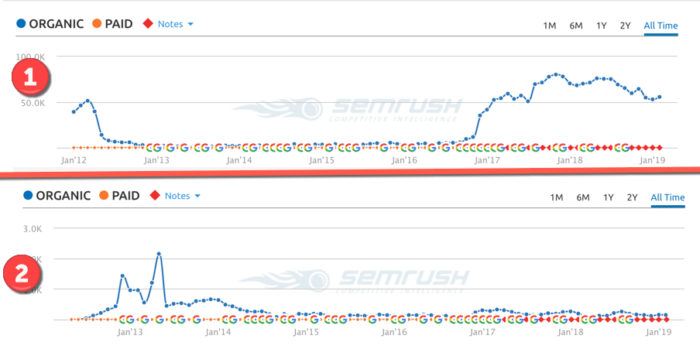 There are always unturned stones. An online business has a million different ways get traffic, so no matter how long or why your website traffic is declining, you an always recover if you put in enough elbow grease.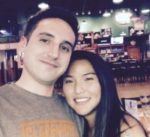 Nathaniell
What's up ladies and dudes! Great to finally meet you, and I hope you enjoyed this post. My name is Nathaniell and I'm the owner of One More Cup of Coffee. I started my first online business in 2010 promoting computer software and now I help newbies start their own businesses. Sign up for my #1 recommended training course and learn how to start your business for FREE!