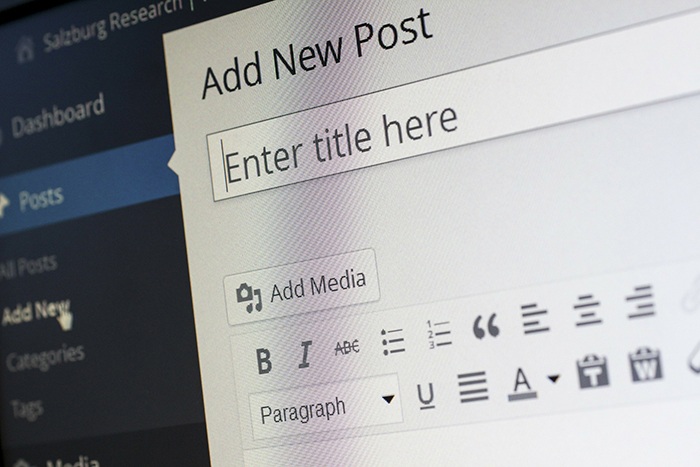 When I built my first website, I browsed WordPress themes for days before deciding on one. It seemed very important to me to get the perfect "look" that would represent my website. Within six months I had changed it several times to something else.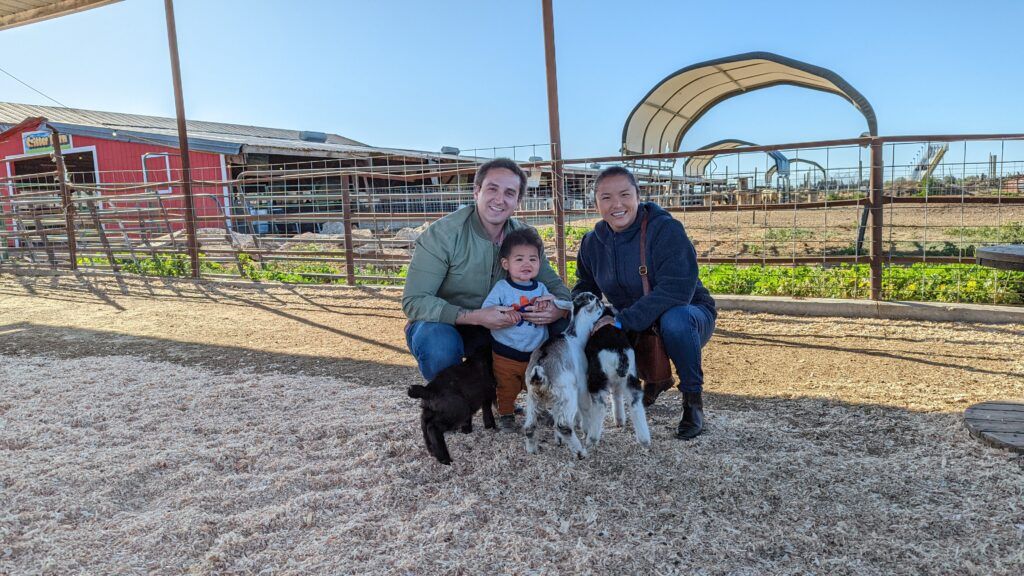 Are You Ready To Work Your Ass Off to Earn Your Lifestyle?
Are you tired of the daily grind? With a laptop and an internet connection I built a small website to generate income, and my life completely changed. Let me show you exactly how I've been doing it for more than 13 years.
Over the next 4 years I changed themes on my main money-making websites 20 times, until I settled on a single Theme creator that I liked. One More Cup of Coffee hasn't changed themes for about 5 years now. Another website I run has had the same theme since inception in 2015.
In other words, not only do I know about changing themes, I know about not changing themes. So will changing your WordPress theme hurt your SEO?
Answer: YEs, changing a WordPress theme can have a large impact on your SEO
If you're running a brand new affiliate site, and haven't started making good money with your business, then don't worry about what a theme change is going to do to your SEO. You've got bigger fish to fry. In fact, if you're still using free WordPress themes, you can improve your SEO simply by choosing a reputable theme creator like StudioPress, WooThemes, Elegant Themes, or Thrive (there are hundreds of others out there).
If you're making that move, throw caution to the wind, upgrade, and enjoy your rank boost. Most of the time, in most cases, you'll be fine.
However, if you've got a website that gets traffic and makes makes money, you need to take some serious precautions before changing your theme. They are not difficult to do, and the extra hour or two of work will be well worth avoiding the headache of doing your theme change willy nilly.
Because each theme is coded differently, there's always some chance that something doesn't transfer properly during the switch over. There are some things you should keep an eye on, because some overlooked problems could cause you major issues.
Covering Your Bases (Back Stuff Up!)
Though it's avoidable, the truth is changing your WordPress theme can cause technical SEO problems. So here's how to not to screw things up! First off, make sure to save everything how it is now, just in case you need to revert back to it later.
Hosts such as Kinsta do this for you, but you can be extra precautious by doing your own backups.
Transfer Your SEO Settings
The first thing you should do is check to see if your theme or a WordPress plugin handles your settings for SEO.
While some plugins like Yoast allow you to transfer your SEO settings via its import/export capabilities, others may not. If you use Yoast like many others, here's the process.
On your WordPress dashboard, look for 'SEO' and then click 'tools'. This will bring you to the import/export feature.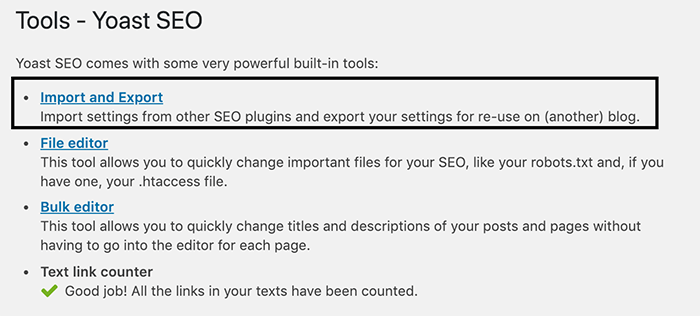 Most of the time, you won't need to do this. This is just a precaution in case a theme overrides your SEO settings. For example, StudioPress has their own SEO setup native to their themes. However, once you install an SEO Plugin like All in One SEO or Yoast, their SEO settings become passive to let the plugin take over.
It's not unreasonable to believe that a less experienced developer could create a theme that is not so passive, and may tweak your SEO Plugin settings!
Speaking of StudioPress and their native SEO settings, one big problem could be that the SEO settings will not transfer to the new theme. Since you're not using a plugin, the new theme simply won't know what's going on with your SEO. If this is your current situation, you can use the SEO Data Exporter plugin to preserve your settings. Even so, make sure to go over the checklist below.
Back up Your Website/Installation
Ensuring that you've got a back up of your WordPress installation is a must before proceeding! Your goal is to back up the main directory and database files. There are two primary ways to do this.
The first option is to use CPanel (web-based hosting control panel) to manually compress and download a copy of your blog directory and database records. If for whatever reason you don't have access to CPanel, don't fret it.
There's plenty of plugins out there that'll help you back up your data if you look for them. This is option 2.
If your website turns out funky after the theme installation, you usually have enough time to just reinstall the old version of your website before google notices any changes.
How Changing Your WordPress Theme Can Hurt SEO
After the switch is done, it's time to investigate. If you have the technical knowledge, you can look at websites currently using your theme of choice and check out their SEO. Most of you will not have these skills, so you'll need to just go off of the theme creator's reputation, then double check this after install. Here are a few things to look for:
1. Speed
How fast is your new theme going to be compared to what you have now? Unclean/bulky programming, heavy use of JavaScript and large images, just to name a few, can slow down a WordPress theme!
Fast speed is better for visitors. Before downloading and installing, look at how the theme demo site operates. Are there lots of sliders and animations? You might want to opt for a simpler theme. Most of the razzle-dazzle websites out there eat up a ton of resources. Visitors can get over a "boring" website as long as the info is good. If your site looks cool but takes forever to load, that's unforgiveable.
Normally, if you purchase a premium theme, you'll be fine in the speed department, but not always. Check your speeds before and after installation of the new theme on gtmetrix.com or Google Pagespeed Insights.
2. URL Structure Changes
The URL structure of your new WordPress theme matters because it can impact SEO negatively. Are tags, categories, pages or posts content properly handled?
For example, an SEO-friendly theme wouldn't separate posts and pages (i.e. blog/post/content-name or blog/page/content-name). Instead, pages and posts would be handled at the root level of your blog installation (i.e. blog/content-name).
Also, just double check that the URL structure is the same when you switch to a new theme. There have been a couple times where changing a theme messes with my permalink structure. One time I switched from having categories be mywebsite.com/category/seo into mywebsite.com/seo. Because I like to link to category and tag pages, it made my 404's shoot up, and I had to go back and manually edit each of those links.
3. Structured Data Problems
Structured data is additional Markup language that's added to HTML with the purpose of helping search engines understand web pages better. In addition, they're used to generate rich snippets.
Here's a quick example of a review snippet.

There are still lots of themes that don't come with structured data support. Many won't come with integrated support for star reviews or recipes, but they should be able to display things like author and publish date. Look for this in a WordPress theme before you buy. Usually, if structured data support is available, it would be listed among its features or benefits.
4. Check Your Images
Make sure your images are still showing properly. Open an incognito window and clear your cache on your site. URL structure changes, or theme settings can cause some images to display incorrectly or not show up at all.
For example, if you're offloading images to an AWS server instead of your WordPress host, the new theme may not activate your AWS plugin right away, meaning your image URLs won't show images properly.
5. Check Your Plugins
Sometimes themes and plugins don't play nicely. Even if both are updated and "working properly" according to the developers, unknown bugs and conflicts can come up. Installing a new theme puts you at risk for running into problems. I have one great theme that simple does not work with YARRP, so I had to give up that plugin after the changeover. Realistically, the plugin wasn't that important to me as the theme, so I just dealt with this issue by uninstalling the plugin.
6. Check Your Tracking Tools & Header Code
Changing over a theme could erase anything you've placed in the header. Having tracking during this time is going to be important so you can monitor any progress up or down in terms of traffic. If you start to to see a huge drop0ff of visitors, and you know your tracking is working properly, then you need to hurry up and investigate why you're leaking visitors.
7. What About H1 Title Headings (and others)
As mentioned in my SEO checklist, headings (h1-h4) can be very important for SEO. Google looks at the structure of your headings to tell what's the "main title" versus what are lesser-topics within that larger topic. For example, your post with an h1 title called "How To Take Notes In College", with an h3 title called "Finding The Right Paper For Your College Notes" signals to Google that the main topic is taking notes in college, and the subtopic is finding paper – not the other way around.
If you're working with excellent themes, then this hierarchy probably is not an issue. With free themes, who knows what these guys are doing sometimes, so you probably want to investigate your source code on the page to see if your titles are still h1 as they should be.
How to Keep Your Rankings The Same
Realistically, you won't have to do much to keep your rankings the same during a theme change. Most of your work will just be to take some precautions (like backing up your site), and double checking everything is working after the changeover.
If you're currently using a premium theme, I highly recommend not going back to using free themes. Take some of that income from your business and reinvest it into a $100 WP theme. If you're currently building your site on free themes and don't want to mess with basic SEO junk, buying a premium theme can automatically take care of many of the SEO issues of free themes. StudioPress is my recommendation. I use it on all my sites.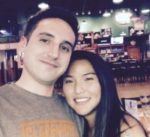 Nathaniell
What's up ladies and dudes! Great to finally meet you, and I hope you enjoyed this post. My name is Nathaniell and I'm the owner of One More Cup of Coffee. I started my first online business in 2010 promoting computer software and now I help newbies start their own businesses. Sign up for my #1 recommended training course and learn how to start your business for FREE!