Product Name: Affilorama
Product Owner: Mark Ling
Price: $67/month
Other Costs: $97, $197, $997
Rating: 74/100 68*/100
*See updates below for details
What Is It?
It's a membership site designed to teach you affiliate marketing.
Short Review
An honest site, good training, mostly legit info, and it provides much more value than most internet marketing products.
However, it's way over priced, teaches some outdated techniques, the community is not very active, and support is very limited compared to alternatives.
Before You Buy
The first thing we need to understand is how Affilorama is actually structured. It's gone through a number of changes in recent years/months, and most current reviews do not reflect these changes.
The website is also set up in a very confusing way, dividing features into different packages, making it a little difficult to understand which one we really need to buy to get started making money.
A regular (free) membership Affilorama will get you access to some training videos, a members forum, and their blog which appears to be written by members. There is a lot of information just on the free version, but I found that it's a bit jumbled (discussed below)

Affilorama Premium is $67/month and is what I consider to be the "main feature" of this company. There's a 30 day trial for $1.
Affilotheme which is a premium WordPress theme used to be available for $97, but now seems to only be available as part of the Affiloblueprint package.
Affiloblueprint is $197 for lifetime access and this is the step-by-step training course for newbies.
Affilojetpack are pre-made niche websites with content included, email swipes, and other ready-made material. It's $997, and you should stay away from this one.
What I Liked
Though I have a lot of criticisms of this program which I'll discuss below, overall, I think this is a legit program. Mark Ling really lays everything out before you join, and this sets him apart from 99% of the "gurus" out there. Ling has a good reputation and his affilo-stuff has been around since 2005 (or 2006 depending who you ask).
Most products in this industry don't last more than a year.
The site is member focused, includes a somewhat-active forum, and is constantly changing over time, rather than a static PDF or video series that can stale with time.
I think the main thing I liked about Affilorama was the way many of the videos were set up, with bulleted overviews, high quality voice overs, and scripts you can download for each video. I know a lot of folks are on limited internet connections and video training isn't always the most convenient.
Free Membership
There's quite a bit available on the free membership. Actually, I joined the $1 membership several months ago and just yesterday I was still able to access the forum, at least 30 training modules, the official blog, and quite a few other things including hour long webinar sessions.
I don't agree that all of the free training is actually good, but it's there, and if you're on a shoestring budget, something is better than nothing.
Premium Membership
Unfortunately, I found the premium membership to be very disappointing, but one thing I did like was that there were some training videos on product creation. I don't actually think that product creation is as easy or profitable (compared the amount of work required), but I know that some online marketers prefer this kind of work to affiliate marketing (which is what I do).
What I Didn't Like
Premium Disappointment
I was shocked to see how little was available in the premium members area. Actually, I'm convinced I missed something. I only found 19 videos in the "Premium Vault", 7 of which were about product creation, and the others seemed to be randomly collected and not part of any comprehensive course.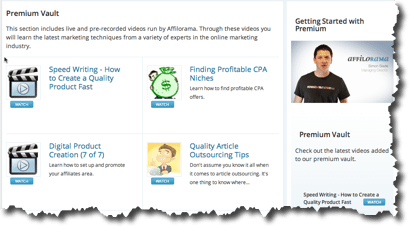 There was only one previous issues of the premium "magazine", with the next issue coming out in November (not even a monthly mag)
Hosting was kind of ridiculous as well. Though hosting is included in my membership, I'm limited to 15 domains, and there are limitations for each domain.
Not only that but there's no website builder, so you are going to have to figure out FTP right from the get-go. FTP isn't that hard, but for a beginner, it can seem like rocket science (I've been there).
Member Activity
One of the main appeals of joining a membership site like this is getting help. There definitely are some active members, and even some moderators to help with answering questions.
But from what I could see, there didn't seem to be a whole lot of activity going on.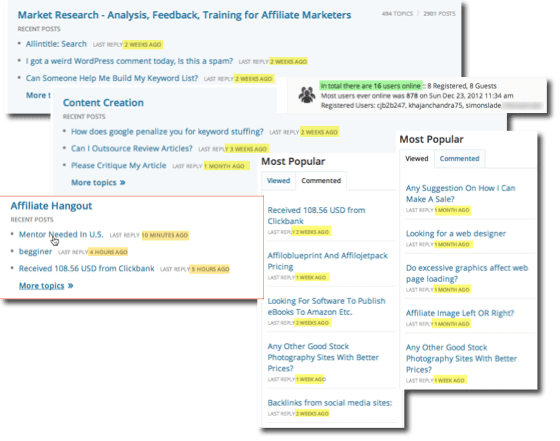 There are some instances of posts being replied to within a few hours, but most activity seems to be over several days, even weeks or months old. I was on the site one evening and saw that there were only 16 members on!
And although this is just my own personal opinion, the posts I looked at didn't seem to be too insightful or warranting a discussion.
I got the feeling that this was a "great idea" that never really took off.
That's A Bad Idea #1: Copied Content
A huge issue with the training that you will see discussed on other reviews of Affilorama is the use of PLR content and backlinking strategies.
Because it sounds like an "easy way" to create an online business, many people try to avoid the work of creating helpful, interesting content and just copy it from other places. True, there are legit ways to copy content, but they rarely result in a legitimate, long-term business.
One of these ways is PLR content. It stands for Private Label Rights and means that you can take content from a source labeled as PLR, change it in any way you see fit, then use it as your own.
The trouble with that is multifaceted. One, everyone has access to the same content. Two, the content is usually written in a very generalized way that is neither interesting nor helpful to the reader. Three, because it's not unique content, it's very hard to rank.
So at the end of the day, if you are going to spend enough time to research and re-write these things so they are unique, interesting, and helpful, you might as well not use them and just write 100% original content.
The other way to copy content is curation. By curating, you are taking other author's work (that allow you to do so), and providing a link back to the original source. In essence, you become an "authority" on a topic by collecting legitimate information on that topic.
However, when you copy a full article, there is little chance that you will get ranked in Google for that content. No rank means no traffic. If you copy just a small bit and write your own commentary on it (as curation should be), you still have to write unique content!
The Affilorama training makes it sound like this is easy to do and will make your job as an online marketer less difficult. That's far from the truth. Using content in this manner adds a new level of difficultly versus just writing the damn thing yourself.
That's A Bad Idea #2: Backlinking
Internet marketers can talk until the cows come home about backlinking strategies but at the end of the day, Google explicitly says that artificial link building is against their TOS and it will eventually get you in trouble.
Gurus went on and on about the benefits of Private Blog Networks. Countless products were released, talking about the ranking revolution, and how it was easy getting to the #1 spot with PBNs…until they were reindexed last month and anyone that used them was penalized.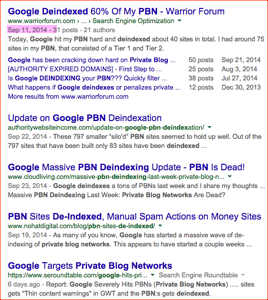 I have personally grown One More Cup of Coffee to 3,000 visits per day without a single backlink, so I have my own proof that links are not necessary to build a traffic generating website that produces income. It takes longer, but it also lasts longer too.
And by the age of the training on backlinks in Affilorama, I wouldn't trust it for a second.
Fees
$67/month is pricey considering that there are several other choices of memberships that offer cheaper monthly subscription. $47/month and $37/month are common. So what makes this site worth $20-$30 more per month?
From what I see, not a whole lot.
I very much dislike the way the membership fee doesn't get you access to all the tools. I'm already spending money to pay for a membership to your site, and now you're using that membership to sell me more stuff?
Not only that, but that stuff is going to cost me $200-$1000?! That's a bit cheeky IMO. OK, so the pre-made niche sites in Jetpack aren't necessary, but it's absurd that they are charging another $200 for the Affiloblueprint when in reality, it's just more training.
In total, if you buy all they have to offer you're going to be spending over $2,000 for your first 12 months of business operation. That's certainly a lot less than most brick and mortar businesses, but it's a helluva lot more than the $359 I pay.
Other Notes Worth Mentioning
Why is beginner training talking about URL canonicalization? (confusing)
Affilojetpack niches are very limited in scope
Can you really build a profitable "business in a box"? (Affilojetpack)
Would rather by a trusted Genesis WordPress theme for $100
Why pay for analytics in Affilotools when you get Google Analytics for free?
Major Update 2015
I used to recommend Affilorama without hesitation, but I received an email today that really disappointed me. It was a promo for Anik Singal's Profit Academy. This irritates me on two levels. One, Singal is a serial product creator with history of selling expensive junk touted as "private coaching". I would not purchase anything with his name on it just because of his history of internet marketing "guru-ship".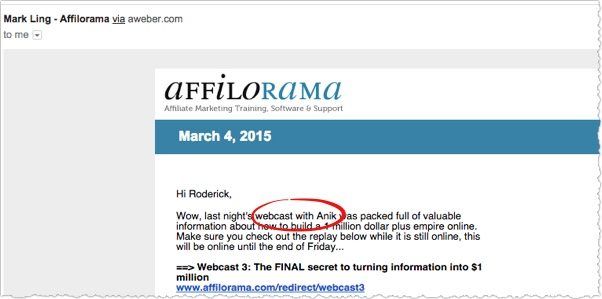 The other thing is that if this company is charging you so much money for tools already (that I believe are too expensive), why are they now promoting ANOTHER product that will cost you $3,000! Wouldn't they rather you spend money on their tools, or improve their service some way to make you a happier customer?
Nope. Instead, they send out an email promotion for "last nights webinar", although it's a standard recording (advertisement) that Singal uses for promotion of Profit Academy anyway. Really crappy move Mark.
Final Review
I could go on an on about minor issues I have with Affilorama like how it's very Clickbank focused, confusing to navigate, not frequently updated as it should be, and that Mark Ling continues to promote OTHER products on his email list (in addition to his own).
In a nutshell, I feel that Affilorama is OK training, but way overpriced. It's certainly not worth a recurring fee, let along $2k in total expenses.
High priced items require leap of faith. Website is in pieces and confusing rather than "all in one".
What Now?
When talking about membership sites that teach you how to build an online business, it's impossible to not compare them to WA. Some comparisons are listed above, but here are my favorites to emphasize.
$67/month vs $47/month
$2000 vs $359 + $11 (domain name)
Limited hosting vs Unlimited Hosting
Forum vs Live Chat
No 1-on-1 support versus personal access to SEVERAL successful internet business owners
If you are serious about building an online business the right way, there's no better option that Wealthy Affiliate. It's where I learned to build my first website, it's how I became a full time online marketer, and it's where I offer my personal support to those that want to do the same.
Have you tried any Affilo-Products? Let me know your thoughts below!

What's up ladies and dudes! Great to finally meet you, and I hope you enjoyed this post. My name is Nathaniell and I'm the owner of One More Cup of Coffee. I started my first online business in 2010 promoting computer software and now I help newbies start their own businesses. Sign up for
my #1 recommended training course
and learn how to start your business for FREE!

Latest posts by Nathaniell (see all)