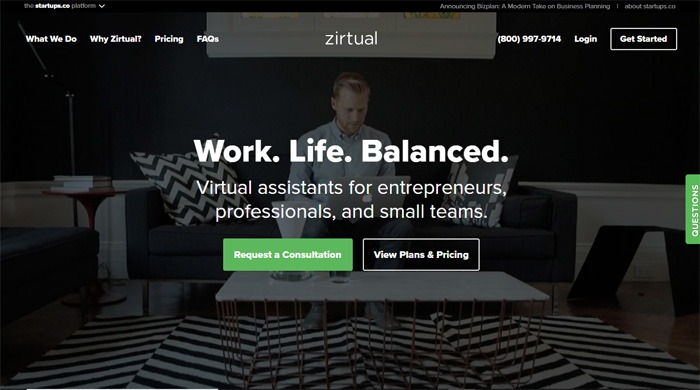 I have done a lot of research for ways to make extra side-hustle cash online. But in all of my experience, I have never seen anything quite like this. Can you really make money working for Zirtual.com?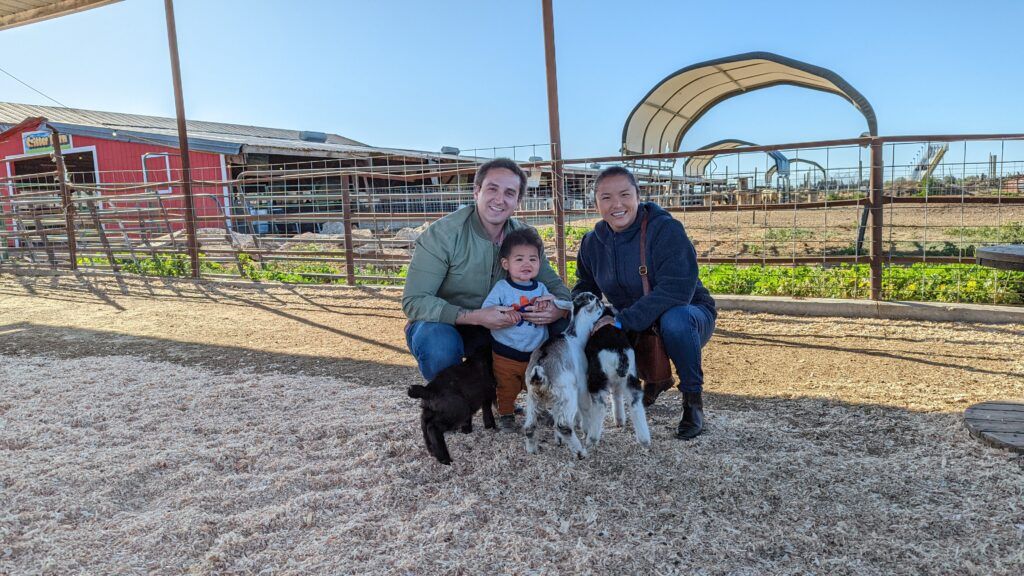 Are You Ready To Work Your Ass Off to Earn Your Lifestyle?
Are you tired of the daily grind? With a laptop and an internet connection I built a small website to generate income, and my life completely changed. Let me show you exactly how I've been doing it for more than 13 years.
If you have ever heard of Upwork.com, you probably know that they offer all kinds of opportunities for freelancers to network with the types of people who hire freelancers. Well, Zirtual is almost kind of a little bit like Upwork.com, in the sense that they offer business owners, companies, and entrepreneurs a way to save money by providing virtual assistants.
These virtual assistants work remotely and can help to take a pretty large portion of work off of your docket for you, allowing you to focus on other things. And the best part about it?
Well, they offer this service at a pretty low cost. It absolutely costs less to hire a virtual assistant through Zirtual.com than it does to hire another employee… and that is the advantage of using it.
You can get virtual assistant work on Upwork.com… but this is a whole new level of fancy that Upwork can't really match!
I took a look at it to see if it might prove to be a legitimate way to make some side hustle cash. And as it turns out, it just might be. Here are the details.
Making Money With Zirtual.com
Let's take a look at how Zirtual.com works. The website has this statement printed in the center of their landing page.
"Work. Life. Balanced. Virtual assistants for entrepreneurs, professionals, and small teams."
There are also two buttons where you can click to either request a consultation, or view plans and pricing.
If you scroll down a bit, you will find more information about what the service actually does. To be super simple about it, they basically provide remote assistants that you can hire for a certain number of hours each week.
They also offer a lot of incentives beyond just providing an assistant. Here are just a few of the 'extras' you get for choosing to go through Zirtual.
Your virtual assistant will be a smart, highly trained US-based individual who you delegate tasks to
All assistants go through a rigorous, multi-step vetting process that tests their communication skills, tech skills, creativity, resourcefulness, etc.
All VAs provided by Zirtual are college-educated
The company hires less than 2% of applicants. That is how dedicated they are to providing quality assistants!
If you, for any reason, do not feel like your assistant is a good fit, all it takes is one email to the company to get assigned a different assistant.
They offer starter services as low as $398 a month. That is literally just $100 per week—which is much less expensive than hiring a new employee
So where does the 'make money' part come in? Well, as it turns out, Zirtual.com hires remote assistants for their service… and that is where the potential to make extra money exists.
But be forewarned… not only does this company hire only a small number of those who apply, but they also have some stringent requirements. You must be college-educated, for example. You must also be able to put in scheduled hours… which makes this job less of a freelancing job.
As far as I currently understand it, this is actually a full time gig with regular hours, where you get off on weekends and holidays, and are expected to show up every morning (virtually) to work for your clients.
Here are a few more of the details.
Working For Zirtual.com
You can find the jobs section on Zirtual.com by going to Zirtual.com/jobs. Here is a screenshot of the top part of that page, and then a shot of the lower part, where you can see a more complete list of the job openings available on the website.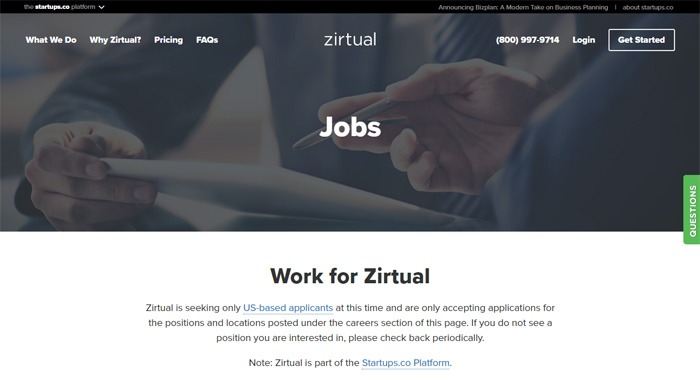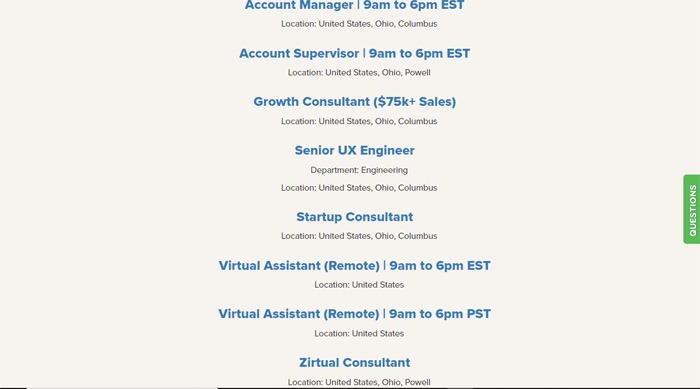 So here, you can see that there are actually quite a few jobs being offered on the site as of this current moment, though it is also still important to keep in mind that not all of these jobs are 'remote jobs.' Some of them are based in Ohio, while others are remote and available to workers anywhere in the US.
I clicked on the 'Virtual Assistant (Remote)' job description just to see what it said. Here is what I found.
Becoming A Virtual Assistant On Zirtual.com
When you click on this page, you will be taken to the Startups.co career page. Here is a screen shot.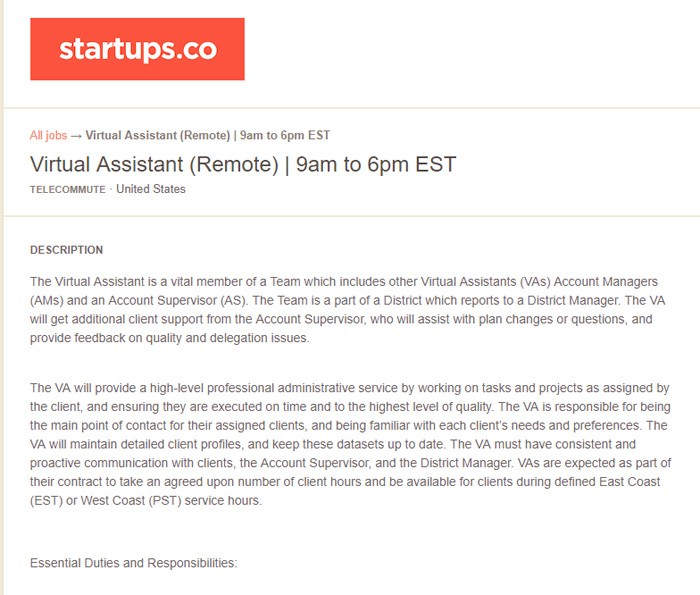 This page pretty much gives you everything you would need to know about becoming a virtual assistant on Zirtual.com. We have already discussed some of these details… but of course, there are actually more of them being offered here as well.
For instance, I found a more complete qualifications list. Here are the details.
Qualifications…
Must have an associate's degree or higher
Must have a minimum of 1 year of administrative experience
Must have experience with Google Suite, Google Calendar, and Microsoft Office
Must be able to use task management programs like Asana and Trello. Must also be able to use communication programs like HipChat and Slack
Must have a reliable internet connection
Must be able to type at least 50 words per minute and be accurate
Must be able to pass background and reference checks
Must be available 9 am to 6pm EST, Monday through Friday
But how much do you earn as a virtual assistant if you decide to work for Zirtual.com?
I was actually surprised to learn that Zirtual makes this information easy to find, right at the bottom of the job listing. They say that they compensate their assistants as 1099 contractors, and that their rates average between $13 and $18 per hour, depending on 'client mix and utilization.'
There is also a button at the bottom of this screen where you can apply for the job.
But now that I had done the research, I was left to figure out if this is actually a good opportunity for someone wanting to make some money. Here is what I ended up thinking about it.
Is Zirtual.com A Good Website To Check Out If You Want To Make Some Extra Money?
First of all, I should point out that my goal in all of this is to track down quality side-hustles that can help to make people like you and I some sweet extra cash on the side. So with that in mind, let's now talk about Zirtual.com.
Zirtual.com is a really cool website, and their company fills a very crucial and important need. There are a lot of professionals who could use a good assistant, but who do not necessarily have the funds, resources, or opportunity to find and hire another full-time or part-time employee.
So with that being said, Zirtual.com is an awesome idea for those types of companies.
Now, with that being said, I do feel like there are a few things that need to be clarified. For one, this is not really a side-hustle opportunity. This is actually a full-time opportunity for the right people… that pays anywhere from $13 to $18 an hour.
That is not a bad hourly wage for an assistant. I live in a smallish town, and I know a LOT of people with jobs that are way harder than this who make less than $11 an hour. So in the grand scheme of things, Zirtual.com is doing a pretty good job of offering this opportunity to the right people.
But… there is also not really the opportunity for any kind of 'benefits package' with this job either. I am not sure if there is any opportunity for advancement… but if there is, they do not make mention of it. There is also no 401K or health plan. They also pay you as a contractor, so they don't even take taxes out.
So yeah. This is not really a side-hustle, but a full-time gig—and even so, I am not sure that it would make the best long term gig for everyone.
But… the great thing about it is that it is remote. It also pays pretty well, so you can find some serious opportunity with this job if you want to live a life of freedom, where you are not tied down to a certain location. Also, being able to work from home is a definite plus.
My Personal Feelings About Working For Zirtual.com
Personally, I do not think that I will be applying to work for this company, because I am looking for a side-hustle—not another full-time gig. But if I were looking for a full-time gig, then this job would certainly catch my eye, no doubt!
Our Final Opinion Of Zirtual.com
Should you apply and try to work for them to make some extra money?
There are a lot of ways to make money online. Some are good, some not, but ALL of them are still just trading hours for dollars.
Starting your own affiliate website really is the best way to build passive income and "make money while you sleep". Affiliate websites earn income in every timezone, and can be instantly accessed by billions of smartphones across the globe!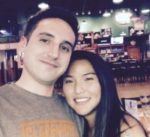 Nathaniell
What's up ladies and dudes! Great to finally meet you, and I hope you enjoyed this post. My name is Nathaniell and I'm the owner of One More Cup of Coffee. I started my first online business in 2010 promoting computer software and now I help newbies start their own businesses. Sign up for my #1 recommended training course and learn how to start your business for FREE!