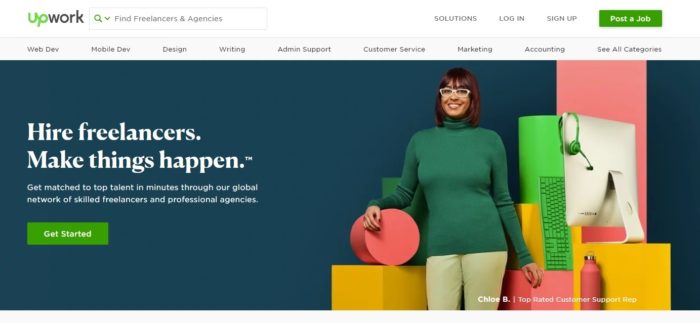 Upwork.com is one of the biggest online freelancing marketplaces in the world. It was created when Elance and Odesk merged… combining to form one of the largest freelancing sites to ever grace the internet. I have a deep level of experience with Upwork, and know a lot about its upsides and downsides. Let's dive into it. Can you really make money on Upwork.com?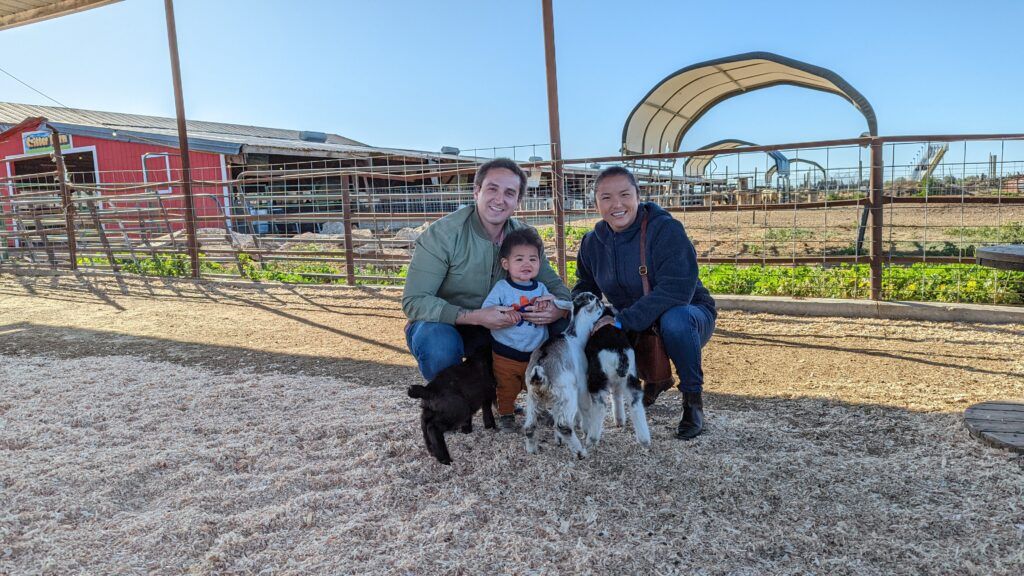 Are You Ready To Work Your Ass Off to Earn Your Lifestyle?
Are you tired of the daily grind? With a laptop and an internet connection I built a small website to generate income, and my life completely changed. Let me show you exactly how I've been doing it for more than 13 years.
Let's talk about it.
How You Make Money On Upwork.com
First of all, Upwork.com is probably best known as a freelancing space for writers.
But there is a lot more going on with Upwork than just freelance writing work!
Take a look at this long list of categories.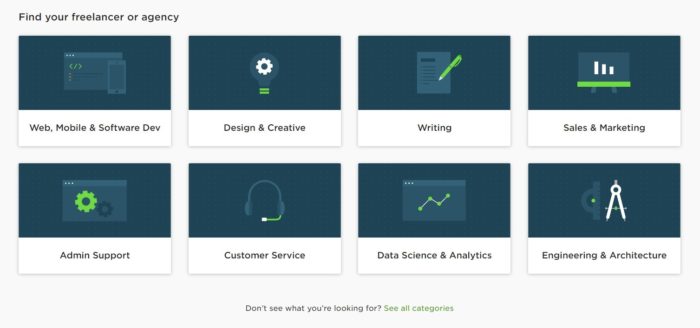 There are all kinds of things that you can do to earn money on Upwork.com.
Plus, there are a lot of quality freelancers and jobs on it… which is good.
And one of the great things about it is that it has a pretty good reputation for providing quality freelancers, which is really good for professional freelancers who are looking to get their foot in the door.
Of course, there are some downsides to it as well. But let's go ahead and talk about using the site from the ground up.
Building A Profile On Upwork.com
Building a profile on Upwork can actually take a little bit of time… which is a good thing.
There are a number of steps that you will need to go through.
You will need to write a blurb for your profile, list your work history, record your level of education and where you obtained your degrees/diplomas/certifications.
You will need to upload work example items for your portfolio. You will also need to list your skills, provide information for financial/tax document purposes, and also verify your identity through Upwork, among other things.
Uploading a photo should be one of the final touches you put on your profile. Providing a professional-level photograph is a fantastic way to stand out and showcase yourself as a high-value member of the community.
Bidding Jobs On Upwork
Upwork.com basically utilizes two different types of projects.
Hourly Projects
Contract Projects
If you work by an hourly rate, you simply bill clients for the number of hours work, and are then paid for them.
The only downside to hourly projects is that you are not guaranteed to receive payment unless you use the Work Diary with screenshots.
You can manually edit the work diary without bothering with screenshots… but if you want to do things this way, you will need to be sure that you clear it with your client first, as some clients don't like doing things like this.
Contract work is pretty simple. Here are the steps involved in bidding, and completing, contract projects.
You browse through jobs on Upwork
You use your purchased Connects to turn in a bid… or, turn in a bid for free if you were invited by a client
If you are selected for the job, the client will fund the milestone for the project… and it will begin
You complete the work in the amount of time specified
Once the client receives the work and determines that it is acceptable, they release the funds from the escrow and you are paid
Both the client and the contractor are expected to leave feedback for one-another
Feedback is one of the better features on Upwork, because it really helps to showcase which freelancers and clients are highly rated.
You can also look for 'Top Rated' badges on freelancers to find the best freelancers on the marketplace.
If you earn one of these badges (you get them by fulfilling certain criteria within the community), you will be much more likely to get invited to new projects… and will also usually be considered more seriously for any projects you bid.
How Much Can You Earn On Upwork.com?
This really depends on what your specialty is. But an analysis that was conducted back in 2017 shows us that there are most definitely some lucrative gigs on the freelancing platform.
Here is some of the data.
Network Analysis can earn you as much as $200 an hour
Computer Vision, a subset of AI development, can earn you $145 an hour
Programmers can earn as much as $140
Intellectual property law experts can command an average of $120 an hour
Freelance jingle writers who practice 'ad lyrics writing' can make an average of $100 an hour
There are definitely more gigs on Upwork than just freelance writing.
But of course, these high-payout gigs don't always come easy.
What is the key to earning big money on Upwork?
Being amazing at your craft.
The Key To Making More Money On Upwork.com
There are a lot of articles, blogs, and videos out there dedicated to the idea of earning more money on Upwork.
As a general rule, you can reduce a lot of it down to a few basic recommendations. You can…
Put more effort into crafting awesome proposals
Be communicative with clients and return messages promptly
Listen carefully to instructions and do your best to deliver the job perfectly the first time
And perhaps most importantly, you can do your best work with every single job
A lot of freelancers actually struggle on that last one. They put so much energy into bidding, charging, and making money that they put their craft in second or third place.
But the key to being a successful freelancer is definitely to take your craft/skill seriously.
The more mastery you have in your craft, the better your projects will be… and the more you will get paid for them.
So rather than having a money-first mindset, try to have a mindset of how can I make this project the best project I've ever completed?
This attitude will actually take you a long way. There are few things as awesome as a freelancer who takes their work very seriously!
So prioritize your end product/service, and the money will certainly come!
Don't Take Things Too Fast
Another mistake that freelancers make is that they tend to take things too fast when they first get started.
They get so eager to earn bigger and better jobs that they rush through things, burn out, and get discouraged when their career doesn't move as quickly as their ambition!
On Upwork, it can be easy to get discouraged when you don't land the big jobs right away.
But part of succeeding on a freelance platform like Upwork is to take it slow… completing one job at a time. If you have to, do it on the nights and weekends while you are still working your day job, as this will give you time to build up your skills and your clientele.
If you've never freelanced before, Upwork can give you a HUGE opportunity to get your foot in the door, get experience, and start your own career.
The Only Major Downside To Upwork.com
The only major downside to Upwork are the fees… which have actually gone up over the last few years.
They use a sliding scale fee system for freelancers, and you pay fewer fees based on consistent contracts that pay a certain amount over time. Here are the rates.
$0-$500: 20%
$500.01-$10,000: 10%
$10,000.01 or more: 5%
The fees are actually pretty excessive on projects under the $500 mark.
One very cool new feature that Upwork has recently added, however, is called an "Upwork Opt-Out Fee."
This fee allows you to pay a certain amount and 'opt out' of being required to process payments via Upwork.
This could be very cool for people who want to avoid the fees… though it also takes away from the payment protection programs that Upwork has in place.
That is one of the best things about Upwork… they really do protect freelancers from getting ripped-off on projects.
They offer all kinds of payment protection to help you avoid getting taken advantage of. This brings not only a lot of peace of mind, but also general safety to the game for freelancers.
In Conclusion
At the end of the day, Upwork is a massive platform. It is highly competitive. But if you are great at your craft, take pride in your work, and specialize enough to niche yourself down to a certain market… there is a lot of money to be made!
As with anything, it takes time, dedication, and commitment to make it work. But if you can stick with it, keep leveling-up your craft, and continue improving… you can meet some excellent clients on Upwork, and form some awesome relationships.
I've seen freelancers find amazing, long-term work on Upwork… work that has literally changed their careers.
It may not be for everyone, but Upwork is most definitely an option if you want to try your hand at freelancing.
Our Final Opinion Of Upwork.com
Should you try to make money on Upwork.com as a freelancer?
There are a lot of ways to make money online. Some are good, some not, but ALL of them are still just trading hours for dollars.
Starting your own affiliate website really is the best way to build passive income and "make money while you sleep". Affiliate websites earn income in every timezone, and can be instantly accessed by billions of smartphones across the globe!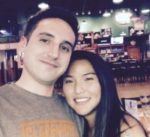 Nathaniell
What's up ladies and dudes! Great to finally meet you, and I hope you enjoyed this post. My name is Nathaniell and I'm the owner of One More Cup of Coffee. I started my first online business in 2010 promoting computer software and now I help newbies start their own businesses. Sign up for my #1 recommended training course and learn how to start your business for FREE!