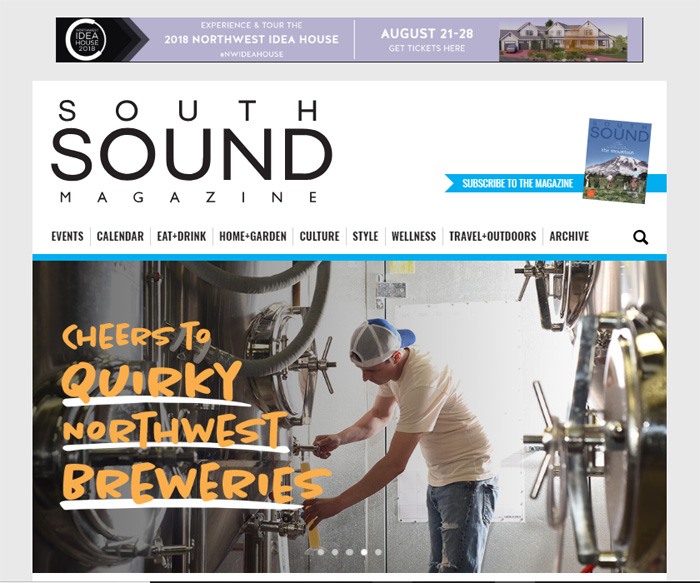 I found this site while looking for interesting online magazines to pitch to. Lately, I have been pretty invested in the idea of freelance writing as a side-hustle, and that is what brought me to South Sound Mag. But can you really make money writing for SouthSoundMag.com?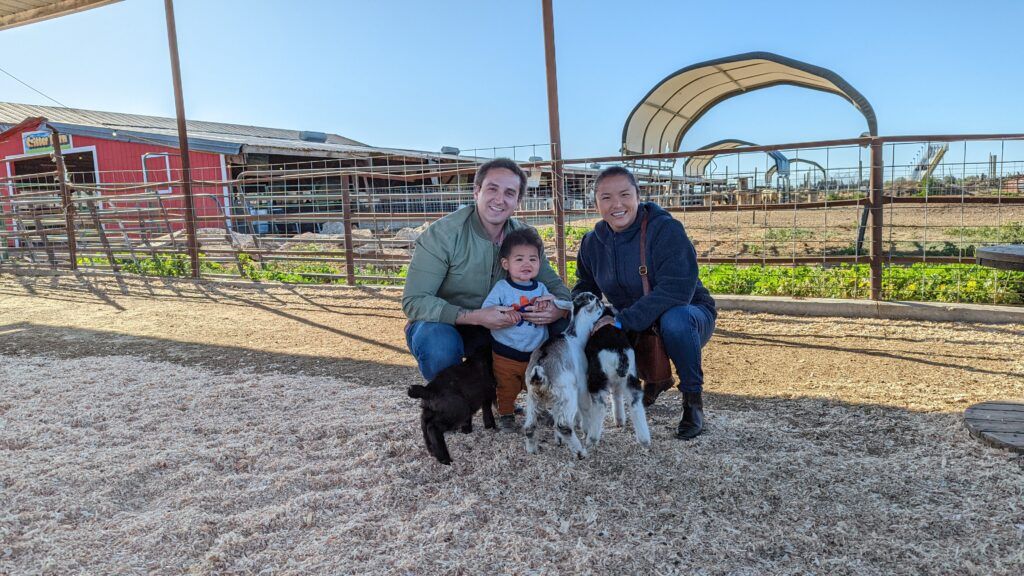 Are You Ready To Work Your Ass Off to Earn Your Lifestyle?
Are you tired of the daily grind? With a laptop and an internet connection I built a small website to generate income, and my life completely changed. Let me show you exactly how I've been doing it for more than 13 years.
There are a lot of websites out there that offer to pay freelancers for content—but not very many of them are actually worth pitching to. A lot of them don't pay very well. And the ones that do are often very competitive.
The way the online marketplace is sitting right now puts freelance writers in high-demand, mostly because well-written content is almost essential to the success of most websites. But make no mistake—that doesn't mean that you can always make easy money as a freelance writer!
Because for every website willing to dole out some cash for an article, there are dozens of eager writers waiting to pitch content! So if you want to make some extra money as a writer, you are going to have to navigate the 'already-saturated' waters of the content marketplace—and that is what I have been working on lately.
My goal has been to find the perfect freelance writing opportunities online. Ideally, I want to find quality publications that are not already over-saturated with writers. I also want to make decent money writing, because that is the side-hustle that has my attention right now.
I can tell you right away that SouthSoundMag.com has a lot to offer writers, but let's take a step back and get a better picture of the site as a whole first.
Making Money Writing For SouthSoundMag.com
Let's start by looking at the site itself. According to the 'About Us' page, South Sound Magazine is 'the only lifestyle publication exclusively for the South Puget Sound.'
South Puget Sound is at the southern edge of Puget Sound in Southwest Washington, in the Pacific Northwest region of the United States. The publication covers material like local personality profiles, beautiful homes in the region, gardens, dining experiences, ideas for local entertainment, etc.
The magazine is bi-monthly, and is printed as a high-quality, full color newsstand publication. But from the looks of it, they also keep things hopping on the website as well—and I will admit that this is what I was more interested in.
Their content seemed pretty fresh to me. They seem to publish new articles at least every couple of days, and the design of the site itself was really nice.
It absolutely had the look of a professionally-managed lifestyle blog, without a doubt… complete with the vivid photography to go along with the many features displayed on the landing page.
Next, I decided to read through some of their content, just to get an idea of the kind of quality that they usually publish. As a freelance writer, it is important to familiarize yourself with the kind of content that a website publishes if you plan on pitching to it.
Here is what I found.
Checking Out The Content On SouthSoundMag.com
The first thing that I realized about this magazine was that their articles actually covered some pretty major news. I also noticed that the content was very top-notch. It was lifestyle and news content, pure and simple… but it was exquisitely done.
This one review of a local restaurant I read stood out in particular. It described a local eatery called Stanley & Seafort's, and the writer (Shelby Rowe Moyer) did an outstanding job of recording the experience.
So yeah. If you plan to pitch to this site at all, you are most certainly going to have to bring your A-game to the table.
It is also possible that you are going to have to be familiar enough with the region to be able to write with authority—because with the way things were currently looking from my perspective, most of the content on this site seemed to be written by people who were either living in the area, or at least visiting and writing about their experiences.
So now, I was definitely interested in learning about what it takes to write for this site. Do they require you to live in the area?
If not, then I was certainly interested in taking a shot at pitching to them—though I will admit, it would be difficult to compete with the kind of content being published when I didn't live in that specific geographic location.
That's the thing about lifestyle blogs and magazines. They are usually pretty focused, and require quite a bit of first-hand knowledge and experience. And blogs or magazines focused on specific locales usually require a pretty intimate knowledge of the area.
But I was still interested in seeing what it took to possibly become a writer for SouthSoundMag.com. Here is what I discovered.
Writing For SouthSoundMag.com
Finding the page dedicated to writers interested in pitching to the site was actually a bit of a challenge. I was unable to find it through the landing page, so I had to utilize the on-site search function and search for the word 'write.' This brought up the page pretty easily though, so all was well on that end.
Here is a screenshot of what I found once I arrived there.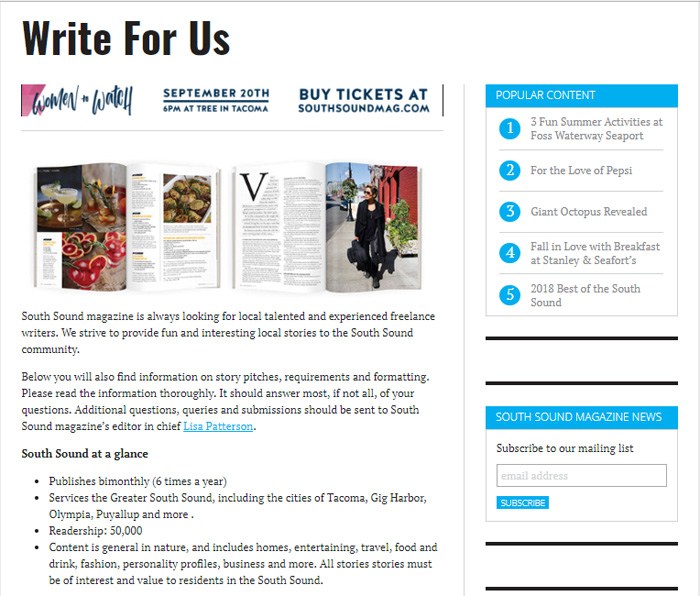 The very first thing I noticed was that South Sound magazine 'is always looking for local talented and experienced freelance writers.' Yes, I will admit that while this did excite me for those of you who could potentially contribute, my heart also broke a little bit as I am not a local. I live in the Midwestern U.S., and would have to drive or fly quite some distance to make it anywhere near this locale.
Oh well.
The good news is that writers who do live in that area have an excellent advantage and opportunity to pitch to SouthSoundMag.com. And this page was pretty informative in describing exactly what the magazine is looking for in a writer.
Here are just a few of the facts that I discovered while browsing it.
They want local writers
They want fun and interesting local stories for the South Sound community
They include complete requirements for formatting on their website
They tell you exactly how to pitch to them, which is awesome
They publish their in-print magazine 6 times per year
They service a readership of about 50,000
For in-print content, they are accepting 400-800 word submissions, and 800-2,500 feature articles
They also accept pitches for the blog hosted at SouthSoundMag.com
They pay a flat fee instead of by the word, though payment differs with the content
Contracts are issued on an individual basis
Checks are usually sent out within the first week of the month of publication
I will admit that I was impressed with how much information they provided. I always feel better pitching to websites that really make it a point to spell out exactly what they are looking for—and SouthSoundMag.com certainly did this.
Some Tips About Freelance Writing
It is important to understand that, while freelance writing can be an awesome side-hustle, it is not always easy. You will likely face rejections early-on in your career, but this can be overcome with time, practice, and dedication.
You might not make much at first either. But the longer you stick with it, the better you will get.
You will also make a better name for yourself as you write and get published, and will find that the more you get your name out there, the more you will get paid.
My Personal Feelings About Writing For SouthSoundMag.com
The first and most obvious requirement of this site is that you need to be able to write about it from a local perspective. So unless you currently live in South Puget Sound or plan to visit in-person, this is probably not the publication for you.
From the sound of it, there is a lot of potential for work here, as they need content for both their in-print magazine and their online blog.
So for the right writer, this publication actually presents an opportunity for repeat work—which is awesome on just about every level!
Repeat work is kind of the 'golden egg' for freelance writers. If you want to get paid to write content, there isn't really anything better than landing a gig that will give you consistent work and the potential for regular income as a result of it.
With that being said, you are going to have to be a relatively skilled and accomplished writer to get published here. Even the blogs published on this site are awesome—and their in-print is obviously going to be equally as polished, if not even more-so.
They doubtlessly know what they are doing, so if you want to impress them with your pitch, you are going to have to dig deep and give it some real effort.
You won't get rich writing for SouthSoundMag.com, but it definitely offers the opportunity for some awesome side-hustle cash! And hey… who can scoff at that?
If you're not in the right geographical area, there are other local opportunities that you can check out, like The Sacramento Press, Metro Parent and High Ground News.
Our Final Opinion Of SouthSoundMag.com
Should you pitch to them and try to earn some extra money as a freelance writer?
There are a lot of ways to make money online. Some are good, some not, but ALL of them are still just trading hours for dollars.
Starting your own affiliate website really is the best way to build passive income and "make money while you sleep". Affiliate websites earn income in every timezone, and can be instantly accessed by billions of smartphones across the globe!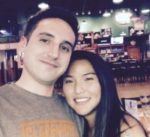 Nathaniell
What's up ladies and dudes! Great to finally meet you, and I hope you enjoyed this post. My name is Nathaniell and I'm the owner of One More Cup of Coffee. I started my first online business in 2010 promoting computer software and now I help newbies start their own businesses. Sign up for my #1 recommended training course and learn how to start your business for FREE!