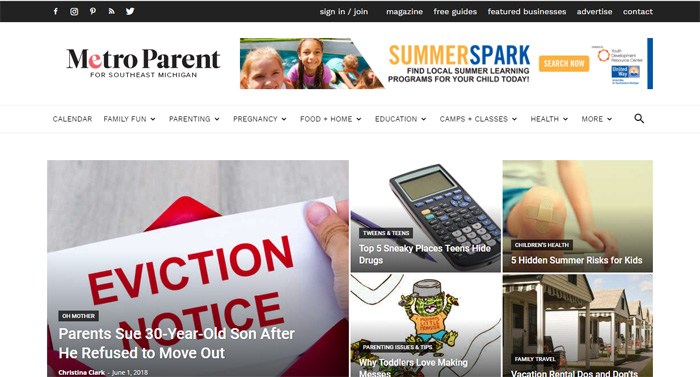 This website is said to pay writers who are willing to cover 'local' parenting topics in southeast Michigan. But can you really make money writing for the MetroParent website?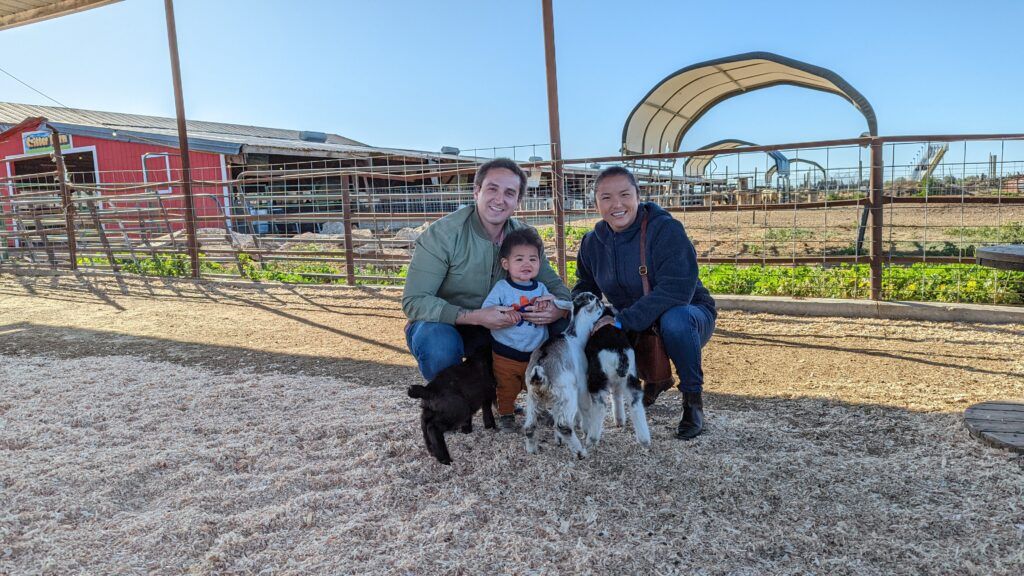 Are You Ready To Work Your Ass Off to Earn Your Lifestyle?
Are you tired of the daily grind? With a laptop and an internet connection I built a small website to generate income, and my life completely changed. Let me show you exactly how I've been doing it for more than 13 years.
Writing-for-hire, as a freelancer, is an ambitious goal for many… and writing content for websites can be an excellent way to get this process started.
This is, in fact, the idea that brought me to MetroParent.com.
Making Money Writing For The MetroParent Website
Before we get underway with MetroParent itself, let's talk a little bit about the idea of writing to make money.
If you follow much of my content here, you probably already know that I am a big fan of the 'side hustle.' I believe that, in most cases, you need to have more than one stream of revenue coming in if you really want to achieve financial freedom… and side hustles are a fantastic way to supplement your income with other opportunities.
And writing can actually make a pretty awesome side-hustle!
In fact, writing for websites has thus far made me more money than most of my other side-hustles put together, though it is also true that writing takes up quite a bit of time. It is flexible, though… and that makes it a bit unique.
Another great thing about writing is that the demand for it is growing as the internet grows. Every day, new websites are popping up and taking up a portion of the market share. But in order to compete, these websites need quality content, both for SEO purposes and to gain the attention/trust of potential customers/readers/visitors.
And that makes the freelance writing market a booming industry. Of course, as quality goes up, and as competition becomes more 'stiff,' the need for higher-quality content increases… but this is a good thing.
This means that writers who pay their dues and learn the craft can stand to make some real, measurable income doing what they love to do.
But what about MetroParent.com?
Word on the street is that this website will pay writers a handsome amount for contributing articles (that is, as long as the articles are accepted and published).
But is it worth a try?
Here is what you need to know.
My First Impression Of The MetroParent Website
My first impression of this website was actually pretty positive. It has a very 'magazine-style' feel to it, and everything looked like it was put together well.
They seem to mostly post content related to parenting, and actually really corner their market by advertising their services as specific to 'Southeast Michigan.'
I read their latest posted 'headline' article as well, just to get a feel for the quality and style of the content. It was a nice little piece that had a lot of personality. I rather liked the 'candid' style that it presented.
Of many of the websites that I have looked at with the intent to possibly submit articles to, this one was probably one of the more 'interesting' that I have looked at based on just the style of the content alone.
I was actually quite entertained by the posts I read on MetroParent.com.
But do you have to literally live in Southeast Michigan to be a part of this website as a writer? This was a pretty important question, in my opinion… so I decided to investigate further.
Writing For MetroParent.com
Under the 'More' menu tab along the top of the page, below the header, you will find a 'Writer's Guidelines' page. This is the page I visited to learn more about the possibility of contributing to MetroParent.
Firstly, I learned that this company also publishes a print magazine that drops monthly in the counties of Macomb, Oakland, Washtenaw, and Wayne in Michigan. So with this in mind, I could see why it would be important to be familiar with the parenting scene in that area.
With everything that I have read thus-far, it seems like this publication takes the specificity of their target audience pretty seriously. So if you are not able to literally cover the metro Detroit and/or greater Ann Arbor areas specifically, then this is probably not the gig for you.
This was a bit of a downside for me, as I do not live in that area and would probably have a difficult time writing genuine, useful, informative content about it. Thankfully, there are plenty of location-specific sites that you can write for, like The Sacramento Press, South Sound Magazine and High Ground News. There are bound to be others too. The trick is to look for opportunities in your area.
But… with that being said, there might be ways to write about topics that are more general. I am just not quite sure how likely it would be that you would actually get it published.
At any rate, let's move on.
As far as prices for content go, here is a screenshot of what they pay out for content.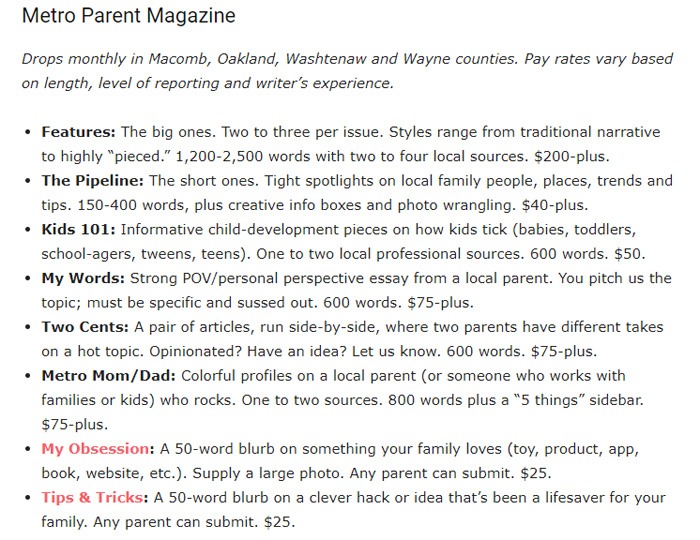 As you can see, they do a pretty good job of specifically telling writers how much they can expect to earn. Obviously, writing for this magazine pays pretty well… better than average, even.
They encourage anyone planning on submitting content to grab a copy of their print magazine first. They also encourage you to look at their website and read some articles there, just to see what kind of 'style' they usually go for.
This is always a good idea, no matter what publication you are submitting to. But I was glad that they included this information here and made mention of it.
It might be worth mentioning that the prices given in the above screenshot are for the magazine. They pay a bit less for posts that get published on the website, but this is also understandable. As a general rule, magazines often do pay a bit more.
This publication also maintains an editorial calendar that gives writers examples of the 'focus points' that they would like topics to center around, which is also extremely helpful. For example, the topic of the month of June for 2018 was 'Summer Fun, Parties.'
Obviously there is some fluidity here, but this is helpful because it shows writers exactly what the site is looking for.
And finally, it is also worth mentioning that they maintain a pretty awesome FAQ section on their website that helps writers to understand their guidelines.
My overall opinion of MetroParent.com, after looking through all of this information, was that they seemed to be a pretty awesome publication that has obviously been doing this for quite some time. They seem professional and like they are very on-top-of-it, and I found this all quite impressive.
My Personal Feelings About Writing For MetroParent.com
Obviously, there are some upsides and downsides to considering this website as a possible candidate for article submissions if you are a freelance writer.
The most notable thing to take into account is that the website is based in the Detroit/Ann Arbor area in Michigan. So if you do not live in or around that area, you may have some trouble appealing to their reader-base as well as they would like.
This is especially true if you are trying to get a gig writing for their magazine, which is the gig that pays the most.
You may also have a bit of trouble submitting to this publication if you are not super keen on parenting news stories/issues/culture, especially as they relate to the geographic area that the publication is targeting. This site obviously takes their target audience pretty seriously, so this is a crucial detail that will doubtlessly come up if your pitch isn't really 'on point' with what they are wanting.
At the end of the day, however, I really liked this website, and I think that they publish a pretty awesome magazine. Personally, I will not be pitching to them, as I live in a different part of the country. But I do feel like writers who fit more into the target demographic could benefit greatly from trying to pitch to them.
Of course, attempting to write for any publication can lead to rejection. But then again, if you can't face rejection, being a writer may not be the best vocation choice for you—as even the most accomplished writers have been rejected many, many times in their career.
The best key to success for writers is just to keep writing, and not to stop. Don't stop writing, don't stop pitching, don't stop trying to better your skills, and don't stop trying to be successful.
Yes, you are going to have some rejected pitches, but you can't look at these as failures. Instead, try to learn from them and make your content better in the future.
If you can keep this kind of positive mindset at work for you, then you most definitely have a chance at succeeding in the long-term writing game. And submitting to websites like this can help you to accomplish your goals.
You won't get rich if you pitch to websites like this, but websites like this can also help you to make ends meet while you continue to better yourself and your craft… and that is what side-hustles are all about!
Our Final Opinion Of MetroParent.com
Should you try to write for this website and make some extra money in the process?
There are a lot of ways to make money online. Some are good, some not, but ALL of them are still just trading hours for dollars.
Starting your own affiliate website really is the best way to build passive income and "make money while you sleep". Affiliate websites earn income in every timezone, and can be instantly accessed by billions of smartphones across the globe!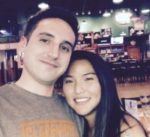 Nathaniell
What's up ladies and dudes! Great to finally meet you, and I hope you enjoyed this post. My name is Nathaniell and I'm the owner of One More Cup of Coffee. I started my first online business in 2010 promoting computer software and now I help newbies start their own businesses. Sign up for my #1 recommended training course and learn how to start your business for FREE!