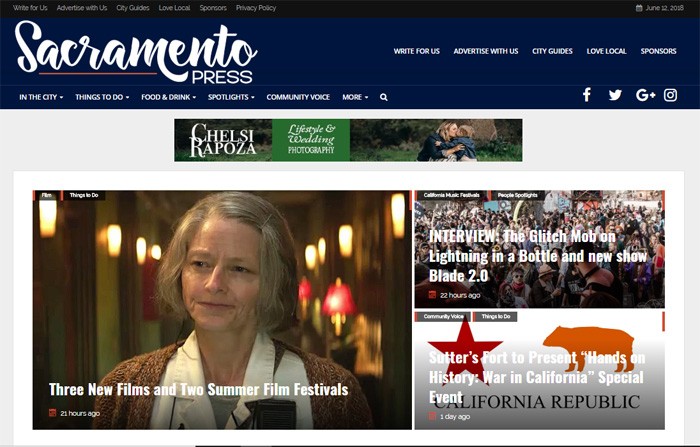 I found this website as I was researching ways for freelance writers to make money. It was included in an online list of publications that pay for freelance work, though if I am not mistaken, they advertise that they usually look for regular contributors… which is kind of the 'golden egg' that most freelancers look for.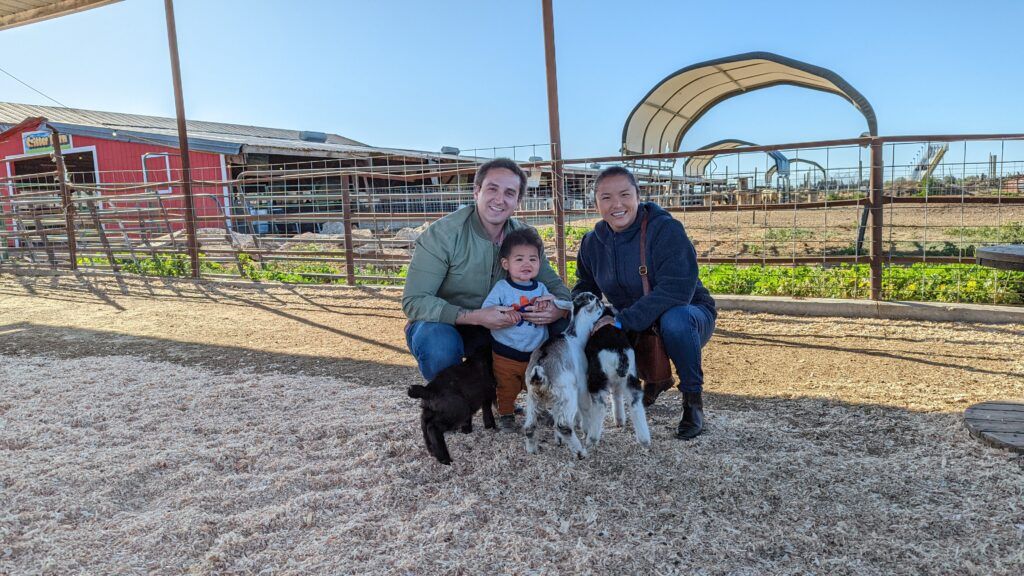 Are You Ready To Work Your Ass Off to Earn Your Lifestyle?
Are you tired of the daily grind? With a laptop and an internet connection I built a small website to generate income, and my life completely changed. Let me show you exactly how I've been doing it for more than 13 years.
But can you really make money writing for the Sacramento Press?
Making Money Writing For The Sacramento Press
I have been doing a lot of research into freelance opportunities lately, and have been busy compiling a list of potential sites to look for. And along the way, I have decided to go ahead and review these sites for other writers here, as I know that I am not the only writer who is always on the lookout for the next great 'side hustle.'
The simple fact of the matter is that writing for one single website is almost never enough to equal a stable income, even if it is a side-income.
But writing for multiple sites can be a way to counteract this imbalance, hence why I am compiling a 'list' of freelancing sites that will pay you to do freelance work for them (that is, if your submissions get accepted).
And Sacramentopress.com seemed to be a pretty cool site, so I decided to take the time to look into it.
If you are a potential freelance writer looking for a flexible, yet profitable writing gig, here is what you need to know.
The Basics: What Is SacramentoPress.com?
Sacramento Press is pretty much what you would expect it to be. It is a Sacramento-based online newspaper that covers local news stories in an effort to keep their readers 'connected' to what's happening in the city.
They say in their bio that their aim is to 'spur interest in the local businesses, events, and people that make the community of Sacramento unique.'
My First Impression Of The Website From A Design Point-Of-View
From a design perspective, I liked how this website looked. It had an attractive blue header, nicely laid-out graphics, and the articles were laid out in a way that was very clean and professional.
There were some parts of the site that verged on feeling 'cluttered' to me, but all things considered, I felt like this publication is doing a good job of keeping things organized and neat.
I will also say that I was impressed with the quality of some of the photography. I am not completely sure if they are stock images or if the paper takes their own photos, but I was pretty impressed with this aspect of the site. I will also say that there were far fewer banner ads than I imagined there might be—and that is always a good thing!
The Quality Of The Content On SacramentoPress.com
As a freelance writer, there are two reasons why it is important for me to check the quality of the work coming out of this publication.
On one hand, if I take pride in my ability as a writer, it is important for me to check out the quality of the content on any site that I may want to pitch to, because if they do publish something of mine on their site, it will probably be there forever. So it is important that I only get published with websites that I really feel good about.
And secondly, it is important for me to see what kinds of content the site usually publishes. What style do they prefer? What is the general tone of most of their content? What kinds of stories do they like? How do they like their articles to be structured and formatted?
These are all questions that you can ask the editor—but you will get very usable information if you also commit some time to reading the site itself. In a very real sense, there is no way around this. If you want to contribute some content to a website, it is in your best interest to see what they usually publish.
So, needless to say, I dedicated some time to reading a few articles on SacramentoPress.com.
And here is what I found.
The first piece I read was more of an event press release than anything. But still, it was quite well written, and conveyed the story quite nicely. Even though it was only a 2 minute read, I found myself interested in it… and I don't even live in Sacramento!
The next piece I read was a 'what to do in Sacramento' type post, and it was also very well done.
I was picking up on a pretty common theme here though. I was beginning to notice that it might be really difficult to write for this company if you don't live in Sacramento, and I am not sure if this is a requirement for them—but it almost seems like this is a publication that requires so much local knowledge that I would probably avoid pitching to them unless I was literally spending time in Sacramento.
But, with that being said, I was also interested in seeing if this was, indeed, a requirement… so I decided to take a look at their writer's guidelines next.
Here is what I found.
Writing For The Sacramento Press
The 'write for us' tab was located at the very top of the website, as the first option in the header menu tab.
Upon clicking this link, we were taken to this page.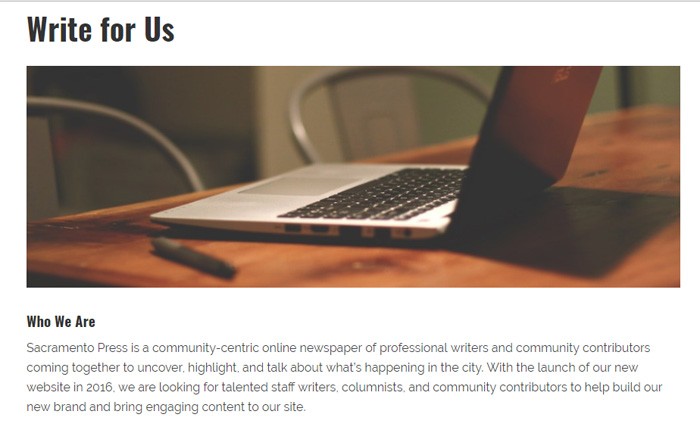 This was only the very beginning of the 'write for us' page, but it still shows us who Sacramento Press is, and also shows us what they are looking for. They are a 'community-centric online newspaper of professional writers and community contributors' who work together to talk about what is going on in the city of Sacramento.
I learned quite a few details on this page, so let's talk about those for a bit.
First of all, I learned that there are basically two different types of writers on the Sacramento Press. There are professional writers, and there are community contributors.
The professional writers are freelance writers who contribute to the publication on a regular basis, while community contributors are members of the local community who contribute articles, either on a singular or regular basis, about their opinion and/or perspective on things happening in the city.
I also learned that, as of the time that this was written, the publication was looking to add both types of writers to their team, which is pretty awesome. I also learned that they only accept community contributor requests from locals. But from the sound of it, you are not 'required' to be local to be a freelancer.
There is a bit of a submission process for those wishing to become writers with The Sacramento Press. You basically need to email them, sending a bio, a resume, writing samples, and a pitch for either a story or an entire new column.
Community contributors can simply look at the Community Contributor page on the website to find out how to get involved. It is a pretty simple process, though, and basically involves emailing the site editors with some basic information about yourself.
My Personal Feelings About Writing For The Sacramento Press
Personally, I liked this website. I really liked their content, I liked how they had it all set up, and I liked the opportunities that they offer writers.
Granted, they do not list a 'monetary amount' that writers can make writing for them on the website, but as I research more and more sites like this, I am beginning to realize that the more 'professional' ones don't list such information as often.
So yeah. I am pretty cool with checking it out without knowing this specific information. Everything else seems to be on the up-and-up, and I actually feel like they do an awesome job of keeping everything easy to understand for any potential writers who might want to apply.
I really like the fact that they want to hire regular freelancers. Finding regular work in this industry is golden, so that is most definitely something to keep in mind.
If you are a freelancer who is interested in finding some quality work for a quality website, then I would certainly keep SacramentoPress.com in-mind… though also keep in mind that they want content that is pretty specifically centered around Sacramento.
If you cannot write about it without living there, then you will either need to be living there to apply for the job, or maybe let it go to someone who may be better-suited to write content for the local area.
But… then again, you never know what could come from applying and giving it a try. You may prove to be a perfect match for the job!
There are also other local sites to consider if you're not in Sacramento. Examples include the South Side Magazine, High Ground News and Metro Parent.
Our Final Opinion About SacramentoPress.com
Should you try to freelance write for them to make some extra money?
There are a lot of ways to make money online. Some are good, some not, but ALL of them are still just trading hours for dollars.
Starting your own affiliate website really is the best way to build passive income and "make money while you sleep". Affiliate websites earn income in every timezone, and can be instantly accessed by billions of smartphones across the globe!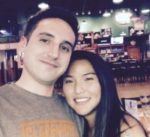 Nathaniell
What's up ladies and dudes! Great to finally meet you, and I hope you enjoyed this post. My name is Nathaniell and I'm the owner of One More Cup of Coffee. I started my first online business in 2010 promoting computer software and now I help newbies start their own businesses. Sign up for my #1 recommended training course and learn how to start your business for FREE!