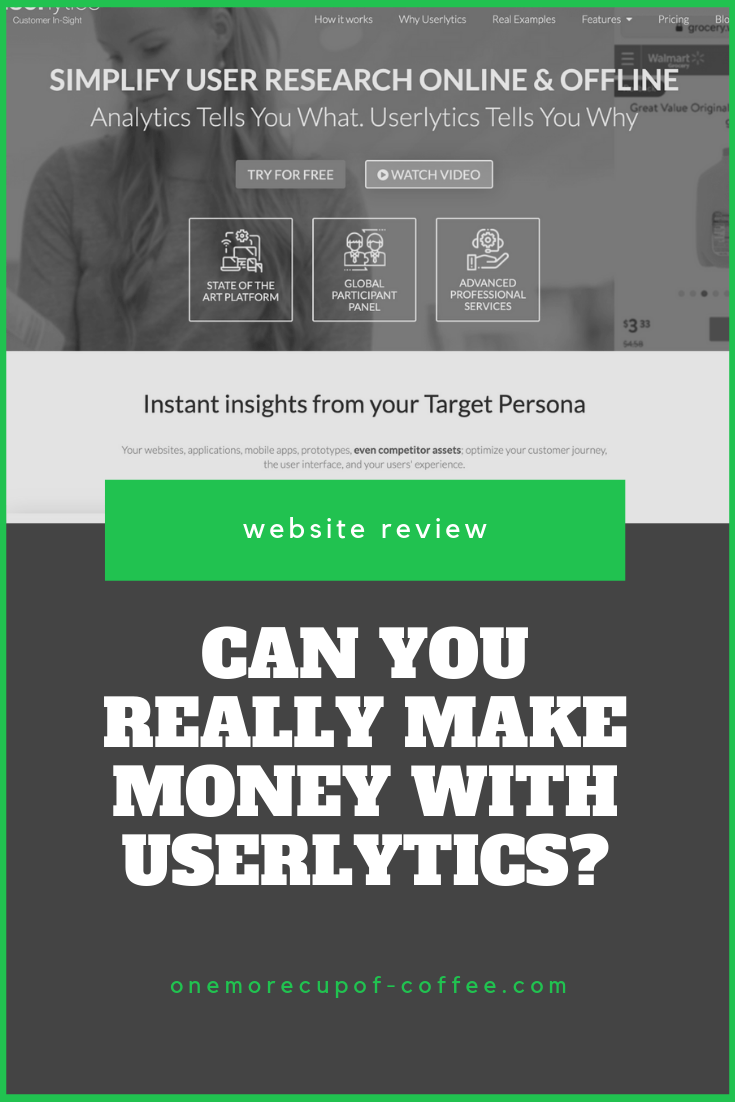 This website claims to pay you for performing simple user-testing tasks, though it does sound like you will need a webcam to make use of it. But can you really make money with Userlytics, or is it more of a gimmick?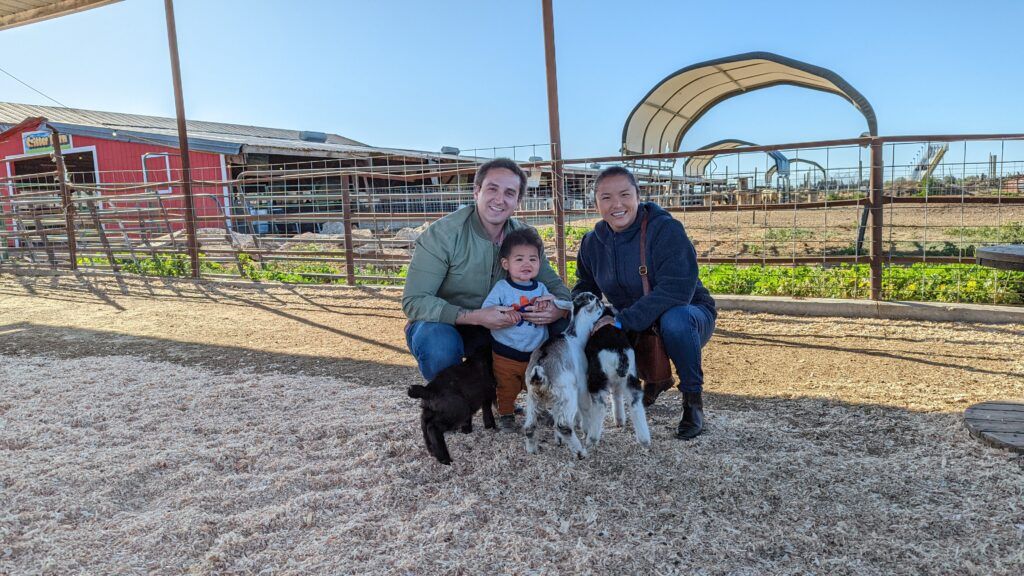 Are You Ready To Work Your Ass Off to Earn Your Lifestyle?
Are you tired of the daily grind? With a laptop and an internet connection I built a small website to generate income, and my life completely changed. Let me show you exactly how I've been doing it for more than 13 years.
This is what I was determined to figure out as I took a closer look at it.
Making Money With Userlytics
Lately, I have been really getting into these 'user testing' sites, and for good reason. I used to be more interested in taking online surveys for cash, but lately, I have come to realize that most of them do not pay enough to make them worth the time.
But user testing sites are something a bit different. This is actually a service niche that has seemingly become more and more popular as websites, driven by the desire to succeed online, seek feedback that will help them to make their offerings and services even better.
Most of these types of sites (and there are several pretty good ones) operate similarly.
You sign up, you get invited to tests, you record either your voice, your monitor, or even yourself as you answer questions about the site and perform requested tasks, you assemble your feedback, and then you submit it.
And then, if your feedback meets all of the necessary standards for quality, you get paid… and to be fair, you usually don't make bad money.
Granted, not all of these sites are the same. Some are better than others, and some are not worth the time. But others actually aren't too shabby. The biggest problem I tend to have with them is that they don't usually have a ton of work to send my way.
But if it weren't for that, some of these sites would make dynamite side-hustles!
To me, a side hustle must be three things. It needs to be profitable, consistent, and flexible. These types of sites are almost always flexible, and they are actually usually profitable.
But does Userlytics have it where it counts in all three categories?
Here is what I found out as I conducted my research.
My First Impression Of The Userlytics Website
So my first impression of this site was actually pretty good. The graphics looked nice, the lettering was easy to make out, and the content seemed professional. They definitely get 5 out of 5 stars for aesthetics.
Next, I scrolled down to see what else I could find. First, I came across a section that was designed to help you understand how easy it is to 'set up' a test, which was pretty cool.
There was also a scrolling banner that basically showed what companies had used the service, along with reviews of what they said about it.
I was quite impressed with the caliber of businesses that had used Userlytics.com. They seem to be a site that caters to some pretty prominent names in the industry, and that is cool to me.
Of course, this page was all set up to cater to potential clients, not testers. But there was a little pop-up type window, located in the bottom-left hand corner, that looked like this…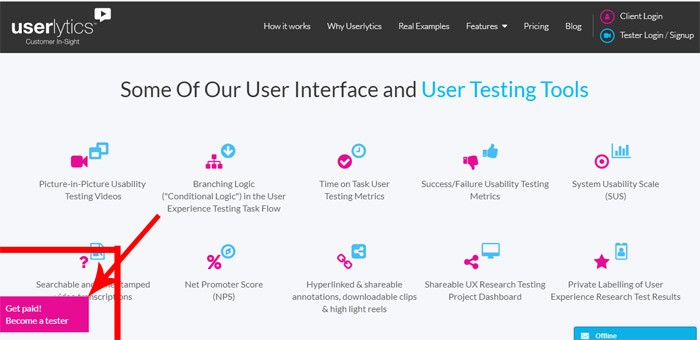 There was actually a lot more available on the landing page than just this, but I decided to go ahead and click on the 'Become A Tester' banner anyway, just to get this process started.
After all, as much as I admired Userlytics for catering to their clients with their homepage (which they did very well), what I was really after, over the course of this review, was to figure out if becoming one of their testers could qualify as a lucrative opportunity.
So I clicked on it, and was promptly taken to this page.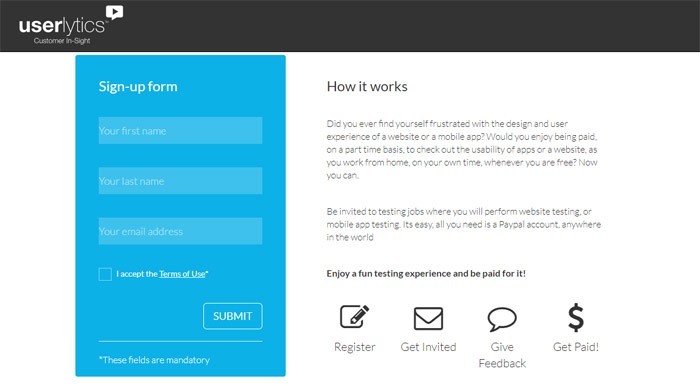 I felt like they did a pretty good job of discussing the ins and outs of becoming a tester on this page. They make it pretty clear that it is part time work, and that they pay through PayPal, though they didn't really say much else aside from this to answer my most detailed questions.
I feel like the most important things to ask about this page were the following queries.
How much does the site pay for tests?
How long does it take to conduct these tests, and what is required to complete them correctly?
If I could find answers to these questions, I would be satisfied in knowing the majority of what I still needed to know. So that is what I looked for next.
Digging A Bit Deeper Into The Userlytics Site
Scrolling down from the user testing page of the site, I was able to find the requirements for becoming a tester. You need a microphone, a Windows 7 device or newer, and/or a MacOS 10.7.3 device or newer.
This was all good news, as it told me that I had what I needed to continue forward. But I still could not find actual pricing information.
So I scrolled to the bottom of the page, to the footer—and actually found a Tester FAQ, which looked super-cool. I decided to read through it, and learned quite a bit. Here is the brief version of what I figured out here.
First of all, I learned that when you test sites, you will need to speak your thoughts out-loud and record them as you perform the test. Some tests do require a webcam, but all tests require a microphone.
Next, I learned that this site has pretty strict terms of use guidelines that dictate what types of clients they do business with. In other words, they do not ask their testers to visit sketchy sites for testing.
They also posted a pretty thorough list of what website tests usually consist of. Here are just a few of the steps that you may need to take to test any particular website through Userlytics.
Register for an account and/or log in
Pretend that you are shopping for things and proceed to the checkout
Look around websites to see where your interest takes you
Compare certain websites to competitor websites
Compare the checkout functions of different websites
Conduct searches, within the site, to test the search feature
React to certain videos, images, or advertisements to tell the client what you think of them
Answer questions about the site
Next, I learned what kind of time investment would be required to perform the usability tests. As it turns out, you will need 20 to 40 minutes to finish most typical tests.
This seems to be a bit above average, when you compare how long tests take on other sites. Usually they average about 20 minutes, while tests here seem to average about 30.
They also say that there is no way to know how many tests you will get invited to. They say that it is partly random, and partly dependent upon your answers to the demographic questions.
I also learned that this website has published its own testing software that you will use to perform tests. This is kind of a good thing, really, because it makes the process easier.
But try as I might, I was unable to find any reference to how much testers can expect to make on this site. I did find one review site that said Userlytics pays out $10 per test, but this review site also said that tests only take 10 to 20 minutes to record—which is different from what the Userlytics site projects in their FAQ.
I was a bit frustrated at not being able to see how much you can expect to get paid per test. This was a bit of a downside to me. How am I supposed to know if it is worth it or not?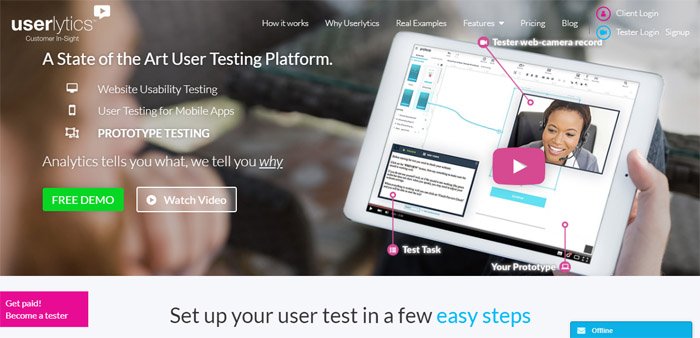 My Personal Feelings About Userlytics
Userlytics seems like a very professional site, in really every way. My major complaint is that I could not figure out exactly what they pay—and that made me question whether or not it was even worth it to sign up. These sign-up processes can be lengthy, and at this point it was starting to feel a bit gimmicky to me, to be super honest.
I will probably forgo this one, though I may choose to give it a bit more of a chance if I am sitting around and too bored to do anything else at some point. But I really do not think that Userlytics is the answer to my need for a quality side hustle.
Word on the street is that they only pay out $10 per test, and while that is not a bad deal for people who are fine with a bit of spare cash in their pocket, it certainly does not really qualify as the quality, legitimate side-hustle that I was hoping for.
Edit: After writing this review, I decided to go ahead anyway and log in and actually try the site out myself. I was afraid that I would be wasting my time, but my curiosity was killing me. As it turns out, you can make anywhere from $5 to $20 or so per test, so the payout ranges.
In some tests, you can even make up to $90, though tests that pay out more like this are rare. I was glad that I gave it a try. This made it feel more legitimate, and changed my perspective a little bit.
It may not be a real, profitable side-hustle that I can count on consistently, but it is certainly a good site to use to make some extra spending money. In this respect, I ended up liking it.
There are other similiar sites that you can try too, like WhatUsersDo and TryMyUI.
Our Final Thoughts About Userlytics
Should you sign up and use it to make some extra money?
There are a lot of ways to make money online. Some are good, some not, but ALL of them are still just trading hours for dollars.
Starting your own affiliate website really is the best way to build passive income and "make money while you sleep". Affiliate websites earn income in every timezone, and can be instantly accessed by billions of smartphones across the globe!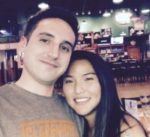 Nathaniell
What's up ladies and dudes! Great to finally meet you, and I hope you enjoyed this post. My name is Nathaniell and I'm the owner of One More Cup of Coffee. I started my first online business in 2010 promoting computer software and now I help newbies start their own businesses. Sign up for my #1 recommended training course and learn how to start your business for FREE!