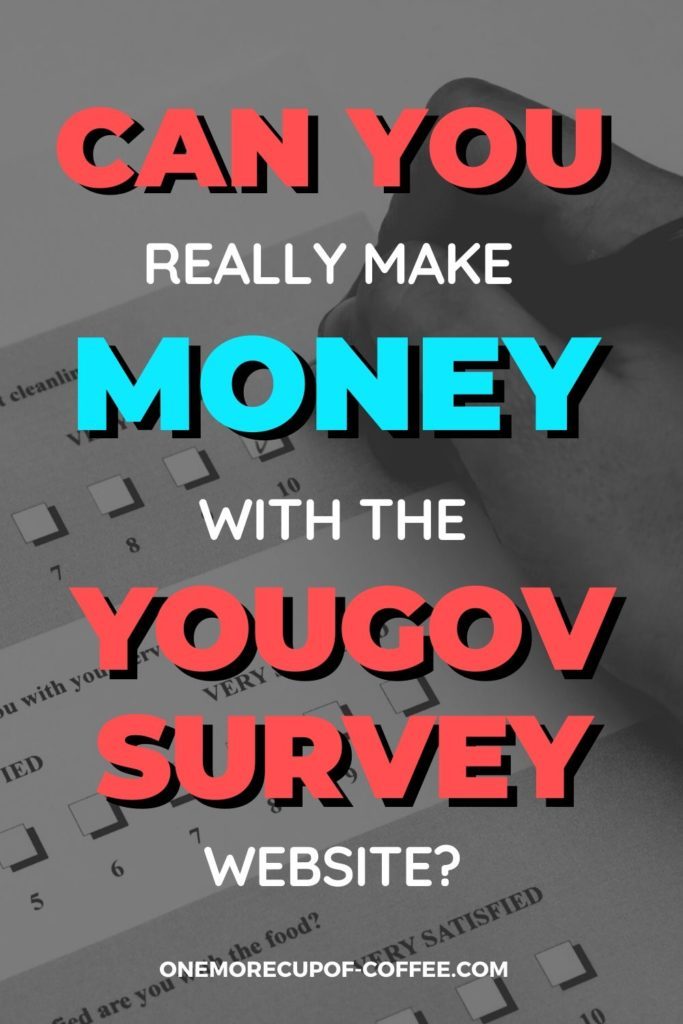 This website says to 'join their community today' to tell them what you think. They also say that you can earn money for answering questions and surveys. But can you really make money with the YouGov survey website?
When I found this website (located here), I was actually surprised that I hadn't stumbled across it before. It seems to be pretty well-known as a paid survey site. And with it being such, I was excited to take a closer look at it.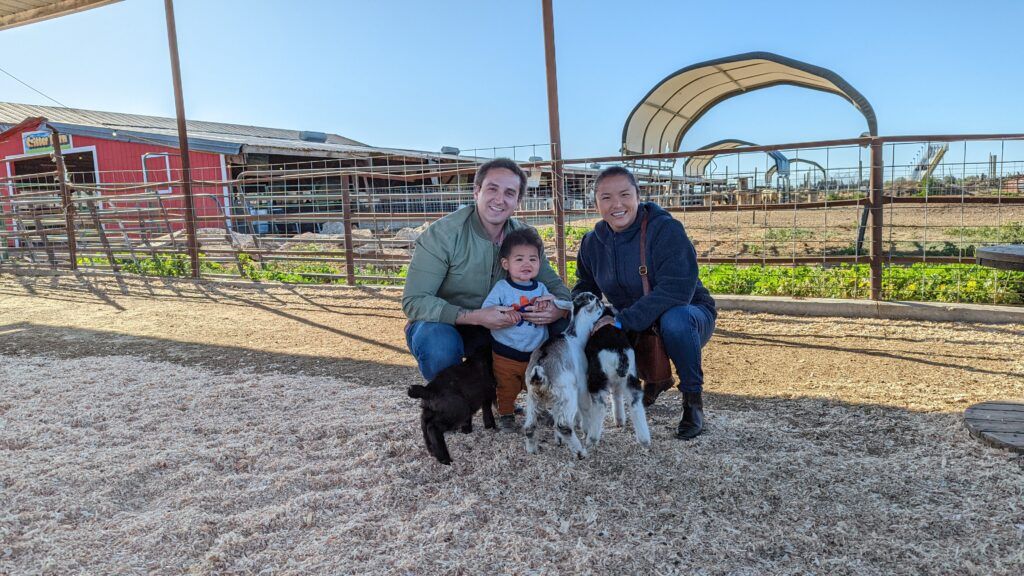 Are You Ready To Work Your Ass Off to Earn Your Lifestyle?
Are you tired of the daily grind? With a laptop and an internet connection I built a small website to generate income, and my life completely changed. Let me show you exactly how I've been doing it for more than 13 years.
Making Money With The YouGov Survey Website
So here is a rundown of what I discovered.
My First Impression Of The YouGov Survey Website
My first impression of this website was actually quite positive. I liked the red background and the greyscale lettering. I also liked the dark gray/charcoal menu located along the top of the page.
The graphics were all simple but very appropriate to the theme of the site. All in all, I felt that it was very well-done from a design perspective.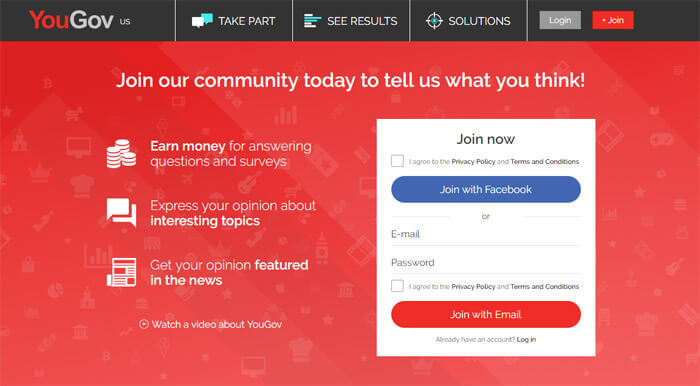 There is even a link toward the bottom part of the landing page that will send you to a video about YouGov. I watched the video, which said that YouGov is essentially an international market research company with panels all over the world.
I also learned that, like most survey sites, YouGov sends out survey invites via email, so you don't have to keep checking back in with the site to see if you have surveys waiting for you.
The video also says that most surveys only take about 5 to 10 minutes to complete and that you can be asked your opinion about things like politics, social issues, relationships, products, etc. You then get rewarded for your work with points that you can spend on gift cards to major companies.
There were also some points on the landing page that helped to describe what you can expect from the site. These included the following…
Earn money for answering questions on surveys
Express your opinion about interesting topics
Get your opinion featured in the news
After this, I scrolled down to take a closer look at the rest of the home page and found an about page. So I clicked on that to see if there was anything else I could learn.
I read a bit more about the company and learned a few other cool details. For example, I learned that YouGov publishes a number of syndicated reports every year, such as the annual Global Survey of Wealth & Affluence. This report provides 'comprehensive market intelligence' for a range of different industry sectors.
So at this point, I figured that it was time to join. I wanted to see how in-depth this process was, and I wanted to see if there was anything else I could l could learn from the inside of the site.
So that's what I did next.
Signing Up For The YouGov Survey Website
You essentially have two different options for signing up with this site. You can either sign up with your Facebook login, or you can sign up with your email. I opted for the email, and quickly entered my basic information to get this process started.
After this, I was taken to this page.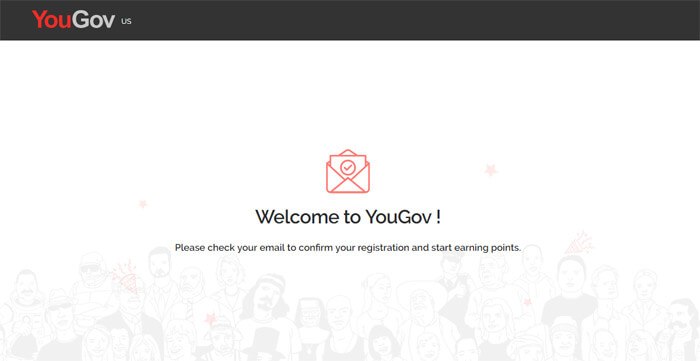 As you can see, I was asked to confirm my email… which I did promptly. Once I did this, I was asked to fill out a short demographic survey. This is basically a survey in which I share information about myself to help place me for surveys that I would qualify for.
This process didn't take very long. I was asked some basic information about myself and was then asked some brief information about my political views.
After it was completed, I was actually awarded some points… and was then asked if I wanted to answer a few more questions about my attitudes on issues in the news and in general.
I wanted to answer more questions, so I clicked on the appropriate button to do so. I was then asked about how politically active I was, how up-to-date I felt that my music tastes were, how often I visited museums and art galleries, and more questions like that.
After I got through this little survey, I was taken to what seemed to be the 'main hub' of the YouGov site. Here is what it looked like.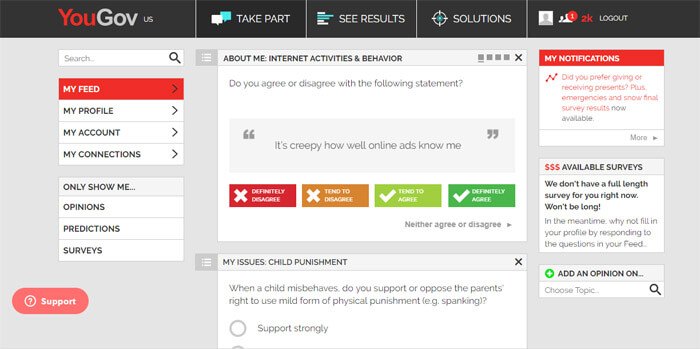 Let's talk about this for a moment.
Exploring The Main Hub Of YouGov
The first thing that you notice, upon entering the main hub of the YouGov site, is that there are small survey-type questions that you can answer as you browse the page. There are also notifications to the right side, and a menu to the left that gives you access to your profile, your account, your connections, and more.
There are also the same tabs along the top of the page that I saw when I first landed on the home page.
If you scroll down, you will find that there are actually multiple different categories of survey questions that you can choose from.
I checked to see if I had any full-length surveys waiting for me but found that I didn't. The site did say that it wouldn't be long before I would get some though and that I could pass the time by completing my profile, etc.
At this point, I had earned 2,000 points. Along the right side of the screen, however, there was a pretty awesome little graph that told me how close I was to earning a gift card. Here is what it looked like.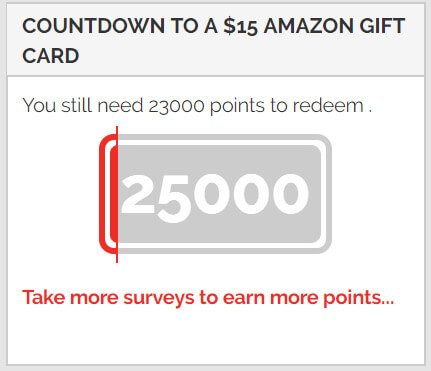 This was a pretty cool feature of the site. I really liked how it made it so easy for me to figure out exactly how many points I needed to earn a gift card. At this point, I had not received any surveys, but I did spot a link to a FAQ page… so that's what I took a look at next.
Taking A Look At The YouGov FAQ Page
I took a look at the FAQ section of the site and learned a few details in the process. I learned that most surveys sent out by this site contain about 20 to 30 questions in all. I also learned that there will sometimes be longer surveys, but even the longest surveys shouldn't take more than 20 minutes to complete.
I also learned that this is a non-partisan organization that conducts surveys for a diverse group of clients. The purpose of these surveys is to help better understand public views about current affairs. The surveys can also be about products and/or brands.
And finally, I learned that individual responses to questions are all kept private. As a collective batch of data, the information is used for statistical tabulations.
How Did YouGov Perform Technically?
From a technical standpoint, I liked this site. The surveys that I did take were very well done. They looked good, were easy to understand, and didn't glitch or mess up at all.
I actually really liked the feel of this website. I felt like the buttons, tabs, and links were all very well-styled, and that they all worked very well.
I will admit that I liked a lot of different things about this site, but was it all enough?
Here were my personal feelings about it.
Will I Be Using YouGov In The Future?
YouGov is not a bad survey site. It's really not (there are plenty of less appealing ones out there, like Opinion Bureau, Panel Station, and Mobrog).
I'm in this game (the game of trying to find a quality survey website) because I want to make some extra money and find a side-hustle that will work for me.
But in the end, I ended up feeling like this site left just a little bit to be desired. Yes, you can answer questions and make some extra money in the process, but is it enough to qualify this site as a real, serious side-hustle?
That was the part that I wasn't too sure about because that was the part where most survey sites don't quite live up to expectations. And while YouGov was a 'better than average' survey site for me, I will say that I didn't find it to be profitable enough to warrant spending a great deal of time on it.
If you are looking for a fun survey website, want to give your opinion about important issues, and are wanting to make some extra money at the same time… then this site might actually be really good for you.
But if you are wanting a site that will give you some serious side-hustle, money-making opportunity, then I am afraid that this simply might not be the place to go.
Thumbs up to YouGov for being a cool survey site. But for a side hustle, you may need to look elsewhere.
Our Final Thoughts About The YouGov Survey Website
Should you sign up and use it to make some extra money?
The YouGov Survey Website Review
To be completely honest, doing online surveys will never earn more than minimum wage. In fact, most people rarely earn more than $1-$3 per hour, if they are lucky enough to get a payout.
If you want to legit make money online you need to invest time into building a website. Earn passive income through affiliate links & advertising revenue. Rather than spend an hour trying to answer boring questions, build a real web property that you can earn monthly income from.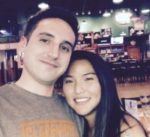 Nathaniell
What's up ladies and dudes! Great to finally meet you, and I hope you enjoyed this post. My name is Nathaniell and I'm the owner of One More Cup of Coffee. I started my first online business in 2010 promoting computer software and now I help newbies start their own businesses. Sign up for my #1 recommended training course and learn how to start your business for FREE!