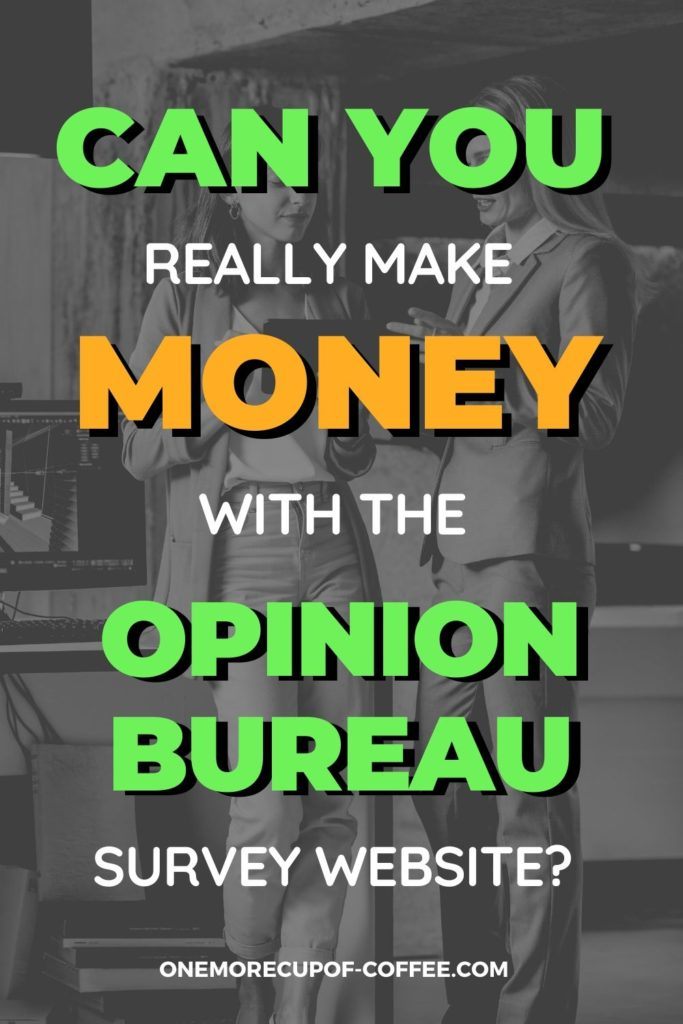 This website claims to pay you for your opinion. But can you really make money with the Opinion Bureau survey website?
I've been looking into survey websites like this recently because I've been really interested in finding a quality side-hustle to help me make some more cash for the New Year.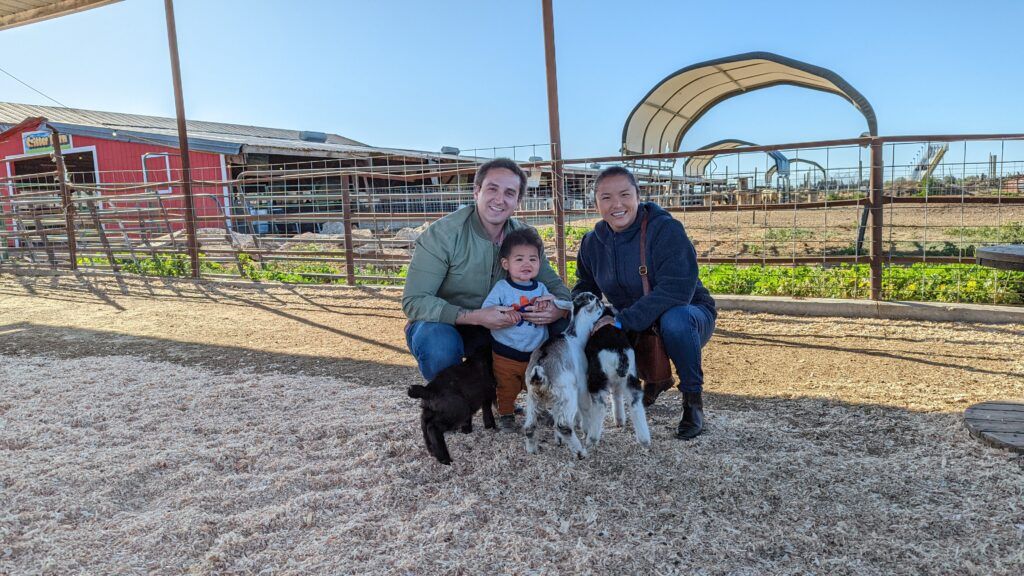 Are You Ready To Work Your Ass Off to Earn Your Lifestyle?
Are you tired of the daily grind? With a laptop and an internet connection I built a small website to generate income, and my life completely changed. Let me show you exactly how I've been doing it for more than 13 years.
I have some pretty big plans and goals for 2020, and part of making them a reality means funding them. So I am constantly on the lookout for side hustles that will help me to fill my spare time with activities that will make me some extra cash.
I love the idea of using survey websites for extra cash because of the flexibility they offer. Granted, not every survey website is a profitable use of time… as many of them simply do not pay out enough to make them worth the effort.
But I believe that there are survey sites out there that could be worth it. So for that reason, I am committing some pretty serious time to the search, and came across Opinion Bureau as I was going down a list of new potential side-hustle sites that I wanted to check out.
Making Money With The Opinion Bureau Survey Website
Let's start off by talking about the site itself. Opinion Bureau is a community that was developed by a company called Internet Research Bureau Pvt. Ltd.
The company and the site were both formed to 'enable consumers to show the power of their voice and opinion and directly influence the market research and markets.'
On their official website (OpinionBureau.com) they have online surveys, online polls, and a knowledge center. They also give out rewards in exchange for your opinion.
Here is what I discovered as I took a look at their website.
Getting Started: A First Look At Opinion Bureau
I started scrolling through the various pages available to me when I first visited the site and found out some pretty interesting things. First of all, I learned that you get a $5 joining bonus for signing up. You actually need to activate your account and take at least one survey to officially join.
Once your account is approved, you will start getting surveys in the email. This is pretty cool because it means that you won't have to constantly check back in to see if there are surveys available once you get started.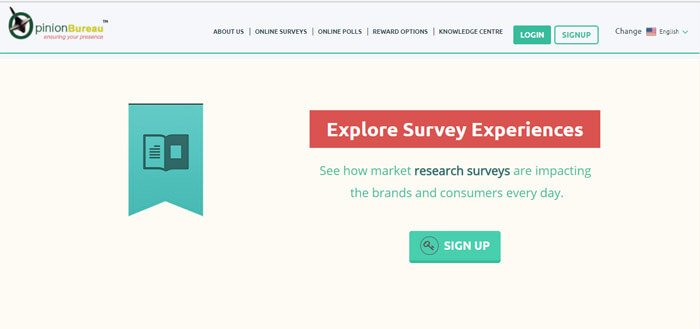 You can also earn $1 for each referral you send to the site. Surveys pay various amounts, up to $10 each, and you can redeem your rewards as soon as you have at least $10 in your account. Reward options include Amazon gift cards, Freecharge, PayPal, and Flipkart.
I was pretty happy to see PayPal offered as an option. I usually use that as a payout method if it is available… though I have also been known to use Amazon gift cards. So either way, this was a plus.
There was a pretty good FAQ page located on the site, accessible to anyone, regardless of whether they were a member or not. So I checked this out.
The only new thing I really learned here, however, is that there are actually a number of other gift card options that you can choose for rewards, including Starbucks coupons, charity coupons, and others.
But, there is a blog hosted on this site, which is pretty cool. You can find it listed under the Knowledge Centre. The last post was published back in December of 2016… which is not super recent, so that was a bit concerning to me.
I always like to see more up-to-date blogs, to be honest. I guess, in my mind, if a company isn't updating blogs, they may not be updating anything else, either.
But aside from that, there was quite a bit of interesting content here.
And now, I had reached a point where I had pretty much learned all that I was going to learn from outside of the site. So I decided to join and see what else I could find.
Here is what happened.
Signing Up For Opinion Bureau
The signup form for Opinion Bureau was actually pretty cool. It looked like a file folder, and while it doesn't really matter what it looked like, I found myself more motivated to fill it out because of this. So that is pretty awesome.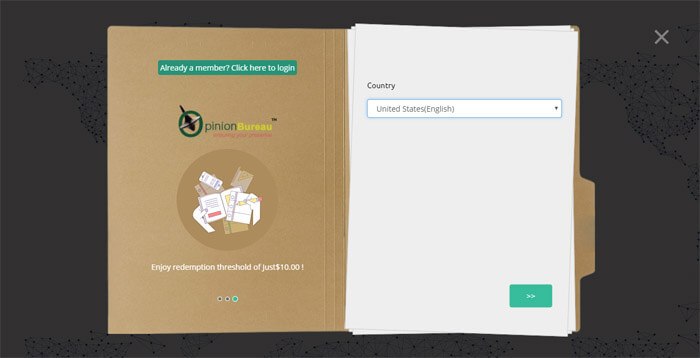 I filled out some basic information about myself and was then told that I would receive a confirmation email. I went to my email inbox to check it out… and didn't find anything.
This was a bit weird. I clicked on the 'resend' button and still didn't get anything. Thinking that it may just take a while to get things rolling, I took a break and let it sit for a while.
But when I came back and checked my email, I had still not received anything… despite trying four times to get it to send.
So this left me with no recourse but to assume that one of the following was true.
The site is not functioning anymore
It takes a while for them to respond to sign-up requests
I encountered some sort of 'glitch' that kept them from responding, or that kept it from working
At any rate, there wasn't much more that I could do at this point. I took one more look around, just to make sure that I hadn't missed anything important. I
did end up finding out that their online surveys generally took 10 to 30 minutes, and paid up to $5 (this was different from the $10 figure shared on a different page of the site). I also found out that they host online polls, though I was not sure if these actually paid or not.
But even without being able to sign up for the site, I felt that I had gathered enough information to make my choice. I could tell from the bits and pieces of the info I was finding that there were some things about this site that were not adding up to what I needed… and I will tell you why.
My Personal Feelings About The Opinion Bureau Survey Website
First of all, I will say that the biggest stumbling block regarding this site, for me, was my inability to actually join it. If I could have joined, that would have certainly added some points to it for me.
But as it was, I came to the following conclusion.
If you are interested in a regular survey site that you can use to take surveys and have a good time, then this is the type of survey site that you are probably going to like. The vibe I get from this site is that they probably deal with trendy issues in their surveys… and it is always fun to give your opinions about such things.
So in that respect, I feel like Opinion Bureau might be a good choice for people who enjoy taking surveys and want to earn some extra money doing so, but don't mind if the amount of money that they are earning is minimal.
Technically speaking, I didn't really have much of an issue with Opinion Bureau. Aside from not being able to join it, I didn't really run into any issues of any kind… so that is a good thing.
The graphics/style of the site were pretty good. I have certainly seen less attractive sites, though I have also seen sites that I liked the looks of better as well.
Unfortunately, I am not able to weigh-in on the number of surveys you can expect to get each month. This information was not given on the official website, that I could find.
But, I did find out how long surveys usually take, and I also learned how much they usually pay… and I can say, with a decent level of certainty, that this is not a side-hustle-level website.
I do love the payout structure. I love how you can cash out with just $10, I love that you can cash out with PayPal, and I love the apparent simplicity of the site.
But if you are looking for a serious side-hustle that you can use to generate some real income, I am afraid that this site is not the one for you. This is an entertainment survey site that you can use for fun and to make some extra spending cash (the same is true for other survey sites too, like Palm Research or Paid Viewpoint).
It does have a pretty good reputation online, so I feel that it is a legitimate site, as far as I could tell. I just don't feel like it would pay enough, in the long run, to make it worth the time or the effort.
You could always sign up and see what happens. You might end up getting quite a few decent-paying surveys, and it could end up being worth it. But as for me, I feel that my time would probably be better spent on something that I could qualify as a real, legitimate side-hustle.
Our Final Thoughts About The Opinion Bureau Survey Website
Should you sign up and use it to make some extra money?
The Opinion Bureau Survey Website Review
To be completely honest, doing online surveys will never earn more than minimum wage. In fact, most people rarely earn more than $1-$3 per hour, if they are lucky enough to get a payout.
If you want to legit make money online you need to invest time into building a website. Earn passive income through affiliate links & advertising revenue. Rather than spend an hour trying to answer boring questions, build a real web property that you can earn monthly income from.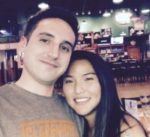 Nathaniell
What's up ladies and dudes! Great to finally meet you, and I hope you enjoyed this post. My name is Nathaniell and I'm the owner of One More Cup of Coffee. I started my first online business in 2010 promoting computer software and now I help newbies start their own businesses. Sign up for my #1 recommended training course and learn how to start your business for FREE!