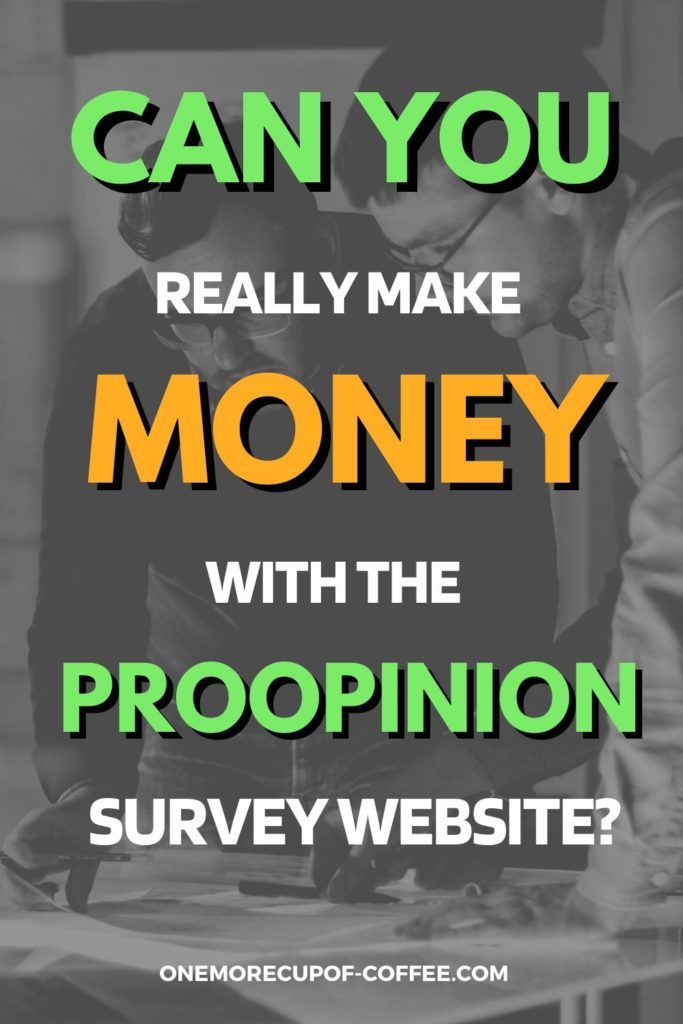 I found this website while looking for new ways to earn money online. Nowadays, having a side hustle or two in the works is the best way to make sure that you end up on top of your money situation… but can you really make money with the ProOpinion survey website?
ProOpinion.com says that you can earn cash by participating in their research through online surveys. They also say that the site is 100% free to sign up for, and that logging in is as simple as signing into your favorite social network.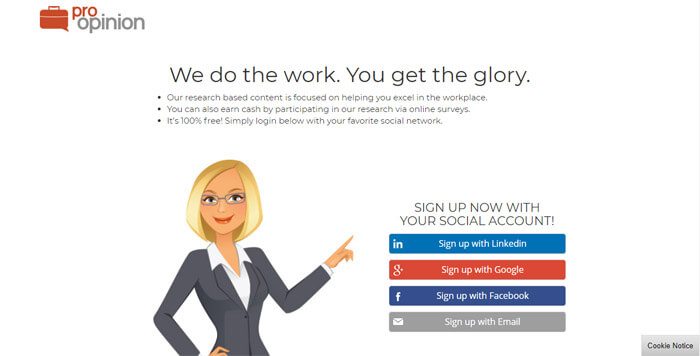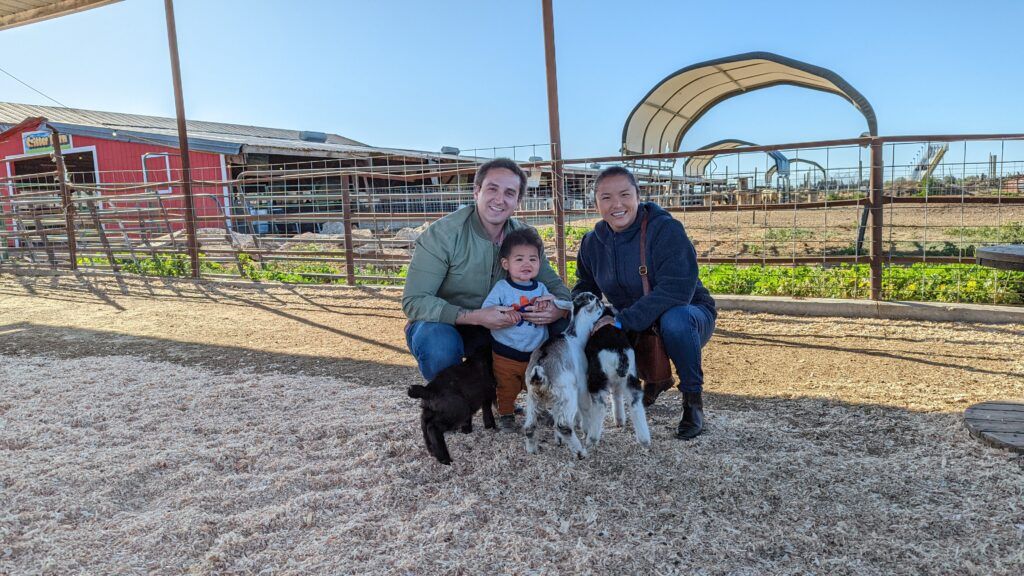 Are You Ready To Work Your Ass Off to Earn Your Lifestyle?
Are you tired of the daily grind? With a laptop and an internet connection I built a small website to generate income, and my life completely changed. Let me show you exactly how I've been doing it for more than 13 years.
Making Money With The ProOpinion Survey Website
I like the idea of survey sites because they really do offer some awesome flexibility. They pretty much give you the opportunity to work on your own schedule, on your own time, without forcing you to be anywhere at any given point in the day… and therein lies their true potential.
But it takes flexibility, consistency, and profitability for a side hustle to really work. And here is where a lot of survey sites fall short.
Most survey sites that I've tried simply do not stand up when it comes to being profitable, and some of them lack the consistency to make them worth the long-term effort.
But I was also hopeful about ProOpinion, because right from the beginning it showed signs of promise. Here is what you need to know.
My First Impression Of The ProOpinion Survey Website
My first impression of this site was actually quite good. I loved the professional, simplistic styling of the site and the cartoony graphics. I also liked that you could sign up for it with several different logins.
If you scroll down a bit on the landing page, they post a few stats about their service and the kind of content that they post. They claim to post (and/or have posted)…
16 fresh research based articles each month
100's of visually stunning infographics packed with information
1000's of online survey opportunities that pay cash
4 reward options, including cash and gift cards
So this was all pretty cool!
I took a look around to see if there was anything else to see at the moment. But as far as I could tell, I was going to need to sign up to learn more.
I opted to sign up with my email, so that's what I did next.
Signing Up On ProOpinion
Signing up was a pretty simple ordeal. I just needed to provide an email and some basic information. This led me to a page inside of the site where I was told that I would need to check my inbox for an activation email, though there were also some menu tab options that I could look over as well.
I checked my inbox, but as of yet, I had not gotten an activation email. So I decided to take a look around first.
I clicked on the 'Who We Are' tab along the top-of-page-menu, just to see what I could find out about the company.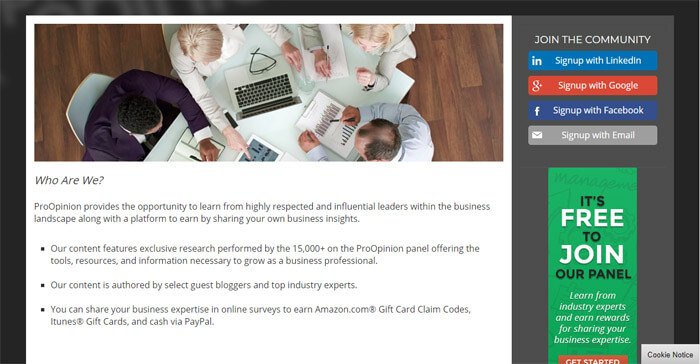 I found some brief, but useful information on this page. You can see that their content is pretty good. It is straight, informative, and to the point… which I liked. So far I was pretty impressed with the site itself. But as of yet, I still hadn't really learned much about the money-making opportunities that it presented.
I moved on to the 'How It Works' page, and found quite a bit of information here.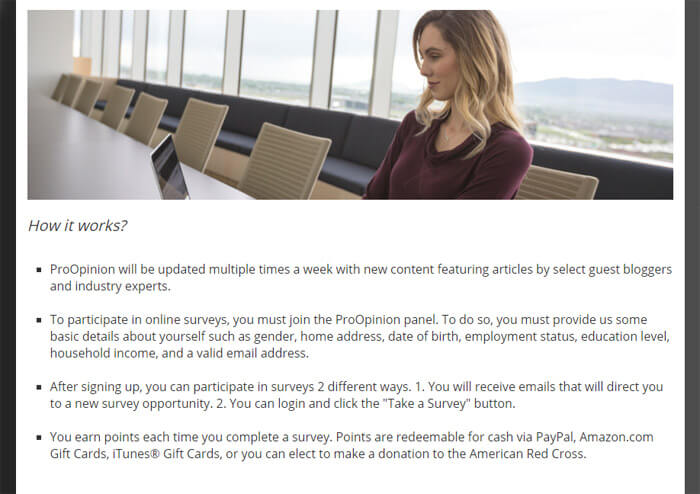 Here are what I would consider the most important points that I learned here.
ProOpinion is updated regularly with new content from selected guest bloggers and industry experts
You must join the ProOpinion Panel if you wish to participate in online surveys
You must also provide some information about yourself to join this panel
You can find out about surveys either by logging into the site, or by checking your email and keeping yourself posted that way
You will earn points every time you complete a survey, and you can redeem these points for cash or gift cards
Some gift card options include Amazon.com and iTunes
The Cash option is through PayPal
At this point, it was starting to sound like ProOpinion wasn't so different from most other survey sites that I've tried in the past.
I will say, however, that it seemed to be a bit 'cleaner' and better done. I like that they update their blog regularly (or so I thought), and that they publish new content in addition to new surveys.
I feel like they are trying to foster more of an actual community with this site… and not make it all about the surveys and rewards and stuff. And to me, that does add some value to the mix.
Next, I clicked on the 'Featured Research' tab, but I was a bit disappointed to find that their blog had not been updated since 2016! So yeah. I might have spoken a bit too soon a second ago when I said that I liked how they keep their blog updated.
This is an awesome idea, but I do wish that they had kept up with it.
I also noticed that, as of yet, I had not gotten an activation email. I checked my spam email box, and all of my folders, just to make sure it hadn't gotten lost anywhere… but no bananas. An hour after I had created my account, I had still not received an activation email.
Update: I waited an additional couple of hours for the email before completing this review. As of 3.5 hours after, I still had not received it.
I even tried 'retrieving' my password by clicking on the 'forget my password' link on the login page, just to see if this would 'push the emails through.' I am not sure if that is even a concept that works, but I was pretty determined to try everything I could.
There was only one more page that I could visit at this point. It was the 'Rewards' page, so that is what I decided to look at next.
But this didn't tell me anything that I didn't already know. It told me that every time I complete a survey, I will earn points… and that they are redeemable for Amazon or iTunes gift cards, cash via PayPal, or a donation to the American Red Cross.
And that was it. There was literally nothing else to look at… which left me with little choice but to go ahead and give my opinion on it based on what I had learned thus-far.
My Personal Feelings About The ProOpinion Survey Website
This site started off really strong for me. I loved the idea behind it, I loved how clean and professional it was, I loved how responsive it was during the sign-up process, and I loved what I was hearing when I read what the site was supposed to offer.
I felt like the vision behind this company was to create a helpful community where people could also earn some extra cash at the same time. And that, to me, sounded pretty awesome.
But this is where things started to take a bit of a downturn for me as well.
For one, I never did get my activation email. I am not sure what happened. I checked my spam folder and everything… but still, even hours after signing up, I had seen no sign of it at all.
Secondly, I quickly realized that the blog had not been updated since 2016… and that did not bode well for me.
I felt like this was a critical detail because it spoke to the effort being put into the site. If they stopped updating the blog, what does that say about the other aspects of the business? Are they neglecting other things a well?
Do they still even send out surveys anymore?
I was not able to verify this because I could not activate my account… but I will admit that it had me worried a bit.
I am not sure if this site pays out enough to make it worth the time or not, but seeing as how I was already having issues with it before I even got to work, I decided to steer clear. Maybe, in the coming days, if I get my activation email I will log back in and take another look around.
But I am not getting my hopes up or anything. I feel like there are a lot of other sites out there that are keeping things more up to date (such as Survey Junkie, Survey Savvy and Panel Payday), so I would be more likely to try my luck with one of them.
Remember, a quality side hustle needs to be flexible, profitable, and consistent. If it doesn't offer these three things, then you should probably consider your time too valuable to be spent on it.
Our Final Opinion Of The ProOpinion Survey Website
Should you sign up and try to make some money with it?
The ProOpinion Survey Website Review
To be completely honest, doing online surveys will never earn more than minimum wage. In fact, most people rarely earn more than $1-$3 per hour, if they are lucky enough to get a payout.
If you want to legit make money online you need to invest time into building a website. Earn passive income through affiliate links & advertising revenue. Rather than spend an hour trying to answer boring questions, build a real web property that you can earn monthly income from.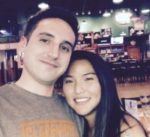 Nathaniell
What's up ladies and dudes! Great to finally meet you, and I hope you enjoyed this post. My name is Nathaniell and I'm the owner of One More Cup of Coffee. I started my first online business in 2010 promoting computer software and now I help newbies start their own businesses. Sign up for my #1 recommended training course and learn how to start your business for FREE!