I found this site while looking for new survey sites that could potentially make good side hustles. I like the idea of paid survey sites because they can sometimes give you the opportunity to make pretty decent money without requiring you to stick to any specific schedule, but can you really make money with the Opinion Square survey website?
Making Money With The Opinion Square Survey Website
The first thing to consider with any money making company is their website. For Opinion Square, the landing page started off with the following text in pretty bold lettering.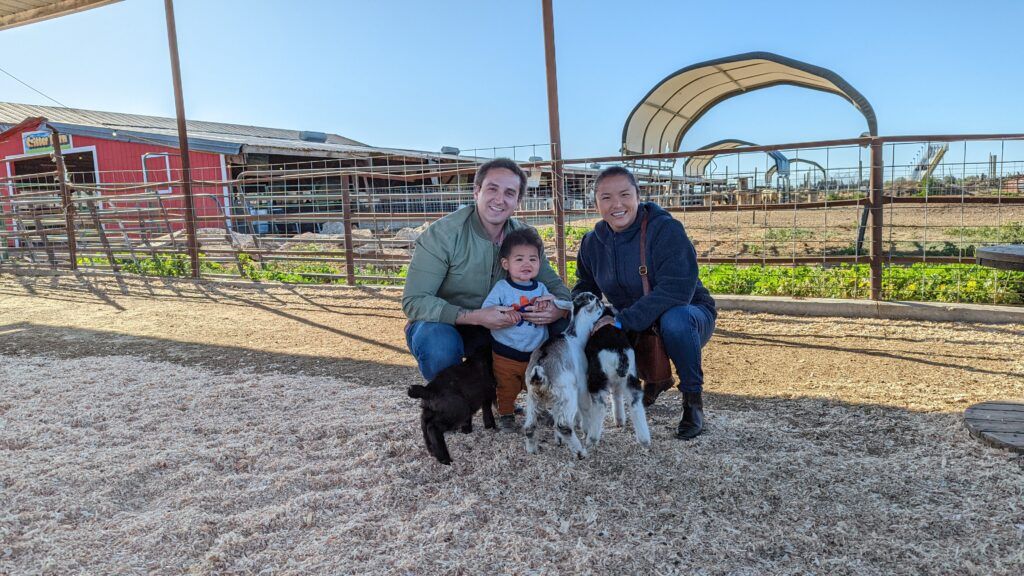 Are You Ready To Work Your Ass Off to Earn Your Lifestyle?
Are you tired of the daily grind? With a laptop and an internet connection I built a small website to generate income, and my life completely changed. Let me show you exactly how I've been doing it for more than 13 years.
"You've got opinions. Earn rewards for sharing them."
There were also a few tabs along the top of the page that seemed designed to help you to navigate the site. These were labeled as follows…
Home
Benefits
About
FAQs
Contact Us
Login
The general layout and feel of this site reminded me of many other sites that I've looked at that were similar to it. A lot of online survey sites like this follow the same basic style of functionality, and this one seemed to be no different.
There was also a short paragraph further down on the page that seemed to do a good job of describing why someone should join Opinion Square. To put it very simply, the say that they want you to share your opinions through email pop-surveys on a variety of topics.
And if you do, you can earn rewards like points, which you can redeem for cash prizes. You can also win entries into sweepstakes.
The first thing I wanted to do was to check out the FAQ section of the website, just to see what I could find out. So that is what I did next. Here is what I learned.
Checking Out The FAQ Section Of Opinion Square
There was quite a wide variety of things on this page that got my attention. First of all, there were A LOT of questions answered here. I have no doubt that any questions you may have about the site could probably be answered here… so that is a good thing.
But here were the most important bits of information that I learned here.
First of all, I learned that you can install special software, supplied by the company, on your computer. This does not seem to be required… but it does sound like you can become eligible for more surveys if you do this.
This software apparently tracks how you use the internet, which helps to qualify you for different types of surveys. Some other services seem to do something similar, like Google Opinion Rewards, although they're not always overt about how much tracking they do.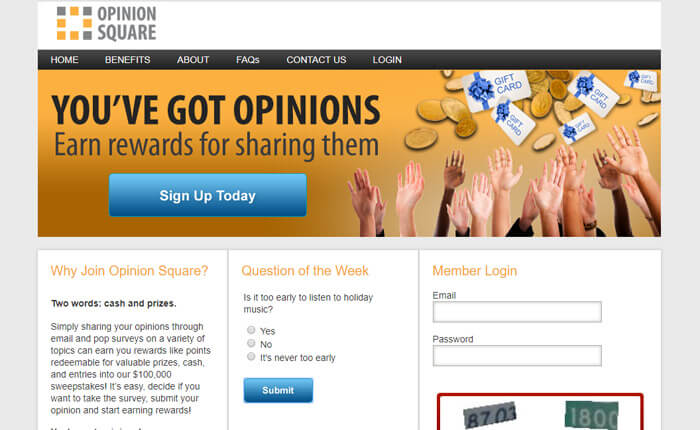 The second thing I learned is that this company sends out about 3 to 4 surveys a month. It is always up to you whether or not you actually choose to spend your time taking them… but yeah. That is how busy you can expect to be, at the most, if you choose to use Opinion Square.
If you do not qualify for a survey after you start taking it, the company will reward you with a token that can be used to play their online game, to earn points or other prizes. I feel like this is a little bit of a cop-out in some ways… but I do understand the struggle.
Companies need specific market data to sell what they collect… and this is always a problem. This company, at least, is giving you the chance to get something if you don't qualify for a survey… so they are trying to make it so that it is not a complete waste of your time.
You can redeem the points you earn for a number of different prizes. There is an entire prize catalog available online, but you can't access it unless you become a member of the site.
With that being said, I felt like I had learned enough about the site at this point that I was ready to sign up for it. So that is what I did next. Here is how it went.
Signing Up For Opinion Square
The next part of this process, for me, was to sign up for Opinion Square. The sign up button is located conveniently in the center of the home page… so it was easy to find.
The first thing I needed to do was to agree with the privacy statement, and to fill out a CAPTCHA to prove that I was not a robot. Then, I came to the second section of the sign-up process, which involved me giving Opinion Square some basic information.
This consisted of a first name, a last name, an email, what country I live in, my address, my birthdate, and my gender. I also needed to generate a password.
I filled all of this out, and was surprised to see this pop up. I will admit, I was not expecting this… but it did make sense.

I had indeed already reviewed PermissionResearch, so I decided to head over there and do what they said… I needed to update my participation preferences and view my member benefits. I was interested in seeing if this would be an easy process, or if this would pretty much keep me from being eligible to join Opinion Square.
But I was optimistic. Surely, this shouldn't be too big of a problem. Right?
So I visited PermissionResearch, and resigned from it. This ended up being super easy, and I was interested in finding out if this would solve the problem.
And it did! I easily moved on to the next phase of signing up for Opinion Square. So as it turns out, this was an easy problem to figure out!
The next phase was pretty much a phase where I needed to supply more information about myself. I needed to answer some questions about my computer, my income, how many people I lived with, etc. Once I got all of this done, I was prompted to download the Opinion Square software… but I didn't really want to, so I didn't.
Next, I went to the 'Members' tab, and checked out the main hub of the site. Here is what it looked like.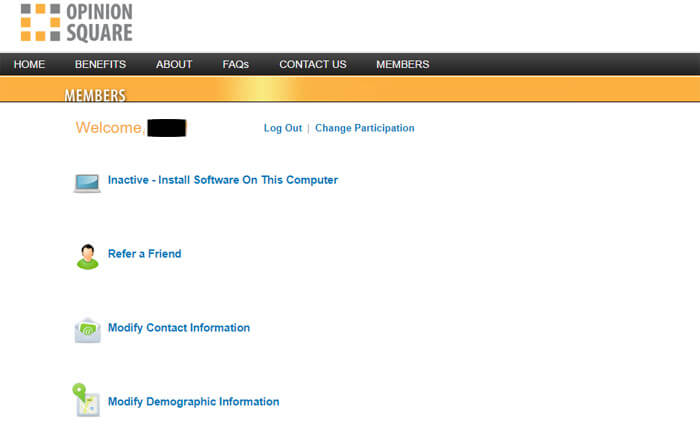 There was not much here to look at. At this point, I had pretty much decided what category Opinion Square fit into for me. Keep in mind that I was researching this site as a means to find a side hustle… so that was the criteria I was using to test it.
And after getting to this point, I decided that I had learned enough to make my final observations.
How Did Opinion Square Perform Technically?
From a technical standpoint, I had no problem with this site. It didn't 'look' amazing. But it got the job done, and did so without glitches. I didn't encounter any screen freezes or weird website behavior.
Glitches can really put a damper in survey sites for me… but thankfully, Opinion Square did not suffer from this problem.
What Did I Really Think About The Opinion Square Survey Site?
So, the first thing that I will say is that this site is not likely to satisfy your needs for a side hustle. This sounds like a survey site that you can have some fun with, while earning a few rewards in the process. That is a far cry, however, from it being an actual, legitimate side-hustle.
A side hustle requires three vital components. It needs to be flexible. It needs to be profitable. And it needs to be consistent.
This site is flexible, in the sense that you can take the surveys on your own time, when it is convenient for you… but it is not necessarily profitable. Granted, I did not have any surveys that I could take right from the beginning, so I do not know exactly how much the site even pays for them.
But I do know that they say that they only send them out about once a week or so… and even if they paid way above average, that is not enough work to really qualify the site as a reliable, consistent, profitable side hustle.
I did like the site. I feel like it is an average survey site, and that if you wish to take surveys and get paid for them, that you can absolutely earn rewards on Opinion Square. I also feel like you could pair this with other survey sites if you really like to take surveys, and stay even busier as a result.
There are a few reasons for why I do not qualify 'paired up' survey sites as a side hustle when put together… but I will not necessarily go over that right now.
The main point here is that the site is a quality site, but it doesn't give me what I need to qualify it as a legitimate side hustle. If you want to take surveys and earn rewards, then give this one a try. If you want to earn some real cash on your own terms, you will probably have to look elsewhere for that sort of opportunity.
Our Final Thoughts About The Opinion Square Survey Website
Should you sign up and use it to make some extra money?
Opinion Square Survey Website Review
To be completely honest, doing online surveys will never earn more than minimum wage. In fact, most people rarely earn more than $1-$3 per hour, if they are lucky enough to get a payout.
If you want to legit make money online you need to invest time into building a website. Earn passive income through affiliate links & advertising revenue. Rather than spend an hour trying to answer boring questions, build a real web property that you can earn monthly income from.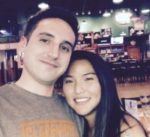 Nathaniell
What's up ladies and dudes! Great to finally meet you, and I hope you enjoyed this post. My name is Nathaniell and I'm the owner of One More Cup of Coffee. I started my first online business in 2010 promoting computer software and now I help newbies start their own businesses. Sign up for my #1 recommended training course and learn how to start your business for FREE!