This website offers to pay you for taking surveys and 'doing fun stuff.' But can you really make money with SurveyRewardz?
To answer that question, we need to look at the site itself.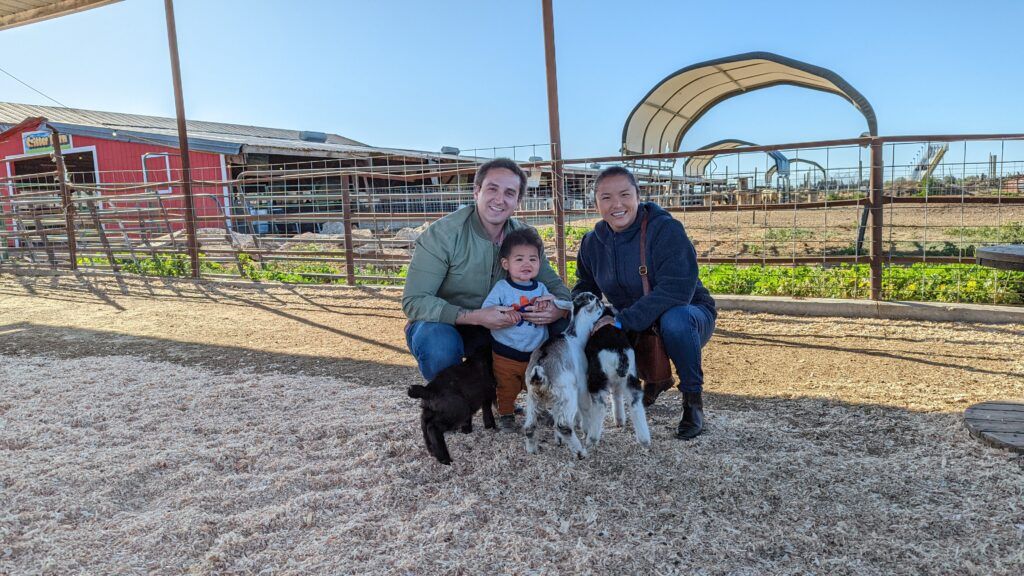 Are You Ready To Work Your Ass Off to Earn Your Lifestyle?
Are you tired of the daily grind? With a laptop and an internet connection I built a small website to generate income, and my life completely changed. Let me show you exactly how I've been doing it for more than 13 years.
Making Money With SurveyRewardz
I was drawn to the simplicity of this website. Take a look at these instructions, found on the landing page… and tell me that it doesn't get any simpler than this.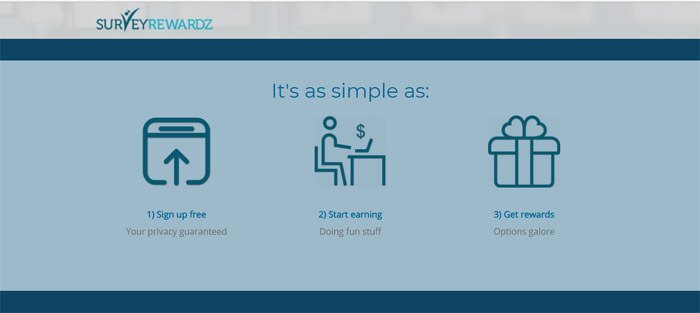 This is amazingly simple. You just sign up for free, start doing 'fun stuff' to earn money, and then get your rewards.
There are also supposed to be a lot of different ways to earn on this site. You can cash out with Dwolla, with a check, through Payza, with an Amazon gift card, through PayPal, or even with a Virtual Visa.
On the bottom of the landing page, SurveyRewardz says this about their site.
"SurveyRewardz is one of the world's most popular market research communities."
They also go on to say that they pay thousands of users to participate in online market research, in the form of surveys.
I took a look around the home page for some kind of a FAQ that I could read to learn more… but alas, the only next step I had available to me was to join the site and see what I could find on the inside. So that is what I decided to do.
Here's what I discovered.
Signing Up For SurveyRewardz
So signing up for SurveyRewardz was actually pretty easy. You could use your Facebook to register or login, or you could just sign yourself up with your email. The latter option is the option that I chose.
Once I filled out my email address and created a password, I was prompted to answer a few demographic questions about myself. These questions consisted of queries about my birthday, my gender, my ethnicity, etc.
Once I got done with this process (which took about 3 minutes, at the most), I was directed back to what appeared to be the main hub of the website. Here, I not only had access to a FAQ page, but I also had a survey that I could complete to make some money!

I decided to go ahead and take this survey first, as I wanted to see how long it would actually take. It was listed at 7 minutes for a value of $0.40.
That isn't a lot of money for that amount of time… but sometimes, these surveys don't actually take as long to get through as you would think.
So that was my next step.
Taking A Survey On SurveyRewardz
The first thing that you need to realize about this process is that I am very intentionally looking for a legitimate side-hustle. I am looking for a side-hustle because I love the idea of using websites and apps to earn extra cash.
Survey websites are at the top of the potential-list for me because they give me the ability to earn pretty much whenever I have the time.
The only problem with a lot of survey websites is that they simply don't pay out enough to make them worth the time in every case… so that was at the heart of what I wanted to learn about SurveyRewardz. Was this website going to pay enough to make it worth my time?
I was hoping that, by taking this survey, I could figure that out without a lot of trouble.
So here is what happened when I got started.
First of all, when I clicked on the survey link, I was instantly taken to the Global TestMarket website.
But this all seemed pretty straightforward, so I continued onward.
I came to a page of questions that took me about 30 seconds to complete… and I quickly learned that I did not qualify for this survey.
This was a bummer to me, as I was kind of looking forward to it… but oh well. I was offered another survey here, this one for $1.65… so I decided to see if I could actually make it through this one instead.
I clicked on it and was taken to a page where I needed to spend about 30 seconds filling out some information about the types of video games that I played. Then, when the time came to start the actual survey, this is the page that I came to.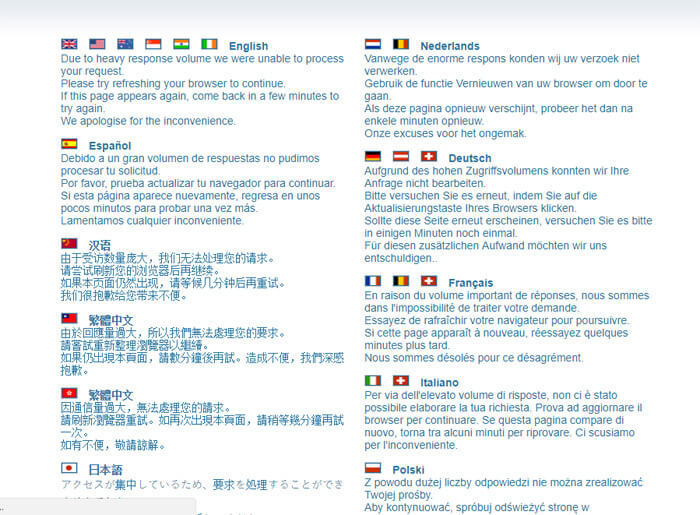 So yeah, this was quite a let-down. I did what it said and refreshed the screen. It continued to load for about half a minute, and then just settled back to this same screen again.
At this point, I had attempted to take two surveys… had filled out small pre-survey questionnaires for both, and had not gotten to actually take any surveys.
I guess what I am trying to say is this… that so far, all of my activity on this site has thus far proven to be a pretty big waste of time. I hate wasting my time, so obviously my opinion of SurveyRewardz was quickly diminishing… but I wasn't quite ready to throw in the towel yet.
So I decided to read through the FAQ to see if I could find out anything else.
Reading Through The SurveyRewardz FAQ Page
The first useful thing I learned is that they add new surveys every day… so that is a cool fact. At least there will probably always be surveys to take.
Another seemingly important thing that I learned is that you will be more likely to qualify for surveys if you completely fill out all of your profile information. This is kind of a no-brainer, to be super honest… but it is something to think about.
You can take surveys on SurveyRewardz regardless of what country you live in, as long as you are 18 or over. If you are under 18 but over 13, you need parental consent to join the site.
Surprisingly, there wasn't much else to be found here. There was a pretty big FAQ section, but most of the content was pretty obvious. There just wasn't a whole lot for me to learn here.
The next step was to just explore the site a bit more, in an attempt to see if I could learn anything else. So that's what I did.
Exploring The Rest Of The SurveyRewardz Website
I took a look around in the Withdraws tab first of all and realized that there are actually more cash-out options than were even listed on the first page. In addition to those already mentioned, you can also get options like a Walmart gift card, a Home Depot gift card, a Regal Cinema eGift card, and more.
I also clicked on the Account tab but found that this tab pretty much just seems to lead to the main hub.
I also clicked on the Support tab and found that you can create service tickets to help you with problems. All of your tickets, along with their status, are displayed here. The site says that most tickets get replies within 2 business days, but that you should allow 3-5.
But what I thought was really, really interesting was that they posted a current average reply time. Take a look at this…

Wow. They literally post on their site that the average reply time is almost 11 days!
That is a LONG TIME!!!
I am also noticing a trend. Every time I go back to the main hub, I can see the next survey that I supposedly 'qualify' for. But I am noticing that SurveyRewardz doesn't seem to pay out very well for these surveys.
To demonstrate this, I went back to the Account screen. Here, I was offered a 17-minute survey for $0.40. All of these surveys that I was being offered were pretty low-paying… and thus, I felt like, at this point, I had learned enough to give my final opinion of SurveyRewardz.
My Personal Feelings About SurveyRewardz
Personally, I will not be continuing to use this site… and here is why.
First of all, the surveys just don't pay enough to make them worth the time. But what was even more detrimental to my opinion of the site than this was the fact that I even tried to take two different surveys… but that neither of them worked.
I even filled out qualifying questions for both… and didn't end up making a single penny throughout this entire process.
With that being said, there were some things that I did like about the site. It seemed to give out a lot of potential surveys, and it looked/behaved well. Technically speaking, I didn't have much of a problem with it. I also liked the graphics and the simplicity of it.
But I am afraid that this site just doesn't have what it takes to be a true side-hustle. And for that, I'm going to have to take a pass.
Honestly, if I was going to try and earn through surveys, there are plenty of better sites to consider, like PaidViewpoint, Panel Payday, or Hagen/Sinclair.
Our Final Thoughts About The SurveyRewardz Website
Should you sign up and use it to make some extra cash?
The SurveyRewardz Review
To be completely honest, doing online surveys will never earn more than minimum wage. In fact, most people rarely earn more than $1-$3 per hour, if they are lucky enough to get a payout.
If you want to legit make money online you need to invest time into building a website. Earn passive income through affiliate links & advertising revenue. Rather than spend an hour trying to answer boring questions, build a real web property that you can earn monthly income from.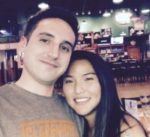 Nathaniell
What's up ladies and dudes! Great to finally meet you, and I hope you enjoyed this post. My name is Nathaniell and I'm the owner of One More Cup of Coffee. I started my first online business in 2010 promoting computer software and now I help newbies start their own businesses. Sign up for my #1 recommended training course and learn how to start your business for FREE!