This site (paidviewpoint.com) is said to pay you for your 'viewpoint.' But can you really make money with the Paid Viewpoint survey website?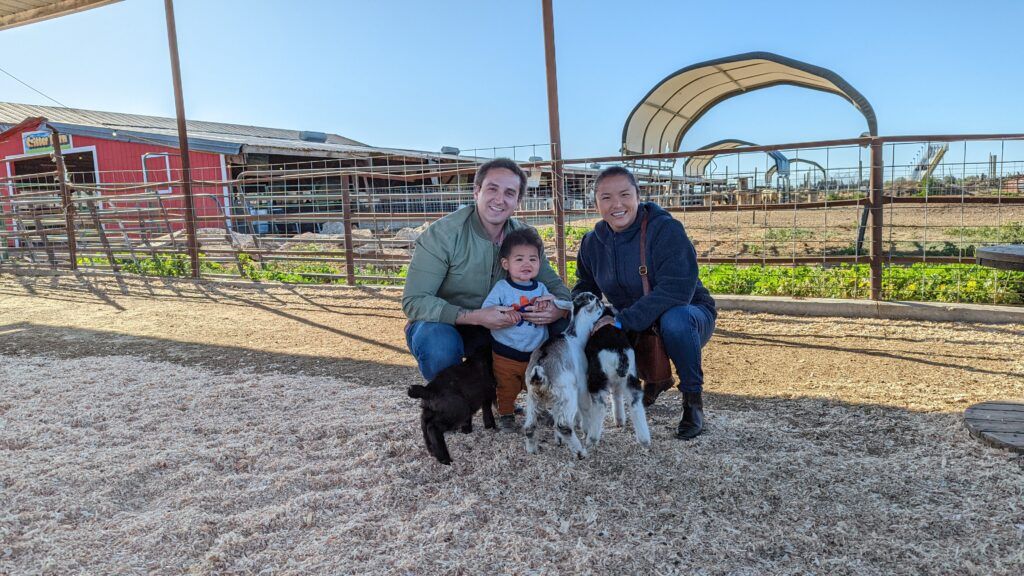 Are You Ready To Work Your Ass Off to Earn Your Lifestyle?
Are you tired of the daily grind? With a laptop and an internet connection I built a small website to generate income, and my life completely changed. Let me show you exactly how I've been doing it for more than 13 years.
This was another one of those lesser-known survey sites that I found while perusing some forums. I heard about it, and decided to give it a try since I had never used it before.
Making Money With The Paid Viewpoint Survey Website
Let's begin by taking a look at the site itself. My first impression of the landing paid wasn't too bad.
The graphics are quite nice, and the background is pretty stylish—though I will also admit that there wasn't much information to go off of here. There was literally nothing on the landing page except for the banner across the top, and some links to pages down below.
There were also some buttons where you could play a demo, register, or login. I decided to play the demo.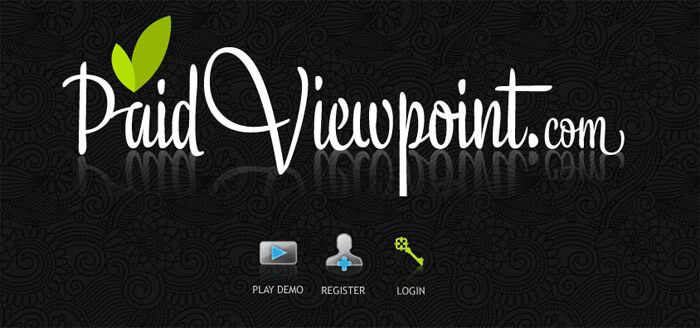 Ok… if you have not yet visited this site and watched this demo… you should probably do it. Even if you have no intention of using the site, the demo is worth a couple minutes.
I don't exactly know how to explain it. I am not going to say it's not well-done. But I'm also not going to say that it is well done, either. The voice is really unique.
I found the entire thing a little bit… let's say, abstract. It was an eyebrow raiser, and I did find it mildly entertaining, actually. It made me laugh more than once.
But… it did do a pretty good job of describing the site.
Basically, Paid Viewpoint is a site that seeks to make the survey taking experience better for survey takers. They try to make the entire process streamlined, easy, and hassle free. They say that most surveys take only a few minutes, and that they try to use eye-catching graphics, videos, and layouts to make the experience fun and engaging.
But one other thing they said definitely caught my attention. They say that once you are invited to a survey, you are in. No more being screened out of surveys.
I loved this. I have literally never heard another survey site make a claim like that—and that is pretty boss.
They also have a unique payment system in that they literally pay you for each question you answer—not just every survey you take.
They also pay you for answering the demographic information questions about yourself in the beginning of the registration process.
With this site, you cash out when you reach $15… which isn't too bad, to be fair. They also pay out to PayPal, not with gift cards or the like.
So I was ready to give it a try. So far, this was actually sounding a lot better than I had previously thought. Despite the slight strangeness and awkwardness of the promotional video, I was pretty buzzed to give it a go!
So here is what I discovered.
Taking A Closer Look At The Paid Viewpoint Survey Website
So, after watching the introductory demo video, I decided to sign up and see how it worked.
The 'Register' button is right on the landing screen. All I had to do was provide my email address and create a password. Some cool little leaf graphics popped up next to the fields that I completed.
This made me feel like I was actually accomplishing something, lol. So… maybe they are onto something with this site!
After this, I was told that I would be sent a verification email. I checked, and sure enough, the verification email was there. The next step was to activate my account. I did, and was taken to this page.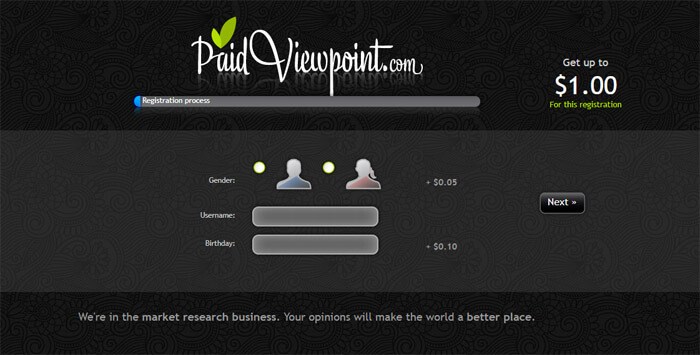 This is a good example of how this site said that they pay for individual questions. As you can see, I was going to make $0.05 for recording my gender, and $0.10 for recording my birthdate. At the upper corner, you can see how they tell me that I will make a total of $1 for my complete registration… which is pretty cool.
Thus far, I have to be honest… this is not a bad site, at all. They are doing a lot of cool things with it. But of course, I still had a ways to go. So I continued with my registration.
On the next page, I had to fill in my PayPal email. Also, it is very important that you actually give them a real PayPal email here… as this is how you will cash out, and it will have to be verified before you will even be allowed to do so.
I like how your cash meter, up at the far right corner of the screen, goes up as you answer questions. This is pretty motivating, but it is also pretty nice in the way that it lets you know exactly how much money you are racking up. I quite like it.
To complete the registration, you need to verify your mobile phone number. You do not have an option for this. If you want to cash out and get your money from Paid Viewpoint, then this is a step that you need to take.
You can do it either by calling, or by texting. I opted for the texting option. You basically text a verification number to their number, and that sets everything up and verifies you.
At least, in theory… this is how it is supposed to work.
But when I tried to do it, I got stuck. I texted the verification number, but it just kept loading. I waited… I reloaded the page, and I even tried closing the page and opening it back up. Still to no avail.
So I decided to call and finish the process that way. And it worked like a charm.
I am not sure why texting didn't work… but calling definitely did the trick.
This eventually led to me being taken to the main hub. Here is a picture of what it looked like.

At this point, the site gave me the option to take another quick survey, to answer some demographic questions about myself.
I finished this, and was paid for it as well—though not quite as much as I was paid for the registration process.
There was also another survey I could take, which I took. This one asked me some interesting questions about my personality. It took me about thirty seconds, and I got paid $0.10 for it.
This wasn't very much… but then again, I think that this was part of the registration process still, so it is not surprising that it didn't pay out more. And that was it. That pretty much left me with nothing else to do.
I had earned $1.31 so far, had experienced relatively little trouble along the way, and had actually enjoyed myself. I was a little disappointed that I didn't have any more surveys to take… but hopefully, this will change with time.
To be honest, the survey site was better than many others that I've found. Examples like 20/20, Vivatic and Opinion Square. were all paid less or were more frustrating to use.
So… is Paid Viewpoint a quality side-hustle-level survey site? Here is what I figured out.
Is Paid Viewpoint A Quality Side Hustle Site?
My answer to this question is a no, and here is why.
It is a no because I don't actually think that you can make enough money on Paid Viewpoint to justify calling it a side hustle.
Now, with that being said, I did love it. As a survey site, it is one of my new favorites, and I may even use it in the future… just because it is fun and because you can earn some cash using it.
Of course, you probably won't earn like a huge amount of cash… but that is also not really the point. This is not a side-hustle site. Instead, it seems that the focus of this site is to provide a fun environment to take surveys in, and then reward you for taking them.
And in this regard, Paid Viewpoint does a good job of meeting its goals.
Personally, I will not be using this site in an attempt to earn any substantial amount of extra cash, mostly because it was not designed to perform that way. I feel that I am going to have to continue my search for a proper side-hustle… though I do feel like this site would be a good fit for people who genuinely like survey sites.
A side hustle (at least, a good one) needs to not just generate plenty of extra money, but also to provide at least a certain amount of consistency and flexibility.
And when you put all of that together, I just don't think that this site meets all of that criteria. But, it is still fun, and is a heck of a survey site! So kudos to Paid Viewpoint on getting this part right!
Our Final Thoughts About The Paid Viewpoint Survey Website
Should you register and use it to make some extra money?
The Paid Viewpoint Survey Website Review
To be completely honest, doing online surveys will never earn more than minimum wage. In fact, most people rarely earn more than $1-$3 per hour, if they are lucky enough to get a payout.
If you want to legit make money online you need to invest time into building a website. Earn passive income through affiliate links & advertising revenue. Rather than spend an hour trying to answer boring questions, build a real web property that you can earn monthly income from.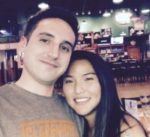 Nathaniell
What's up ladies and dudes! Great to finally meet you, and I hope you enjoyed this post. My name is Nathaniell and I'm the owner of One More Cup of Coffee. I started my first online business in 2010 promoting computer software and now I help newbies start their own businesses. Sign up for my #1 recommended training course and learn how to start your business for FREE!