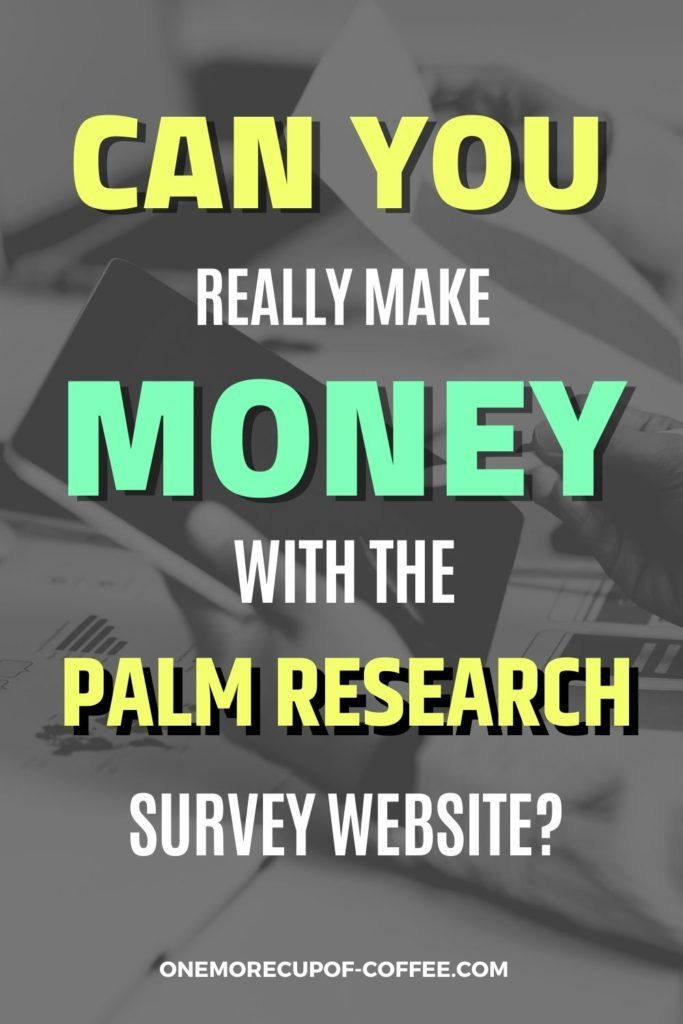 I found this site while researching new and slightly less well-known survey sites online. But can you really make money with the Palm Research Survey Website?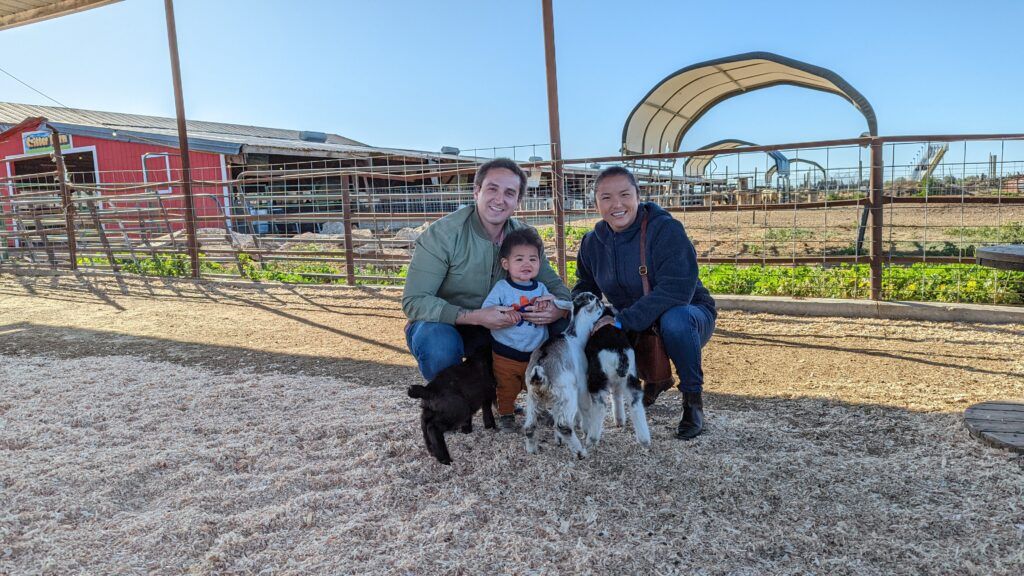 Are You Ready To Work Your Ass Off to Earn Your Lifestyle?
Are you tired of the daily grind? With a laptop and an internet connection I built a small website to generate income, and my life completely changed. Let me show you exactly how I've been doing it for more than 13 years.
This is what we were determined to figure out as we began our research. Here is what we discovered.
Making Money With The Palm Research Survey Website
So, to get started, what exactly is Palm Research?
Palm Research is said to be a 'Paid Research Panel,' and they offer to pay you for sharing your opinions. But I was a bit skeptical of this one after seeing the landing page.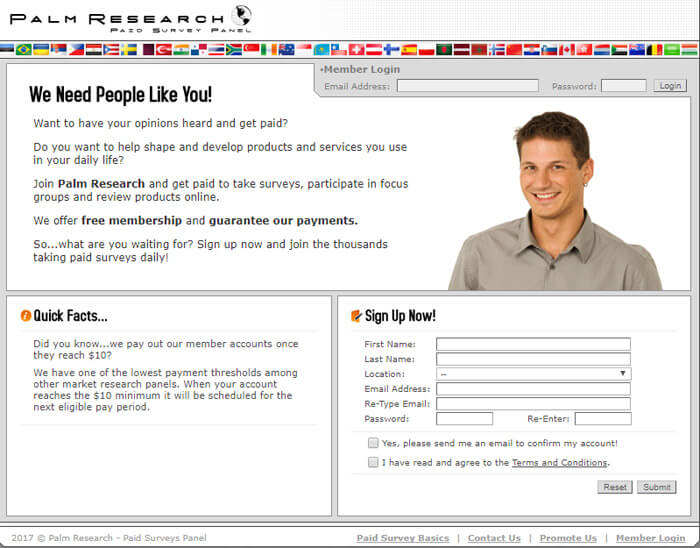 There is a rather sketchy looking dude on the front of the landing page (he is a white guy wearing a diamond earring—I am just not completely sure how I feel about that). I also felt like the general feel/design of the site was just a little bit weird.
But… I try not to judge a book (or in this case, a website) by its cover! So I was pretty committed to getting inside and figuring out what was up.
Other things I learned on the home page were this… that Palm Research tends to pay out once they reach $10, that they claim to have the lowest payment thresholds among other market research panels, (which I actually don't think is true… I have looked at a LOT of market research panels and I am pretty much 99% sure that this is not true), and that once your account reaches $10 minimum, you will be able to get your cash on the next eligible pay period.
But that was about all I could learn about the site without signing up.
Here is what I learned once I gained access to the site.
Joining Palm Research
To join Palm Research, I had to supply my name, my location, and my email address. I also needed to create a password. Once I signed up, the site told me that I would need to verify my email by checking my inbox for a verification email.
I checked my inbox… and sure enough, I had received a verification email. I also received something called an E-Signature Key. I wasn't sure what this was for yet—but I decided to keep an eye out for opportunities to use it—just because I was interested in finding out what it was intended for.
After verifying my email, I was sent to the next part of the registration process. Here is what the page looked like.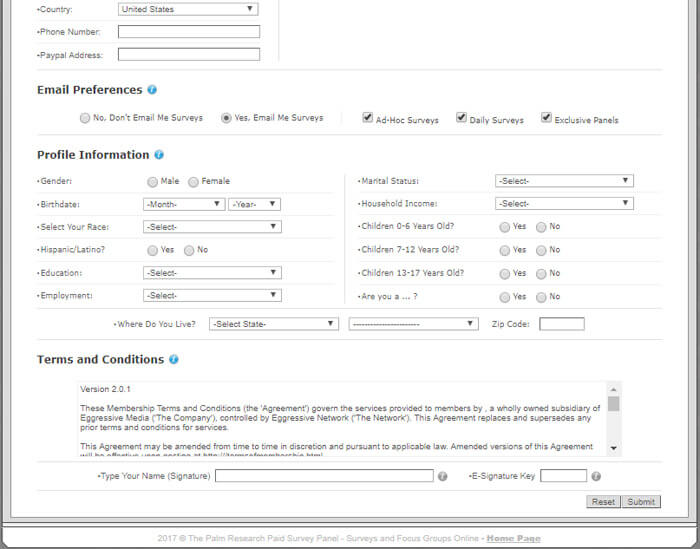 So, thus far, I had only filled out the introductory part of the registration process. I still needed to fill out the rest, so that is what I did next.
This page took me through a lot of information that needed to be filled in, and it ended with a place for me to sign it digitally. It also ended with a spot for my E-Signature Key, which answered my question about what that was for!
I entered all of this information, and then clicked the 'submit' button.
This is what I found.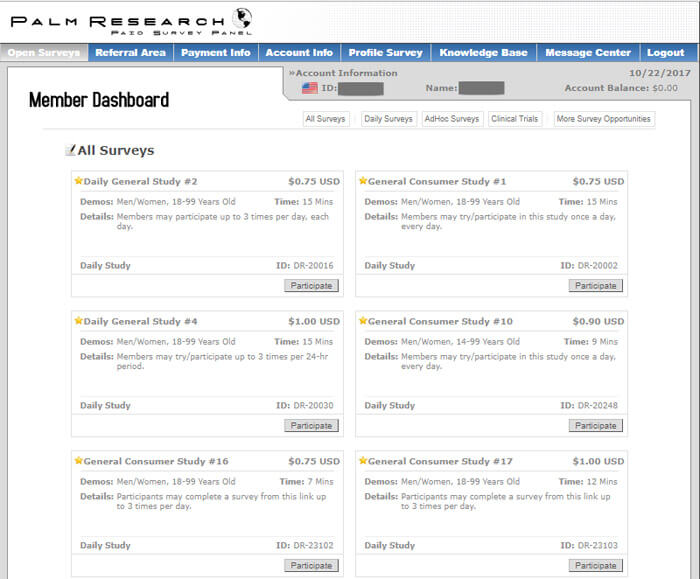 So at this point, I arrived at the member dashboard… which seemed pretty straightforward. There were actually a lot of surveys here, and there was a lot of information available about each of them… including the name of the study, memos about who the study was intended for, and other details.
You could also see how much it paid, and the estimated time that it would take to complete it.
I also realize that there were several 'daily' studies, which was quite interesting. Here are some examples of them…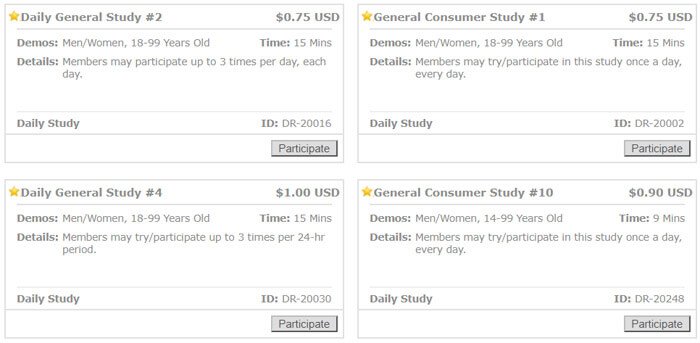 Many of these surveys said that members could try to participate in them up to 3 times per day (this number varied by survey… some of them were only 1) and get paid for each one.
This was very interesting to me because it demonstrated that a lot more money could be made for each survey posted than just the initial survey amount. In a sense, this gave the survey site a lot more 'replay value' than sites like this usually boast.
This was obviously an upside, which I liked very much.
But another thing I noticed about these surveys was that they didn't seem to pay very much for your time. The average survey here seemed to pay about $1 for a 15 minute survey. Granted, sometimes surveys do not take as long as listed, but it was still a thing to consider.
At this rate, you would be able to make about $3 an hour… allowing for some time between surveys to bring up the next one and such.
This is an ok amount, and is actually above average—but it is a far cry from being 'good enough' to warrant a lot of attention from me.
But, I was also curious about the surveys… so I decided to take one. I wanted to see how the site performed, and the best way to do that was to just start working. So that's what I did next.
Taking A Survey On The Palm Research Survey Website
I chose a survey and got started on it.
Here is what one of the questions looked like, just to give you an idea of how it was all laid out and formatted.

The layout was fine, but not necessarily altogether awesome. I felt like it was actually quite glitchy, to be super honest. In fact, I tried twice to take a survey. The first time, a page ended up not loading, and then my internet went out.
I did not necessarily think that the survey had anything to do with this. So I reloaded it and gave it another try.
Once again, I got to a page that just kept loading and loading—and wouldn't go anywhere. I couldn't go back, I couldn't go forward—I actually had to close the browser window and just exit out of it.
So yeah. Between these two attempts, I wasted probably 6 or 7 minutes—all without making a single penny or really accomplishing anything.
At this point, I felt that I had learned enough about Palm Research to give my full opinion. Here is what I came up with.
Will I Personally Be Using Palm Research?
The short answer to this question is a no. But I will explain.
I didn't really like anything about this site to begin with. I didn't like the design. I didn't like the way it was laid out. I didn't like the way it looked… etc.
But once I got into it and started looking around, I did notice a few things that I liked. For one, I liked that you could take surveys more than once. That was actually a pretty cool element to the site for me, because it doesn't seem like a lot of survey sites offer this.
Another thing that I liked was that Palm Research seemed to offer quite a few surveys.
The main hub of the site offered several different surveys that I could take, and different people might even be able to qualify for more than I did (for some reason, I tend not to qualify for as many surveys as a lot of other people do. I am not sure why. It must have something to do with my demographic).
But this is where the site started to take a downward turn for me. First of all, I was not impressed with the compensation that they offered for surveys. They were offering about $1 per survey, and the surveys took approximately 15 minutes to finish—so that was a thing that frustrated me.
If a survey website is going to qualify as a quality side-hustle, then it needs to be able to generate quite a bit of cash for me. If it can't, then I find myself very reluctant to do much with it—for the simple fact that I really do value my time.
I like the idea of survey sites because they could, in theory, allow me to make some sweet extra cash on my own schedule. But it is really not worth it if you can't hope to make enough to make the effort worth the money.
Time is a valuable resource, and I need to be able to make a certain amount of money with my time to consider pursuing something.
So that was one downside to this site.
Another pretty drastic downside was the fact that the surveys were so glitchy. I was certainly not a huge fan of that, and didn't even end up getting to finish a survey because of it! What good is a survey site if you can't even finish surveys?
Besides, many other survey sites manage to avoid technical glitches almost entirely, like OneOpinion, Panel Payday and PointClub.
So unfortunately, I had no choice but to forgo this one and try something else.
Our Final Thoughts About The Palm Research Survey Website
Should you register and use it to try to make some extra money?
The Palm Research Survey Website Review
To be completely honest, doing online surveys will never earn more than minimum wage. In fact, most people rarely earn more than $1-$3 per hour, if they are lucky enough to get a payout.
If you want to legit make money online you need to invest time into building a website. Earn passive income through affiliate links & advertising revenue. Rather than spend an hour trying to answer boring questions, build a real web property that you can earn monthly income from.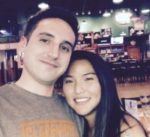 Nathaniell
What's up ladies and dudes! Great to finally meet you, and I hope you enjoyed this post. My name is Nathaniell and I'm the owner of One More Cup of Coffee. I started my first online business in 2010 promoting computer software and now I help newbies start their own businesses. Sign up for my #1 recommended training course and learn how to start your business for FREE!