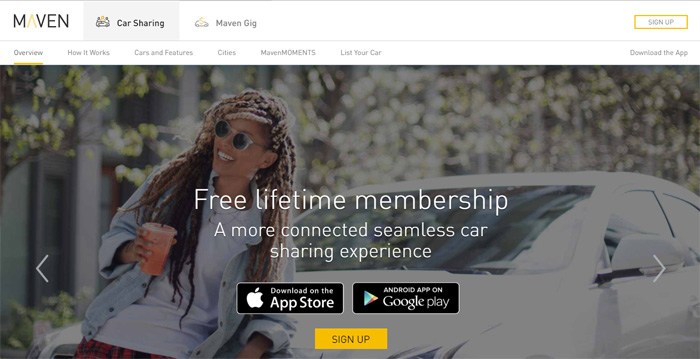 For those of you who live in the larger cities of the US and are also plugged into the sharing economy, Maven may not be a secret. But a lot of people still haven't heard of it, so we are going to talk about it. Can you really make money with Maven?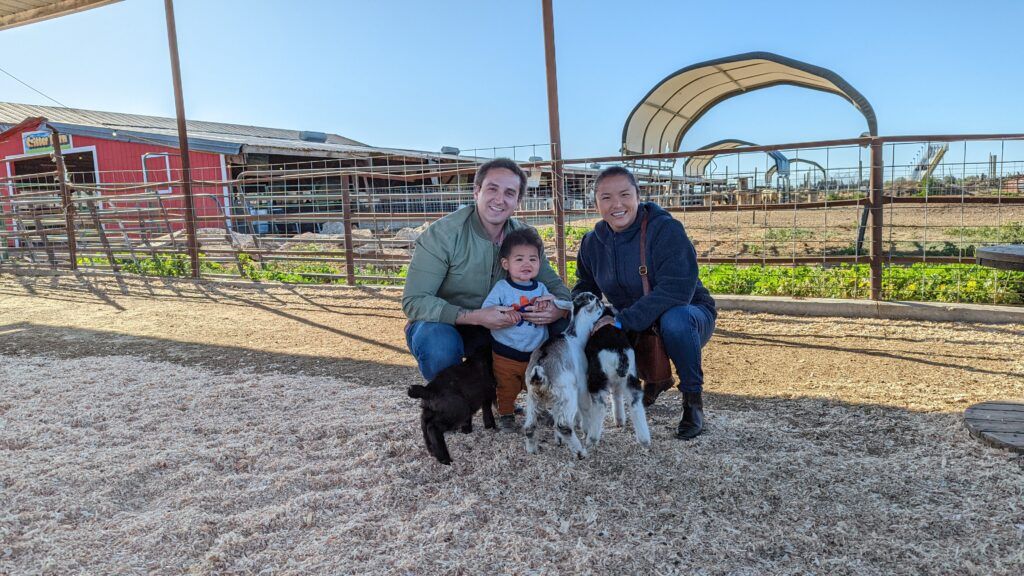 Are You Ready To Work Your Ass Off to Earn Your Lifestyle?
Are you tired of the daily grind? With a laptop and an internet connection I built a small website to generate income, and my life completely changed. Let me show you exactly how I've been doing it for more than 13 years.
We are all about side-hustles around here. And lately, I've been doing a lot of research about sharing economy.
Sharing sites like Airbnb, Turo, and Style Lend can make renting a room, a car, or an outfit easy and cost-effective. But Maven provides a different take on this, introducing car sharing on an hourly basis for people who need it.
Making Money With Maven
The important part for us is that Maven could also prove to be an awesome side hustle because it allows people who own cars to rent them out.
Owning a car is more of a liability for many. It actually costs money instead of making money. Yes, cars are convenient… but in our ever-changing world, owning a car has become less and less practical for many people.
But Maven may be able to change that by helping you to turn that liability into an investment. Listing your car on Maven may not make you rich, but it can help you to offset some of the costs associated with owning a vehicle.
And that, in itself, could make a big difference for your bank account over time.
What Exactly Is Maven?
On the landing page of www.maven.com, you will find a number of different menu tab options. Car Sharing, Maven Gig, How It Works, Cars and Features, etc. are all options that you can click on and read through.
From the very beginning, it seems readily apparent that you will need the Maven app to really make use of the site. They make the app available to both Apple and Android users, which is pretty cool.
But basically, the site works like this; you use the app to figure out what cars are available nearby for rental. Car rentals cost you anywhere from $8 an hour, plus tax, to more. They have cars ranging from electric powered vehicles, to sedans, to SUVs.
But I was obviously the most interested in the final menu list item… List Your Car.
I clicked on this to get more acquainted with this process.
Listing Your Car On Maven

According to this part of the website, you list your car, rent it out, and earn money. Of course, Maven is only available in a limited number of cities.
In the United States, these cities include…
Ann Arbor, MI
Chicago, IL
Los Angeles, CA
San Francisco, CA
Baltimore, MD
Detroit, MI
NYC
Washington, DC
Boston, MA
Denver, CO
Orlando, FL
The fact that Maven is not available everywhere yet could perhaps be considered one of the downsides to the service. But at the same time, if you do live in one of these areas, that just adds Maven to your list of available car-sharing networks to choose from. And that, to me, is pretty awesome.
Maven also supplies $1,000,000 in liability insurance coverage. This includes comprehensive and collision coverage.
One unique thing about Maven is that they only deal with General Motor's vehicles. This makes them different from other car-sharing networks, where you can pretty much list any car as long as it meets the basic requirements.
Another really cool element to this is that, on push-button-started cars, the app acts as your key—allowing you to unlock and even start a rental car with your phone.
This is pretty awesome.
But anyway, back to listing information.
How Much Can You Earn Listing Your Vehicle With Maven?
There are a lot of benefits to listing your vehicle with Maven. First of all, you can earn quite a bit of extra cash every month by sharing your car. Here is a screenshot of the earning's calculator screen.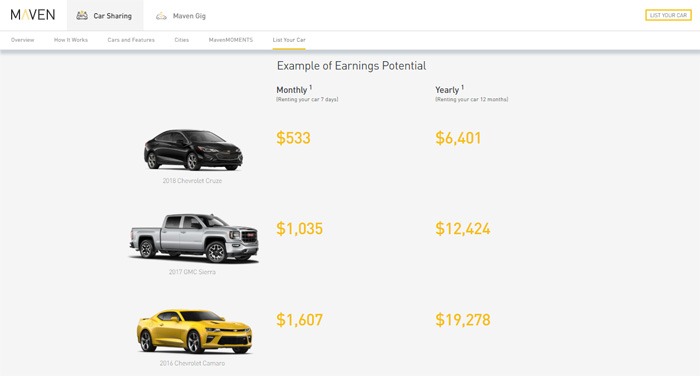 You basically earn 60% on each trip. But there are also other perks. You get an OnStar safety and security plan, a sharing bonus of $150 after 3 months (if your car is available for rental at least 50% of the day each day during those three months), an active 4G LTE Wi-Fi Hotspot compliments of the company, and the option to add Keyless Access for Drivers.
So there are certainly a lot of perks to listing your car with Maven.
Does Maven Cost Anything To Use?
For the people listing their vehicles for use, Maven is free to get started with. You just enroll your car, start sharing it within 24 hours, earn payouts once per month for the money you have earned from rentals, and enjoy.
You do have the option to pay $200 to get keyless access installed on your vehicle, but the great thing about Maven is that, if you have this installed, you can just leave your car where you park it and forget about it.
Everything gets handled through the Maven app and by the company. So renters will be able to rent your car, pick it up, drive it, return it, and pay all right through the app.
This means that your car can just earn cash for you while you are not using it, which is pretty awesome. And the best thing is that it will require virtually zero time investment.
Are There Non-Monetary Costs To Using Maven?
The only non-monetary cost that we can see would be the wear and tear on your car. Of course, you are getting paid for this, and road trips are likely to be short, as the customers are getting charged by the hour.
But—wear and tear is still a real thing, so you might want to put some of those earnings aside for new tires, oil changes, and maintenance.
How Does Maven Stack Up Against Other Car Sharing Services?
You could definitely compare this service to other gigs, like Turo.com. But there are some notable differences.
Maven is only for GM cars
Maven handles everything through the app for you, while you have to deal with customers directly with Turo.com
Maven rentals are generally by the hour. Turo.com is by the day.
Maven provides a lot of other perks outside of just a cut of the earnings, the biggest of which are insurance, OnSTar, and free Wi-Fi. These perks add a ton of value to Maven.
Maven is only available in select cities. Turo.com is available pretty much everywhere.
My Personal Feelings About Maven
I love sharing economy, and I love gigs that make share-economy easy. I also love apps and websites that make it easier for people to share things with each other. I actually believe that there is a huge future in this kind of thing, and hope to see more of it in the years to come.
With that being said, Maven really takes the idea of ride sharing to a level that is definitely more technologically sophisticated. With the keyless operation added to the mix, the experience truly becomes hands-off for people listing their cars.
Maven takes the front seat in this service to pretty much take care of everything. Plus, with offerings like OnStar and free 4G Wi-Fi, they add some serious perks to the service that make it even better.
This is a true taste of what the future might look like for the sharing economy, especially where cars are concerned… and I love it.
Car sharing is simply an awesome option for everyone. For people who do not have a car, it can give them an affordable, efficient alternative.
Taxis are kind of expensive, and taking the bus is not always convenient… so Maven offers an option that gives truly-flexible car sharing to people when they need it.
On the other side of this, Maven can give car owners the option to rent out their car to help turn a liability into an asset—and that is also awesome.
Everyone wins in this scenario.
The main thing that I see as a downside to Maven is that it is not available everywhere. So if you are not located in one of the network cities, you will not have this option at your disposal.
But for those of us who live in one of those cities, Maven is obviously a great option if hour-by-hour rental is what you are looking for.
Other options might offer you a lower cost if you need to rent for more than a few hours at a time—but at the same time, that seems to be Maven's territory. Hourly car rentals are hard to find, so Maven fills that gap quite nicely.
All things considered, I am a pretty big fan of this service! If you have a car and want to earn some extra cash with it, you may want to check this option out.
Our Final Opinion Of Maven
Should you list your vehicle and try to rent it out by-the-hour to make some extra cash?
There are a lot of ways to make money online. Some are good, some not, but ALL of them are still just trading hours for dollars.
Starting your own affiliate website really is the best way to build passive income and "make money while you sleep". Affiliate websites earn income in every timezone, and can be instantly accessed by billions of smartphones across the globe!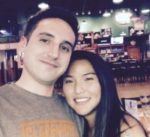 Nathaniell
What's up ladies and dudes! Great to finally meet you, and I hope you enjoyed this post. My name is Nathaniell and I'm the owner of One More Cup of Coffee. I started my first online business in 2010 promoting computer software and now I help newbies start their own businesses. Sign up for my #1 recommended training course and learn how to start your business for FREE!