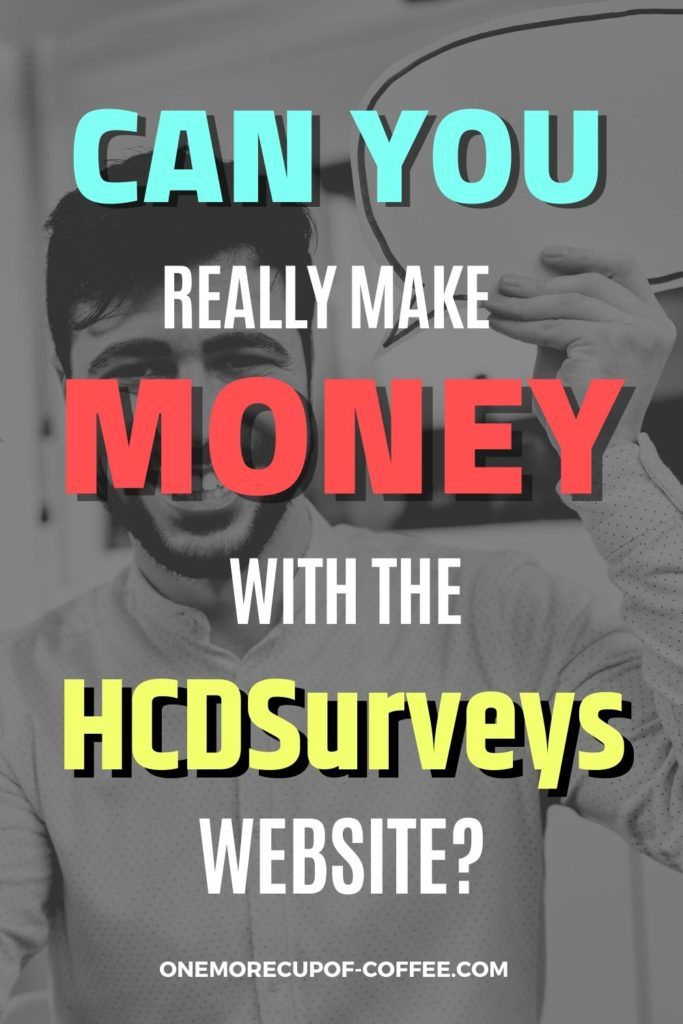 This site says that your opinion makes a difference, and even offers to pay you for sharing it! But can you really make money with the HCDSurveys website?
It can be found at HCDSurveys.com, and is a service of HCD Research, Inc. And, it is technically classified as a 'consumer survey panel' website.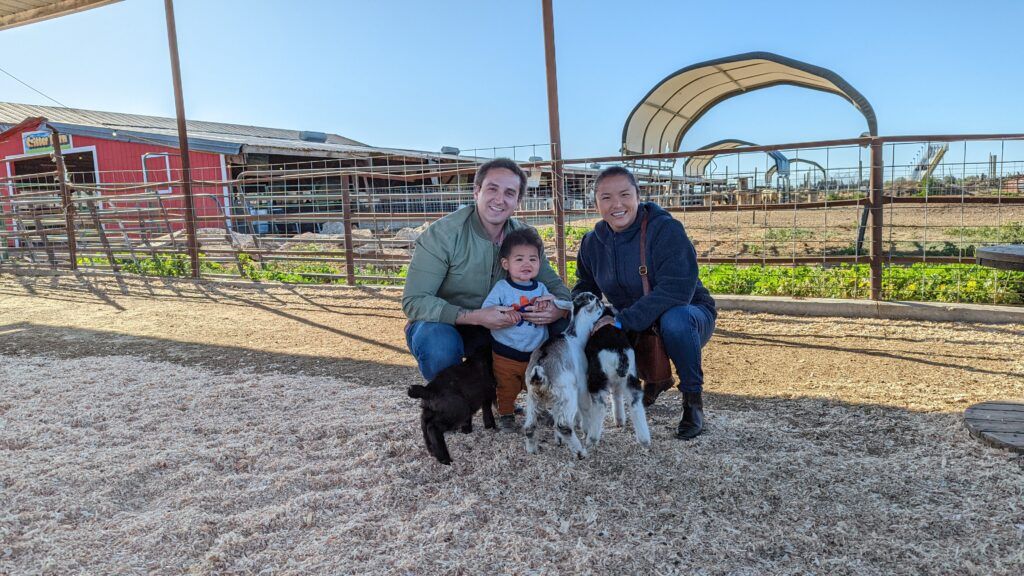 Are You Ready To Work Your Ass Off to Earn Your Lifestyle?
Are you tired of the daily grind? With a laptop and an internet connection I built a small website to generate income, and my life completely changed. Let me show you exactly how I've been doing it for more than 13 years.
At first, we were a bit concerned to see a 'scam alert,' front and center, on the landing page. But after looking at it and reading through it, we were able to come to the conclusion that it (the scam alert) doesn't really have anything to do with HCDSurveys itself. Rather, another company has been trying to imitate them, so that is what that is all about.
Some other company is trying to get people's personal information by sending out checks labeled as being from this company. But it looks as if HCDSurveys is doing their part to help fix this problem… so kudos to them for putting this warning right on the front page of their site.
At any rate, I was turned on to this site through a blog that I read. The blog is about side hustles, and I will say that this is what I was interested in when I first started looking into HCDSurveys.com.
Making Money With The HCDSurveys Website
The first thing to talk about is the idea of side hustles and why I'm interested in the HCDSurveys website to being with.
A side hustle is pretty much a money-making opportunity that is not only profitable but also flexible and consistent. Something that you can do on the side, in your own time, to make ends meet and to generate a bit more income.
I love the idea of using survey sites as side hustles, mostly because they tend to offer so much flexibility. You can really use them from anywhere, at any time, which is a huge bonus.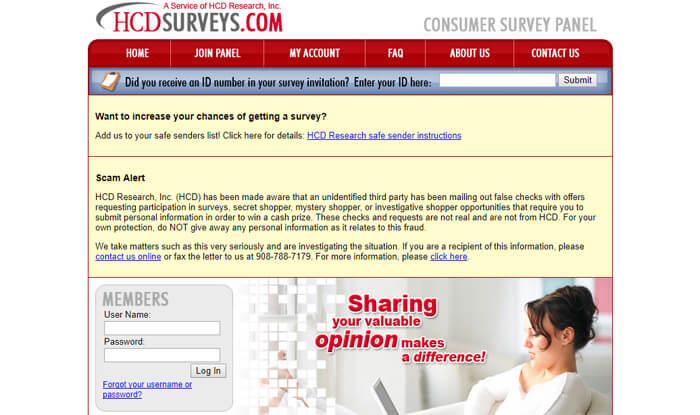 But they also struggle to be as profitable as they need to be to really be effective… so that was something I was interested in figuring out about HCDSurveys. Did this site pack enough of a punch to be profitable, or was this just going to be another survey site offering a few dollars here and there for time-consuming surveys?
I have reviewed a lot of survey sites that looked like this one at first—and I will say that I was skeptical that this one was going to be much different.
A lot of these sites pay out only small amounts for surveys and do not supply enough work to really qualify them as a side hustle.
There is also an issue among survey sites where they tend to require a lot of effort for the money that you make… but, I hate to judge a book by the cover, and I could not say for sure that HCDSurveys was going to suffer from the same problem.
So I gave it a try.
Here is what I discovered.
Getting Started With HCDSurveys
First off, when I scrolled down the landing page a bit, I found out some more information about the site. Here is a quote I found that helps to describe exactly what HCDSurveys is all about…
"Help shape the decisions made by various industries that affect you, including entertainment, health care, political, food and beverage, and financial."
I also found out the following…
Receive free gift certificates or cash for selected studies
Your membership is free
Joining is easy, and it pays
I also found out that there was a FAQ page about the site, which was linked-to down towards the bottom of the landing page.
From this, I learned a few different things. For one, I learned that this site pays out in points that are essentially worth a penny each. So, in other words, if you have 100 points in your account, you have the equivalent of $1. I also learned that you only get real cash as a reward on this site… they do not mess around with any other type of prize or payment, which I was certainly happy about.
I also learned that, on average, you will earn between 100 and 500 points per survey. If you try to take a paid survey and end up not qualifying, then you will be awarded 10 points for your trouble.
As for redeeming rewards, I found out that you can redeem money as long as you have at least 1,000 points in your account (or $10). To redeem your rewards, you visit the 'My Account' page and click on 'My Rewards.'
The company says that it can take 6 to 8 weeks for the payment to arrive after you have ordered it. This seems like quite a while, but I guess I don't see it as a deal-breaker.
It is what it is. They pay out via check, which is kind of old-fashioned, so maybe they just need time to process the surveys and such before giving out the rewards.
I also found out that the company was very vague about how many surveys they send out each month. They say that you should keep your profile accurate and complete to ensure that you get invitations to as many surveys as possible.
At this point, I felt like I had figured out as much as I was going to without joining the site. So that's what I worked on next.
Signing Up For The HCDSurvey.com Panel
Signing up for the HCDSurvey website was pretty easy. It took a minute to fill in all of the information (which was all quite basic). But after that, the only step was to validate my email by checking my inbox.
As I expected, an email was waiting for me in my inbox. I clicked on it to activate my account and was then taken back to the landing screen. I signed in and was promptly taken to the main hub, where I found this page.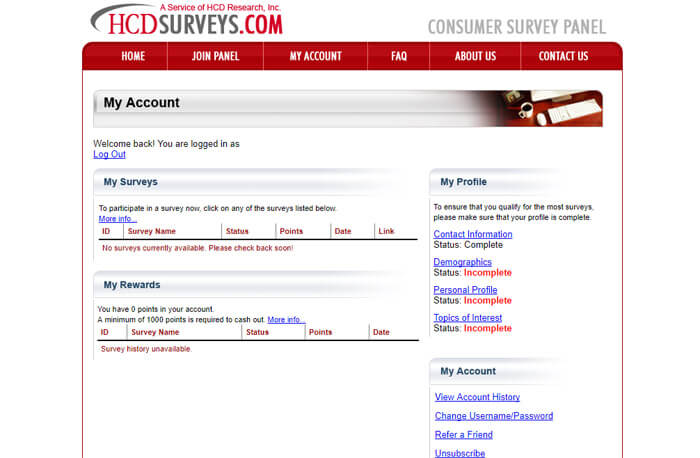 I was slightly disappointed that I didn't have any surveys waiting for me. But, then again, I also had not filled out any of my profile information.
So I started working on this next. I will admit that this next part did take some time. Not an incredible amount of it, but enough that I found myself wishing I didn't have to do it. I don't mean that in a negative way… it just obviously would have been easier.
But, I think the biggest question here is whether or not this effort was worth the time. Obviously, the reason that I was on HCDSurveys.com was to see if I could make some extra money with it.
And not just 'any' amount of extra money. I wanted to see if it could qualify as a legitimate side-hustle that would allow me to make some sweet extra money on the side.
And on this note, I felt that I had discovered the answer. So after looking around and giving the site a try, here is what I came up with.
How Did The Site Perform Technically?
This company has been around since 1991, so they have been in the game for a long, long time. And their website definitely mirrors this. It is not necessarily 'fancy,' but it is businesslike and gets the job done.
I have visited a lot of review websites that were similar to this and can tell you that this one does perform pretty well on a technical level. Obviously, it could always be better. I do feel like it could just look a little bit better overall, and that certainly wouldn't hurt anything.
But all things considered, I was not disappointed with how HCDSurveys.com performed.
My Personal Feelings About The HCDSurveys Website
Ok. I've already said that this site performed well technically, but here are my thoughts about the surveys, the payments, and whether or not the site is actually going to work well for people who want to make some extra money.
I really see a lot of evidence to support the fact that HCDSurveys.com is a great survey site for people who enjoy taking surveys. They do pay out a little bit, and they do provide some monthly surveys that are probably fun to take if you like that kind of thing.
They are also a reputable company, so you won't have to worry about being scammed or anything like that.
But is this the kind of website that will help you to make some serious side-hustle cash?
I'm afraid that it doesn't seem that way, at least as far as I can tell. I feel like this site will probably pay you enough to generate some extra money, and you can certainly fill out some surveys and get a check in the mail after you have completed enough of them.
But as far as a consistent, profitable side hustle goes, I'm afraid that HCDSurveys just doesn't quite have enough to offer.
Besides, if you are going to work on a survey site, it's normally better to use one that allows you to cash out with PayPal, like Point Club, Survey Junkie, or One Opinion.
Our Final Thoughts About The HCDSurveys Website
Should you sign up and use it to make some extra money?
The HCDSurveys Website Review
To be completely honest, doing online surveys will never earn more than minimum wage. In fact, most people rarely earn more than $1-$3 per hour, if they are lucky enough to get a payout.
If you want to legit make money online you need to invest time into building a website. Earn passive income through affiliate links & advertising revenue. Rather than spend an hour trying to answer boring questions, build a real web property that you can earn monthly income from.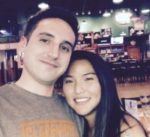 Nathaniell
What's up ladies and dudes! Great to finally meet you, and I hope you enjoyed this post. My name is Nathaniell and I'm the owner of One More Cup of Coffee. I started my first online business in 2010 promoting computer software and now I help newbies start their own businesses. Sign up for my #1 recommended training course and learn how to start your business for FREE!