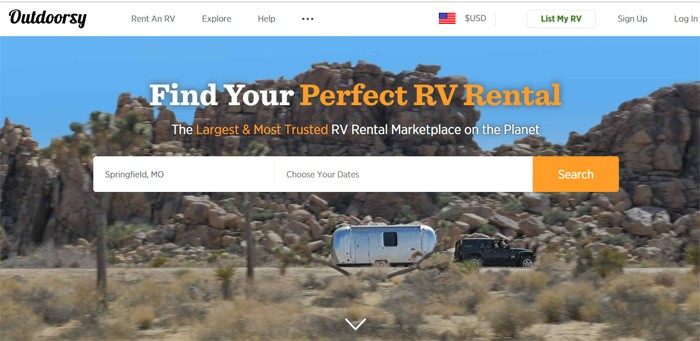 This side hustle idea may not work for everyone—but for those of you who own an RV, this could be a way to put some serious cash in the bank! Can you really make money with Outdoorsy.com?
In this review, we discuss the ins and outs of the site, and figure out if it may actually be worth pursuing. Let's get started.
Why Make Money With Outdoorsy.com?
Before we get too deep into this side-hustle discussion, we should discuss, for a moment, the merits of the idea of a side-hustle as a whole.
Most people love the idea of earning more money. But for those who work standard jobs, this can be difficult to obtain through work alone. You only have so much time, and if your job is full-time, the idea of starting an additional part-time job may not be completely realistic.
We only have so many hours in the day, right?
Well, side-hustles are opportunities that you can employ to earn you some extra cash on a more flexible schedule. As a general rule, a side hustle is considered worthwhile if it is…
Flexible
Consistent
And profitable
We do a lot of searching for side-hustles on this site because we know how important it is to be able to make extra money on the side. Not only can a side-hustle help you to take more control over your finances, it can also drastically increase your quality of life and give you more options to do the things you want to do and live the way you want to live.
But… finding the right side hustle is not always so easy. That is why we do this.
At any rate, let's talk about Outdoorsy.com.
What Exactly Is Outdoorsy.com?
Outdoorsy.com is an RV rental site where you can rent RVs from people who own them. It is kind of like the Airbnb of RVs… except with some obvious differences.
Of course, before you will be able to utilize this site as a side-hustle yourself, you will need to be able to rent out an RV of your own. So, owning one is an essential part of this side hustle.
But if you do happen to own one that you don't use all the time, it is possible that you have a huge potential side-hustle sitting right in your driveway!
How Does Outdoorsy.com Work?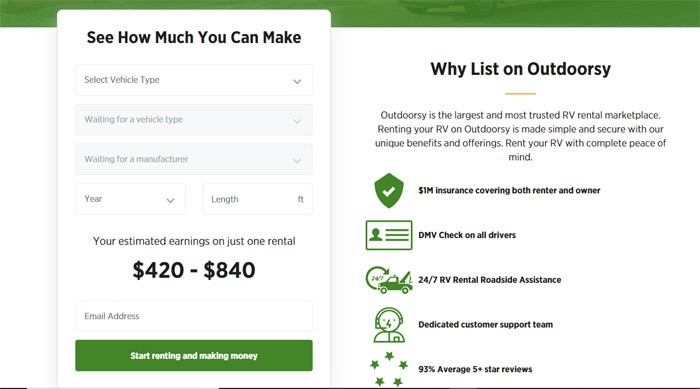 Outdoorsy.com basically works by allowing you to list your RV for rent right on their website. They even have a calculator that you can use to calculate how much you could earn, depending on your location and the make/model of your RV.
There are a number of benefits that come from listing your RV on this site, as opposed to renting it out independently. Some of these include…
$1 million in insurance to cover both the renter and the owner
DMV checks on all drivers
24/7 Rental Roadside Assistance
Dedicated customer support
93% average for 5-star reviews!
When you list your RV, it will be available for people to rent… but as the owner of the RV, you always get the final say in whether or not they are actually allowed to rent it.
In other words, you have the final say in any specific rental case, which is nice. This gives you the ability to protect your property from deals that might seem bad before they actually turn bad.
How Much Can You Earn Every Month On Outdoorsy.com?
The amount of money that you can earn is pretty much dependent upon two things.
The area you are in
What kind of RV you have
You can look up your particular RV to see what kinds of prices you can expect to pull when you rent it out, which is pretty awesome. But since I do not have an RV, I decided to take a look at what was being offered in my immediate area.
I found a few different options. I found…
A 2013 Forest River Cherokee for about $80 per night
A Coachmen Catalina Santara for $127 per night
A 2016 Forest River Cherokee (sleeps 10!) for $101 per night
A MASSIVE Prevost 45xl (1993) for $300 per night
And so on.
There were a LOT of potential RVs to rent in my area. And thanks to these numbers, I was able to figure out what the owners were looking to earn on a rental per night. So, with this being said, there is another factor that you would need to weigh when looking at what this side-hustle opportunity could earn you.
How often will you be able to rent your RV out?
Obviously, if you live in a more tourist-centric place, you might end up being able to rent it out quite often… especially if you price it affordably.
Does It Cost Anything To Use Outdoorsy.com?
There are no fees associated with using the website until you actually rent out your RV. And even then, they only skim a small percentage off of the rental payout.
And therein lies the beauty of websites like this. People who need an RV can rent one out without being required to pay exorbitant prices or deal with frustrating red-tape… all because services like this put people in need of something directly into contact with someone who has it and is willing to rent it out for an affordable price.
But another really awesome element of all of this is that it cuts down on waste. If you own an RV, then letting it just sit in your driveway is kind of a waste of your money.
Instead, you could turn it into an investment and list it on Outdoorsy.com. This would help to turn a depreciating RV into something that could actually earn you some decent side-cash!
What Are The Non-Monetary Costs Of Using Outdoorsy.com?
The biggest non-monetary cost associated with using this site is probably the time you would need to put into putting up a profile. You would need to clean up your RV, take pictures of it, list the specs, describe it, etc.
The more work you put into your profile, the better the chances would be of it getting rented out and you getting some cash in your pocket.
But aside from this, it is a pretty straight-forward and easy gig. You are even protected with insurance if something should happen to your RV, which is pretty cool!
Additional Details About The Service
Here are a few additional details I learned about the service as I researched and read on their website.
First of all, as far as the press goes, this website has been mentioned by some pretty prolific news sources, including…
CNN
RVBusiness
Time
Conde Nast Traveler
Digital Trends
GeekWire
RVPro
NBC
ABC News
And more
To date, they have also acquired more than 5,000 reviews from customers, fostered over 1.2 million interactions on their website, and have helped people to take over 240,000 trips with rented RVs.
They say that you can earn up to $30,000 per year renting out RVs to people using their site. They say that, thanks to their background checks, they only bring quality renters… though you even have the ability to say no to any of these as well, ensuring that you will not be put into any uncomfortable situations with renters you don't approve of.
They also offer a payment system that puts the money right into your bank account 24 hours after the RV has been rented. This way, you can be assured that you will get paid without a problem.
My Personal Feelings About Outdoorsy.com
Personally, I love websites like this. This website literally helps to connect RV owners and those who would like to rent a nice RV for an inexpensive rate, insures both of them, and provides all kinds of other extra all for just a bit of the fee that gets paid when the transaction is complete. I love it!
Airbnb uses the same concept, and there are many other websites that follow this same type of format.
Obviously, the biggest limitation to this website is that it is only going to help people who either own, or need, an RV. If you don't own an RV, Outdoorsy.com is probably going to be pretty pointless to you as a side-hustle opportunity.
But… if you do happen to own an RV and are thinking about renting it out to earn some extra cash, then this would be the place to do it.
You will probably not get rich using Outdoorsy.com… but it could at least help you to earn some extra cash. At the very least, it will not cost you anything to list your RV in the event that someone wanted to rent it.
All in all, I thought it was a pretty cool side-hustle idea!
If you're interested in camping or the share economy, there are other sites that allow you to earn too. For example, Spinlister is a similar service for bikes, surfboards, skis and the like, while the site Gamping allows you to rent out private spaces for people to camp in.
Our Final Opinion Of Outdoorsy.com
Should you use it to rent out your RV and make some extra money in the process?
There are a lot of ways to make money online. Some are good, some not, but ALL of them are still just trading hours for dollars.
Starting your own affiliate website really is the best way to build passive income and "make money while you sleep". Affiliate websites earn income in every timezone, and can be instantly accessed by billions of smartphones across the globe!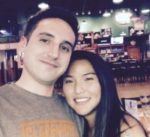 Nathaniell
What's up ladies and dudes! Great to finally meet you, and I hope you enjoyed this post. My name is Nathaniell and I'm the owner of One More Cup of Coffee. I started my first online business in 2010 promoting computer software and now I help newbies start their own businesses. Sign up for my #1 recommended training course and learn how to start your business for FREE!