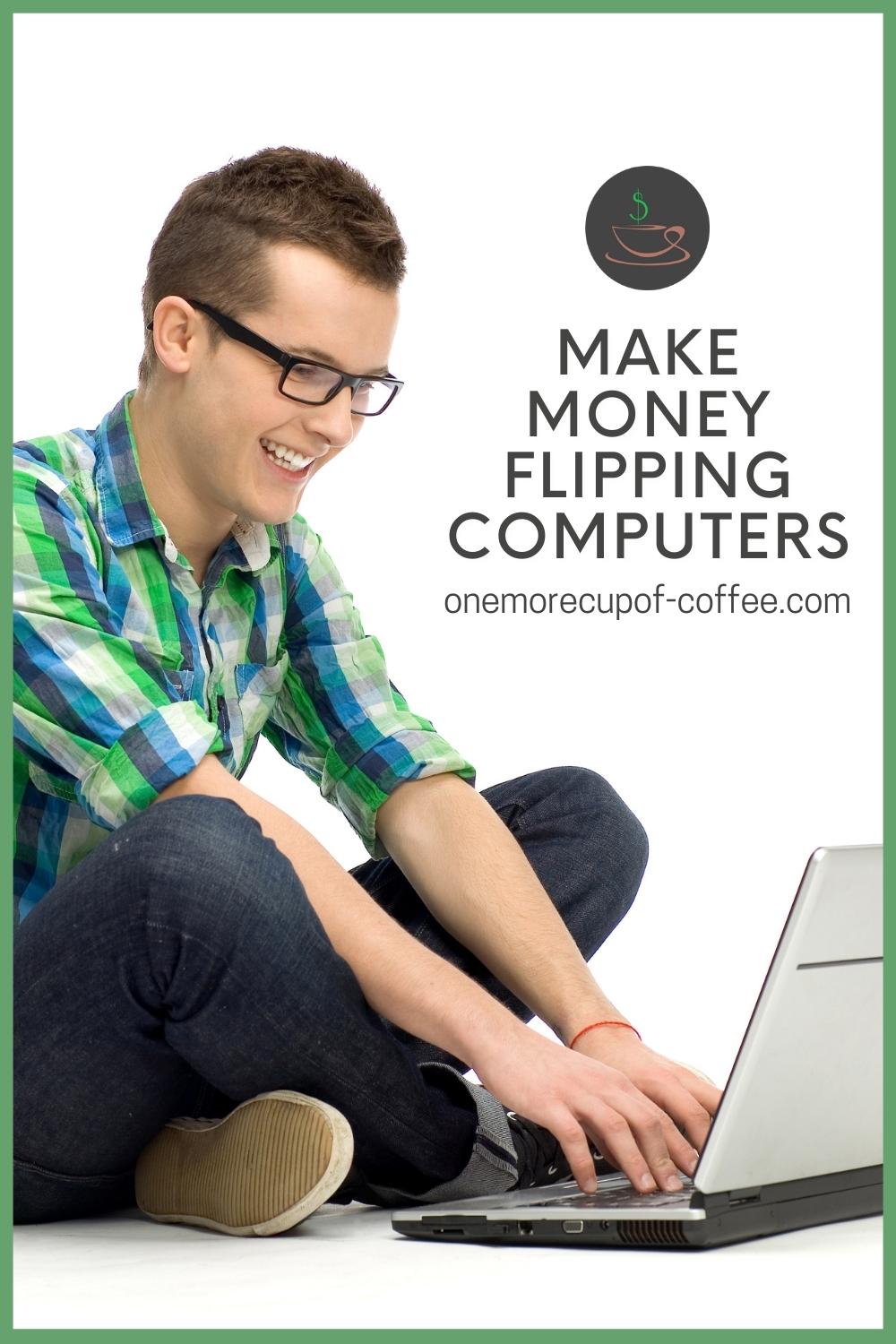 One of the incredible things about computers these days is that you can use them to earn a living online. But that's not the only way to make money from your laptop! You could also make money flipping computers including laptops and gamer PCs.
The business of flipping – aka buying low and selling higher to turn a profit – pertains to almost anything you could think of these days. From jewelry, cars, houses, watches, bikes, phones, and yes, even computers.
There are many products out there that, with a little TLC, can be resold for relatively quick cash!
Flipping items for profit requires lots of trial and error. So even though someone else might pull it off successfully, you will still need to learn what works best for you.
Are you completely new to the market and aren't sure how to get into the business of flipping? In this guide, you'll learn how to make money flipping computers, where to buy and resell them, and what you should consider before you wipe the RAM that is your day job. Let's dive in!
The Business Of Making Money Flipping Computers For Profit
When you hear or read about flipping computers, it is likely about one of these three possibilities:
Refurbishing laptops
Building and selling PCs
Selling used computers or parts
The thing is, flipping computers is a vague term. As anyone in the tech world could tell you, there's a difference between a laptop for school and a custom-built gaming PC. The two will not sell for the same price, nor have the same value.
So the first step in learning about the business of flipping computers is to decide where in that realm you stand. Typically speaking, there is a large group of people who buy used laptops intended for school, blogging, or work. But there's an even bigger market for gamers who buy and resell PCs that come pre-packed with features.
If you are tech-savvy enough to fix parts yourself, even better. If not, you will have to account for the extra cost of replacing gear from a service shop and/or the cost of undertaking custom builds.
How To Start Flipping Computers
Are you a computer wizard?
The first thing to consider when starting the endeavor to flip computers is to ensure that you know the product. When selling to your target market, you don't want to be the one that's "in the dark" and doesn't know what exactly they're selling. Just like car enthusiasts know car models and parts like the back of their hands, you should know computers fairly well.
Next – unless you want to flip your own computer, you will need to set aside extra cash in order to be able to buy your first used computer that you wish to later sell. Used laptops and PC computers can range anywhere from $100 up to and beyond $1,000.
It's wise to set aside a chunk of cash to invest in your business. You should also consider the consequences of an unsuccessful first flip. If you can't turn a profit, will you be in financial trouble? Always try to start small. Then you can build up and chase the higher-priced tech once you improve your flipping skills. The best flippers are those who are able to balance their investments and available cash.
Where To Buy And Flip Used Computers
There are dozens of sites like PCSwaps where you can sell your used computer and electronics. But if you want to make a profit from flipping any computer, you should avoid those sites as they are not going to give you the best deal. Those sites are more for people looking to get rid of their old electronics and don't mind not getting the best for their buck.
In that case, the best places to buy and flip computers will be on marketplaces like eBay, Craigslist, Swappa, and Facebook Marketplace. But don't discount services and apps like LetGo for connecting with local buyers and sellers in your area or even tech forums where you can post a quick announcement.
eBay
eBay is one of the top places to find electronics. You can buy and sell anything from iMacs, components and parts, monitors, printers, PC desktops, and all-in-ones. Sellers on eBay should account for the final 10% value fee on top of a PayPal fee.
Swappa
Swappa is great for flipping phones, computers, and other electronics. There is no seller fee, but there is a PayPal fee. Swappa is neat because you can enter your computer details and it will suggest a price as well as typical fluctuations overtime.
Craiglist
Craigslist is considered the "go-to" site online to sell used items, including computers. There are lots of success stories on Craigslist but you should also be aware of its scams. In general, never list your phone number and always meet in a public location with other people around.
Facebook Marketplace
Facebook Marketplace can sometimes surprise you with the offers available through its platform. Unlike other sites, they don't charge any seller fees (which is great when you're dealing with higher-priced items such as PCs or laptops).
SellGPU
SellGPU is another option for finding and flipping computers. The only thing is that you are selling to a company (like Amazon or Best Buy's "buy back" programs) so the profit isn't going to be as great. That said, it's still a cool site to check out for selling parts that you can't seem to sell or get rid of otherwise.
Buying The Computer
If you scour the internet in search of used computers, you're likely going to stumble on a bunch of junk. Even likelier, when you buy refurbished you will probably inherit tech or program problems that you'll have to fix (on your own or via a shop). There isn't much you can do to avoid this, but simply be aware of it when buying online.
Unlike phones, which are easier to repair and flip, computers have all sorts of parts that require an expert's eye. Moreover, when you buy a computer you plan to resell, later on, consider the market value of that computer new. Nowadays, some laptops sell new for as little as $300 USD, so someone's not likely going to buy used and refurbished from a seller online for $200. Just something to think about when negotiating prices.
Selling The Computer
To flip and sell the computer, simply revisit and list it on the same marketplaces that you searched for used computers. As I mentioned earlier, you will probably get the best deal when selling gaming PCs rather than laptops for school or work. You could potentially flip Macbooks for profit as well, but for that, you will need to have pro knowledge of how Apple devices work, study the market, and always offer a great deal on the older models.
The chances of a successful sell double or triple when you include high-quality images and a killer description that is transparent and thorough. No one wants to fork out hundreds of dollars on a product they know almost nothing about.
Here's what you should detail in the product description when reselling and listing a computer:
Max RAM
GB
Processor
Operating System
Processor Speed
Graphics Processing Type
GPU
Form Factor
Release Year
Type
Connectivity
You should also include the FPS (frames per second) for popular games like Fortnite if it's a gaming PC, the brand of accessories (if any), among other details you find relevant to the item.
Can You Flip Computer Parts?
In addition to flipping computers, you could also consider buying up old computers and reselling their parts.
This is especially common when people want to custom build their own gaming PCs or laptops and need replacements for CPUs, GPUs, RAMs, motherboards, new servers, and more. Hustling computer parts as a small business is doable if you understand your market, competition, and resale opportunities.
How Much Money Can You Make Refurbishing Computers?
Entrepreneur estimates that to start up a business repairing old computers costs between $2,000-10,000. So how much of that will you get back in profits if you could flip them? Many computers online go for between $300 and $1,000. If you can buy a computer below market price, repair it, and slightly upsell it, you could potentially profit anywhere from $100-300 or more.
Do that just once a day and that could mean a monthly salary of around $3k-6k+. Building up your stock to where you can consistently sell will be tricky, however. Ideally, flipping stuff for money should be a quick turnaround process. The less you wait to flip and sell, the better. That way, your cash flow doesn't fickle out before you're able to turn a sell.
Other Ways To Make Money Flipping
Building a profitable business out of flipping computers might not come easily at first. Especially if you aren't so tech-savvy, there could be a big learning curve for flipping computers. If computer jargon just doesn't work out for you, but you still enjoy the flipping for-profit business, you could always look for other items to restore and resell.
The most common items to flip usually have big price tags – houses and cars are the top two. But other possessions, like bicycles, new sneakers, or luxury watches, that are low-mid range, can be easier to sell (even if it means a lower margin). Starting your own business of flipping computers won't happen overnight. But it is doable with a bit of determination and (hard) drive.