80% of Americans between the ages of 18 and 49 want whiter teeth, and teeth whitening has become the number one requested cosmetic service.
In 2020, around 37 million Americans used tooth whiteners. These products whiten teeth, usually by bleaching them. Whitening kits can range in cost from around $20 to more than $100 each. The American Academy of Dentistry indicated that Americans spend more than $1.4 billion on over-the-counter teeth whiteners in a year.
That leaves some room for affiliate marketers to make a few extra bucks. The best teeth whitening affiliate programs focus mostly on at-home systems, such as whitening gels, strips, and pens. Some of them focus strictly on teeth whitening kits, while others branch out into other health and beauty products, as well.
If you're interested, read through this list of the top ten teeth whitening affiliate programs. At the end of this article, I'll share some ideas of ways you can put these programs to work for you.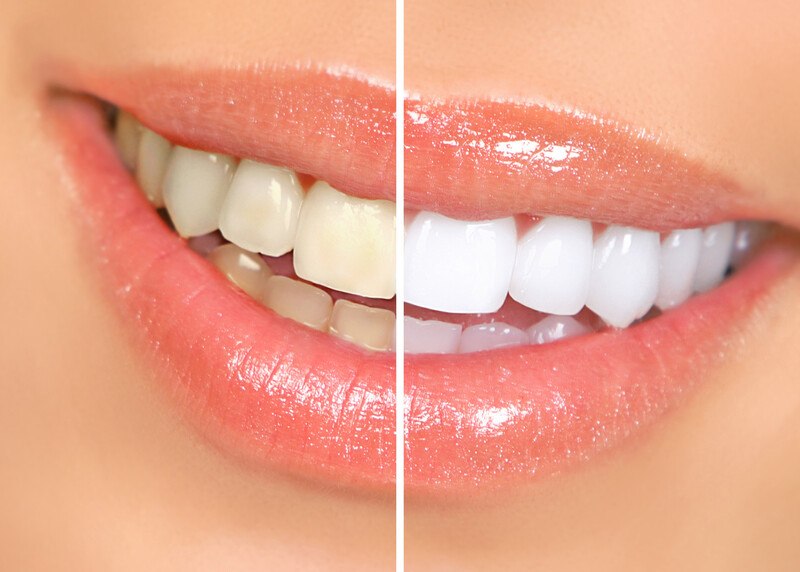 Teeth Whitening Affiliate Programs
Go Smile
Trés Bright
Snow
Actinera
Nuyu
Dr. Smiles Go
Impressive Smile
Pearlescence Teeth Whitening
Perfect Whitening Teeth
Crest White Smile
1. Go Smile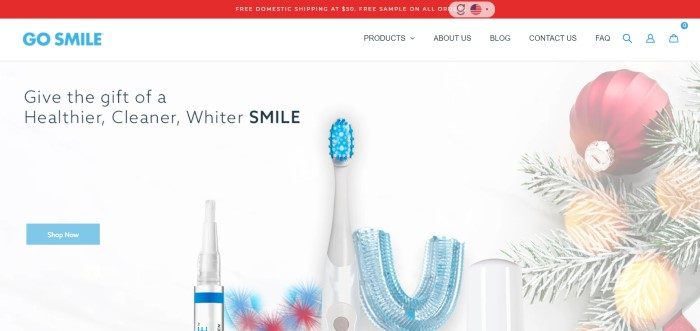 Go Smile is a woman-run teeth whitening business designed to make at-home teeth whitening feel like a spa treatment for women rather than an oral care chore. Products include toothbrushes, whitening kits, deluxe kits, whitening pens, toothpaste, tooth gels, replacement brush heads, and more. One of the company's premier products is the BLU hands-free toothbrush, which simultaneously cleans the mouth, massages the gums, and whitens teeth.
This company offers free shipping on domestic orders of $50 or more, and all orders come with free samples. All Go Smile products are 100% vegan and cruelty-free. Consumers on a budget can shop for products under $25, $50, or $100. The affiliate program is run through FlexOffers.
Why You Should Promote Go Smile: Go Smile is a woman-owned, woman-aimed company with the purpose of making teeth whitening feel like a spa treatment rather than a chore.
2. Trés Bright
Trés Bright offers carefully designed and crafted products with peroxide-free formula keeping their customer's safety first. Their Wireless LED Technology is designed to whiten teeth in only 10 minutes, with 5 blue-light activators that accelerate the process faster.
Trés Bright's affiliate program offers a 10% commission for every sale made using their personal link. Affiliates will also be given access to the dashboard to track link clicks and sales. They will also receive one of Trés Bright's teeth whitening kits at a discounted price after affiliates made 5 sales.
Why You Should Promote Trés Bright: They're offering the exact same ingredients used by cosmetic dentists. They also offer a 100% money-back guarantee if you didn't achieve at least 2 shades whiter after using their kit for 7 consecutive days for 30 minutes a day.
3. Snow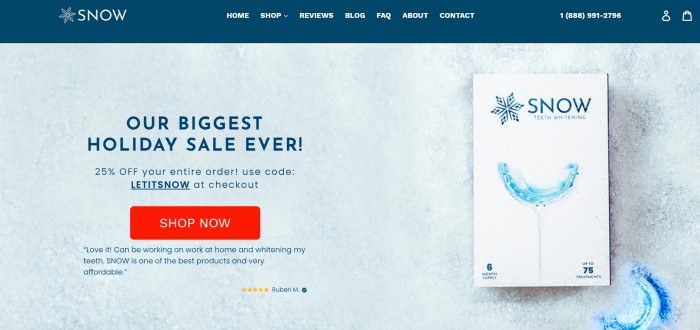 Snow carries an all-in-one teeth whitening kit that only takes 9 minutes per day to use. The products contain no harmful chemicals, and they're safe to use on all types of teeth. These products are never tested on animals.
Besides the original kit, Snow sells a wireless whitening kit that is water-resistant and comes with both blue and red-light therapy for teeth whitening and gum health. Every purchase helps provide dental care to children in need, and customers who sign up for emails can get a free extra strength whitening wand. The affiliate program is run through Everflow with All Out Ads.
Why You Should Promote Snow: Purchases with Snow help pay for dental care for children in need, and people on the email list can get a free whitening wand. The products are safe to use on all types of teeth. However, the commission rate and cookie length aren't listed, so it's difficult to tell how much you could earn as an affiliate marketer.
4. Actinera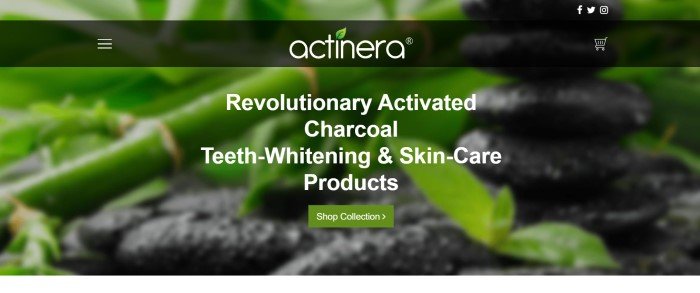 Actinera sells activated charcoal teeth whitening and skincare systems. Products include items like whitening gels, whitening powders, facial washes, peel-off masks, and bamboo toothbrushes.
The affiliate program is run in-house. There are several perks with this program, including a high commission rate and a 90-day cookie length that converts to a lifetime cookie if a customer makes a purchase. The commission rate can also be split between tier one and tier two affiliate marketers. This company has a high conversion rate on its activated charcoal products, ranging between 5-20%, with a 5-10% conversion rate on organic traffic.
Why You Should Promote Actinera: Actinera offers activated charcoal teeth whitening products, which caters to a niche crowd in the teeth whitening target audience. The commission rate is high, and the lifetime cookies are nice, too.
5. Nuyu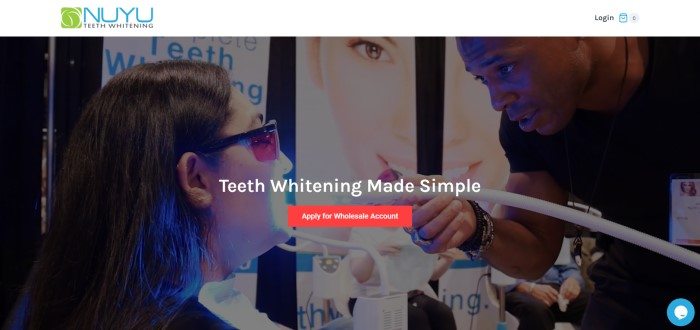 Nuyu sells several types of teeth whitening products, including prefilled kits, home whitening kits, and whitening pens. This company also provides shade guides with some products and marketing materials for dentists, affiliate marketers, and others who want to promote the products.
The affiliate program is run by Nuyu, and affiliates sign up using their PayPal or Zelle email addresses. Payouts are every 30 days, and there is no minimum payment threshold.
Why You Should Promote Nuyu: Nuyu can be marketed by affiliate marketers, beauty professionals, and dentist offices. The commission rate and cookie length are fair. This company carries a prefilled whitening kit, which is something that was new to me.
6. Dr. Smiles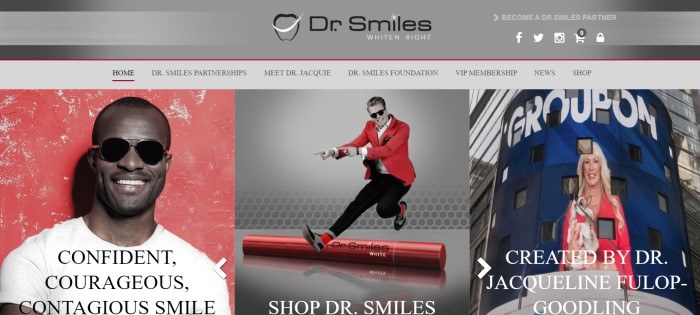 Dr. Smiles sells teeth whitening pens that whiten teeth safely, strengthen them, and rebuild enamel without causing sensitivity. This whitening system was developed by an orthodontist who wanted to address the sensitivity her patients experienced when whitening their teeth.
The pens are sold in family packs, in two packs, or individually. Prices range from around $25 for one pen to around $70 for a family pack. This company also offers a toothpick that looks like lipstick that can be carried discreetly in a purse.
One nice thing about this company is that it donates 10% of each sale to help fight cyberbully. The affiliate program is run through ShareASale. Affiliate marketers are provided with promotional materials such as creatives and banners.
Why You Should Promote Dr. Smiles: The teeth whitening products fight sensitivity and help rebuild enamel, and this company donates a portion of each sale to fight cyberbullying.
7. Impressive Smile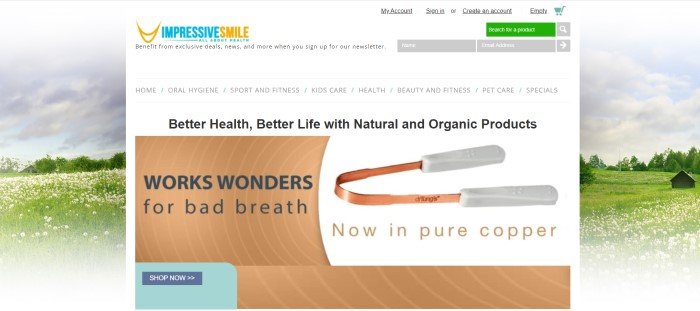 Impressive Smile carries a wide range of oral health care products, including whitening gels. Other products range from tongue cleaners and gum mints to oral care kits and even oral care for pets. Shampoos, body washes, protein bars, vitamins, and other healthcare products are sold in this store. Impressive Smile ships products worldwide.
The affiliate program is administered through ShareASale. Affiliates are provided with banners, text links, and product feeds. There are two tiers available with this affiliate program, as well as contests, coupons, and discounts.
Why You Should Promote Impressive Smile: The commission rate is structured so that affiliates earn a higher rate for bringing more revenue to the company. Besides teeth whitening products, this company offers other healthcare items.
8. Pearlescence Teeth Whitening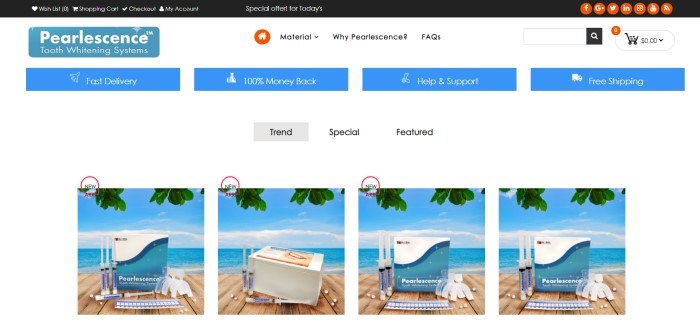 Pearlescence Teeth Whitening is a dental products distributor that sells a trademarked at-home teeth whitening kits. The majority of the products are gel kits or whitening gel refill packs. The whitening products are made using three different types of materials, so customers can choose the type of whitening experience they want to have.
Pearlescence Teeth Whitening runs its own affiliate company, and new affiliates can sign up from the affiliate webpage. This store offers free shipping, fast shipping, and a 100% money-back guarantee.
Why You Should Promote Pearlescence Teeth Whitening: Pearlescence Teeth Whitening has a money-back guarantee and a free shipping option, as well as several products that customers can choose from.
9. Perfect Whitening Teeth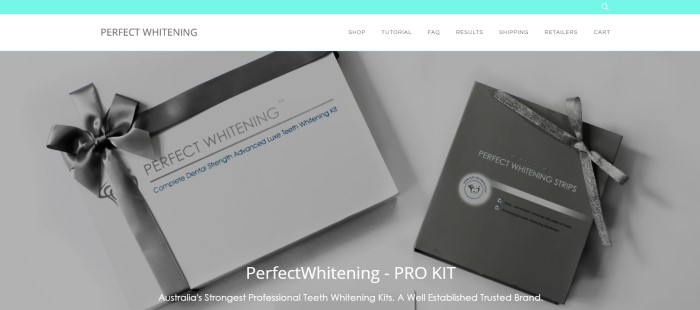 Perfect Whitening Teeth sells teeth whitening kits, strips, and gels, including some products for sensitive teeth. Teeth whitening accessories, such as mouth trays and LED lights, are sold here, too. This company has a 7-day return policy for defective products. All products are shipped from Australia, and international orders can take 4-5 days to arrive.
One nice thing about this company is that it provides tutorials on how to whiten teeth on its website. There's also a results section and a spot for retailers who want to buy wholesale. The affiliate program is run through Affiliatly.
Why You Should Promote Perfect Whitening Teeth: Perfect Whitening Teeth carries a nice selection of teeth whitening products and offers tutorials on the website.
10. Crest White Smile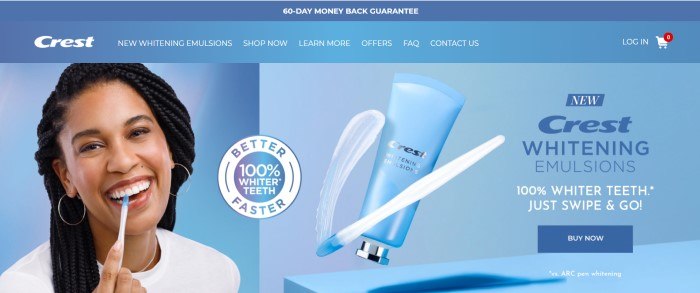 Crest White Smile is the affiliate program for Crest 3D Whitestrips, the #1 dentist-recommended program for whitening teeth at home. This program includes Crest LED Accelerator Lights, as well as a number of other whitening options for customers to choose from.
Customers can filter their searches for products that come with LED lights, application time, treatment length, and benefits. Shipping is free, and this company provides a 60-day money-back guarantee. The website also includes the option for customers to join an email list and receive a 10% discount on their first whitening kit order. The affiliate program is administered through ShareASale.
Why You Should Promote Crest White Smile: Crest White Smile is the #1 at-home whitening system recommended by dentists. All products come with a 60-day money-back guarantee and free shipping.
Affiliate Website Ideas
Now that you've read through this list of the top ten teeth whitening affiliate programs, it's time to take a look at how you can incorporate them into your affiliate marketing strategies. There are a number of ways you can do this. I'll share a few ideas here that you can use as springboards for your own websites.
One strategy is to feature programs such as Perfect Whitening Teeth, which has a retailer section, on websites meant for dentists. A website like this one could include everything a dentist needs to run a thriving office, including computers and software, office furniture, waiting room furniture, magazine subscriptions, toys, and, of course, oral care components such as teeth whitening options and invisible teeth aligners.
A second idea is a website focused on health and beauty for women. Besides teeth whitening kits, a website like this one could include skincare products, hair care products, vitamins and supplements, shoes, fashions, jewelry, and accessories.
A final idea is a website for wine lovers. This type of website could include wine of the month clubs, wine tasting tours, and programs for other fine consumables such as chocolates, cheeses, meats, and cigars. The teeth whitening kits could be promoted as a way to enjoy great foods without having to worry about staining teeth.
Boost Your Affiliate Earnings
These 10 affiliate programs are just the beginning of what's possible. There are hundreds of ways to earn affiliate commissions with your website, including product reviews, top 10 lists, how-to guides, and more
But what about traffic and conversions? How do you make sure your affiliate links get clicked?
I used the affiliate training here to turn my brand new website into a six-figure income generator in less than two years. Build a business, not just a pocket-money side project!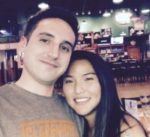 Nathaniell
What's up ladies and dudes! Great to finally meet you, and I hope you enjoyed this post. My name is Nathaniell and I'm the owner of One More Cup of Coffee. I started my first online business in 2010 promoting computer software and now I help newbies start their own businesses. Sign up for my #1 recommended training course and learn how to start your business for FREE!