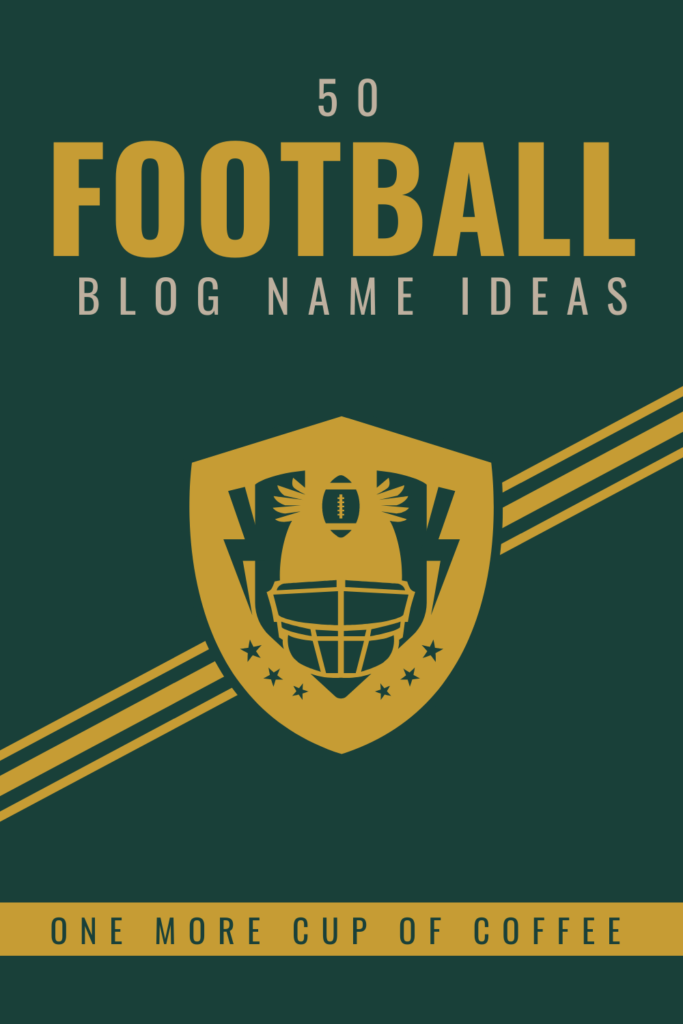 Whether you're interested in American football, Canadian football, soccer or some other game, writing a football blog can be a fun experience. When else can you wax poetic about your favorite team without boring people to tears? This post aims to get you started with the process by providing a variety of football blog name ideas.
We're focusing on blog names because this is where people often get stuck. It can feel like there are simply too many options out there. How are you ever going to find the right name?
Thankfully, you don't need to stress. The approaches we're focusing on will make it easy to find a blog name that suits you perfectly.
Besides, a blog name isn't as critical as people often assume. The name that you choose will never define your blog. It is simply an indication of what people can expect (and isn't even a good indication most of the time).
As your site grows, the content you create and your own personality will be what defines it. Those aspects even influence how people interpret your domain name.
With that in mind, this post is also focusing on other aspects of creating a successful website, such as buying a domain name, choosing the type of building approach and making money from your site.
50 Football Blog Name Ideas
Youth Football Lessons
Gridiron Fan Club
Football Family USA
Footy Fan Clubs
Gridiron Fans Online
Fantasy Football Project
Football Match Reviews
My Fantasy Football Analysis
League Footballers
The Fantasy Football Empire
Fantasy Football Fans Mag
Football Junkie Chants
NFL Football for Life
Football Guide Pro
My Dream Soccer Tips
Coaching Football Training
Football Passion Magazine
Foot to the Ball NYC
A Little Footy Mad
Football Wish
Football Artistry Central
Football Points
Mini Football Fanatic
My Hometown Soccer Club
Football Kickoff Academy
Football for Chicks
Kingdom of Football
Learning to Play Football
Elite Football Guide
Footy Fan Rebels
Football Fanatic Challenge
Game Match Stats
Football for Teens
Learning to Play Ball
New Football Passion
Soccer Fan Chants
Sports Match Manifold
Footy Match Analytics
Best Football Foundations
Feet to the Ball
Online Football Guide
Football Leap
Football Family Guru
Learning to Play Football Guide
My NFL Power
Courage Football
Classic Football for Kids
How Could You Hate Footy?
Fantasy Match Stats
Just American Football
How To Choose A Good Blog Name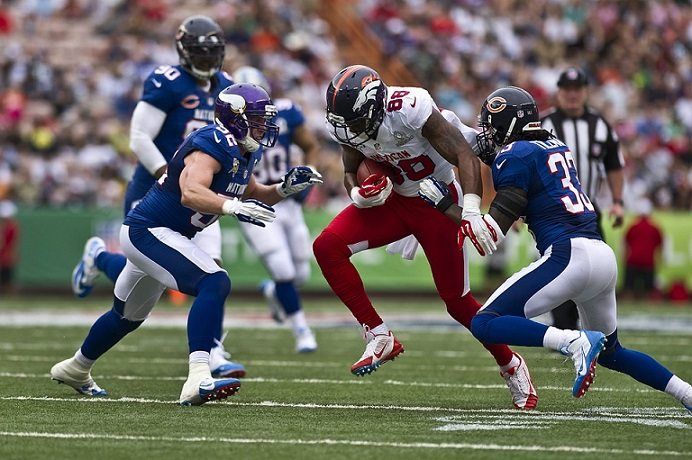 Most of the time, thinking about your blog is the best place to begin with your name search. This helps to give you an idea about the areas you're going to focus on, which may spark some ideas about blog names.
Thinking about your site is especially important for the football field. For one thing, which game are you actually referring to?
The word football means something different depending on where you live. If you're in America, you're probably thinking about American football. On the other hand, people in the U.K. are talking about an entirely different game when they mention football.
This distinction is critical if you're looking at an international audience.
Some bloggers get around the problem by making their domain name obvious. For example, if you're writing from the U.K., you might focus on the word soccer rather than football. Doing so is less confusing all around.
Using the term American football is the most obvious approach if you're in the United States, but this may not always be suitable. Finding another related word can work well, which is what the site gridironexperts.com does.
Others take a branded approach instead. For example, the site 101greatgoals.com largely focuses on UK football, but the title doesn't give that emphasis away at all.
Regardless of the game, you'll be competing against many other blogs. Your blog name is a good chance to showcase what makes your blog unusual.
One of the most common styles is to focus on a specific football team, this is what the sites ninersnation.com (49ers), bloggingtheboys.com (Dallas Cowboys) and arrowheadpride.com (Kansas City Chiefs) do.
As you're looking at a blog name, think about how your audience is going to see it too. Ideally, your site name should be easy to remember and should be something that won't confuse visitors. After all, you want people to keep coming back.
Focus on blog names where the domain name will be obvious without any further clarification. It can be frustrating for readers if they need to work out how to spell something or to think about whether a number should be spelled out or left as a numeral.
One final aspect of this is to think about the domain name extension. There are a ton of these out there to choose from now, including some relatively obscure ones like .online, .biz and .us.
Extensions like this offer a way of getting a domain name that you couldn't otherwise. They stand out too but are generally not a good idea.
Look at the search engine results for pretty much any keyword. You should notice that the unusual extensions rarely ever rank. There might be a .org or .net from time-to-time, but .com extensions tend to dominate.
Simply put, a .com extension is the way to go.
Keyword VS Branding
Despite all their differences, blog names can be broken down into two main types. The first of these is a keyword-based blog name, which is based on the way that people search.
Bloggers often use keywords to help increase blog traffic. Keywords have the added advantage of making it easier to find a blog name. After all, you can use the keyword as a starting point for your search.
There are many different keyword-based names out there, depending on how you define the concept. Some of them just use a single word that is related to the field, like 'football'.
Others might use an entire phrase, such as 'how to play football'. When a whole phrase is used, the domain name often matches the keyword exactly, like howtoplayfootball.com.
Names like this have some advantages. They make the topic of your site immediately obvious and they may rank a little better. Still, you have to find a suitable keyword first. You may find that the best ones are already taken.
On the other hand, branded blog names don't need to use a keyword at all. This gives you more flexibility to play around and create a blog name that stands out.
The site arseblog.com is one example. This is a blog that focuses on the Arsenal football team. The blog name is quite clever and is certainly easy to remember.
Another example is the site ganggreennation.com, which posts about all things related to the New York Jets.
Using a branded blog name gets you around the whole issue of whether you're talking about American football or soccer. Why not take advantage of the idea and use a play on words? Many blogs seem to do this, especially those that target individual teams (such as thefalcoholic.com, which blogs about the Atlanta Falcons).
How To Build & Make Money From Your Football Website
The next step is more complicated. You need to actually build your site. While the site building process itself isn't too bad, there's a critical decision to make first – where you're going to build it.
I'm not going to talk much about choosing hosting right now. That's a whole separate topic that I consider in depth elsewhere. Today, I'm more interested in whether you want a self-hosted site or whether you're going to go with a website builder instead.
Website builders often seem like the logical choice. These services tend to be fast and easy. Plus, there are many free ones to choose from.
What's not to love? You get the chance to create your site without having to pay a dime. If you don't like the platform, you start again on another, until you find a good one.
The setup does allow you to create beautiful sites. While some website builders are frustrating, others are a joy to use. The problem is that they're incredibly limited.
Free website builder plans come with countless restrictions. You'll almost always need to upgrade to a paid version sooner or later. The prices of the paid plans are influenced by the convenience of using a website builder. This makes them more expensive than a self-hosted plan.
Here's an even bigger problem – the paid plans are still very limited.
The exact limitations will depend on the service and the specific plan that you're on. But, in the end, website builders are designed to make things fast and simple. To do this, they sacrifice functionality.
Using a website builder might be okay in some situations, like for a local business. Even so, they're generally a bad plan for anyone who wants to make money online. You simply don't have enough control.
This is true regardless of how you hope to make money.
For beginners, the two most common techniques are affiliate marketing (via affiliate links) and display ads. Most website builders don't allow you to use display ads at all on a free plan. Affiliate marketing may be possible, but you'll need to carefully check the terms and conditions.
The other angle is a self-hosted WordPress site. WordPress is a content management system, so it functions very differently than a website builder. You have much more control over every aspect of your site.
WordPress can sometimes seem overwhelming. There's a lot going on. But, you don't need to learn it all at once.
Simply making a site using WordPress is pretty easy these days. You can check out my tutorial for the individual steps.
How Much Do Football Bloggers Make?
Football is one of those fields where plenty of people are blogging, but not many are talking about money. While some of them may not be earning at all, others will simply be choosing not to share (the same is true for a variety of niches, including sports).
One interesting example of online success comes from the site Xukkhini, which operates in the health and fitness niche. The site's March 2018 income report showed earnings of $1,732. That income was almost evenly split between display ads (via Mediavine) and affiliate marketing.
The site Once in a Lifetime Journey is another cool example. If you haven't already guessed – this one is a travel site.
The most recent income report is from November 2018, where the blog earned $9,682 (in Singapore dollars). Much of this income came from consulting fees, although display ads hit almost $3,000.
Display Ads
Display ads are a popular way to earn in almost any field. The biggest advantage is that your content doesn't need to have anything to do with the ads.
This gives you the chance to write in whatever way you want to. You don't need to think about specific products or services.
The style could work well for a football blog. For example, if you are providing commentary about games or discussing specific teams, there may not be any products to talk about.
Initially setting up display ads on your site can seem a little confusing, but most services have good guides and/or support to make the process easier. You may be able to find third-party tutorials and even plugins to make the process even easier.
Just be warned that display ads aren't a fast way to earn. You basically make a little bit of money from each visitor to your website. This income adds up, but it does so slowly.
Affiliate Links
While display ads have their place, most blogs would benefit from using affiliate links instead of display ads or at the same time. Affiliate links work in a different way.
With this approach, you're manually adding the links into your content. This means that your writing needs to relate back to products in some way.
The process can seem difficult and confusing at first, but it does get easier. You tend to find a rhythm over time and you'll get a good sense of what is going to work for your site and what isn't.
Plus, there are plenty of sports-related affiliate programs that you can focus on, including some soccer affiliate programs.
Final Thoughts
In the end, the name of your website just isn't that important. It has some impact on how people see your site, but only in the short-term. As you develop further, your content and overall focus become much more critical.
This means that even if you make a horrible choice with your blog name, you can still create a successful site. Plenty of people have. The trick is to focus on your content and to keep working hard.
Should You Start Your Own Blog?
Honestly, the sad thing is that most people who want to start a blog get a domain name and a website set up, but never really do much beyond that. They are leaving a serious amount of money on the table!
If you want to actually make something of your site, and earn the kind of income that could allow you to quit your job and work full time online, then this members-only training site is what I recommend. If you're serious about making some moves, they're your best shot at building some fat traffic to your brand and profiting from your blog!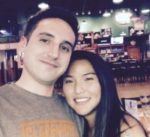 Nathaniell
What's up ladies and dudes! Great to finally meet you, and I hope you enjoyed this post. My name is Nathaniell and I'm the owner of One More Cup of Coffee. I started my first online business in 2010 promoting computer software and now I help newbies start their own businesses. Sign up for my #1 recommended training course and learn how to start your business for FREE!