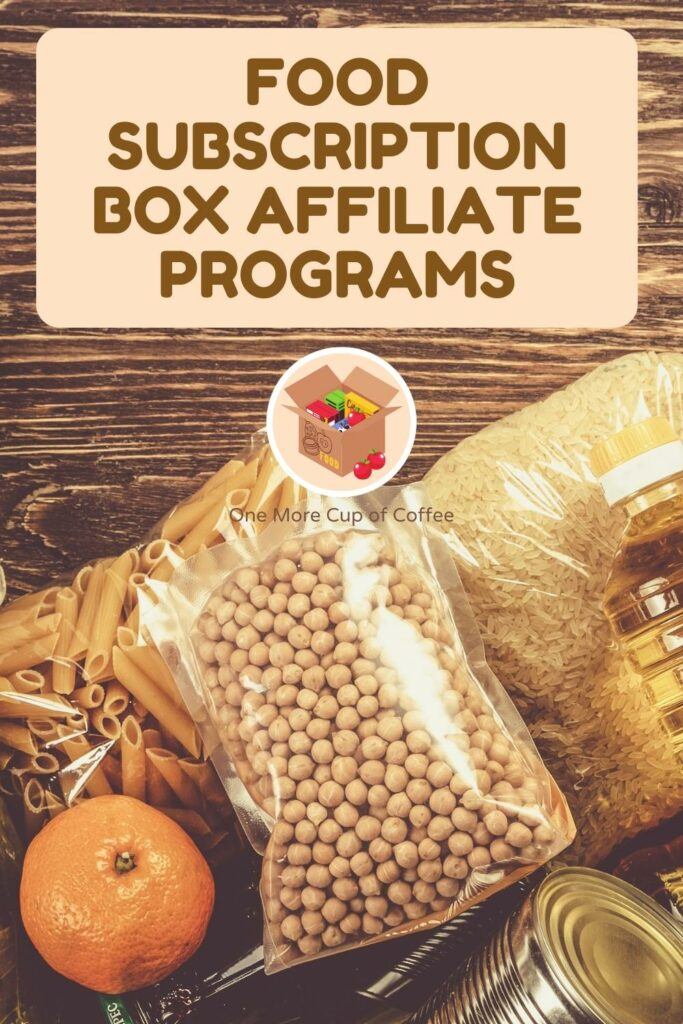 Subscription boxes have become an immensely popular type of service. 18.5 million Americans looked at subscription box sites in the first quarter of 2018 alone. Around 15% of people who shop online have signed up for at least one such box and some may be receiving several. Clearly, the sales potential is massive.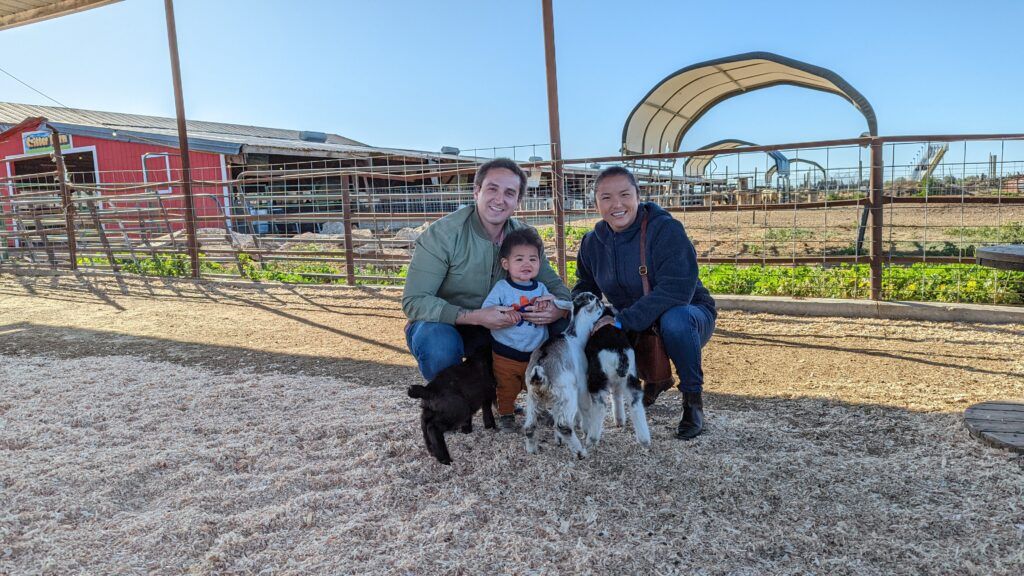 Are You Ready To Work Your Ass Off to Earn Your Lifestyle?
Are you tired of the daily grind? With a laptop and an internet connection I built a small website to generate income, and my life completely changed. Let me show you exactly how I've been doing it for more than 13 years.
The idea is hardly surprising. Subscription boxes give customers the convenience that they're looking for, along with the chance to try out new products. The boxes often feel like a little self-indulgence every month, especially as the components are often a surprise.
Subscription boxes are also fantastic for affiliate marketers, and they are very popular with food bloggers for this reason. The novelty makes them easy to promote and customers are often looking for something new and unusual. Plus, everyone is so busy these days that these meal kits are becoming super popular, and many people cycle through a couple different services per year to try them out.
With so many boxes on the market, we can't hope to cover them all in a list. So, we're focusing on the most interesting food-based programs in various categories. There are also meal kit affiliate programs, a type of product similar to a subscription box but offers more control over what you receive.
Candy Club
Chococurb
Chocolate of the Month Club
Bocandy
Graze
MunchPak
Love with Food
Gourmet Cheese of the Month Club
Di Bruno Bros
Cheesy Place
Murray's Cheese of the Month Clubs
German Food Box
Nonna Box
Snack Fever
TopMunch
Try the World
Carnivore Club
Butcher Box
Vital Choice
Bacon Freak
Ohama Steaks
Mantry
Grill Masters Club
SumoJerky
Healthy Surprise
FitSnack
Clean.Fit
Bulu Box
JackedPack
Vegan Cuts
All Around Vegan
UrthBox
The Keto Box
Keto Delivered
Onnit Keto Box
Farm to People
eCreamery
Tasterie
Dana's Bakery
Piquant Post
Taste Trunk
Harry & David
CrateJoy
Amazing Clubs
Chocolate and Candy
Candy Club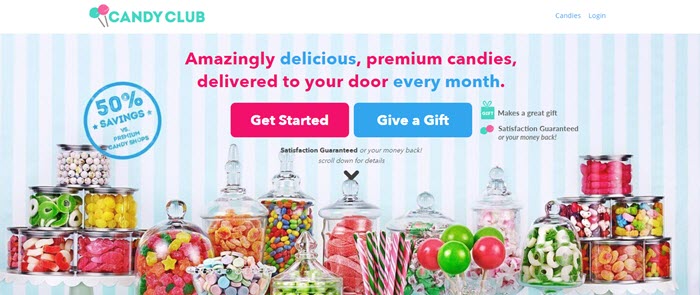 Commission: $15 per sale
Cookie: 7 days
Candy Club doesn't offer boxes with candy from various brands. Instead, their boxes contain individual Candy Cups (3 or 6, depending on the subscription). Each of the cups is filled with high-quality candy. Users get to choose their preferences and the site provides details about the various candies that may be included.
Affiliates earn $15 per sale, which is an impressive amount. Candy Club also offers some bonuses, so effective affiliates have the chance to earn more. The commission rate is partly due to cost. A 3 Candy Cup subscription costs $29.99/month, while a 6 Candy Cup subscription is $59.99/month. While the club appears to be worth the price, it is still on the expensive side.
Chococurb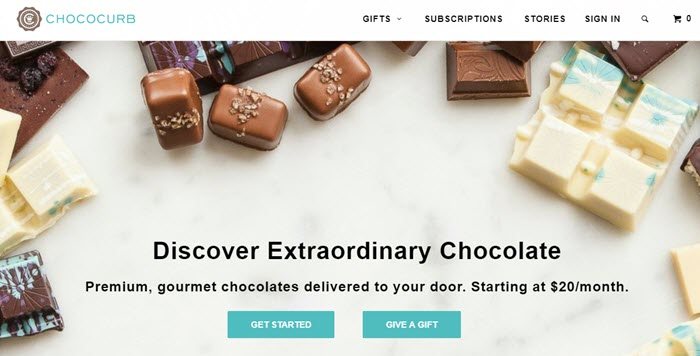 Commission: $1 per subscriber
Cookie: 14 days
Chococurb doesn't have an amazing affiliate program, just giving you $1 per referral. Still, the box itself is very appealing, with an emphasis on high-quality and unusual chocolate products. Customers can choose between a mini box ($20/month, 3 chocolate items) and a classic box ($35/month, 5-7 chocolate items).
Chocolate of the Month Club

Commission: $12 per membership
Cookie: Not stated
This club has a strong focus on enjoying and understanding the complexities of chocolate. Users get a selection of chocolates each month, along with tasting notes. Some of the chocolates will use unusual ingredients, creating an interesting experience all around.
The company has 6 individual clubs. The others are beer, wine, cheese, cigars and flowers. Each follows a similar style and the same affiliate program covers them all.
Bocandy

Commission: 5% to 7.5% per sale
Cookie: Not stated
Bocandy boxes include candy and snacks, with an emphasis on unusual and imported products. Subscribers can choose from various subscriptions including The Bocandy Big Box, The International Candy Taste Box, The Asian Snack Box and The Premium Box. Subscriptions start at $9.99 per month.
The affiliate program has more requirements than most, including the need to post Bocandy ads on your site and to visibly share the link. You can also lose your affiliate account if you don't get traffic to Bocandy in a 21-day period.

Snacks
Graze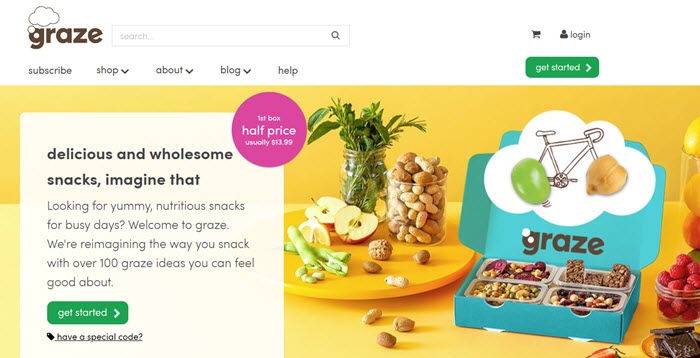 Commission: $2 per order (baseline)
Cookie: 14 days
Graze is a snack subscription company with a difference. The box contains 8 different snacks and is sent out every 2 months. Each snack is in an individual container. This is perfect for portion control. Subscribers can also choose the types of snacks that they are looking for.
The commission of $2 per order isn't the best in the business, but it would still add up. Graze is open to negotiation about the rate if you have valuable exposure to offer them.
MunchPak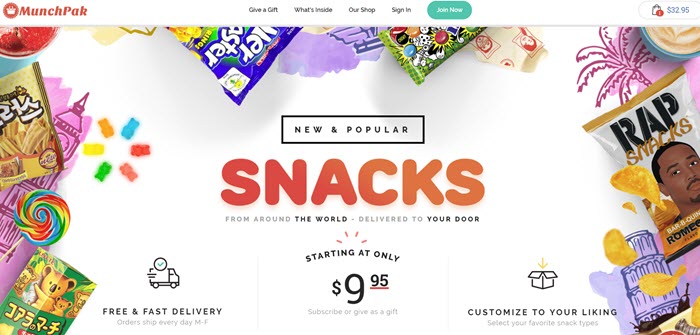 Commission: 10% per sale (new customers only)
Cookie: 30 days
MunchPak has a global focus, offering snacks from around the world. As a result, the boxes will often contain snacks that customers won't have seen or heard of previously.
While the individual snacks cannot be specified, users are able to provide information about preferred and non-preferred types of snacks. This includes options like meat, nuts, gummy and salty. A drink (coffee or tea) can also be added on.
Boxes can include 5+, 10+ or 20+ snacks and can be delivered weekly, every 2 weeks or every month. Prepaying provides better prices, but the boxes can also be ordered month-to-month. Many of the customizations add to the price, which is perfect when you're earning a 10% commission. MunchPak also provides an additional 10% to affiliates with subscription revenue of $2,500 or above.
Love with Food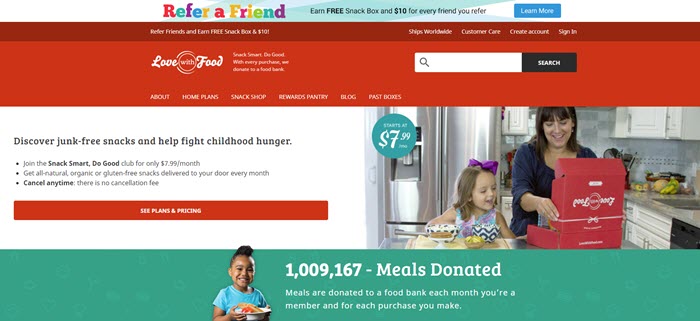 Commission: 20% per sale
Cookie: 60 days
Love with Food offers an impressive 20% commission rate and boasts an average order value of $90+. The company offers three different boxes. These range from $7.99 to $24.99 per box and include from 7 to 15+ snacks. There is also an emphasis on organic and all-natural snacks.
This is one of the few subscription services that can be shipped overseas at a relatively low cost. Affiliates also earn the 20% commission on all sales (not just the boxes), which includes various individual snacks and drinks.

Cheese
Gourmet Cheese of the Month Club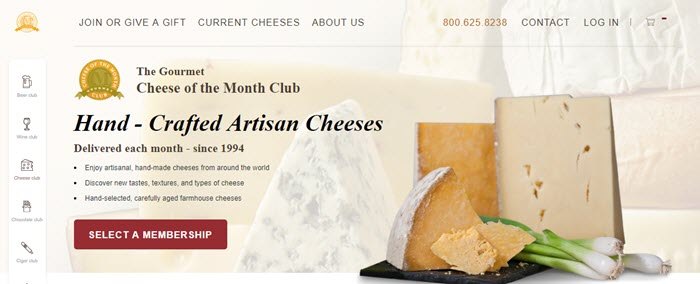 Commission: $12 commission for each new membership
Cookie: Not stated
With this cheese club, customers receive 3 blocks of artisanal cheese (0.5 lbs each) each month. Tasting notes are provided, giving members more details about the cheese that they are tasting. The company behind the club is MonthlyClubs.com, which also runs the affiliate program. Affiliates can promote any of the 6 clubs that MonthlyClubs.com offers, earning $12 commission on any memberships.
Di Bruno Bros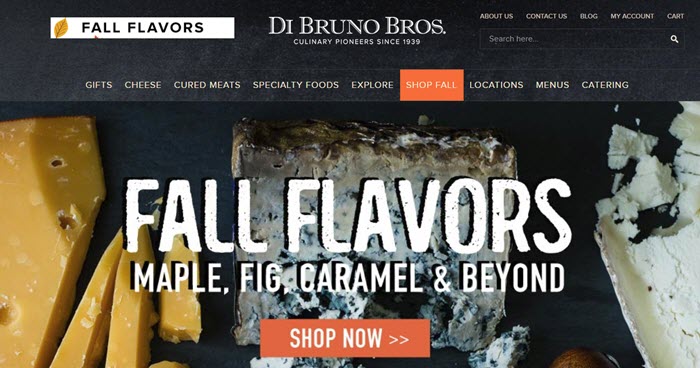 Commission: 5% on all sales
Cookie: 30 days
Di Bruno Bros is a well-known culinary brand, with 75 years of history. They focus strongly on craftsmanship, ensuring that their products and clubs are always well-received. There are 5 monthly clubs to choose from, ranging from $150 to $210 for 3 months. This includes multiple cheese-related clubs, the Mighty Breads & Spreads Club and The Pioneers Club (which sends new flavors and products.).
Cheesy Place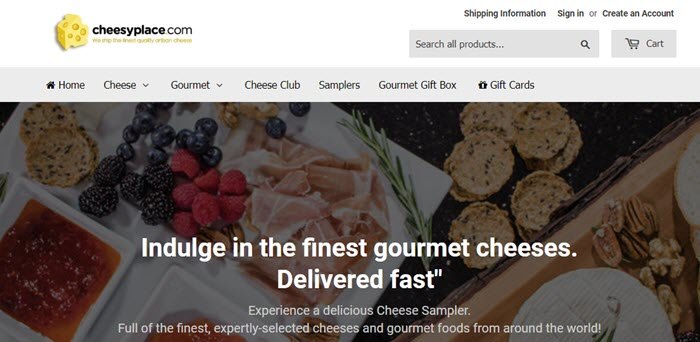 URL:
Commission: 10% per sale, with higher percentages for club memberships
Cookie: 30 days
With a name like Cheesy Place, the focus of this company is clear. The online store sells various cheese products and related items, such as cheese samplers, individual cheeses, honey, meats and accessories.
Their Cheese of the Month Club provides 3 cheeses (1.5 lbs each) along with 1-3 extra items and details about the each type of cheese. The plan can be ordered month-to-month or on lengths of 3, 6 or 12 months. The longer subscriptions offer commission rates of 15%, 30% and 45%, respectively. In each case, the percentage is based on the first payment that customers make.
Murray's Cheese of the Month Clubs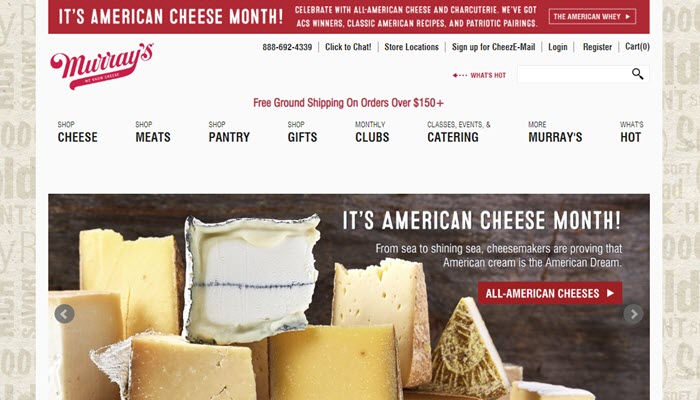 Commission: 6% on all sales
Cookie: Not stated
Murray's Cheese offers a range of different cheeses, meats and related products. They also have 3 distinct clubs: Cheese of the Month, Meat & Cheese of the Month and Pair of the Month. The cheese club can be ordered month-to-month, while members need to commit to the others for at least 4 months.
The 6% commission rate mightn't sound great, but the cheese club starts at $75 per month. This means your actual commission is still decent. You can also earn from any of the other products on the site. These are well presented and it's easy to imagine visitors spending upwards of $100 on the site.

Products From Other Countries
German Food Box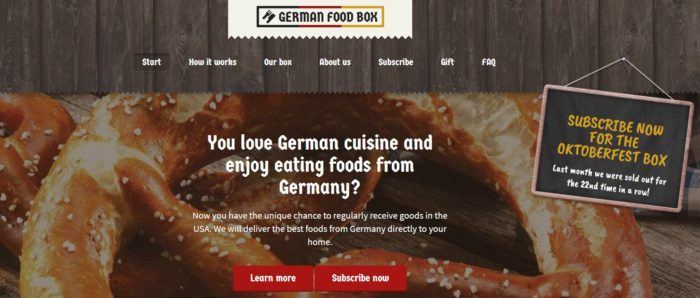 Commission: $5 per sale
Cookie: 30 days
This subscription box sends 6 to 8 different German products each month, along with recipes. The items can include sweet and savory. They're included in a gift box. The box costs $39 each month, so the $5 per sale commission isn't too bad.
Nonna Box

Commission: 8% per sale
Cookie: 90 days
Nonna Box features 5-7 imported Italian products each month, along with authentic recipes. The box for each month is themed around a specific region in Italy. This provides an ever-changing experience.
The site also sells individual products and gift baskets. While these are often out of stock, affiliates can earn commission on them as well.
Snack Fever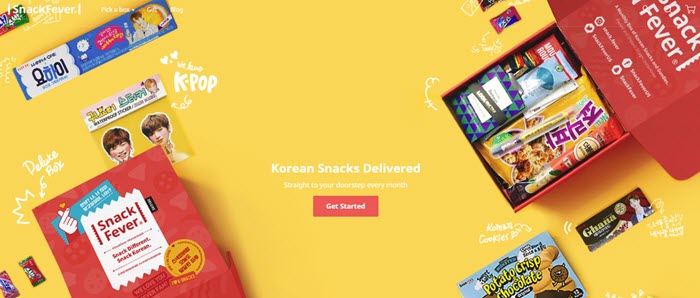 URL:
Commission: $5 per qualified referral
Cookie: Not stated
Snack Fever delivers Korean snacks throughout the world, specializing in products that are often hard to find locally. The boxes for each month are themed and there are two types to choose from.
The Original box costs $28 per month. This contains 8-10 food products and 1-2 related items, like collectibles or socks. The Deluxe box costs $45/month. It contains 10-13 snacks, 1 easy-prep meal or ramen, 2 goodies and 1 piece of K-Pop swag.
TopMunch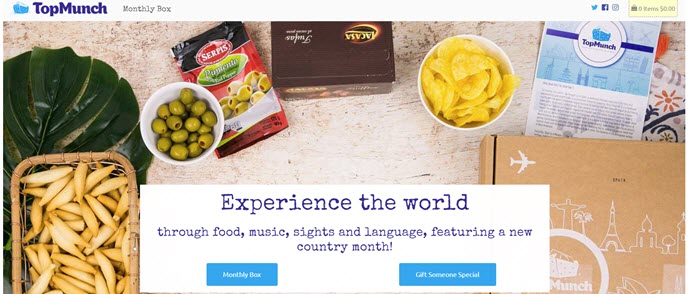 Commission: $3 per sale
Cookie: 7 days
TopMunch is a monthly box that focuses on experiences from throughout the world. Each week is themed around a different culture. Members don't just receive food either. The boxes also contain local music, along with information about the language and history of the region.
Try the World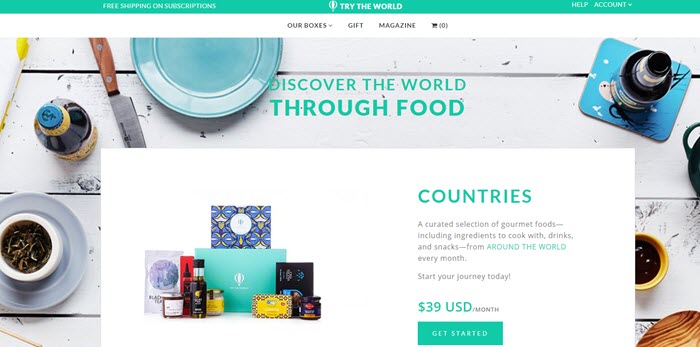 Commission: $20 per subscriber
Cookie: Not stated
Try the World Provides a Country and a Snack box. The Country box starts at $39 per month and contains 7-8 products from throughout the world. There is a strong focus on high-quality and gourmet products, ones that you mightn't find elsewhere.
The Snack box starts at $19 per month. It contains 6 snacks, each from a different company. Many of these are unusual as well.

Meat and Fish
Carnivore Club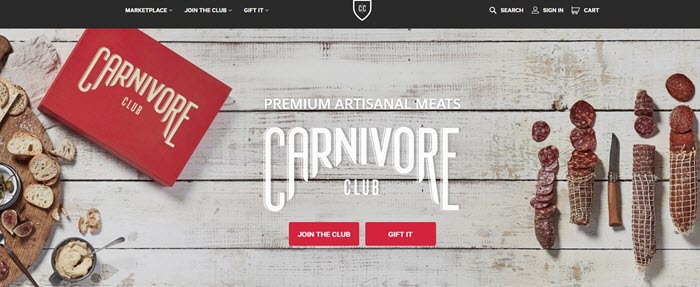 Commission: up to 8% per sale
Cookie: 30 days
Carnivore Club offers a Snack Box (4-6 meat snacks) and a Classic Box (4-6 cured meats). Individual months are often themed, with Carnivore club releasing details beforehand. The 8% commission rate is appealing, but this can be as low as 1% if you use a coupon-based approach.
Butcher Box

Commission: Up to $20 for new customers, $5 per sale for 'loyalty partners'
Cookie: 30 days
With Butcher Box, members get a box of fresh meat monthly (or every two months). The most popular style is the Mixed Box, but there are meat-specific options too, like All Beef and Beef & Pork. There are two sizes to choose from: 24 meals ($129) and 48 meals ($238). Add-ons can also be included for extra versatility.
The box is more practical than most. It is especially well-suited to sites that focus on health or nutrition.
Vital Choice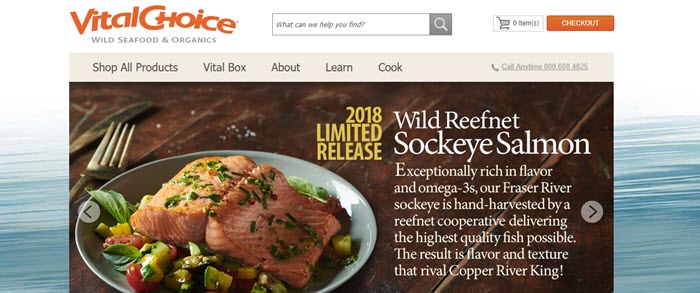 Commission: 8% on the first purchase, 5% for all subsequent orders
Cookie: Not stated
Vital Choice is a wild seafood and organic foods company, focusing on high-quality and sustainable products. The company is an appealing one, as customers often become loyal and make repeat orders.
There are three monthly subscriptions to choose from. The Wild Salmon Box (14+ servings, $129/box), the Wild Fish Box (15+ servings, $169/box) and the Wild Seafood Box (17+ servings, $199/box). The price of the boxes helps ensure that you get decent income per purchase, even at the 5% rate.
Bacon Freak

Commission: 4% per order (minus sales tax)
Cookie: Not stated
A glance at the Bacon Freak site shows that they really care about all things bacon. There are various Bacon of the Month Clubs, which differ slightly from one another. This includes a gluten-free, a no nitrate and a no pepper club. There is also a wedding one (oddly enough), along with a set of Swine & Wine clubs, which pair alcohol and bacon.
The 4% commission rate is lower than most other programs. Thankfully, you're not just limited to promoting club membership. You can also earn the commission on any of the bacon products that the site sells (they have a ton to choose from!).
Omaha Steaks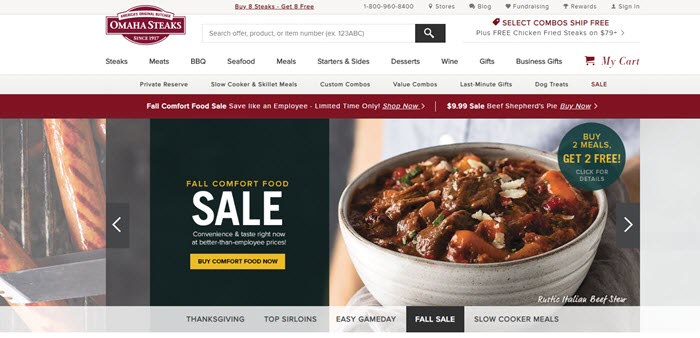 Commission: 5% on sales
Cookie: 10 days
Omaha Steaks provides a wide range of top-quality meats, including burgers, poultry and pork, along with a considerable selection of steaks. They have various subscription plans, which often provide one shipment every 3 months. Most of the plans are marketed as gifts, but visitors could easily sign up for themselves as well.

Manly Foods
Mantry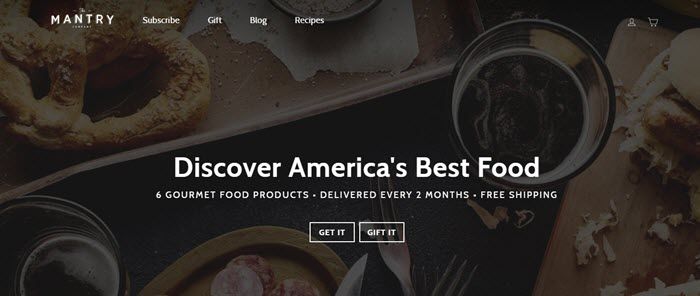 Commission: 10% per sale
Cookie: 30 days
Boxes from Mantry are focused on the modern man. Each box contains 5-6 food products, along with recipes and editorial stories. The products are typically full-sized and arrive in a crate. The subscription is bi-monthly, with each box focusing on a specific theme. Previous themes include Bourbon BBQ and Bacon Nation.
The subscription costs $49 every two months when paid month-to-month or $294 for 12 months. The latter includes a free jerky kit. Boxes can also be purchased individually as gifts. The 10% commission rate is a key reason to promote this company, along with the unusual products that are included in the crates.
Grill Masters Club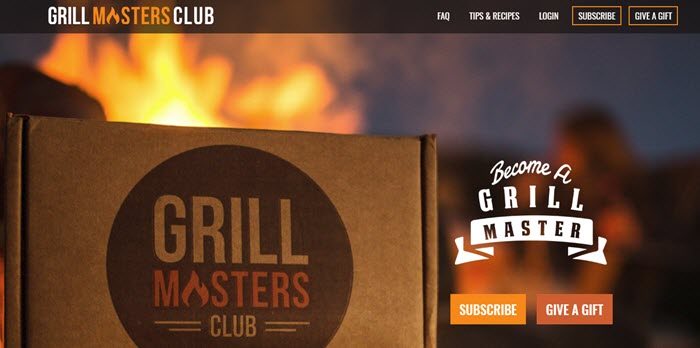 Commission: 10% or above
Cookie: 90 days
The name Grill Masters Club says it all. The boxes contain grill-related products, including BBQ sauce, BBQ rub, wood chips, recipes and a Chef's Choice item. Prices range from $27.95/month to $32.95/month, depending on the plan.
SumoJerky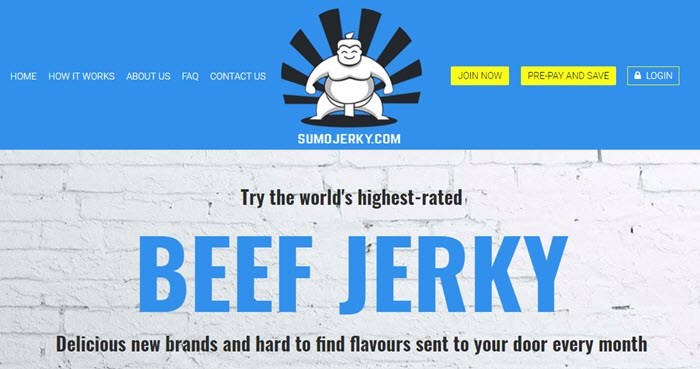 Commission: Not stated
Cookie: Not stated
SumoJerky is one of the few programs that provide no details about the commission rate. Users need to be a member of the relevant network to be able to see that information. Even so, the product choice makes this a great box to promote. SumoJerky looks for unusual and small batch jerky products to ensure that members get different jerky each time.

Health and Fitness
Healthy Surprise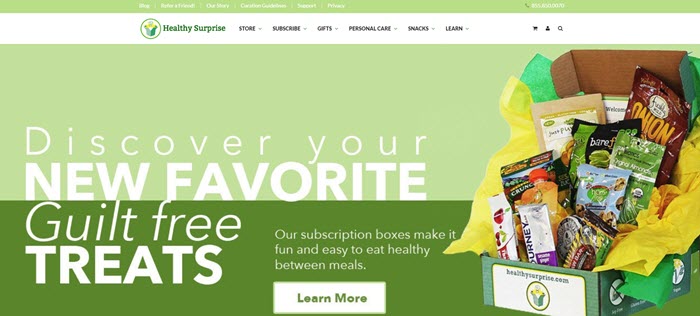 Commission: $10 per signup
Cookie: Not stated
Healthy Surprise offers 3 main subscription boxes: Classic Box (15 snacks), Big Box (21 snacks) and Paleo Box (17 snacks). The first 2 boxes are vegan-friendly. The site also carries various individual products, but affiliates only earn from subscription signups, not from sales.
FitSnack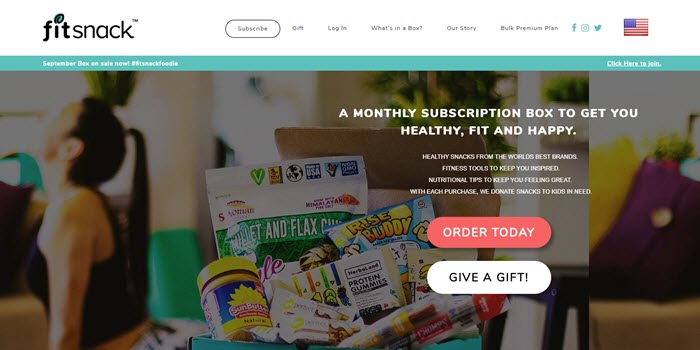 Commission: $8 for each subscriber
Cookie: 30 days
Fit Snack focuses on healthy snacks. Any snacks need to meet at least two of their criteria, which include being high in protein, organic, raw, low in sugar, gluten-free and/or all natural. As a result, the snacks are often less processed than other boxes and some are unusual. Each box also contains exclusive workouts, making this box stand out a little more.
With a commission rate of $8 per subscriber, you're only getting paid once per referral. While that isn't ideal, the unusual nature of the boxes is an advantage for sales.
Clean.Fit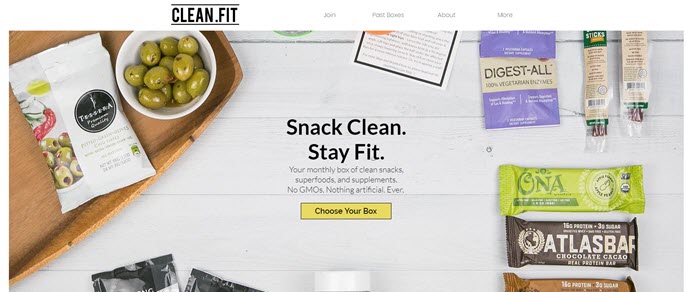 Commission: $5 per new member
Cookie: Not stated
The Clean.Fit box contains 5 to 7 products that are focused on healthy living. This often includes protein powders, jerky, superfoods and energy bars. There are 3 versions to choose from: Original, Gluten-free and Vegetarian. The company focuses on items that are as natural as they can be. As such, you won't find any high-fructose corn syrup, artificial flavors, GMOs or trans fats in the products.
Bulu Box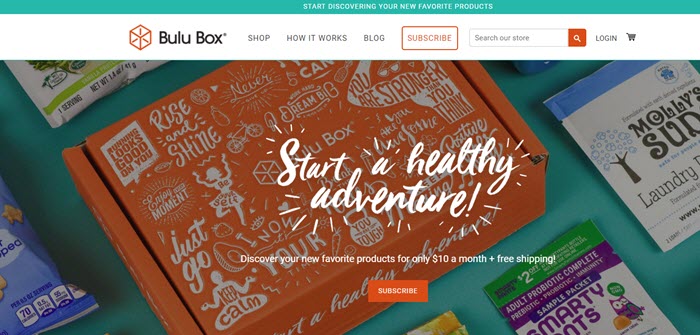 Commission: 40% for 1-month subscriptions, 20% for 3-, 6- or 12-month subscriptions
Cookie: 60 days
Bulu Box offers two subscriptions, which are both focused on health. The Original Bulu box includes products like vitamins, healthy snacks and supplements, while The Weight Loss Box has various weight loss related products, including meal replacements. The products are mostly samples, but the box is inexpensive, so customers aren't likely to mind.
JackedPack

Commission: 10% for each subscription
Cookie: 30 days
JackedPack is a subscription box for anyone concerned about athletic performance. Each month's box contains at least 5 different supplement samples, often from a well-known brand. Types of products include BCAA supplements, protein powders and post-workout supplements.
The idea will be attractive to many in the field, as athletic supplements are often expensive. People want to know that the supplement helps them before they invest any money into it. JackedPack allows them to do just that.

Paleo
PaleoPax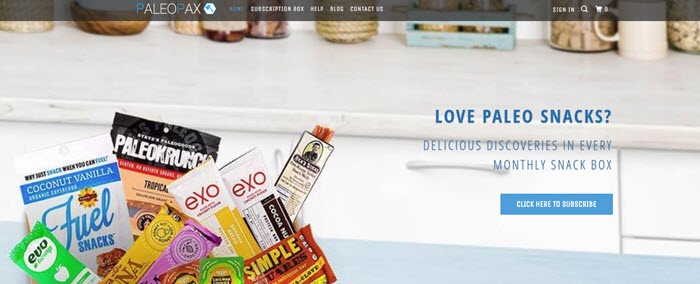 URL:
Commission: 30% on all sales
Cookie: Not stated
As the name suggests, PaleoPax offers snacks for people on the Paleo diet. The boxes contain 18 to 20 snacks from various brands. The snack sizes vary, so you may get whole packages of some items and individual bars of others. One unusual aspect is that the boxes tend to contain two versions of each snack, typically in different flavors.
The 30% commission is impressive, especially as the boxes cost $49 each. This means you're earning roughly $20 for each person you get to subscribe.
Paleo by Maileo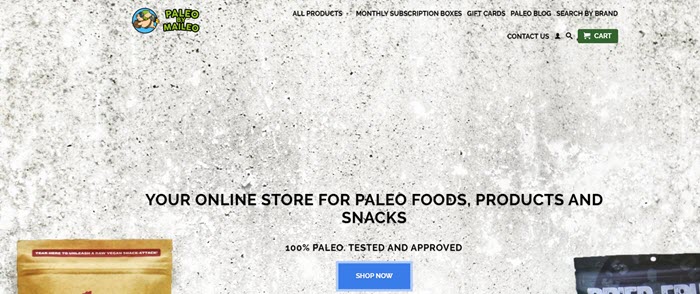 URL: paleobymaileo.com
Commission: 6% on all sales
Cookie: 15 days
There aren't many paleo subscription services, which makes this company an appealing choice. All of the items included in the boxes are entirely paleo-compliant, so they're dairy-free, grain-free, additive-free and free from refined sugars. The monthly box includes between 5 and 8 components, which consist of snacks, sweets and/or ingredients.

Vegan
Vegan Cuts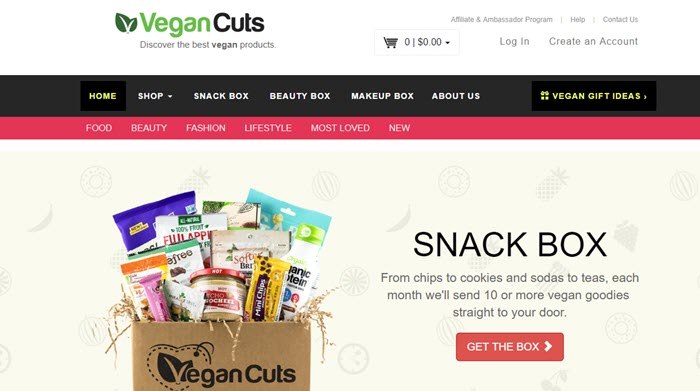 Commission: $3 for boxes, 10% for marketplace items
Cookie: Not stated
Vegan Cuts offers three types of monthly boxes, one for snacks, one for beauty and one for makeup. The snack box contains at least 10 individual vegan snack items. This can include food and drink, such as cookies, protein shakes, popcorn and chips. Some of the items are full-sized, while others are samples.
The emphasis is on healthy food, which often means minimal processing and few artificial ingredients. The payment of $3 per box is more powerful than it seems, as the snack and beauty boxes can cost between $18.50 and $22.95 per month.
All Around Vegan

Commission: 10% per sale
Cookie: 60 days
This 60-day cookie and 10% commission rate makes All Around Vegan an attractive choice. The subscription box itself is also pretty cool. It contains four types of vegan products: Food, Bath & Body, Activism and Lifestyle. The activism part is particularly interesting, as other companies don't have this type of component.
The four different product types mean few items of any one type, which isn't always appealing. Still, there is more variation than most other brands. That's a key sales point.
UrthBox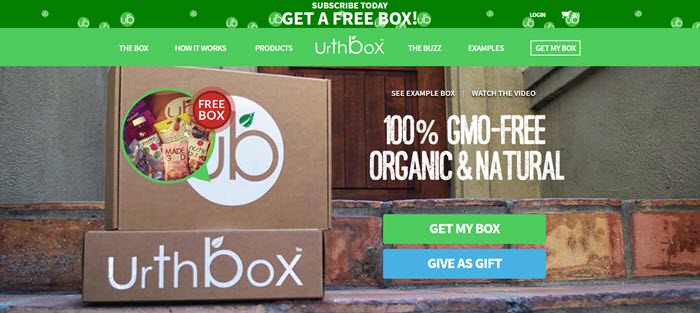 Commission: $17 per sale
Cookie: 60 days
Urthbox offers an impressive 25 different types of boxes, varying in size and product style. This includes vegan, gluten-free and diet boxes, starting at $19.99 per month. Regardless of the type, Urthbox focuses on full-size, healthy and trustworthy products.

Keto
The Keto Box

Commission: 15% per sale
Cookie: 1 day
As the name suggests, The Keto Box is designed for keto dieters. It costs $40 a month, with discounts when users prepay for 3, 6 or 12 months. Each box contains between 8 and 11 snacks, which are mostly full-sized.
The 15% commission rate and focus on keto makes this program a powerful choice. The keto diet has become immensely popular in recent years, with many people following the approach. Finding keto snacks isn't always easy, so this box could make life simpler for many people. The main limitation is the 1-day cookie.
Keto Delivered

Commission: 10% on all sales, including recurring subscriptions
Cookie: 15 days
Keto Delivered provides various low carb snacks, food and ingredients to help anyone on a keto diet. Each box contains between 5 and 7 individual items, along with recipes that take advantage of them. The box costs $39.99 per month and Keto Delivered promises that the items will always be worth at least $40.
The affiliate program is interesting, as it doesn't just apply to Keto Delivered. Instead, the program is for multiple keto companies, giving you the chance to promote any or all of them. This would be perfect for anyone in the keto space and those who talk about nutrition in general.
Onnit Keto Box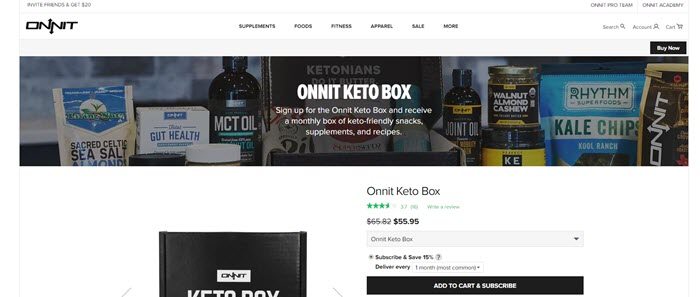 Commission: 15% commission on sales and $10 bounty for trial signups
Cookie: 45 days
Onnit is a fitness website, with a strong emphasis on workouts, food and supplements. They also offer the Onnit Keto Box, which is designed to support keto dieters. The box contains a selection of low-carb snacks and supplements, along with recipes.
The components may also inspire recipients to order products from the Onnit site. This is a powerful effect, as the 15% commission rate applies to all products on the site.

Other Types of Boxes
Farm to People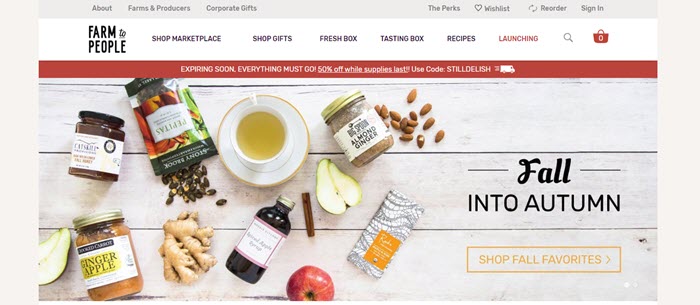 Commission: 7% per sale
Cookie: 30 days
Farm to People offers a Fresh Box and a Tasting Box. The Fresh Box is similar to a meal kit service, with an emphasis on seasonal foods. The Tasting Box contains artisanal food products that you probably won't have seen before. Even the common product types, like ketchup, have their own unusual styles.
There are two variations of the box. The Casual Foodie contains 3-4 items each month, while The Food Critic contains 5-8. The percentage commission rate means that you're earning each month that people remain a member. You also make money from any individual purchases made on the Farm to People marketplace.
eCreamery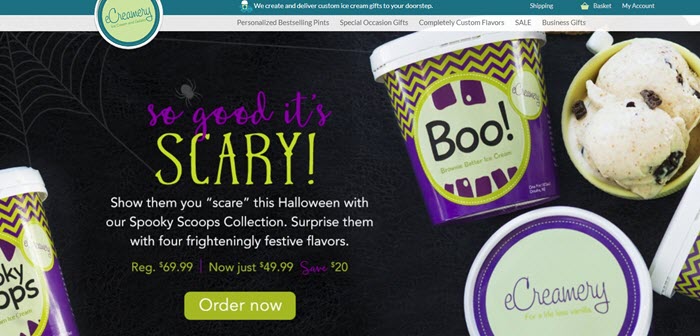 Commission: 5% on each sale
Cookie: 30 days
eCreamery is an online ice cream company, with a strong emphasis on gifts. You'll find ice cream gifts for any occasion you can imagine. The subscription component is their Flavor of the Month club. This club provides members with 4 pints of ice cream each month (a 3-month subscription costs $169).
The ice cream is produced using small batch processing. Members will sometimes receive completely unique flavors, ones that aren't available to the public. The program also offers more flexibility than most, which includes telling you the flavors that you're going to get before they are shipped out.
Tasterie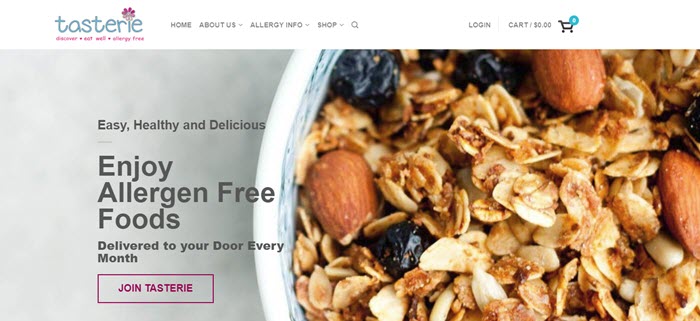 Commission: 7% on all sales
Cookie: 15 days
Tasterie isn't just another snack box company. The site offers 4 individual boxes, which are focused on meeting the needs of people with allergies. There is also a single-purchase box for people who are just getting started with an allergen-free lifestyle, along with the ability to order products individually. Affiliates receive a commission on any of those orders, as well as from the boxes.
Dana's Bakery

Commission: 10% per sale
Cookie: 30 days
Dana's Bakery has some very cool products, including macarons, stuffed cookies and themed cookies. The site's Macaron of the Month Club sends members a variety pack of 12 macarons every month. Some of the flavors are pulled from the regular lineup at Dana's Bakery, while others change from one month to the next.
Piquant Post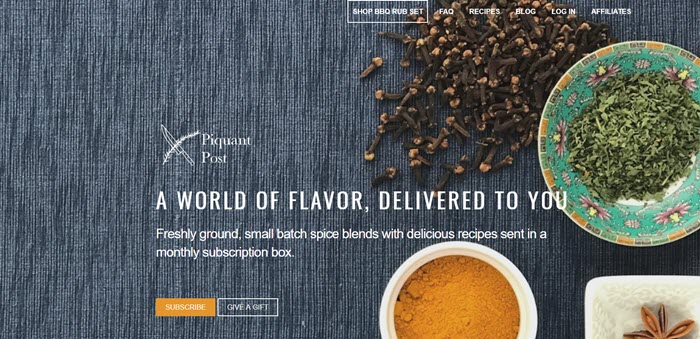 URL:
Commission: 10% on all sales
Cookie: 90 days
Piquant Post is a service that people wouldn't realize they needed until they heard about it. The monthly subscription box sends small containers of spice blends every month, along with recipes to use them. This gives members a great way to expand their repertoire in the kitchen – and is something entirely different for affiliate marketers to promote.

Broad Sites
Taste Trunk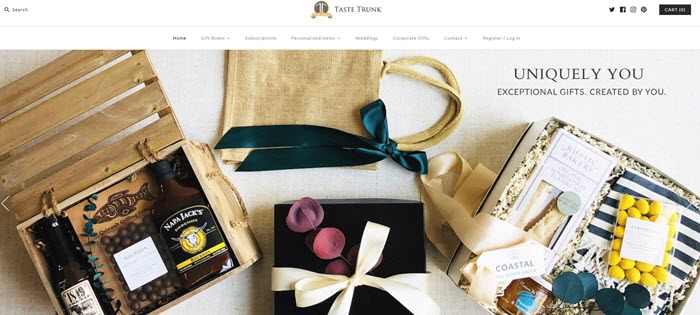 Commission: 15% on all products
Cookie: 90 day
Taste Trunk has a few different components, including gift boxes that users can create themselves and personalized items. There are also 3 subscription boxes to choose from: Gourmet, BBQ and Sweet. Each starts at $99 for a 3-month subscription and contains 4-5 products.
The focus on gifts and the selection of items makes this a particularly good affiliate program. You might find multiple types of products to promote, regardless of your niche.
Harry & David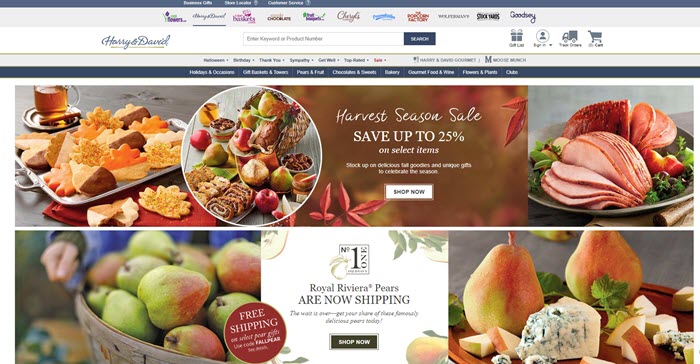 Commission: 3% on all orders
Cookie: 7 days
Harry & David is a diverse website that's associated with the 1800Flowers.com brand. They have many different products, including gift baskets, chocolates, gourmet food and much more. The site also hosts an impressive number of clubs in various categories:
Fruit clubs. Includes 6 individual clubs, ranging from $79,99 to $129.00 for a 3-month membership.
Dessert clubs. Includes 4 different clubs, costing between $49.99 and $139.99 for 3 months.
Gourmet food clubs. Includes 8 different clubs, costing from $74.99 to $349.99 fir 3 months. The more expensive options here are for meat-based clubs.
Wine clubs. There are 3 of these, starting at $99 for a Wine & Cheese Club.
Plant clubs. This is an unusual style. There are two to choose from, one for $119.99 and the other for $129.99,
Cookies clubs. There are 2 here as well, costing either $19.99 or $24 .99 per month.
Popcorn Factory Clubs. These 2 clubs start at $10 and $20 per month.
CrateJoy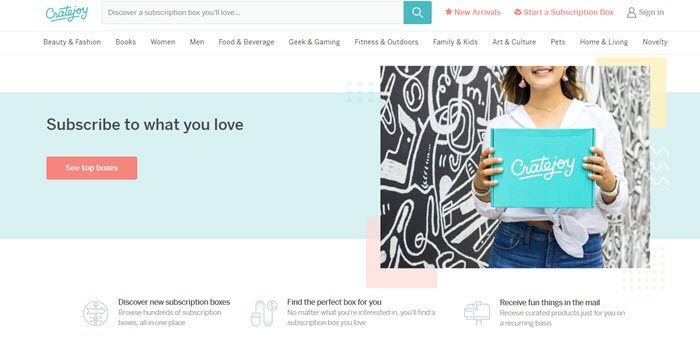 Commission: 10% tiered commission on most sales, 4% commission for coupon sites
Cookie: 30 days
CrateJoy is an extensive subscription box site. If you can't find an affiliate program for a box you want to promote, there's a good chance that it's available through CrateJoy. The site works exceptionally well for affiliates, as there are so many types of boxes that you can promote.
The base rate of 10% commission is on par with other companies, which is useful. There are also various monthly bonuses for affiliates. However, CrateJoy only provides vague information in some areas. They don't specify how the tiered commission works, what the bonuses are or how the commission changes for long subscription plans.
Amazing Clubs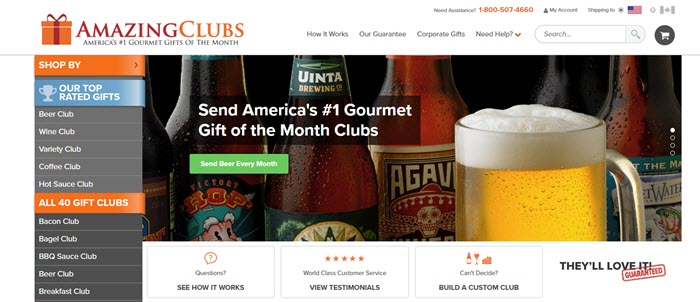 Commission: Unclear
Cookie: Not Stated
Amazing Clubs is another site that hosts a range of different clubs. There are around 40 of these in total, including some unusual ones. The Dinner and a Movie of the Month Club is one example.
The affiliate page provides few details about what you can expect. Amazing Clubs does state that you can earn 100% commissions, but there is no indication of what that 100% is based on. You might be earning 100% of the first month's fee, or it could be something different again.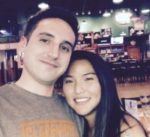 Nathaniell
What's up ladies and dudes! Great to finally meet you, and I hope you enjoyed this post. My name is Nathaniell and I'm the owner of One More Cup of Coffee. I started my first online business in 2010 promoting computer software and now I help newbies start their own businesses. Sign up for my #1 recommended training course and learn how to start your business for FREE!