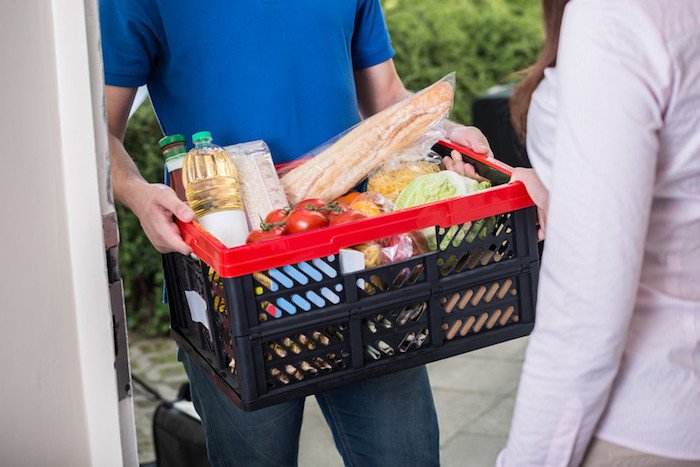 The gig economy has exploded. Companies are taking advantage of the demand for flexible work by giving people the ability to earn when and where they want to. Food delivery side gigs are one such option. These give you the flexibility of companies like Lyft, without having to deal with driving passengers. Many also have lower requirements, which is always a bonus.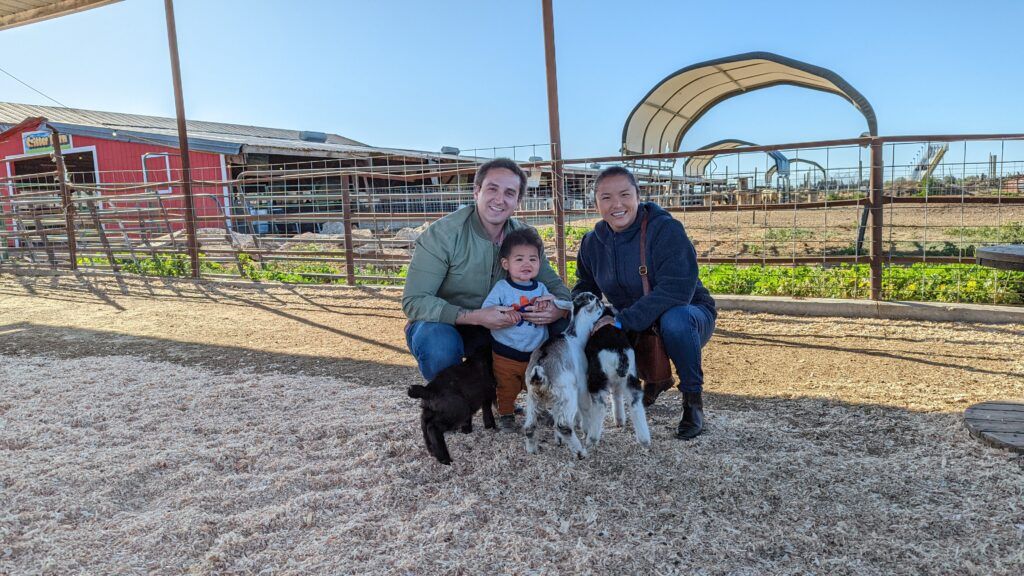 Are You Ready To Work Your Ass Off to Earn Your Lifestyle?
Are you tired of the daily grind? With a laptop and an internet connection I built a small website to generate income, and my life completely changed. Let me show you exactly how I've been doing it for more than 13 years.
Each of the options has different features, along with pros and cons. You can also join multiple companies at the same time. Don't just rush in though. Check out the differences between them first to see which will be the best choice for you.
With the spread of Covid-19, my prediction is that food and grocery delivery side hustles are going to explode in popularity. Social distancing and self-quarantine is causing people to stay home more, at least for the next couple of weeks, possibly months. People gotta eat, and bread can't get coronavirus, so these types of jobs, at least for the time being, and a good spot to be in to pay some rent.
I also think that package delivery is going to explode as well
Food Delivery Side Gigs
UberEats

As the name suggests, UberEats is an offshoot of Uber. Drivers deliver food from restaurants to the homes and offices of customers. The requirements for UberEats aren't as strict as they are for Uber itself, so you might still be eligible for UberEats even if you can't be an Uber driver.
You're not just limited to a car either. Some areas allow deliveries to be made on a bike or a scooter. Sometimes you'll be delivering to the curbside, which means you don't need to get out of the car. In other cases, you'll need to deliver to the client's address.
The payment formula for UberEats includes individual pickup and drop off fees, along with a mileage fee. The amounts vary depending on location, but as an example, you might get $2.00 as a pickup fee, $0.20 per mile and $2.50 as a dropoff fee. Uber takes a 25% cut of that, so you're often earning less than $5 per trip.
Uber doesn't provide details about how much individuals earn. Online discussions suggest that you're often earning somewhere from $12 to $15 an hour, but that's only a rough estimate. The actual amount will vary dramatically. Your hourly rate is also likely to be higher if there is a promotion boost on or lower if you're spending significant time waiting for new orders.

DoorDash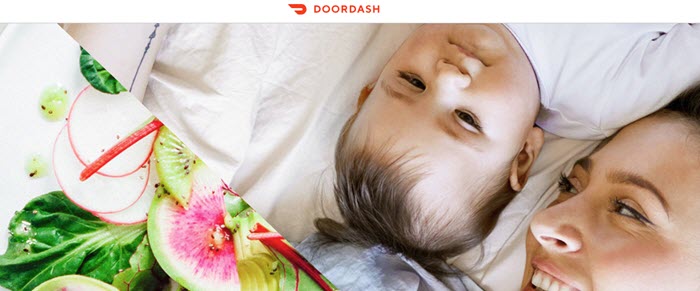 DoorDash is a popular food delivery service, providing meals from local restaurants. They operate in a decent number of areas, including cities in California, Seattle and Minneapolis, along with key hotspots like New York City, Chicago and Dallas.
Payment does vary significantly. For example, some reviewers talk about making $50 to $80 on a weekday, while others made $20 in 6 hours. This partly depends on the orders that you get. One order could easily have you drive part way across the city, while another order could have you go to a completely different area. You're also responsible for all costs, so you can even lose money in the process.
Dashers do best in populated areas where orders are high. If most people in your area haven't even heard of DoorDash, you're not likely to get many orders at all.
A similar thing can happen if your area has too many Dashers for the number of orders. Because areas differ so much, the best way to know for your situation is to try being a Dasher and see how you find it.

GrubHub

GrubHub has a wider range than many other services, delivering to upwards of 1,600 cities. That's an impressive network. The service also keeps an eye on the number of drivers. If there are too many in an area, they won't hire more, which helps keep the competition for orders down. While that sounds like an obvious technique, many companies don't do it.
There is also a minimum pay in some states of $10.50 an hour. This only applies if you accept 85% of orders (doing that is more challenging than it sounds). There are some negative reviews for the company, while other reviewers mention that they consistently earn a decent income. Your earnings will partly depend on the area that you're operating in and whether you're working during busy periods.

Caviar

Caviar is another restaurant delivery company. They emphasize the idea of high-quality food from the best restaurants. Couriers can theoretically earn up to $25 per hour, along with 100% of any tips that they receive.
Caviar also offers immediate payment after delivery, which is an unusual feature. You need reliable transportation to deliver, which can include a motorcycle, scooter or even a bike.
Reviews from Caviar aren't amazing, but they're still more positive than many other food delivery apps. One reason is the emphasis on higher quality restaurants. This can often mean that you're interacting with friendlier staff members.
The style is also slightly different. You're not given a special card to pay for orders. Instead, the orders are already made and paid for when you get there. This cuts down your waiting time and makes the entire process much more efficient.
You might earn the $25 per hour in busy periods, but don't expect it constantly. As always, that figure is based on ideal conditions. In practice, you'll find that orders sometimes take longer than they should. The total also excludes any costs, such as gas or parking.

OrderUp by Groupon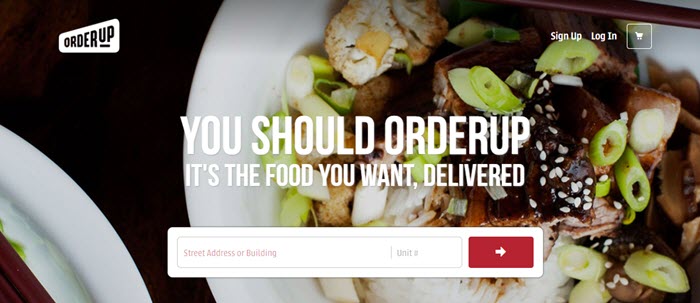 While OrderUp is another company delivering food from restaurants, there are key differences as well. The biggest is that the company has more rules in place for drivers.
To even sign up, you need to apply online, go through a phone interview and pass a background check. The whole process can take 7 to 14 days. The number of reviews available suggests that they're more selective about who they accept too.
Payment is a percentage of the delivery fee, plus any tips that customers leave. If you're working in a population-dense area and in a busy time, you might do well. Your income per hour will decrease if you need to drive further to make a delivery. For example, one reviewer stated that they made $2.50 for an order that took 45 minutes.
Because the company is isn't as well-known, there are fewer details about your income potential. Still, you should be earning above the minimum wage in busy periods.

Tapingo

Tapingo is a college-focused food delivery company. Couriers can apply via the company's website, although onboarding times vary for each participating campus. Delivery can be made via car or bike, giving you plenty of flexibility. The college emphasis should mean that many of your deliveries are made in a smaller area. That could make this a particularly interesting choice.
Tapingo provides no claims about how much members can earn, simply stating that you earn for each completed delivery. They do also have surge earnings and pay boosts, but there are no details about what you can expect.
Reviews mention figures of somewhere from $10 to $20 per hour, depending on the specific orders. Most importantly, Tapingo seems to have a base rate of $10 per hour, even if you get no orders at all.
The base pay rate is appealing, just be aware that the app is relatively new. Courier experiences suggest that there are still some teething issues, including difficulty getting on the schedule and the payment card not working all of the time.

Postmates

With Postmates, you're delivering food from restaurants, as well as groceries and alcohol to customers. This style offers a little more variety and means that you're not always waiting around for meals to be prepared at a restaurant.
The payment equation is also appealing, as Postmates does account for the distance traveled and the time that you spend waiting. There are even incentives from time-to-time, such as getting a bonus if you hit a target number of orders. Earnings aren't consistent, but it isn't unusual to see somewhere between $8 and $15 from an order.
Reviews for the service are mixed, partly depending on the market. Some people find that it is a good choice for side income, while others feel that they make too little for the time that it takes. You may also find that some areas have too many drivers. This can make it tough to get orders consistently.


Favor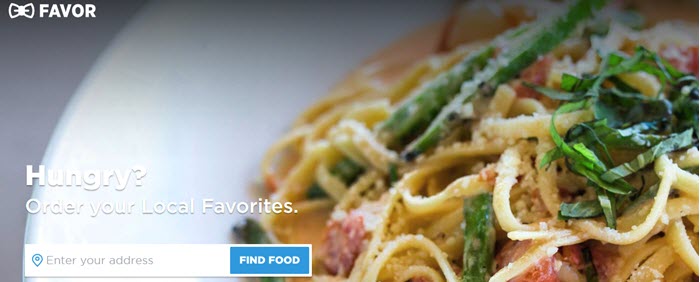 Favor is promoted as a company that delivers anything from the local area, but they still heavily focus on food. Favor also has some advantages over other food delivery companies, as it offers minimum guaranteed earnings (if you meet the criteria), a $2 minimum tip and responsive customer service. Favor estimates that you'll be earning somewhere from $10 to $18 per hour.
The fact that you're delivering more than just food may be an advantage too, as this helps to keep your work interesting. Reviews for Favor tend to be more positive than many other services. This includes reviews from Runners and also from customers.
There are, of course, downsides too. Your income with Favor won't always be good, especially if you don't put yourself on schedule regularly. As some Favor Runners point out, you aren't paid for parking, gas or any other expenses.
Because of this, you may earn little profit for orders that require significant driving. Your income may get better over time as you learn how to identify which orders are worth your time and which ones aren't.

Shipt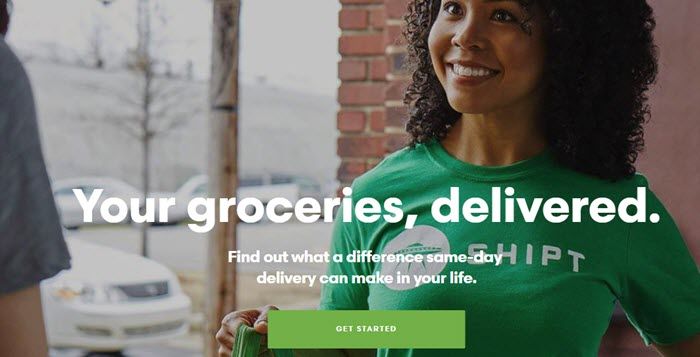 Shipt offers grocery shopping and delivery services. This means you're responsible for picking out the food at the grocery store and delivering it to customers. The style is more hands-on than companies like UberEats, but at least you're not sitting in your car all day.
According to Shipt, you can earn up to $22. That number sounds good, but members say that you often earn much less in practice. The challenge is that Shipt pays per order. The pricing doesn't take time or mileage into account. Any problems can also slow you down, such as items that are out of stock.
For example, orders often pay somewhere between $9 and $15. A problematic order could easily take you more than an hour, which leads to a low rate per hour.
As with many of these companies, you get 100% of the tips but customers often don't tip. This seems to be partly because they think that shoppers are earning somewhere around the $22 per hour rate.

Instacart

Instacart is a second company that combines grocery shopping and delivery. It's a particularly well-known service that you'll often see advertised online. The processes are the same as Shipt, so you can expect to spend considerable time selecting groceries and then delivering them to customers. You are able to make substitutions, but even then the process can quickly get time-consuming.
Reviews for the service are mixed. Many customers and drivers love Instacart, feeling that the service works well. Other drivers feel that the pay is low for the work that you're doing. You might end up earning less than the minimum wage, especially if the customer doesn't tip. This is partly because many orders will pay around $10 or less and they can easily take an hour from start to finish.
While we're on the topic, you're unlikely to get many tips. As one Instacart shopper highlighted, the service gets expensive quickly, especially as Instacart charges a 10% fee to users. Even without that fee, providing reasonable tips gets expensive fast and many customers won't able to afford it.

Amazon Flex

Amazon Flex is primarily a package delivery gig. You're responsible for delivering orders that Amazon's members make. The job makes it into this list because Amazon Flex has multiple types of deliveries, including food delivery. For this, you're delivering food from restaurants to companies.
Amazon Flex operates through a delivery block model, which is an unusual style. As a driver, you set availability via the app and can then accept delivery blocks as they become available. While you don't get to choose what you're delivering, restaurant delivery blocks normally have a starting place within the city, rather than at the Amazon warehouse.
The delivery process is roughly what you would expect. You wait for orders to come in and then get the food from the restaurants and deliver it to customers, just like the other companies.
Still, there are a couple of unusual features. The first is that you don't seem to be able to refuse deliveries. You need to do all of the ones that you're given. Second, and most importantly, Amazon pays by delivery block, not by delivery.
You can earn from $18 to $25 an hour. This means that your earnings (minus tips) are the same regardless of your deliveries. You might even get a block with no orders – and you'd still get paid.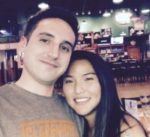 Nathaniell
What's up ladies and dudes! Great to finally meet you, and I hope you enjoyed this post. My name is Nathaniell and I'm the owner of One More Cup of Coffee. I started my first online business in 2010 promoting computer software and now I help newbies start their own businesses. Sign up for my #1 recommended training course and learn how to start your business for FREE!