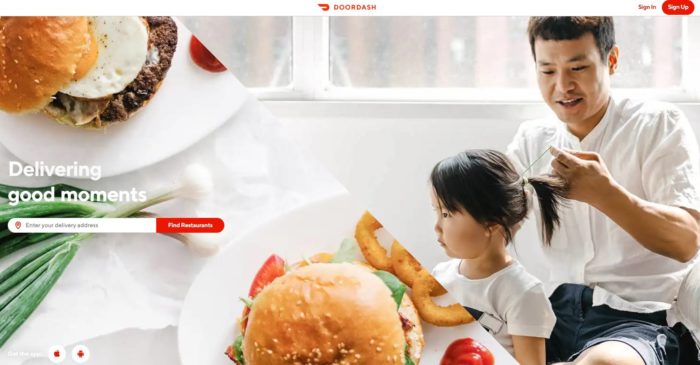 This is a food delivery website/app that people use to order food, meals, and other similar types of items for delivery. It is very popular as a consumer service, but people have also been making pretty good money with it as a side hustle. I've been looking rather closely at it, and finally decided to share my findings. Can you really make money with DoorDash? Let's get into it.
>>> Sign up to Doordash and a start earning today!
Making Money With DoorDash – Is It Lucrative?
There is certainly no shortage of apps and websites that will let you earn extra cash nowadays. Some of these services will even allow you to earn a full-time income if you put enough effort and energy into them!
But there are still some that stand out as being more 'lucrative' than the rest. And the more I hear about DoorDash, the more I start to wonder if it may be one of the more 'lucrative' options.
I've known a few different people who have used it. I have also seen it advertised online quite a bit.
But here is my biggest question. Can you really make money with DoorDash, or is this app/website just another mediocre side-hustle platform at best?
Well, it's time to figure that out for sure.
What Is DoorDash?
DoorDash is basically a website or app that people can use to order food from restaurants, so that they can have it delivered right to their door.
There is certainly no shortage of food delivery apps available nowadays. In fact, we have written about many of them on this website.
At first glance, DoorDash looks very simple. It looks like a website that you can use to order delivery, even if the restaurant you want doesn't offer delivery all by itself!
But I was obviously more interested in this website from the 'Dasher' perspective. A 'Dasher' is essentially a delivery driver who delivers for DoorDash.
But when you click on this part of the website, you are taken to a rather simple page that only says a few things.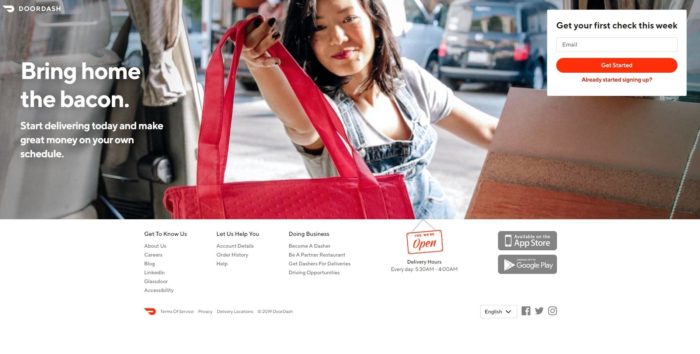 As you can see, they tell you that you can 'get your first check this week.'
But they want you to fill in your email address first.
So I decided to go ahead and see where this led me.
Signing Up For DoorDash
Once you fill in your email address, they ask you for your phone number and zipcode.
After that, they ask you for your name. Then, they ask you to create a password.
Unfortunately, this process was halted for me on the following page, where I came across a message that said this.
"Thank you for your interest in DoorDash! Unfortunately, we're not accepting new Dashers in your area at the moment. Not to fear! This is only temporary. We've added you to our waitlist, and we'll send you an email as soon as this changes."
Alright, fair enough. I was a little disappointed by this, but it happens. This wasn't my first 'rodeo,' after all!
This may have put a hold on my ability to actually sign up for DoorDash, but it didn't necessarily keep me from being able to learn more.
So I started browsing the rest of the site, looking for information. Here is what I found.
Learning More About DoorDash
The next part of the site I checked out was the 'About Us' page. Here, I learned quite a bit about DoorDash and what their mission is.
They describe their company as 'a technology company that connects people with the best in their cities.'
Most of what I found on this page was about the customer experience. But I also found a link to more Dasher information!
First of all, I learned that the first step to getting started as a Dasher is to sign up with the site and get activated.
They do a background check to make sure that you qualify. But there are also quite a few other requirements.
You must…
Be 18 or older
Not have any major violations within the past 7 years
Not have had more than 3 'incidents' in the last 3 years
Be able to pass a criminal background check
Be able to access their mobile app (which will require a smartphone)
Once you have passed this stage of the process, you must 'get ready' to deliver for DoorDash. This part of the page was a bit vague. They say that you need to 'pick up the basics of Dashing, some gear, and the iOS or Android app.'
And finally, you start doing deliveries and getting paid!
Working With DoorDash – How It Works And How Much You Can Earn
As it turns out, you can deliver with DoorDash using a motorcycle, scooter, bike, vehicle, or even walking in some markets. There are, surprisingly, no vehicle requirements on this app.
This means that you can even drive your beat-up old truck to deliver food!
I also learned that there is a rather limited list of cities where DoorDash is offered. There is a full list on the website, but think of it as 'major cities only' for the most part.
No wonder I couldn't use it locally! My home city was nowhere to be found on this list!
But next, I wanted to know how much Dashers get paid.
This is, after all, a pretty serious question for any side hustle. And thankfully, I found a FAQ on their website that pretty much answered all of my questions. Check this out.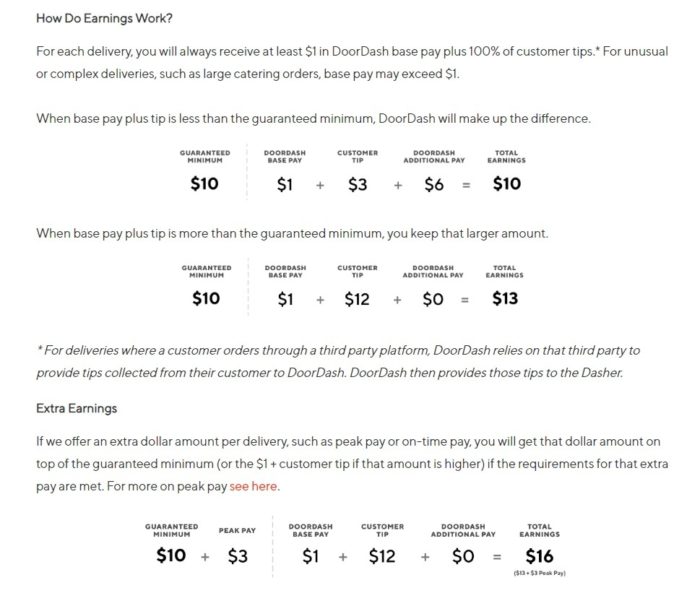 As you can see, DoorDash does a pretty good job of calculating the earnings you get for your delivery. There is a guaranteed minimum, which according to this example, is $10… though this may actually vary with each delivery. That is what it looks like to me.
So, you are guaranteed this minimum amount. You get base pay, plus tips. But if these together do not equal up to the guaranteed amount, then DoorDash makes up the difference by paying additional amounts to bring the total up to the minimum.
This is actually really cool. It basically ensures that you will always know exactly how much you are going to be making, and that you won't get 'shorted' by not getting tips.
How Does DoorDash Stack Up Against Other Food Delivery Apps?
There are only a few other food delivery apps out there that are anywhere near as popular as DoorDash.
But after reviewing what I've learned, here is what I've come to think about them.
DoorDash does offer some unique upsides. First of all, they have minimum guaranteed payments for deliveries, which is very nice. Secondly, they don't place stringent requirements on your vehicle. So even if you have an older car, a scooter, or a motorcycle, you can still deliver for them.
Third, they are well-supported in the areas where the app is serviced.
But that also leads to their biggest downside.
DoorDash does not service every single area. They are mostly located in larger cities in the US and Canada. So if you don't live in one of those cities, you may find them difficult to get on with.
My Personal Feelings About Using DoorDash To Earn Some Extra Money
I actually really liked the look of this app. But with that being said, DoorDash isn't so unlike other delivery apps out there.
Yes, you can make some pretty awesome cash with it, and it's a perfect time to sign up right now with all the quarantine stuff going on.
If you need to make some extra money on the weekends, or keep up with bills between jobs, then DoorDash could be perfect. It could also help you to make ends meet while you are growing other side hustles.
Being your own boss and working with apps like this is an awesome way to break out of the normal 9-5 grind. And due to that, DoorDash does provide a certain amount of value for those with an 'entrepreneurial' mindset.
But that is also where it pretty much starts and ends.
DoorDash is not the type of gig that is going to give you a decent retirement. It is also not necessarily going to be kind to your vehicle, as you will still have to buy gas and cover normal wear-and-tear yourself.
But… if you are looking for ways to turn your vehicle into a money-maker, instead of just paying for it to sit in the driveway all the time… then this is a great way to leverage your transportation to help you earn a bit of extra cash.
Our Final Opinion Of DoorDash
Should you use DoorDash to try to make some extra money?
There are a lot of ways to make money online. Some are good, some not, but ALL of them are still just trading hours for dollars.
Starting your own affiliate website really is the best way to build passive income and "make money while you sleep". Affiliate websites earn income in every timezone, and can be instantly accessed by billions of smartphones across the globe!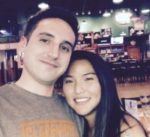 Nathaniell
What's up ladies and dudes! Great to finally meet you, and I hope you enjoyed this post. My name is Nathaniell and I'm the owner of One More Cup of Coffee. I started my first online business in 2010 promoting computer software and now I help newbies start their own businesses. Sign up for my #1 recommended training course and learn how to start your business for FREE!