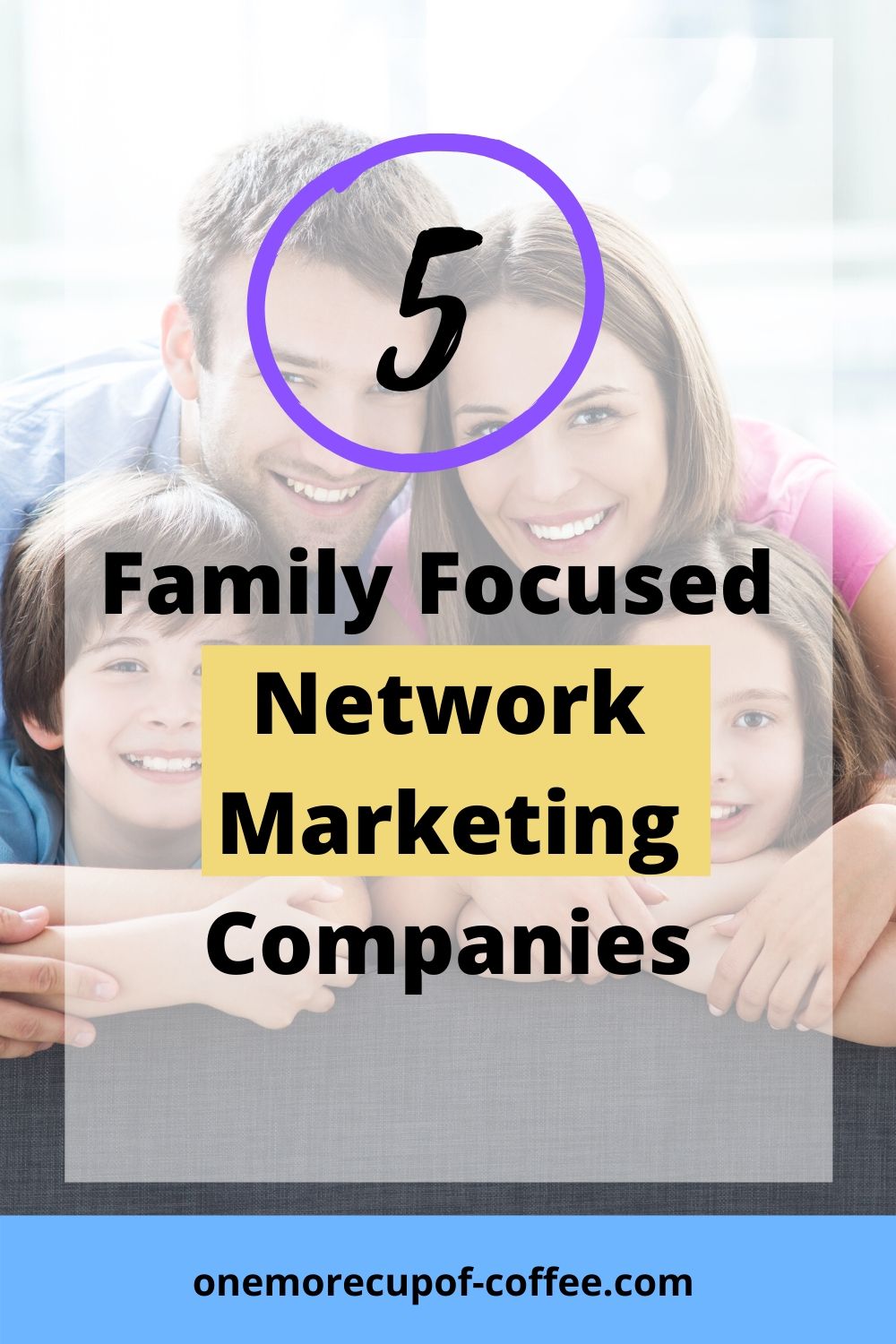 MLMs often target stay-at-home moms. The style of business offers the chance to earn money without having to hold down a conventional job. Though moms are busy, their schedule can be more flexible, and the social element of "network" marketing is why there are so many women involved in the direct sales industry.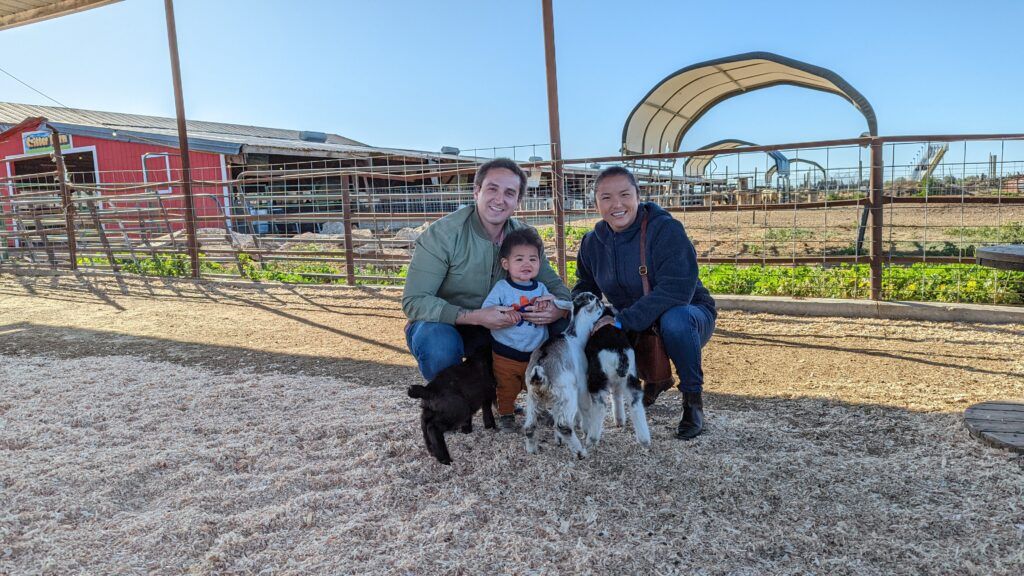 Are You Ready To Work Your Ass Off to Earn Your Lifestyle?
Are you tired of the daily grind? With a laptop and an internet connection I built a small website to generate income, and my life completely changed. Let me show you exactly how I've been doing it for more than 13 years.
If you're going to get involved in this industry, finding something family-focused just makes sense. The family is the focus of many parent's lives, so why not combine someone you love with a potential to make income? All of the companies on this list have an emphasis on families or family life in some way. This may involve products that are designed for kids or ones that focus on the family as a whole.
I'm not a distributor for any of these companies. My goal is simply to offer an objective comparison of their key features. After all, there are so many different options out there now.
When looking at these companies, pay close attention to the expectations. Many moms (and some dads) have been successful in network marketing. Unfortunately, most have not. In fact, less than 10% of anyone who joins a network marking company will make any money at all, let along a substantial income (once you consider income minus expenses).
Plus, network marketing companies often involve much more work than you might expect and they have ongoing costs, and you may end up spending more time away from your family recruiting distributors, participating in "the hustle".
If nothing else, take a moment to consider what you're looking for. Some of these companies will work fine if you just want a little income or a discount on your own products. But, they may not be a realistic source of full-time (or even part-time) income without significant investment costs.
By contrast, starting an affiliate website can be much cheaper, since affiliate programs are free to join and the only cost is domain/hosting costs. Plus, you get to brand your own domain and become more than a "distributor" of products.
Check out these companies below and see if one could fit your lifestyle, expectations, and if the products are something you would be interested in selling.

Family Network Marketing Companies
Usborne Books & More
Mary & Martha
Red Rock Traditions
SimplyFun
Discovery Toys
1. Usborne Books & More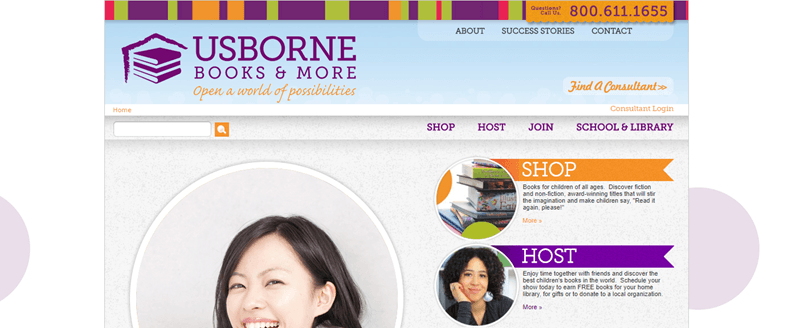 Focus: Books (mostly designed for children)
Minimum Cost: $75 (for a starter kit)
Product Overview: As the name suggests, Usborne Books & More offers a range of books. They're a good family-focused company, as most of the books are designed for children, often with specific age groups in mind. Many of them are also educational.
The product selection includes various basic picture books and novels for kids, along with more complex books (including activity books and lift-the-flap books). It's easy to see how the books could be appealing and there is a decent range to choose from.
Prices are reasonable but not exceptional. For example, many books are less than $10, while more complex ones may be closer to $20, if not more. Online reviews are mostly positive and passionate customers are likely to buy multiple books.
That being said, books have their limitations. They're not a consumable product and many parents won't want an entire library at their house. For that matter, you can find similar books at a library. The right audience would still buy products regularly. But, make sure you have that audience first.
Commission Quick View: Usborne Books & More is flexible about how members can sell the books. Sales can be made through craft fairs, book events, replicated websites, direct sales and more. This gives you many more options. The style is perfect for books too, as it allows you to target environments like schools and parent groups.
But, the amount earned does vary between approaches. Selling at a home show gives you 25%, as long as the show makes at least $85. Website sales are 25% as well. Other methods vary from 15% to 30% commission, depending on the amount sold.
There is also a sales bonus of 3% for getting more than $350 of sales in a month and 5% for getting above $700.
An additional advantage comes from the requirements. There are no sales minimums if you want to earn from just selling the books. This means you could just sell a few books each month, if you wanted to. That being said, there may be rank-specific minimums if you're trying to earn from your team.
Speaking of the team aspect, Usborne Books & More appears to use a variation of a unilevel plan. Members become part of your Central Group, until they hit Supervisor rank. Once they do, they become a Breakaway Group. If this happens within that group, you end up with a 2nd Level Breakaway.
Your commission levels vary depending on the group. At the Supervisor rank, you get 11% on the Central Group, 7% on the 1st Level Breakaway, 5% on 2nd Level Breakaway. Ranks above this offer more income but you need to meet considerable sales targets.
The idea is interesting and a little confusing. But, it should mean more income than many other plans. If nothing else, you're getting 11% from everyone in the Central Group, which is decent.
Final Thoughts: The products would be appealing to the right audience and the compensation plan does have some potential. But, think about the audience carefully, as this type of book can either be hit or miss.
2. Mary & Martha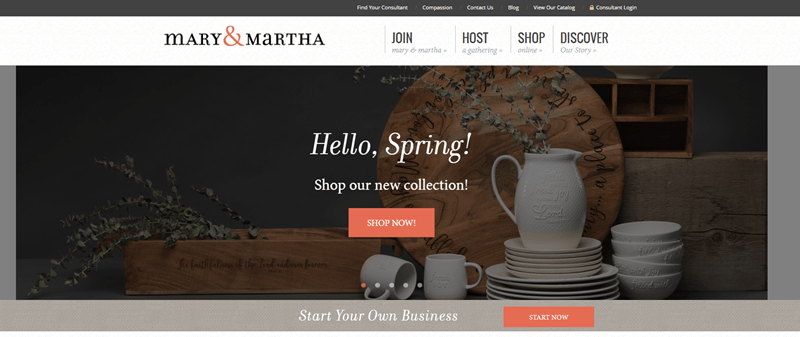 Focus: Faith-based items for the home
Minimum Cost: $99 (for a starter kit with various products)
Product Overview: Mary & Martha is a strongly Christian company, offering a range of products for the home. Many of their pieces have scriptures written on them or inspirational quotes. Some of them are typical and a little boring (like a mug that says Live Courageously Adventure On). But, they have many pieces that are much more unique too.
Many of their pieces are associated with family in some way. There is also the general theme of creating a wholesome and faith-filled home environment.
The pricing is reasonable enough, depending on your definition. By that I mean that the products are mostly affordable but they're more expensive than regular versions. For example, a tea towel with a scripture costs $22, while a small dish with a quote costs $24. Many of the less common pieces are more expensive, like $120 for an Announcement Board or $138 for an Ampersand Tray.
The right audience would be willing to pay the prices. In fact, many Christian bookstores have similar products at roughly the same prices. Even so, the pricing would put some people off the products.
Speaking of that, this company is very audience-specific. You would want most of your customers to be Christians who enjoy this type of product in their homes. If that's not the case, sales would be very difficult indeed.
Commission Quick View: Mary & Martha follows the typical party idea. They provide physical catalogs that you can distribute at the events, along with discounts and incentives for anyone who hosts a party.
The compensation rate is 25% and you can earn another 5% if you hit $1,200 in sales within a month. These rates are the same for all ranks. You can also earn another 10% as a leadership bonus, but only if you focus on the team-based aspect.
The team aspect is relatively simple (compared to other companies). Mary & Martha uses a unilevel plan that just goes down three generations. The system is rank-based, but there are only six ranks to go through.
Each of the team ranks requires $800 in personal sales and $3,000 in team sales per month. You also need three central team members. The only thing that changes from one rank to the next is the rank requirements of your team. The higher ranks require you to have some ranking team members.
I do like the simplicity of the plan and I love that the monthly requirements remain the same for each rank. This should make it easier to progress through the ranks and makes the plan less stressful as well.
Final Thoughts: Mary & Martha has a better compensation plan than most. But, the monthly sales requirements are high. You'd also need the right audience if you wanted consistent sales.
3. Red Rock Traditions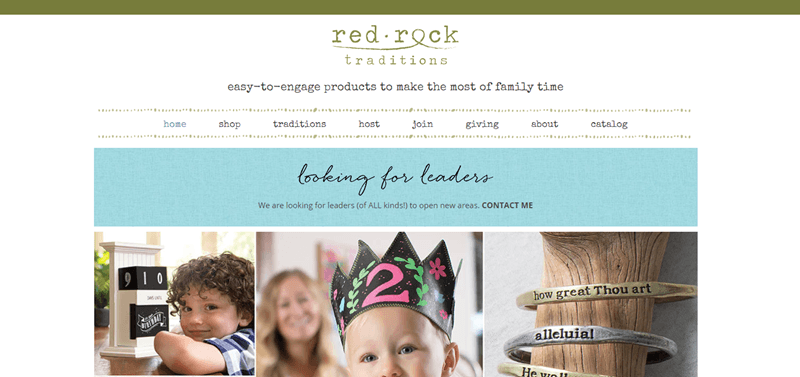 Focus: Family, faith and traditions
Minimum Cost: $135 (starter kit containing various products)
Product Overview: The name Red Rock Traditions is a little odd but it's a good way to sum up this company. The basic focus really is on traditions. Specifically, the company focuses on products that bring the family together, including ones that are relevant to specific holidays or other celebrations.
The products are broken down into four key categories: Connections, Faith, Holiday & Celebrations and Personalized. Each has a diverse range of items. For example, Connections includes a Family Award Board (for $80), a Family Bucket List (for $58) and a Family Movie Night Set (for $33.50).
The combination of items borders on eclectic, but they are interesting enough. I can see how they would appeal to many people, particularly families with young kids.
Still, the style is very much love it or hate it. You would only be effective at making money if you could find an audience that did like the products. If not, the process would be an uphill battle.
Commission Quick View: Red Rock Traditions doesn't offer many details about their compensation plan. Members can earn up to 30% in commission but the initial figure is likely to be lower (perhaps 25%). There are some quick start programs as well, allowing you to make bonuses for hitting certain goals.
Red Rock Traditions also heavily relies on the party model. Members are expected to hold parties regularly and promote the products through them. The party approach can encourage sales but people do get frustrated with the events fast. To make parties work, you need to regularly find new customers.
There are no significant details about the team aspect. Red Rock Traditions probably uses a unilevel team, one that has many ranks for you to progress through. But, without more details, it's hard to be sure.
Either way, building a team would provide you with extra money (potentially) and a lot more effort. If you could make one that was large enough, it might be worth the work. If not, you may be better off sticking to sales alone.
Final Thoughts: Without compensation details, it's hard to know where Red Rock Traditions stands. But, the company is fairly new and the products are unusual. Those aspects should make sales easier.
4. SimplyFun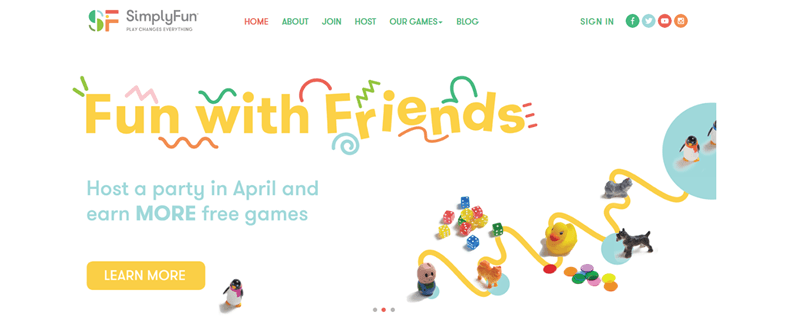 Focus: Educational games for all ages
Minimum Cost: $129 (for a starter kit that includes various games and business supplies)
Product Overview: SimplyFun focuses on games, along with the idea that games help people to learn. Their products vary from simple to complex and include some unusual styles that you won't have seen before. The games are also specifically developed for learning and for busy families. There is even a focus on making sure the games tie into national standards where possible. Some are also designed for the challenges that special needs kids may face.
The selection of products is also impressive and the company's website hosts around 150 games. Some of these are fairly simple and a little boring, while others are much more interesting and unusual.
Many of the games are between $20 and $30. The prices are higher for more complex or unique games. But, even then, the prices remain competitive.
There are many sources of games, but the products from SimplyFun are interesting enough to be competitive. Plus, this isn't a common network marketing product choice. Customers are likely to be more interested in this than yet another jewelry MLM.
The main limitation is that the games aren't consumable products. Families might come back for more – but most won't be looking for dozens of games.
Commission Quick View: SimplyFun focuses on party-based sales and you don't need stock on hand (aside from any games that you're demonstrating). The base commission rate is 25%. You can get various bonuses on this based on your sales and your rank. For example, hitting between $600 and $999 in monthly sales gets 3% extra at the first rank and 7% at the later ranks.
If you just want to make sales, you just need to buy or sell $500 of product every six months. That's not an unreasonable requirement.
The team aspect is much simpler than other companies and just involves four ranks (Builder, Master, Mentor and Scholar). Everyone starts at Builder, which is mostly sales. Even at the Builder tier, you can earn 2% of the sales volume of anyone you personally sponsor.
To move past this, you need to get $600 a month in sales and maintain $2,500 a month for five months out of every six. Achieving this is much more difficult and would require significant sales every month. At this level, you earn 7% for people you directly recruit, along with commission on team volume overall, if it hits a certain total. The latter two ranks are more challenging still.
Final Thoughts: SimplyFun is more realistic than most if you plan to focus on sales. At that level, the ongoing requirements are minimal, while the products are appealing. But, the team building would require more consistent sales than most people could achieve.
5. Discovery Toys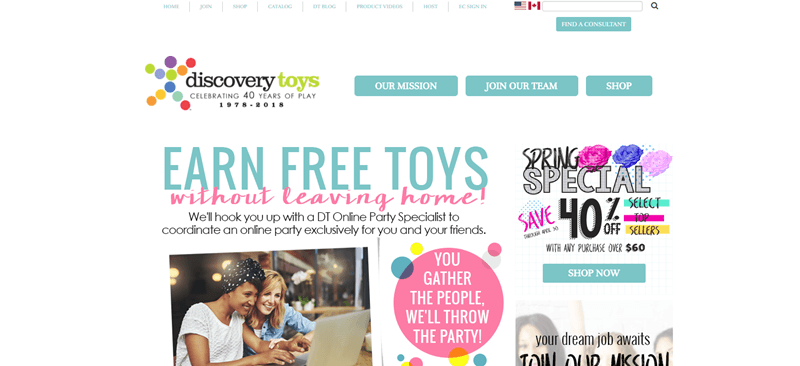 Focus: Toys and games for learning
Minimum Cost: $89 (for a business starter kit with some toys and tools)
Product Overview: Discovery Toys follows many of the same principles as SimplyFun but most of their products are toys rather than games for the family. The toys are sorted by age and by type of play, allowing customers to easily find what is best for them.
Some of the toys are also designed for kids with special needs, including autism. The toys tend to get good reviews too, which is another advantage.
However, most are aimed at younger kids, with the highest age group being 8 and up. Many of those toys would work for older children too – but few would suit teenagers.
The toys cover a wide range of styles and prices. The pricing tends to be competitive and none of the products feel unreasonably expensive. Some of the items are things you'd find at a regular store, such as Mini Maracas or basic puzzles. But, there are enough unusual products to make the company competitive.
Commission Quick View: This is another party-based company and offers various incentives to anyone who hosts a party. Discovery Toys provides an outline of these benefits, including discounts and some half price toys. But, details are scarce about how distributors make money.
We do know that distributors can earn up to 34% commission on sales and 7% from the sales of their team. Those are the maximum amounts. To achieve these, you'd need to advance through ranks and/or hit sales targets.
The starting commission rate is likely to be around 25% and you work up from there. That's still a reasonable amount per sale, especially if you have friends with young kids.
But, the lack of information is an issue. If nothing else, it's unclear whether there are ongoing purchase or sales requirements. Those aspects alone can make or break your ability to earn money.
Final Thoughts: Discovery Toys has decent products that should sell to the right audience. But, it would be worth getting extra details from a distributor or the company about exactly what the ongoing requirements are.
Top Pick
With most lists, I can provide a single company that's better than the rest and is worth checking out. That's not really the case here. Instead, the companies are all very similar to one another. They tend to offer somewhat unusual products, ones that you don't normally see in an MLM. Their compensation plans are also decent enough and most tend to be on the simple side (there are some pretty complex ones out there!).
The best choice simply depends on which products suit your audience. If you have a strong group of friends from church, Red Rock Traditions or Mary & Martha might work well. Alternatively, if most of your social contacts have young children, one of the game-based companies could be a good choice.
Regardless, make sure you check the requirements carefully before you commit to anything. Finding success is possible but it's typically more challenging than is promoted by people trying to recruit you into the company.
Don't forget, you can also make money with affiliate marketing. In fact, there are affiliate programs for many of the same ideas in this post like organic food, mattresses, coffee, cosmetics, and natural health.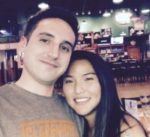 MLM Critic & Author: Nathaniell
What's up ladies and dudes! Great to finally meet you, and I hope you enjoyed this post. I have to be honest though. I'm not a big fan of MLM. Tried it. Hated it.
Affiliate marketing is cheaper, faster, and easier. See for yourself and join millions of other successful affiliates generating income from their blogs!
No inventory. No fees. No recruiting. 3 BILLION potential buyers online.
Reader Interactions