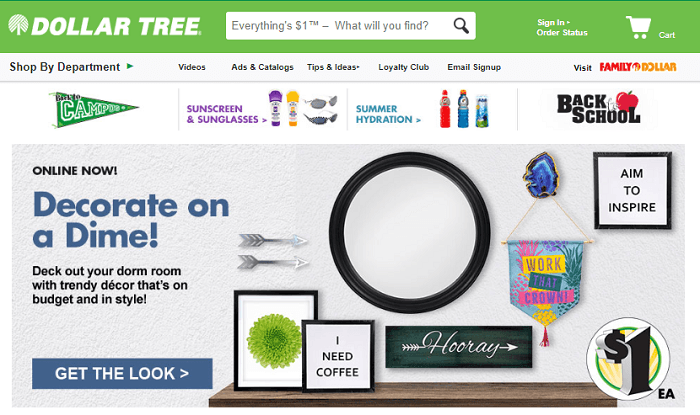 Both kids and adults can agree that one of their favorite past times is going to the dollar stores where everything is just $1. One of the most well known dollar stores know across the US is the Dollar Tree.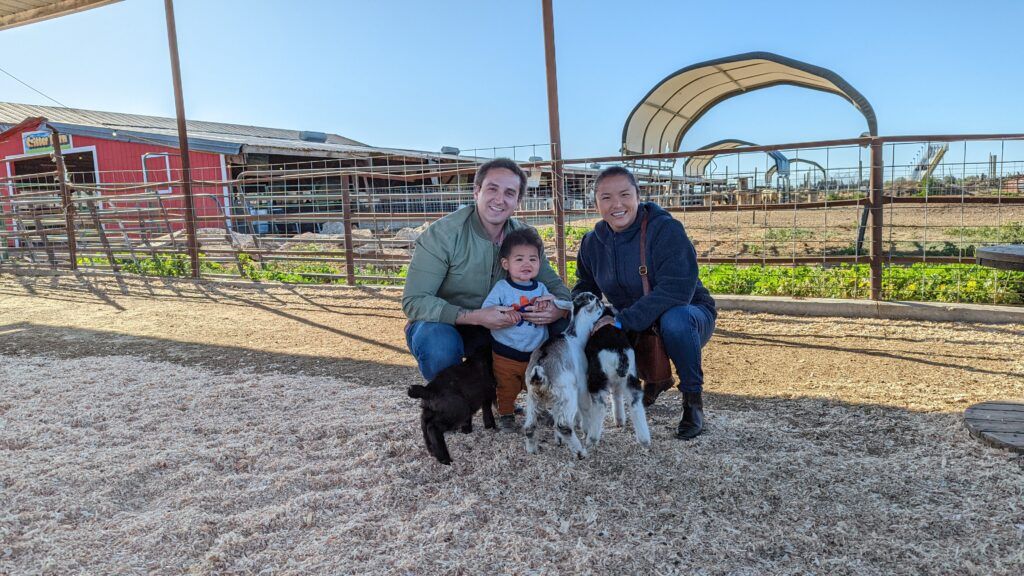 Are You Ready To Work Your Ass Off to Earn Your Lifestyle?
Are you tired of the daily grind? With a laptop and an internet connection I built a small website to generate income, and my life completely changed. Let me show you exactly how I've been doing it for more than 13 years.
Over the years the Dollar Tree stores have evolved from offering mostly toys and random items into offering everyday home goods that we all need like cleaning supplies, bathroom toiletries, food/drinks, candles, decorations, office supplies, and much more.
When I was playing around on their site the other day, I saw one of my favorite two words: Affiliate Program.
Who would have known a company like Dollar Tree also catered to affiliate partners to help drive traffic and sales.
Whats an Affiliate Program anyway?
In two words – Free Advertisement. Companies who have an online marketplace create affiliate programs which provide you with tools for advertising the company and the products/services they offer. With those tools, if you achieve sales by advertising or selling products they will give you a % commission.
The great thing about affiliate programs is you don't have to actually sell products to anyone (Nobody likes sales… lets be honest…) but rather drive traffic to their website and if that customer does make a purchase you automatically get commission.
The Dollar Tree program can be found on the Shareasale Network, shown here in this video:
What Type Of Products Are Featured on Dollar Tree?

The Dollar Tree now offers so many great products and their online store offers more than what you'll see in a standard store. Below are the different types of products you can expect to see in the Dollar Tree's online store:
Kitchen and Dining
Floral and Home Decor
Food, Candy, and Drinks
Party Supplies
Health and Beauty Supplies
Office and School Supplies
Toys, Books, and Crafts
Household and Pet Supplies
Cleaning and Storage
Seasonal and Holiday Items
Their online store allows you to search by different department, product types, and by "business" type. They also offer different tips and ideas in their blog site which can give you great ideas for what to do with their products. In fact, you can compare the diverse range of products to other, more famous affiliate programs like Target, Walmart, and even the grandaddy of them all — Amazon.
Surprisingly I found Dollar Tree's online marketplace quite well designed and entertaining with different funny headlines like "All About That Vase" for selecting their grouping for different vases and 'Relax with Ama-zen Deals" for different spa pampering goods.
What Is The Commission Rate?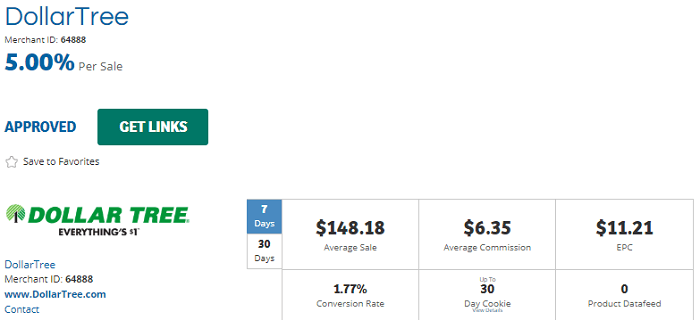 Dollar Tree's commission is based on the total amount of sales you complete in a given month. The more sales you complete, the higher your commission percentage will be.
The entry commission is 5% of the total sales achieved from the use of your affiliate links. Below is the increased commissions based on total sales achieved:
5% commission on all sales up to $2500
6% commission on monthly sales $2501-$5000
7% commission on monthly sales $5001+
While it may be hard to achieve the higher commission brackets, I always appreciate companies that reward their affiliate partners when they drive higher levels of business and sales. It always shows me which company truly values their affiliate partners hard work.
I do want to note that commission on coupon/deal items offer only a 2% commission as they are already discounted items and thus do not qualify for the standard 5%.
In comparison to other affiliate programs that offer an online marketplace for products, Dollar Tree's 5% commission offering is very standard. Companies like Amazon, Walmart, and others offer a very similar commission percentage.
In order to qualify for the above commission on products, the customers you refer to Dollar Tree must make a sale within 30 days. Dollar Tree's affiliate program inserts a cookie into the users browser which will stay there for 30 days. Any purchases made during that 30 day period, the commission will go to you.
Alternative Affiliate Programs
There are quite a few different affiliate programs for department store type online market places. Some of the most common ones include those like eBay, Amazon, Target, and Walmart. Each of these have affiliate programs which I'll give you a high level overview below. You can dig deeper into each by visiting their specific reviews:
Dollar Tree is a company which prides itself on being a great budget friendly company so when you're looking for partners to pair with Dollar Tree, keep in mind the specific niche you're going for. Both eBay and Walmart both offer budget friendly items which make a good partner to your Dollar Tree affiliate.
Website Ideas

Without a doubt, one of the best website ideas to utilize Dollar Tree for is "Living on a budget" guides. Whether you are part of the bottom income bucket or you just want to learn how to save money better, learning great techniques about living on a budget will help everyone.
Dollar tree's products are just $1 so they are perfect budget friendly products. While I do suggest that you personally try their products to ensure they are still of good quality, I have used so many Dollar Tree products personally. They typically always live up to my expectation and get the job done quite well.
On your "Budget Friendly Lifestyle" blog I can think of hundreds of ways you can promote their different products. From creating a "10 best budget friendly cleaning supplies", to a "15 Items You Never Knew You Can Get For $1." There are so many amazing ideas to keep you busy blogging for months using Dollar Tree products.
Can You Make Money With The Dollar Tree Affiliate Program?
While we've discussed some ideas for websites, lets get into the specifics about how you actually use the Dollar Tree Affiliate Program. First step is getting access.
Dollar Tree utilizes a 3rd party affiliate portal called ShareSale who manages their affiliate program. The ShareSale affiliate portal is extremely easy to use and is one of my favorite companies that manage affiliates. to get started, go to the Dollar Tree Affiliate page here.
Once you get signed up on ShareSale, simply search for Dollar Tree under the merchants available. You will have to wait for Dollar Tree to approve you as an affiliate but once you're approved you can start utilizing their affiliate tools.
To use their tools, simply click the "Get Links" button on the affiliate page for Dollar Tree. Here you will see two different options:
Text Links: This HTML code under Text Links offers you ready-made affiliate links that are customized to specific parts of Dollar Tree's website. Whether you want to refer a customer to their Easter section, or their office supplies, they have a custom link for you that includes your affiliate ID. These are great to use to hyperlink either words or photos that you post on your website or social media site.
Banners: Dollar Tree really has it going on when it comes to banners. They have over 400 different banners each specializing in different products. I really loved this about the company because if you're using just a standard company banner, it can often get a bit boring. Having specific banners for lets say "Art Supplies" makes that banner more engaging if your topic is about art supplies. When I browsed through the banners I was really happy to see they care about the success of their affiliate partners.
Here's an example of the banners section of the affiliate portal: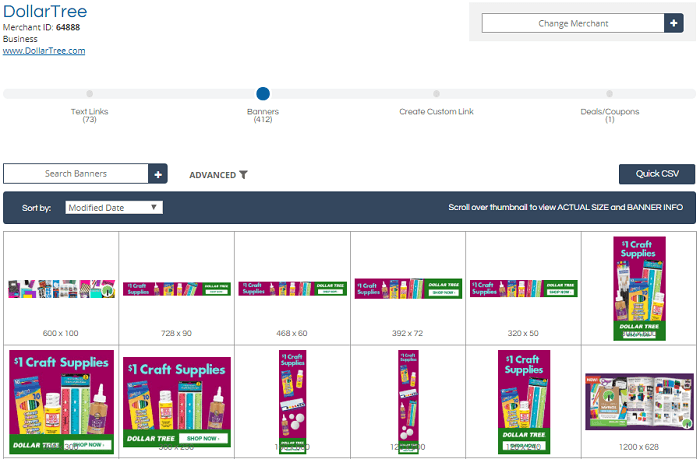 You can see from the above screenshot that each of the different themed banners come in many different dimensions so you can utilize these no matter what space you're working with on your website.
Both the text links and banners both have embedded into them a specific code that ensures you get credit for each of those customer's when they click your affiliate links in case they make a purchase so that you get credit for those purchases.
Pros/Cons of Working With Dollar Tree
Every company has its ups and downs. So what are Dollar Trees?
Pros:
Great affiliate portal utilizing the ShareSale company.
Good commission rate starting at 5% going up to 7% of the total sale. This runs in the higher bracket of department store product sales affiliate products.
Easy sale strategy to promote budget friendly options.
Cons:
With everything being just $1, it's difficult to earn money with Dollar Tree as your commission typically is just 0.05 per product ordered. A customer would need to order 20 items to get your first dollar.
With cheaper items being hard to stack up commissions, you may want to check out our page about high ticket affiliate items, or high paying programs (high percentage). Though some items are crazy like yachts and supercar rides, others are more reasonable like jewelry, mattresses, and hotels. That being said, though my mantra has always been to avoid cheap items to promote, high traffic pages with high converting links can make money 5 cents at a time.
Let me know what you think of the ShareSale affiliate portal and how you like the Dollar Tree affiliate program.
Keep searching for the next big affiliate program!
The Internet's #1 Affiliate Training
It sounds like you're pretty familiar with the basics of how affiliate marketing works. Awesome! But is your website profitable yet? Are you stuck spending hours wondering why you aren't seeing results yet?
You aren't alone. Most newbie affiliate marketers are a little lost, jumping from one "how to" guide to the next, hoping to learn the secret sauce of how to make money with affiliate marketing
I was able to turn my basic niche blog into a six-figure earner in 18 months following the training from this company. They focus on building a sustainable business that will earn for years, not just a website that will "game" search engines for temporary rankings. That's why 8 years later my websites are still earning and still growing.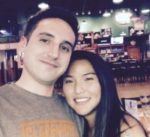 Nathaniell
What's up ladies and dudes! Great to finally meet you, and I hope you enjoyed this post. My name is Nathaniell and I'm the owner of One More Cup of Coffee. I started my first online business in 2010 promoting computer software and now I help newbies start their own businesses. Sign up for my #1 recommended training course and learn how to start your business for FREE!