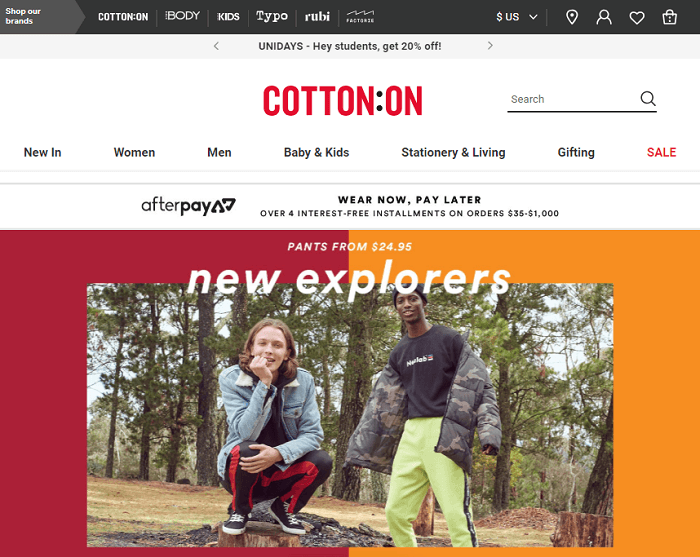 If you're looking for a new clothing brand to add to your affiliate mix, Cotton On is a great choice. Cotton On was founded in Australia and is the countries largest global retailer. Over the years of existence it has spread from New Zealand, to Singapore, to the USA and now throughout the whole world.
They specialize in clothing for all seasons for Men, Women, and Kids plus when you work with Cotton On, you get to work with all 7 of their brands including Cotton On, Cotton On Kids and Body, Rubi, and Typo.
Cotton On's affiliate program is a great choice as the product prices are low and the commission rate is high. We'll go through everything you want to know about Cotton On as a company and their affiliate program throughout this article.
Signing Up
Cotton On works with a 3rd party to manage their affiliate program called Rakuten. To get a Rakuten account, go to www.rakutenmarketing.com and sign up for their affiliate network. You can find a full overview on how to sign up with Rakuten here:
Once signed up, search for Cotton On in the advertiser search box and click the "apply" box. Once submitted, Cotton On will review your application and determine if your site aligns with their company. This process normally takes 24-48 hours to complete.
What Type Of Products Are Featured?
The Cotton On brand offers many different products related to fashion, active wear, footwear, and gifts. This is all through their unique different brands which include the following: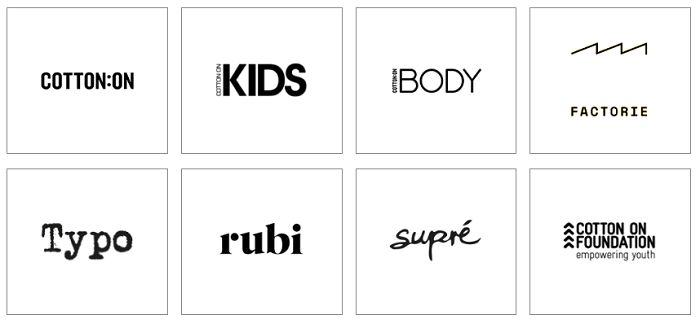 Cotton On: Both men's and women's clothing focusing on both the basics, effortlessly cool, and affordable fashion. They're proud exports of the "laid back quintessential modern Australian style" to the world.
Cotton On Kids: Latest trends on kids clothing branding from a new-born up to ages 14. You'll find products including girls, boys, kids accessories, bedding, and kids-room products.
Cotton On Body: The Cotton On Body brand offers active wear, lounge/sleep wear, swimwear, and intimate items. Designed primarily for women to feel comfortable in every situation.
Rubi: Cotton On's footwear brand with the latest trends in shoes and accessories for women no matter what the occasion.
Typo: This brand in the Cotton On line has a fast-growing global footprint and specializes in many different types of gifts and stationary including that for housewares, wall art, decorations, party supplies, travel and tech accessories, arts and crafts, and other gifts.
You can explore all of these brands on their websites and use any of their products through the Cotton On affiliate program all in one. While you think you're signing up just for a fashion brand, but it turns out to include so much more than that.
*Note: Supre and Factorie are included in the Cotton On Group, but not in their affiliate program.
What Is The Commission Rate?
Fashion bloggers can earn a lot of money online. One of my favorite parts about the Cotton On affiliate program is their commission rate. When you work with Cotton On and all of their affiliate brands, you get a flat 7% commission on all products sold no matter what type of product it is.

If you compare this to other clothing/accessories affiliate companies, they range from 3-5% on average. Cotton On is an exception to that and they don't differentiate between the brands. You get 7% no matter what product from their different company group.
Alternative Affiliate Programs
There are many different fashion companies with affiliate programs, but if we look at alternatives that you can use to compare or even to partner with Cotton On, you can look up these affiliate companies:
H&M: The H&M company offers great affordable clothing options for both the casual and stylish alike and their affiliate program offers you between a 5-6% commission rate which is comparable to that of Cotton On.
Old Navy/The Gap: These two companies are both related and signing up gets you into both company's products. Their affiliate program offers you a 1-4% commission rate which is considerably lower, but their products are decently priced which makes them an easy to sell as well.
American Eagle: The A.E. affiliate program includes both the American Eagle clothing and Aerie women's wear. The affiliate commission rate ranges between 1-2% based on the product type. Although it isn't a very high commission, it is a very popular brand which makes it easy to market.
With hundreds of fashion choices on the market for alternative affiliate programs, you will have to choose very wisely which program will be best for you based on the style of the clothing, the range of products the affiliate partner offers, and the commission rate. Typically you should try to choose popular programs with a lot of product options that have a decent commission rate. Cotton On is one of those rare companies that fit the mold for all 3 of the requirements of a good affiliate program.
Website Ideas
If you haven't yet created our website, you'll want to first decide on a concept for your niche. If you use Cotton On, then Fashion is your niche, but you need to have a unique idea in order to succeed in the competitive online world.
Cotton On has some really great products ranging from both summer and winter layers, but choosing the right colors and textures is a common struggle. You could choose to make structure your entire site around color selection for clothing. Styling guides are one of the biggest trends right now. Companies design their entire company around selecting clothing form different brands that all fits together into the perfect outfit. Choosing those appropriate colors and textures that all fit into the perfect outfit will give your readers a reason to want to follow you.
You can also focus on just one season as your brand – for example Summer. Find affiliates that structure all around summer themed clothing and then pick out the best (and the worst) clothing articles from each of those areas to promote. You cant just promote the items, but explain why the clothing is good or bad for summer, if it's currently trending, and if it's a worthwhile buy.
Utilizing social media for fashion related affiliate programs is a key to your success as well. Instagram is one of the top fashion platforms used, and it should not be forgotten when utilizing affiliate programs. Adding your specific affiliate link for Cotton On as your Instagram website is a great way to drive traffic.

Can You Make Money With The Cotton On Affiliate Program?
The fashion industry is always evolving and changing so there is plenty of ways to make money whether it be via style blogging or within social media (or better yet, both). But before you can start making money, you'll need to learn the affiliate tools so you can start using these on your website today.
To start using it, make sure you already have your website created, you're signed up with Rakuten Marketing, and you've applied for the Cotton On affiliate program.
Once you have the access to their affiliate program, you can start using the affiliate tools to add links and banners to your website. The tools can be found within the Rakuten portal by navigating to Cotton On by searching for them in the Advertiser's Search box and then click on the "Links" option on the left as seen below.

There are 3 different link types available through Cotton On including the following:
Text/Email: The text links are basic URL links that take you to different areas of the Cotton On affiliate partner's websites. This could be the "Men's clothes", or "Women's Clothes", or it could be a direct link to the Typo or Rubi brands as well. It also is where you'll find links for all of their sales so you can advertise for the great sales that the Cotton On brands offer.
Product Links: The product links section is a full listing of every product available online for the Cotton On Brands. You can use these when you're trying to advertise for a specific product that Cotton On offers.
Banners/Images: The banners are one of the most common forms of advertisement on your websites and social media for getting the attention of passing visitors on your platform. These are graphics that show what Cotton On brand offers or discounts they have running. You an add these to your sidebar, header, or footer of your website.
All of the above 3 are setup similarly that to access each, simply click the "# of Available links" in blue (screenshot above) and it will take you to all of those links available. That will then take you to the link/image available. To use it, simply click the "Get Link" button and you'll see the code available in a pop-up window.

Pros/Cons of Working With Cotton On
Each affiliate program have different offerings which make them better or worse as compared to the others. Here's a quick run down of the pros and cons of the Cotton On Affiliate Program:
Pros:
Well-known clothing brand with a global footprint.
High affiliate commission rate of 7% on any product.
Broad range of products due to the 5 different company brands that are included in the Cotton On affiliate group.
Cons:
Clothing is a very saturated niche, so getting your footing can be difficult.
Fashion requires constant changes and evolution in content to keep up.
Hope you've enjoyed the overview of the Cotton On Affiliate Program. Read more on Fashion Affiliate Programs.
The Internet's #1 Affiliate Training
It sounds like you're pretty familiar with the basics of how affiliate marketing works. Awesome! But is your website profitable yet? Are you stuck spending hours wondering why you aren't seeing results yet?
You aren't alone. Most newbie affiliate marketers are a little lost, jumping from one "how to" guide to the next, hoping to learn the secret sauce of how to make money with affiliate marketing
I was able to turn my basic niche blog into a six-figure earner in 18 months following the training from this company. They focus on building a sustainable business that will earn for years, not just a website that will "game" search engines for temporary rankings. That's why 8 years later my websites are still earning and still growing.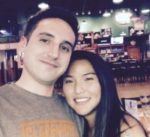 Nathaniell
What's up ladies and dudes! Great to finally meet you, and I hope you enjoyed this post. My name is Nathaniell and I'm the owner of One More Cup of Coffee. I started my first online business in 2010 promoting computer software and now I help newbies start their own businesses. Sign up for my #1 recommended training course and learn how to start your business for FREE!