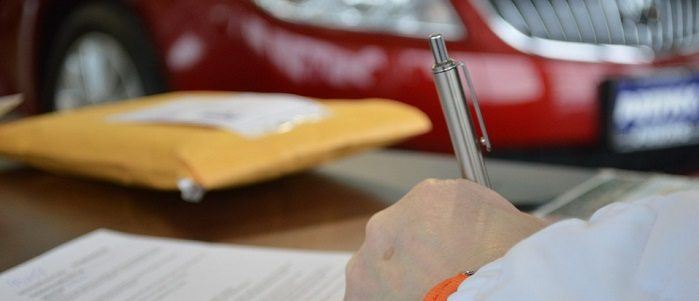 Affiliate Programs, Keyword Lists, and Niche Research for Car Loan
All of us at some point or another has had to go through the process of getting a car loan for either buying or leasing a vehicle. But did you know that you can make money being an affiliate of companies that supply car loans and other car title loan leads? Nowadays being that it is fairly common to order a vehicle online like most other things, the same holds true for loans.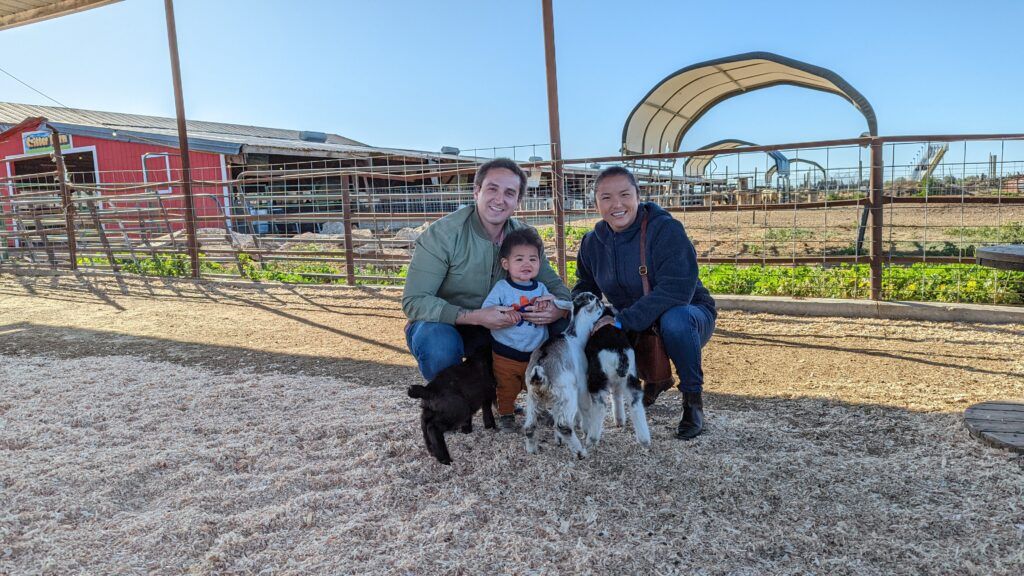 Are You Ready To Work Your Ass Off to Earn Your Lifestyle?
Are you tired of the daily grind? With a laptop and an internet connection I built a small website to generate income, and my life completely changed. Let me show you exactly how I've been doing it for more than 13 years.
One would think with so many people buying and leasing a vehicle that online car loans would be a hot commodity. Well in actuality it is just fairly popular, maintaining a semi-strong interest among car buyers as is shown in the below graph. I guess a majority of people have yet to embrace the full effect of performing every aspect of an auto purchase online.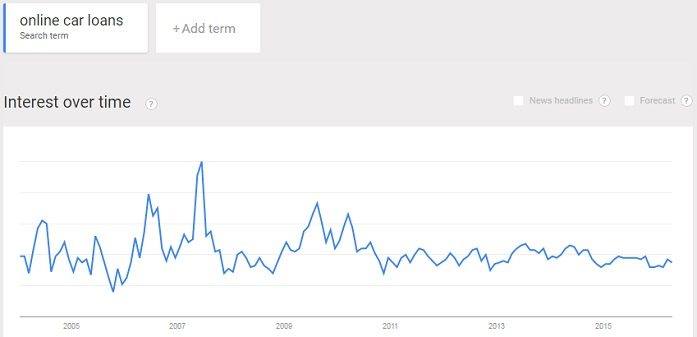 Though the full online experience of purchasing and financing an automobile may be escaping these people, one would think that there would be some interest in acquiring some kind of loan. Then I thought how about those looking for a loan when their credit situation is not that good. Loans for people with bad credit should be a rising trend, no?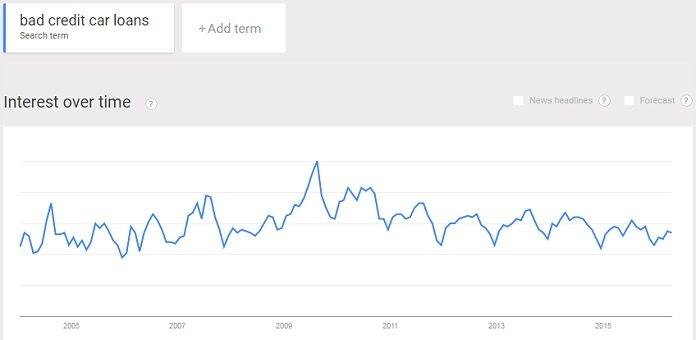 But even that kind of loan is basically maintaining a strong and even interest. Does this mean that the niche of car loans is not one to get involved with? Not at all. Neither of these graphs show a downward trend. If anything interest has remained strong and eventually more people will catch on to the whole financing via the internet.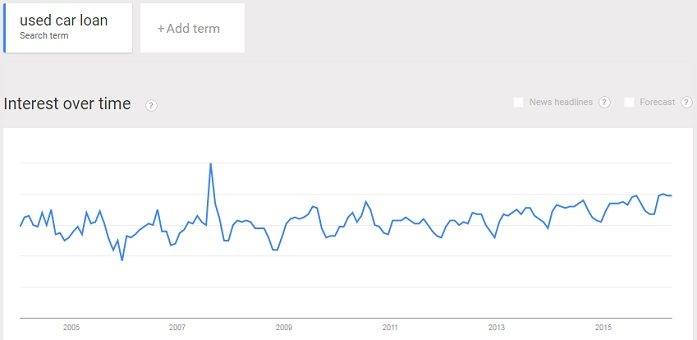 One area of car loans that has shown some increase in interest is that for used cars. A lot of people are saving money and buying used vehicles, and many from dealerships which will provide some sort of manufacturer's warranty. The loans for vehicles will always have a strong appeal, especially in the US where anyone with a job is going to need a car.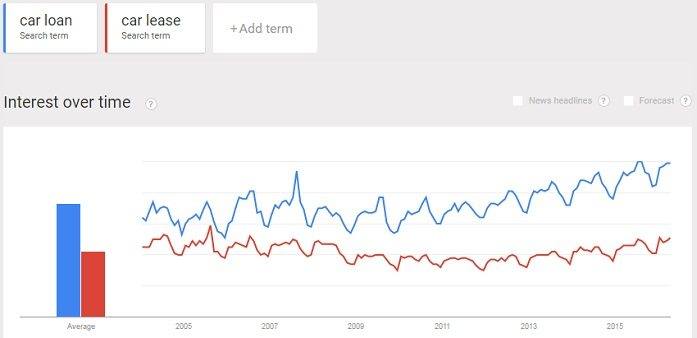 As can be seen in the above graph, when doing a comparison between a car loan and a car lease, both have had a slight increase since the economic crash of 2008/2009. So is this a niche worth getting started in? Of course it is because people in all income brackets will at some point be buying or leasing a vehicle either new or used.
Now the only challenge I see for this niche is finding a variety of affiliate programs to join. There really aren't many and I express my opinions on this below. Sure there are a lot of companies that provide auto loans but many do not have affiliate programs. Of those that do, only a handful are good candidates in my opinion, so make sure you really do your research.
As for finding keywords, you will find a fair amount of both high searched and low competition varieties but not as many or diverse as other niches. I give examples in my keyword list below. And when it comes to choosing a sub niche there really isn't any. All car loan affiliate programs handle loans for a variety of vehicles.
Top 3 Affiliate Programs
Depending on your angle for promoting car loans, if you're getting into finance blogging, here are some great finance blog name ideas, and some branding strategy you could use as well.
My Thoughts
Doing the research for this niche was a bit frustrating in the fact that there are not many companies that offer car loans with affiliate programs, and the majority that do have programs are very tight-lipped as to how much they pay in commissions. It is almost like a trade secret with them. I mean just answer a simple question, how much can I make per lead?
Normally I can find at least ten affiliate programs to offer here but for this post, the last two in my list of 10, I had to spend a good 20 minutes on each just to present all of you with some useful information. Thankfully the eight prior programs and especially the top three were more forthcoming with affiliate program details.
Even though auto financing is a $600+ Billion a year industry, this research has left a bad taste in my mouth. With the exception of my top six selections, I would advise you to really do some heavy research into an affiliate program before signing up. I question, if a program will not give you an estimate on commissions, what else are they not revealing?
Edmunds.com
Comments: Just looking at the Edmunds.com website, and as someone who likes cars, it is visually obvious why I chose them as my number one selection. With their broad approach in services in the process of buying a car, that helped me in my decision. But that being said there are other reasons why they are number one.
Edmunds is a long established company, getting their start in the 1960s as a paperback newsstand publication of all things. They have grown into one of the most beloved and well-known automotive resources of the 21st century. Edmunds provides an entire range of automobile services beyond just auto loans and financing.
Much of their success comes from their most cherished assets, their enthusiastic employees and progressive corporate culture. This attitude comes forth in their affiliate program with fantastic support for their affiliates, just as great as they treat their customers. Of all the affiliate programs, this was the easiest to research.
CarsDirect
Signup URL: http://affiliate.carsdirect.com
Focus: Dealer Request Lead for Autos.com, Finance Lead for CarsDirect, Dealer Request Lead for CarsDirect, Direct Sales Lead for CarsDirect
Commissions: $6.00 to $15.00
Comments: It was an easy choice to make CarsDirect my number two selection. Like Edmunds above, accessing their affiliate program details was extremely easy, actually easier. Their program details and explanation of commissions is front and center when going to their affiliate section on their website. They are recognized as America's #1 way to purchase cars online.
With CarsDirect, instant, guaranteed low prices on all new cars and trucks, award-winning customer service from their Vehicle Specialists, four different commission payouts, and 30 day cookie, makes this an affiliate program worth getting involved with. They do not make you guess or go asking for the simple answer of what an affiliate can make per lead. They tell you straight up.
MyAutoLoan.com
Comments: MyAutoLoan.com is the website of Horizon Digital Finance, L.L.C., which opened its doors in 2003. They are a company that is privately held, and a direct-to-consumer, internet-based financing marketplace that helps consumers take control of the research, finance and buying processes for Auto and Motorcycle loans. Their slogan is, "Your Loan Your Way."
I chose MyAutoLoan.com as my number three selection for their easy to find affiliate commission information and simple to navigate affiliate website. There is very little flash when it comes to their site, just the information one would seek when researching affiliate programs in auto loans. The remaining 7 programs were much more difficult to research, but these top 3 should be considered the best of the best.
Other Affiliate Programs
Max Cash Title Loans
$50 to $200
New & Used car loans and car title loans are also available
Light Stream
$60 per funded loan
New, Used and Classic car loans and auto refinancing
InstantCarLoan.com
$13.00
Car loans for those with bad and no credit
Leads Market
Varies depending on market value + 3% of commission your referrals
New & used car loans and car title loans available
LendingTree
$5.00 for referral completing a LendingTree form, other commissions available but not stated
Auto loans as well as loans for personal, business, credit card, mortgage and refinancing
Dealer Link
$3.00 for Wholesale Lead & $7.00 for Retail Lead
Auto loan and financing
Auto Credit Express
"Earnings will vary considerably from site to site because of many factors, such as how much traffic your site gets daily and what type of site you operate."
Auto loans and leasing, financing
Car Loan Keywords Breakdown
10 Low Competition Keywords (Searches/QSR)
what is a car loan calculator – 71552/10
instant online car loans – 72/22
best car title loans online – 120/25
lending tree auto loans – 313/26
edmunds car loan calculator – 181/29
auto loan approval online – 615/45
interest rates for new car loans – 120/55
refinance car loan calculator – 1210/69
car loan application form – 224/74
apply for car loan online – 471/86
What's QSR
10 High Traffic Keywords (Searches/QSR)
a car loan with bad credit – 7496/259
car loan bad credit – 7496/253
used car loan rates – 6655/222
car title loan – 5539/287
used car loan calculator – 4746/201
vehicle loan calculator – 4338/209
auto loans online – 4000/246
refinancing car loan – 3524/167
car loans for bad credit – 2997/227
calculate car loan – 2767/192
Why Is This Different From Google's Number?
Though Google's Keyword Tool has improved in recent years, it still gives inflated (inaccurate) traffic numbers. The keyword tool I use (link) takes data from a variety of search engines, not just Google. Remember that Bing + Yahoo own 30% of the search market.
Other Great Keywords (high traffic, low competition)
instant car title loans
car title loans near me
used car loan online
automobile loan calculator
refinance car title loan
car loan interest calculator
loan for a used car
guaranteed car loan approval
how to refinance a car loan
car title loans online
poor credit car loans
auto loan rates calculator
bad credit auto title loans
car loan with bad credit
auto loan rates for used cars
Affiliate Marketing Action Plan For Car Loan
When it comes to this niche of car loans, being affiliated with the right program can make all the difference in the world. Don't look at just how much the program pays for their commission but also take into account the size and reputation of the company. Personally if I were to take on this niche, Edmunds.com would be the affiliate program I would join.
Not only do they have a recognizable brand name and a solid history of growth and customer satisfaction, but they offer so many products having to do with the location and purchasing of new and used vehicles in addition to the financing aspects of the process. This means you can make commissions on car loans and on everything else they provide.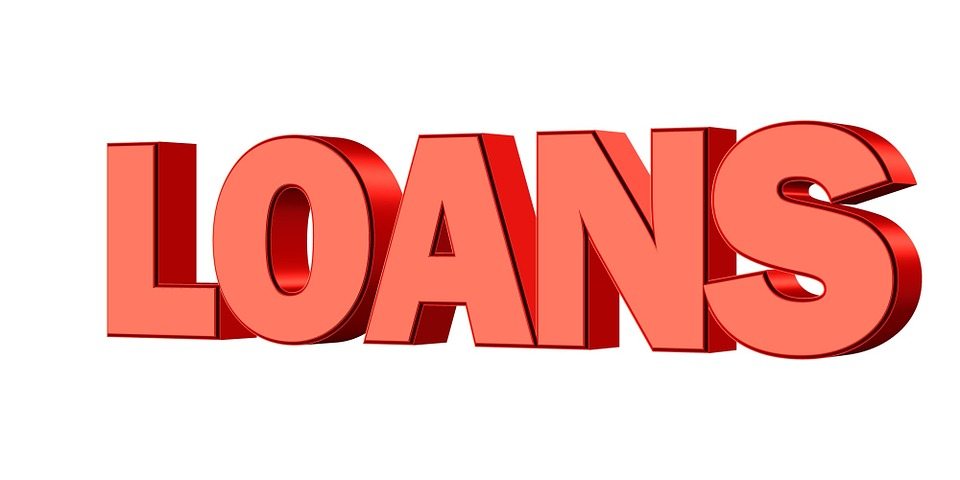 Just make sure that when doing your affiliate program research that you see how much the program you are researching will offer in commissions. Not all affiliate programs offer a commission on all related products. Edmunds is one of those companies that does, which is yet another reason why I selected them as my number one affiliate program up above.
As far as getting more of a target audience than just car loans, I don't think I would go too narrow. I feel that long term, I could write plenty of posts targeting different types of people needing car loans, including teens, single moms, young families, older people, people with bad credit, first time car buyers, people wanting sports cars, and so on.
PS. Here are more loan affiliate programs to browse, as well as car rental affiliate programs.
Need Extra Help?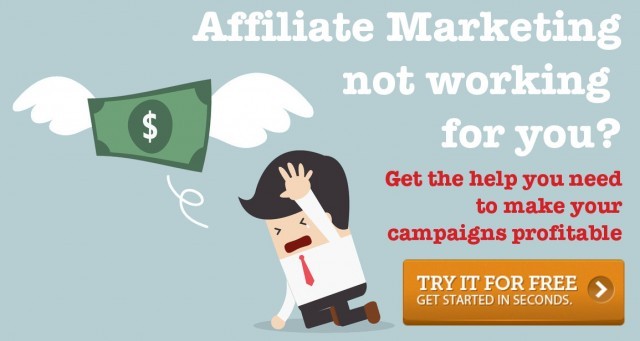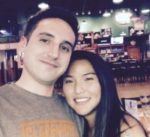 Nathaniell
What's up ladies and dudes! Great to finally meet you, and I hope you enjoyed this post. My name is Nathaniell and I'm the owner of One More Cup of Coffee. I started my first online business in 2010 promoting computer software and now I help newbies start their own businesses. Sign up for my #1 recommended training course and learn how to start your business for FREE!