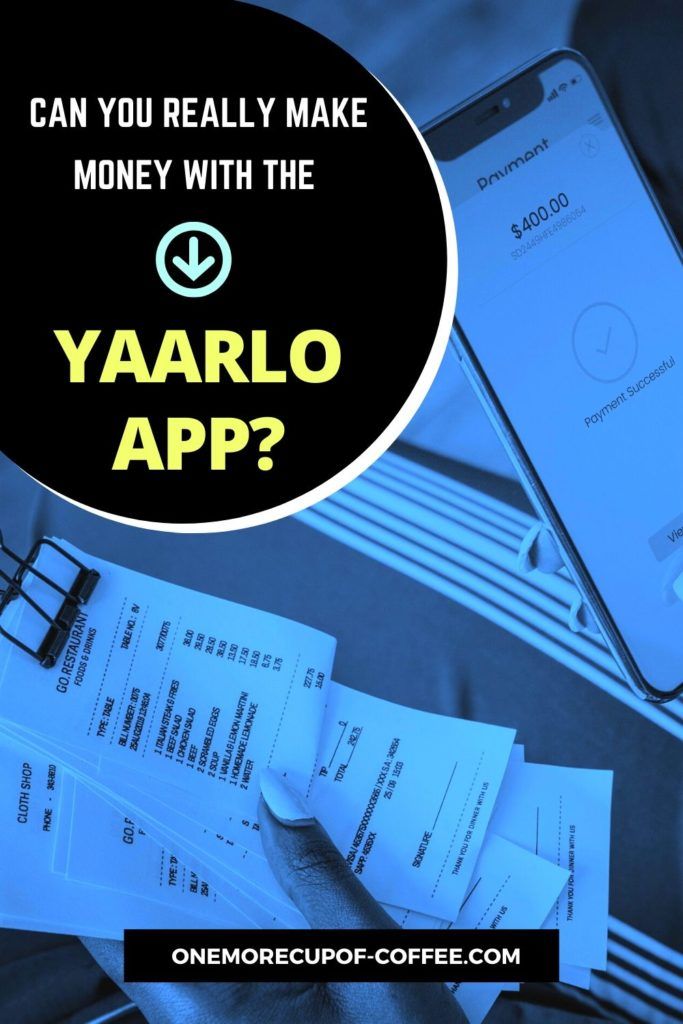 We would all be a little bit better off with some extra money in our pockets… right? Well, that's why I do what I do. I scour the internet for apps that could possibly earn some extra cash, and that's how I found Yaarlo. But can you really make money with the Yaarlo app?
I wasn't so sure, so I decided to download it myself and give it a try.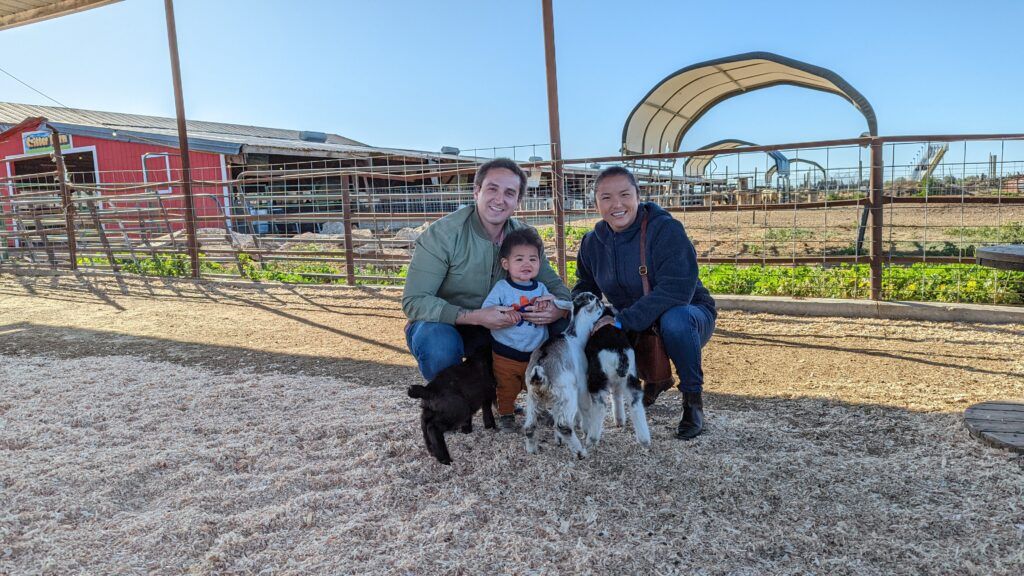 Are You Ready To Work Your Ass Off to Earn Your Lifestyle?
Are you tired of the daily grind? With a laptop and an internet connection I built a small website to generate income, and my life completely changed. Let me show you exactly how I've been doing it for more than 13 years.
Admittedly, the app doesn't seem to have a lot going for it based on the Google Play ratings.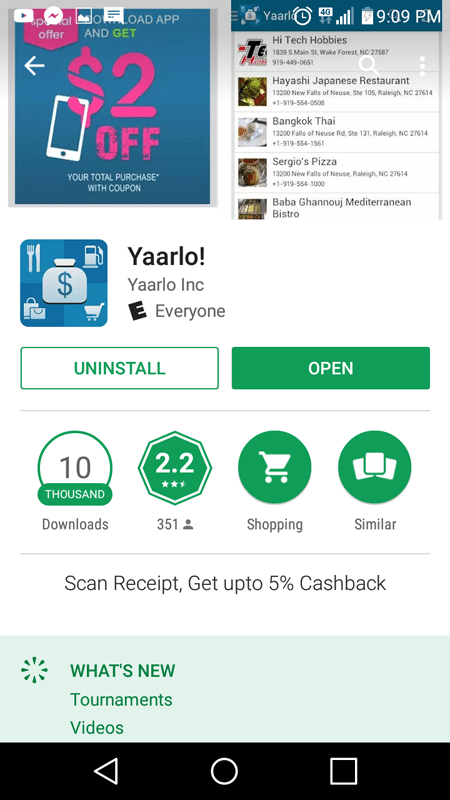 It's been downloaded over 10,000 times, has been reviewed by just over 350 people, and has a Google Play rating of just 2.2 stars! Yes, just 2.2.
No, that's not very good. In fact, in my experience, it is extremely rare to find a good extra-cash app with a rating of less than 3.5… but obviously, I never judge a book by its cover.
I was determined to get into Yaarlo and see what it was all about first-hand—but in order to do that, I needed to actually use it.
So that's what I did.
Here's what I learned.
Making Money With The Yaarlo App
As always, we need to start with the basics, including what the app actually offers. The tagline for Yaarlo in the Google Play store listing read as follows…
"Scan receipt, Get upto 5% Cashback."
Yes, this is exactly how it read. If you feel like the wording is a bit off, you're not alone. The grammar seemed sketchy to me, so I jumped into the Read More for a bit more information.
Here is a small blurb from there.
"Yaarlo is the easiest way to SAVE MONEY and EARN CASHBACK on your everyday shopping at grocery stores, retail stores, local restaurants and practically everywhere. Redeem the earned points for CASH via PayPal or for FREE gift cards!"
I was beginning to get the picture. These types of apps are actually pretty popular. And to be honest, I've had better luck with these types of apps (receipt-scanning/cash back shopping apps) than I have most other types.
But I was still a bit apprehensive about Yaarlo, mostly due to the 2.2 Star Google Play Rating.
So here's what I found when I actually gave it a try.
Opening Up Yaarlo For The First Time
In the Read More section of the Google Play listing for Yaarlo, they say that their users earn an average of $20-$30 each month by using all of the app's features. They say that you can earn cash back on daily purchases, save money with coupons, earn cash with surveys, refer friends for cash, and also play games and watch videos.
There seem to be a lot of ways to earn money on this app, but I was the most interested in the cash-back and coupon options, as these tend to be the most beneficial with apps like these.
I got started by opening up the app, and immediately came to this screen…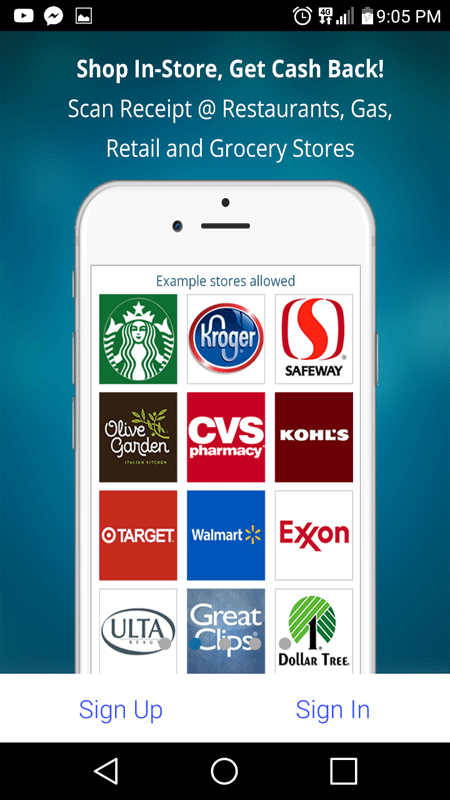 This was one of a few different screens that scrolled past, which basically told me things that I already knew from reading the Read More description. The important part of this screen was the sign-up button, which I clicked.
I signed up using my Facebook account, which was pretty easy. Once I completed the sign-up process, I found myself here.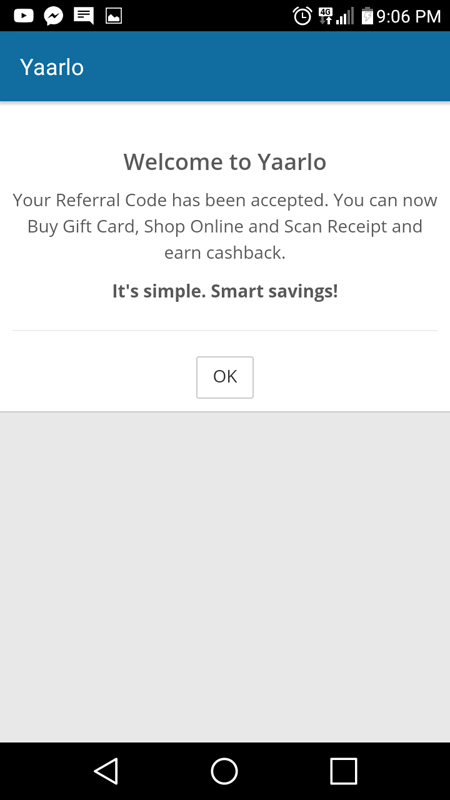 But once I got past this screen, I came to what seemed to be the main 'hub' of the app.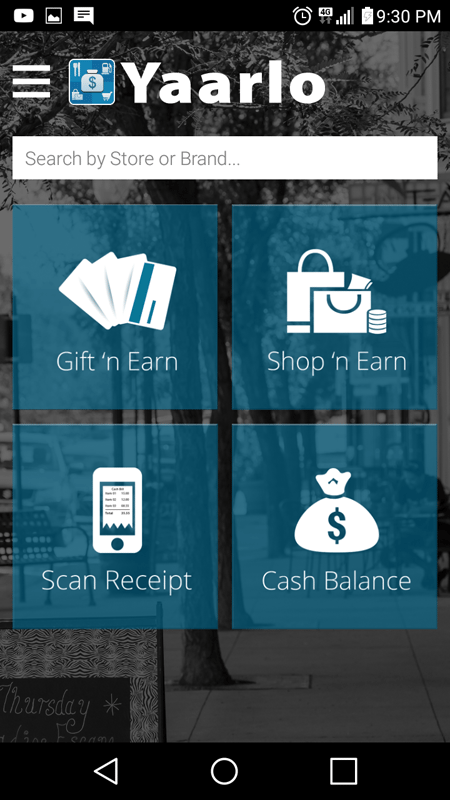 As you can see, I had four different options here—so I chose the 'Shop 'n Earn' function to start with. What I found, however, was not so good.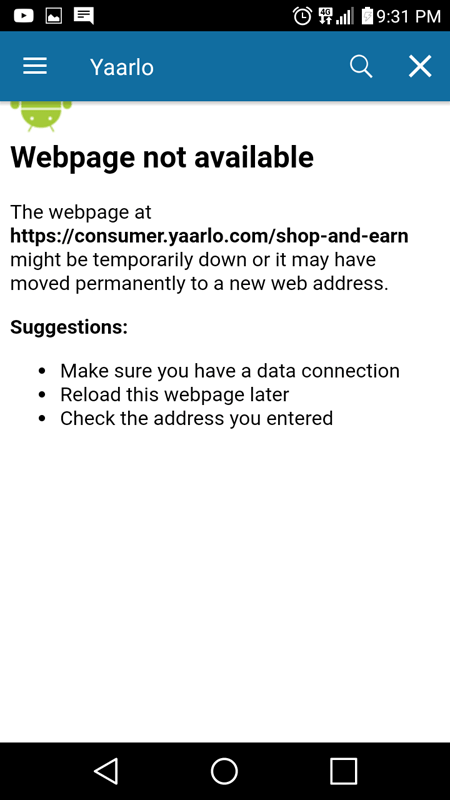 I backed out and tried it again, but to no avail. Suddenly, a sinking feeling began to form inside of me… and I wondered if all of the functions were going to end this way. Was this why Yaarlo only had 2.2 stars?
Next I tried the 'Scan Receipt' function.
This, interestingly, took me to my phone's camera. It wasn't a special camera or receipt scanner—it seemed to just be my camera. I took a photo with it, and then the controls changed to a screen that asked me if the photo was 'ok.' I clicked that it was, of course… and then the whole screen went away.
I wasn't exactly sure what had happened, to be honest… but I assume that someone on the other end was going to have to check it out and approve it before anything happened.
I went to the 'Cash Balance' section, and realized that I had received 500 free credits (a $5 value) just for signing on. This was nice. Here is a screenshot to show you kind of what was going on.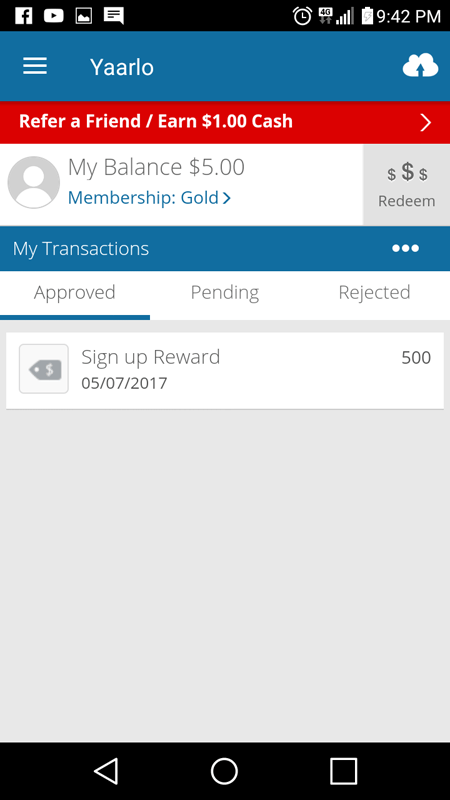 I clicked on the balance button here, and took a screenshot of just a few of the gift card options that you could get. There was literally a ton to choose from.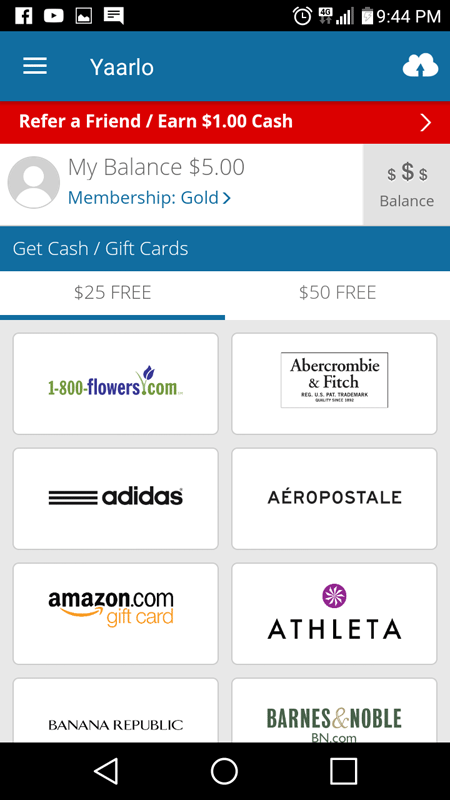 Next, I used the search bar to search out some stores. I chose the Walmart option to see what kind of cashback I could get, and it told me that I could get up to 3.25%, which was pretty cool. I clicked on it, and was briefly shown this page before the Walmart page loaded…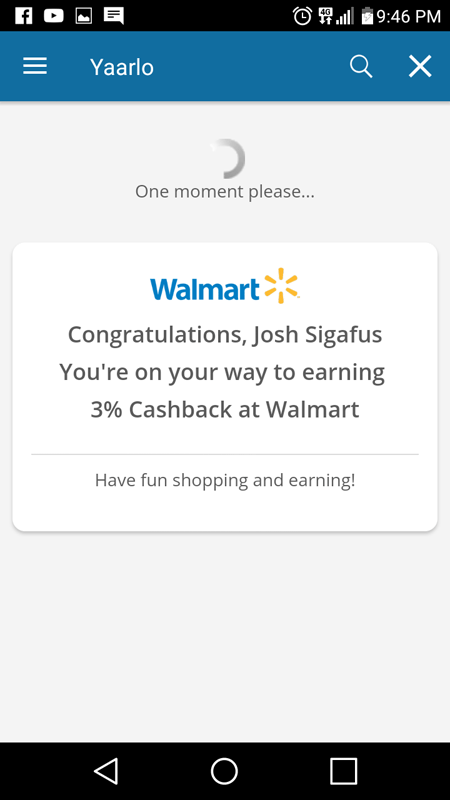 The page that loaded seemed to be the official Walmart website, but it seemed to be routed through Yaarlo—which was pretty cool.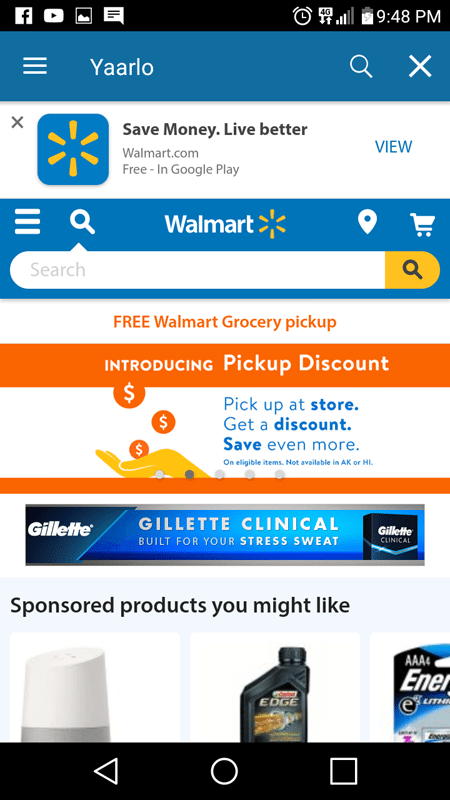 So, basically, I could earn cash back on items that I might order from Walmart. Intrigued by this concept, I went back to the search bar to see what other kinds of stores I might be able to find.
I was greeted with a HUGE selection of stores that I could shop (through Yaarlo) to earn cash back with—which was awesome.
This truly was awesome. There were so many stores!
Obviously, as with any apps in this category, you pretty much need to spend money to earn money. That is the biggest downside with any apps like this.
But, the good thing about these apps tends to be that you really do basically get free money out of them, because you are earning cash back on purchases that you would already be making anyway.
So, it's a give and take—but to be completely fair, despite the fact that some portions of the app seemed entirely out of commission, I was liking what I was seeing with Yaarlo (mostly… we will get to this more in a second).
What Did The Google Play Reviews Say?
I found myself curious about what other people were saying about the app, so I did some reading in the Google Play reviews.
And what I found actually legitimately concerned me. I read a lot of reviews where people said that sketchy stuff was happening with their money. For example—they would go to cash out, and suddenly have less money than they should have had… and just little glitches like that.
There are always a few of these reviews on every app—but there were so many of these on the Yaarlo Google Play review page that I was pretty concerned that there was actually some sort of problem.
Generally I chalk this sort of thing up to user error—but I'm not so sure with this one. It is possible that there is some sort of funky thing going on, where it actually costs more than most people think to redeem points or something like that… I'm not completely sure.
But, at any rate, there were enough of these reports in the negative reviews that I found myself feeling pretty cautious about Yaarlo.
The app itself is hardly unique either. There is a variety of cash back apps to choose from, like Ibotta, Dosh and Ebates, each of which has a different focus.
Will I Keep Yaarlo On My Phone?
At first glance, Yaarlo has some strong points. The number of stores that you can get cash-back from, the apparent ease with which you can upload receipts, the number of different types of gift cards you can get, etc.
But, there are also some sketchy things that cause me to pause with caution. There is at least one entire section of the app that seems to be offline, as well as a lot of reviews that seem to suggest that there is some weirdness going on with their pay-outs.
I have given this one a pretty thorough looking over—but I'm afraid to say that I'm a bit less than optimistic about it. Yaarlo will likely not be getting very much of my time.
It is possible that it could earn you a lot of money, but I feel like the risk you might take on with it, with the pay-outs and technical glitches, (there were also a lot of reports of technical glitches in the reviews) makes it just not really worth it.
It's not the worst app I've seen, but I won't be keeping it on my phone, unfortunately.
Our Final Thoughts About The Yaarlo App
Should you download it and use it on your phone?
The Yaarlo App Review
Honestly, there are tons of various apps that claim to help you "make money", but really there are two facts to consider. 1) Most of them don't actually work. 2) If you can make money, it's not going be very much. If I'm going to spend any amount of time working online, I want to be working for myself by building my own profitable website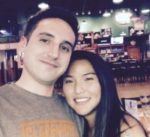 Nathaniell
What's up ladies and dudes! Great to finally meet you, and I hope you enjoyed this post. My name is Nathaniell and I'm the owner of One More Cup of Coffee. I started my first online business in 2010 promoting computer software and now I help newbies start their own businesses. Sign up for my #1 recommended training course and learn how to start your business for FREE!