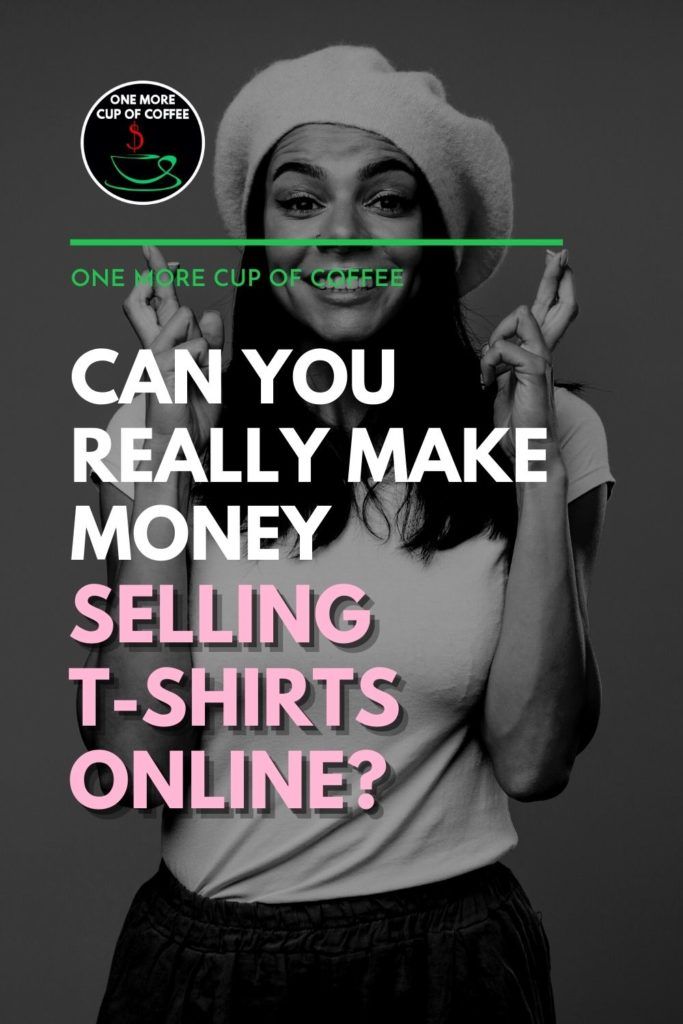 Selling t-shirts might not strike you as a good way of making money, simply because there are so many different t-shirt options on the market already. However, consider the idea that if there's competition, it means people are making money.
Why Try To Make Money Selling T-Shirts Online?
One of the key reasons for this is that t-shirts are fairly easy to customize, create, and they are often impulse buys. This gives you the potential to create and sell t-shirts that fit the interests of any group of people.
That's a pretty major advantage because there are many interests that simply aren't catered for in the mainstream market. Plus, you don't need to have a screen printer of your own or be a designer to successfully make and sell t-shirts.
Instead, there are programs out there that make the process of designing and selling t-shirts incredibly simple. And, why not? After all, for the most part, a t-shirt is an extremely simple piece of clothing that just has a specific image printed on it.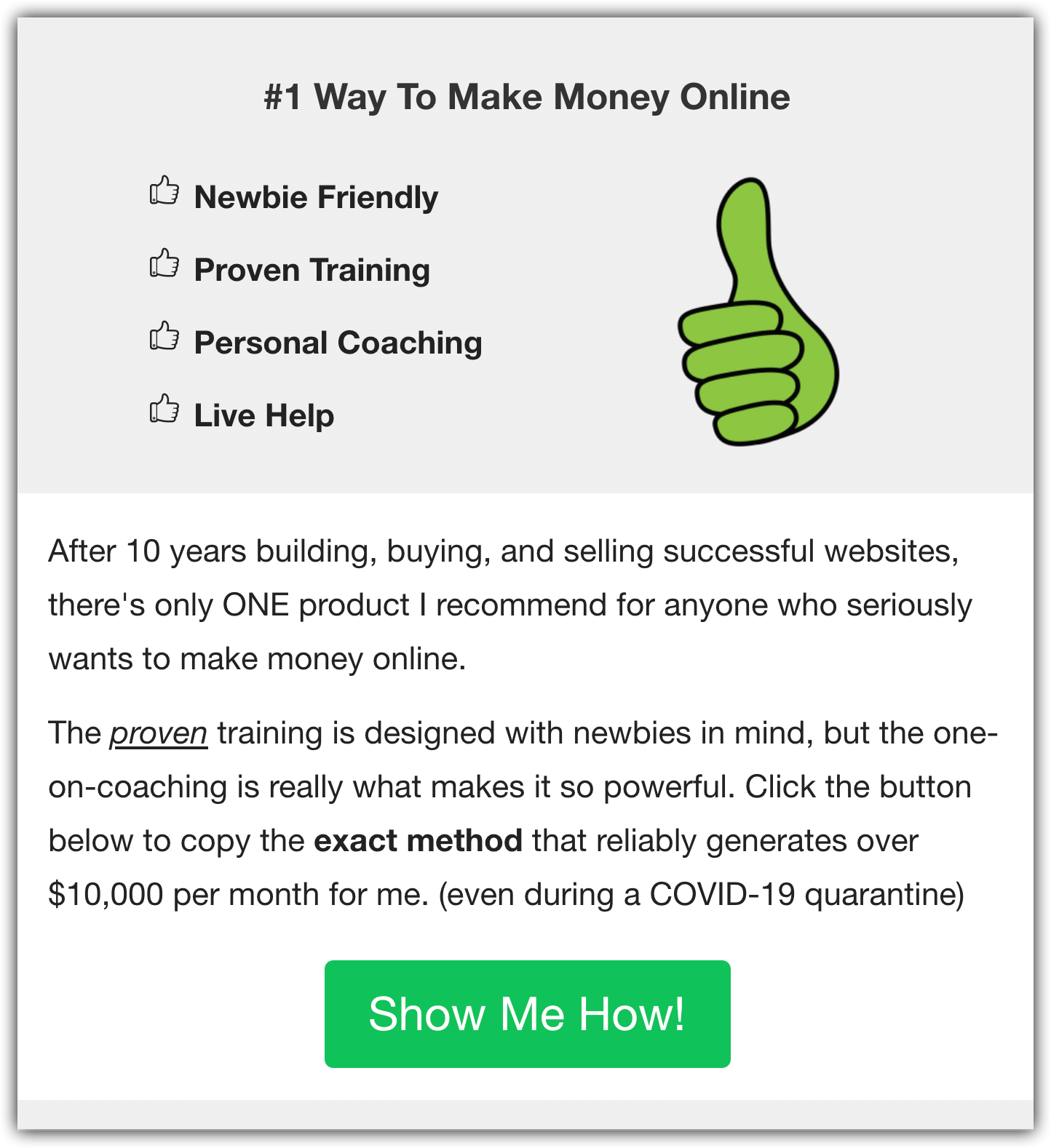 Designing And Selling Your Own Shirts
One of the first considerations in selling t-shirts is precisely what shirts you are going to create. The idea here is to make something that is unusual or that appeals to a specific group of people. Pick your niche!
Ideally, you also want to target areas that aren't typically catered for by mainstream brands.
For example, one style that can work well with t-shirts is nerd designs, including math or science-based jokes. There are many selections of this type of shirt out there, such as the ones below.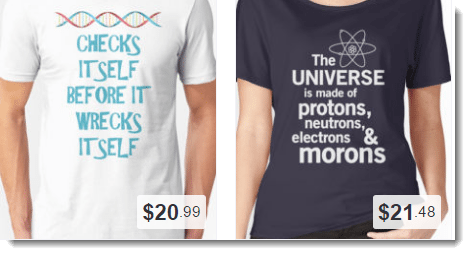 This type of shirt tends to appeal to people because it is like an inside joke. There's a sense of community pride, and eliteness when you wear unknown symbols/designs or phrases that only make sense to some people. It's a secret handshake on a shirt.
Another type of design is those based on specific fandoms (fans for various tv shows and movies). Once again, there are relatively few examples of this type of shirt from mainstream companies, which increases the potential of making sales.
There may be an issue with licensing these types of items though, so be sure to check out the legality of your designs before selling!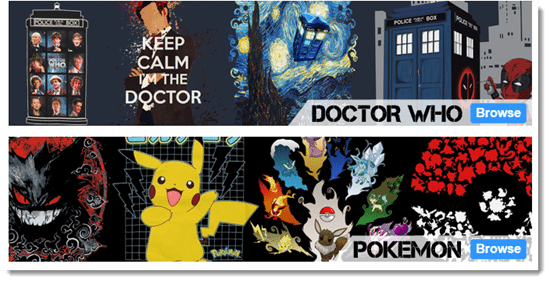 Fandoms are also interesting because they tend to have extremely passionate audiences. Often this means that people are looking for just about anything that matches their passion.
It can also be relatively easy to find groups of people within a particular fandom. For example, there are fan groups for just about every show or movie on Facebook and you will often see people posting links to various products within them.
As a marketing tool, these groups can actually work well, as you have an audience that is genuinely interested in the products and are actually willing to buy things.
Creating Unique Designs
In many cases, people who try to make money selling t-shirts tend to focus on relatively simple options. For example, their shirt may involve just text or rely heavily on stock images. In some cases, people even rely on images that other people have created, such as images taken from Deviant Art or other similar communities.
However, doing this can be a major issue. For one thing, you are likely to be violating copyright law and that's not a sensible way to start a business.
Additionally, more unusual designs tend to have a better chance of selling. After all, creating something that people can't buy elsewhere is likely to be good for business.
If your designs are unique enough, you can take advantage of sites like Threadless. Threadless is interesting, as it is one of the few t-shirt sites out there that has a strong reputation and is well-known.
Additionally, their shirts tend to be of high quality. That alone is an advantage, as many t-shirt companies don't use good shirts.
Much of the popularity of Threadless comes from the fact that it features unique and unusual designs. These tend to be created by artists and are voted on by the community. The site isn't limited to t-shirts either, they also sell hoodies and other types of apparel, typically with the same designs.

With Threadless, you make money based on a commission, so each time your design sells, you make a profit. The setup is a little unusual because designs are voted into the main store.
So, members submit designs, often based on a theme and the most popular of these make it into the store.
You do also have the option of creating an artist's shop, where you sell your designs directly and pick your own prices. This aspect of the site works in a similar way to most other sites that let you sell shirts but it can be a way to take advantage of the reputation of Threadless.

Still, you can expect a lot of competition, especially as you don't get much control over the site you create – so you would have to market it externally.
Regardless of whether you go with Threadless or a more typical t-shirt site, taking the time to create good designs is critical. The design is the key reason that people buy shirts to begin with, so the design you choose is going to have a huge impact on whether or not you make sales.
Being Successful With T-Shirt Sales
While designing and selling shirts may be fairly simple, there's a lot more involved in actually being successful. In particular, you still have to reach an audience that is interested in your products and you have to make sales.
When reviewing products, I stumbled across a good collection of training that can majorly help in this area. The product is called T-Shirt Titan and it just costs $25, which isn't too bad at all.
The training and the underlying system is mainly focused on selling through one particular t-shirt site, called Teespring.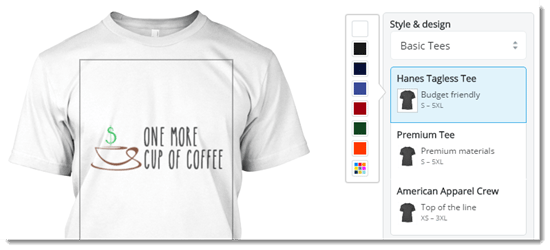 In theory, you could get away using the T-Shirt Titan training and apply it to a different t-shirt site altogether, especially as there are many similarities between them. However, the training does teach some of the nuances of Teespring, so you may have an advantage if you stick with that company.
With Teespring, I do like the amount of flexibility. For example, you get to choose images, colors, and designs, along with the precise type of shirt that you apply them to.
The training that T-Shirt Titan offers does work well and includes practical ways to create designs that are going to sell and to market your designs online. For example, one promotion method is using Facebook ads.
If you're going to advertise through Facebook, having good training (training WEEK #1 of 5) really is essential, because it is so easy to waste money and get nowhere.
One key step is to target the right audience. Otherwise, you're paying money to advertise to people who won't want to buy the product.
Selling T-Shirts Through Affiliate Marketing
When it comes to t-shirts, many people do focus on creating their own designs and selling them, through the various programs that are out there. The appeal of doing so is easy to see. But, unless you have good designs or do exceptional research, it's easy to get lost in the crowd.
With so many fantastic t-shirts already out there, is making more really the best technique for earning money?
If you're an artist or designer, perhaps it's worth it. But, for those of us that aren't, promoting other people's shirts can be a better alternative.
I'm talking about the idea of affiliate marketing, which lets you earn a commission from selling products, without actually getting involved in the sales process yourself. Basically, you are simply the person that promotes products and you can earn money doing so.
Because you are just linking people to other sites, there is much less risk involved with affiliate marketing. In particular, you can promote multiple products at the same time and they don't have to be from the same company.
Additionally, you can change the products you promote when you want to, such as if a product isn't selling. Startup costs are cheaper as well, so there's less financial and time risk to consider with this type of business.
That's much better than spending a lot of time researching and designing a t-shirt, just to find that nobody is actually interested in it. Being proud of your designs is great and fun, but making money is the main goal.
Getting involved with affiliate marketing is simple, and you just need to look for companies that have affiliate programs – and there are a lot of options.
For example, some of the popular options for t-shirt sites have such programs, like Design by Humans, BustedTees, and Snorg Tees.
You can also be an affiliate for sites that include t-shirts as part of their lineup. One example of this would be ThinkGeek, which is extremely popular and specializes in geek products of all shapes and sizes.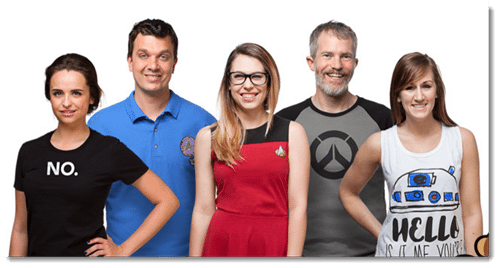 For that matter, you can do affiliate marketing with almost any type of product on the market. All you need is a company that sells the items with an affiliate program and there is no shortage of those.
If you want to make a business out of affiliate marketing then the best way to do so is by creating your own website. As I've often noted, websites have a lot of power, especially as they are something that you can grow over time.
They also give you the chance to develop a reputation and a following, which just serves to increase your potential for success. And… you can create a website about just about anything you can imagine.
Often people pick things that they are passionate about as the basis for their site, or simply areas that they are wanting to learn. Regardless of the topic you pick, there is always going to be a potential audience out there, simply because even the most obscure passions and hobbies have their followers.
The cool thing is that you don't need to make a site specifically about t-shirts. You can make a website about your favorite topic, then promote some shirts as one way to earn money.
For example, I have a beer website showing people how to brew beer at home. I could promote funny homebrew shirts on the site as a way to make money.
It really is possible to create a successful affiliate marketing business, even if you know nothing about making a website or SEO. They have an extensive Facebook ads webinar training series included in your membership, as well as other topics like organic search ranking, sales conversions, content creation, and Google ad creation (all for one price, and free to join the Starter membership).
What Product Do I Actually Recommend For Making Money With T-Shirts?
I'm a huge fan of Jim Cockrum's work, and he's created several successful courses on how to make money online, including through Amazon FBA and private label selling.
He's also come out with a course called Proven Merch Course, which focuses on selling t-shirts through Amazon's "Merch by Amazon" program.

This is a cool course because it means you'll be able to leverage Amazon Prime. Fast shipping is a huge incentive to buy. As a Prime member myself, I always choose 2-day free shipping products.
The course is actually taught by Chris Green and has a lot of positive reviews so far. It's only $27, non-recurring, so would be a very inexpensive educational investment for your t-shirt business.
Make Money Selling T-Shirts Online
There are thousands of different side hustles you could do to earn some extra money on the side, and which one "clicks" for you depends on your personality and goals. However, there's one side hustle that makes an insane amount of money and works for anyone.
Starting an affiliate website is an incredible way to earn extra money because you can do it from your home on a laptop, and work on your business in the evenings and on weekends. The income potential is huge, and it's easy to scale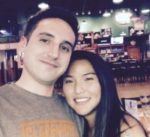 Nathaniell
What's up ladies and dudes! Great to finally meet you, and I hope you enjoyed this post. My name is Nathaniell and I'm the owner of One More Cup of Coffee. I started my first online business in 2010 promoting computer software and now I help newbies start their own businesses. Sign up for my #1 recommended training course and learn how to start your business for FREE!