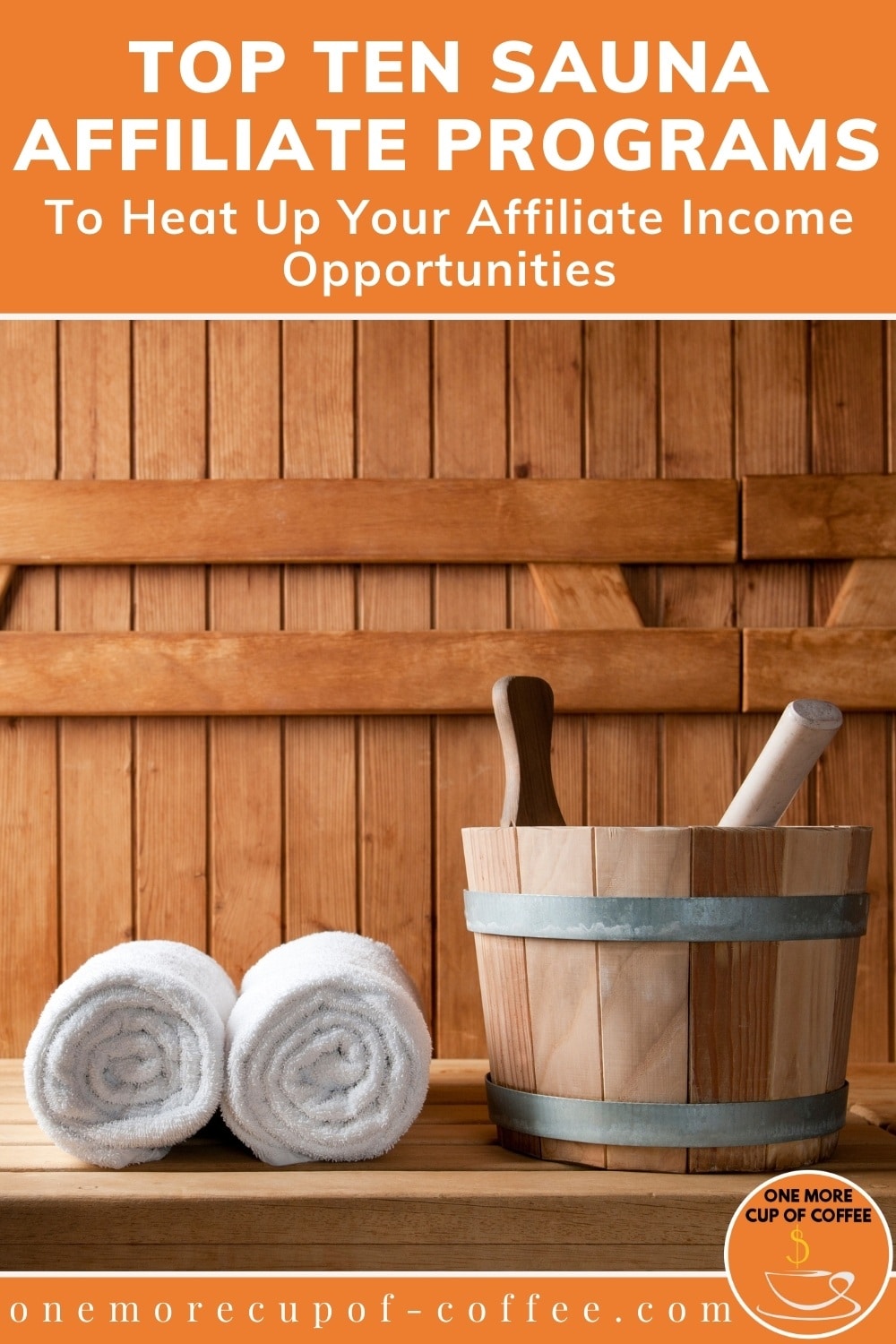 One of my friends wants to build a sauna in her basement. She's cleared out a room for it and she's in the designing phase. There are a lot more options for her to work with than she first imagined. For example, while she intends to build a cabinet-style sauna, there are a variety of heaters and other equipment she could use. Some options protect against electromagnetic frequencies, and there are a lot of health benefits for infrared heaters.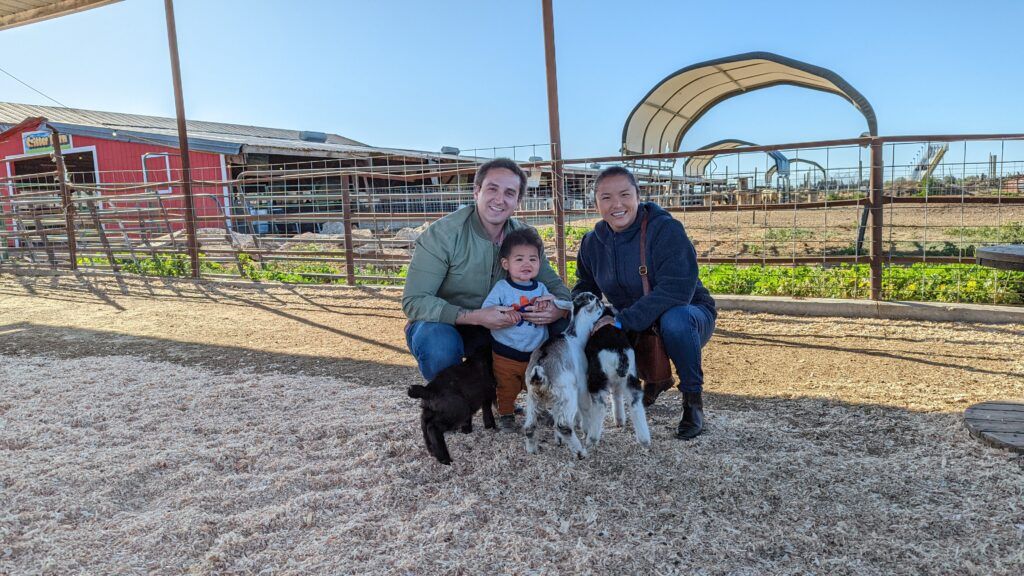 Are You Ready To Work Your Ass Off to Earn Your Lifestyle?
Are you tired of the daily grind? With a laptop and an internet connection I built a small website to generate income, and my life completely changed. Let me show you exactly how I've been doing it for more than 13 years.
Sauna affiliate programs could help people like my friend make decisions and find the solutions they're looking for. The best sauna affiliate programs include everything from traditional saunas and steam rooms to infrared saunas that are portable or cabinet-style.
If you're interested, read through the following list of the top ten sauna affiliate programs. At the end of this article, I'll share some ideas, like weight loss, that could help you see how to feature these types of programs on your affiliate websites.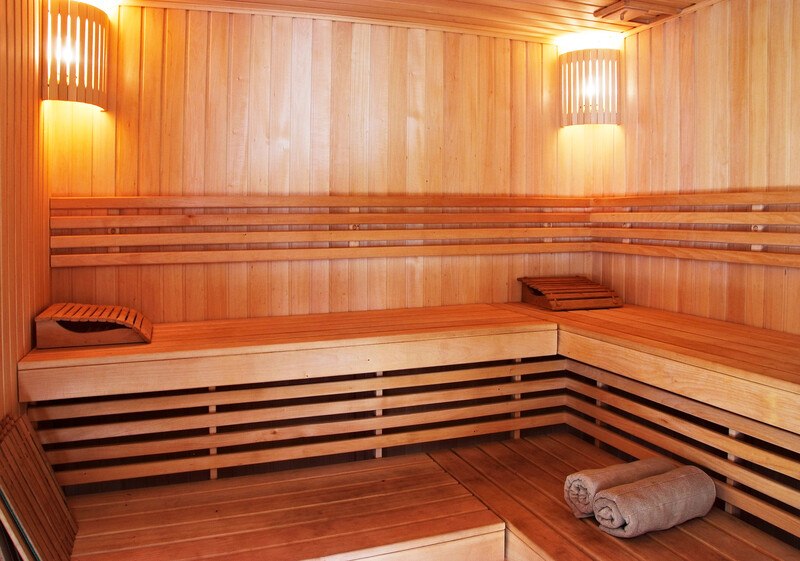 Sauna Affiliate Programs
Neosauna
Creatrix Solutions
Health Mate Sauna
Momentum98
SaunaSpace
Saunas4Less
Promolife
Clearlight Infrared
Evolution Health
Therasage
1. Neosauna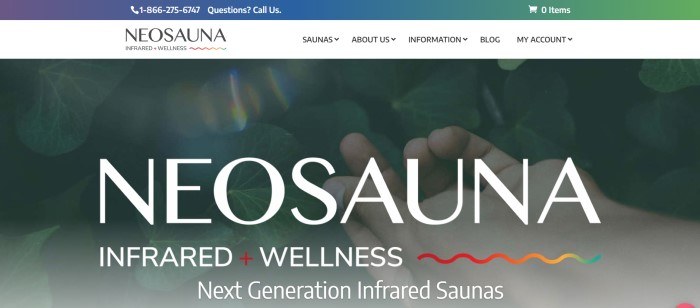 Neosauna makes and sells high-quality, safe, easy-to-use infrared saunas for up to four people. The saunas are made from all non-toxic materials, including Himalayan salt walls and hand-picked woods. Features include near, far, and midrange infrared capabilities, Bluetooth speakers, and low emf heaters.
Maintenance is easy, so customers can keep up with their saunas with simple steps such as changing out light bulbs. Each sauna comes with a lifetime warranty, too. A four-person sauna is currently priced at more than $5,000, and customers can add on white-glove installation services for around $599.
The affiliate program is run through iDevAffiliate. Affiliates are given access to banner ads and text links to help promote the products. The commission rate is listed as 10% on the affiliate signup form, but the affiliate webpage indicates that some affiliates can earn up to 15%.
Why You Should Promote Neosauna: The infrared saunas provide several health benefits, as well as being safe and easy to use. These products are also high-ticket items that can provide some nice affiliate income from every sale.
2. Creatrix Solutions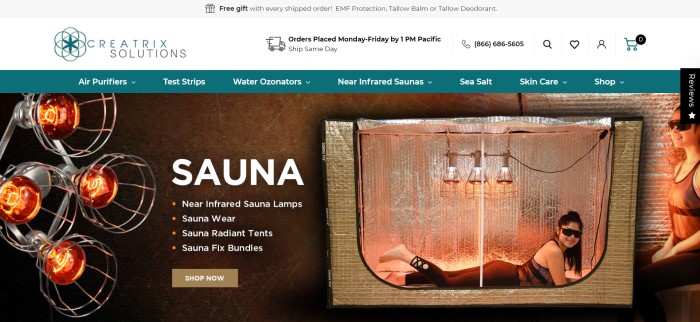 Creatrix Solutions sells a variety of healthcare and healthy lifestyle products ranging from test strips and air purifiers to water ozonators and skincare products. This company also carries near-infrared saunas, lamps, sauna wear, and sauna tents. One interesting product this company offers is a hot yoga studio tent.
This company runs its own affiliate program instead of using other affiliate networks. The payout threshold is only $1, and payments are made monthly. Affiliate marketers with Creatrix Solutions must have their own active website or blog and be a physician or a practitioner to join the program. Banner ads, articles, presentations, and videos are provided to help affiliates market the products.
Why You Should Promote Creatrix Solutions: The commission rate is the best I've seen yet, and there are several products besides saunas that affiliates can earn commissions on. However, most physicians or practitioners are accepted as affiliate marketers with this program, so it may be a hard program to break into.
3. Health Mate Sauna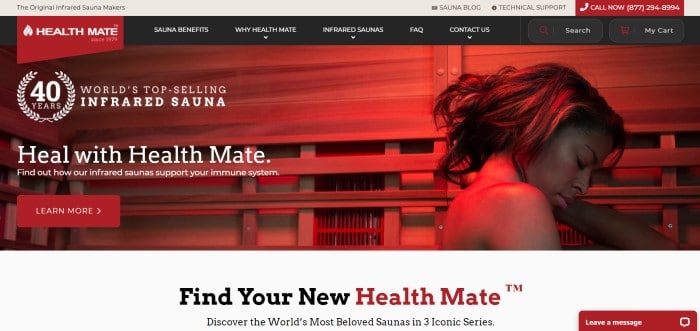 Health Mate Sauna introduced infrared sauna in the United States in 1979. The company still sells infrared saunas and sauna accessories. The saunas are built for two or three people, and accessories include items such as aromatherapy cups and thermogenic backrests.
The Health Mate Sauna factory can produce about 2,000 saunas per month and has produced more than 200,000 saunas over the past 40 years. Many other sauna companies source their saunas from Health Mate Sauna. The factory has five quality control steps to make sure the saunas are top quality.
Health Mate Sauna runs its own affiliate program, and interested affiliates can fill out an application form from the affiliate website page.
Why You Should Promote Health Mate Sauna: Health Mate Sauna introduced the first infrared saunas in the United States and has more than 40 years of experience. However, the company doesn't list its commission rate or cookie length, so it's difficult to tell how much you could make with this company.
4. Momentum98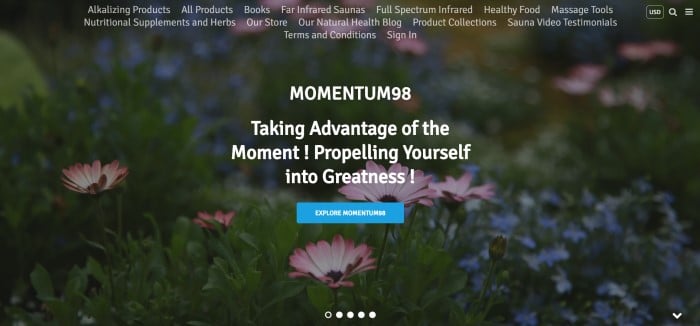 Momentum98 is a holistic health store dedicated to bringing new products to consumers. These products include everything from massage tools and homeopathic remedies to fitness equipment, videos, and information on alternative therapies.
This company sells a sauna product called the Relaxed Far Infrared sauna, which uses FDA-certified technology and patented ceramic elements that aren't used in any other type of sauna. This sauna also looks different than other saunas. Rather than being built like a wooden room, the sauna itself is a soft silver enclosure that zips up to the neck of the person sitting inside it, and it's portable.
The affiliate program is administered through Refersion or ShareAsale. Affiliates can use banner ads and creatives provided by the company to promote the products, and the 12% commission rate includes all products offered through Momentum98.
Why You Should Promote Momentum98: Momentum98 offers a unique portable infrared sauna that is a bit more cost-effective than other saunas and uses patented technology. Affiliates can also promote other Momentum98 products, and the commission rate is generous.
5. SaunaSpace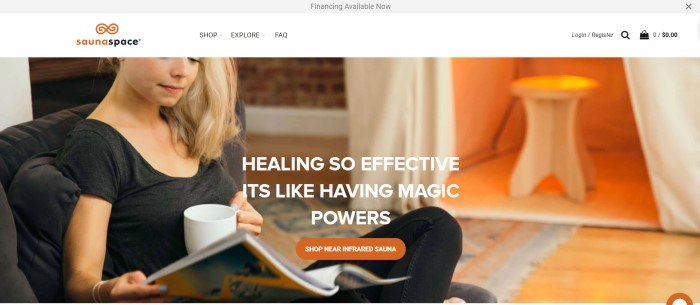 SaunaSpace makes and sells a variety of indoor saunas that use a cabana-type enclosure and incandescent heat lamps. The saunas are used to promote health benefits such as detoxification, accelerated healing, and protection from electromagnetic frequencies.
The saunas are priced between $3,000 and $5,500. The company also sells stand-alone lamps and light bulbs. SaunaSpace offers a 100-day risk-free trial period and free shipping in the United States and Canada for all orders of more than $248. The products come with a lifetime warranty, too.
The affiliate program is run through Refersion.
Why You Should Promote SaunaSpace: SaunaSpace offers a Faraday sauna that protects users from electromagnetic frequency during use. The free trial period, free shipping, and lifetime warranty are great perks, too.
6. Saunas4Less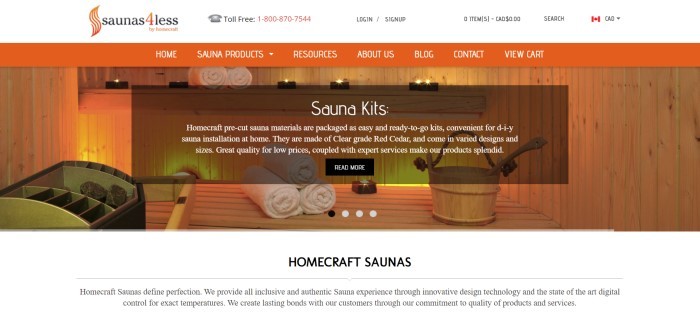 Saunas4Less sells the Homecraft brand of sauna kits, parts, and accessories. Products range from heaters and doors for cabinet-style saunas to flooring and steam room generators. This company focuses on authentic traditional saunas, with sauna kits priced at around$2,930. Accessories such as towel racks and aromatherapy cups are also available.
The website has a resources section that offers information on topics such as the kind of doors to get, how to support sauna benches, and how to maintain saunas.
This company runs its own affiliate program, and affiliates can sign up using a link on the affiliate information page.
Why You Should Promote Saunas4Less: Saunas4Less allows customers to use kits to build their saunas, offers stand-alone products such as heaters, and carries items with lower prices than many of its competitors. This company also focuses on traditional saunas and steam rooms over infrared options.
7. Promolife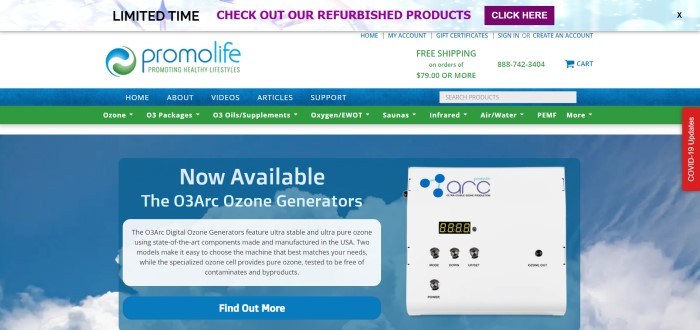 Promolife is a health company that sells everything from saunas and infrared equipment to ozone generators and probiotics. This company carries a variety of sauna types, including dome saunas, steam saunas, sauna kits, and infrared cabinet-style saunas.
This company provides free shipping on all orders of $79 or more. For sauna shoppers, that's good news, because the least expensive options are still priced at $897, and some cost close to $7,000.
The affiliate program is run through Post Affiliate Pro. The base commission rate is 5%, but some products bring in a commission rate of 7% or even 10%.
Why You Should Promote Promolife: This company carries a nice selection of sauna types and accessories, as well as other healthy lifestyle products.
8. Clearlight Infrared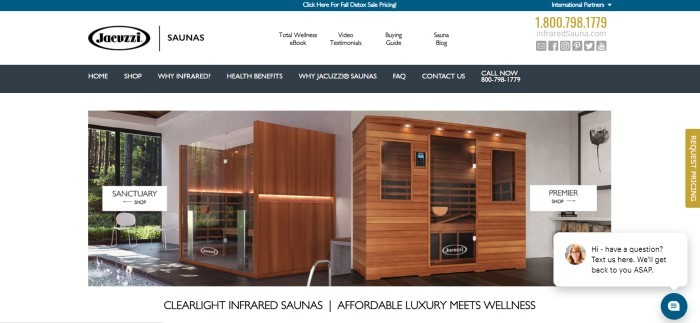 Clearlight Infrared is a brand of Jacuzzi Saunas that sells several models of cabinet-style infrared saunas. There are 11 total models for Clearlight saunas listed on the website, as well as stand-alone heaters that can be used to convert traditional saunas to infrared saunas. The website also includes information about how infrared saunas contribute to healthy living.
This company has programs for both resellers and affiliate marketers. Clearlight Infrared runs its own programs. Interested parties fill out the application online, which includes sharing their website, and then they wait for the company to get back with them about whether they're a good fit and how to proceed.
Why You Should Promote Clearlight Infrared: Clearlight Infrared is a Jacuzzi Saunas brand, and it offers several models to choose from. However, the cookie length and commission rate aren't listed, and it's difficult for affiliate marketers to find out much about the program without contacting the company directly.
9. Evolution Health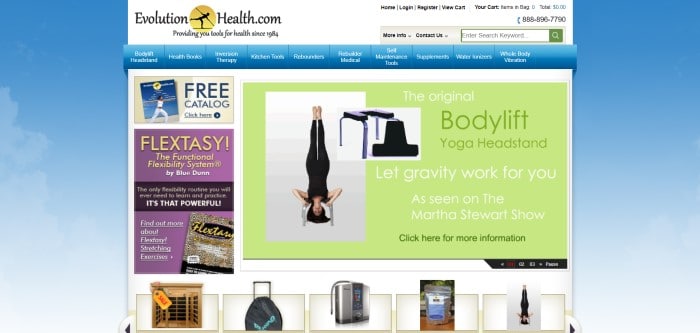 Evolution Health sells health tools such as rebounders, water ionizers, whole-body vibration machines, and inversion tables. This company also sells a wide variety of saunas, and the website includes helpful information such as topics like health benefits, color therapy, and types of heaters.
The affiliate program is run in house. Affiliates earn $25 for referrals for a basic sauna, $50 for deluxe or outdoor saunas, and $100 for luxury saunas. Referrals also get $25 off when they use affiliate coupon codes.
Why You Should Promote Evolution Health: Evolution Health carries a nice selection of saunas and provides flat-rate commissions for sauna sales.
10. Therasage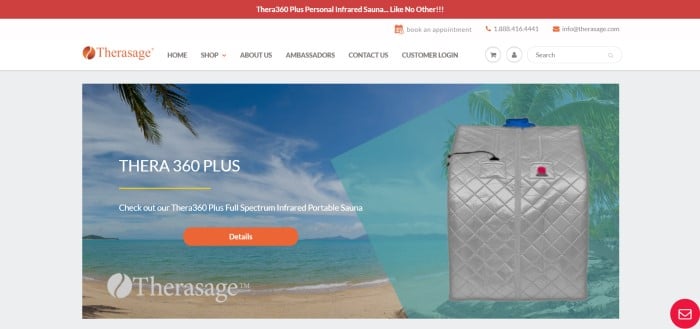 Therasage carries a variety of healthy lifestyle options, including revolutionary heating options such as heating pads and personal saunas that use jade and tourmaline stones to create infrared heat. Other products include water purification systems that use gemstones, essential oil diffusers, ozone modules, and healing belts.
The affiliate program is run through Refersion. Therasage offers worldwide delivery.
Why You Should Promote Therasage: The commission rate is great, and this company carries other health-promoting equipment, as well, which could bump up the shopping cart total.
Affiliate Website Ideas
Now that you've read through the list of the top ten sauna affiliate programs, what ideas do you have for incorporating these programs into your affiliate websites? I have a few ideas to share that you can use as springboards to get you going.
For example, a website about detoxification could include almost all of the sauna options from the list above. This type of website could also include nutritional supplements, water, and air purifiers, hand-held red-light therapy devices, fitness equipment, and even spa memberships.
A second idea is a website for people dealing with depression or chronic pain. Besides the saunas, a website like this one could feature how-to acupressure videos and books, weighted blankets, hypnotherapy tracks for pain management, and online therapy to help deal with mental challenges.
A final idea is a website that focuses on weight loss. Saunas and exercise equipment could both be featured here, as well as nutritional supplements, meal kit delivery services, running shoes, workout clothing, calorie-counting apps, and smart devices like Fitbits.
Boost Your Affiliate Earnings
These 10 affiliate programs are just the beginning of what's possible. There are hundreds of ways to earn affiliate commissions with your website, including product reviews, top 10 lists, how-to guides, and more
But what about traffic and conversions? How do you make sure your affiliate links get clicked?
I used the affiliate training here to turn my brand new website into a six-figure income generator in less than two years. Build a business, not just a pocket-money side project!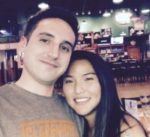 Nathaniell
What's up ladies and dudes! Great to finally meet you, and I hope you enjoyed this post. My name is Nathaniell and I'm the owner of One More Cup of Coffee. I started my first online business in 2010 promoting computer software and now I help newbies start their own businesses. Sign up for my #1 recommended training course and learn how to start your business for FREE!