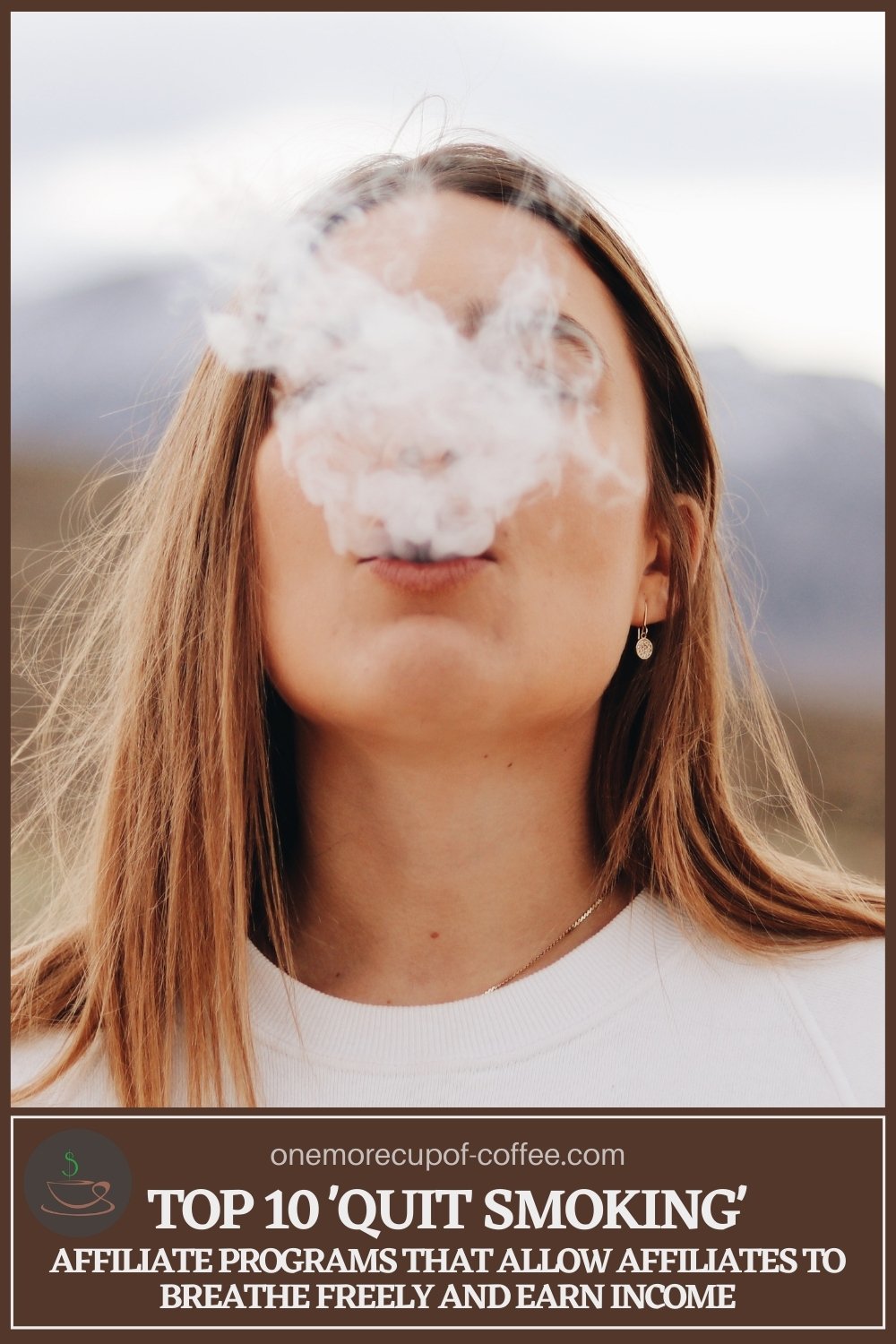 Breaking a bad habit often requires a lot of hard mental work. Many people experience lapses and the need to start again several times.
Breaking an addiction to something like tobacco smoke is even harder because the addiction includes a chemical dependence. Because of that chemical dependence, quitting smoking results in withdrawal symptoms, which can include feeling irritable or anxious, increased appetite, foggy thinking, and intense cravings for tobacco.
In spite of the difficulty, around 68% of smokers in 2015 wanted to quit smoking completely. They've opted to try behavioral therapy programs, hypnotherapy, group counseling, nicotine replacements, and other medications to help them deal with cravings.
There's an economic impact, as well. The American Lung Association estimates that while a pack of cigarettes may cost a smoker around $5 per pack, the cost to society for healthcare costs and other expenses totals around $18 per pack. It makes sense to invest in affiliate programs to help others quit smoking, and the best quit smoking affiliate programs can help smokers attack their addiction in a variety of ways.
If you're interested in affiliate programs that help people quit smoking, you'll find the following list of the top 10 quit smoking affiliate programs helpful. At the end of this article, I'll share some ideas that could help you pull some of these programs into your affiliate marketing efforts.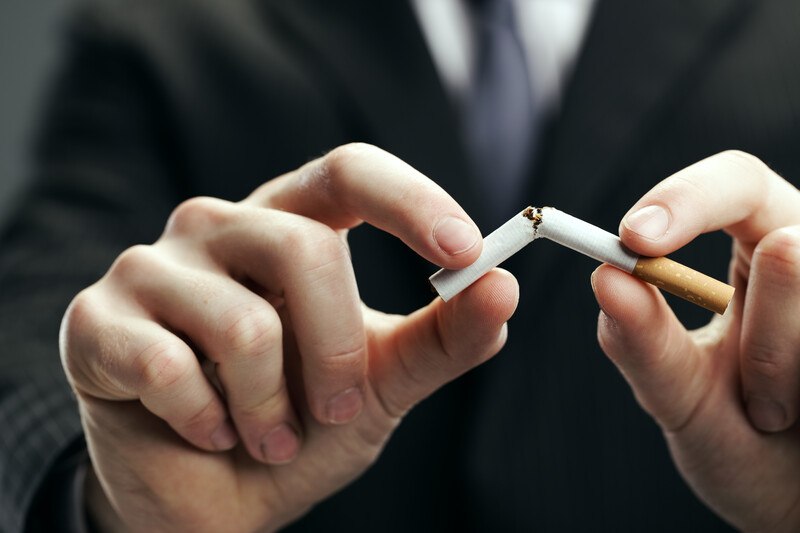 Quit Smoking Affiliate Programs
Quit Smoking Online
Hypnotizr
Butt It Out
Easy Quit System
Hypnosis Downloads
Quit Smoking Magic
Stop Smoking Sucks
MindMaster
Lung Detoxification
Overstock Drugstore
1. Quit Smoking Online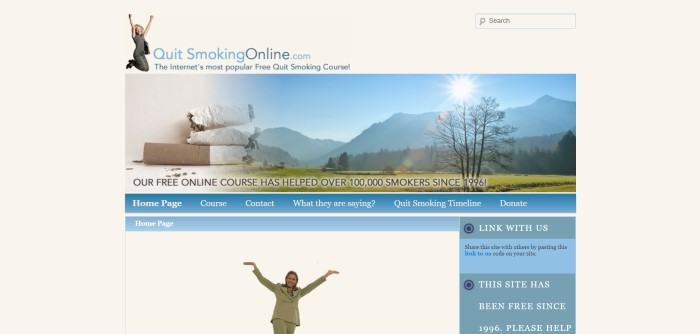 Quit Smoking Online is an online course to help smokers get the information and incentives they need to quit smoking. So far, this company has helped more than 100,000 people quit smoking.
The course includes 10 modules covering topics like taking first steps, mental conditioning, and the psychology of belief. This company also provides a weight-loss book for people who stop smoking and a book for regaining health after years of smoking.
One unique thing about this company is that it provides all of its materials for free, with the option to make donations. Around 3% of the people who use this program choose to donate in amounts of $30, $50, or $100.
This company runs its affiliate program through Clickbank.
Why You Should Promote Quit Smoking Online: The free access to tools to quit smoking will appeal to a wide audience. The challenge is that only a few people who use the program actually make donations to it. However, when they do, the 50% commission rate is great.
2. Hypnotizr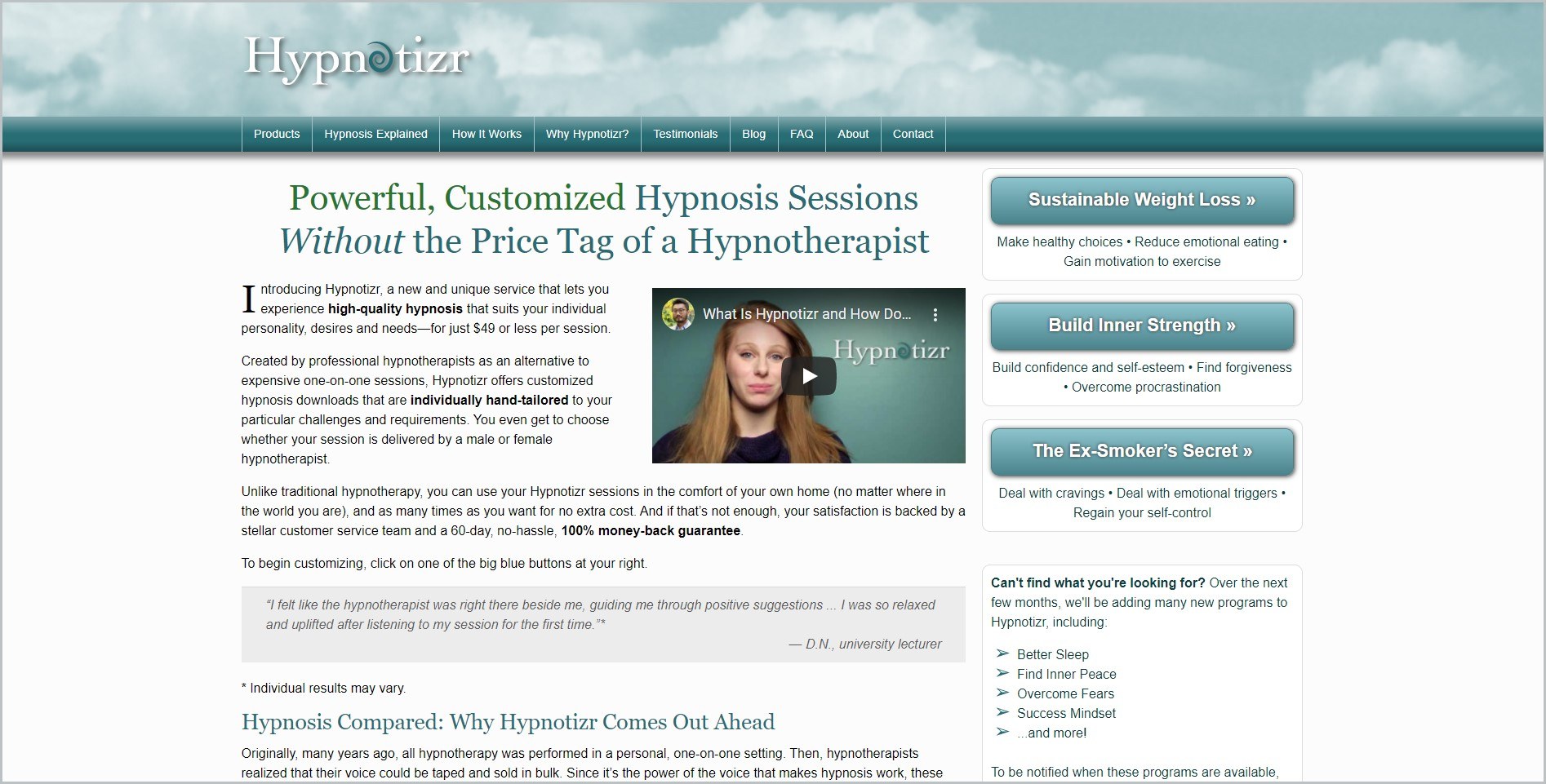 Hypnotizr offers high-quality hypnosis sessions that are personalized by a hypnotherapist to meet specific needs. They combine modern recording technology with a hypnotherapist's experience and insight to customize sessions that clients can afford.
Their products include The Ex-Smoker's Secret, Sustainable Weight Loss, and Build Inner Strength. The Ex-Smoker's Secret helps in dealing with cravings and emotional triggers and regain self-control.
Hypnotizr is a division of Morpheus Hypnosis Ltd. and is also supported by the team at The Morpheus Clinic for Hypnosis which is a leading Canadian hypnotherapy center.
Why You Should Promote Hypnotizr: They have a library of top-notch recordings, covering a wide range of specific client needs. Because of this, they can deliver quality recordings that are personalized for each customer.
3. Butt It Out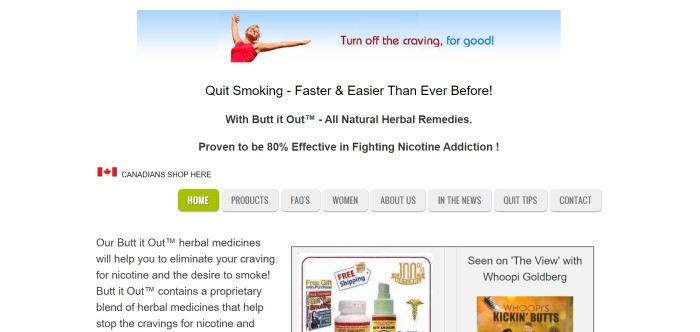 Butt It Out is a smoking cessation herbal medicine with a reported 80% success rate and approval from both the FDA and Health Canada. The medicine comes both as an oral spray and as capsules. There's also a link on the menu for shoppers who want to learn more about individualized herbal remedies.
Besides earning the 20% commission rate, affiliate marketers can earn another 5% from sales made by new affiliates that they refer to the program. Affiliates are provided with marketing materials to help them promote the products.
Why You Should Promote Butt It Out: The commission rate and cookie length are both decent, and the ability to earn money from other affiliate's sales is nice, too.
4. Easy Quit System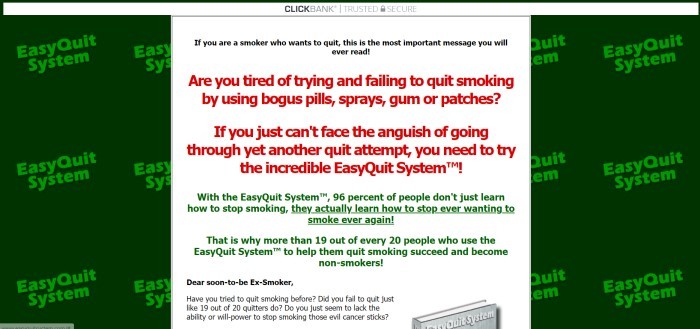 Easy Quit System is a smoking cessation program in book form designed to help smokers stop wanting to smoke. It addresses withdrawal symptoms such as weight gain, irritability, hunger, and cravings, as well as educating smokers on how to overcome beliefs they have about smoking and three ideas that can completely take away the idea to smoke.
This program has a 96% success rate. The book is based on Cognitive Behavioral Therapy methods and contains around 30 chapters. The author offers an 8-week money-back satisfaction guarantee.
Easy Quit System runs its affiliate program through Clickbank. The $30 commission per sale works out to be around 75% of the total sales price.
Why You Should Promote Easy Quit System: The high success rate, the satisfaction guarantee and the promise of not wanting to smoke again could convert some customers. The commission rate is decent, too.
5. Hypnosis Downloads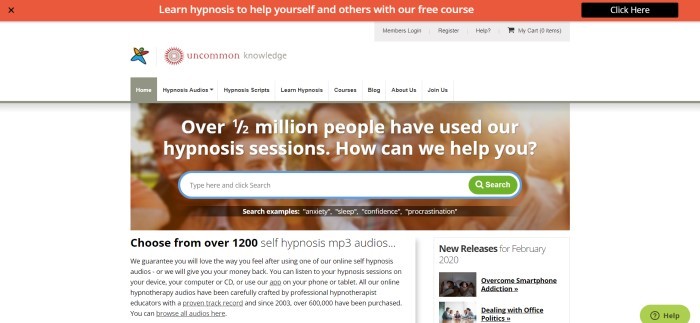 Hypnosis Downloads is the affiliate program for Uncommon Knowledge, which is an online hypnotherapy superstore. Products include more than 1,000 hypnosis MP3 tracks, as well as CDs, DVDs, and scripts.
Customers can also opt to join the Growth Zone, which is a membership section that allows them to have access to all of the hypnosis products for around $22 per month. Affiliates get recurring commissions on Growth Zone memberships.
Customers can shop by the type of product they want, such as a script or an audio session, or they can browse through hypnosis categories to find a track that will meet their needs. This company provides a 10-step hypnosis course for quitting smoking as well as a hypnosis course for people who want to stop vaping.
Products sold through Hypnosis Downloads come with a 90-day money-back guarantee. There's an upsell system, the conversion rate is high, and most buyers purchase more than one item.
Why You Should Promote Hypnosis Downloads: The commission rate and cookie length are terrific. The selection of products is amazing, too, and the ability to get recurring commissions on the membership program can boost affiliate earnings.
6. Quit Smoking Magic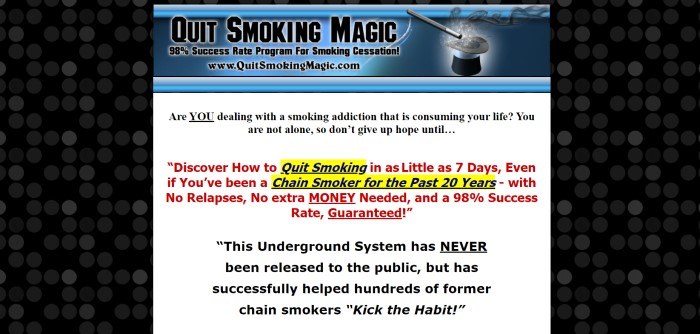 Quit Smoking Magic is a smoking cessation program with a 98% success rate. This program advertises the ability to stop smoking in as few as seven days without side effects, expensive treatments, or relapses.
The Quit Smoking Magic program comes with three bonuses to help people whiten their teeth, overcome bad breath, and detoxify their lungs. There's also a 60-day satisfaction guarantee.
The affiliate program is run through Clickbank. Affiliates make around $25 per sale with this product. Affiliate marketers are also provided with banner ads, custom links, special sales, and other options to help them promote the product.
Why You Should Promote Quit Smoking Magic: The 75% commission rate is great. The 98% success rate and the three free bonuses could help convert some shoppers, too.
7. Stop Smoking Sucks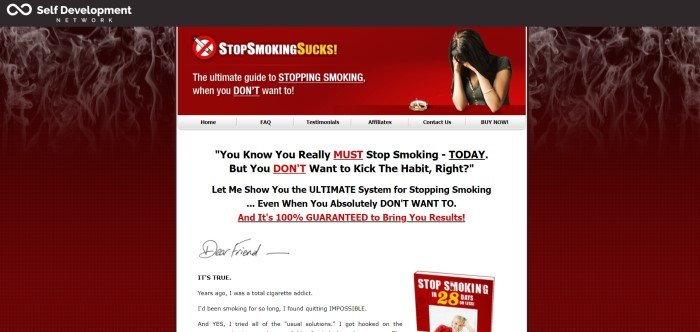 Stop Smoking Sucks is a smoking cessation program written as a book. It was designed to help smokers quit smoking within 28 days. This program highlights four steps that smokers can use to give up their addiction and cravings.
The product costs around $25 and comes with a 100% satisfaction guarantee.
Stop Smoking Sucks is part of the Self Development Network, which has more than 100 products to promote. Most of these programs have a commission rate of 30-50%.
Why You Should Promote Stop Smoking Sucks: The commission rate and long cookie length are nice. The product is affordable, and the satisfaction guarantee could help convert shoppers.
One of the most important features about this program, though, is that it's part of the Self Development Hub, where affiliate marketers can find other products to sell with similar cookie lengths and commission rates.
8. MindMaster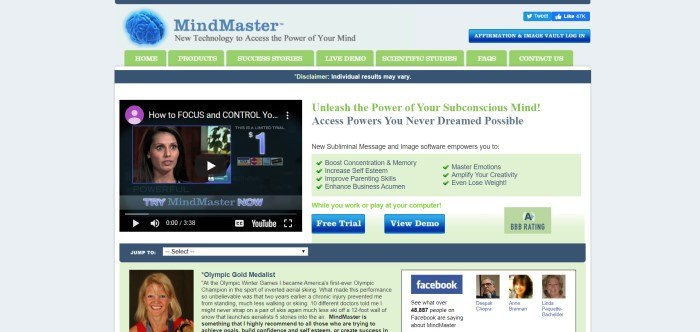 Mind Master is a personal development program that covers issues such as weight loss, increasing self-confidence, achieving goals, and the ability to quit smoking.
Like many other programs for quitting smoking, this program works with the unconscious mind.
However, the way the program works is somewhat unique. Rather than relying on Cognitive Behavioral Therapy methods or hypnotherapy, Mind Master is a software program that provides brief subliminal motivational messages and images on computer screens, so people can be impacted even while they're working.
The affiliate program is run through Clickbank.
Why You Should Promote Mind Master: Besides its unique angle for helping smokers quit smoking, this affiliate program provides bonuses for affiliate marketers who sell several programs each month. The bonuses start at $350 for 300-399 sales per month and go up to $1,500 for more than 1,000 sales in a month.
9. Lung Detoxification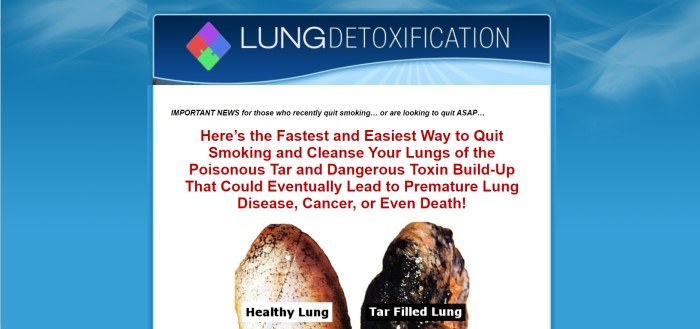 Lung Detoxification is a guide meant to help smokers overcome their addiction to cigarettes and detoxify their lungs. It includes information such as how to clear tar out of bronchial tubes, how to boost the immune system, and what foods and supplements can speed the detoxification process.
Lung Detoxification uses FlexOffers to administer its affiliate program. Affiliate marketers are provided with several banner ads as well as information on how to promote the product using reviews, emails, and online articles.
Why You Should Promote Lung Detoxification: The commission rate is nice, and the banner ad codes can be accessed from the affiliate information page.
10. Overstock Drugstore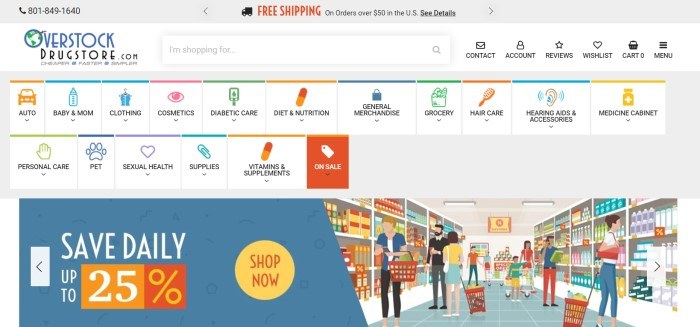 Overstock Drugstore carries a wide range of products you could find in drug stores, ranging from shampoos and conditioners to over-the-counter cold medicines and cosmetics.
Customers can browse through several categories, such as diet and nutrition aids to baby products. They can also use the search bar to shop for specific products.
While there aren't a lot of options for products to help people stop smoking, the store does carry items like Nicorette gum.
Why You Should promote Overstock Drugstore: The main appeal of Overstock Drugstore is the wide variety of other products for sale, which could boost shopping cart totals.
Affiliate Website Ideas
Now that you've read about the top 10 quit smoking affiliate programs, I'll share some ideas with you for ways you can use these programs with your affiliate websites.
For example, if you own a website about raising grandchildren, you could include programs to help grandparents quit smoking around their grandchildren. Baby furniture, children's fashion, high-tech educational toys, and even Disney cruises could be promoted on this type of website.
A self-improvement website could feature many of the programs listed above. It could also promote home exercise equipment, nutritional supplements, and medical vacations.
One final idea is a website for people with debilitating diseases, such as Parkinson's Disease. Any of the programs for quitting smoking could be featured here, along with natural herbal remedies, organic food programs, online exercise courses, and home health care equipment.
Boost Your Affiliate Earnings
These 10 affiliate programs are just the beginning of what's possible. There are hundreds of ways to earn affiliate commissions with your website, including product reviews, top 10 lists, how-to guides, and more
But what about traffic and conversions? How do you make sure your affiliate links get clicked?
I used the affiliate training here to turn my brand new website into a six-figure income generator in less than two years. Build a business, not just a pocket-money side project!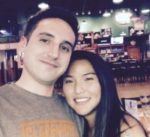 Nathaniell
What's up ladies and dudes! Great to finally meet you, and I hope you enjoyed this post. My name is Nathaniell and I'm the owner of One More Cup of Coffee. I started my first online business in 2010 promoting computer software and now I help newbies start their own businesses. Sign up for my #1 recommended training course and learn how to start your business for FREE!