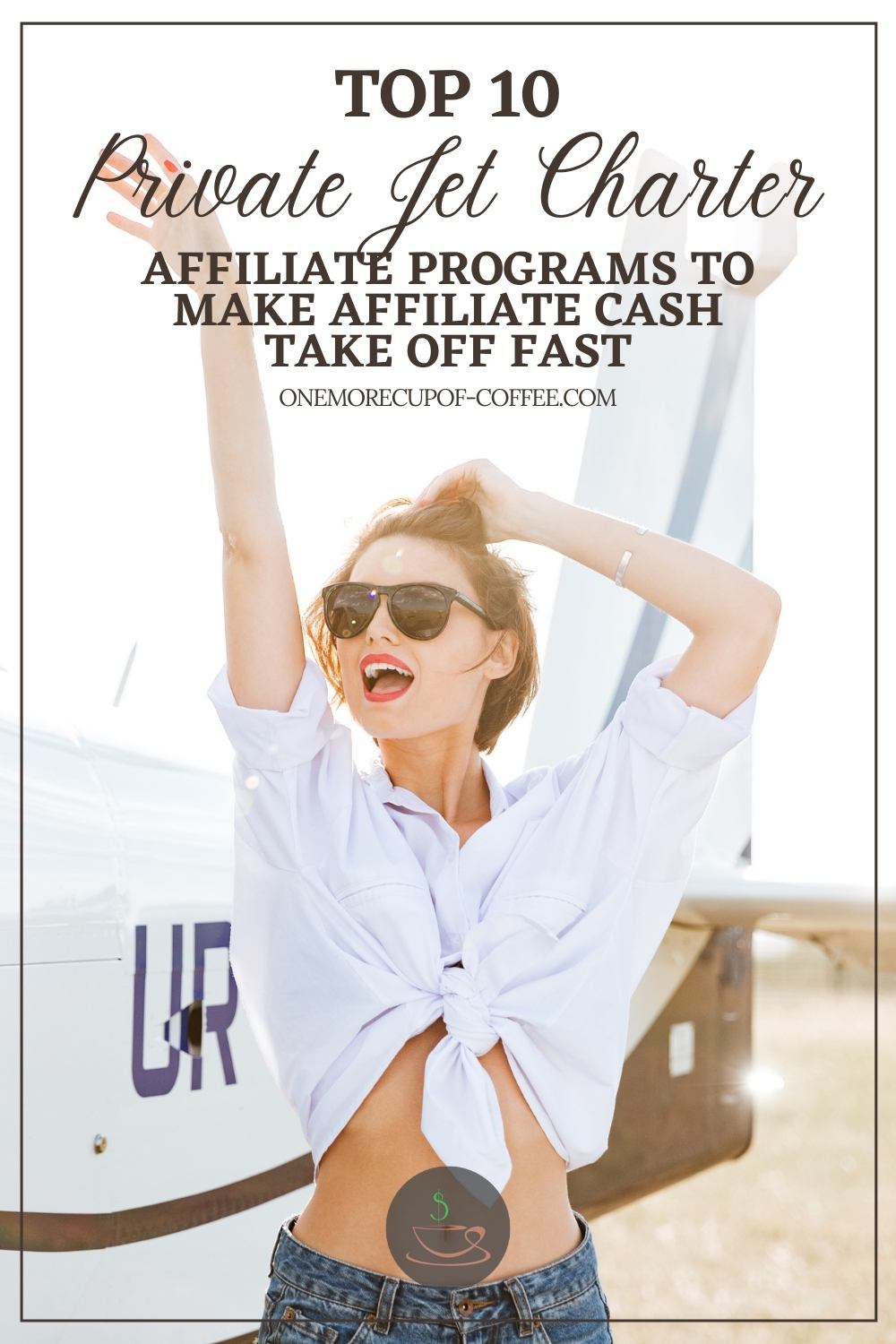 Most flyers check for the best prices on airfare. They compare prices before they book tickets, investigate seating availability and wait in lines at the airport when it's time to leave. However, another segment of the population travels faster—and much more expensively—by chartering private jets.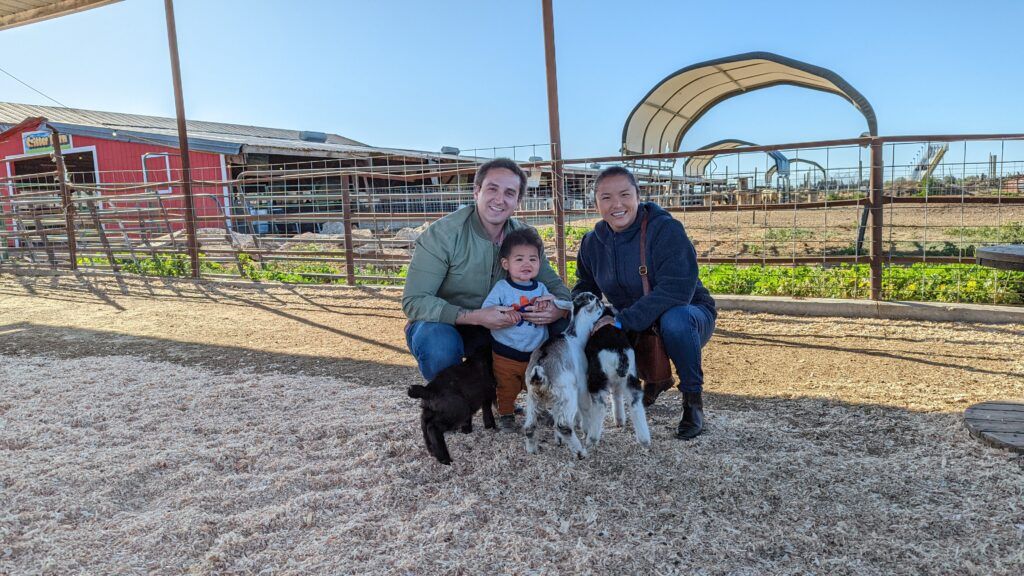 Are You Ready To Work Your Ass Off to Earn Your Lifestyle?
Are you tired of the daily grind? With a laptop and an internet connection I built a small website to generate income, and my life completely changed. Let me show you exactly how I've been doing it for more than 13 years.
The cost per hour of flight for a small jet ranges from around $1,300-3,000. For a large private jet flight, customers can expect to pay $8,600-13,000 per hour.
Those prices are spendy, but for affiliate marketers who work with private jet charter companies, the rewards are great. Affiliate marketers can make hundreds to thousands of dollars in commissions for one referred flight. This is why these are popular programs to promote on luxury travel blogs.
If you're interested, read through this list of the top 10 private jet charter affiliate programs. At the end of this article, I'll share a few ways you could use these programs to boost your affiliate income from your niche market websites. For plebs, you can check out some regular flight affiliate programs.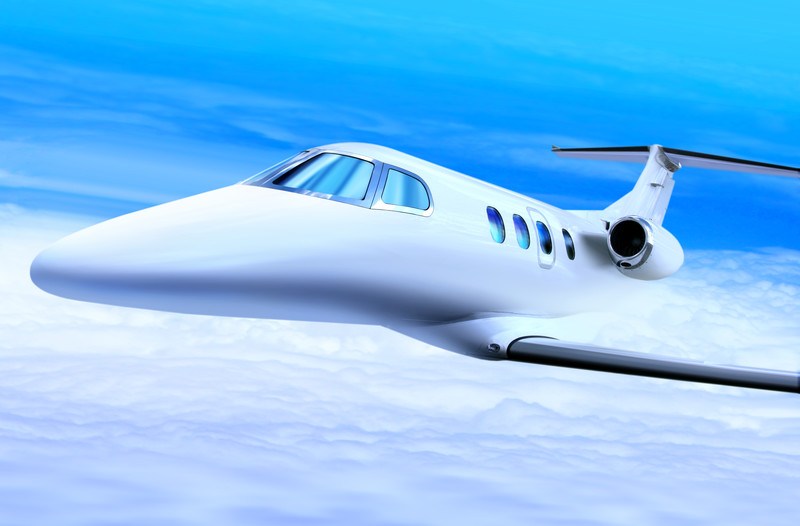 Private Jet Charter Affiliate Programs
VidaJets
PrivateJetFinder.com
Stratos Jets
Qatar Airways
Private Jed Card Comparisons
Simple Charters
Lucky Jets
iJET Aircraft Charter
Fast Private Jet
Nohara Jets
1. VidaJets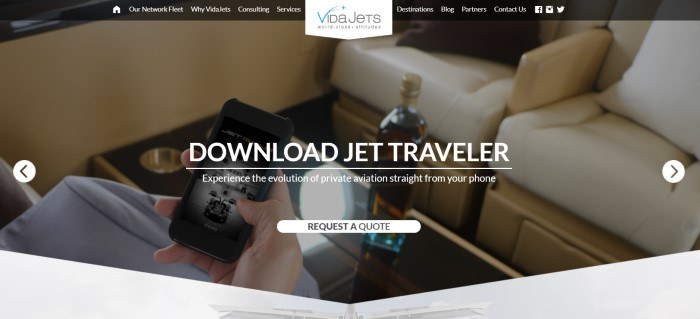 VidaJets pays affiliate marketers money every time one of the affiliate's referred leads confirms a flight. The affiliate commission is based on the type of jet that's chartered and the specific trip, so it's difficult to tell how much you could make as an affiliate marketer with this company.
The company divides its marketing into several categories, such as marketing, financial rewards, events, and partnerships, and allows marketers to participate in marketing in several different categories at once.
Social media marketing across several different channels is a big deal with VidaJets, which currently has a social network of around 2 million and a follower base of around 100,000. VidaJets is active on Instagram, Facebook, and Twitter.
Why You Should Promote VidaJets: This company's focus on social media marketing gives it an edge. VidaJets also participates in charity events.
2. Privatejetfinder.com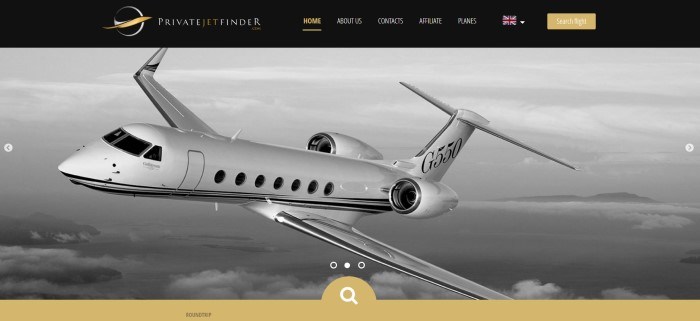 Although Privatejetfinder.com is based in Ireland, this company offers affiliate programs in a few different countries, and it has a satellite branch in Florida. Affiliate marketers are provided with promotional materials like banner ads and widgets that they can place on their websites.
The service was created specifically to help CEOs and other business professionals fly quickly and in luxury.
Privatejetfinder.com has a network of around 1,000 flight operators. Affiliate commissions are based on the size of the jet that's charted. The commission amounts are €150 for small jets, €200 for mid-sized jets, and €300 for large jets.
Why You Should Promote Privatejetfinder.com: The flat rate fee could make it easy for affiliate marketers to calculate how many referrals they need in order to meet financial goals.
3. Stratos Jets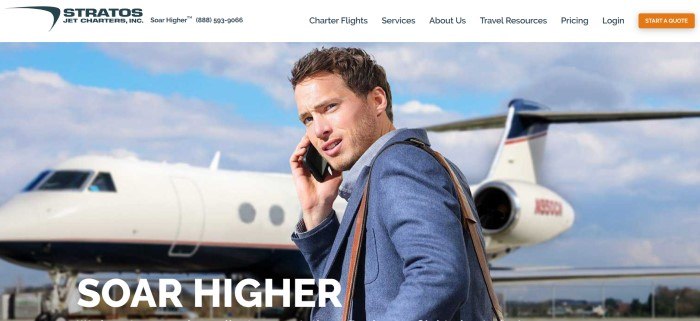 Stratos Jets doesn't pay affiliate marketers in cash, but it gives them a $250 Visa gift card for every referral who then books their first flight with the company.
Stratos Jets has a private flight tracker and an aircraft comparison tool that customers can use. The company agents are trained to understand what the different aircraft in the Stratos network can do so that customers can book the best jet for their needs and stay safe on their flights.
As with some other private jet charter companies, Stratos Jets provides a number of other services that go beyond simply booking a flight. These include in-flight catering menus, chauffeured ground services or rental car bookings, hotel reservations, and luxury villa accommodations. This company also provides private security detail for customers who want it.
Why You Should Promote Stratos Jets: Stratos Jets has a nice network of aircraft operators to work with and a detailed knowledge about the aircraft, which helps travelers stay safe in the best aircraft for their particular trips. However, the Visa gift card isn't quite as nice as a cash affiliate commission.
4. Qatar Airways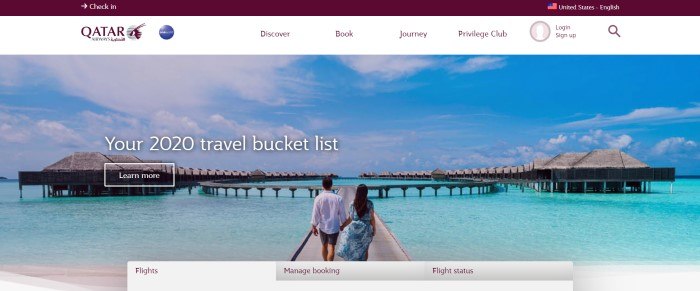 Qatar Airways is a relatively young airline company, but it is one of the fastest-growing airlines in the world, with flights to all six continents and over 160 destinations daily. The average order value is around $1,000.
While it's not a private jet charter company itself, Qatar Airways does own a private jet charter service called Qatar Executive. Qatar Executive runs a fleet of 15 private jets that can be flown to almost any destination around the world.
The affiliate program for Qatar Airways is run through ShareASale. The program is available in 50 languages and countries. Affiliates are provided with everything they need to manage their accounts and market the airline.
This company is all about luxury, including extra legroom and nice meals served on board the flight. Qatar Airways also has a Privilege Club, which offers tiered benefits to customers depending on the packages they choose.
Why Should You Promote Qatar Airways: This is a fast-growing airline company, and the private jet charter services combine well with the company's reputation for providing luxury travel.
5. Private Jet Card Comparisons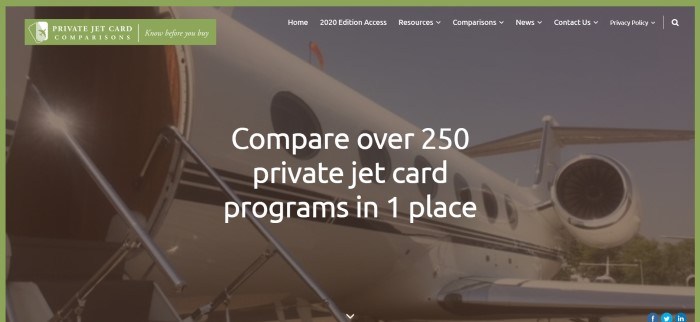 Private Jet Card Comparisons offers a subscription-based service that allows customers to compare jet card rates from several different companies. A jet card allows customers to pre-pay for a certain number of flight hours for the type of jets they want to charter.
Private Jet Card Comparisons pays affiliate marketers a straight $50 fee for every referral who subscribes to the service. The commission is paid out for years two and three if the referral renews the subscription, so an affiliate marketer could potentially make a total of $150 per customer over three years.
Why You Should Promote Private Jet Card Comparisons: While the flat-rate fee seems low and it's capped at three years, it could fit well with niche market websites.
6. Simple Charters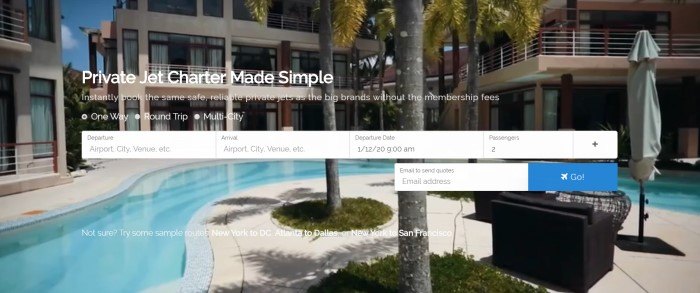 Simple Charters allows customers to browse through a fleet of privately-owned aircraft, shop prices, and compare options, and then book their flights.
The company uses cutting-edge technology to make the search and comparison process fast and easy, even when customers use different sizes of aircraft for each trip. They can store different payment options and information about passengers Simple Charters, as well.
There are no membership fees or upfront costs with this company.
Why You Should Promote Simple Charters: The high-tech platform makes finding the perfect jet easy and fast. However, the affiliate webpage doesn't include any information on commission rates, so it's hard to guess how much you could make as an affiliate marketer with this company.
7. Lucky Jets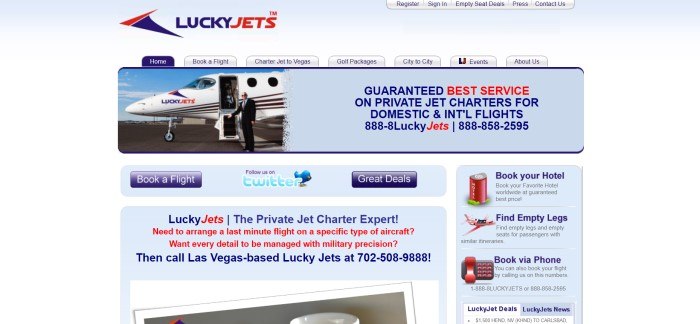 Lucky Jets is a private jet chartering service focused on bringing the lowest prices to customers. The company has a network of around 5,000 private jets to work with.
One nice thing about this company is that it offers a share-the-flight option. This allows customers to share the flight with other people and split the cost of the flight.
Lucky Jets provides affiliate marketers with the potential for unlimited commissions as well as incentives and co-marketing opportunities. Interested affiliate marketers are encouraged to apply to the program. Once they're accepted, a company representative will contact them to discuss the details of the program.
Why You Should Promote Lucky Jets: This company focuses on making private jet charter solutions more affordable, and that could convert some shoppers.
8. iJET Aircraft Charter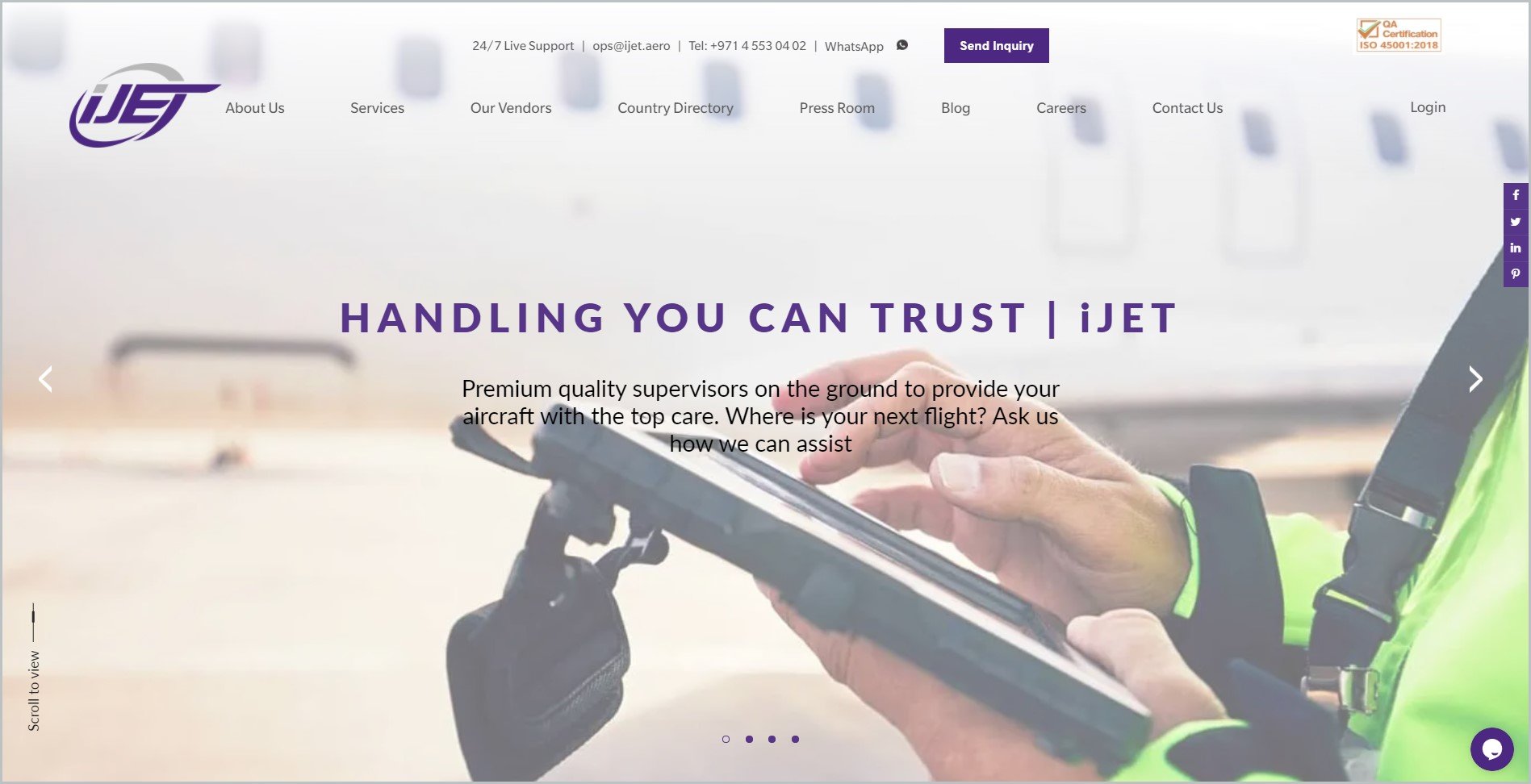 iJET Aircraft Charter is a brand of iJET that gives access to more than 20,000 private charter aircraft for worldwide destinations. They thrive to become the first choice for private jet charter, air ambulance, cargo charter, and helicopter charter across the globe. They provide discreet, reliable, and professional services to all of their clients.
Their Urgent Charter services meet the most demanding schedules but at the best rates available. Clients get the flexibility to schedule the flight according to their comfort and convenience. iJET will monitor the aircraft throughout the way in order to give clients timely updates. Their charter team is available 24/7 to offer services.
Why You Should Promote iJET Aircraft Charter: Affiliates will get a very healthy profit margin commission for every completed booking. It's great that they cater to various needs such as an aircraft for business or leisure, for cargo charter, or air ambulance.
9. Fast Private Jet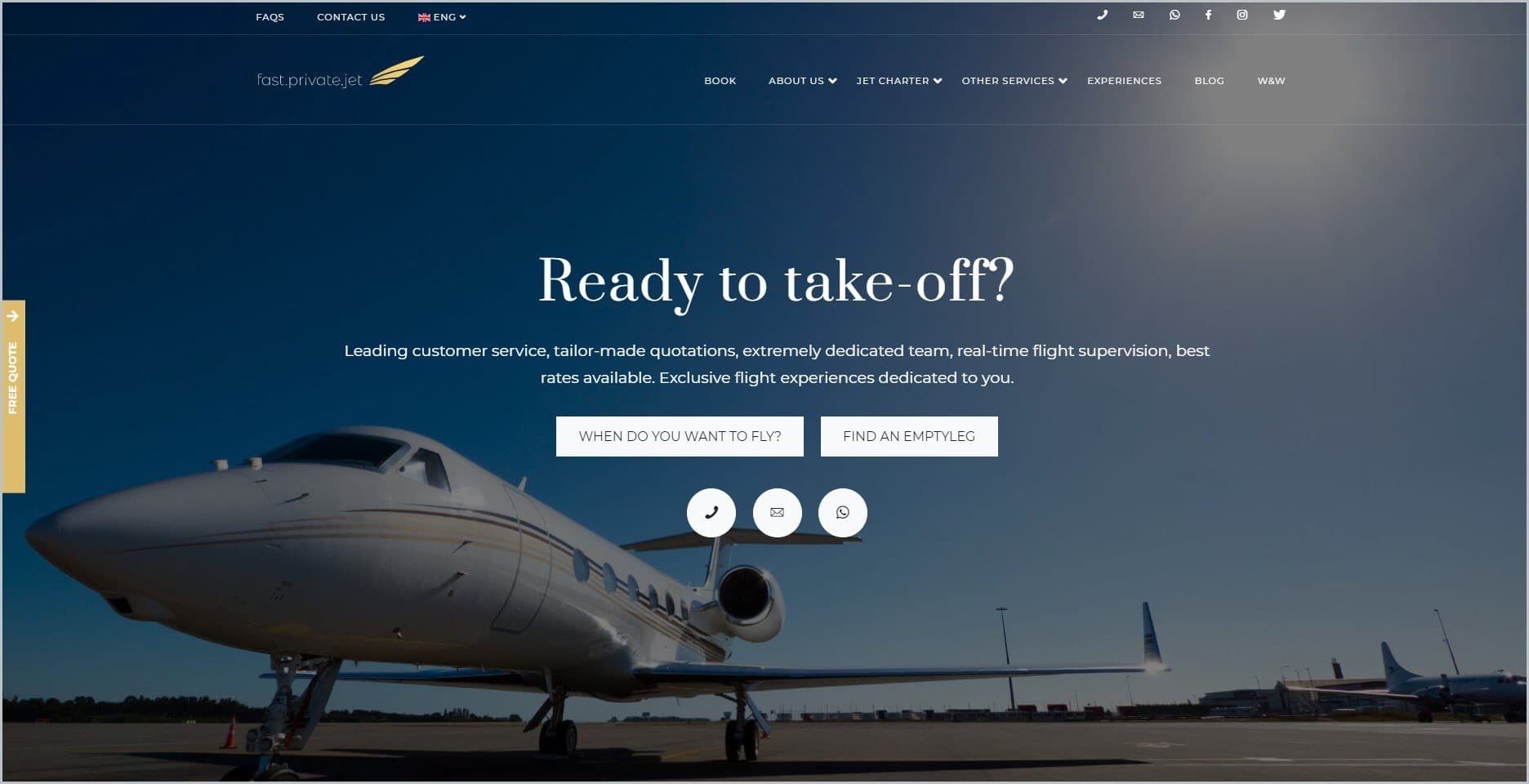 Fast Private Jet helps customers search the market for the best aircraft with the best price for all kinds of trips via their selected network of air taxi companies operating with private jets. They operate in the field of luxury, business, and leisure travel.
Once they obtain all the information relating to the client's trip, they will then find the best airplane according to the client's requirements including all comforts and at the most competitive price.
Their affiliate program offers 3 levels of personalized payouts which include €1,000 – €2,000 for Light payout, exclusive awards collection (apple watch, drone, Nespresso machine) for Mid-size payout, and an opportunity to earn a paid flight on a private jet for 4 passengers, for Heavy payout.
Why You Should Promote Fast Private Jet: All of their partners are Aeronautical Operator Certificate holders. They also offer other services like sales and acquisition, yacht charter, and luxury concierge.
10. Nohara Jets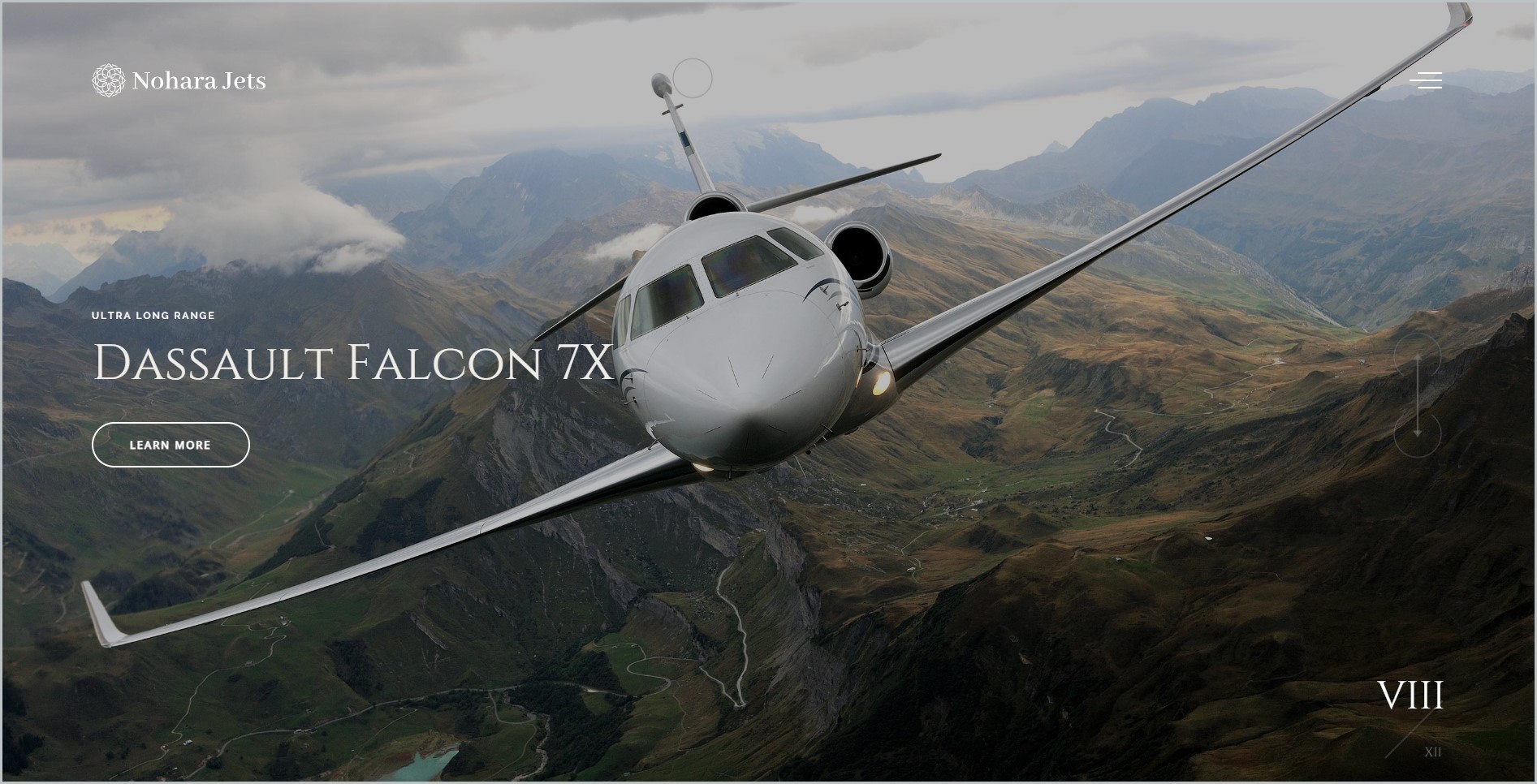 Nohara Jets is a high-end, luxury private jet hire service. They are a dynamic corporation with advanced aeronautical resources that they combine with their innovative services to individual client care.
Nohara VIP Jets guarantees discretion, security, and safety. Clients can create their own schedule, and enjoy private terminal access. Their International team provides the necessary local knowledge and tips when traveling cross-country. And with their fleet of over 20,000 and 100 different aircraft types available for hire, clients will surely enjoy the right jet suited to their requirements.
Why You Should Promote Nohara Jets: Theirs is the largest and most profitable Jet affiliates program with over 2000 affiliates worldwide.
Affiliate Website Ideas
Now that you've read about the top 10 private jet charter affiliate programs, I'll share a few ways that you could use these programs in your niche websites. Feel free to use these ideas as springboards, and tweak them to suit your own marketing strategies.
Idea #1 – a website that focuses on price comparisons for businesspeople could promote a program like Private Jet Cards Comparisons or Lucky Jets. Price-comparison mobile apps could also be featured here, as well as business loan comparison services.
Idea #2 — What about a website for real estate investors? A website like this one could feature private jet charters for traveling between real estate development areas in different states. You could also feature heavy equipment such as Caterpillar machinery for developments and other investment options, such as cryptocurrency or stock trading programs.
Idea #3 — A final idea is a website that features executive lifestyles for career-minded women. Private jet charters could be a good fit here, as well as high-end career fashions and smart home devices.
Idea #4. What about just a super niche site about traveling to a specific destination. The first thing that comes to mind for me is Vegas travel. People going to Vegas often let loose and spend way above what they normally do, sharing costs in a group for things like luxury hotels, spas, and upgraded flights. You could do a whole niche site about living large in Vegas!
Boost Your Affiliate Earnings
These 10 affiliate programs are just the beginning of what's possible. There are hundreds of ways to earn affiliate commissions with your website, including product reviews, top 10 lists, how-to guides, and more
But what about traffic and conversions? How do you make sure your affiliate links get clicked?
I used the affiliate training here to turn my brand new website into a six-figure income generator in less than two years. Build a business, not just a pocket-money side project!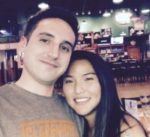 Nathaniell
What's up ladies and dudes! Great to finally meet you, and I hope you enjoyed this post. My name is Nathaniell and I'm the owner of One More Cup of Coffee. I started my first online business in 2010 promoting computer software and now I help newbies start their own businesses. Sign up for my #1 recommended training course and learn how to start your business for FREE!