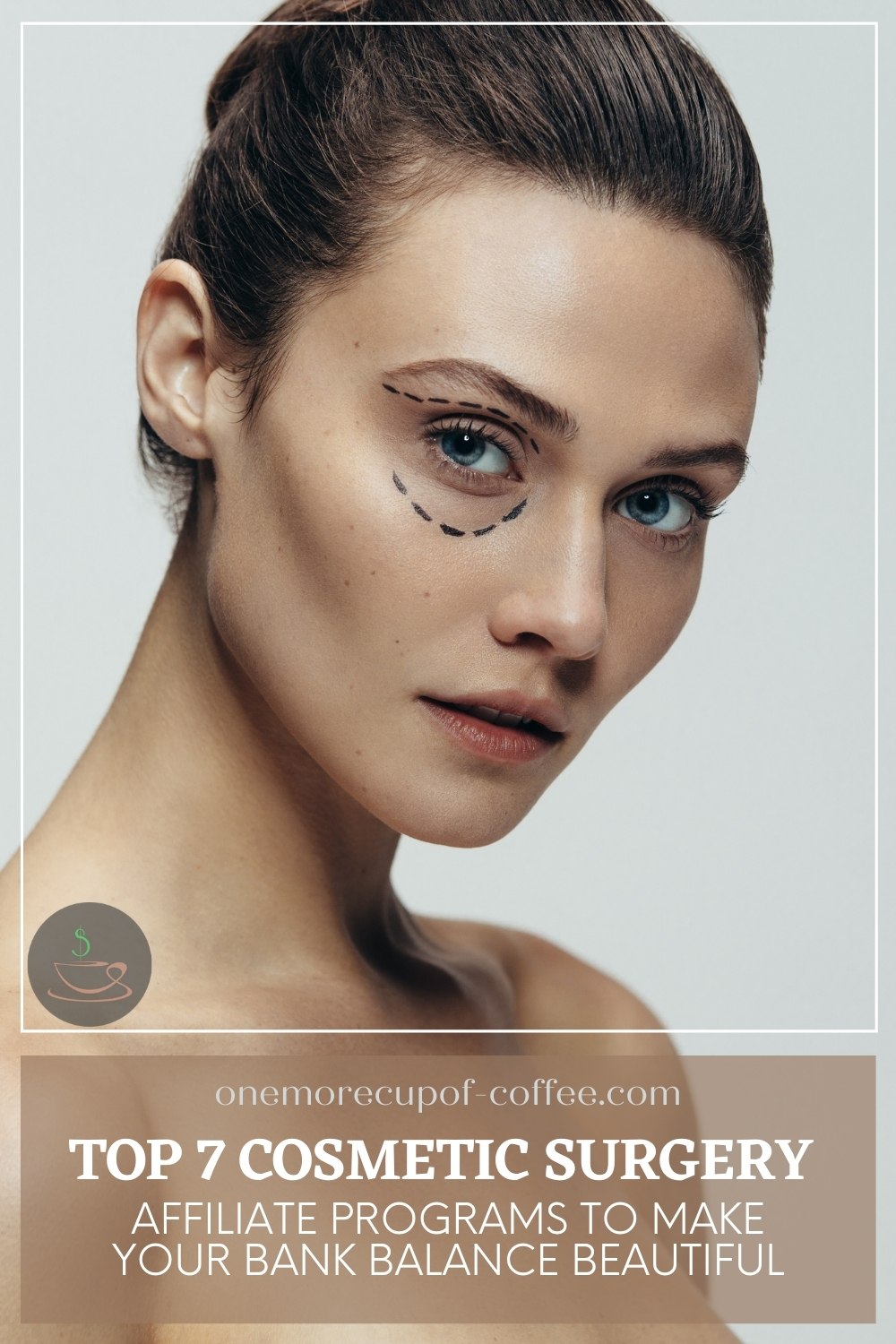 In 2018, Americans spent around $16.5 billion on cosmetic surgeries.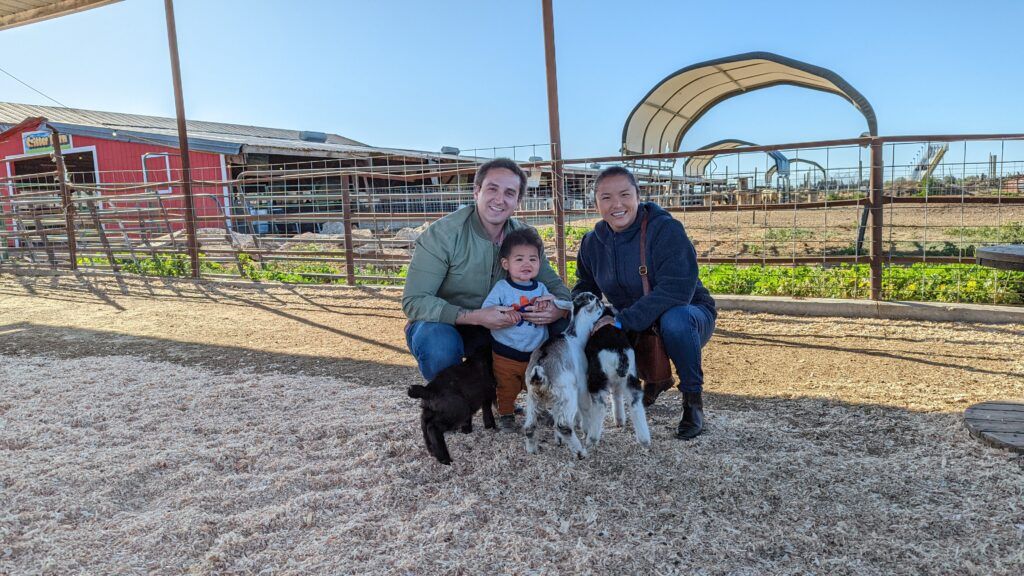 Are You Ready To Work Your Ass Off to Earn Your Lifestyle?
Are you tired of the daily grind? With a laptop and an internet connection I built a small website to generate income, and my life completely changed. Let me show you exactly how I've been doing it for more than 13 years.
There were a lot of surgeries completed, and cosmetic surgeries are expensive. Breast augmentations averaged $3,824. Liposuction had an average price of $3,518, while full facelifts averaged $7,655.
Many companies that offer cosmetic surgeries also have affiliate programs. These programs range from medical tourism, where cosmetic surgeries are performed, to local clinics, surgical recovery supplies, and software programs.
Read through this list of the top 7 cosmetic surgery affiliate programs and see if you can find some ways to use them in your niche marketing efforts. I'll share some ideas of my own at the end of this article to help get your creative juices flowing. These types of affiliate programs would typically do well when promoted on beauty blogs, depending on the audience. Not all people are receptive to the idea of cosmetic surgery, but many are!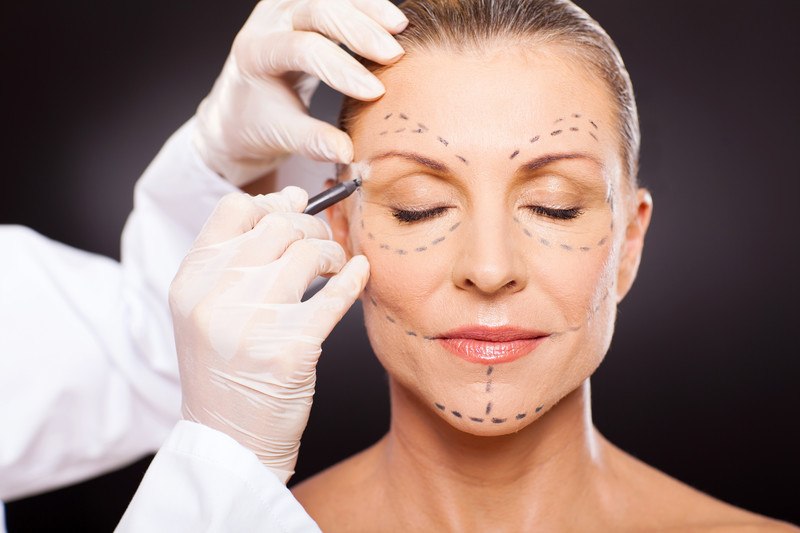 Cosmetic Surgery Affiliate Programs
Make Me Heal
Medical Departures
Plastic Surgery Simulator
Advanced Women's Health Center
Park Meadows Cosmetic Surgery
Cosmetic Surgery Service Initial Fee
Medigance
1. Make Me Heal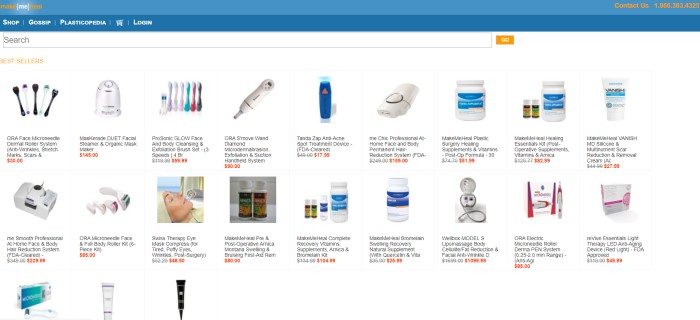 Make Me Heal sells more than 100,000 products and supplies for recovering from cosmetic surgery and for non-surgical beauty treatments. Products include everything from healing multi-nutrient kits to scar gels, breast surgery support bras, and rhinoplasty recovery kits.
As part of the program, affiliate marketers are given their own 1-page e-store that can be incorporated into any website by inserting one line of code. The mini e-store can feature up to 4,000 of the different products carried by Make Me Heal, but affiliates can earn money on all of the 100,000 products the company carries if their referrals click onto the full online store.
Why You Should Promote Make Me Heal: The wide range of healing supplies, the ease of setting up a mini e-store within an existing niche market website, and the 20% commission are all great reasons to join this program.
2. Medical Departures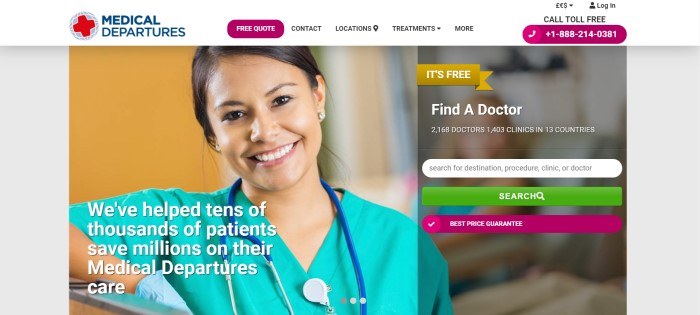 Medical Departures is a medical tourism company that works with more than 2,000 hospitals and clinics in 13 different countries, including Singapore, Thailand, Mexico, Korea, and Istanbul. It's free for customers to book their medical vacation, and affiliates are paid once their referrals have finished treatment and are ready to return home.
This company works with several different currencies, so patients from all over the world can take advantage of the services this company provides. This also means affiliate marketers can promote these services on websites that focus on areas outside of the United States.
Many of the treatments that Medical Departure books are cosmetic surgeries. These include surgeries for lips, noses, the face, neck, breasts, and butt, as well as weight-loss surgeries and treatments such as liposuction.
Why You Should Promote Medical Departures: Medical Departures can save customers around 70% of the costs of cosmetic surgeries and other treatments in the United States, and the great deal could be a converting factor. However, Medical Departures doesn't list its commission rates, so it's hard to tell how much an affiliate could make with this company.
3. Plastic Surgery Simulator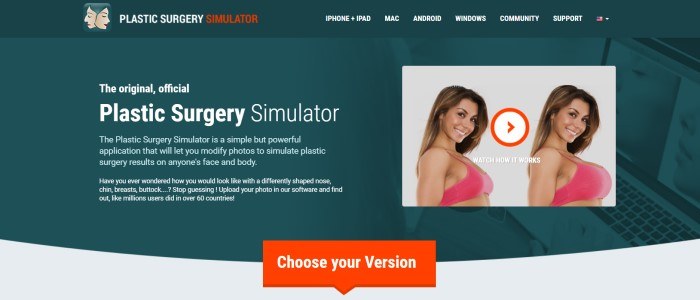 Plastic Surgery Simulator is a software application for Windows PC users that allows customers to preview what they could look like after having a successful cosmetic surgery. The software program, which sells for around $30, lets users stretch, grow, shrink, and distort various areas of a photo to capture different looks.
With the program, customers can preview certain surgery outcomes, including rhinoplasty, face contouring, tummy tucks, breast reduction or augmentation, and other virtual transformations.
Why You Should Promote Plastic Surgery Simulator: The cost of the software program is relatively low, which could convert some shoppers and increase the number of sales in a set period of time. The commission rate is great, too.
4. Advanced Women's Health Center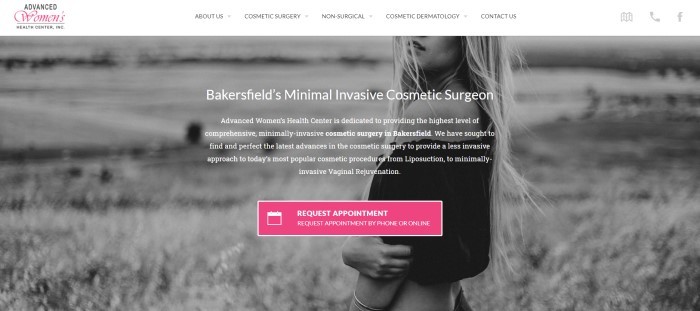 Advanced Women's Health Center is a women's clinic for cosmetic surgery and non-surgical beauty treatments. The clinic offers treatments such as hair removal, laser treatments, chemical peels, skin resurfacing, and tattoo removals. Surgical options include facelifts, liposuction, fat transfer, and vaginal rejuvenation.
Affiliate commissions are both tiered and capped. An affiliate marketer can earn $100 for the first referral for surgery, $300 for two referrals, $500 for three referrals, and $700 for four referrals. Likewise, referrals for non-surgical treatments start at $50 for the first referral and top out at $500 for five referrals.
Advanced Women's Health Center is located in Bakersfield, California.
Why you should promote Advanced Women's Health Center: The clinic offers affiliate commissions for both surgical and nonsurgical procedures. However, it appears that commissions are capped at four and five referrals, respectively.
5. Park Meadows Cosmetic Surgery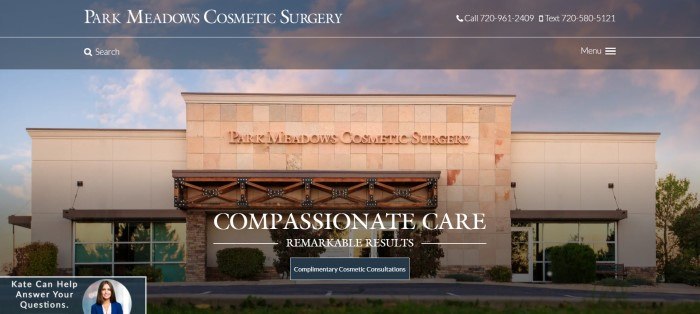 Park Meadows Cosmetic Surgery is a set of clinics located in Lone Tree, Colorado. Together, the clinics offer services such as breast augmentation, breast lifts, breast reconstruction, implant removals, body contouring, and earlobe repair. Nonsurgical treatments include injections, fillers, scleropathy, latisse, cool sculpting, and micro-needling.
The clinics offer payment plans through a variety of financial partners, as well as some cosmetic surgery insurance options.
The affiliate program is really more of a customer-based referral program. Affiliates receive $50 in gift certificates that they can use for their own procedures at the Park Meadows clinics.
Why You Should Promote Park Meadows Cosmetic Surgery: The Park Meadows clinics specialize in cosmetic surgeries, but the commissions are only offered in gift certificates toward treatments.
6. Cosmetic Surgery Service Initial Fee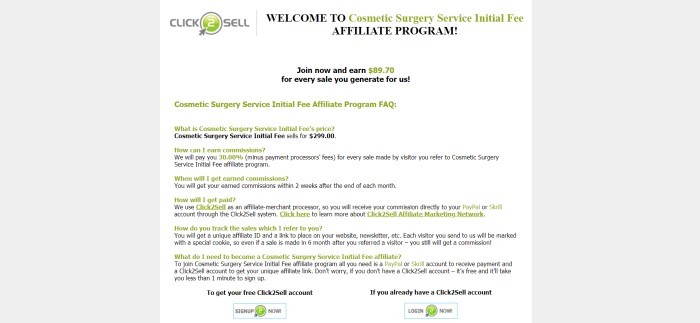 Cosmetic Surgery Service Initial Fee is an affiliate program that's run through Click2Sell. The service costs around $300, which works out to a commission fee of $89.70 for each referral. Affiliate marketers receive their earnings through PayPal or Skrill within two weeks after the end of each month.
The company provides statistical information to affiliate marketers, as well as promotional materials and dedicated affiliate support. Affiliates can market the service through blogs and emails as well as on websites.
Why You Should Promote Cosmetic Surgery Service Initial Fee: The commission rate is relatively high, and the affiliate support system is nice.
7. Medigance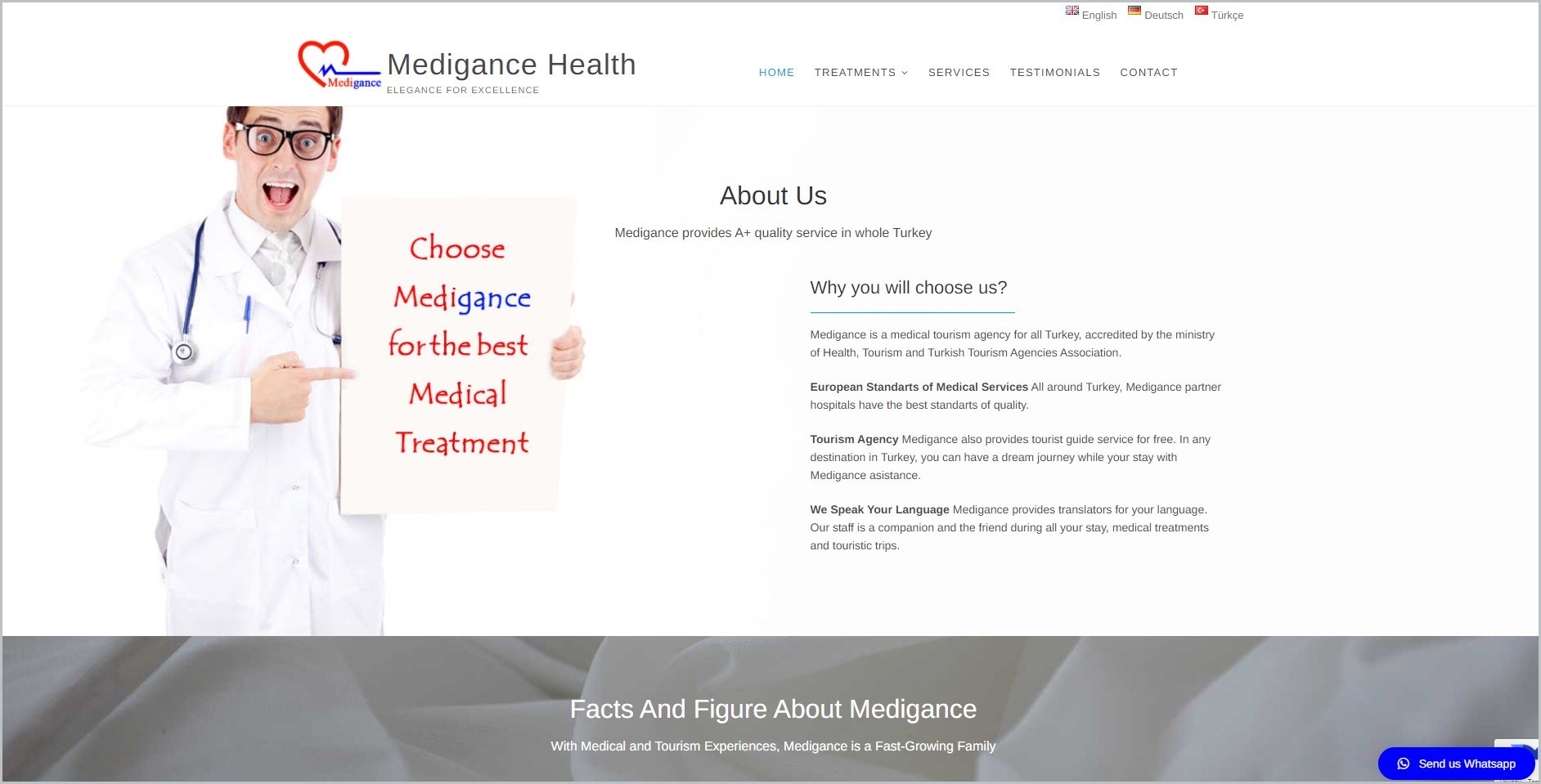 Medigance is a facilitator company, they match patients with the best doctors in preferred destinations and provide medical treatment and holiday packages as well. The medical treatments are not exclusively for cosmetic surgery, there is also eye surgery, orthopedic surgery, obesity surgery, cardiac surgery, and more.
The Medigance medical advisors and doctors check all inquiries and direct the patient to the right destination so that they can choose hospitals, clinics, and doctors in any location. And because Medigance is also a Travel Agency, they also offer accommodation to their clients which can be from a five-star resort hotel or a private apartment.
Why You Should Promote Medigance: Aside from the high commission, they will readily provide affiliates with a special form page that they can share through an ad, Facebook post, on their blog, a tweet, or by word of mouth.
Affiliate Website Ideas
Now that you've read through this list of the top 7 cosmetic surgery affiliate programs, how will you apply them to your niche market strategies? I have a few ideas for you, and you're welcome to use them if they meet your needs.
One niche market website idea could focus on recovery for burn victims. A website like this one could feature reconstructive surgery services, as well as at-home medical supplies, occupational therapy services, or even online therapy. Fashion, wigs, skincare, and many other "common" items specially created for victims could be promoted as well.
Another idea is a website that focuses on beauty for aging and elderly women. Besides cosmetic surgery, a website like this one could promote nutritional supplements, skin care products, and flattering fashions.
What about a website that targets regaining natural beauty? Cosmetic surgeries such as tattoo removals and earlobe repair could be promoted here. Organic detoxification products, natural spa services, and even yoga classes could be featured here, too.
Boost Your Affiliate Earnings
These 10 affiliate programs are just the beginning of what's possible. There are hundreds of ways to earn affiliate commissions with your website, including product reviews, top 10 lists, how-to guides, and more
But what about traffic and conversions? How do you make sure your affiliate links get clicked?
I used the affiliate training here to turn my brand new website into a six-figure income generator in less than two years. Build a business, not just a pocket-money side project!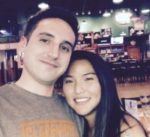 Nathaniell
What's up ladies and dudes! Great to finally meet you, and I hope you enjoyed this post. My name is Nathaniell and I'm the owner of One More Cup of Coffee. I started my first online business in 2010 promoting computer software and now I help newbies start their own businesses. Sign up for my #1 recommended training course and learn how to start your business for FREE!