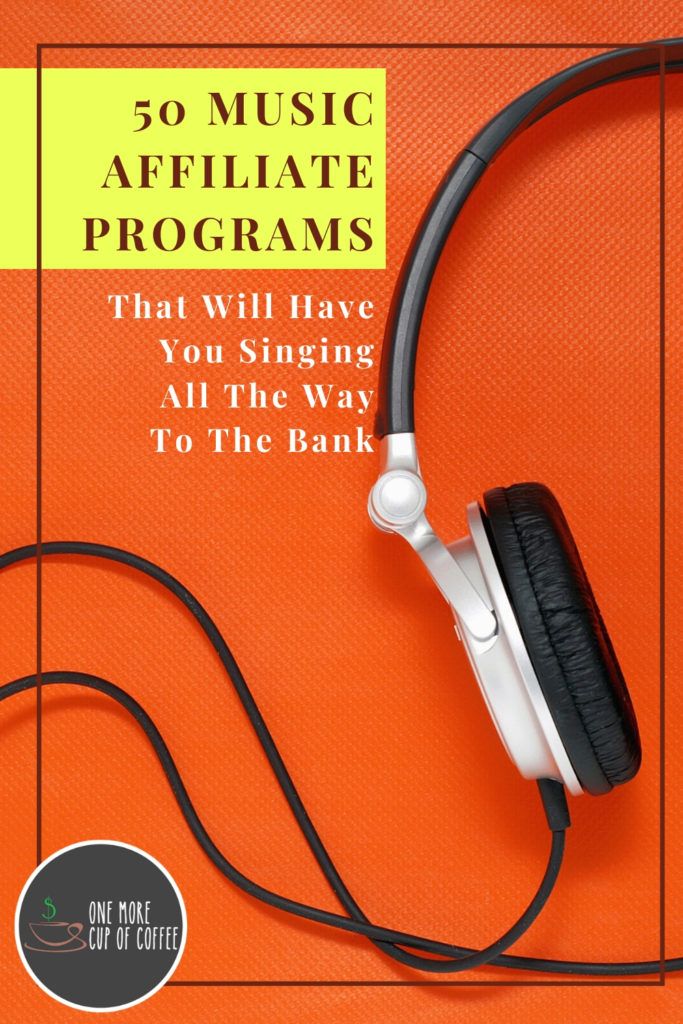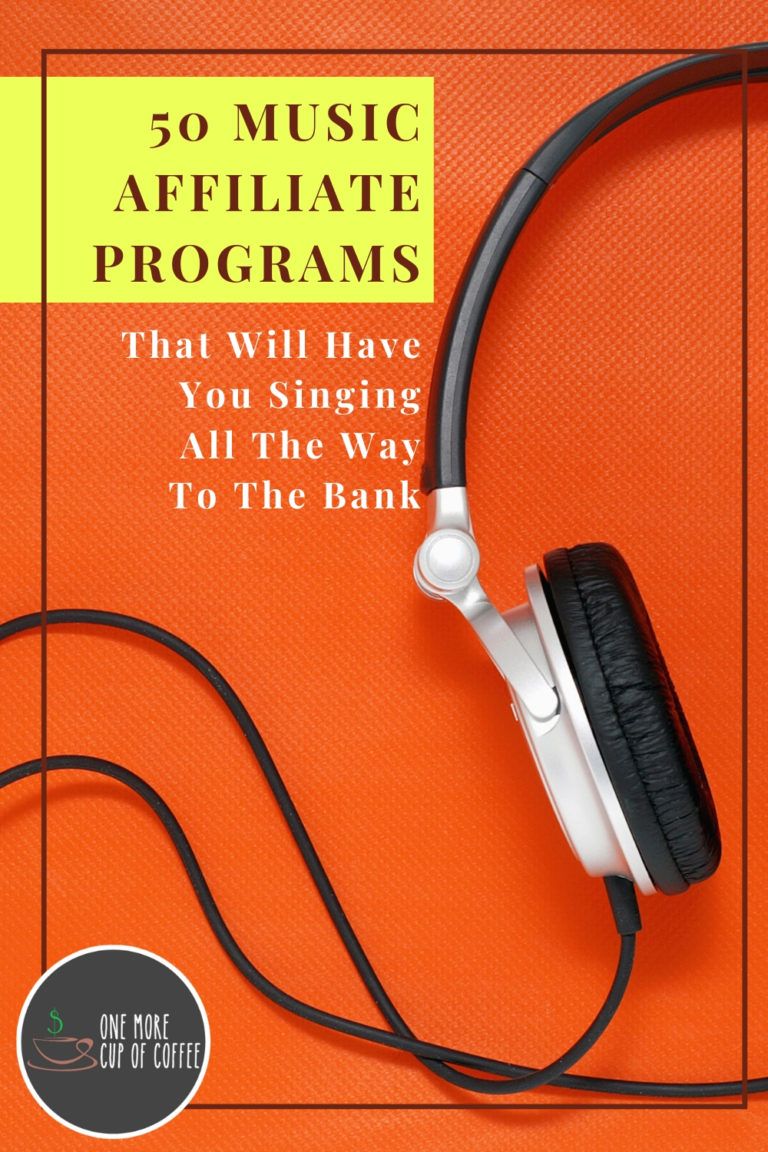 Starting an affiliate website in the music niche can be incredibly profitable and interesting. The music industry is a massive market, with millions of consumers around the world who are constantly on the lookout for new and exciting products. By focusing on this niche, you can tap into a vast audience of potential customers and earn commissions by promoting products that they are already interested in.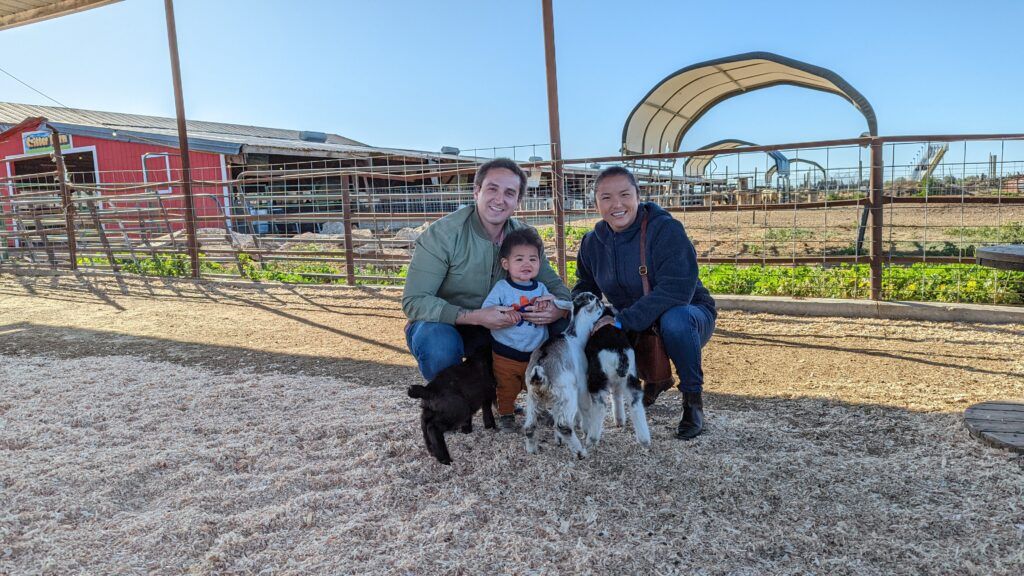 Are You Ready To Work Your Ass Off to Earn Your Lifestyle?
Are you tired of the daily grind? With a laptop and an internet connection I built a small website to generate income, and my life completely changed. Let me show you exactly how I've been doing it for more than 13 years.
One of the biggest reasons why the music niche is so profitable is because of the sheer variety of products that are available. From musical instruments and equipment to software and online courses, there is no shortage of products that you can promote as an affiliate marketer. This means that you can easily find products that align with your own interests and passions, which can make your job much more enjoyable and fulfilling.
Additionally, the music industry is constantly evolving, with new products and trends emerging all the time. This means that as an affiliate marketer in the music niche, you will always have a steady stream of new products to promote, which can help keep your website fresh and engaging.
As an affiliate marketer promoting music products, you can help consumers in a number of ways. For example, if you are promoting a particular instrument or piece of equipment, you can provide detailed reviews and information about the product, including its features, benefits, and drawbacks. This can help consumers make informed decisions about what products to buy, and can also help them avoid making costly mistakes.
You can also provide valuable information and resources for consumers who are interested in learning more about music. For example, you can create articles, tutorials, and videos that provide tips and advice on how to play an instrument, how to compose music, or how to record and produce music at home. This can be incredibly useful for consumers who are looking to improve their skills and knowledge, and can help you build a loyal following of dedicated fans.
Overall, starting an affiliate website in the music niche can be a highly profitable and interesting business venture. By focusing on this niche, you can tap into a vast market of potential customers and earn commissions by promoting products that they are already interested in. Plus, by providing valuable information and resources, you can help consumers make informed decisions and improve their skills and knowledge.
You can focus on marketing to musicians, DJs, music teachers, people who are interested in learning to play an instrument, and much more. The downside is that you really need to know your niche within the music industry before you start doing research. It can be a pretty competitive industry since music is something everyone enjoys, so it's a pretty common choice of topic for niche websites.
"Music" is so broad, that simply searching for a music affiliate program will turn up many of the items you'll see on this page – general music websites. However, remember that a website will perform much better in terms of making money quickly and getting user engagement when you are more niche specific.
For example, online sax lessons for beginners or how to play retro-themed music with heavy metal guitar. 7-string bass guitar lessons or creating your own midi tunes could also be niche site ideas.
Also, don't forget, even if your website is not music related you can still market music affiliate sites when they apply to your current blog post! I have many affiliate programs that only work on a couple of posts on my site, but they still make money because I rank well in Google.
Below this list at the end of the article are some niche ideas, but if you want to dig in deep, check out my music niche research page.
Music Affiliate Programs
1. Sam Ash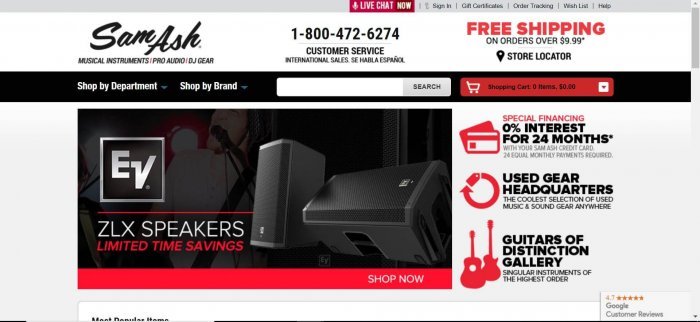 Sam Ash is the nation's largest family-owned musical instrument retailer. They started in 1924 and have over 50,000 products on their website. Which also you to market a wide array of products to everyone from musicians, DJs, music lovers, or anyone who is looking to learn how to play an instrument.
Their website has a live support chat to answer any questions the potential customers might have. This means they are more likely to stay on the site and buy what they are looking for instead of getting frustrated and going somewhere else.
Their affiliate members receive 7 to 10% commission on every samash.com sale which is very high for a retail affiliate program. They use LinkShare to track, report and payout their affiliates
Why Should You Promote Sam Ash: Well known trusted company, a wide variety of products, high retail commission. One negative is they do not accept affiliates based in Arkansas, Connecticut, North Carolina, or Rhode Island due to local tax laws.
2. zZounds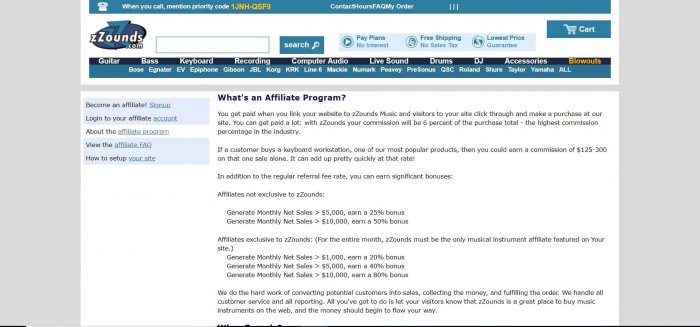 zZounds has the lowest prices and the best service in the musical instrument and equipment business. They have a huge selection in stock and an inventory that's 50 times bigger than a typical musical instrument retail store.
Their lowest price guarantee not only means they will bet a lower price when you place your order, if you see a lower price within 45 days of your purchase they will refund you the difference! You get free shipping on most orders and transparent shipping costs on their website so there are no hidden fees. zZounds also offers easy payment plans and 45-day hassle-free return policy.
zZounds started its affiliate program in 1999. They are always trying to improve their program and make it more profitable to their affiliates. Not only do their affiliates receive a 6% commission on the purchase total, but they also get month net sales bonus of hitting monthly sales goals.
Why Should You Promote zZounds: Diverse products, long track record, lots of marketing materials. Their long cookie time, low prices, and high customer satisfaction make their affiliate program worth checking out.
3. Musician's Friend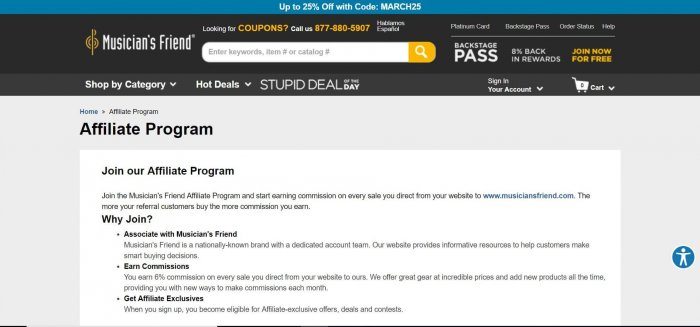 Musician's Friend is the world's largest music gear company and offers over 40,000 products with hundreds of new products being added every month. They have been around for over 30 years and are committed to being "the friend" who helps you in every step of your journey as a musician.
Musician's Friend offers free ground shipping on most orders, price matching, and 45-day no-hassle return policy. Their website is very user friendly and provides its users with smart buying decisions. They sell everything from guitars, amps, percussion, keyboards, DJ gear, lighting, mixing, recording gear, and much more.
Their affiliates earn 6% commission on every sale on their website and they run deals and promotions throughout the month to help you promote sales. Once you've been approved for their affiliate program, Musician's Friend provides you with a full library of links, banners, and customizable and interactive creative material to use on your website.
Why Should You Promote Musician's Friend: Dedicated account team, lots of marketing materials, good link tracking. It's important to note that your affiliate links must come from your website to receive credit so make to only promote them on your website.
4. Guitar Center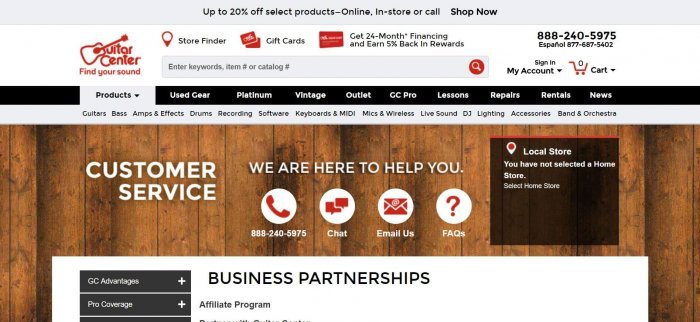 Guitar Center is not just known for guitars, they offer musical instruments and gear to all types of musicians, DJs, and music lovers. They offer over 40,000 products on their website and add products every week. Some items are sold exclusively on their website and not in their stores so as an affiliate marketer you can focus more on marketing those products.
You can shop online anytime and pick up your purchases at your local Guitar Center. If the item says available now, you can pick it up right away. Or you can choose to have items shipped to the store which usually takes 3-5 days. Guitar Center ships to over 100 counties and offers replacement and repair plans to give you peace of mind.
Their affiliates receive 6% of every sale with no limit on how much you can earn. Each cookie lasts two weeks and they use Commission Junction to track your sales and process affiliate payments.
Why Should You Promote Guitar Center: Brand requisition, diverse products, no earning limits. One negative is Guitar Center's cookie duration is only 2 weeks unlike most of their competitors.
5. Virtual Sheet Music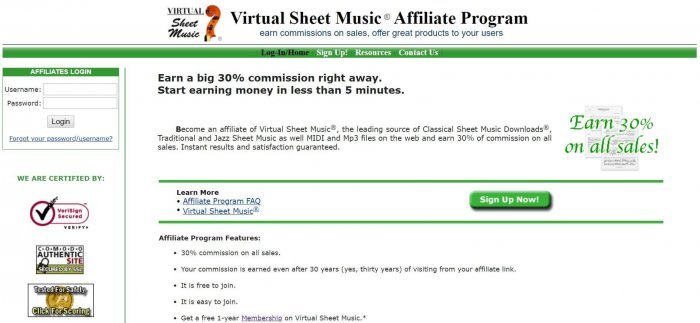 Virtual Sheet Music is a very popular sheet music download site that receives over 20,000 unique users per day. Their website is listed first on search engine providers for sheet music related keywords as well so you know they have established themselves as a trusted source for sheet music.
They have also be reviewed in major classical music magazines like International Musician, Classical Music, and Music Teacher. What makes their product unique is that the high-quality sheet music plus audio files are available for instant download and included exclusive transcriptions and arrangements for any instrument and ensemble.
Affiliates receive 30% of sales of their instant downloads or membership fees. In fact, their most requested product is their Sheet Music Membership for $37.75 and included unlimited downloads. Their cookie life is unheard of, 30 years! Not only the cookie basically never expires, once someone clicks on your cookie they become your referred customer for life. So every sale they make, you get a commission on.
Why Should You Promote Virtual Sheet Music: High commissions, unique product, extremely long cookie life. Virtual Sheet Music is worth joining solely based on its incredibly long cookie life. Combine that with its high commission right and unique product features make it even more appealing.
6. Singorama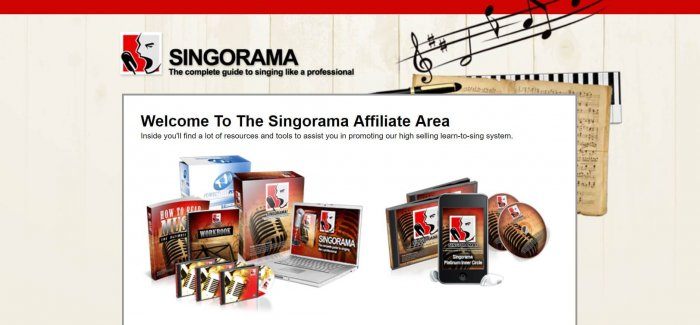 Singorama is an learn to sing program to help you become a better singer. Their program includes 28 audio lessons and a mini recording studio software that lets you record and playback your voice and sing with a virtual piano or pre-recorded scales. They also offer lots of bonus material to help close the deal. Their website is full of reviews from former students and how Singorama helped them improve their singing skills and what makes the course unique.
The Singorama program retails at $299.95 but they often run specials like offering it for only $67. This means you will get a lower commission, but you are more likely to sell more volume at the discounted rate. It comes with a 60-day money-back guarantee so potential customers will feel more comfortable trying their products risk-free. Their affiliates receive 70% of instant downloads and 40% of shipped media courses. Singorama also uses Clickbank so you can trust that you will receive credit for your sales.
Why Should You Promote Singorama: High commissions, marketing tools, and resources, potential additional commissions after the initial sale. One great perk of Singorama is you don't just get paid on the initial sale, you will also receive commissions from other Singaroma products that they sell on their backend (such as one time offers, backend emails, and more).
7. JamPlay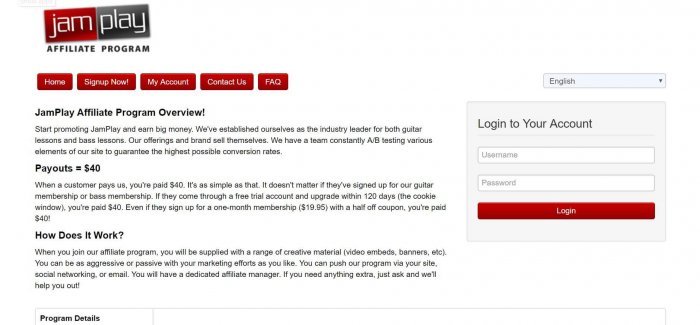 JamPlay is an industry leader in online guitar and bass lessons. You get to learn how to play from some of the best guitar players in the world. They have almost 500,000 customers, an A+ rating with the Better Business Bureau, and a 9.5/10 from TrustPilot Reviews.
JamPlay currently offers over 5,800 lessons from a wide array of genres and skill levels. They are constantly producing new lessons as well so there is always new material to learn and practice.
Their affiliates receive $40 on every sale even if the sale is less than $40 total! Their cookie life is 120 days and they adopted a First-to-Send policy that gives the first affiliate credit. That way JamPlay can reward the affiliate who first introduced the customer to their program.
Why Should You Promote JamPlay: High commission amount, long cookie life, lots of marketing materials. Since JamPlay pays you the same amount no matter the sale cost, you always win.
8. Rocket Piano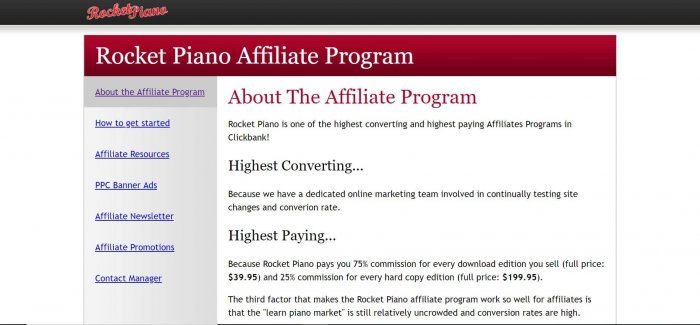 Rocket Piano is a series of step by step instructions and video demonstrations to teach anyone how to play the piano. They have been around since 2005 and are still selling their successful piano learning tools.
They offer a very high commission rate of 75% on their digital product and 25% of the physical product. Rocket Piano is one of the highest paying and highest converting affiliate programs on Clickbank. They use a 90-day cookie to give you better conversion rates. Rocket Piano even takes the time to send follow up emails for you to get potential customers to come back and buy their product because when you win, they win.
Why Should You Promote Rocket Piano: High commissions, high conversion rate. Even though the commission rate is very high on both digital and physical products, they only sell one product and focus on one instrument. It's probably best to join Rocket Piano along with a few other affiliate programs. That way you can cross-promote your affiliate programs on your sites and reach other music fans outside of pianists.
9. Pianoforall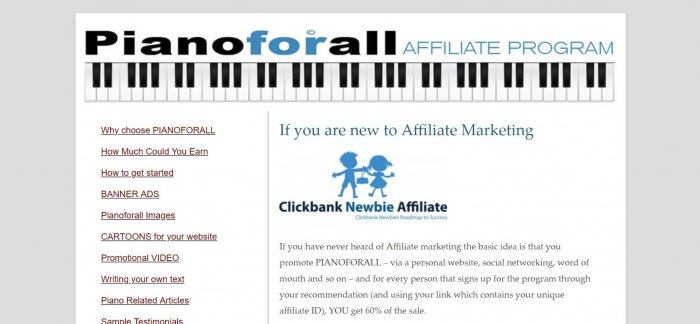 Pianoforall is an all in one piano program. It comes with 10 ebooks (600 pages total), 200 videos (10 hours total), and 500 audio lessons. Their program works on all devices (Mac, PC, iPhone, iPad, Android smartphones, and tablets).
They have been around since 2006 and convert well because they are a trusted course with verifiable testimonials. You can even request email addresses and talk to former students to find out what they like about the program and if it worked for them.
Affiliates get 60% of sale anytime someone uses their affiliate ID. Your cookie is active for up to 90 days. For their digital version, you will receive approximately $21 per download (after Clickbank fees). For the Pianoforall Download & DVD ROM, you will receive approximately $27 (after Clickbank fees).
Why Should You Promote Pianoforall: High commissions, long track record, great cookie activation time. Like RocketPiano, the commissions on Pianoforall are very high and the cookie is active for a long time so you can convert more sales.
10. Fiddlershop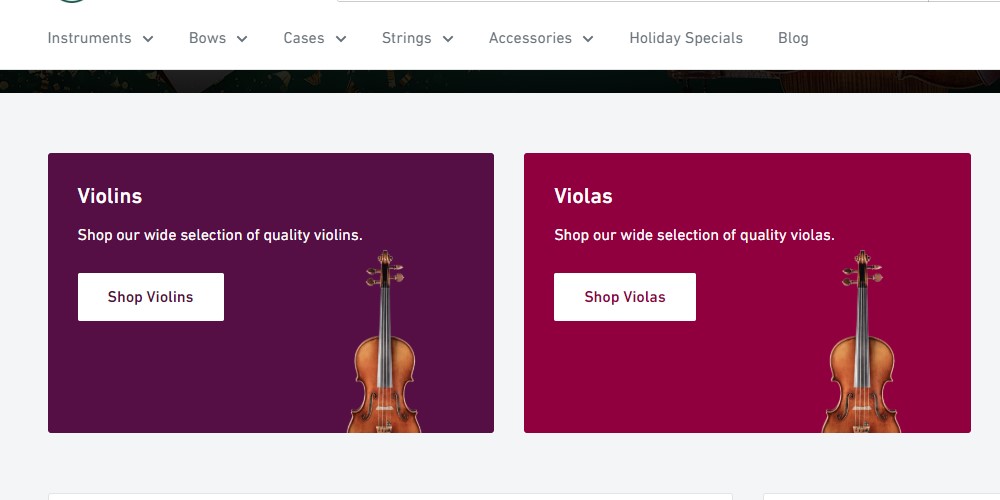 Fiddlershop is dedicated to providing top-quality stringed instruments and accessories. They recognized a high demand for this and have thrived on meeting it. They personally test each instrument before allowing it to be sold in their shop. This ensures the highest quality possible.
They have instruments suitable for all levels – beginner, amateur, pro, and everything in between.
For every type of instrument they sell, they also offer a variety of suitable cases as well as other accessories. This includes care/cleaning tools, sheet music, shoulder rests, toners, etc.
Their affiliate program offers a 5% commission, which is actually generous when you consider the price of their professional-level instruments!
Why you should promote Fiddlershop: They are a family-owned company dedicated to providing value and variety to the string world where it was a little bit lacking before.
11. Reverb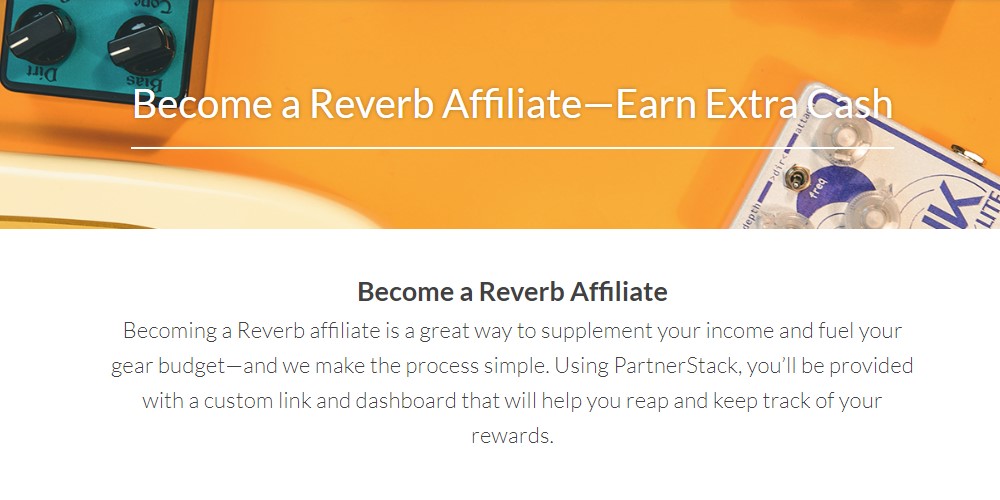 Reverb was launched in 2013 by musicians as a place for musicians to buy and sell gear in a peer-to-peer marketplace. It's available to retail stores, dealers, collectors, individuals, and rockstars alike. Anyone who wants to buy or sell in a simple, straightforward community with reasonable prices.
Available on the marketplace is anything you can imagine being related to music – instruments, amps, speakers, pedals, software, plugins, home studio setups, and even music itself. There is a mix of brand new and gently used – it depends on the seller.
Their affiliate program has a few different aspects. You will only earn 1% on the purchase of physical products. While this is quite low, it's worth noting that most music-related gear is expensive, so even 1% can add up. You will, however, earn a standard 10% on all digital purchases, and you get a $5 bonus when a new customer makes a purchase for the first time.
Why you should promote Reverb: They offer a unique community where all musicians can come together to sell what they don't need and find what they do need, all with ease and simplicity.
12. Loopmasters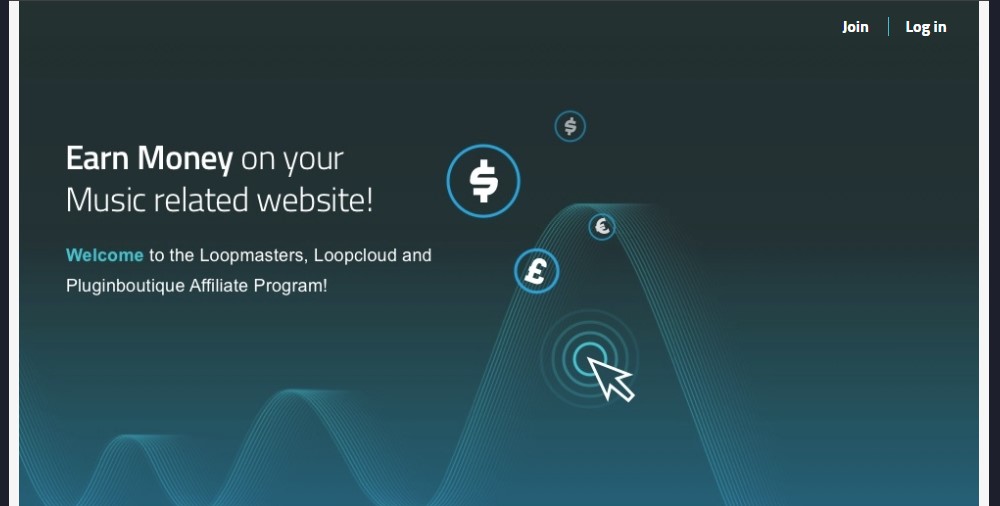 Loopmasters began with a mission to provide high-quality sample libraries for musicians and producers alike. The music comes from seasoned professionals and can be integrated into any type of music as a wonderful and unique addition.
They strive to constantly provide only the best quality music and music software available. They are always open to adding new music to their inventory and are open to inquiries from anyone who has samples to offer. Their music comes from all over the world.
Loopmasters offers a 20% commission rate on their products. They are also affiliated with PluginBoutique.com where you can earn a 15% commission. They also offer a small bonus just for signing up.
Why you should promote Loopmasters: They offer a solid commission rate on their products while also giving you access to commissions from their partner site. This doubles the earning potential within one program.
13. Prime Loops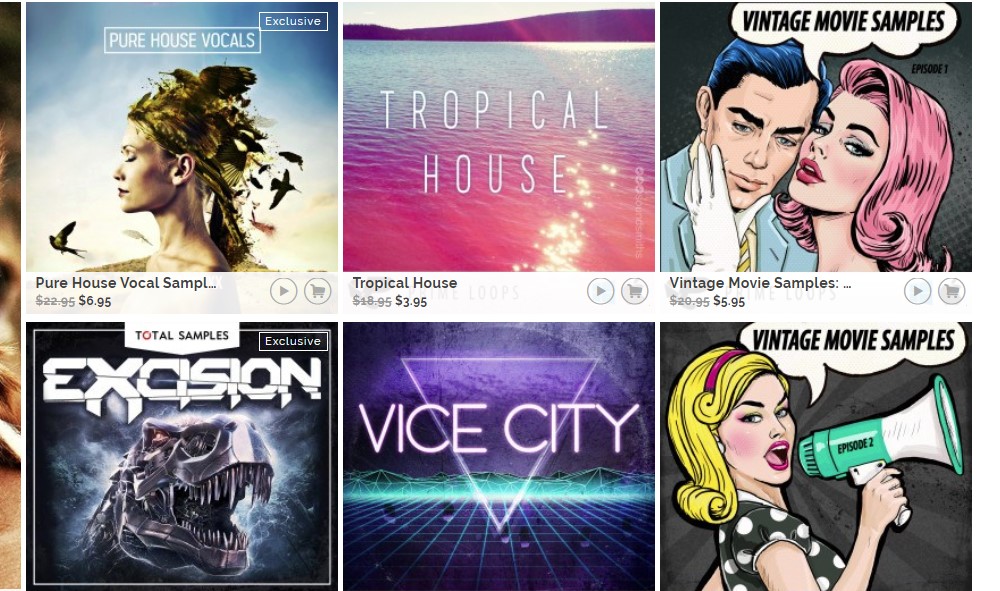 Prime Loops offers a unique collection of audio samples, presets, and synths designed for music producers. They have samples compatible with many different music software. Browsing what's available for your software is fast and easy.
They aim for quality over quantity which means they might have fewer options than other libraries, but what they have is handpicked and of the highest quality. They release new content each week, hoping to keep you inspired and productive all weekend long.
Affiliates are given a solid 20% commission rate.
Why you should promote Prime Loops: They handpick their products and accept only the highest quality. They release new content weekly which constantly gives customers something new to enjoy.
14. Singing Machine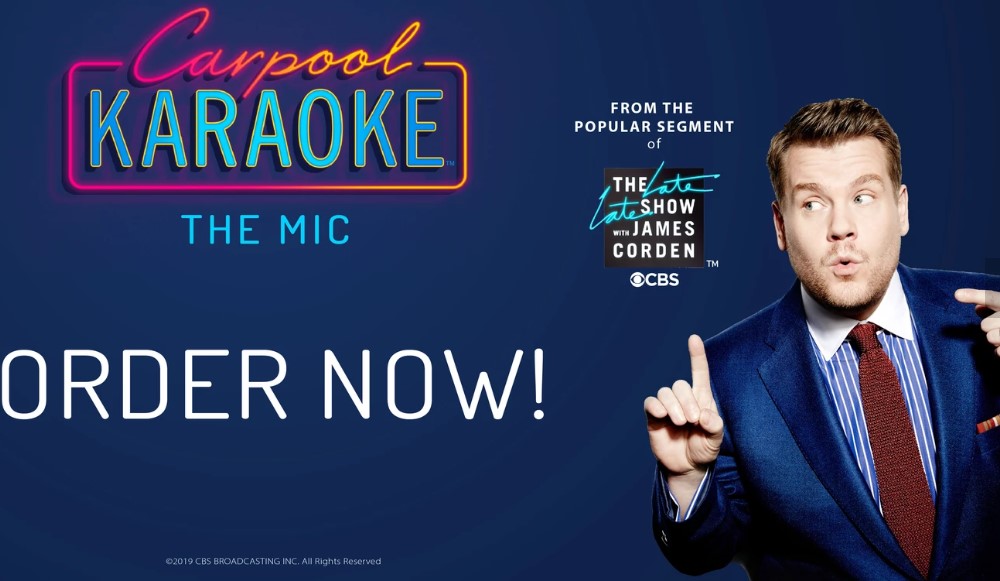 Singing Machine is one of the leaders in the consumer karaoke machine industry. They were the very first company to provide karaoke machines for in-home entertainment in the United States. They have a wide range of products that give their customers a good selection and the ability to find the very best system for them.
Their brand is among the most recognized and they work hard to stay on top of trends and the latest technology. Their machines now incorporate the best equipment for singing practice and music listening as well as the standard use of fun and social entertainment.
The affiliate program offers a commission rate of 5% which is comparatively low, but the chance to partner with a reputable company that produces such unique and high-quality products is worth it.
Why you should promote Singing Machine: They are industry leaders in the production and sale of in-home karaoke machines. They offer their products for a reasonable price that is easily affordable by most families.
15. Arkiv Music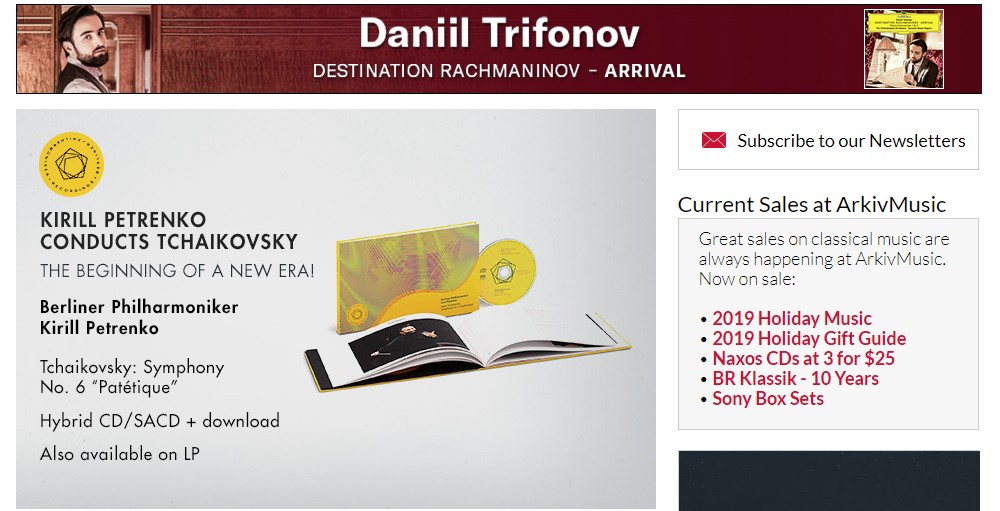 Arkiv Music is the ultimate destination for any true fan of classical music. They boast the largest collection of classic titles in the United States. They have them available in many forms for reasonable prices. Their goal is to provide fans of the genre with a quality resource to obtain their favorites.
Customers can shop by a variety of categories according to their preferences. These include operas, composers, conductors, labels, and ensembles. The music is available in many forms such as DVD's, CD's, vinyl, and Blu-Rays.
Affiliates can earn an 8% commission as they give their audience access to a large, convenient selection of a beautiful but often under-appreciated genre of music.
Why you should promote Arkiv Music: They are dedicated to classical music and work hard to provide the die-hard fans of the genre with a resource of high-quality selections and plenty of options to own the music they love.
16. Legacy Learning Systems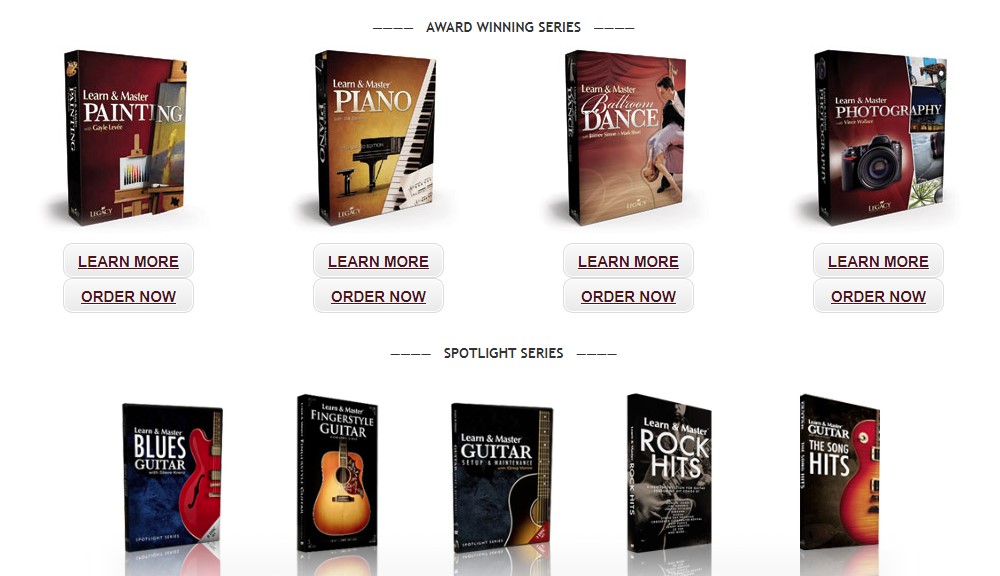 Legacy Learning Systems was created with a passion for providing high-quality and comprehensive training courses to those who are serious about learning their chosen skill. They strive to rise above the trend of "become an expert overnight" type tutorials created by those who want to make a quick buck. These programs provide true value and learning experiences.
They began with music instruction. They have courses in multiple categories including drums, piano, and guitar. Their courses can also be broken down into genres like blues and rock. In recent years they have expanded outside of music and offer additional courses for other artistic things like photography, dance, and painting.
Affiliates can earn a solid 20% commission. The company has a $43 average order value and an impressive lifetime tracking cookie.
Why you should promote Legacy Learning Systems: They offer a detailed and comprehensive set of courses that teach music the right way. Their affiliate program is dedicated and supportive, even offering custom banners upon request.
17. Music Teachers Helper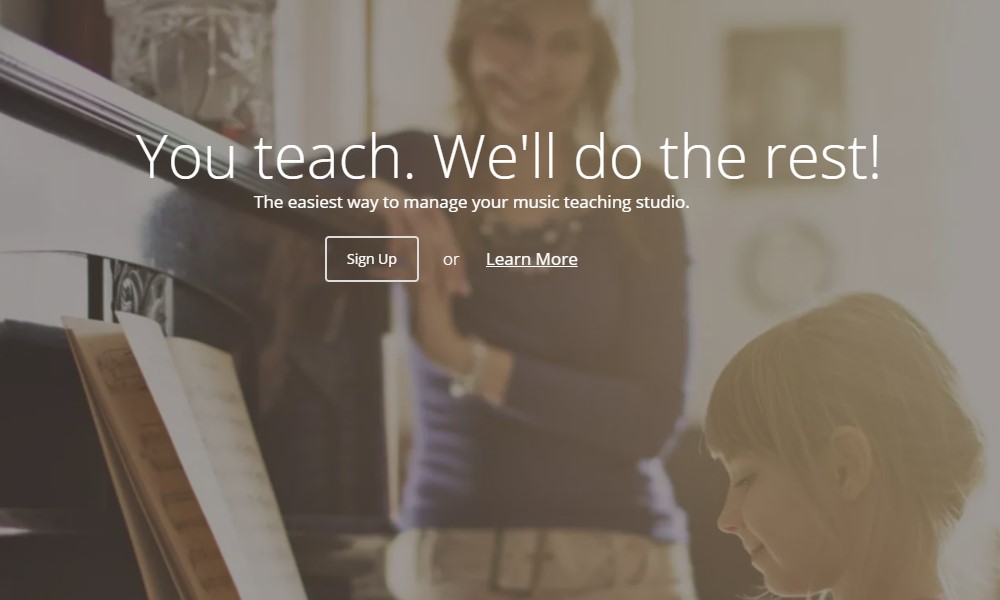 Music Teacher's Helper has created a program that helps music teachers manage their students, schedules, and business in general. Their goal is to take care of all the details so that the teachers can focus solely on teaching.
It began in 2004 when founder Brandon Pearce created a system to manage his personal music teaching business. He thought that it might be useful to others as well and made it available to purchase. It took off and soon became the world's leading management tool for independent music teachers.
Affiliates are offered a 20% commission on all sales which is generous considering the program operates on a subscription basis. There are three levels of membership with changing features depending on the number of students a teacher has.
Why you should promote Music Teacher's Helper: In addition to offering a unique and valuable service, they place importance on compassion, creativity, and quality in all they do and create.
18. Soundtrack Your Brand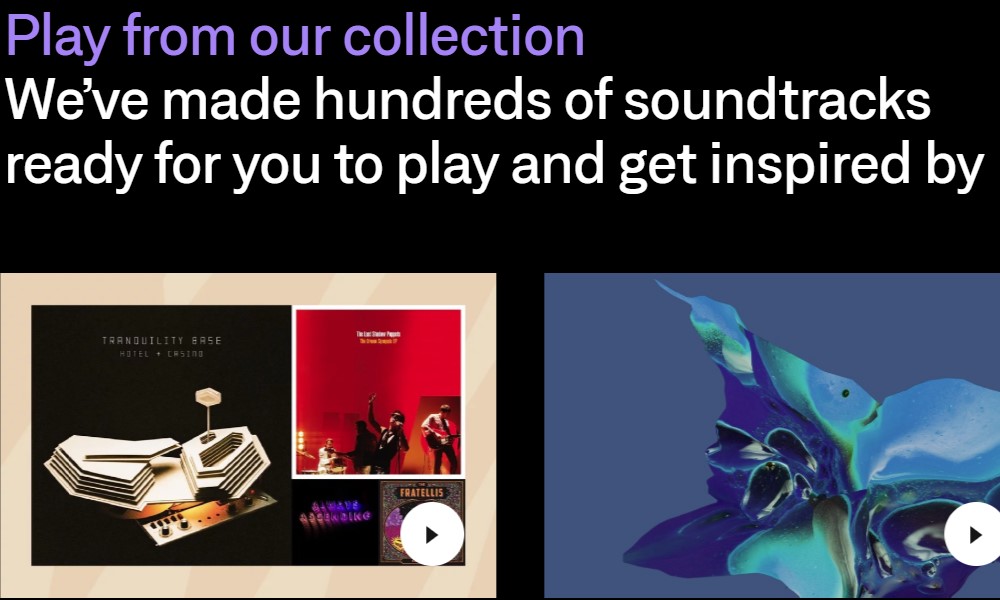 Soundtrack Your Brand was created to help businesses brand themselves with the music they play. Any time you walk into a store, it doesn't matter what they're selling, they always have music playing. This creates a vibe and sets a tone. You can use different styles of music to create the environment you want.
Soundtrack Your Brand has a huge catalog of licensed music that businesses can use. They have done some of the work by compiling a number of soundtracks and playlists that can be purchased as a set. These are designed to create specific, consistent vibes. They also allow you to mix and match to create your own soundtrack.
Affiliates are given a flat rate of $35 USD each time a referred customer activates a new account.
Why you should promote Soundtrack Your Brand: They address a unique and specific need for music that spreads across many industries.
19. Music Business Institute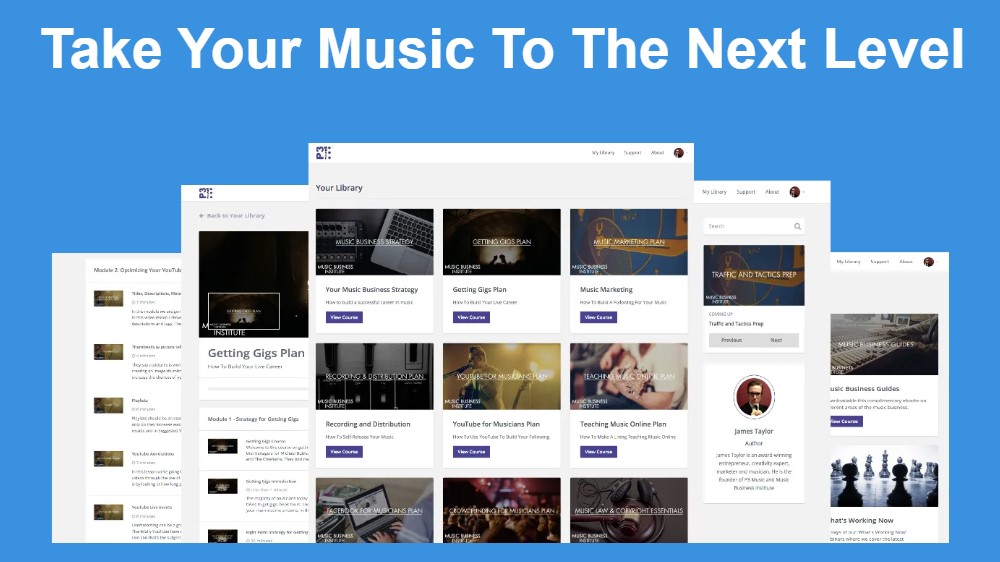 The Music Business Institute strives to help artists and musicians break into the music industry. It can be an overwhelming and scary endeavor for newbies. They offer help and coaching in all areas of the industry from booking shows, to building a fanbase, and promoting your music effectively.
Not only are they passionate about helping new, ambitious musicians, but they are up to date. They offer courses on Facebook and Youtube and how these platforms are useful to a musician.
Their affiliate program offers an impressive 50% on all sales. Their annual subscription plan is $299 so this is an exciting commission rate.
Why you should promote Music Business Institute: They have a passion for guiding new musicians looking to break into the industry, which might never happen for them without this kind of help. Their commission rate is also among the highest in the industry.
20. Thalia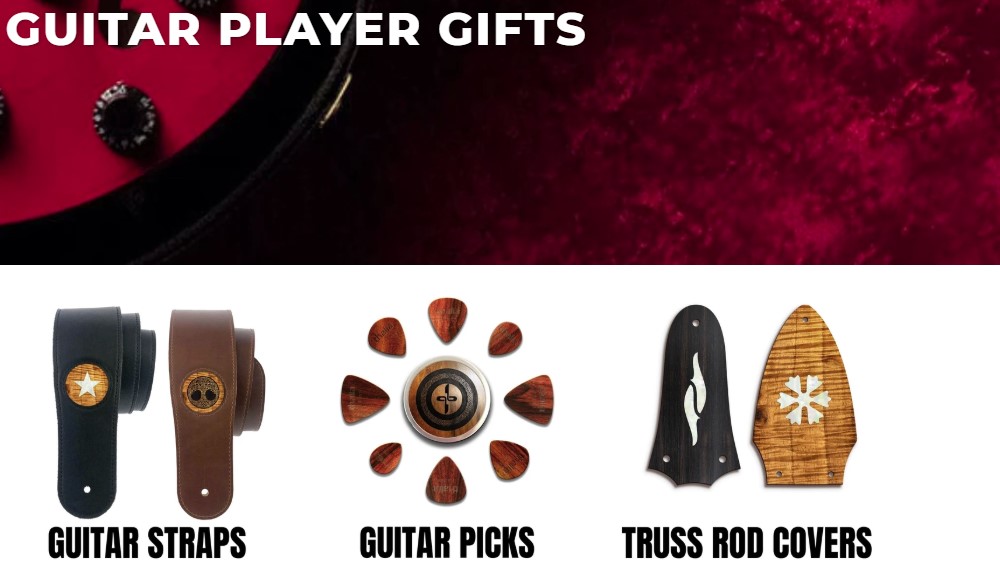 Thalia sells extremely high-quality, beautiful, and handmade guitar accessories. Their focus is on picks and capos. Their picks are aesthetically pleasing and durable at the same time, with their thin but sturdy layers of exotic wood. They boast some of the best capos in the world, also made with beautiful and unique designs.
They also offer an assortment of guitar straps, slides, and guitar-themed phone cases with the same classic, unique, and beautiful finish and appearance. They also partner with various charitable organizations that are doing good for the world, including saving the bees and reforestation.
Affiliates can earn between 15 and 20% commission, with the rate increased based on the number of sales they make.
Why you should promote Thalia: They focus on quality without sacrificing appearance, which is really important to some people. They also care about the world and spend some of their profits on contributing to the reversal of world issues.
21. The Music Stand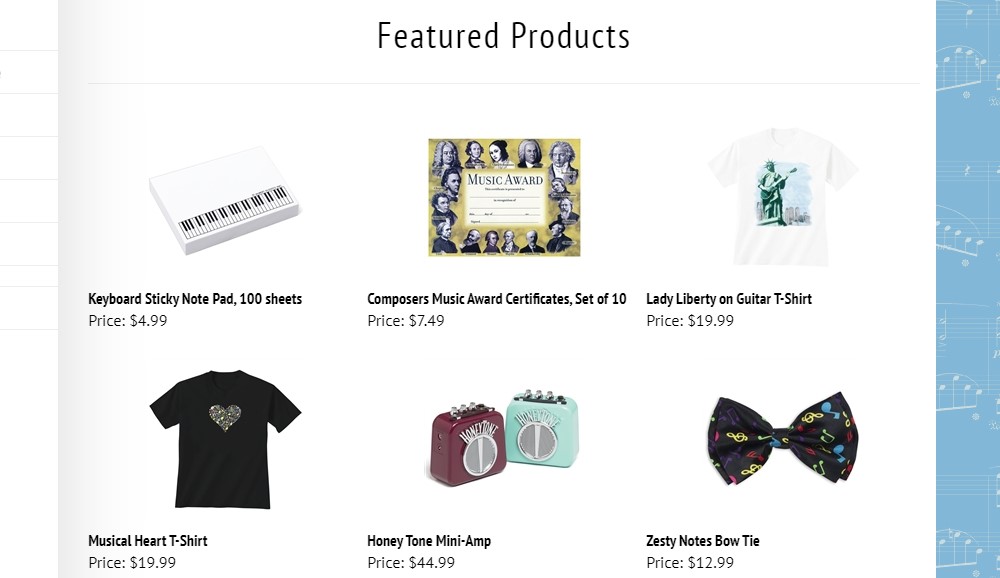 The Music Stand exists for those who are so passionate about the music they want to either display it, wear it, listen better, play better, or all of the above. The versatile online store has been around since 1976 and they offer a wide range of music and music-themed products.
You can get tools and gear for playing, like guitar picks and amps. They also offer a huge selection of decorative musical items such as t-shirts, mugs, and wall-art with musically inspired designs. It's the perfect website to find a gift for the music lover in your life.
Their affiliate program is straightforward and standard with a 10% commission rate and a 30-day tracking cookie.
Why you should Promote The Music Stand: They offer merchandise that offers a fun and unique way for musicians and music fans alike to show off their love of music.
22. eMedia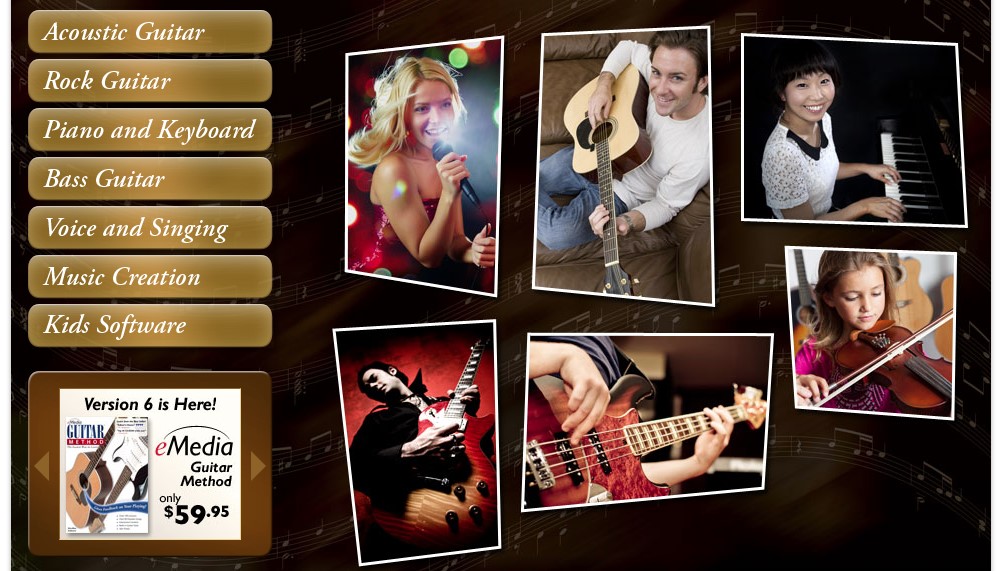 eMedia was founded in 1994 with a passion for teaching music in a way that is enjoyable and engaging. They employ extremely qualified and accredited teachers, including the Julliard School of Music alumni. They use advanced education technology to enhance learning by giving students the perfect example of what they should be doing with the instrument.
They teach using a series of popular and/or modern songs in order to keep students engaged and interested. It also helps the programs to feel more updated and relevant.
Their products range from $20-$299 and affiliates are given a 10% commission on all sales.
Why you should promote eMedia: They have been in the music instruction business for a long time. They have top instructors and up-to-date technology and methods.
23. World Music Supply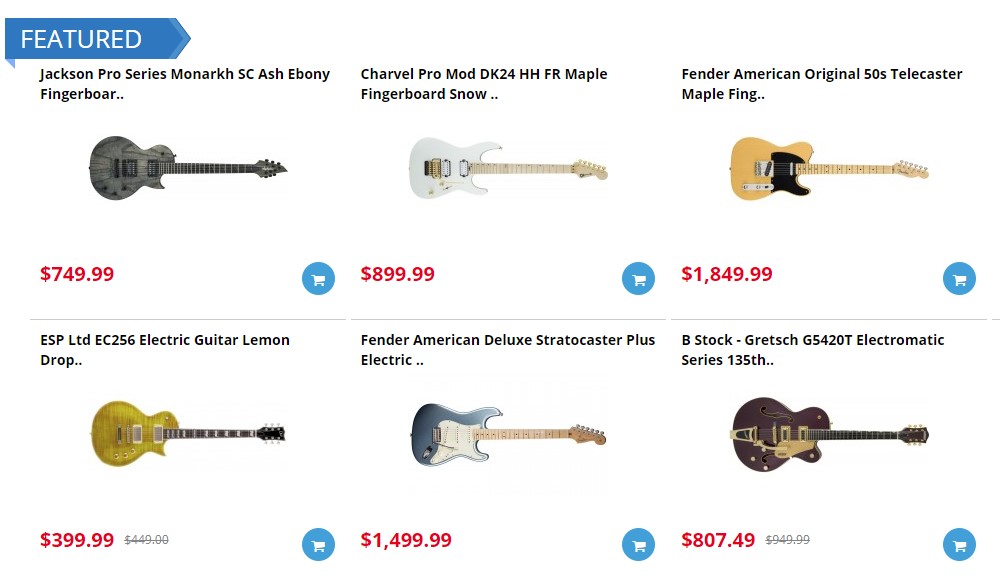 World Music Supply offers a variety of musical instruments, accessories, and professional audio equipment to those involved in the music industry. They offer everything from guitars, drums, folk instruments, studio equipment, stage equipment, and DJ equipment.
They also have a section of used gear for sale for those who are on a tighter budget. They have been around since 1993 and offer free shipping, which is significant considering the size and weight of some of the items.
Affiliates are offered a 5% commission rate. This is on the low side, but they sell a lot of expensive equipment so commissions will add up fast for high performers.
Why you should promote World Music Supply: Their selection of professional instruments and equipment is vast and will appeal to a large percentage of professionals in the industry.
24. Artist Works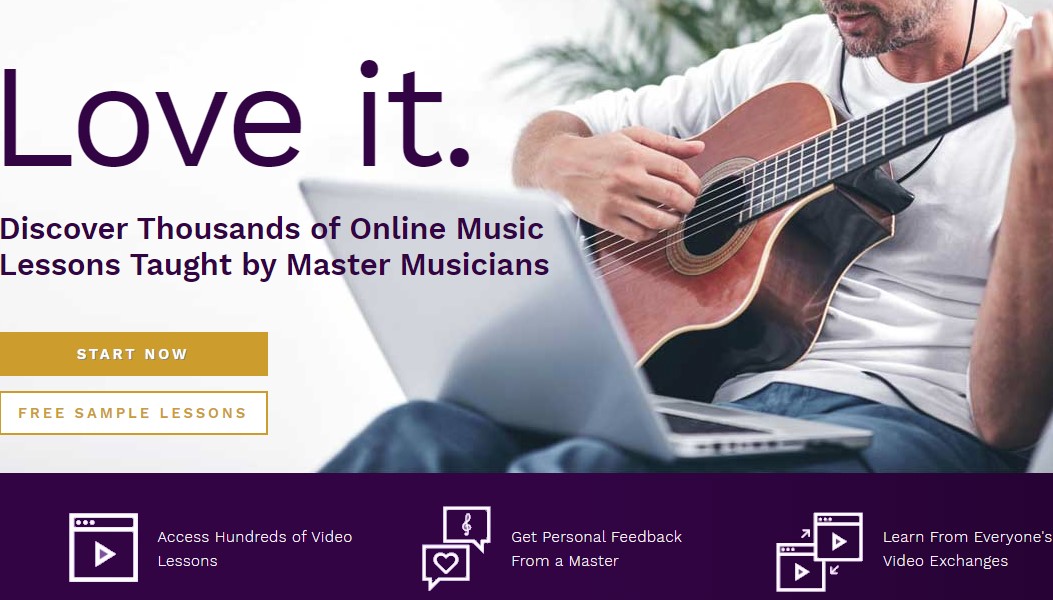 Artist Works is a huge learning platform for musicians of all levels, genres, styles, and tastes. They have more than 50,000 video lessons with customers in over 81 countries. They are constantly adding more lessons from top instructors.
In addition to offering something for such a wide variety of musicians, they have an active and engaging community. Members can chat, make friends, share original songs, and discuss the lessons they are learning.
Commission starts at 8% for affiliates but can be increased based on performance. They have regular promotions going on that you can offer to your audience.
Why you should promote Artist Works: Their huge selection and variety of courses will cater to almost any musician who might happen upon your website. This has the potential to achieve high conversions.
25. Hooksounds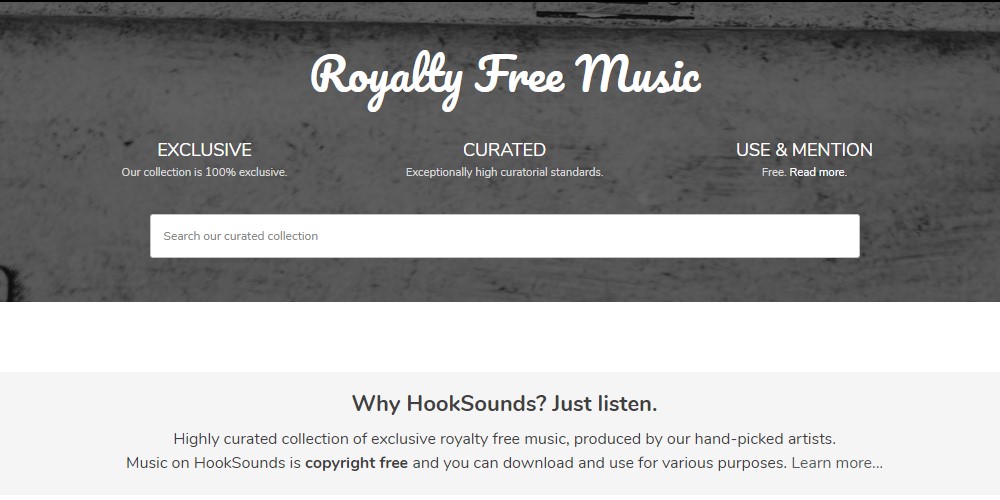 Hooksounds strives to offer high-quality, distinctive, and unique royalty-free music. Stock music is easily obtainable but is often generic and unoriginal. Content producers are looking for something more interesting, engaging, and unique. This is why Hooksounds was created.
They are picky about which artists they allow onto the platform, meaning their available tracks are only of the highest quality possible. They also believe in distributing their profits fairly, meaning their contributing artists receive 70% of each purchase of their music.
Their commission rates for affiliates aren't publicly available, but Hooksounds is a good addition to a musical website regardless. Their top-quality music is exclusive to Hooksounds, giving customers a strong incentive to sign up.
Why you should promote Hooksounds: They have a huge selection of exclusive, royalty-free music that gives back 70% of profits to the artist. The selection and fair treatment of their artists will attract solid conversions.
26. Maestro Classics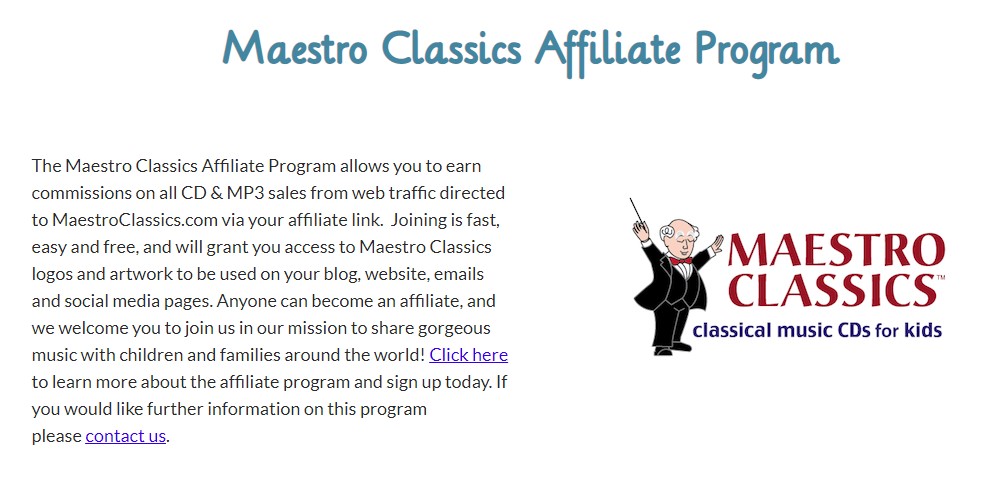 Maestro Classics was born out of a love for classical music. They offer a good selection of the classics to purchase on CD or MP3. This includes performances like The Nutcracker and Swan Lake.
They also offer a series of educational materials, mostly aimed at children wanting to learn classical music. Their goal is to make learning fun through activities that are unique and engaging. They also offer a number of helpful articles on music education for parents or teachers who are new to teaching music to children. Their curriculum is designed to be an easy and seamless addition to any homeschool program.
Affiliates can earn a 20% commission on the sales of all CD and MP3 products.
Why you should promote Maestro Classics: They work to provide access to classical music education for children that they can do at home and with their own parents.
27. Audimute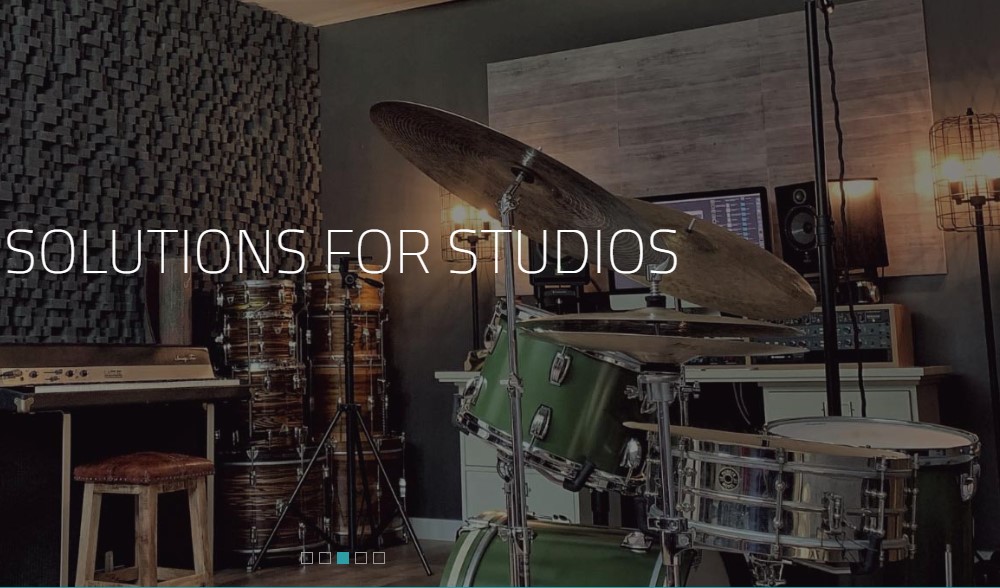 Audimute is a family-owned company that offers high-quality soundproofing products. They have products to soundproof walls and ceilings as well as portable sound barriers that can be used anywhere within a room. They offer a room analysis service if you're unsure what your room needs in order to meet the needs you have.
They pride themselves on top-notch customer service and their extra effort to convert visitors into customers. They offer affordable pricing, custom options, and free advice. They provide their sound management solutions to organizations across many industries, including production companies, government agencies, theaters, and churches.
Affiliates earn a baseline commission of 5% with bonuses available for high performers. Their average order value is over $200.
Why you should promote Audimute: Their customer service and great pricing mean high conversions. You'll also be supporting and sending traffic to a family-owned company.
28. Master Class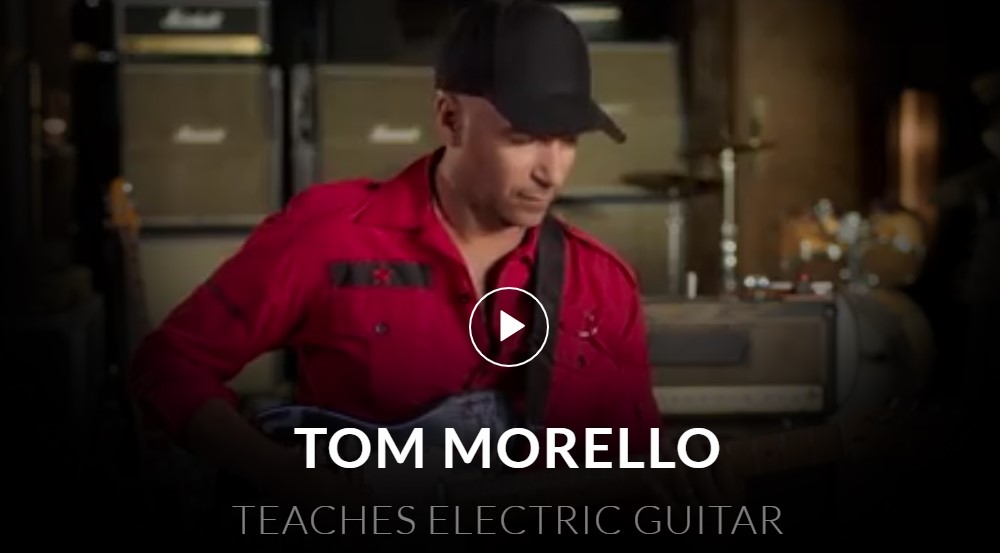 Master Class is a platform for world-class learning. They offer robust and comprehensive courses with those who are at top of their craft. For example, acting classes taught by Natalie Portman and cooking taught by Gordon Ramsay.
Their music section contains courses from the likes of Usher, Deadmau5, Reba Mcentire, Tom Morello, Christina Aguilera, and many more. Courses include video instruction, interactive assignments, and inclusion in the Master Class community.
Affiliates are offered a solid 25% commission rate with additional monthly bonuses between $100 and $300 depending on your total sales. $12,000 in sales is required to earn the maximum bonus.
Why you should promote Master Class: They provide access to instruction from the best in the world to those from anywhere in the world. They have courses available in many categories other than music, giving you the potential for additional sales by customers with multiple interests.
29. Teaching Children Music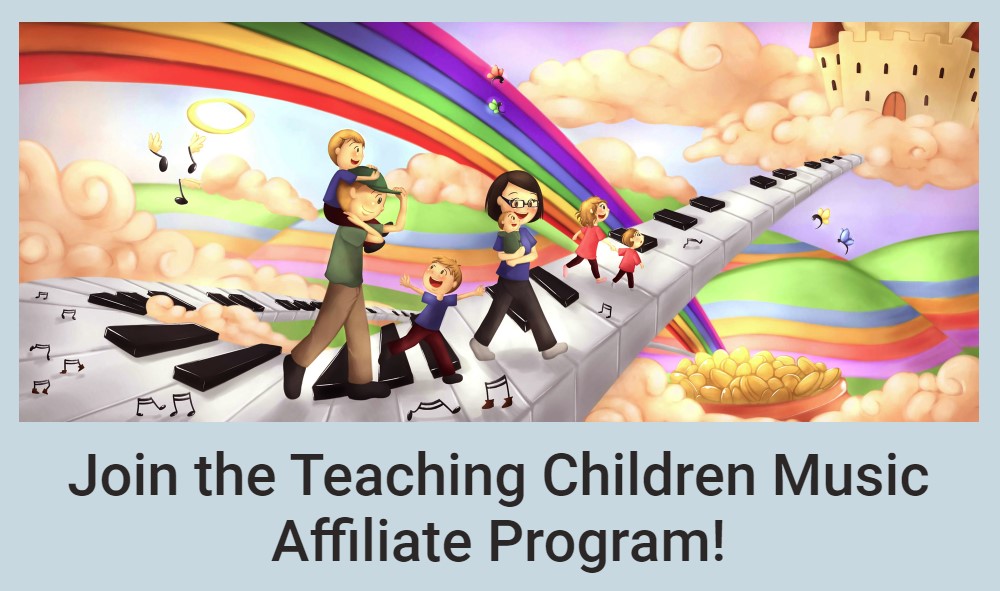 This is a small, family-owned company that was born out of two parent's desires to teach music to their children. They turned their collection of methods, techniques, and information into classes they could share with other parents.
They offer basic material for teaching rhythm and fundamentals, as well as more specific classes for piano or ukelele. They also offer a series of material that teaches children note-reading, singing, and other things through fun games and activities. These can be done at home or in a classroom setting.
Their affiliate program offers extremely generous commissions. Starting at 20% for those earning monthly sales of $200 or less, you can get bumped up as you start earning more. $3000 of sales in a month will earn you a 50% commission for that month.
Why you should promote Teaching Children Music: Their fun and unique lessons are a great way to keep children engaged in the process of learning music. Their impressive commission rates offer fantastic earning potential as well.
30. Magix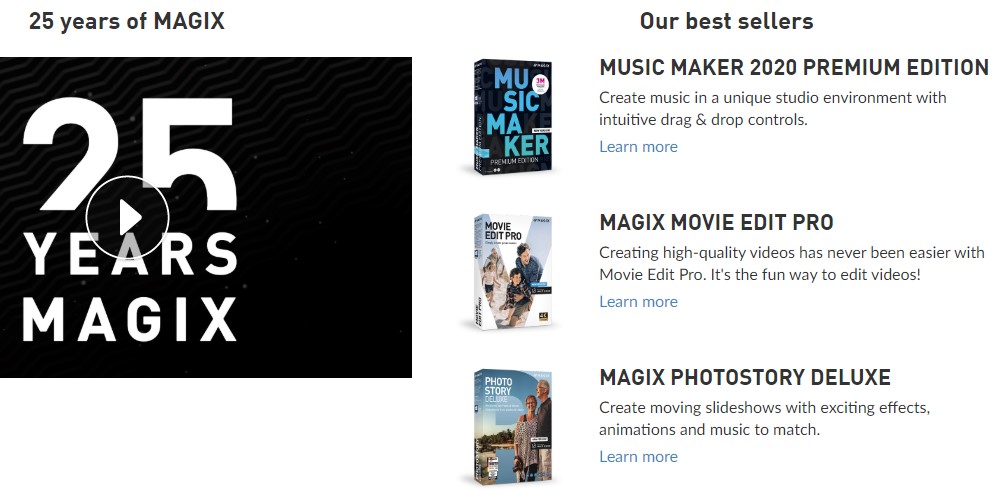 Magix offers a series of high-quality multimedia software. They are passionate about continued innovation and making their programs seamless and user-friendly. Their products include top-notch video, music, and photo editing software. Some programs offer a free version that can be used to see if upgrades are worth the buy.
Their software currently has more than 15 million registered users and has received over 1100 awards from around the world.
They boast high conversion rates and average order value of over $100. You can earn a 20% commission on product sales and a 30% commission on the sale of subscription services.
Why you should promote Magix: They are constantly working to improve their products, meaning what they have for sale is updated and relevant. Their passion for innovation and high conversion rates means good earning potential for affiliates.
31. Producer's Choice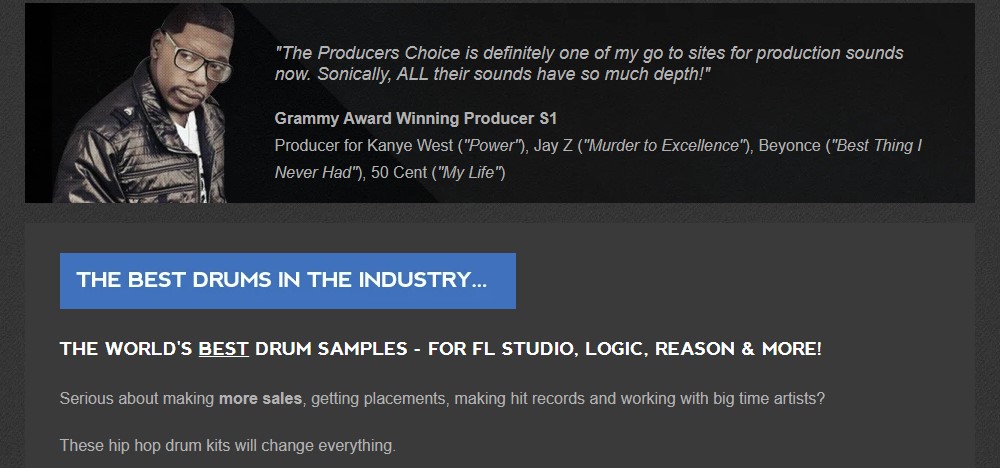 Producer's Choice offers a robust and versatile library of music samples for use by producers. They offer everything from drum samples, piano loops, and themed packs like 80's and hip hop. Their most prolific products are their drum samples though. These are their most popular tracks.
Their sounds are used by Grammy award-winning producer known as "S1", who has worked with Kanye West, Jay-Z, and Beyonce.
Their affiliate program offers an amazing 50% commission rate on all sales. They also have a series of strong email and retargeting ad campaigns that work to bring customers who don't purchase back to the site after clicking your link.
Why you should promote Producer's Choice: They are backed by a top professional producer who works with celebrities and has won grammies. This speaks volumes about the quality of their tracks and their service.
32. Modern Producers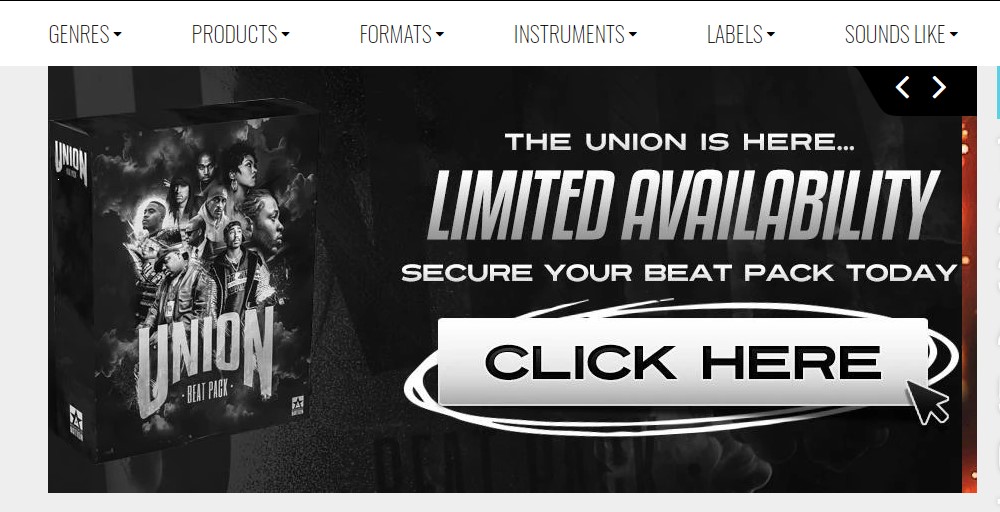 Modern Producers works to provide everything a producer these days might need. They offer high-quality sounds, loops, kits, vocals, VST's, presets, and musical accessories. They focus on quality and want producers to feel like they don't need to go anywhere else to have their needs met.
For producers who are new to the scene, they offer tips, tricks, and guidance. They do this through a series of blogs and articles that are available for free on the website. They also occasionally offer music placements throughout the music industry. They go above and beyond for the producers they cater to.
Affiliates are given a solid 25% commission on all sales.
Why you should promote Modern Producers: They go beyond providing sound samples for producers. They are passionate about developing producers within the industry and teaching newbies how to survive.
33. Beat Brokerz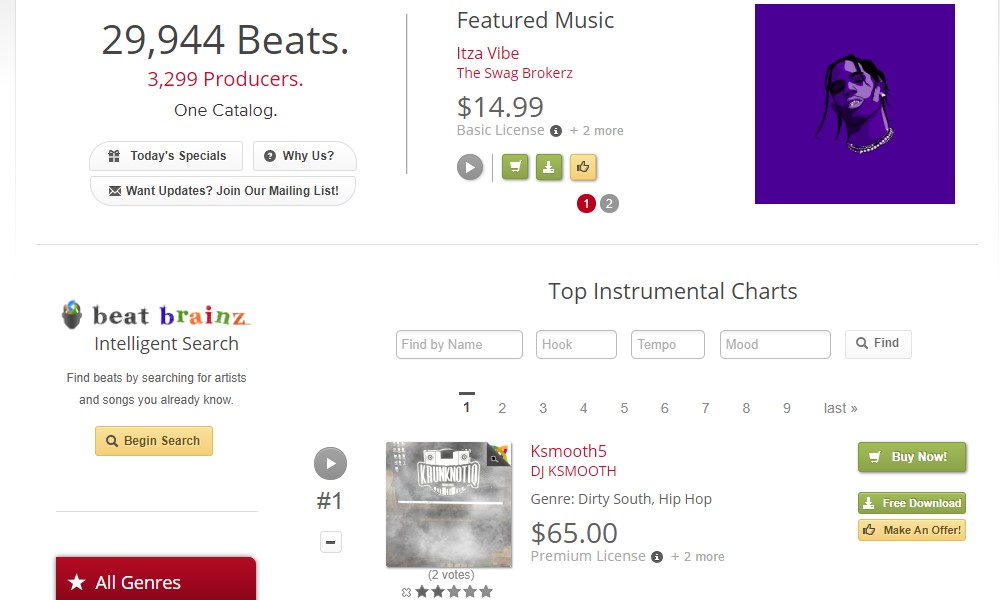 Beat Brokerz offers a catalog of high-quality rap and hip-hop beats for musicians and producers to purchase. They focus exclusively on this genre and work hard to stand out and be the best in the industry.
Their service is also highly valuable to the ones who make the beats. Beat Brokerz focuses on marketing, promoting, and selling while the artists only need to focus on creating.
Affiliates can make up to 50% commissions on sales they make. They are given the choice to direct buyers to the site, or they can sell the beats directly on their own site. They can even create their own playlists and mobile app.
Why you should promote Beat Brokerz: They focus on a very specific part of the market, and give affiliates a lot of freedom in the way they promote the products.
34. Sound Bridge Academy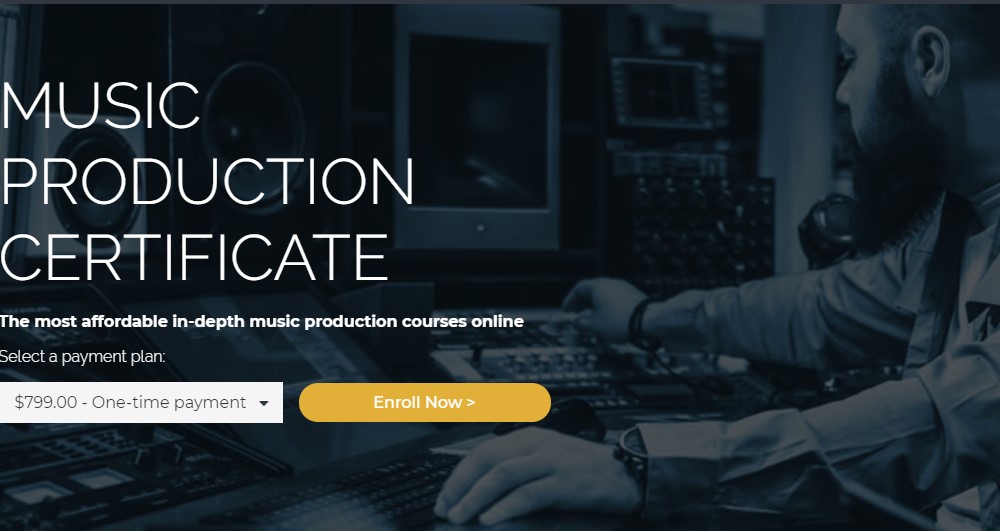 Sound Bridge Academy is an online school for those who want to learn everything they can about music production. Their courses include instruction on audio processing, sound design, composition and sketching, mixing, mastering, arrangement, and structure.
Their paid enrollment offers six high-quality courses that include 80 hours of instruction. Members also enjoy lifetime access to the courses as well as any future updates. They offer an introductory course called "music production 101" for free.
Affiliates are given a 20% commission rate on all sales they generate. This means that even if you promote the free course, any future purchases by that user will be credited to you as the affiliate.
Why you should promote Sound Bridge Academy: They are passionate about providing the best possible instruction for students who are passionate about learning the industry. Students receive a certificate diploma upon completing all six courses.
35. Guitar Pedal Shoppe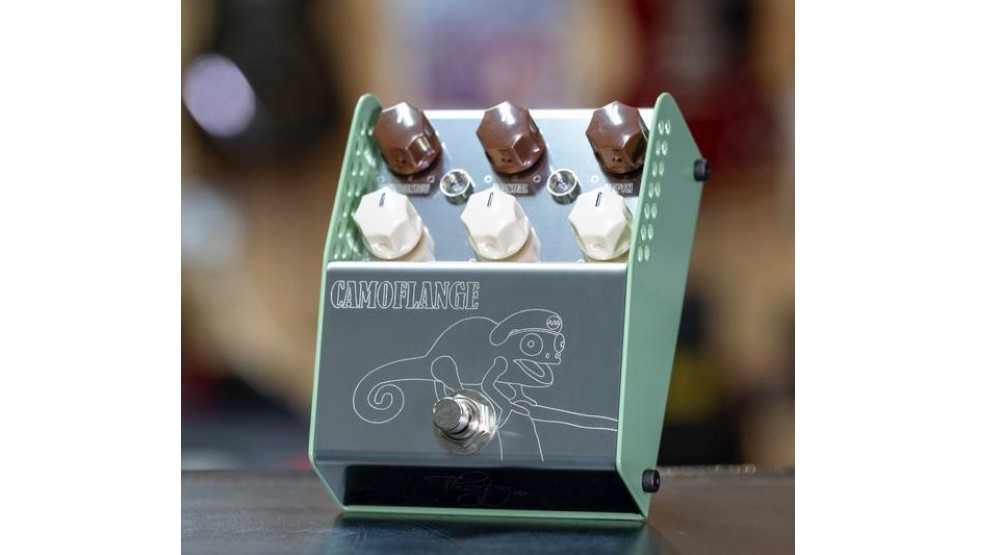 This store is run by an individual who is well-versed and well-educated in music. They have been in several bands over the years and have a passion for music and the industry. They began the company after becoming frustrated with the lack of quality service and knowledge from the guitar accessory stores they would frequent.
Their store focuses only on guitars, pedals, and accessories. They strive to offer the best possible customer service while being able to offer sound, knowledgeable advice, and know-how to customers.
Affiliates can earn a 5% commission on sales, which adds up when you consider the cost of high-quality guitars and related equipment.
Why you should promote Guitar Pedal Shoppe: You will be supporting a small, local company that employs only passionate and knowledgeable staff for the best customer experience possible.
36. Mikes Mix & Master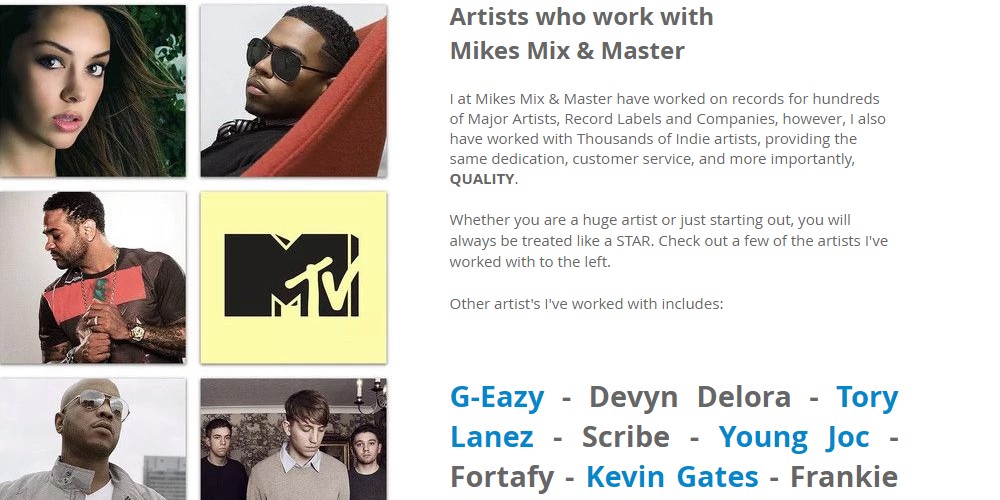 Mikes Mix & Master is a mixing and mastering service. Mixing and mastering are things many people strive to learn for themselves. But, those who are serious about a song and are just a beginner, having it professionally done may be the better choice for now.
Mike offers top quality mixing and mastering services and it can all be done online. He has worked with over 50 major recording artists and 15 major record labels. He provides over 150 before and after samples and has experience in all genres.
Affiliates who send new clients his way receive a 10% commission. His cheapest level of service is over $100 so the commission can add up fast.
Why you should promote Mike's Mix Master: Mike has a fantastic reputation and offers a quality service, which can be done over the internet. Not everyone has access to this kind of professional locally, so Mike is perfect for them.
37. Gear 4 Music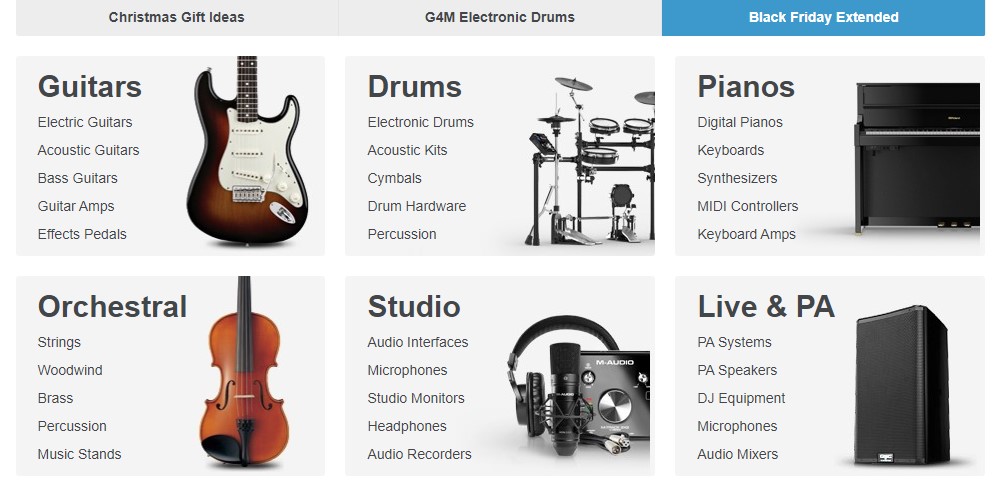 Gear 4 Music is exactly as it sounds – they offer a huge selection of musical gear. They have guitars, drums, pianos, keyboards, orchestral instruments, DJ equipment, stage equipment, and studio equipment.
In addition to the instruments and equipment themselves, they offer thousands of other items and accessories. They carry multiple brands, including their own, giving customers the ultimate level of choice.
Affiliates are given a 5% commission on Gear 4 Music branded items and 3.5% on everything else. These commission rates are low but the high price tag on many of the instruments will make up for it.
Why you should promote Gear 4 Music: They carry a huge selection of all major instruments and their related accessories. When promoted on the right website, conversions will be high due to the number of available brands and products.
38. Premium Beats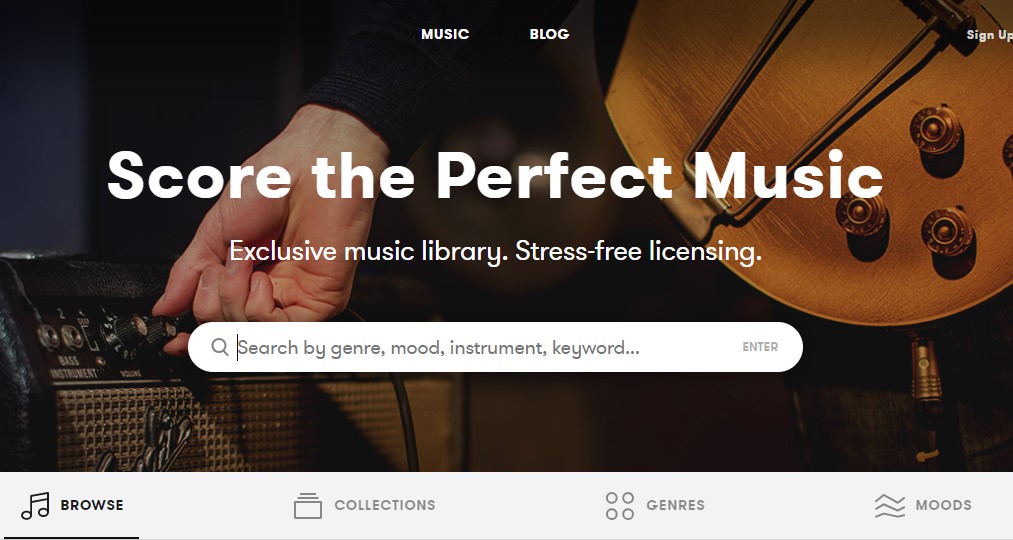 Premium Beats is connected to Shutterstock. It operates much like the popular stock photo provider but with music. They have a library of versatile, high-quality music available for use in media, video games, apps, whatever the buyer wants it for.
They offer two licensing options depending on the type of project(s) you need the music for. Once you pay for your license, you have the track forever, including loops and short clips. They offer a simple, easy, stress-free way to acquire the best music for your needs.
Affiliates can earn a 30% commission on all sales. For a website that caters to producers and developers, there is potential to attract a lot of repeat business.
Why you should promote Premium Beats: Their library is exclusive and their licensing process is fast and easy. This plus their quality tracks will attract many repeat customers.
39. Rock America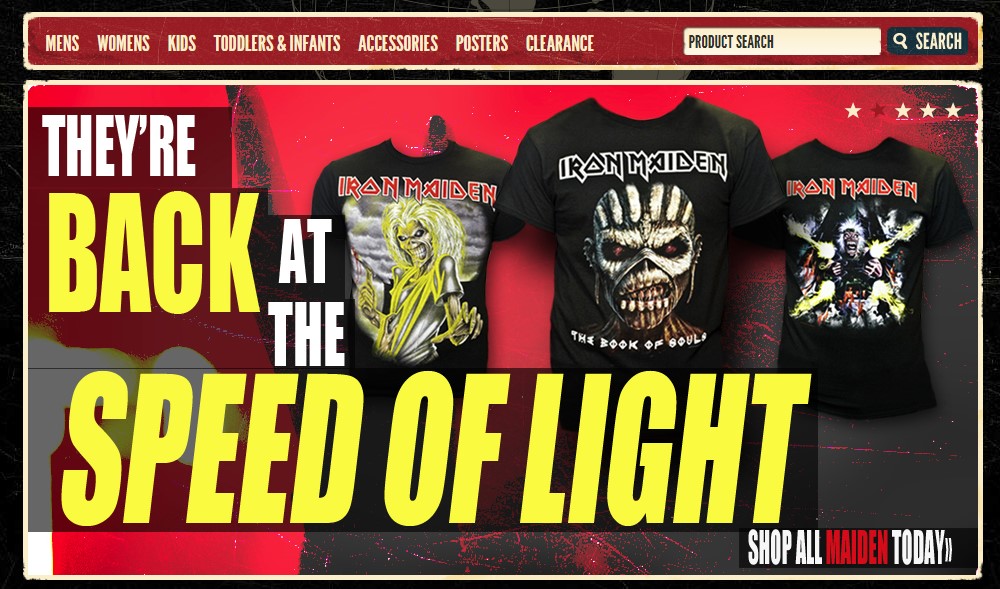 Rock America is the dream destination for any true classic rock fan. They provide a huge line of high-quality rock-themed merchandise. The main attraction is T-shirts but they also carry hoodies, hats, stickers, posters and other accessories.
Die-hard music fans love to pepper their wardrobe and their home with the images of their favorite bands and musicians. Rock America can feed the band-merch addiction of any rock fan. They offer men, women, kids, and even baby/toddler rock clothing for parents who want to instill a sense of rock and roll into their kids from an early age.
Affiliates can earn an 11% commission rate on the sales they make.
Why you should promote Rock America: They provide a huge resource with so many options for music fans to choose from. They won't have to go to a concert just to get new merch, and you'll get paid for showing them how.
40. SkullCandy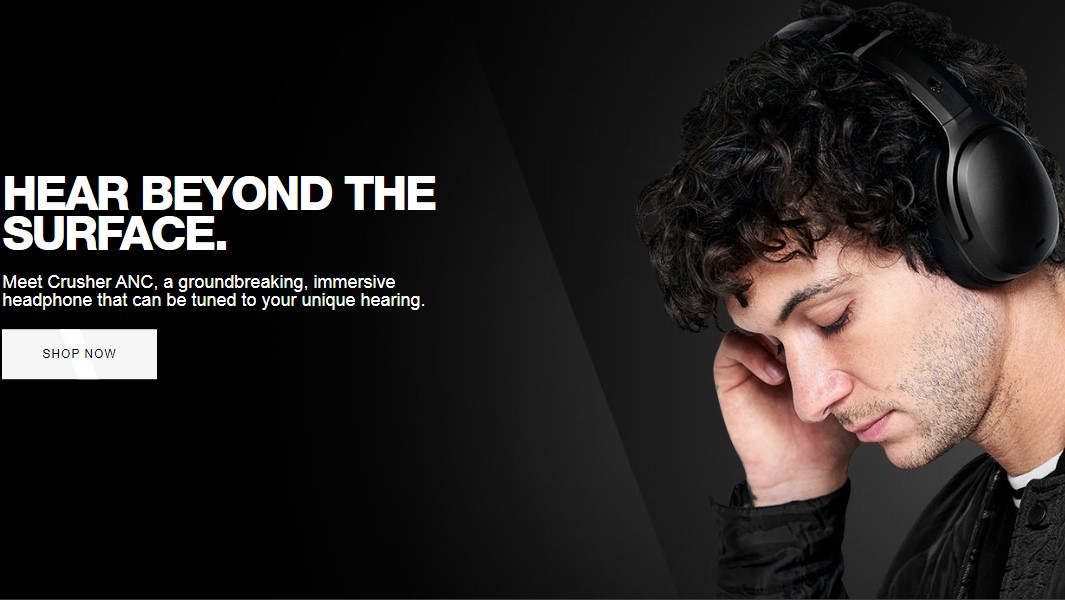 SkullCandy is a highly recognizable brand that is most well-known for its headphones. From inexpensive in-ear buds to premium, high-quality headphones, they strive to make the music listening experience as amazing as possible.
They also offer other accessories like hats, speakers, and cases. They've created a brand that is synonymous with youth and adventure. Their designs are edgy and instill a sense of rebellion with their motto that "every revolution needs a soundtrack." They're constantly watching for new trends and they focus on innovation and quality.
Affiliates are given the opportunity to work with a well-known brand that gives their affiliates special offers, incentive programs, and a good network of materials and support.
Why you should promote SkullCandy: They are well-established with a loyal following already. Customers trust them and won't hesitate to buy their new, updated products.
41. Pretty Green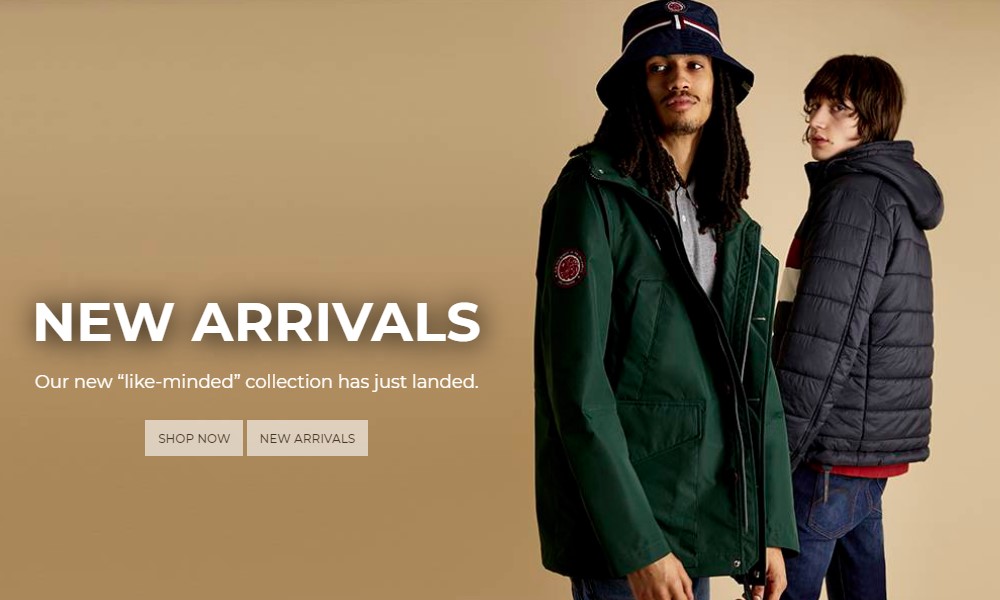 Rock and roll took shape in the 1950s. Since then, it has been influencing fashion and culture all over the world. Pretty Green is deeply inspired by this and intends to keep the trend alive. Founded by Liam Gallagher himself, Pretty Green is named after a song by The Jam.
They sell a line of modern, rock-inspired clothing and accessories. All of the pieces are classic, stylish, unique, and top-quality. They create an aesthetic that is most definitely reminiscent of rock and roll's beginnings.
Affiliates are given a 7% commission rate when they make a sale. The price tag on the clothing reflects the quality and care that goes into it, meaning the earning potential is high.
Why you should promote Pretty Green: The clothing line is beautiful, unique, and founded by a legend. Each piece is a novelty and fans of rock and roll will love collecting them.
42. Fender Play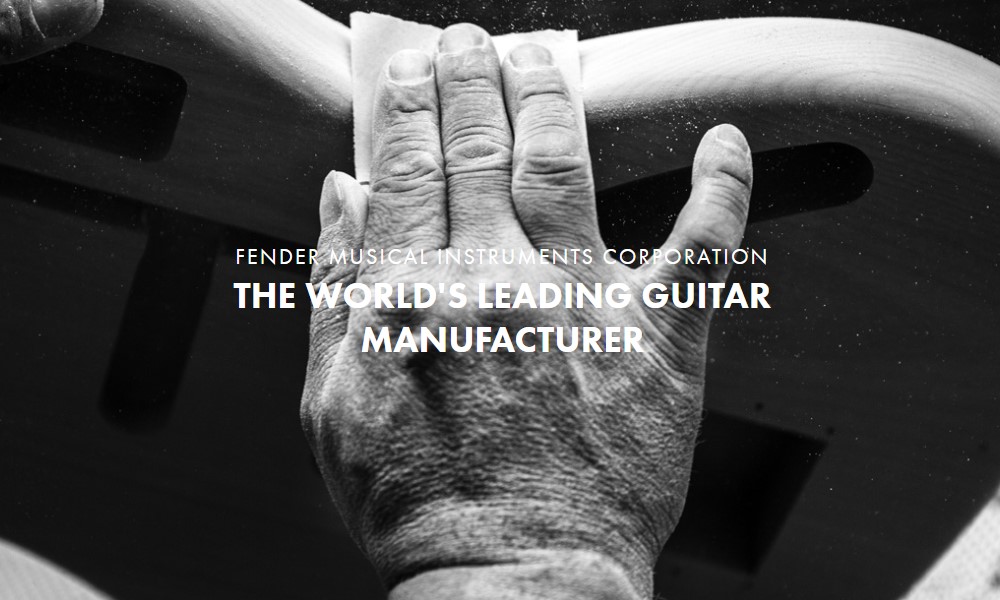 Fender is a hugely recognizable brand. They are among the top guitar manufacturers in the world and many top musicians use their instruments. They have also created a "guided curriculum" from which students can learn to play the guitar.
They are experts when it comes to guitars, meaning that any guides or lessons created by them can no doubt be trusted. Fans of Fender will be especially excited about this program. They have created an affiliate program called Fender Play, specifically for their curriculum.
Affiliates can earn commissions when they sell subscriptions to their Fender Play platform.
Why you should promote Fender Play: They are at the top of the industry, meaning those who wish to learn guitar will be able to trust them and there are no doubts about the quality of their program.
43. Music Room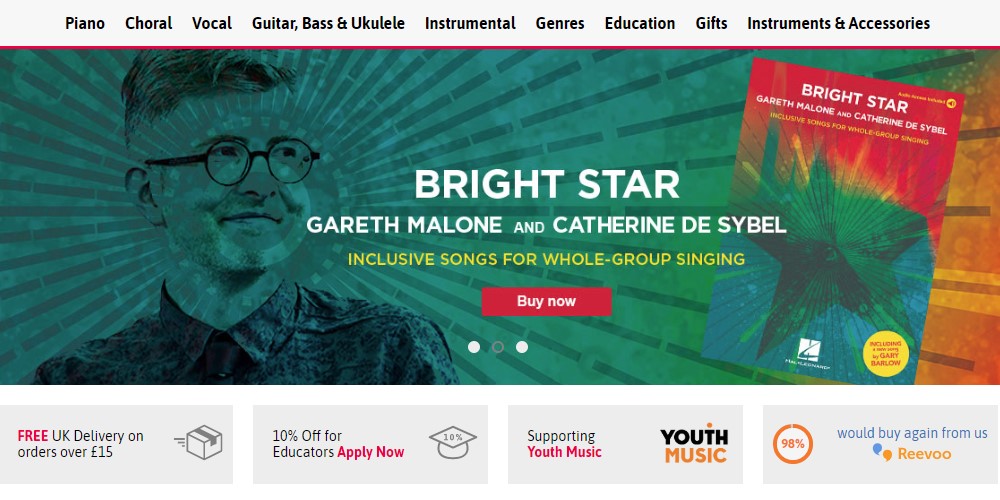 Music Room was established in 1995 with a mission to support, inspire, and nurture musicians, singers, and teachers alike. They cater to beginners all the way through to professional. They carry a series of instructional books that teach various methods of learning each instrument.
They have something for many different instruments including guitar, piano, bass, and ukulele.
They also include books on vocals and instrumental music. You can even search by genre if you're looking for something specific.
In addition to educational books, they do have some sheet music for sale. This is the perfect next step for those who feel they are ready to play without guidance or assistance.
Why you should promote Music Room: They provide a unique way of learning. Many online courses rely on videos, but some prefer to read and thrive on this type of instruction. They also support a cause called Youth Music that helps young people develop themselves musically, especially in areas or situations where access to music instruction is scarce.
44. Flowkey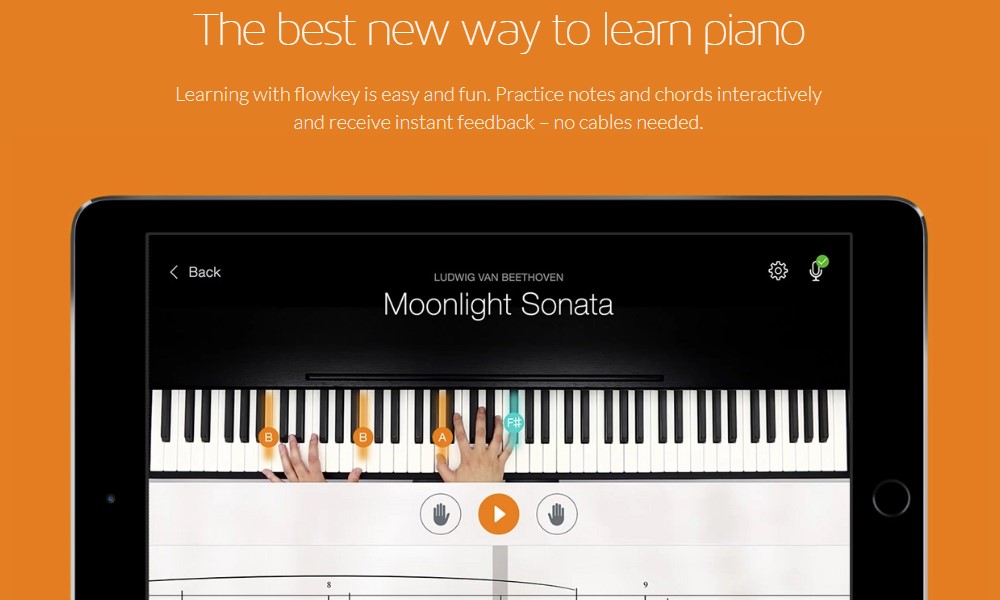 Flowkey provides high-quality piano instructions. Their mission is to create the opportunity to learn the piano fast. Their claim is that songs can be learned in minutes rather than weeks. They have courses for beginners and advanced, from well-known, award-winning pianists from around the world.
They have a variety of video instruction, interactive activities, and live feedback available. Their platform includes popular songs and soundtracks from many famous movies.
They boast a "high" commission rate and a rare but impressive lifetime tracking cookie.
Why you should promote Flowkey: They offer a unique and interactive way to learn piano, and their lifetime cookie means you'll earn commissions on every returning customer you refer.
45. Music Notes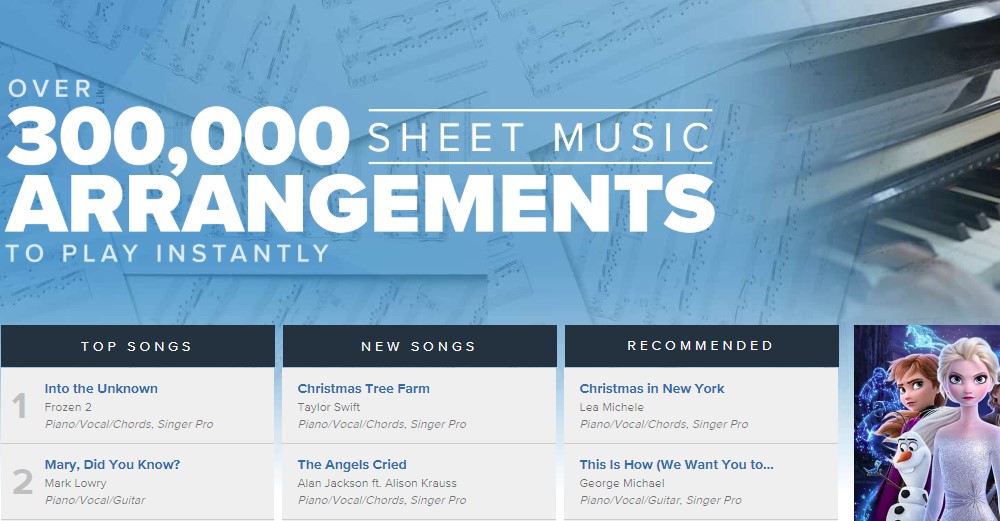 Music Notes is among the top digital sheet music providers in the world. They have one of the largest catalogs that include every instrument and all skill levels. They currently have over 7 million users who enjoy over 300,000 arrangements to choose from.
Their process is simple and seamless. Find the song you need, choose the arrangement, and print it immediately. Maintain constant access to the platform with their mobile and desktop apps.
Affiliates are given a 5% commission rate. Music Notes is reasonably priced which means musicians will be coming back frequently to make more purchases.
Why you should promote Music Notes: They provide customers with the perfect blend of convenience and value. Their catalog is huge and the process is quick and easy.
46. Ditto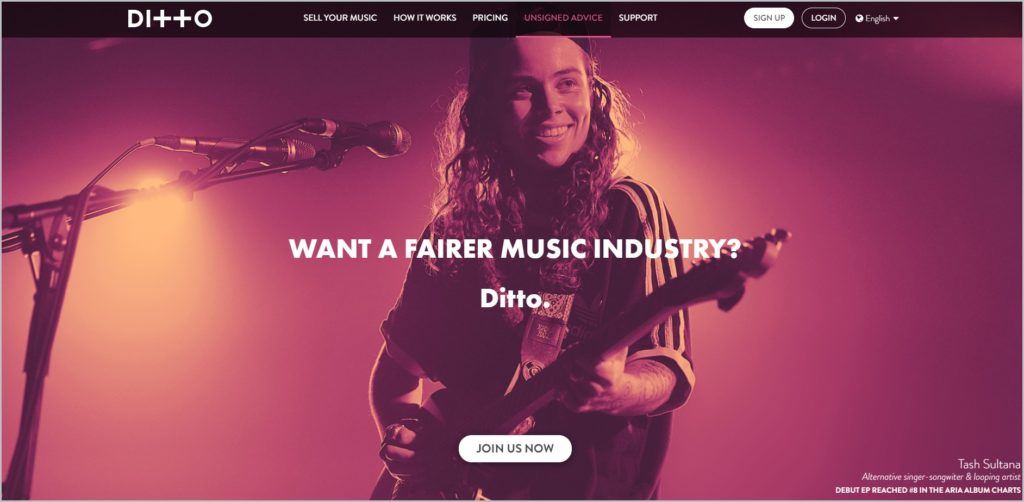 Ditto is an unlimited distribution service platform that works perfectly especially for independent musicians. When they sell their music at Ditto, they retain 100% of the rights and the royalties as well. They can also track their sales and earnings across iTunes, Spotify, Amazon, and Google Paly with reports that can be access to their personal Ditto dashboard.
As an affiliate you can get £20 for every client you send their way and can track cookies for up to 2 weeks.
Why Should You Promote Ditto: High commission, high conversion rate, 14-day cookie life. They generate the highest conversion rates in the industry which means it's more likely that the people you direct to their website will buy their products.
47. Sheet Music Plus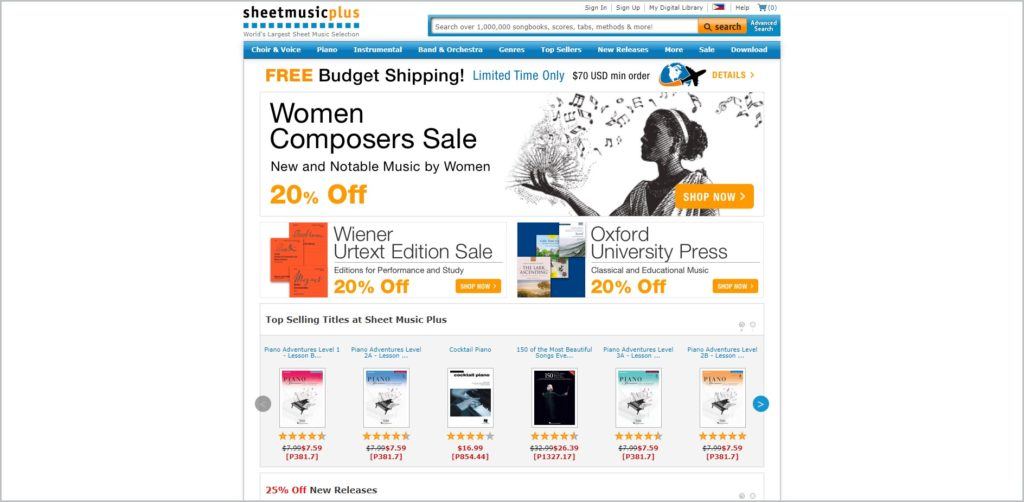 Sheet Music Plus is one of the best sheet music stores with over 1,000,000 sheet music titles to offer. They cater beginners to professionals and a great source for music books, music sheets, music scores, songbooks, choral music, plus more. YOu can also find sheet music from piano to flute, choral to octavos, Christian to jazz, and others.
Why Should You Promote Sheet Music Plus: High commission, large selection, and award-winning. They can cater to every possible musician's sheet music needs therefor you can grab a wider market when promoting this affiliate.
48. Multi Music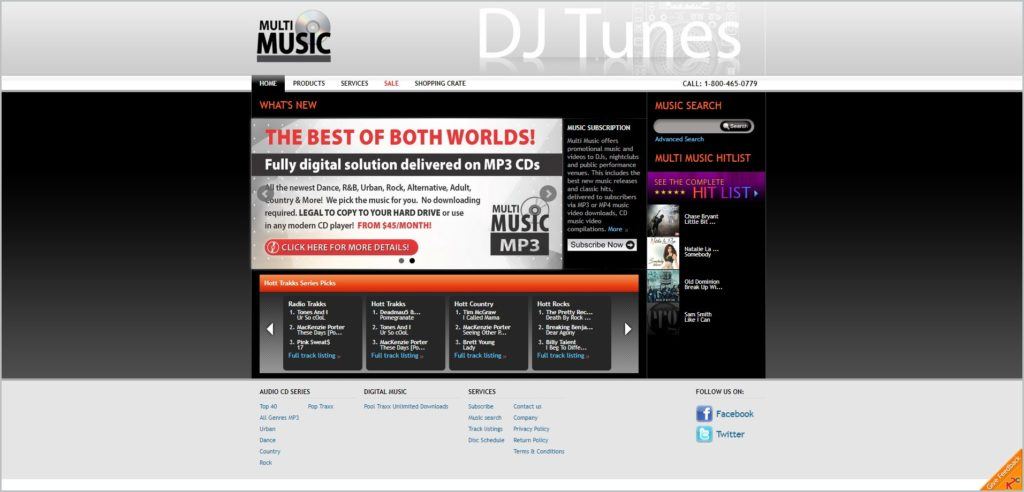 Multi Music or ERG Music was established in 1990 and is the world's first music promotion service specializing in commercial music requirements. They provide promotional music compilations and various digital music subscription options – from digital DJ download to complete music automation systems. Affiliates earn a 10% commission on purchase made by every customer, they also provide marketing tools, as well as access to management portal to see the traffic and sales your referrals are generating.
Why Should You Promote Multi Music: Well known trusted company, long track record. They provide web banners, email templates, text links, and other marketing tools to help in your promotion.
49. Mp3va.com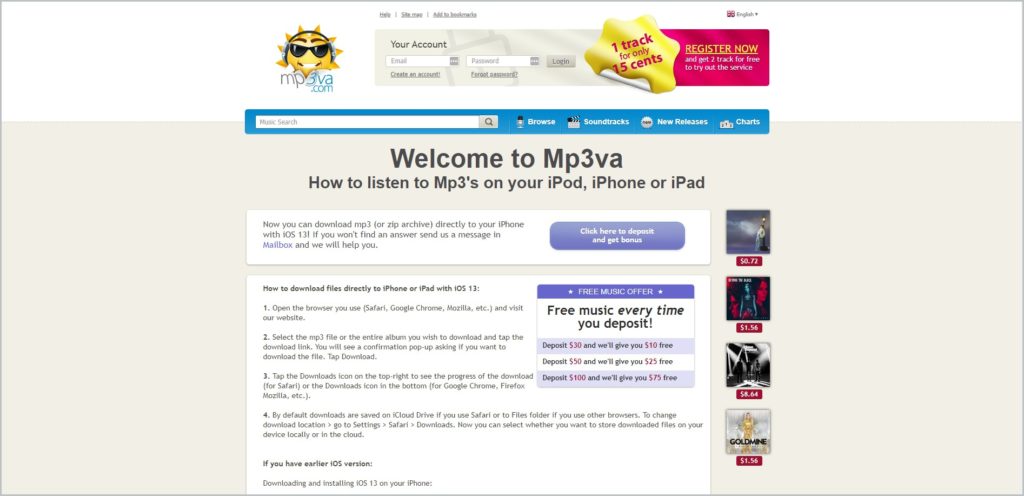 Mp3va.com has a huge collection of music that spreads over 7,000,000 tracks of over 200,000 artists. Users have to make a deposit, either $15, $30, $50, or $100 in order to purchase something – credited funds will be available at the account until they are not spent enough. There is also a bonus system available for its members.
Affiliates earn 20% from each deposit made by the client. If new deposits exceed 30 in the past month, the rate for the month will become 25%. Commission rate can reach up to 35% maximum, you can learn more about this in their affiliate program page. Affiliates are paid after generating a minimum balance of $100.
Why Should You Promote Mp3va.com: High commission rate, Incremental commission. The bonus system provided to its members is a good promo in marketing the site.
Superior Singing Method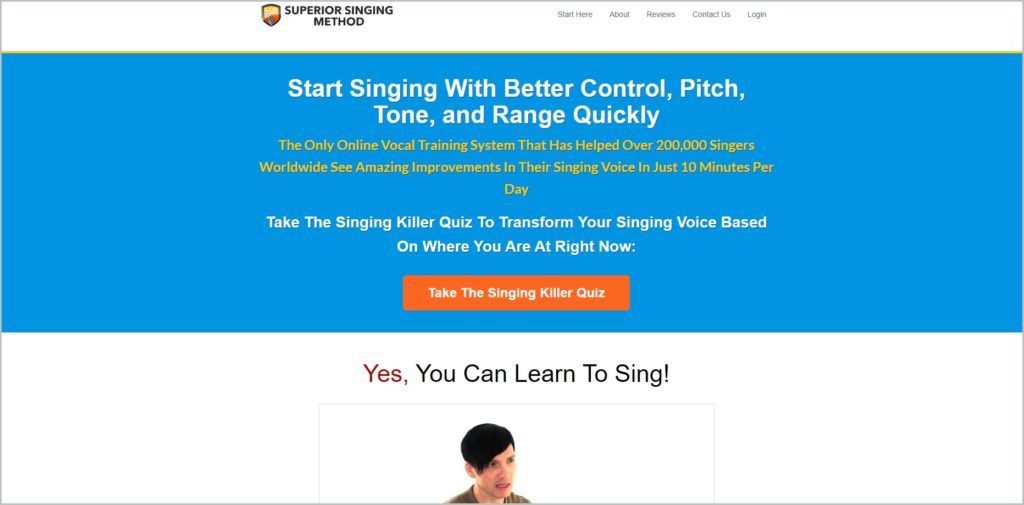 Superior Singing Method is an online vocal training system that has helped over 200,000 singers worldwide. The course teaches an aspiring singer better vocal control, develop a more accurate pitch, improve vocal tone, develop mix voice, increase vocal range, learn advanced singing techniques and precise vocal agility.
Why Should You Promote Superior Singing Method: High converting one-click upsells and opt-in and/or sales page, high commission. Their 25+ years of singing experience vouch for the high-quality product.
BONUS
iTunes and Apple Music have an affiliate program I just learned about. How cool is it that you can refer people to streaming music and earn money? This could potentially be very interesting for people with a social media following. The power of one tweet or Instagram story showing what music you're listening to is crazy!
Affiliate Website Ideas
Now that you have gone through the top 50 affiliate programs for music, it's time to figure out what niche you are going to target to. Instead of picking a broad topic like pianos, try to narrow down your focus to a site that reviews on compact keyboard synthesizers or grand pianos.
A similar niche might be pianos for kids. You can promote kids pianos, lessons, and music. Rocket Piano would be a great affiliate to join for this since the user can download the program to any device like a kid-friendly tablet. Plus you will receive 75% of the digital download sale.
Jazz piano music is another niche to focus on since your users are looking for a very specific type of music. Virtual Sheet Music is a great affiliate to use for this because they will give you 30% of each sale and their cookie never expires. So you will receive a commission every time that customer makes an additional purchase which means potential reoccurring revenue for you.
Here are some more music affiliate site ideas to get your ideas flowing.
Musical instruments and equipment for beginners.
This type of website could be a great resource for aspiring musicians who are just starting out and are looking for affordable and easy-to-use products. The website could feature reviews and comparisons of different instruments and equipment, as well as tutorials and guides on how to use them. Additionally, the website could include a blog with articles on topics like how to choose the right instrument for your needs, how to care for your instruments, and how to practice effectively.
Online music lessons and courses.
This type of website could be an excellent resource for people who want to learn how to play an instrument or improve their skills, but don't have the time or money to attend traditional music lessons. The website could feature reviews and comparisons of different online courses, as well as information about the instructors and their backgrounds. Additionally, the website could include a blog with articles on topics like how to find the right online course for you, how to make the most of your lessons, and how to practice effectively at home.
Music production software and tools.
This type of website could be a great resource for musicians who are looking to create and produce their own music at home. The website could feature reviews and comparisons of different software and tools, as well as tutorials and guides on how to use them. Additionally, the website could include a blog with articles on topics like how to choose the right software for your needs, how to create a home recording studio on a budget, and how to make the most of your music production tools.
Music streaming services and subscription plans.
This type of website could be an excellent resource for people who love music and want to have access to a vast library of songs and albums. The website could feature reviews and comparisons of different streaming services, as well as information about the different subscription plans and pricing options. Additionally, the website could include a blog with articles on topics like how to choose the right streaming service for you, how to save money on your subscription, and how to discover new music and artists.
Niche musical instruments and accessories.
This type of website could be a great resource for musicians who are looking for unique and specialized instruments and accessories. The website could feature a wide range of products, including rare and hard-to-find instruments, as well as specialized accessories and tools. Additionally, the website could include a blog with articles on topics like how to find the right niche instrument for your needs, how to care for and maintain your instrument, and how to connect with other musicians who share your interests.
---
>>> Download 303 Music Keywords For Free!
Boost Your Affiliate Earnings
These 10 affiliate programs are just the beginning of what's possible. There are hundreds of ways to earn affiliate commissions with your website, including product reviews, top 10 lists, how-to guides, and more
But what about traffic and conversions? How do you make sure your affiliate links get clicked?
I used the affiliate training here to turn my brand new website into a six-figure income generator in less than two years. Build a business, not just a pocket-money side project!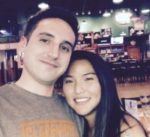 Nathaniell
What's up ladies and dudes! Great to finally meet you, and I hope you enjoyed this post. My name is Nathaniell and I'm the owner of One More Cup of Coffee. I started my first online business in 2010 promoting computer software and now I help newbies start their own businesses. Sign up for my #1 recommended training course and learn how to start your business for FREE!