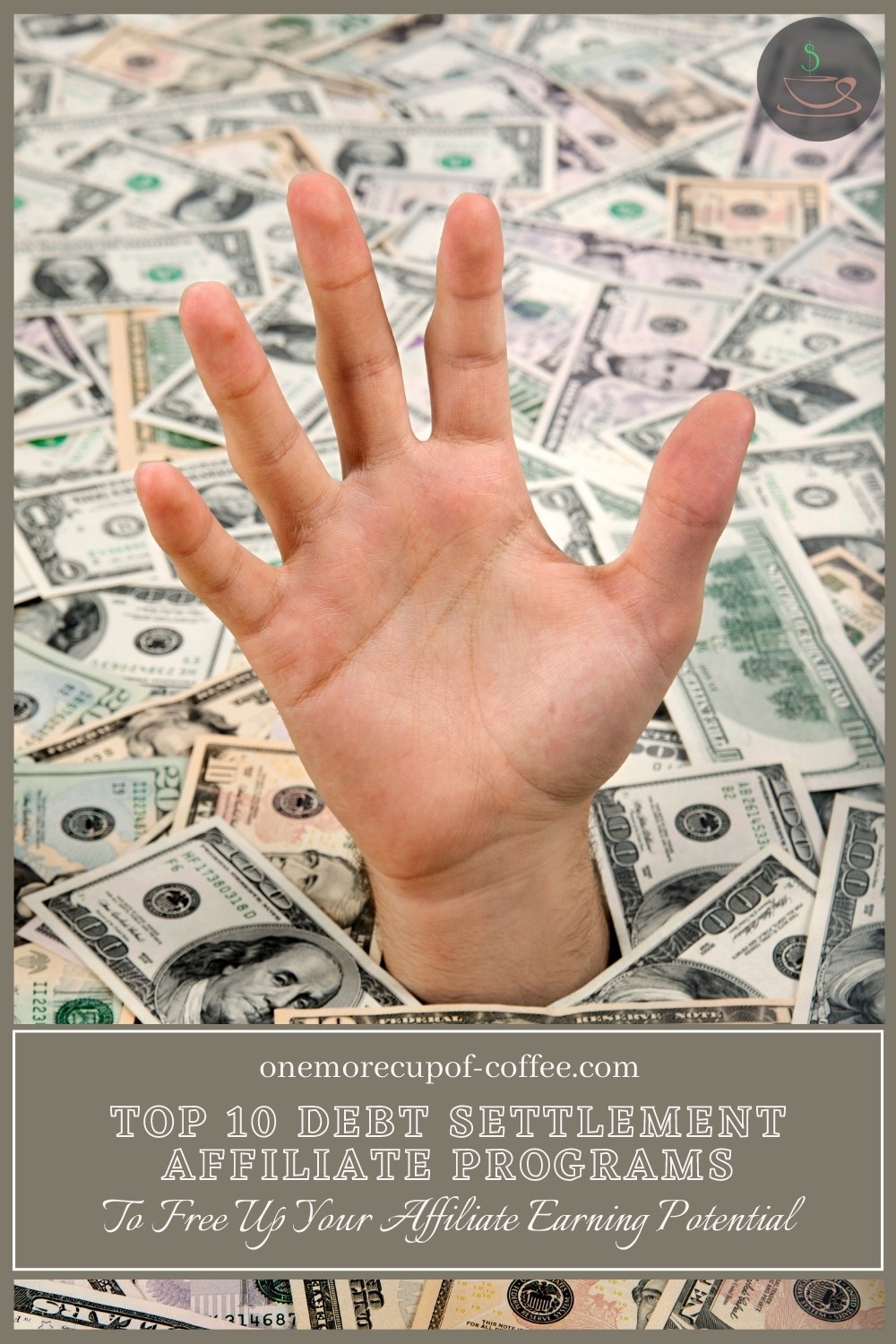 In the world of money, there's a lot of money to be made—and saved. As an affiliate marketer, you can connect consumers who struggle to pay high monthly credit bills with institutions that can help them with settling their debts, either through debt settlement programs or consolidation loans.
In the United States, total consumer debt has reached $13.51 trillion. The majority of households carry more than $8,200 in credit card debt. The best debt settlement affiliate programs and debt consolidation programs have the same goal: to help consumers get their debt spending under control.
This list of the top 10 debt settlement affiliate programs includes both debt settlement services and debt consolidation services. After you read through them, you might be able to see a few ways that you can pull these lucrative affiliate programs into your niche marketing strategies.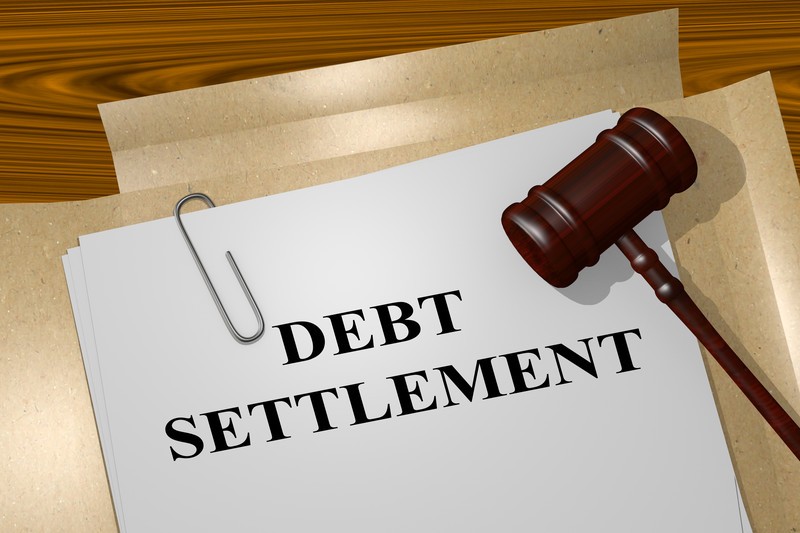 Debt Settlement Affiliate Programs
National Debt Relief
Debt Consolidation Care
Accredited Debt Relief
CuraDebt
Guardian Debt Relief
Upstart
American Debt Enders
SoFi
Americapital
LendingTree
1. National Debt Relief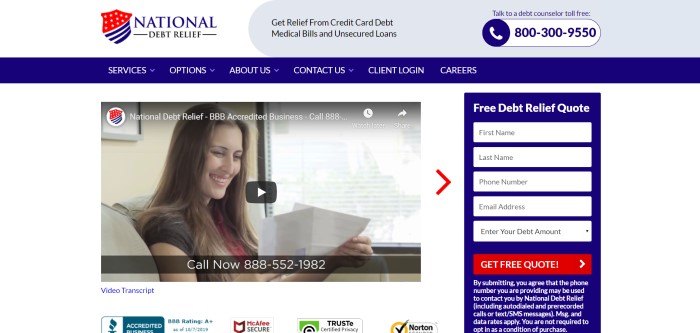 National Debt Relief is a pay-per-lead program that pays affiliate marketers $27.50 for each qualified lead that requests a quote. Affiliates who sign up for the pay-per-call program via ShareASale can earn $41 for debt relief phone calls, and affiliates can earn a 12% override commission for referring other affiliates.
This company works with consumers who have $10,000 or more in unsecured debt and live in a qualified state. National Debt Relief prides itself on being a low-cost solution for credit card debt, and it's accredited by the American Fair Credit Council, the Better Business Bureau, and the International Association of Professional Debt Arbitrators.
Why You Should Promote National Debt Relief: This company provides training to affiliates to help maximize conversions, promotional materials, and opportunities for higher commissions for affiliates who perform really well.
2. Debt Consolidation Care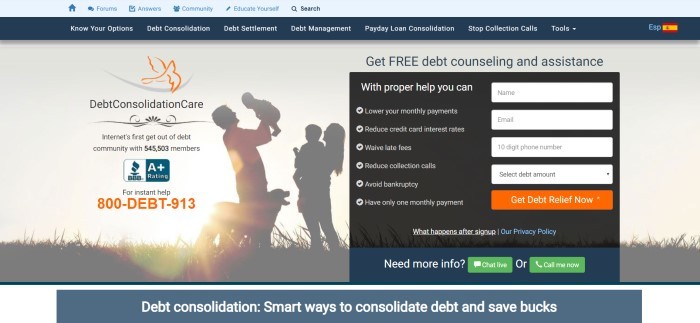 Debt Consolidation Care is another pay-per-lead company that pays for leads that can be contacted within seven tries and are willing to settle their debts. The service area includes most of the United States, except Colorado, Pennsylvania, Vermont, Connecticut, and Wisconsin.
One nice thing about Debt Consolidation Care is that there's no minimum amount of debt for consumers before the company will work with them. However, the commission amount changes depending on the amount of debt the consumer carries. For contactable leads with less than $10,000 of debt, affiliates are paid $20. Leads with more than $10,000 of debt bring in $35 per lead.
Affiliates who opt to be paid by sale rather than by lead can earn $120-$500 per client, plus a 10% monthly recurring bonus based on the monthly sales price.
Why You Should Promote Debt Consolidation Care: This company provides monthly bonuses ranging from $200-$1000 for affiliates who bring in a high volume of qualified leads. It's also nice to have two options for working as an affiliate marketer with this company.
3. Accredited Debt Relief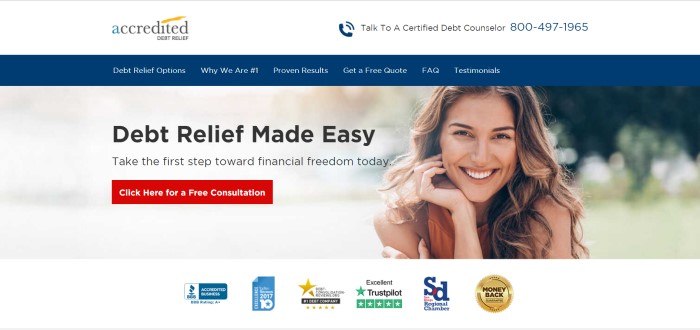 Accredited Debt Relief has three affiliate options: a pay-per-lead program, a pay-per-call program, and a pay-per-sale program. While the commission rate isn't listed for any of the programs, the website contains an email address that interested affiliates can use to request more information.
Affiliates can also earn override commissions when they refer other affiliates to Accredited Debt Relief.
The form that consumers fill out on affiliate websites is just six fields long, so it's not time-consuming for them. However, to be a qualified lead, consumers must have at least $10,000 in debt, live in a qualifying state, and be actively seeking debt relief.
Why You Should Promote Accredited Debt Relief: The multiple options for making an affiliate income could be helpful. Without the commission rate, it's hard to tell how much you could make with this company, but at least there's a way to contact the company to find out more information before you apply.
4. CuraDebt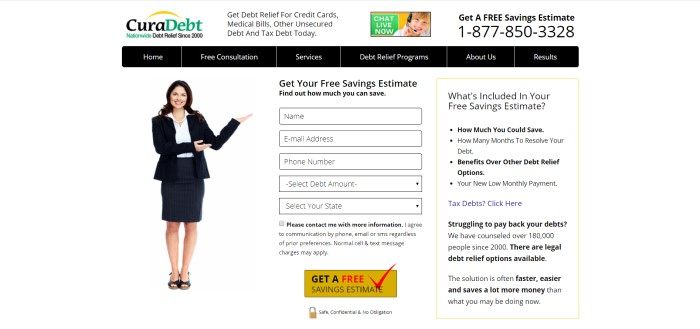 CuraDebt has several options for affiliate marketers looking to make a few extra bucks, but the commission structure can be a bit confusing. The company allows affiliate marketers to sign up for the pay-per-lead program, the pay-per-call program, or the pay-per-sale program.
With the pay-per-lead program, affiliates earn $25 per lead, plus a $100 bonus for leads who make a first full monthly payment. The pay-per-call program pays $40 for each phone call of two minutes or more and $50 for each phone call lasting longer than 20 minutes.
The pay-per-sale commission structure is tiered. Affiliate marketers who refer 10 or less qualified leads in a month make $350 per sale, while affiliates who bring in 50 or more qualified leads can earn $500 per sale.
Why You Should Promote CuraDebt: The big draw for CuraDebt includes multiple earning options for affiliate marketers.
5. Guardian Debt Relief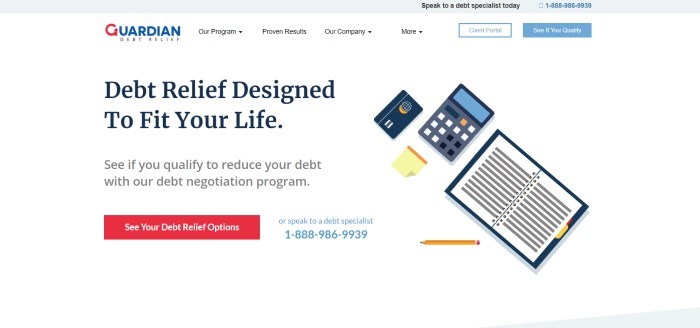 Like many of the best debt settlement affiliate programs, Guardian Debt Relief includes three options that affiliate marketers can choose from to match their style of affiliate marketing.
The pay-per-lead program brings in $35 per qualified lead. A qualified lead needs at least $10,000 in consumer debt. The pay-per-call program pays affiliates $45 for talking with leads by telephone, and the pay-per-sale provides affiliates with $325 for each sale.
Affiliates can also earn a 15% override commission when they refer other affiliates to Guardian Debt Relief. The affiliate program is run via ShareASale.
Why You Should Promote Guardian Debt Relief: The commission amounts are average. However, this program is only available in 15 different states, so it might be wiser to partner with a company that has a larger debt settlement affiliate program.
6. Upstart

Upstart is a credit and lending company founded by former employees of Google. The premise behind the website is to lower the risk and increase approval ratings for banks while providing consumers with affordable credit.
This platform uses a unique artificial intelligence platform that fully automates the funding of around 67% of the loans. One study showed that Upstart's model could save banks around 75% of their losses.
Consumers who are seeking debt settlement have a good chance of getting a personal loan for debt consolidation through Upstart because considerations for loans aren't based on FICO scores alone. Many loans are funded the day after an application is submitted.
Affiliate marketers are paid when loans they've referred are funded. The commission is $80 for a funded loan for affiliates who refer less than 25 loans per month. Affiliates who refer 25 or more funded loans per month get $120 per loan.
Why You Should Promote Upstart: The intriguing AI lending platform could help increase affordable credit and decrease overall debt for consumers. The commission rate for sales is lower than commission rates per sale for some other companies, though.
7. American Debt Enders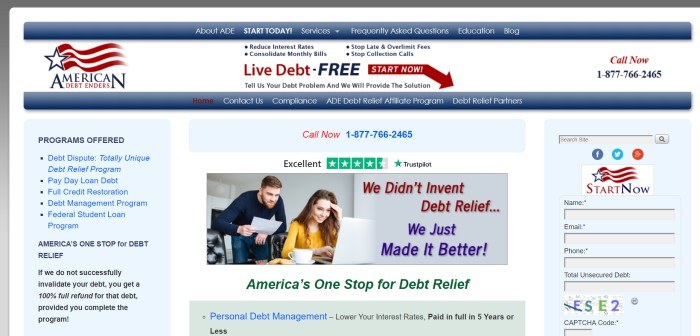 American Debt Enders has a variety of different programs for consumers and a somewhat complicated commission structure for affiliates.
Programs include debt management, debt settlement, debt disputation services, consolidation of student loans, payday loans, credit restoration, and bankruptcy. Affiliates are paid $10 per lead for any program.
Beyond that, affiliates get $20 for enrollments in the payday loan program, $50 for enrollments in the debt management program, and $100 for enrollments in the Chapter 7 bankruptcy program. They can also earn $125 each for enrollments in debt settlement, student loans, or private student loan programs.
Why You Should Promote American Debt Enders: This company provides a lot of useful free tools for affiliate marketers, including free membership into the blogging platform MarketHive and a tool to enhance search engine visibility.
8. SoFi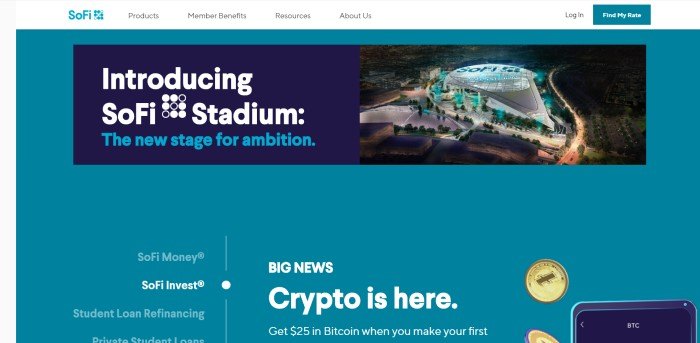 SoFi stands for Social Finance, which is a purely digital institution. This company offers great rates for products like credit card debt consolidation loans or personal loans to consolidate student loans. Other products include an investing app that cuts out fees for users.
Rather than offering a variety of ways for affiliate marketers to make money, SoFi only pays for loans that are funded. So far, the company has paid around $2 million to affiliate marketers.
This company does have an income cap for affiliate marketers, although the ceiling is set fairly high. Each affiliate can earn up to $10,000 with this company before their earning potential is capped.
Why You Should Promote SoFi: This company has the ability to provide low-rate loans, which can help consumers consolidate their debts and get their finances back under control.
9. Americapital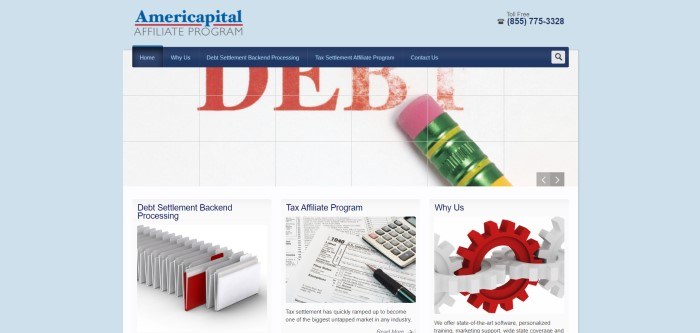 Americapital has the ability to help consumers cut their debt payments by up to 50%. The company will work with consumers who have as little as $5,000 in debt, which is one of the lowest minimum amounts in the industry.
Rather than relying on consolidation loans, Americapital uses a true debt settlement system. Americapital's debt arbitrators negotiate directly with credit companies to get the best rates for consumers and cut their payments down to manageable amounts and shorter time frames.
This company also provides monthly recurring commissions to affiliate marketers, based on the monthly payments that consumers pay for the debt settlement program.
Why You Should Promote Americapital: Besides being a true debt settlement service, this company provides consistent monthly payments for affiliates whose referrals stay in the program.
10. LendingTree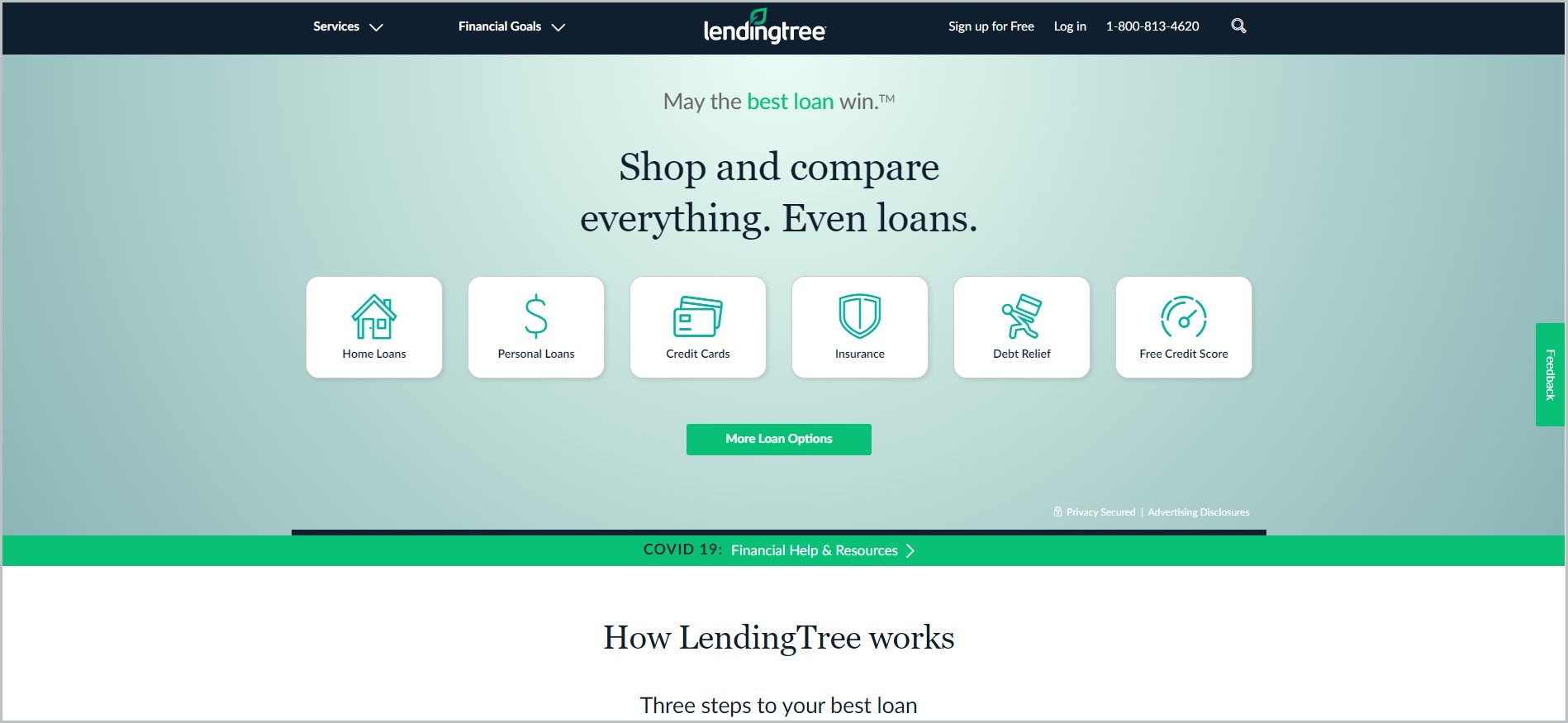 LendingTree is an online loan marketplace for various financial borrowing needs such as auto loans, small business loans, personal loans, credit cards, and more. They also offer debt consolidation services so that you can track debt repayment, save money on interest, and build your credit score.
Their affiliate program is being administered by FlexOffers and can be marketed not just to individuals looking to acquire services regarding their debt consolidation needs but also to those who are seeking financial assistance via loans.
Why You Should Promote Lending Tree: Well-know company, it's one of the leading online loan marketplaces with years of experience in the industry.
Affiliate Website Ideas
Did this list of the top 10 debt settlement programs get your creative juices flowing? There are a lot of ways you can put these programs to work for you.
For example, you might want to create a website that focuses on helping single-parent families survive in today's economy. A website like this could feature the best debt settlement affiliate programs as well as credit score affiliates. For a holistic approach to money responsibility, it could also promote online universities, affordable fashions, and quick, inexpensive meal plans.
Another idea is a website that helps college students manage their finances as they prepare to graduate and enter the workforce. Besides debt settlement services, this type of website could feature scholarship opportunities, resume services, and job boards.
What about a website for small home-based businesses? Debt settlement programs could help some of these enterprises stay afloat, and the website could also promote website SEO affiliate programs, as well as other services needed to run a business like social media advertising.
Boost Your Affiliate Earnings
These 10 affiliate programs are just the beginning of what's possible. There are hundreds of ways to earn affiliate commissions with your website, including product reviews, top 10 lists, how-to guides, and more
But what about traffic and conversions? How do you make sure your affiliate links get clicked?
I used the affiliate training here to turn my brand new website into a six-figure income generator in less than two years. Build a business, not just a pocket-money side project!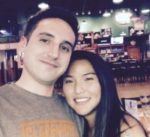 Nathaniell
What's up ladies and dudes! Great to finally meet you, and I hope you enjoyed this post. My name is Nathaniell and I'm the owner of One More Cup of Coffee. I started my first online business in 2010 promoting computer software and now I help newbies start their own businesses. Sign up for my #1 recommended training course and learn how to start your business for FREE!