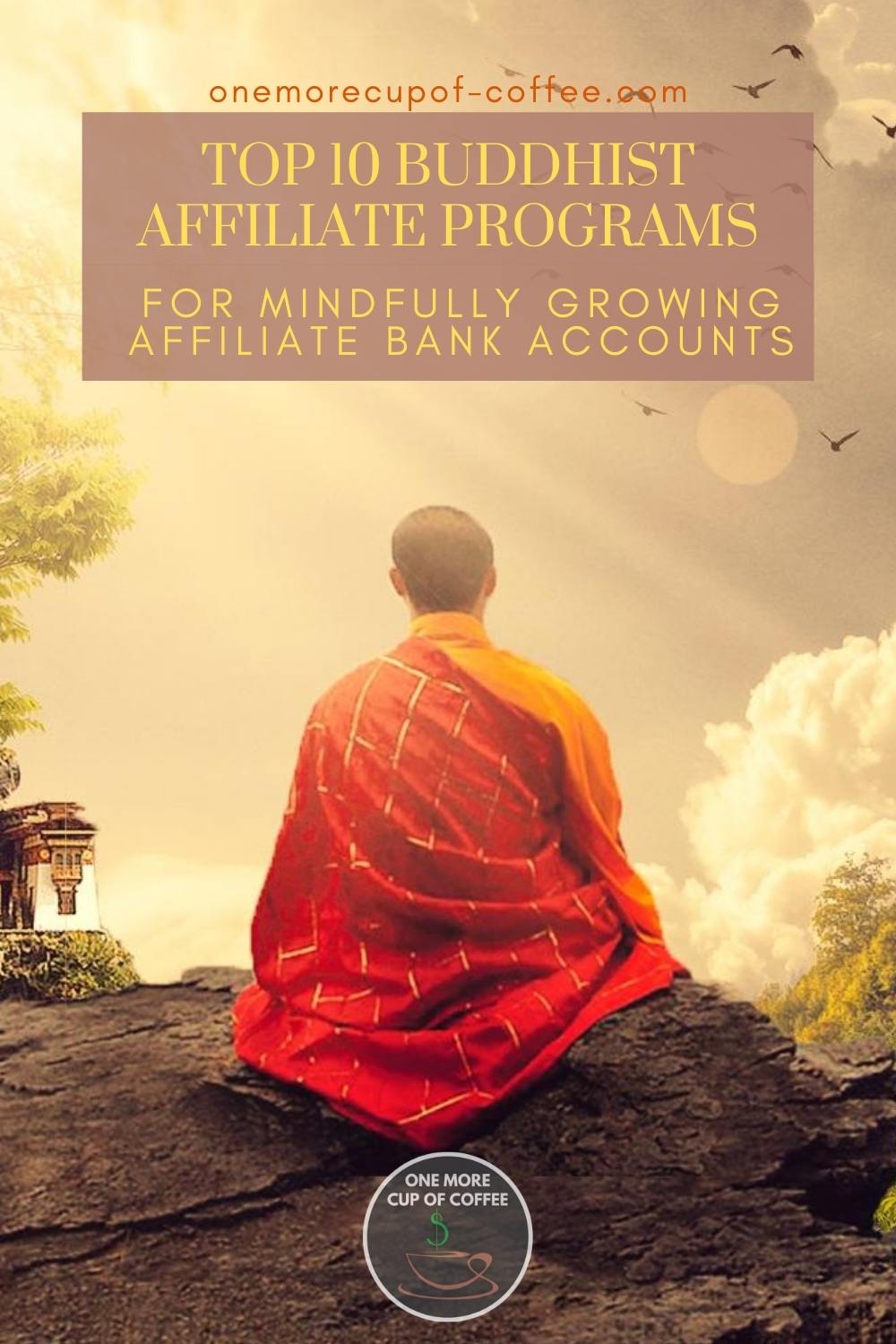 It's estimated that there are between one and five million people practicing Buddhism in some form or another in the United States. With 328.2 million people in the country, that's not only a small percentage.
Even so, that's a lot of shoppers who are looking for wellness products, ritual items, and other products that help them enhance their spiritual practices. The best Buddhist affiliate programs include everything from jewelry and apparel to online classes, sculptures, and fine art paintings.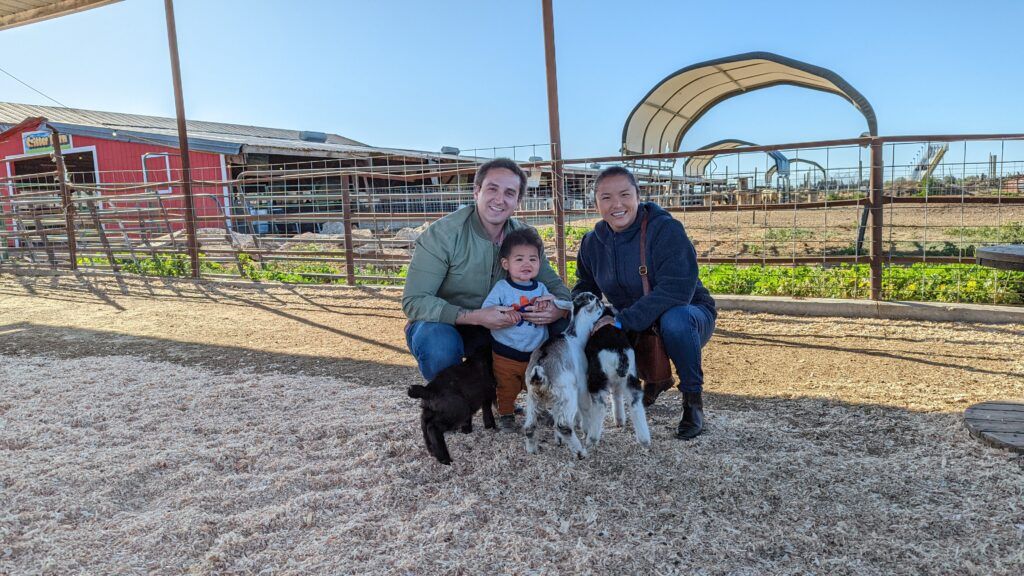 Are You Ready To Work Your Ass Off to Earn Your Lifestyle?
Are you tired of the daily grind? With a laptop and an internet connection I built a small website to generate income, and my life completely changed. Let me show you exactly how I've been doing it for more than 13 years.
If you're interested in this topic, read through this list of the top ten Buddhist affiliate programs and see if you can find ways to use these programs with your affiliate websites. At the end of this article, I'll share some ideas that could help you get going.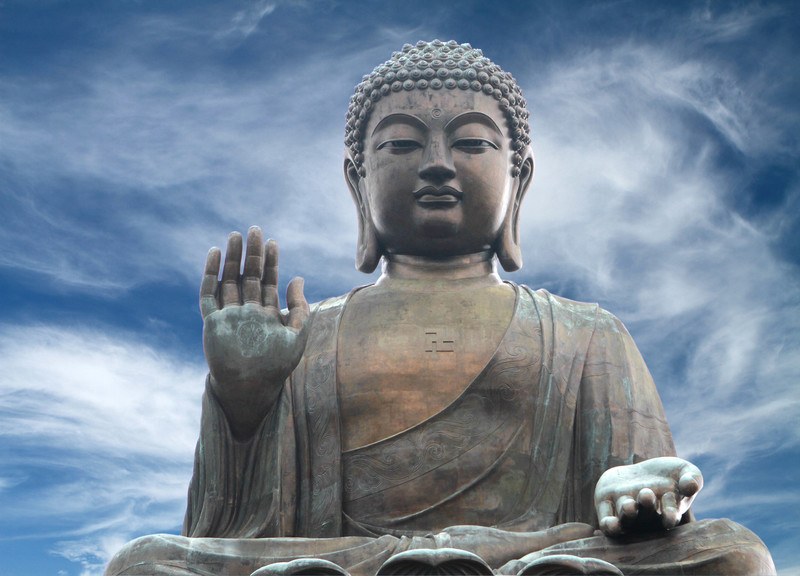 Buddhist Affiliate Programs
Buddha Groove
Shambhala Publications
The Buddha Garden
Shambhala Healing Tools
Mandalas Life
Little School of Buddhism
DharmaCrafts
Buddha Statue Online
Exotic India Art
Shakya Statues
1. Buddha Groove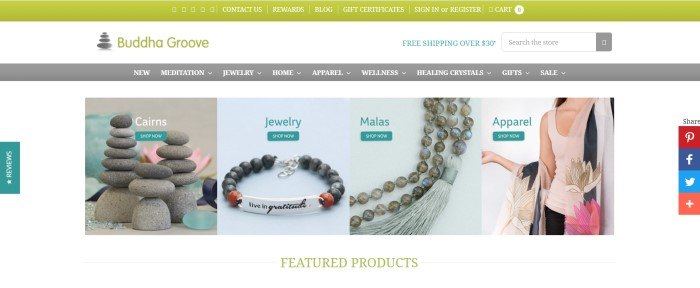 Buddha Groove sells goods to help promote wellness and mindfulness. Products include jewelry, meditation mats, Buddha statues, prayer wheels, incense, singing bowls, apparel, books, and more. Buddha Groove also has a loyalty program that offers 5% cash back on purchases. Most orders ship within one business day, and orders of more than $30 ship for free in the United States.
This company administers its affiliate program through ShareASale. Affiliates can get a $25 sign-on bonus, and while the commission rate isn't listed, the affiliate sign-up page suggests that it's tiered. This could mean that affiliates who refer high volumes of sales could get better commission rates than affiliates who don't refer as many customers.
Affiliates are provided with a large library of artwork, text, and videos to help promote the products. They can also access a data feed.
Why You Should Promote Buddha Groove: This company carries a large selection of wellness and mindfulness products, and the loyalty program could be nice for some customers.
2. Shambhala Publications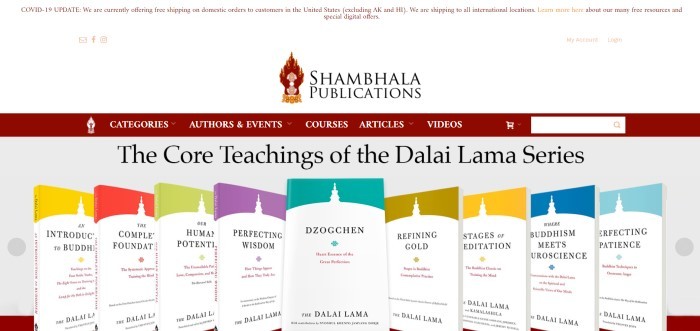 Shambhala Publications sells courses, articles, and videos about Buddhism and related topics. There are more than 1875 items that customers can browse through in categories such as Buddhism, home and family, meditation and mindfulness, and personal growth.
Products include items like children's books, Buddhist art, online courses on communication, Buddhist yoga, foundation texts, insight meditation, and more.
The affiliate program is run through Linkshare. Affiliates are provided with banners, buttons, and links, and affiliates can be paid through paper checks or direct deposit.
Why You Should Promote Shambhala Publications: This company has a large selection of Buddhist-related items, and that can be a converting factor for both newbies and people who have already been studying Buddhism for a while. The product prices are reasonable and the commission rate is decent, too.
3. The Buddha Garden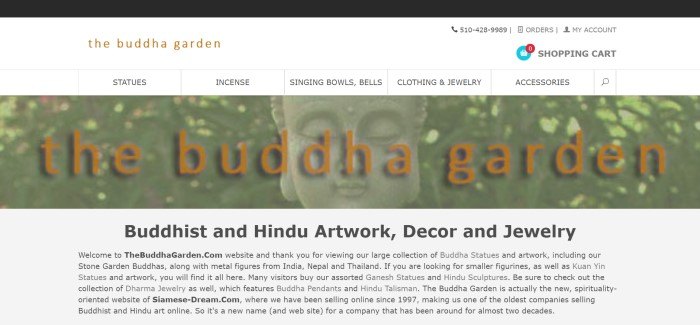 The Buddha Garden sells items like statues of Buddhist and Hindu deities, incense, singing bowls and bells, clothing, jewelry, and accessories. The website also offers informational articles to help customers learn about Buddhism and Hinduism.
The affiliate program is run in house. Besides the 10% base commission rate, affiliates can earn 3% on sales made by other affiliates that they refer to the program. The minimum payout amount is $10. Affiliates can be paid by check or through PayPal.
Why You Should Promote The Buddha Garden: This store carries a nice selection of Buddhism-related items, as well as information on Buddhism. The commission rate is great, and affiliates can earn commissions from second-tier affiliate sales, as well.
4. Shambhala Healing Tools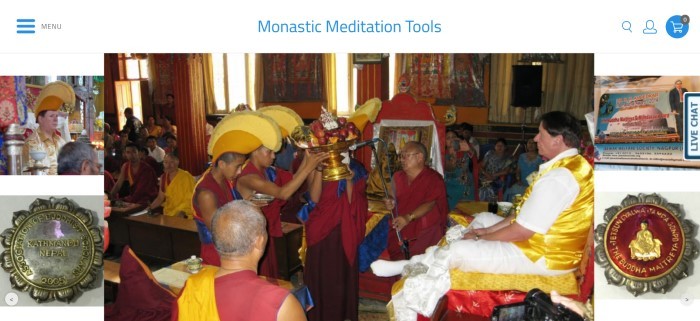 Shambhala Healing Tools sells monastic meditation tools such as pendants, meditation pyramids, solar crosses, posters, music, books, and more. Many of the tools can be shipped for free, and customers will know which ones they are because they have an icon of a truck on their product descriptions.
This company is associated with the modern Buddha Maitreya and the Shambhala Life Extending Wellness Center and Soul Therapy Retreat. This includes hyperbaric chamber treatments, meditations, and similar therapies.
The affiliate program is run by the company itself. Affiliates can use the company's banners or links to promote the products.
Why You Should Promote Shambhala Healing Tools: These tools and meditations could fit some deep niche marketing. Some of the tools are priced relatively high, and that could mean some decent affiliate commissions.
The commission rate is okay, too, but the affiliate website indicates that the commissions are meant to be used for future purchases of tools. There isn't any indication of whether commissions are paid as cash or as store credit.
5. Mandalas Life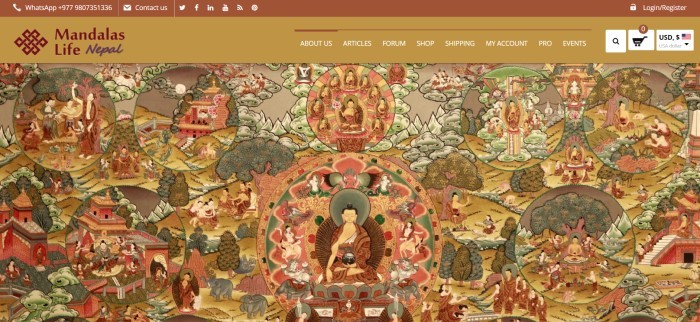 Mandalas Life is an international online art shop based in Nepal. This store sells Himalayan handcrafts and handmade Mandalas and Thangka paintings. The paintings are created by master-level painters who use gold and silver coatings to make the art stand out even more. The master painters can take custom orders. It takes a few days to a month to create a Mandala painting of this quality.
This company carries several paintings related to Buddha and Buddhism. These are high-ticket items, with many paintings listed for several hundred dollars to thousands of dollars. One Thangka painting currently in stock costs $3,800.
This company has two affiliate programs, and both are company-run. The first is referral based, with a 10% commission rate for one-time sales. The second is based on a coupon for free shipping, which is provided by the company. Every time a customer uses the free shipping coupon through an affiliate link, the affiliate gets $10, and the customer can save $20-$30.
Why You Should Promote Mandala Life: The products are high-ticket items, and the commission rate is nice, so affiliate earnings per sale could be in the hundreds of dollars. This company also offers a free shipping coupon affiliate program, which is something I haven't seen before.
6. Little School Of Buddhism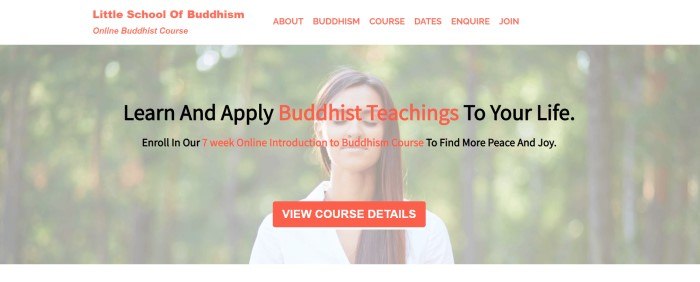 Little School Of Buddhism sells online Buddhist courses. There are three courses available: the Sanam Retreat for Parents, the Kickass Muse Women's Retreat, and the Little School of Buddhism course. These courses are designed to help customers learn the ins and outs of Buddhism, how to do the practices, and how to move past painful emotions to get peace and tranquility in life.
The commission rates are $100 for the Little School of Buddha program, $200 for the Kickass Muse Women's Retreat, and $250 for the Sanam Retreat for Parents. The affiliate program is run in house, and affiliate marketers can get started by emailing the company using the email address provided on the affiliate landing page.
Why You Should Promote Little School Of Buddhism: The commission rates are great, and the programs could be helpful for anyone wanting to learn more about Buddhism and how to practice it.
7. DharmaCrafts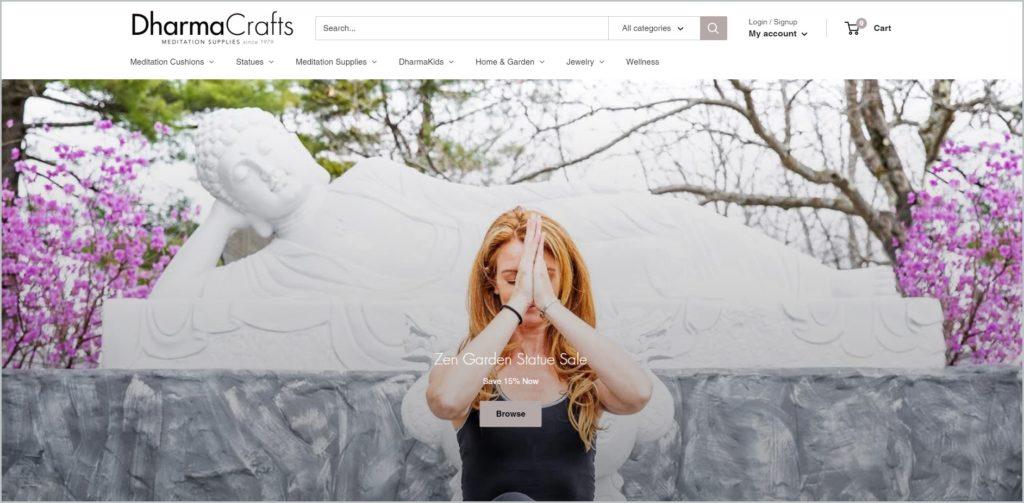 DharmaCrafts is the premier supplier of products and materials related to mindfulness and Buddhist meditation. Their products include meditation clothing, benches, cushions, bells, Buddhist statues, mala beads, incenses, and much more to support your spiritual practice.
The average sales value is at $110+. DharmaCrafts has partnered with ShareASale to manage its affiliate program. Affiliates have access to banner ads and text links, as well as reporting tools, and other resources on their easy to use affiliate dashboard.
Why Should You Promote DharmaCrafts: High-quality meditation supplies, teaching materials, high average order size
The dedicated affiliate management team is there to help answer any questions. They also offer suggestions on how to get the most out of their program.
8. Buddha Statue Online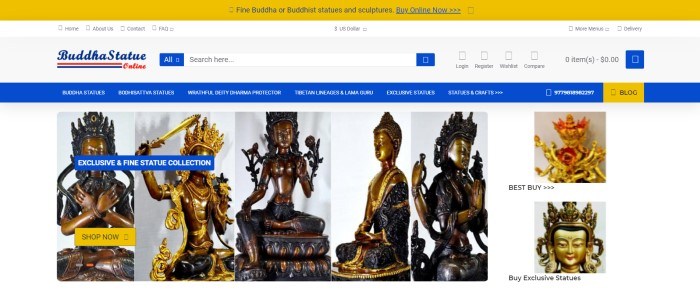 Buddha Statue Online sells fine statues of Buddha, Bodhisattvas, and other deities. These are high-ticket items. For example, a 13-inch Guru Rinpoche Padmasambhava statue is priced at $460, while a gold-finished 21 Tara statue featuring the mother of all Buddhas, is priced at $17,375.
The company is based in Nepal, and the statues are traditionally made by the Tamrakar caste of inborn artists who work in copper, brass, and other metals. Because the company works with a set of artisans, shoppers can place customized orders to get the specific items they want.
While there is a lot of affiliate networks, Buddha Statue Online chose to run theirs in-house. Affiliates can promote the entire shop or specific products in stock.
Why You Should Promote Buddha Statue Online: The products are traditionally made by artisans in Nepal. These are high-ticket items that could provide affiliates with significant earnings for each sale.
9. Exotic India Art

Exotic India Art sells textiles, jewelry, sculptures, books, paintings, and other items from India and Nepal. The company carries around 350,000 products.
These include items popular in Buddhism, such as statues of the Goddess Green Tara, which range from around $37 for a small statue to $1695 for a 34-inch statue. This company sells these products around the world, and to date, has sold items in 153 countries.
The affiliate program is run in house. Affiliates are provided with links to put on their websites, and they can link to specific products or to the storefront.
Exotic India Art is against child labor and adheres to Fair Trade standards, paying artisans and designers upfront.
Why You Should Promote Exotic India Art: This store has a terrific selection, and the product price range is wide, so it could appeal to a variety of shoppers. The commission rate is nice, too.
10. Shakya Statues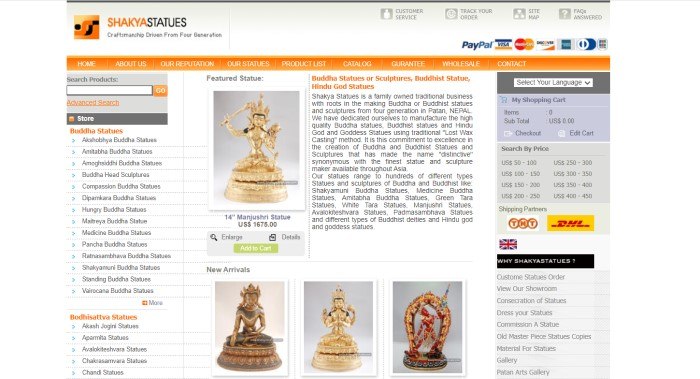 Shakya Statues sells statues of Buddha for home shrines and worship center altars. This store carries 14 types of Buddha statues and 20 types of Bodhisattva statues, along with other products such as ritual items and scroll paintings.
The statues are traditionally crafted and are now being marketed internationally.
The affiliate program is run by the company. To sign up, affiliates must email the company using the address provided on the affiliate landing page.
Why You Should Promote Shakya Statues: The statues are traditionally made, and the commission rate is nice, too.
Affiliate Website Ideas
Now that you've read through this list of the top ten Buddhist affiliate programs, do you know how you want to apply them to your affiliate websites? I have a few ideas to share to help get you started.
For example, if you have a website dedicated to honoring motherhood, you could very well promote something a statue of the mother of all Buddhas, which could be found in several of the programs listed above. You could also feature fine art paintings, maternity clothes, customized gift baskets, and even mommy-and-me fashions.
A second idea is a yoga website. This type of website could feature items from several of the programs listed above, as well as yoga mats, online workouts, books, videos, and retreats.
One final idea is a website for natural wellness. Healing tools from the list above could be promoted here, as well as Buddha Teas and other organic foods. A website like this one could also include exercise equipment, self-hypnosis tracks, and memberships in personal growth communities.
Boost Your Affiliate Earnings
These 10 affiliate programs are just the beginning of what's possible. There are hundreds of ways to earn affiliate commissions with your website, including product reviews, top 10 lists, how-to guides, and more
But what about traffic and conversions? How do you make sure your affiliate links get clicked?
I used the affiliate training here to turn my brand new website into a six-figure income generator in less than two years. Build a business, not just a pocket-money side project!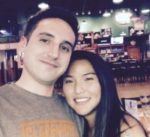 Nathaniell
What's up ladies and dudes! Great to finally meet you, and I hope you enjoyed this post. My name is Nathaniell and I'm the owner of One More Cup of Coffee. I started my first online business in 2010 promoting computer software and now I help newbies start their own businesses. Sign up for my #1 recommended training course and learn how to start your business for FREE!