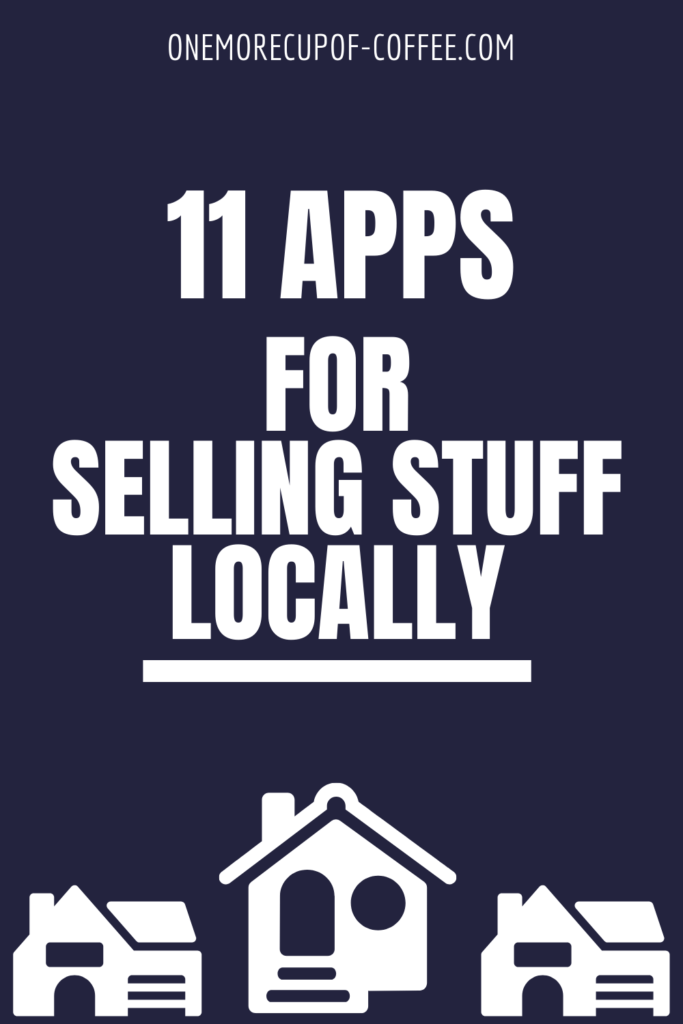 Selling things that you own is one of the fastest ways to make money. Why not sell the stuff you're not using anyway, make some quick cash. Nobody likes clutter We've talked about specific apps for selling clothes before, but some of those apps connect you with buyers across the country, and you have to deal with shipping. In this list, we're focusing on the best apps for selling stuff locally, so it's a pretty effortless transaction to pocket some extra money in exchange for your junk.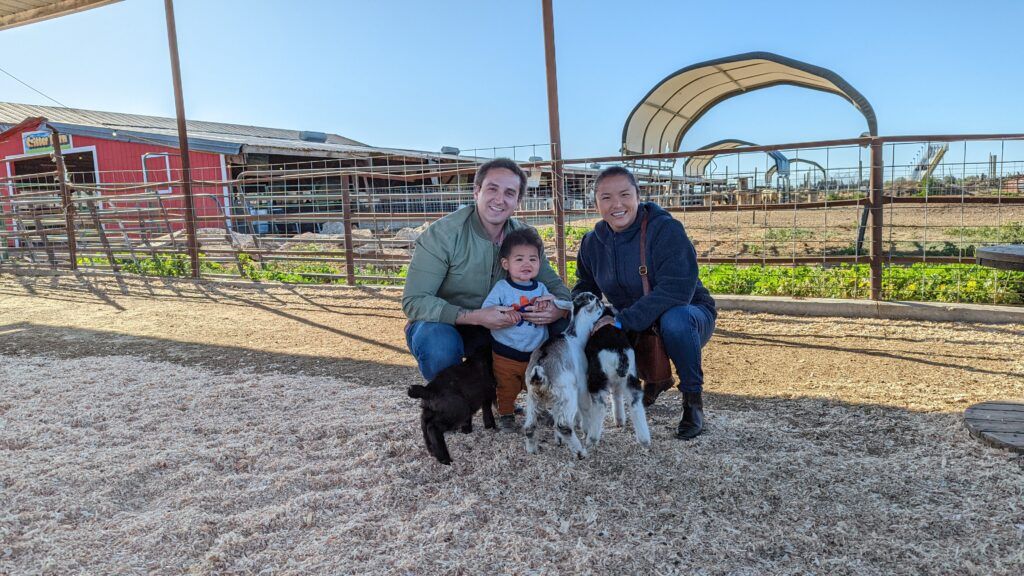 Are You Ready To Work Your Ass Off to Earn Your Lifestyle?
Are you tired of the daily grind? With a laptop and an internet connection I built a small website to generate income, and my life completely changed. Let me show you exactly how I've been doing it for more than 13 years.
Local sales mean that you don't need to worry about shipping at all. Simply meet up with the person, swap the item for cash and that's that. Sometimes you'll even be able to get cash on the same day, especially if you're selling a hot item.
Of course, each app has its own advantages and disadvantages, which is why we've made this list. In it, we're looking at each app in turn, focusing where they excel and where they don't. We've tried most of these apps ourselves, so we're not just relying on what other people have to say.
While many of these apps work hard to protect their users, it's important to be wise with local sales. Make sure that you meet people in safe environments and that you communicate clearly. You can expect to run into some frustrating customers along the way too. Even the best app in the world can't weed out all of the difficult customers.
If you eventually run out of stuff to sell (a very real possibility!), you can also try out these flexible side hustles, or even these websites that pay for various online gigs.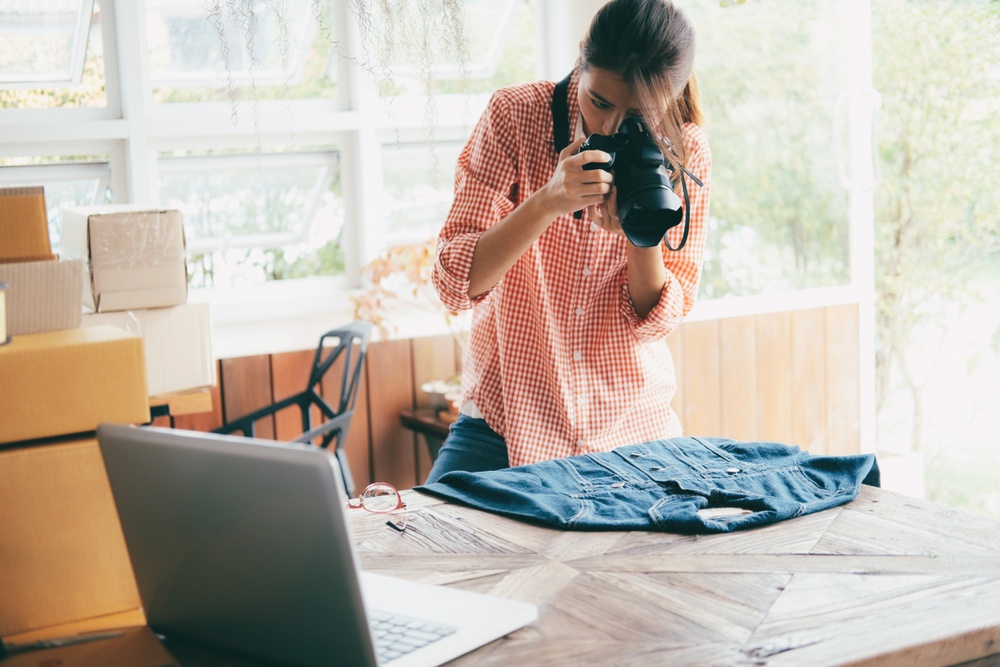 Best Apps For Selling Stuff Locally
LetGo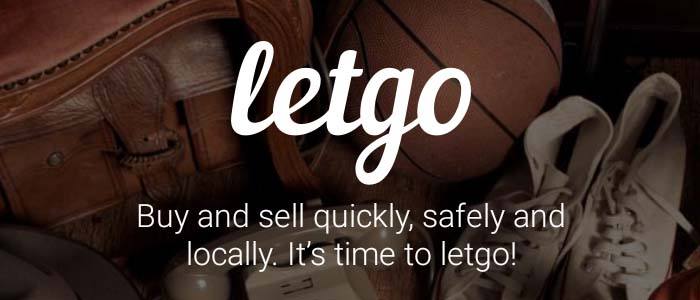 LetGo is one of the most popular selling apps out there, with more than 1.3 million reviews (and counting!). The app manages to keep a rating of 4.4 stars, so they're clearly doing something right.
The app itself is very easy to use. You can take photos in the app and the process works exactly how you would expect. You don't need to provide many details about your item either, which makes the whole process fast and easy.
My biggest frustration when trying the app was with the users. It seems like people always want to negotiate, often excessively. Plus, when they did organize a time to pick up, many wouldn't turn up at all.
This issue may be partly to do with LetGo itself and the people who use the app. For one thing, LetGo makes it very easy for people to negotiate – creating a culture where negotiating on sales is almost a given.
The problem is also just a side effect of making local sales. It doesn't entirely matter what app you use, you'll always find that some people want to negotiate, while others completely waste your time.

OfferUp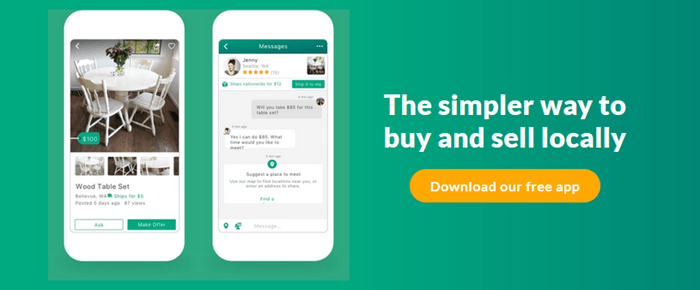 OfferUp is another popular choice, just make sure that you download the official app. There are a few others in the app store that have a similar name, but these don't have the same large audience that you find with the official app and reviews are poorer too.
As for OfferUp itself, the app boasts an incredible 4.6 stars across more than 750,000 reviews. The app has a strong local focus. Buyers can search by category or location, so they can easily find items in their local area.
The app has a reputation aspect. This helps to weed out scammers and anyone taking advantage of the system. Each seller has their own unique profile page to help with this process.
Messaging between buyers and sellers is done through the app, rather than with email or phone calls.
Aside from frustrating buyers or sellers at times, the biggest challenge that people experience with OfferUp is the ads. Users aren't charged any fees for buying or selling, so OfferUp makes its money from ads instead. Most of these seem harmless enough, but there are some video popup ads that could get seriously annoying.

Facebook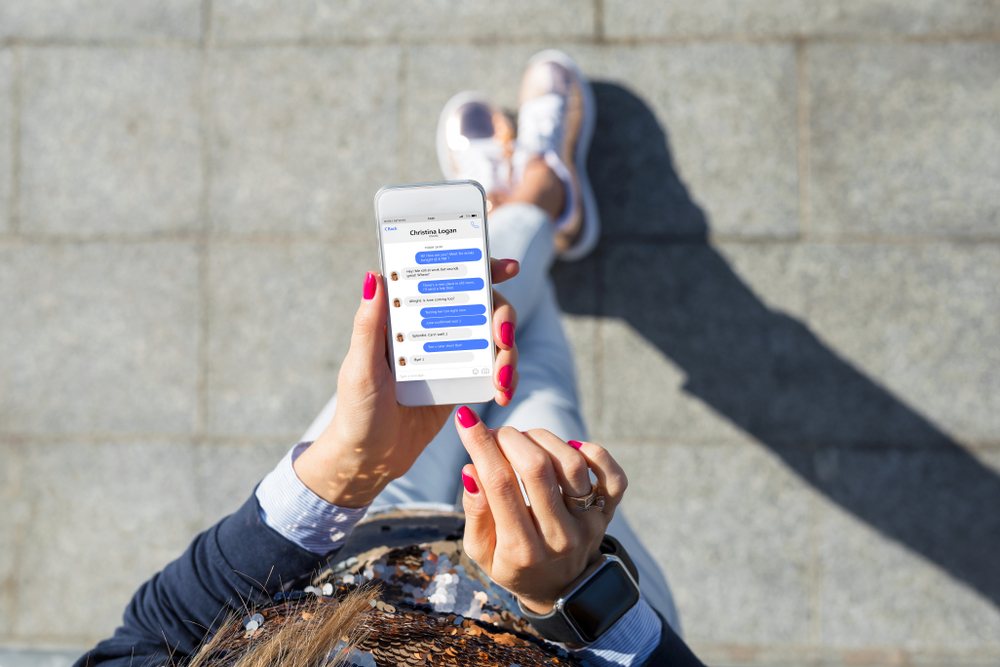 While Facebook is mostly a social media platform, it can be a good place to make sales too. The best way to do so is through Facebook Marketplace. This part of Facebook specifically focuses on local sales.
The tool is surprisingly powerful, giving you the chance to tap into Facebook's wide user base. The connection to Facebook helps to promote safety, as users know who each other is. Besides, most people are familiar with using Facebook Messenger to communicate, making Facebook and easy choice for buyers and sellers.
Creating a listing tends to be fast and easy. You don't have as much power as with one of the specialized selling apps, but you're not being charged a fee on sales either.
Facebook Marketplace isn't just limited to the desktop version of the site either. You can use it with the app just as easily.

eBay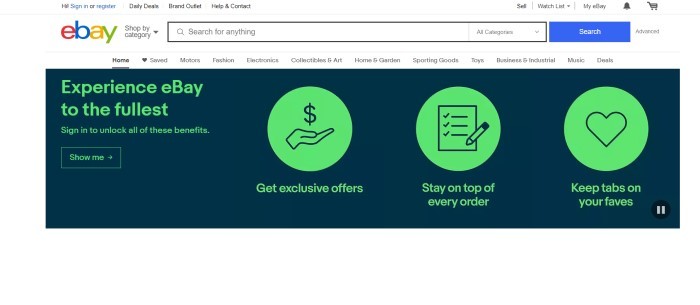 eBay is mostly known for nationwide or international sales, but it does also have a local selling feature. In particular, you're able to specify items as being 'pickup only'. This approach can be done with the eBay app, as well as with the site.
Despite eBay's large audience, finding local customers will not always be easy. Most people who use eBay don't plan to pick up their items in person.
The main exception would be large items where shipping doesn't make sense, such as pieces of furniture.

5miles

As you might have guessed, 5miles focuses on buying and selling within a five mile radius of your location. There are related features too, such as hiring local services, finding a job or renting property. But today, we're just focusing on the buying and selling aspect.
The app relies on Facebook verification to ensure that users are who they say they are. There is also a 'like' feature that allows users to create wish lists of items that they want.
Most reviews of the app are positive. While some users do experience issues with the app being buggy or not responding, such problems are rare. Instead, most negative reviews relate to bad experiences with sellers rather than with the app itself.

Shpock

Unlike the other apps on this list, Shpock focuses on local sales within the UK (the name is a play on the phrase 'shop in your pocket'). The app doesn't perform as well as the other examples on this list, but reviewers still say that it can be a useful tool.
Most importantly, the app is being actively refined and developed. There had even been an update a few days before I wrote this post. This type of regular updating is always encouraging. It shows that the developers still care about the app and that it should get better over time.
The app will be particularly relevant to people from the UK, as there aren't that many local apps that target the area. While some of the other options in this list do extend to the UK, they are generally focused on the United States, so their audience in the UK is on the small side.

Carousell

With an average of 4.3 stars on Google Play and more than 160,000 reviews, Carousell isn't the best app in this list, but it isn't too bad either. Of course, reviews are just one part of the story. The ratings on these apps often aren't accurate, which is why we aim to look into the apps ourselves.
In the case of Carousell, the first thing I noticed was the strong focus on buyer and seller interaction. Users communicate through the chat function of the app. This style tends to make communication easy, while also meaning that you don't need to give out your phone number.
This particular app has a local and a nationwide emphasis. You can choose to just offer items to local audiences, but be aware that some people may want you to ship the item nationally even if you market to local customers only.
Carousell claims that you can post a listing within 30 seconds and honestly, that claim is pretty accurate. Being able to post this quickly is a powerful feature if you have many items that you want to list.
Carousell does have a limited user base, which might be a problem if you live in a small area. However, the app does tie in with Instagram and Facebook, giving you more potential customers that way.
While I didn't experience any issues, there have been some negative recent reviews about bugs in the app, including issues where images are difficult (if not impossible) to send. This is frustrating, but Carousell does keep their app up-to-date and seems responsive to customers, so any bugs in the app should get fixed over time.

VarageSale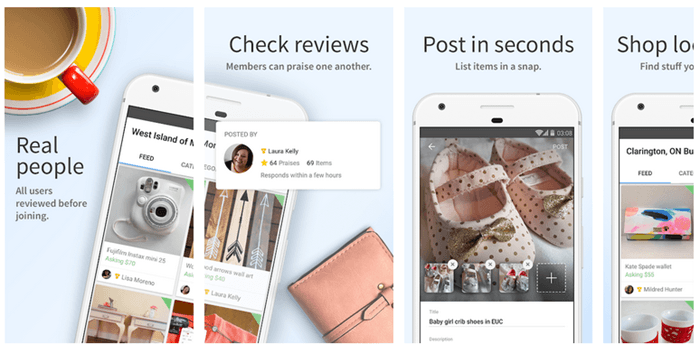 As you might guess from the name, VarageSale allows you to sell pretty much anything. You're basically having a virtual garage sale.
The overall style isn't so different than other apps. You can quickly list items and arrange to meet up with potential buyers too.
One unusual feature is that the app relies on real identities. Users need to be verified before they can buy or sell on the app. This type of transparency should help to create positive experiences, reducing the risk of any issues.
The app gets an average of 4.4 stars on Google Play, across more than 75,000 reviews, which isn't too shabby at all. There is even a Porch Pick Up feature, which allows people to avoid face-to-face interactions (perfect for when you're working or have kids at home).
The most common complaint is that there are few ways to report people that don't turn up. It seems like some users don't take the idea seriously (although, in fairness, no shows are a common issue with any local sales app).

CPlus for Craigslist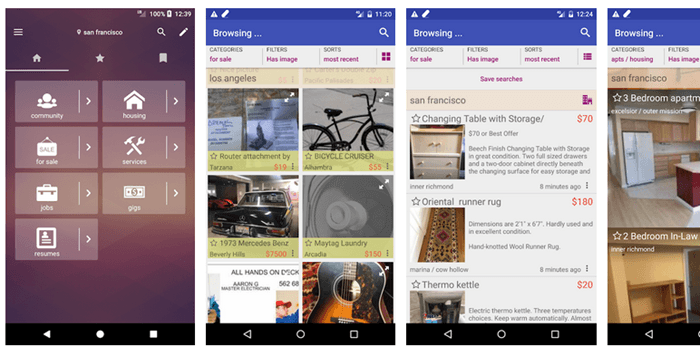 CPlus for Craigslist is, you guessed it, the app for Craigslist. It actually averages 4.3 stars across more than 22,000 reviews, which is much better than I had expected.
The app is literally just Craigslist, so it has most of the same advantages and disadvantages of the website. For that matter, the app itself feels simplistic and old-fashioned – the same of which can be said for Craigslist on occasions.
Still, the app is designed to make Craigslist easier use. It includes various features to help in this area, like the ability to save searches, to repost ads and to search in multiple cities.
Because this is Craigslist, you're not dealing with any fees for sales either. The app appears to be ad-supported instead.
Just be aware that Craigslist customers aren't always above board. This is one of the reasons that the site has a bad reputation at times and the same certainly applies to the app.

Bookoo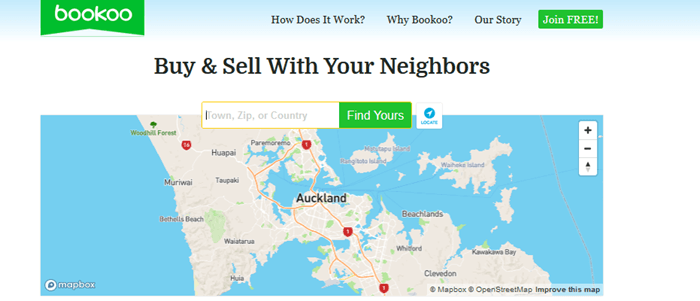 The app for Bookoo doesn't get the greatest reviews, but you can rely on the Bookoo website as well or a combination of both. Bookoo heavily relies on the local angle, showing users what is available in their neighborhood.
One cool feature is a local map, where there are green 'b' icons, showing sellers. Sellers on the app have their own profile, which highlights the types of items that they generally sell, along with their sales. This style is ideal for anyone who is selling a lot at once – or for people who regularly find more to sell on Bookoo.
There is also a flagging feature, where sellers or items can be flagged and removed from the service. Flagging is a great way to prevent abuse, although some members might find that sales are flagged unfairly.
The app itself gets an average of 3.6 stars on Google Play, with less than 150 people reviewing it. This is a far cry from most of the other apps on the list. To make matters worse, the app hasn't been updated since the end of 2018.
Even so, if you like the Bookoo website, the app could still be useful.

Wallapop

Wallapop is promoted as a free virtual flea market, one that supports local sales as well as nationwide ones. The app does actually seem to be free to use and you're not paying a cut of your sales price to the company.
Instead, Wallapop makes money by allowing people to purchase upgrades to their listing. This can make it easier to sell a particular item, especially if it has a high price tag. In some places, users can also make it so that their listing is featured in their city.
This brings us to another interesting point, Wallapop isn't just limited to the United States. Despite the local focus, the service operates in multiple countries.
As with most of these apps, it is possible to sell nationally too (perhaps even internationally). Wallapop offers a secure payment service to help with the process and users can even get refunds through the service if there is a significant problem with their item.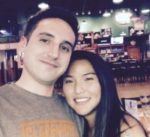 Nathaniell
What's up ladies and dudes! Great to finally meet you, and I hope you enjoyed this post. My name is Nathaniell and I'm the owner of One More Cup of Coffee. I started my first online business in 2010 promoting computer software and now I help newbies start their own businesses. Sign up for my #1 recommended training course and learn how to start your business for FREE!