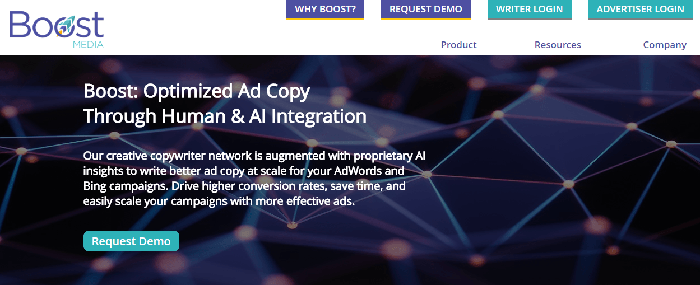 Introduction to Boost Media
Boost media lacks high-end design. Nothing too bold and beautiful jumps out from a marketing standpoint. Much of the opening page is full of jargon about ad creative and how this concept affects their clientele.
The site does say they have a thousand or so copywriters are on hand, but would I become one of them?
Maybe.

What is Boost Media
It took a while to figure out exactly what Boost Media does. After some digging and jargon-deciphering, it turns out that Boost Media creates those ads appearing on the top of a Google result page.
Sometimes they are just words, sometimes words and images. At all times ads are routed in SEO.
To be a freelancer here it is important to have an idea of SEO and an understanding of Pay Per Click (PPC).
Looking at the high level of jargon on the opening page I drew a couple conclusions about Boost Media:
Clients come to this site looking for expertise.
The site is directed toward customers who know what they want.
Looking smart is their competitive strategy.
Boost Media is not a content mill.
Such are my un-academic conclusions of Boost Media but they do say they hire freelance writers so…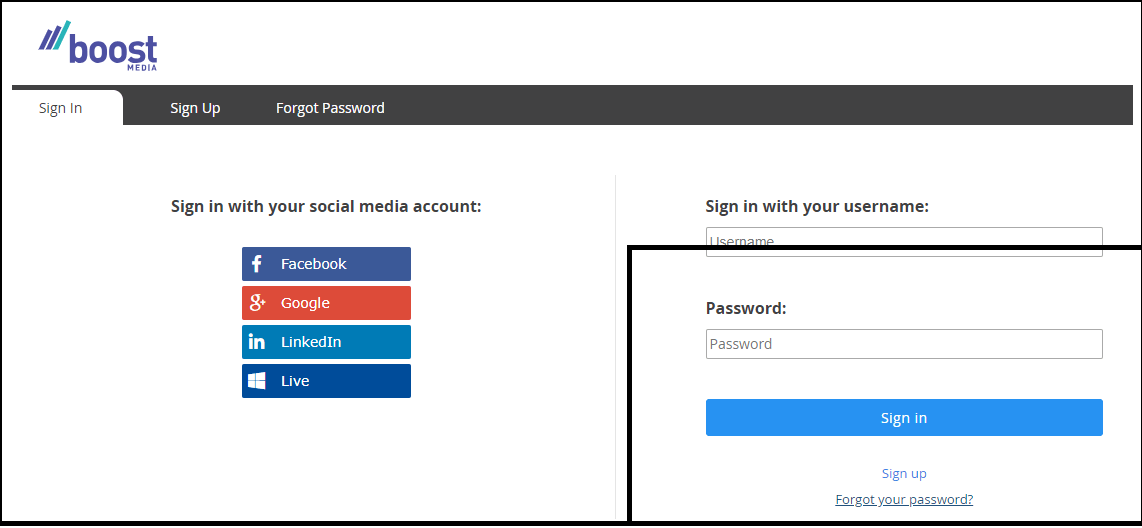 Getting Started with Boost Media
The "WRITER LOGIN" link is the not-so-obvious pathway for freelancers looking for work.
Hitting the link, which is on the top of the opening page, brings writers to a log-in area where freelancers "sign up." The next page asks for some demographic information like age range, whether or not you live in the United States and AdWord experience.
Boost Media does offer services to clients looking for international ads creative, so this is not an English-only opportunity. In fact, knowing more than one language could be an asset.
A test follows. When I took it, there were four pairs of PPC ads to compare. Short answers, preferably in full sentences, are required. It's a chance, according to Boost Media staff, to see how a freelancer presents themselves in words as well as their knowledge of such ads.

"Bottom line: we take this quiz seriously and so should you," the site says.
It took about 10 or so minutes to get through the sign-up page and quiz. An email said my application was accepted and that someone would get back to me if I am accepted to the "Boost Writer Network."
And that was it, done. That was quick.
Reviews of Boost Media
That email included some self-described benefits to working for Boost Media. These come from a survey of "hundreds of writers" asked why they "love" the site. These benefits include "money," "flexibility," and "fun."
Reviews online seem to agree, or at least had agreed.
Writers putting in 25 to 30 hours a week can make up to $50 an hour. But, this was the case only if there's enough work in the queue.
And that could be a problem.
Many reviewers say Boost Media is on its way out.
Along with a diminishing queue, several recent reviews on Glassdoor.com say the company went through a purge of the employees. The size of the company dropped by "40 percent" and (maybe) more emphasis may be placed on freelancers.
The most recent reviews say Boost Media is indeed running out of money. Other findings say more stress is being placed on fewer workers, the CEO left, and the functionality of the programs there are failing.
The company sounds like it's on a death spiral.
A History of Boost Media
Boost Media is a San Francisco-based company started more than seven years ago.
Back in 2014, the company changed its name to Boost Media from Boost CTS. The year was significant. The then-CEO said the company moved from dealing with small and medium-sized businesses to handling "enterprise" customers. Boost Media says it is "Delivering Value To" companies like Google, Microsoft, eBay, and other big names.
Since those days, the ad creative strategies have changed. There's been more emphasis on interactive ads like those found on the side of a google page. In addition, there was more emphasis on testing to create effective ads.
In addition, more and more investment has rolled into the company – roughly $30 million. But is it enough?
Getting Paid at Boost Media
According to reviews, the company uses PayPal to pay freelancers in US funds. They also pay each week.
How Boost Media Works
Information on how this site works is based on reviews and have not been verified.
Freelancers apply to contests.
Sometimes the contest is about acceptance of the work done — will the client find your ad creative acceptable. Sometimes the contest has to do with "winning." The ad will be placed live for at least a couple weeks to see how it does. An ad has to reach a performance scale before the "prize" is awarded.
Ads are written in Google AdWords of MS adCenter platforms. There is a 95-word limit, not including the company's URL. Clients of the site include major retailers, hotel chains, drug companies, and others. At least, those were the companies available in Boost Media's glory days, which appear to be about two years ago.
Recommending Boost Media
Boost Media is not a content mill.
They do say they accept freelance writers, but to do ad creative work. This means it's helpful to know how to use keywords, SEO, and PPC.
Being accepted by Boost Media would be good because it allows freelancers to adapt their writing abilities and create a skill needed in this day and age.
But, I have to admit, the term "ad creative" bothers me a little since it's not English. Not really.
It's hard to say whether Boost Media is ripe for the freelance pickings. Will it go belly up? My guess is no. Companies need ad creative experts and the company has been around for a little while at least.
So I'd recommend giving it a shot. For me, it's about learning a new skill. For you, and hopefully for me, it's about making a decent amount of money.
As a writer, you have an in-demand talent that can be used to earn you TONS of money online. You can earn money freelance writing, for sure, but it's still just trading dollars for hours. Personally, I recommend starting your own website! Information is the currency of the internet, so why not leverage your talents to build yourself a serious online income! Learn how to create your own blog-style website and make money through advertising.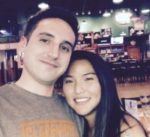 Nathaniell
What's up ladies and dudes! Great to finally meet you, and I hope you enjoyed this post. My name is Nathaniell and I'm the owner of One More Cup of Coffee. I started my first online business in 2010 promoting computer software and now I help newbies start their own businesses. Sign up for my #1 recommended training course and learn how to start your business for FREE!