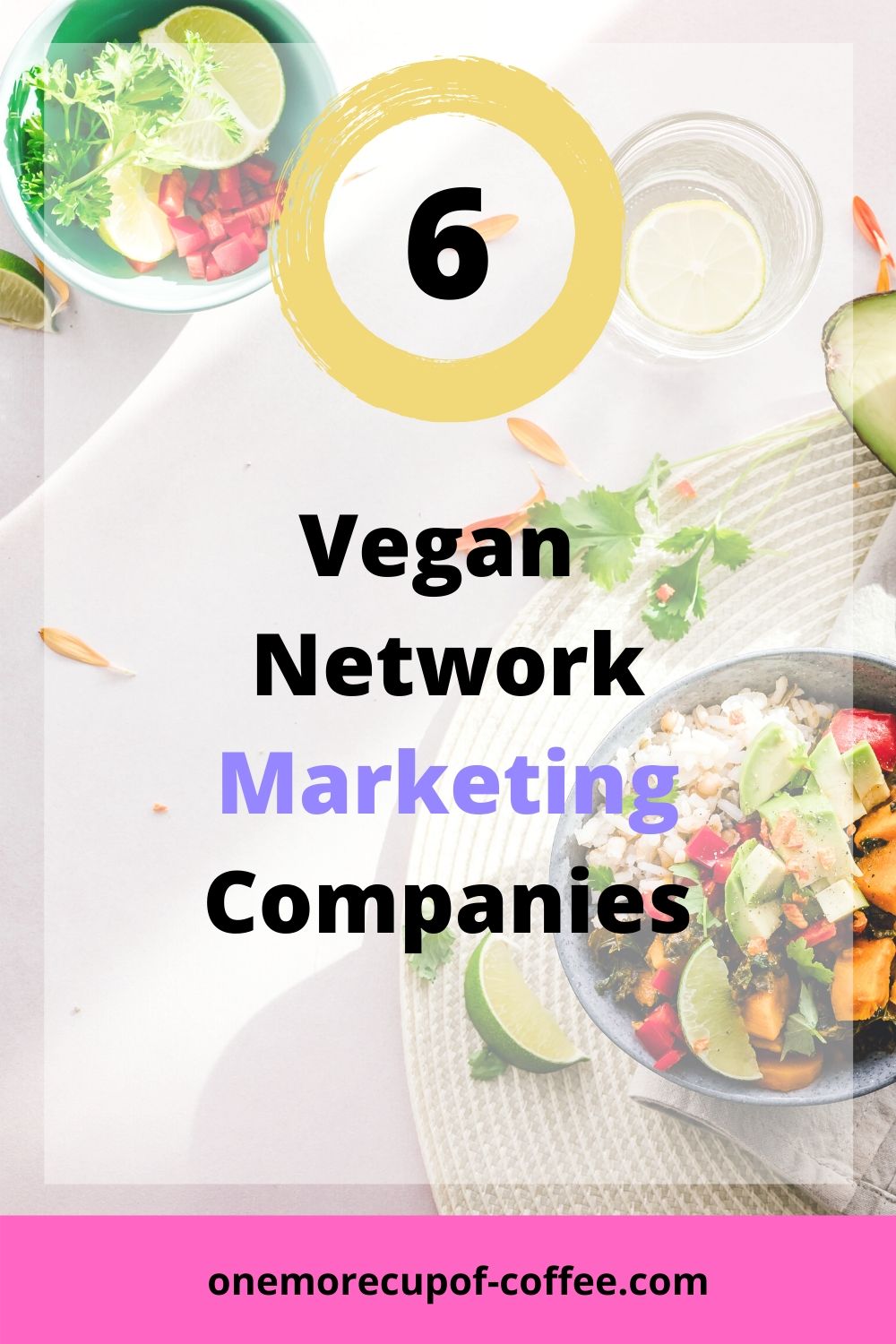 Finding products that are vegan friendly and cruelty free can often be difficult. Finding entire brands is even more complicated still. This is especially true in the network marketing field. There aren't many vegan network marketing companies at all, so your options are limited.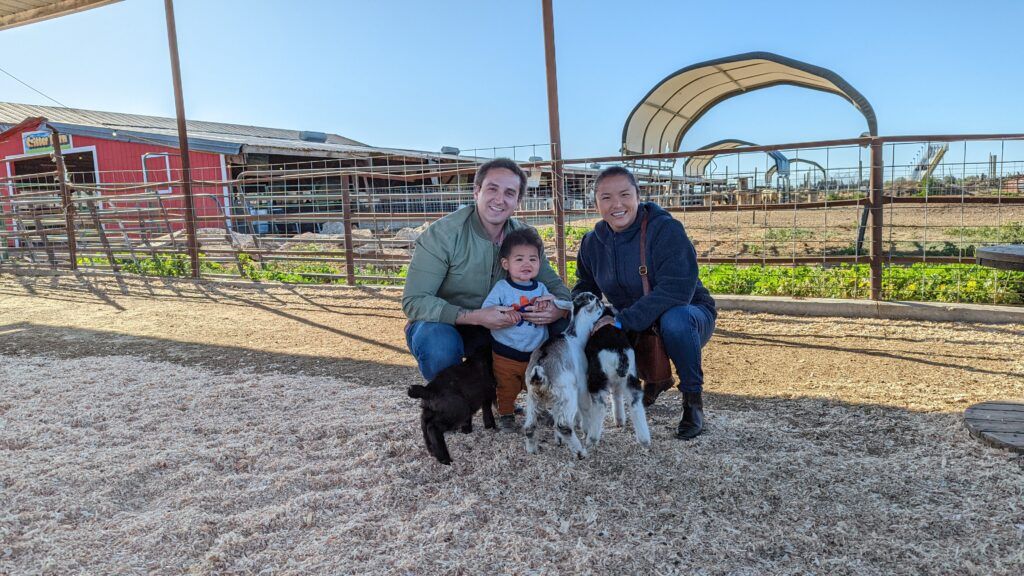 Are You Ready To Work Your Ass Off to Earn Your Lifestyle?
Are you tired of the daily grind? With a laptop and an internet connection I built a small website to generate income, and my life completely changed. Let me show you exactly how I've been doing it for more than 13 years.
That's why we made this list. We focused on finding as many vegan MLMs as we could.
You may notice variation between the companies, such as differences in their geographic location. Some of them are entirely vegan, while others may just offer a subset of vegan products. Others don't use the term vegan at all but seem to be vegan friendly based on other pieces of information.
The section for each company will highlight the most important areas to think about, including the product selection, the compensation plan and how the company fits into the vegan theme. You can also check out other food network marketing companies.

Vegan Network Marketing Companies
Tropic Skincare
The Body Shop At Home
Bellame
Miessence
Arbonne
Monat
1. Tropic Skincare

Focus: Skincare and beauty
Minimum Cost: £198
Product Overview: Despite being called Tropic Skincare, this company has a variety of beauty-related products, including makeup, hair care and body products. The company has been certified by CarbonNeutral.com, Vegan, and Cruelty Free and Vegan.
This approach makes Tropic Skincare a good choice for anyone wanting vegan products. The company never explicitly states that all of their products are vegan, but their marketing does strongly imply that this is the case.
The variety of products means that there are plenty of different prices as well. Many of the products are fairly inexpensive, often around £20 or less. Others are pricier, but still not unreasonable for the type of product.
It's likely that some people will find the products appealing, while others may think that they are too expensive. Regardless, Tropic Skincare has excellent packaging and marketing, which makes the products appear high-quality.
On a side note, this is a British MLM and doesn't have a large global reach.
Commission Quick View: Tropic Skincare is very tightlipped about the income side of things. This lack of information is an immediate red flag.
The company also periodically says that it isn't an MLM, as distributors aren't paid to recruit people (distributors earn from the sales of their team members instead). That type of claim is misleading, as most MLMs follow the same approach.
The main thing that we do know is that Tropic Skincare uses a party model. This means that sales need to be mostly made in-person at events, rather than online.
Parties do have some advantages, as they bring people together and create sales pressure. They can allow distributors to reach a wider audience too, as the events are held at the home of a host.
Even so, the workload can be high, as you're running an event while also trying to get sales. There may be additional expenses too, like the cost of any nibbles or samples that you provide.
Tropic Skincare does have a sales and a recruitment side to their business. There will be more income potential for people who get involved with recruitment, but that process is never as easy as it sounds.
Final Thoughts: The products from Tropic Skincare do look appealing. Still, there is almost no information about the opportunity side of things and distributors will be competing against many similar brands.
2. The Body Shop At Home

Focus: Items for the body, skin and face
Minimum Cost: £49
Product Overview: The Body Shop at Home is the network marketing branch of the well-known company, The Body Shop. It began in 1994 and seems to still be popular in some circles.
Being part of an established brand like The Body Shop has some advantages and some disadvantages. On the plus side, the company is more stable. It already has a reputation of its own, so you're not trying to promote an obscure brand.
Of course, The Body Shop's reputation can work against you too, as the brand is known for overpriced products. People who want the items will already buy them, people who don't may not be interested.
The Body Shop at Home does offer some exclusive deals, which may help to promote sales. Even so, the products are largely the same as what you can find in the physical stores.
As for the products themselves, key areas include face, body, hair, makeup and fragrance. The Body Shop has an extensive selection in each area and a strong focus on scent.
It's important to mention that The Body Shop itself isn't a vegan company. Many of their products aren't vegan friendly. But, they do have a decent selection of vegan items, including body care products, makeup, skincare and hair care items.
Commission Quick View: Distributors can earn between 25% and 30% commission on sales based on their monthly volume. 25% is the initial rate. Increasing this to 28% requires upwards of £600 in sales for the month, while more than £1,800 in sales is needed for the full 30%.
The Body Shop at Home follows the classic rank-based style for team earnings. It isn't clear how many ranks there are, but even the early ones seem complex.
For example, the Area Manager rank requires £3,500 in sales from your central team and at least seven qualified distributors in your downline. You also need to make £600 in sales per month yourself.
There are some interesting bonuses at this rank, including the chance to hit 35% commission (for monthly sales of at least £3,000), 6% residual commissions from your central team and 6% from your first tier.
Still, the rank requirements are complex enough that most people wouldn't meet them. Even if you skipped the team aspect and just focused on sales, you would need to make £150 in sales every two months.
Final Thoughts: The Body Shop at Home has some appealing features but let's face it, The Body Shop isn't new or exciting. Getting people to buy the products regularly wouldn't be an easy task.
Another limitation is that only some of the products are vegan. The sheer size of The Body Shop's product range means that there is still a decent number of items for you to promote. Still, some customers may not want to buy from a company that isn't dedicated to ethical approaches.
3. Bellame
Focus: Natural skincare
Minimum Cost: $19.19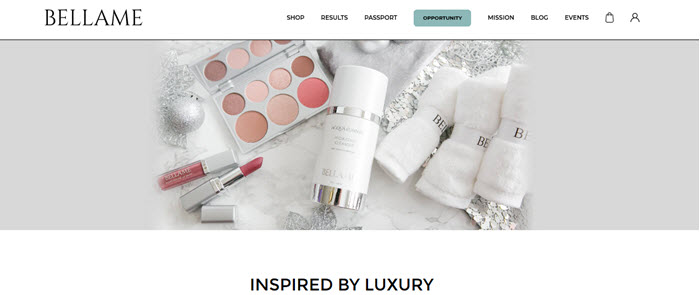 Product Overview: Bellame is a beauty and skincare company. They have a strong focus on creating products that are as natural as possible, while avoiding harsh chemicals.
Bellame avoids using the word vegan for their products, as they say that the word can be interpreted in too many different ways. However, their products tend to be cruelty-free and would often be considered vegan.
One point of contention is the fact that honey may be used as an ingredient. Some people consider honey to be vegan-friendly, while others do not. Bellame also uses whey protein and milk peptide. These are both synthetically created, but the structure is based on an animal protein.
We're including Bellame on this list because many people would consider the products vegan, despite the controversies.
The product line from Bellame is relatively small. The company offers a few skincare items and some cosmetics, along with various brushes and related tools.
The products aren't cheap. For example, their Moisturizing Lipstick costs $28 and their Dream Luxe Sleeping Mask costs $78. Still, the prices aren't too unusual for the industry.
Honestly, the main limitation of Bellame is that the products simply don't stand out. They're well presented and look professional, that's true. But, they end up looking the same as countless other luxury skincare items.
Commission Quick View: Bellame offers a base rate of 25% for sales to retail customers and 20% for sales to Beauty Passport customers. This rate can be increased by 5% if you reach $1,000 in sales for the month and by 10% if you can reach $2,000 in sales per month.
The sales targets are high, so many people won't hit them. Still, it's nice that you can increase the commission rate without building a team. Team building can provide extra bonuses on your own sales, although you do still need to hit sales targets.
Bellame follows a typical rank-based structure, where each rank comes with new requirements and benefits. The approach is simpler than many companies and there isn't a complex binary or unilevel plan to deal with. Instead, the bonuses just increase from one rank to the next.
Bellame's style means that you shouldn't need to build a very complex team. You're not completely off the hook though, as you do need to ensure that your team earns well. Some team members will need to get promoted too, if you want to hit the high ranks.
There are two sets of ongoing requirements to consider.
First, you need to buy $300 of products every rolling three months. This figure only applies to products that you buy, not the ones that you sell. You need to hit this requirement even if you don't plan to build a team.
If you want to team build, then you also need to make at least $100 in sales per month. The monthly sales requirement increases as you move up the ranks.
Final Thoughts: While Bellame's products seem appealing enough, they're not very unusual. This could be a serious problem for sales, especially as team builders will need to hit sales targets every month.
The worst part is the ongoing purchase requirements. Most MLMs have moved away from the idea of forcing distributors to buy the products. The purchase requirement increases your expenses and makes it harder to turn a profit.
4. Miessence

Focus: Organic beauty, health and home products
Minimum Cost: $50
Product Overview: Miessence largely operates in the beauty industry and offers plenty of skincare, haircare and cosmetic products. The brand also has other product lines, including superfood supplements, protein powders and items for the home.
Miessence is certified organic, which should mean that most of their products are organic as well. Miessence never uses the term vegan in any of their marketing. They don't talk much about whether they use animal products or animal testing either.
Nevertheless, Miessence is often featured on lists of vegan companies. Multiple customers have contacted spokespeople from the company to confirm that animal testing is not used. Ingredients lists are provided for the products, so it is easy to confirm that most individual products are vegan.
The lack of labeling does give Miessence the flexibility to start using non-vegan ingredients in the future. As such, you'll need to check the ingredients labels before promoting a product as being vegan.
Along with the organic angle, Miessence also focuses on creating quality products. These aspects would make the items appealing to the right audience. The main limitation is that many of the items are expensive. For example, a bottle of Rejuvenating Cleanser costs $67.05.
Commission Quick View: Miessence uses a purchase-first system. Distributors must first buy the products themselves and then resell them for a profit.
The style is made worse by the fact that Miessence has more than 100 different products in a variety of categories. It would be difficult to predict which items are going to sell at any given time.
The compensation rate is the difference between what distributors pay and the retail price. Distributors get a discount of 0% to 40% on purchases, based on the amount of purchases that they make in a month.
For example, to get a 20% discount, a distributor must purchase at least 140 volume points in products or at least 75 volume points, if they're willing to sign up for an autoship.
This style means that the highest income potential comes from buying large amounts of product each month. But, doing so is a risky approach. Turning a profit involves reselling most or all of the products that were purchased. It's easy to see how some people end up losing money from the process.
The other way to earn is through your team. Miessence uses a rank-based system, where people in the higher ranks have access to more bonuses. Most of these bonuses provide income based on a percent of your team's performance.
As such, it isn't enough to just get access to these bonuses. It is also important to have a well-performing team.
There are two other factors to mention. First, you need to purchase 75 volume points of product every month to earn from sales or from your team.
Second, progressing through the ranks involves having increasing numbers of personal recruits or customers (up to 25 at the final rank). Maintaining this number at any one time could easily end up being a difficult juggling act.
Final Thoughts: Miessence has some interesting products, but the compensation plan requires far too much from distributors. Not only do you need to worry about the purchase and reselling model and promoting team performance, but you also need to focus on maintaining a decent number of recruits and customers at any given time.
5. Arbonne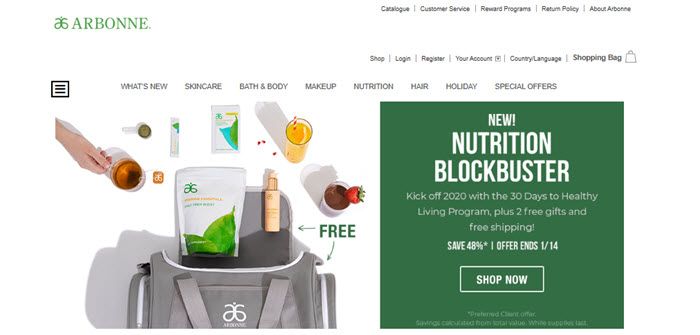 Focus: Beauty and nutrition products
Minimum Cost: $49
Product Overview: Arbonne is one of the most well-known vegan network marketing companies. The company focuses on the concept of having products that are pure, safe and beneficial.
Arbonne also has a strong environmental focus. This includes using approaches like recyclable product packaging and shipping boxes.
Many of the product types are familiar, such as facial cleansers, shea butter lotion, eyeshadow and protein shakes. The main differences between Arbonne and other brands is the emphasis on natural products and on quality.
The products are appealing enough and many do seem to get good reviews. Arbonne also has an impressive selection of products. The number of items should help you to target a wide audience, which could be useful for sales.
Still, the products are relatively expensive, even when compared to other natural and vegan product ranges. Some people might be willing to pay the prices. Others probably wouldn't be.
Commission Quick View: Consultants start off earning 35% commission on sales to regular customers and just 15% commission for sales to preferred customers. Arbonne suggests that the maximum rate is 50%, but they don't provide any details about hitting that goal.
The team building aspect is more complicated than most other companies. Like many, Arbonne uses a rank-based system, where the commission rates and requirements increase with the ranks.
The approach resembles a unilevel plan, where you are able to earn from multiple levels below you, starting with 6% from your direct recruits.
However, this quickly gets more complicated. The whole plan includes four different types of groups that you can earn from: District, Area, Region and Nation. Each of these has multiple tiers and different percentages for each tear.
The plan is far too complicated to look at in any depth. The main take-home message is simply that you would need an extensive and successful team to make any headway with the system.
Final Thoughts: While the products from Arbonne are interesting, the complexity of the compensation plan is a serious problem. Honestly, who wants to be jumping through that many hoops to try and make money?
6. Monat

Focus: Natural haircare products
Minimum Cost: $99
Product Overview: While Monat may initially look like a typical skincare company, their product selection largely focuses on hair products instead. They have a surprising number of these to choose from, including shampoo and conditioner, styling products, masques and some items for men.
Beyond this, there is a small selection of skincare items. These are largely typical, although most of the skincare products are promoted as sets, rather than individually.
Monat also has two pet products. One is a dog wash and the other is a deodorizing spray. While the product types aren't unusual, it is interesting to see a quality beauty company offer pet products too. This could be a selling point for the right audience.
Monat's selection of products is diverse enough to get customers interested, perhaps even if they've seen many other beauty MLMs.
High-quality isn't the only key aspect about the products. Monat also avoids ingredients that it considers to be toxic, like mineral oil and parabens. The company uses natural ingredients instead.
All of the products are cruelty free and vegan friendly. Monat uses the Leaping Bunny certification to support the cruelty free claim.
The biggest limitation is that the products are expensive, even for natural vegan products. For example, their shampoos range from around $32 to $38, while their conditioners are from $42 to $47. We're not talking about large bottles either. Their shampoo tends to be around 8 fl. oz, while the conditioner is 6 fl. oz.
Other products follow similar pricing patterns. Needless to say, only some customers will be willing to pay these prices.
Commission Quick View: Sales commission from Monat depends on who you are selling to. Sales to regular customers start out at 30% commission, while VIP customer sales are just 15%.
The commission rate can be increased if you hit monthly sales targets. Selling 1,000 in volume in a month gives a 3% increase. 2,000 in sales gives 5% instead, while 3,500 gives a 10% bonus.
The team aspect uses a unilevel plan. Distributors can earn 7% from their first level at the first rank. The second rank increases this to 10% and also allows for 3% residual commissions from the second level.
The percentages and depth of earnings continue to increase with rank. There is also a second set of ranks that allows members to earn from different generations in their downline, as well as individual levels.
As always, the rank requirements get more difficult as you go along. These are based on your personal sales volume, the number of active lines and your total group volume. At the higher ranks, some of your recruits need to get promoted too.
The plan is pretty typical, but there are some notable features. One is that the percentages are decent. It's very unusual to see 7% on level one commissions, especially at the first rank. This gets up to 12% for direct recruits. The pattern could allow people to earn well from a relatively shallow team.
Another feature is the ongoing qualifications. Distributors must make at least 200 volume in sales every month to remain active. Failing to do so would prevent you from earning team commissions for that month.
The requirement increase with rank, ending up at 500 volume. As such, you'd need to make plenty of sales yourself every month, even if you developed a large team.
There don't seem to be any requirements if you just want to make sales.
Final Thoughts: While Monat has expensive products, the compensation plan is better than most. This is especially true if most of your customers don't move to the VIP program. Still, you would need customers that are willing to pay Monat's prices.
Top Pick
While none of these companies are amazing, Monat would be the best choice for many situations. One big advantage is how the company is clear about their cruelty free status. They also provide plenty of rhetoric about what makes their products better than other brands.
The compensation plan is surprisingly good too, especially if you don't want to build a large team. In particular, you're getting decent residual commissions from your direct recruits even at the first couple of ranks.
Product prices are one major limitation. This aspect means that the company would only work well for some audiences.
Your commission rate does also dramatically decrease if your customers become VIPs. This is mostly frustrating, although the pattern could encourage them to spend more.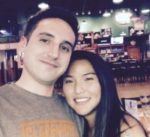 MLM Critic & Author: Nathaniell
What's up ladies and dudes! Great to finally meet you, and I hope you enjoyed this post. I have to be honest though. I'm not a big fan of MLM. Tried it. Hated it.
Affiliate marketing is cheaper, faster, and easier. See for yourself and join millions of other successful affiliates generating income from their blogs!
No inventory. No fees. No recruiting. 3 BILLION potential buyers online.
Reader Interactions