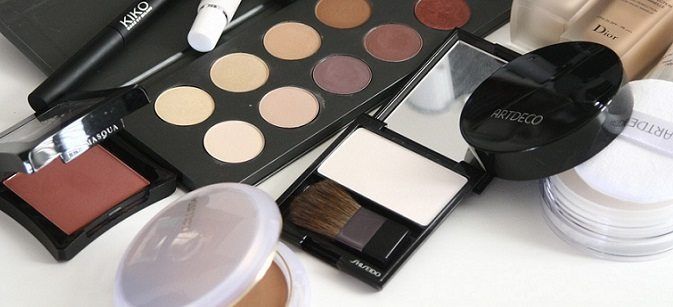 Affiliate Programs, Keyword Lists, and Niche Research for Cosmetics
Are you ready to dive into the very diverse niche of cosmetics? While doing the research for this niche, I came to realize that cosmetics is far more-broad than just makeup that women use on their person. Cosmetics include things like bath salts, shampoos, colored contact lenses, deodorants, perfumes, lotions, creams and practically everything a woman and a man uses to make themselves presentable to the public.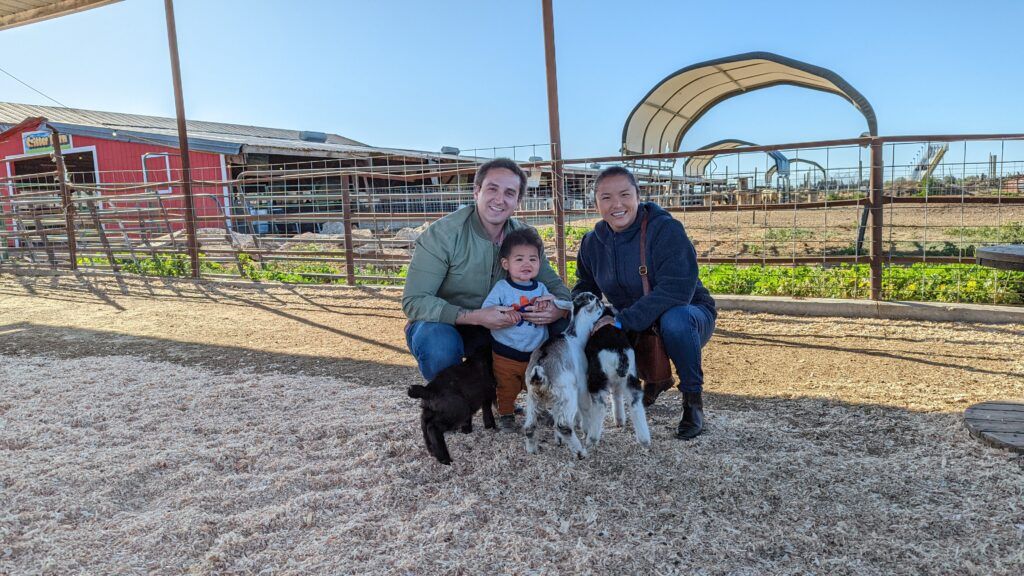 Are You Ready To Work Your Ass Off to Earn Your Lifestyle?
Are you tired of the daily grind? With a laptop and an internet connection I built a small website to generate income, and my life completely changed. Let me show you exactly how I've been doing it for more than 13 years.
Though I already knew the variety of this niche, the revelation of just the types of products that make up (pun intended) the cosmetics niche, will give the affiliate marketer a huge choice of sub niches to choose from. Because how we present ourselves directly relates to things like style, status, social interactions, and thus happiness, there's a lot of passion to be found here….and passion = profitability.
However the one thing I did find to have a problem with was coming up with many low competition keywords. High traffic keywords were not a problem, but the low competition variety were much harder to come by, even when using the keyword within a question. Perhaps I didn't dig deep enough into each individual niche, but this is more of a broad overview anyway, and I'll dig into more nichey stuff later on down the road.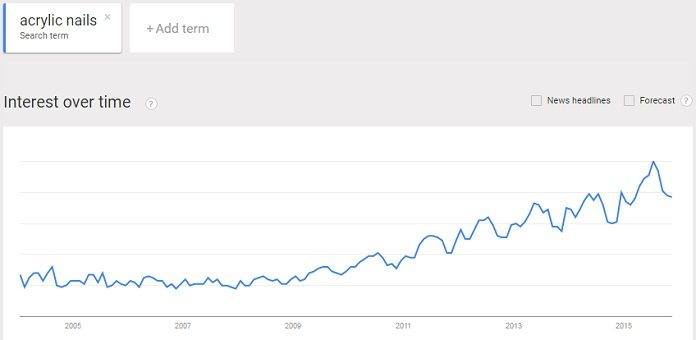 Many of the common types of cosmetics are no longer trending upwards, though still popular, have leveled off in their interest. However cosmetics is always evolving, so keeping up with new trends is going to be necessary if you jump into this industry. Acrylic nails and all the fancy designs you can apply to them are the craze at the moment. Just go up on Pinterest and there are tons of boards on this alone!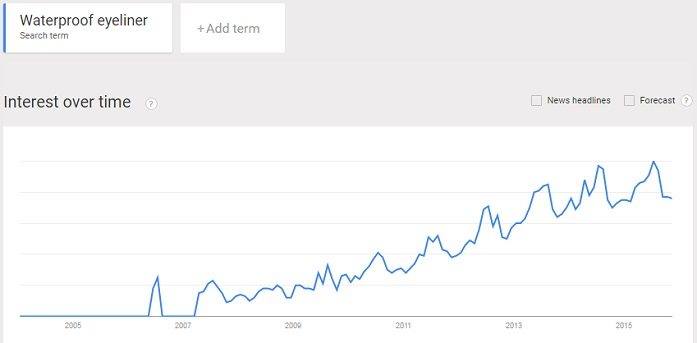 Another area of continued interest is waterproof makeup. Eyeliner is especially problematic to moisture whether it is from tears or rain. Waterproof eyeliner will help woman who get caught in a rain storm from having their faces look like a scary Halloween mask. Another kind of cosmetic that is popular for keeping its place where applied is kiss-proof lipstick.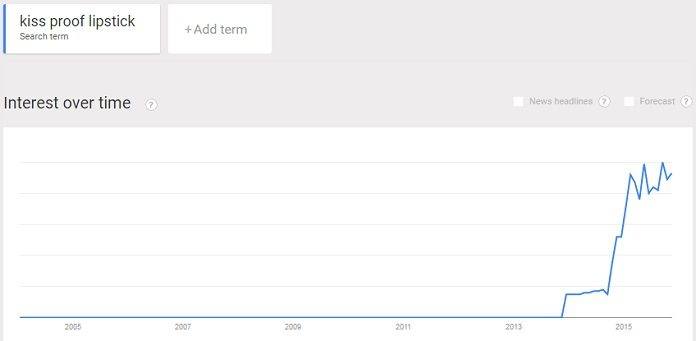 A big growing sub niche is that of the natural cosmetic line. It has been known for many years that older formulations of certain cosmetics can become toxic with prolonged use, like deodorant with aluminum in its ingredients. Not only have cosmetics companies done a better job of removing harmful ingredients, many are coming out with naturals.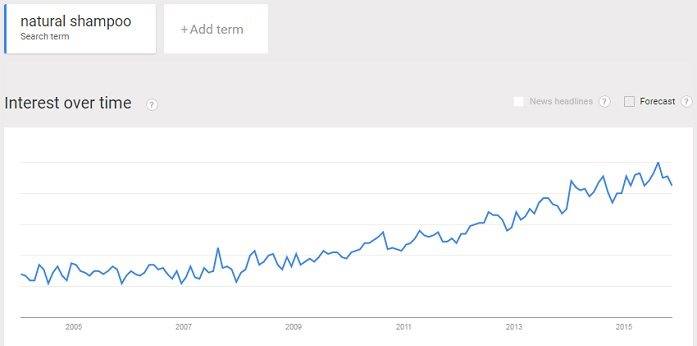 With all of these various styles, colors, compounds, and genres of cosmetic products available, coming up with a sub niche will not be hard to find. The only difficulty will be in the choosing of the one you wish to target. Below I will give you a small list of about a dozen topics that can spark some ideas for you to work with.
Nail polish
Lipstick
Skin care creams
Colored contact lenses
Hair coloring
Bath salts
Facial masks
Hair sprays and gels
Moisturizers
Tattoo removal cream
Teeth whitening
Makeup accessories (bags, mirrors & brushes)
Just with that small list, if you were to apply the naturals brand to them, it would just give you even more possibilities. Like I said, finding things to write about will not be hard! Choosing where to focus your efforts and which audience you want to target will be your biggest challenge.
Top 3 Affiliate Programs
My Thoughts
Of all the affiliate programs I have researched over the years, Cosmetics has so far been the only one where it is difficult to get all of the needed information on the affiliate program. Only a few would actually list both the commission and the referral cookie on the same page. Most programs I had to do some real digging to find that information.
Fortunately for you this website and the information provided below will help you to find this affiliate information. Later on I will explain how you too can achieve the technique I use in finding these hidden details. But for now let us get into the affiliate programs I came up with, and the top three actually had all the information easily accessible.
Sephora
Signup URL: http://www.sephora.com/affiliates
Focus: Every kind of cosmetic and makeup under the sun for the face, brows, eyes, lips, nails and hair, bath & body products, powders, tanners & sunscreen, moisturizers, perfume, cologne, lotions, creams, anti-aging, brushes, sponges, makeup bags, mirrors
Commissions: 4% to 10%
Comments: Though Sephora doesn't have the highest commission payment like some of the other affiliate programs below and has an average 30-day cookie, they are probably the best known perfume and cosmetics retailer in the world. Sephora represent over 200 of the most respected brands and sell more than 13,000 top-quality products.
Sephora was founded in France by Dominique Mandonnaud in 1970. They operate approximately 1,900 stores in 29 countries worldwide, and their website which started in 1999, is operated within the United States. Speaking of their website, it has a simple user friendly design, yet is chock full of plenty of beauty merchandise.
Avon
Signup URL: http://avonaffiliate-program-opportunities
Focus: A very comprehensive list of cosmetics and fragrances available online. You will find everything from lipstick to nail polish to bath & body to perfume and cologne.
Commissions: 6%
Comments: Though Avon has the lowest commission and only a 7 day cookie compared to any other affiliate program listed here, they are my #2 selection because of brand recognition and longevity. Avon was founded in 1886 by David H. McConnell and is one of the leading direct sales cosmetic companies in the world.
They offer a huge product line of various kinds of cosmetics and fragrances for women and men. Avon has also partnered with many celebrities over the years to launch various signature lines. Their most recent is with Fergie, singer of The Black Eyed Peas, actress Olivia Wilde, and tennis player Maria Sharapova. The Avon website is probably my most favorite of the top three in its presentation.
BH Cosmetics
Signup URL: http://www.bhcosmetics.com/affiliate/sign-up
Focus: Eyeliner, eye shadow, mascara, eyelashes, blush, foundation, concealer, powder, lipstick, brushes for face, lips and eyes, makeup kits, makeup bags, mirrors
Commissions: 15%
Comments: BH Cosmetics comes in at #3, and though they do not have as diverse a selection of cosmetics as the two programs above, their affiliate program is supposed to be top-notch. They excel in service to their affiliates with a 15% commission, above average 60 day cookie, dedicated in-house affiliate managers, monthly incentives & affiliate contests, and 24/7 Customer Service.
Not only are their products made with high quality ingredients, but they are essential for professional makeup artists, makeup lovers and beginners alike. You won't find another brand that offers affordable makeup with as many vivid colors and textures as BH. And though I rarely like a website with a black background and white text, the BH website displays quite nicely.
Other Affiliate Programs
Premier Dead Sea – USA
15%
Moisturizers, anti-wrinkle cream, skin care creams and lotions, body polish, bath crystals, body butter, salt scrub, anti-aging serum complex, gift sets
True Natural
10% to 15%
Natural & organic lipstick, mascara, eyeliners, eye shadows, foundations, powders, body lotion, hand cream, moisturizers, nail polish, self-tanners, shampoo, deodorant
Outer Beauty Cosmetics
15%
Mink and paper eyelashes, cosmetic brushes for lips, eyes and face, cosmetic bags, makeup sponges, brush holders
Sally Beauty
12%
Makeup for lips, eyes, brows, face, nail polish, removers, hair color, sprays, extensions, gels and accessories, skin tanning, creams, lotions, bath & body products
Becca Cosmetics
7% to 10%
Foundations and creams for the face, eyes, lips and cheeks, skin and body perfectors, body mousse, powders, complexion enhancers, brushes, sponges
Afterglow Cosmetics
8% to 10%
All natural, organic & gluten free cosmetics such as lipstick, lip gloss, foundation, blush, mascara, bronzers, eyeliner, eye shadow, gift sets, anti-aging
Benefit Cosmetics
4% to 7%
Makeup for cheeks, neck, lips, eyes, brows, nail polish, removers, tips, artistry, hair color, sprays, gels, skin cleansers, creams, lotions, bath & body products, brushes, makeup bags, mirrors
Cosmetics Keywords Breakdown
10 Low Competition Keywords (Searches/QSR)
eye shadow for sensitive skin – 56/15
what is the best long lasting lipstick – 483/20
the best eyeliner makeup – 361/32
what is the best lip plumper – 4486/46
how to take off acrylic nails at home – 333/53
makeup tips dark skin – 210/58
what is the best eye cream – 26703/77
brunette hair color shades – 3600/81
makeup mirror with lights – 2825/92
What's QSR
10 High Traffic Keywords (Searches/QSR)
private label cosmetics – 25014/219
best at home hair color – 9824/152
acrylic nail designs – 9046/143
color contact lenses – 7697/176
translucent face powder – 4448/222
best makeup for oily skin – 4444/183
dead sea cosmetics – 3174/214
concealers for dark circles – 3106/176
best waterproof eyeliners 811/77
cruelty free makeup brands 430/135
Why Is This Different From Google's Number?
Though Google's Keyword Tool has improved in recent years, it still gives inflated (inaccurate) traffic numbers. The keyword tool I use takes data from a variety of search engines, not just Google. Remember that Bing + Yahoo own 30% of the search market.
Other Great Keywords (high traffic, low competition)
mary kay cosmetics – 12645/249
a lip plumper – 9618/234
semi permanent hair color – 8115/184
best beauty products – 4792/119
discount cosmetics – 4476/195
beauty tips for glowing skin – 3259/225
the best foundation makeup – 3206/170
best waterproof mascaras – 2958/201
how to use concealer makeup – 79/23
what is the best tattoo removal cream – 298/27
portable lighted makeup mirror – 128/43
makeup for dark skinned women – 96/45
what is the best eye makeup – 1233/59
what is the best hair removal cream – 506/74
do tattoo removal creams work – 104/76
best acne scar removal cream – 160/95
mascara sensitive eyes – 880/98
Affiliate Marketing Action Plan For Cosmetics
As you can imagine the cosmetics niche offers many opportunities to make some big-time profits with all of the different sub niches available. The challenge you face is going to be narrowing down your niche to a specific interest. So to help guide you in your approach I am going to provide for you with what I would do should I take on the cosmetics niche.
The majority of women, and many men too, use hair color. Men tend to use it to get rid of gray hair, but women are a whole another story. Women color their hair based on things like their moods, an event, a particular type of outfit they want to wear, and I am sure there are many other reasons too.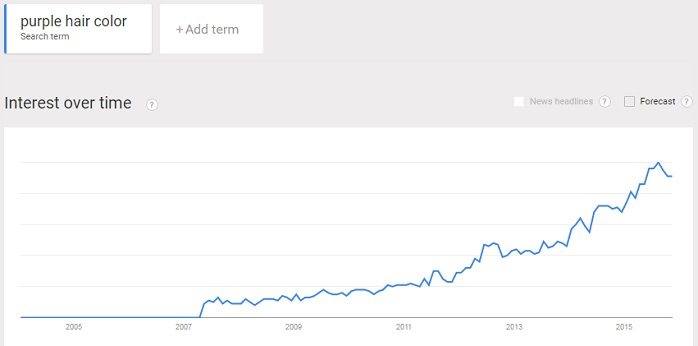 This is the focused niche I would start with because women are going to forever color their hair and men will do it as well when they get gray. Hair color and then all of the other associated products can quickly add up to plenty of sales. And now the normal hair colors are out and the exotics are in. As the graph shows above, purple is the trending color.
These trends are brought on by many celebrities and musical artists like Katy Perry and Nicki Minaj. Making a statement with your hair color is an old tradition but it used to be blondes and redheads but not anymore. According to trends, purple is number 1, with blue in 2nd and green in 3rd. Women like to be noticed and hair color is one way to accomplish this.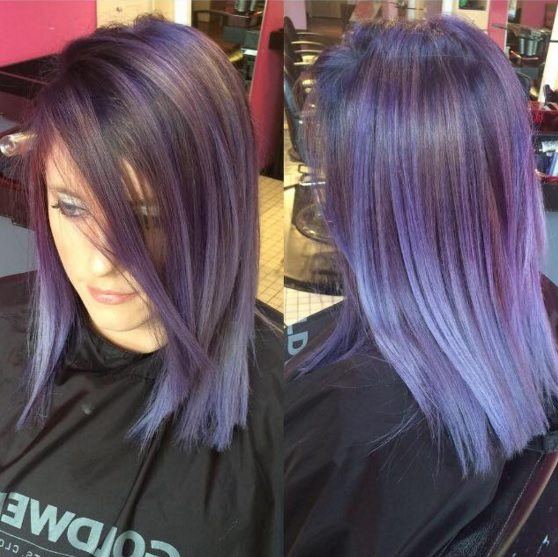 For instance my friend Alicia in the photo above. She has colored her hair many different colors but purple is my favorite. Actually she was wearing purple hair back in 2003 before it became popular. Knowing her, and being a New York City resident, it wouldn't surprise me if she started the trend.
Being that hair color has a big market of users, this would be the niche I would target. And we must also realize that hair color is used in a professional capacity for those whose job requires them to dress a certain way, or even for hair stylists that need to buy products. Models, performers, musicians, mascots, even sports players. The uses are many and so can be the sales.
Need Extra Help?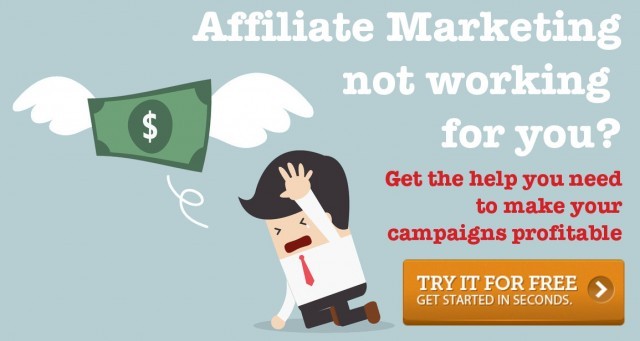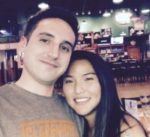 Nathaniell
What's up ladies and dudes! Great to finally meet you, and I hope you enjoyed this post. My name is Nathaniell and I'm the owner of One More Cup of Coffee. I started my first online business in 2010 promoting computer software and now I help newbies start their own businesses. Sign up for my #1 recommended training course and learn how to start your business for FREE!