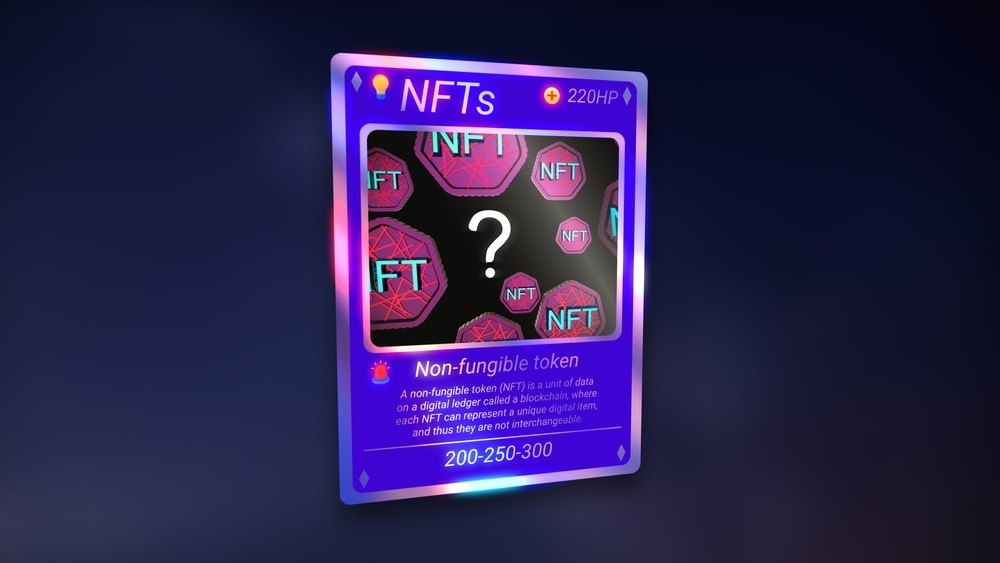 If you're a fan of video games, deck building games, and NFTs, then you'll probably be interested in online games based around these concepts. NFT card games are very easy to understand, and their value proposition is perhaps much easier to see versus typical NFTs, which are basically buying jpegs.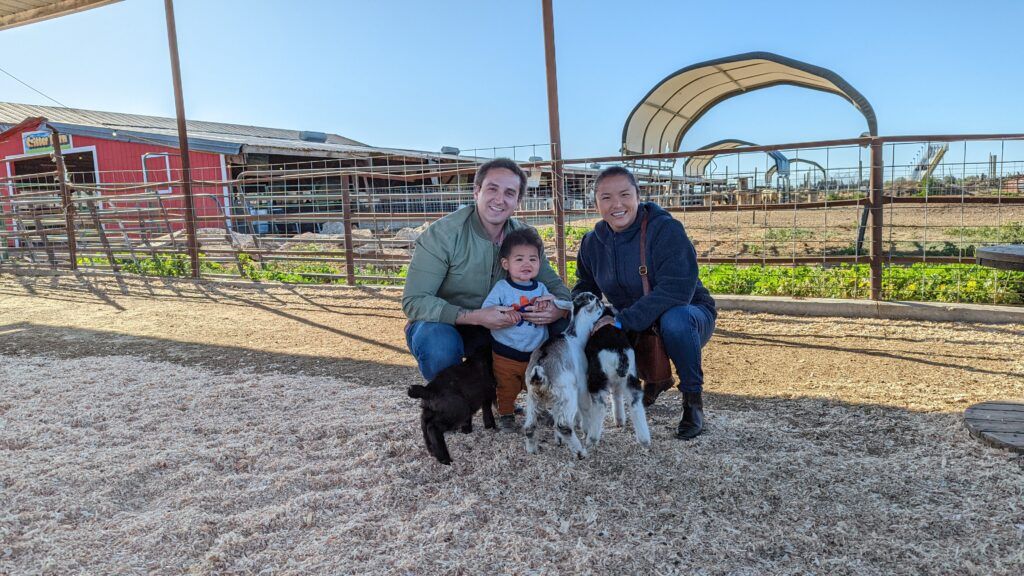 Are You Ready To Work Your Ass Off to Earn Your Lifestyle?
Are you tired of the daily grind? With a laptop and an internet connection I built a small website to generate income, and my life completely changed. Let me show you exactly how I've been doing it for more than 13 years.
With NFT card games, it's very much like a regular card game. You have to buy sets of cards to participate in a specific game, with some cards being harder to find (rarer), and therefore worth more money. Gameplay depends on which combination of cards you have, and you can buy, sell, or trade cards based around your own personal strategy for play.
Since it seems like tons of people are making money with NFTs, is it possible to actually make money playing NFT games? With some games, yes. With deck building NFT card games, most likely not – at least not in any consistent kind of way.
From my research, it was very rare for anyone to make any significant amount of money from playing these games, and if someone was making money, it was a one-off type of event, not something consistent from which you could make reliable income. This is pretty much like regular deck building card games. Maybe once in a while you come across a rarity that could be worth more than you paid for it, but otherwise, you need to be playing the game to have fun, not to make money.
NFT card trading games are relatively new, therefore, there is no guarantee that you can make any money at all. In fact, you'll most likely spend more money acquiring the cards than you make from selling them or earning any in-game cryptocurrency tokens. However, many of them will provide hours of fun at the bare minimum.
There's always a chance that if you find a new game that ends up being popular, you could sell your original cards for a good price in the future, but NFTs are so new, it's really hard to tell which way the market will go from here.
Top NFT Card Trading Games
Below, we will help you get started with your research by breaking down our 15 favorite NFT card trading games. Keep in mind, though, that these games are not necessarily ranked in any particular order.
First Things First: Where to Get These NFT Cards
The first thing that may come to mind when you get into one of the games below is how you can acquire the NFT cards. Typically, the best place to start will be on the platform itself or OpenSea, which is currently the largest NFT marketplace. The odds are high that any particular NFT you want to buy for the following games and beyond can be found on OpenSea.
1. Sorare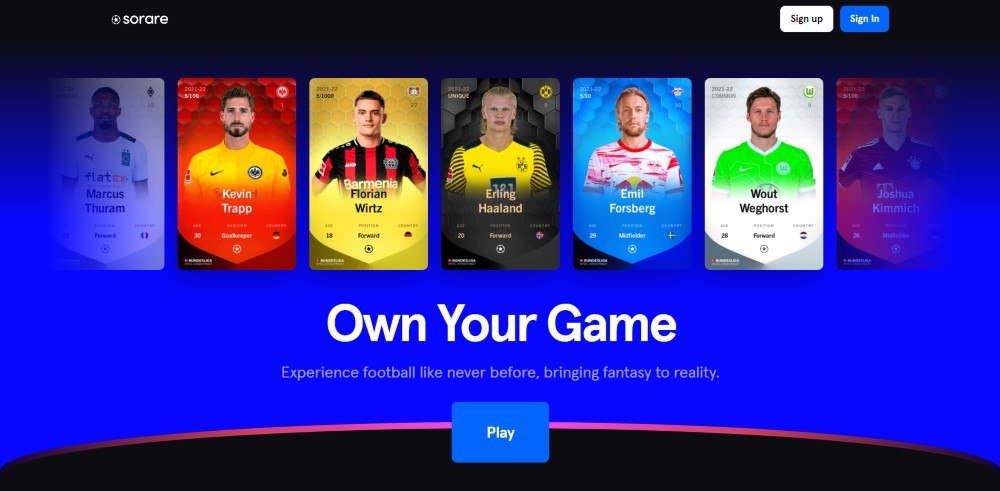 Sorare is a great NFT card trading game to get into if you are a huge fan of soccer and fantasy sports. Essentially how this works is that, like fantasy sports, you get to create a team and then compete against others using your players. The all-time average daily purchase price for Sorare cards is 0.1148 ETH, with over 50,000 ETH spent on cards to date on OpenSea.
The score that you receive will reflect the player's actual performance in real life. Therefore, if you get a particularly rare card, your performance against other players will be at an inherent advantage. Each card that you get is treated as an NFT that can be traded for real money at any time. Given how popular this game is, it is easily the top NFT card game right now.
2. Splinterlands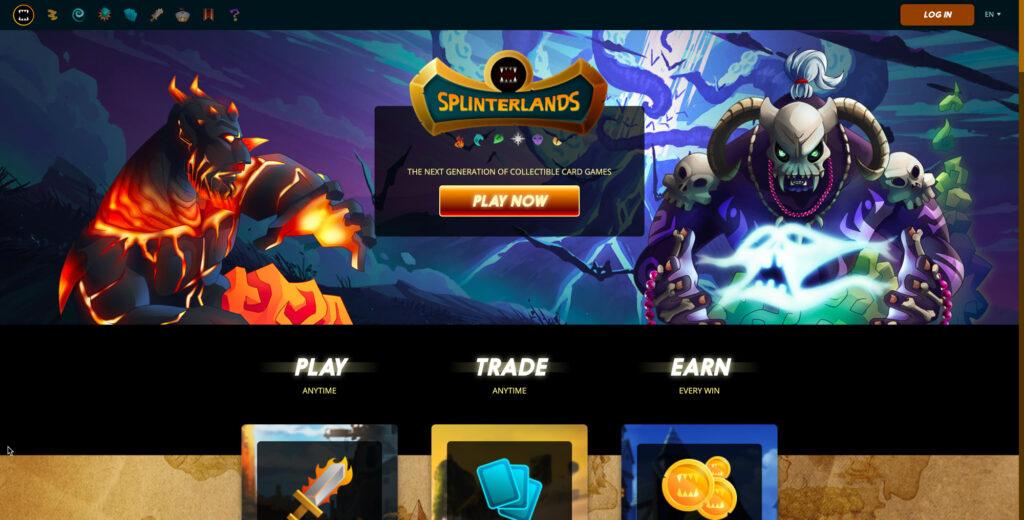 Being one of the only NFT card trading games that run on the HIVE blockchain, Splinterlands is a card game where each player collects their own set of NFT card monsters. Using their deck of cards and their own individual powers, users can compete against one another. It's also free to play while you learn the mechanics.
Splinterlands is still very small and is experiencing low volume numbers on OpenSea, where there is an all-time volume of only 16.5 ETH currently. The typical average buy price is 0.0075 ETH. The official Splinterlands marketplace is clearly where most of the trading takes place, with 81,864 sales adding up to a total volume of $130,743 in the past 24 hours.
3. Gods Unchained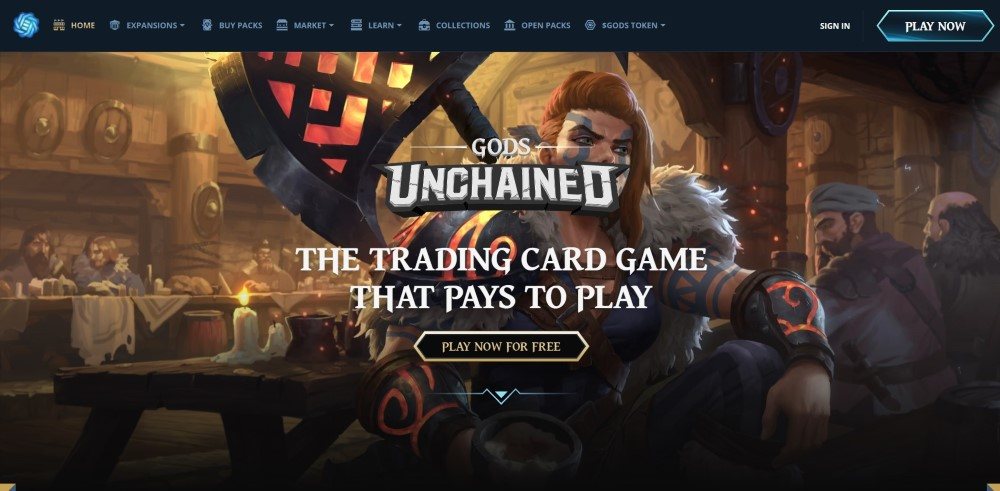 Gods Unchained is a 1v1 NFT card battle game where players can compete with one another to win prizes, collectibles, and clout. Each card you receive is playable in the game and can be exchanged as an NFT for real money. Players with the better cards tend to have the best chance for winning.
Currently, Gods Unchained is one of the faster growing NFT card trading games, with which roughly 10% of its overall collectible trading volume on OpenSea has taken place in the past 90 days alone. The average purchase is currently .11 ETH, with an all-time volume of about 407 ETH. The official Gods Unchained marketplace does not seem to have any additional data.
4. Berserk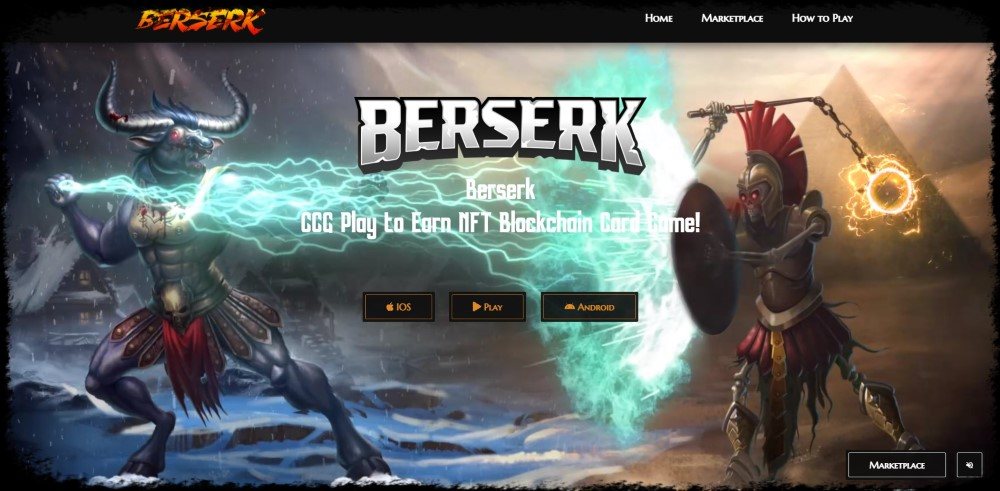 Berserk is an NFT card trading game that allows users to compete against one another with their own decks powered to provide the user with unique weapons, spells, and beasts. Each player is given an ELO ranking which is then used to help them match with players of their skill level.
The best way to buy Berserk trading cards is on the official marketplace. To trade, you will need to acquire the official PYR cryptocurrency to buy. At the time of writing, there is a total trading volume of approximately $7.6 million on the berserk platform, with most of the trading taking place during May 2021.
5. Crypto Spells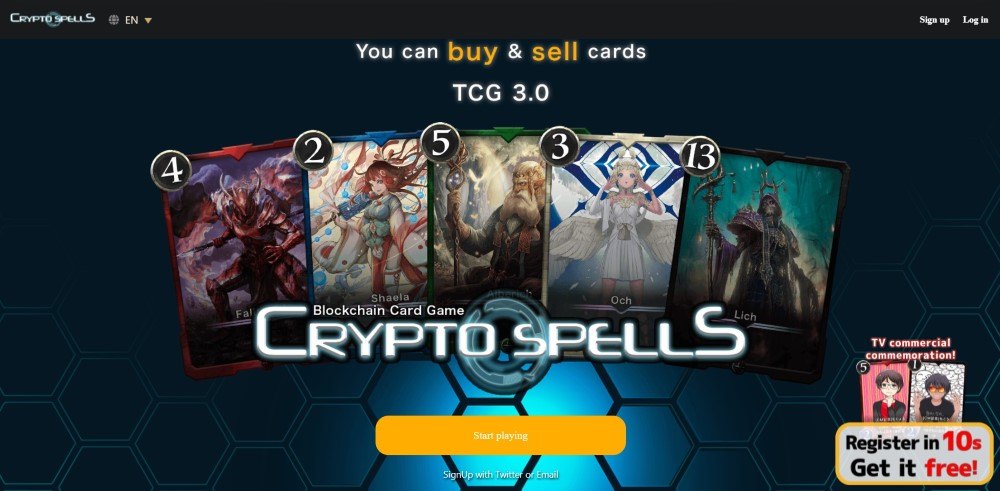 Crypto spells is a medieval-themed NFT card game where the users engage in battles and tournaments to earn rewards. Like Gods Unchained, Crypto Spells allows users to craft their own unstoppable force of medieval magic, monsters, and weapons.
After launching in 2019, Crypto Spells raised over 600 ETH in one day. Since then, 10s of thousands of players have navigated to the platform, and it remains growing every day.
6. Alien Worlds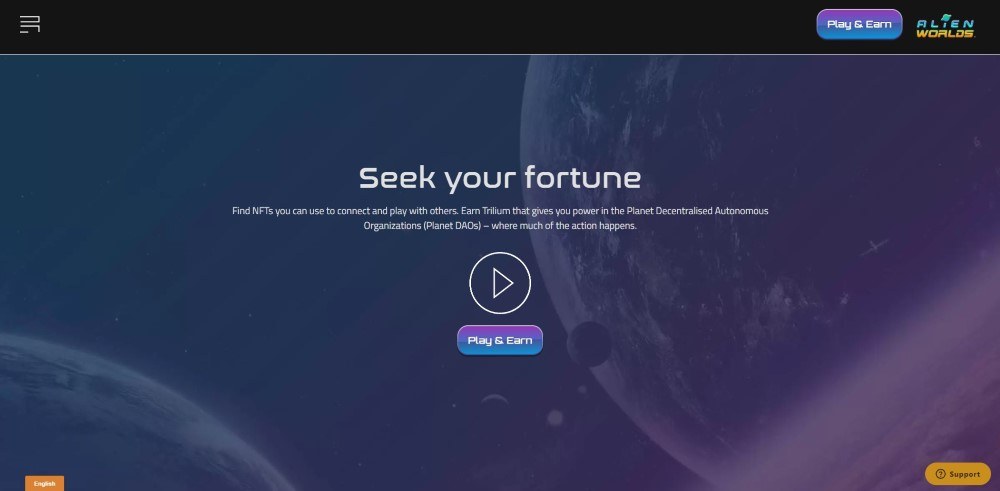 Alien Worlds is much more than just an NFT card game. Although NFT game cards can be used for mining, fighting, missions, and overall utility, the platform itself is a metaverse full of different planets that operate as DAOs. With trading volume consistently raking in 100s of thousands each day, this platform seems to be here to stay.
In addition, there is an in-game native currency used to power the economy of the metaverse. The trading cards are an inherent part of gaining influence and notoriety on the platform. For this reason, Alien Worlds is still technically an NFT card trading game.
7. Dawn of Gods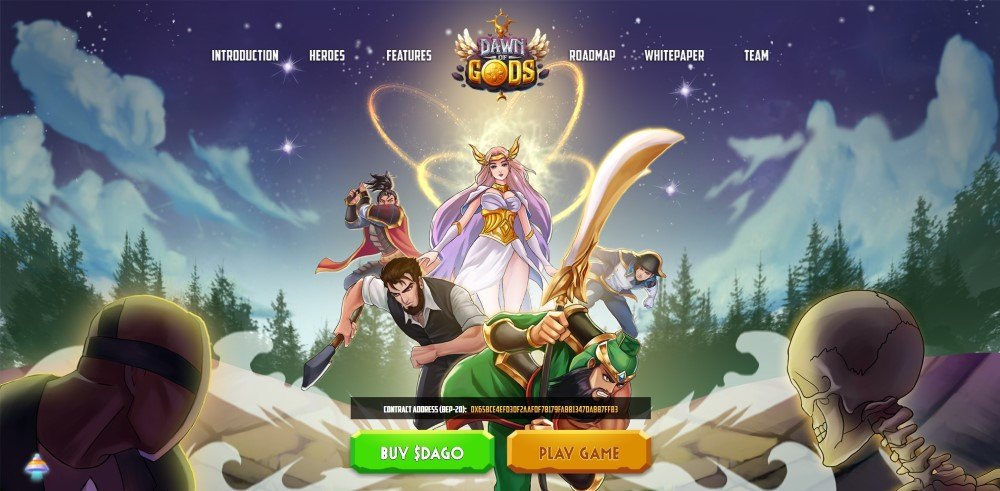 Dawn of Gods is a card game that imagines a world where there is an ongoing holy war taking place between humans, gods, and demons. In this turn-based game, users collect cards and battle against one another to determine the fate of humanity.
One cool feature of this game is that it has a Gas compensation model that helps users avoid running out of funds to handle gas fees. After the initial volume activity after launch in early January, Dawn of Gods has experienced a decline in activity and overall sales.
8. Parallel Alpha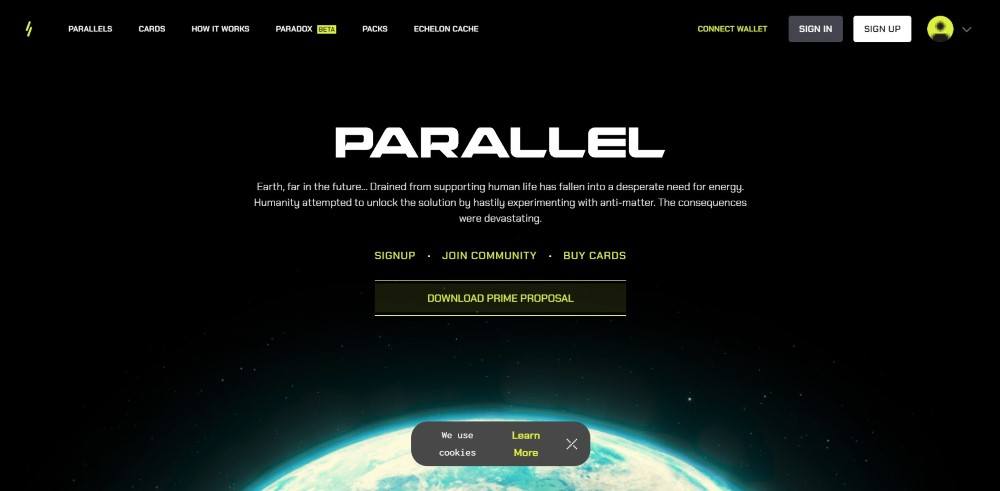 Parallel Alpha envisions a future world where humanity, pushed with no means of acquiring resources, is forced into harnessing anti-matter. In turn, races of abominations were born. The players of this NFT card game can harness the power of anti-matter and compete against each other with their own unique set of cards divided into five different classes (or parallels).
Chain analysis indicates that Parallel Alpha has been popular and has remained with a consistent set of users and sales since March 2021. The total volume of ETH moved on OpenSea alone is 61,138. The average sale is 0.65 ETH. These numbers indicate that many people put quite a bit of value into the NFT cards for this game.
9. Dark Country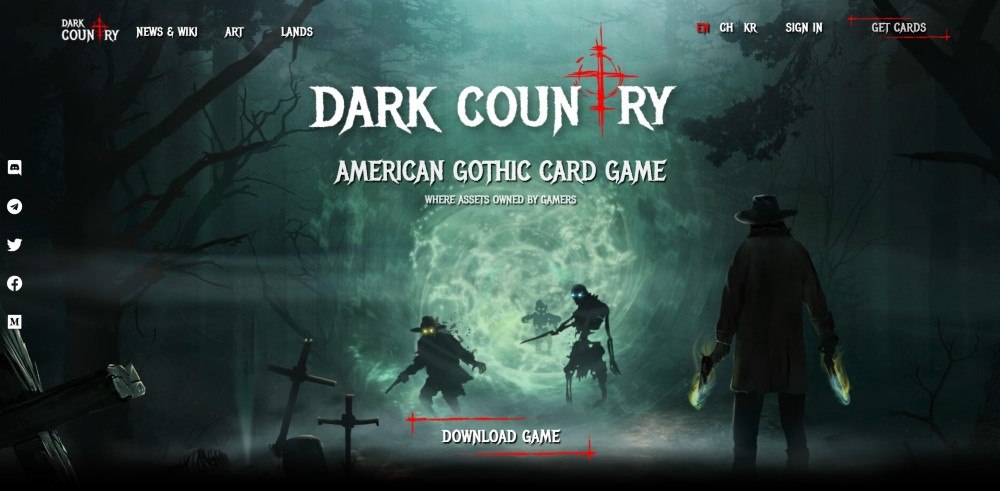 Dark Country is a gothic-themed card game that allows users to store their NFT cards on multiple blockchains, including Ethereum, WAX, EOS, and Flow. Similar to other NFT card games, users rack up a deck of cards in hopes of having the most powerful deck. Adding in a little bit of strategy, this turn-based card game offers a unique experience to players.
In late March 2020, Dark Country was first released to the world. A subsequent influx of users to the platform stayed there until about July. Since then, action stabilized until early 2021, when further interest peaked sales to new all-time daily highs. However, the total number of ETH exchanged on this platform peaked in 2020, when the value of ETH was also much lower.
10. Metropolis Origins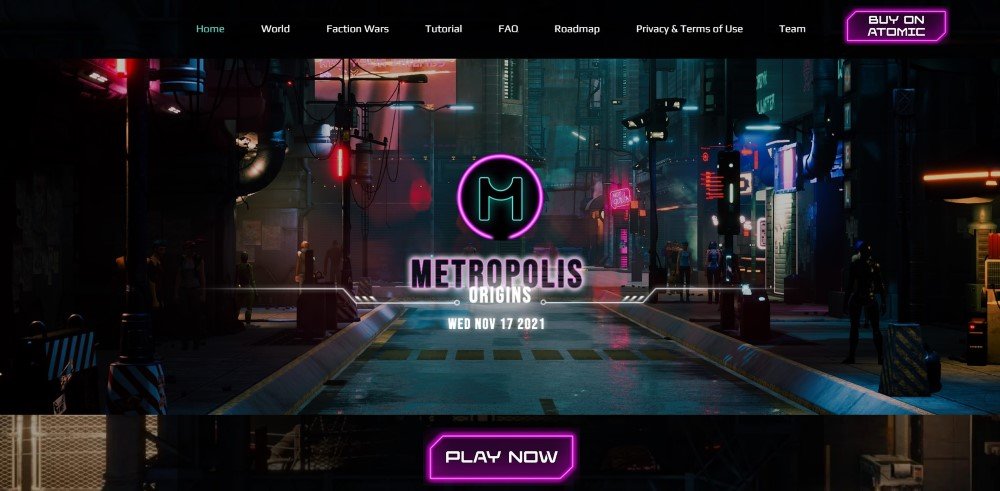 Metropolis Origins is a new NFT card game that takes place in a cyberpunk world. Since it only launced in November 2021, there is still much to be seen for this game in terms of price action and potential for growth. Each card comes with its own power and strength. Rarer cards are considerably more powerful than ones that are easy to get.
However, one thing that stands out with this game is its unique interface, graphics, and gameplay attributes. Anyone can log in, make an account, and receive their first NFTs within minutes by playing Metropolis Origins after purchasing a deck. Since this is a new project, people who get in early might set themselves up to make some money in the long term if this project gets more popular.
11. Kingdom Karnage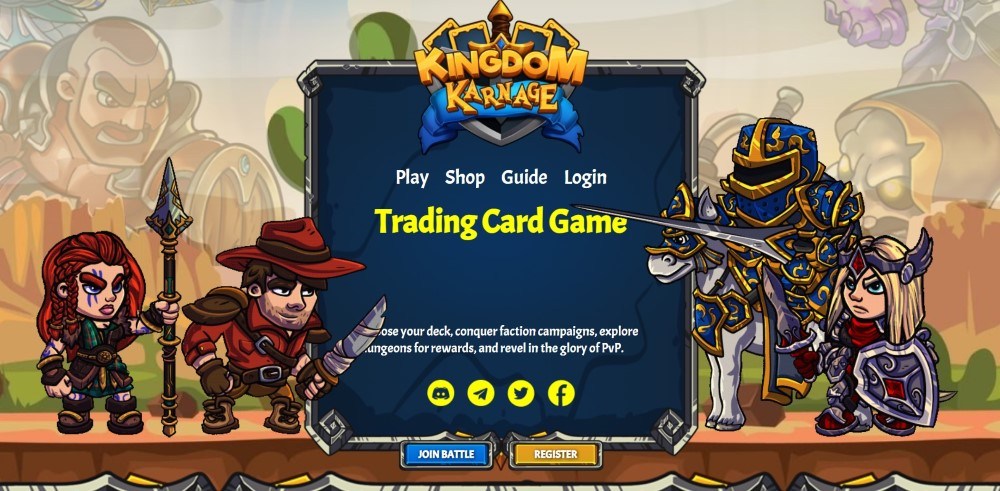 Kingdom Karnage is a turn-based animated combat that requires the user to use NFT tradeable cards to compete. It is also free-to-play as a new user. In addition to battling users 1v1, you can explore dungeons, complete campaigns, and try to acquire rarer cards.
A unique aspect of this game other than the animated gameplay is that the most legendary cards are extremely difficult to get. The game prides itself on having some of the most hard-to-get legendary NFT cards. However, with an all-time volume traded of less than 1 ETH on OpenSea, it is yet to be seen how valuable these NFT cards will be.
12. Doctor Who: Worlds Apart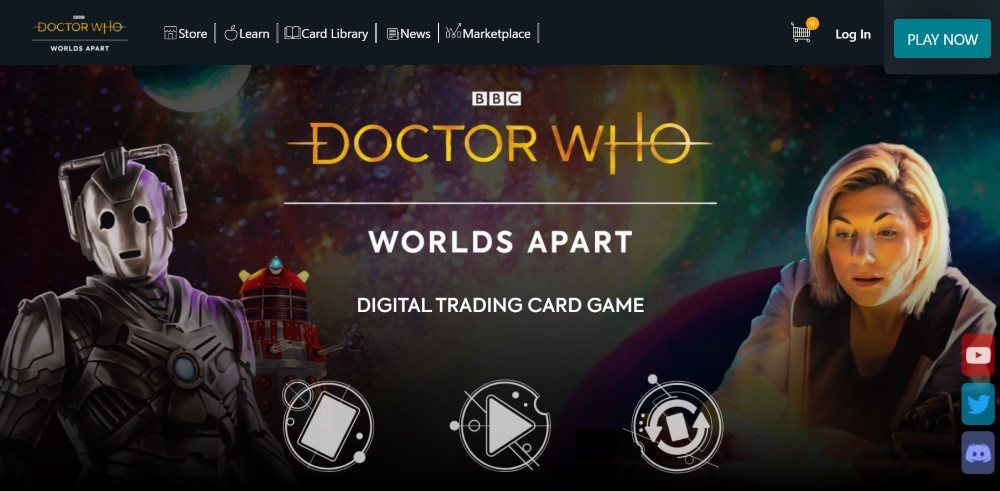 Launching in late 2021, Doctor Who: Worlds Apart is themed after the timeless TV show and officially licensed by BBC Studios. Players can build their own card decks that include creatures, items, companions, and doctors.
It is important to note that this is not a free-to-play or play-to-earn game. You must buy the cards that you use to compete with one another. Since launching, over 1.8 ETH has been spent on Doctor Who cards on OpenSea. The official marketplace has boasted a total trading volume of almost $700,000 so far.
13. Skyweaver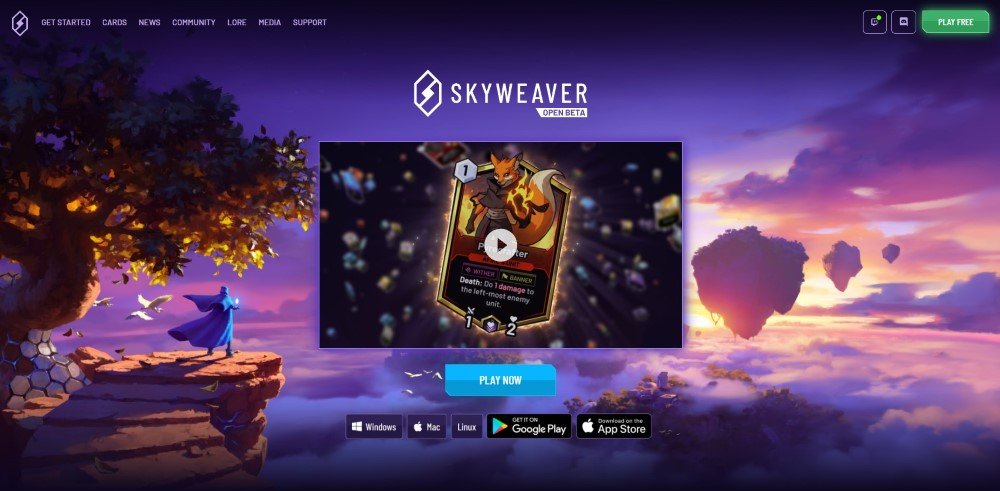 Skyweaver is an NFT card trading game that takes place in an imagined dimension full of warriors, beasts, and magic. Like many other similar games, the user collects a deck with its own unique abilities and powers. When competing against other players, you can win rewards
Although currently only in Beta mode and available to particular users, trading for cards has already begun on platforms like OpenSea. However, despite the promising interface, graphics, and potential, this card game only has a total volume traded of 0.2 ETH on OpenSea.
14. Contract Servant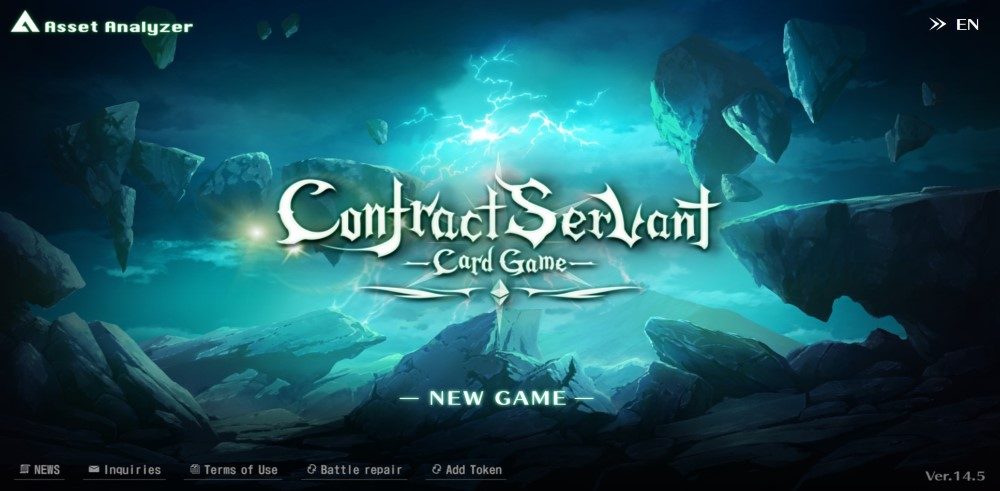 Contract Servant is another trading game where users collect cards (referred to as "servants") that they can use to battle other players. The game really got some serious attention during early March of 2020 all the way through the late summer of that year.
However, the volume of trading also peaked during this period. Since then, the number of users and price action has dropped. The platform itself seems to be in a stagnant period that needs a boost of users to unlock higher NFT prices for the cards.
15. TaleCraft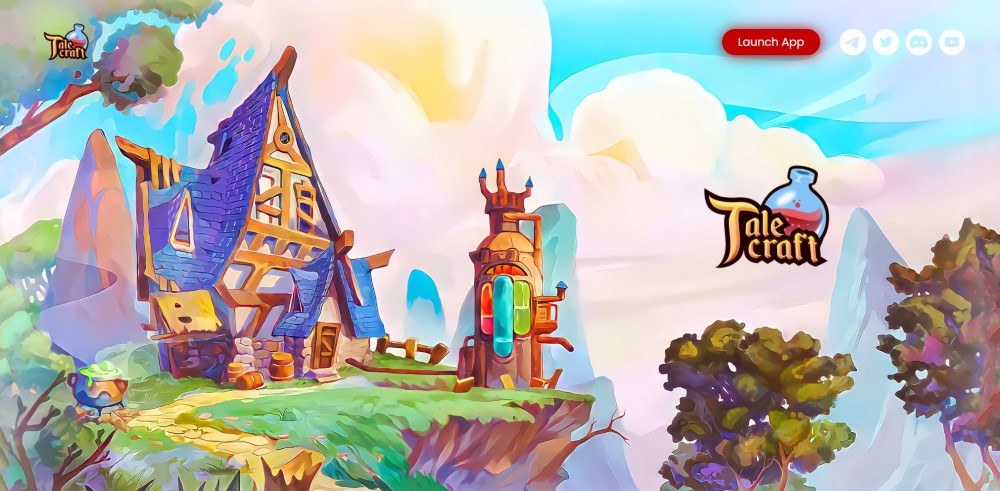 TaleCraft is a unique NFT card trading game where users craft their own NFTs using elements sold in weekly Alchemist Chests. Each time an NFT is minted, the original element cards are burned, making this a deflationary NFT card game. In addition, one of the first NFT card trading games on the Avalanche blockchain.
Once you make your own NFT, you are free to hodl it or even sell it on a marketplace such as OpenSea. Due to its new status, though, it is yet to be seen how valuable these NFTs are. With limited price information, the game's popularity is also still yet to be seen.
Most Noteworthy Non-Game NFT Card Project Worth Mentioning
Now that we have covered some of the top NFT card games, one NFT card project is also heavily worth mentioning, despite not being an actual game.
NBA Top Shot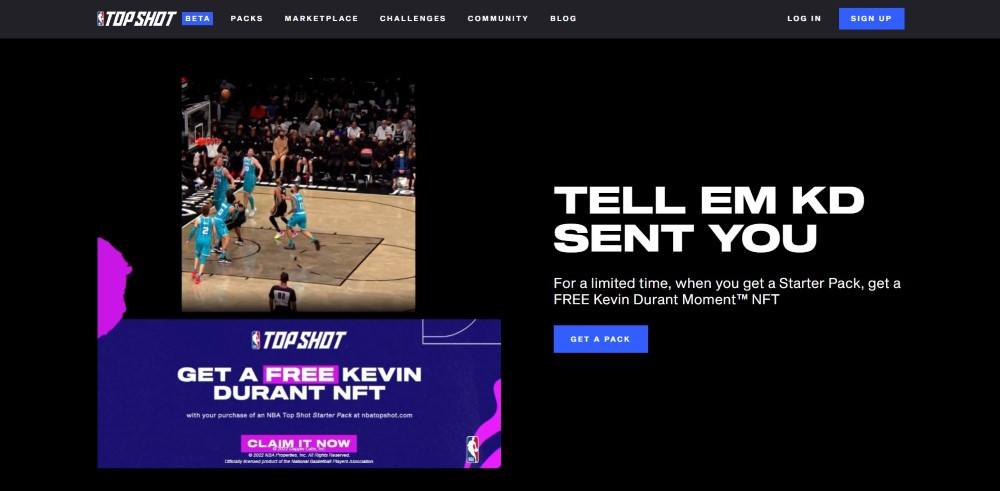 NBA Top Shot is officially licensed by the NBA and provides fans with the ability to own NFTs of iconic moments in NBA history. Famous plays and memorable moments are minted as NFTs that fans can buy.
Each of the top 10 sales on the platform so far has been valued at over $100,000USD. Lebron James is currently the most valuable contributor to NBA Top Shot, making up 7 of the top 10 sales on the platform. The most valuable NFT card was previously sold for a whopping $230,023USD.
Final Thoughts About NFT Card Trading Games
I hope that the list above inspired you to try out one or more of the NFT card games and perhaps helped you get your first NFT. Although no promises can be made on future price action, games like these allow you to own a piece of the game's network. Find a game you like, dig deeper into the gameplay, and see if you want to stick around long enough to be a card collector.
BUT WHY IS IT ON A BLOCKCHAIN
My big gripe about these NFT games is that in practice, they aren't any better than any other type of digital deck building game. Although 'blockchain' promises to be a community owned, censorship resistant version of what already exists, in practice, that's not the case. Blockchains like Solana, Cardano, and Ethereum are not immutable. They are not censorship resistant. They are not community owned. They are centralized companies LARPing as Web3.
If you like these games, go for it. However, I think you may be able to find better developed, higher quality, and more fun games from traditional gaming companies. Yes, it's fun to experiment with new technology, so I don't mean to discourage anyone from doing that, but I wouldn't do it just because you think playing an NFT game is going to make you rich in the future.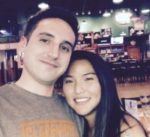 Nathaniell
What's up ladies and dudes! Great to finally meet you, and I hope you enjoyed this post. My name is Nathaniell and I'm the owner of One More Cup of Coffee. I started my first online business in 2010 promoting computer software and now I help newbies start their own businesses. Sign up for my #1 recommended training course and learn how to start your business for FREE!