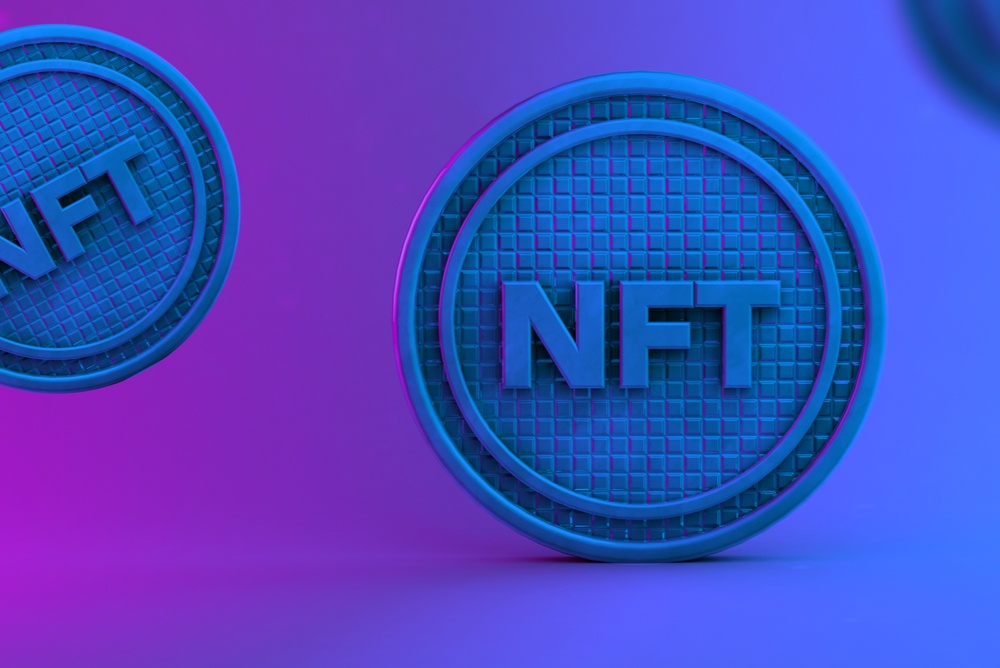 If you have been following the world of NFTs closely for some time now, you are already aware that this has been a booming market in recent months. As people start to learn more and more about NFTs, it seems that their overall level of popularity continues to grow. The #1 thing you'll hear when investing in NFTs however, is that it's really easy to lose money if you don't buy the right NFT at the right time.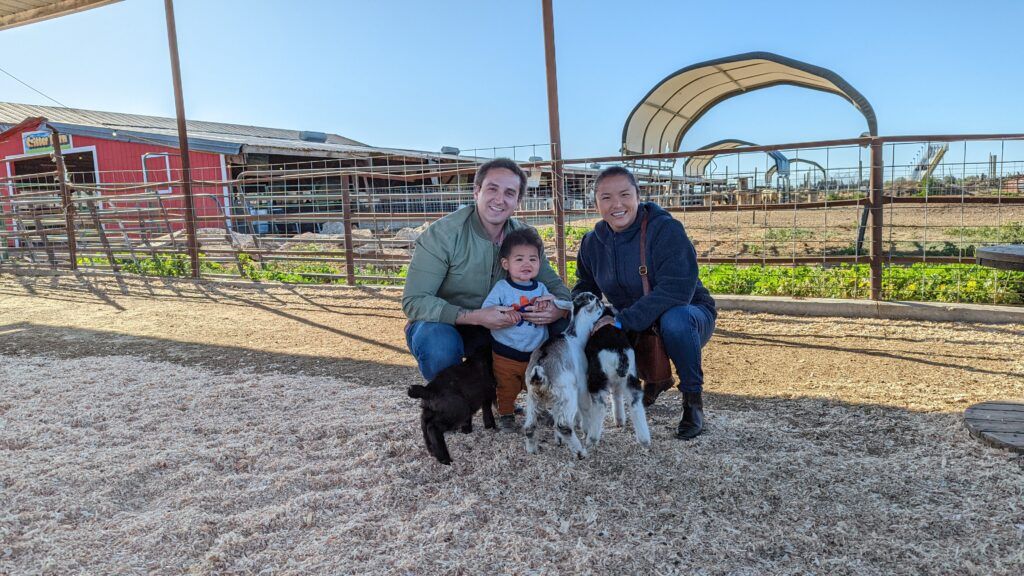 Are You Ready To Work Your Ass Off to Earn Your Lifestyle?
Are you tired of the daily grind? With a laptop and an internet connection I built a small website to generate income, and my life completely changed. Let me show you exactly how I've been doing it for more than 13 years.
So what do you do if you want to get in on the NFT trend, but don't want to lose money? This is how the concept of blue chip NFTs was born. Blue chip NFTs would basically be NFTs where it's less likely that you'll lose money over time.
Are blue chip NFTs real though? Skeptics remain cautious about investing in NFTs – and for good reason. When you buy a new asset such as this, which is newer than cryptocurrency itself, it is difficult to use historical trends alone as a basis for justifying future growth and popularity. That being said, this page will cover our top picks for blue chip NFTs that you might invest in, as well as some growing projects that could also reach high heights this year and beyond.
At the end, I'll leave you with some personal thoughts about these so-called blue chip NFTs, and how I think about the space.
NEW Fold App is paying out 5,000 sats (fractions of bitcoins) just for signing up, and they are launching a sats-back debit card (bitcoin instead of cash back). Sign Up Here. I use it all the time. You can get sats back for purchasing gift cards (Amazon, Starbucks, restaurants, etc), plus free sats on every purchase you make using their debit card.
10 Blue Chip NFTs & Out Picks for Future Blue Chip NFT Projects
With the NFT market growing, many projects have reached heights that were never even imagined possible. Only a short time ago, NFTs were just starting to get some steam. At that time, many of the blue chip NFTs we will describe below had just started to get some attention.
What Are Blue Chips?
The term "blue chip" derives from the stock market, where "blue chip" companies are considered solid investments with a high likelihood of holding their value and returning profits. Therefore, if we were to transplant this word over into the world of NFTs, blue chip NFTs would be the ones that are widely seen as suitable investments with minimal risk in crashing and maximum possibility of holding their value over time and growing as the market does.
Examples of blue chip stocks include Microsoft, Coca Cola, IBM, Home Depot, General Electric, McDonald's, and many others. These are well known brands with a broad range of products that make them generally recession-resistant. They may not be the "hot companies" with high growth rates, but they are reliable companies with decade-long histories, and you can expect that they won't go out of business any time soon.
How To Determine if an NFT Project is Blue Chip
Now that we have covered what a blue chip stock looks like, what would a blue chip NFT look like? Since NFTs as a concept have not even been around for a full decade, it's very difficult to judge them based on longevity. An NFT with just two years of history seems like a dinosaur compared to the thousands of new NFT projects that pop up every day. NFTs also do no make products like traditional companies on the stock market, and they are created in a limited supply (by design!) so we can't assess their market penetration and future product growth either.
So, we must establish some type of criteria for how to determine what a blue chip NFT is. Let's go over some of the critical factors to look for in a blue chip NFT.
High Floor Price
Adequate Trading Activity
The Notoriety of the Collection
Utility of the NFTs
Noteworthy Endorsements
If there is a high floor price and plenty of recent trading activity, it is easier to assume that the project has natural buoyancy in the market, and isn't relying heavily on marketing campaigns and FOMO. This is especially true if there is a sizeable cohort of owners who swear by the NFT collection, including celebrities and influencers. In addition, the utility of the NFT, such as it being a plot of land in a metaverse, or being able to perform a task in an NFT game means that there could be a greater chance long term market for these assets.
Current NFT Projects Considered to Be Blue Chip
Now that we have covered what it takes to be a blue chip NFT let's go ahead and break down our top 10 choices for NFT collections that many already view as blue chip projects. Of course, this list is not to be seen as financial advice, or anything more than a personal opinion.
1. Crypto Punks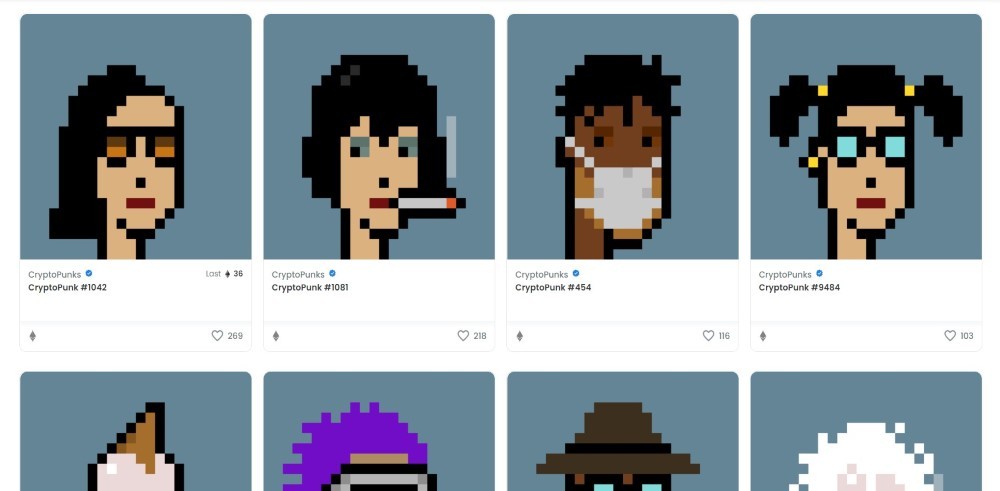 Crypto Punks is a combination of 10,000 unique NFTs generated through an algorithm and placed on the Ethereum blockchain as ERC-721 NFTs in 2017. Initially, they only cost gas fees to acquire. Crypto Punks recently made headlines when it was announced that Visa had purchased one of their NFTs for about $150,000 in ETH. Most recently, a crypto punk was sold for $23.7 million.
2. Bored Ape Yacht Club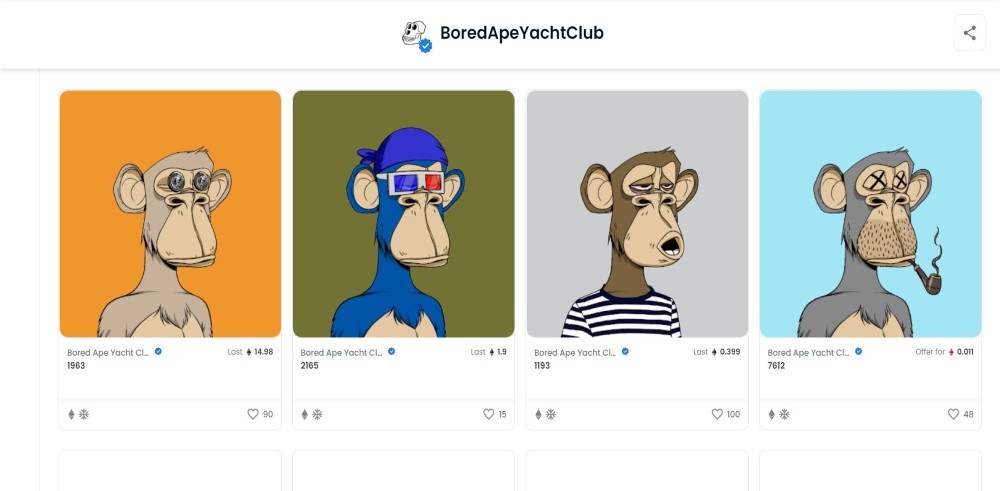 Bored Ape Yacht Club was only launched in 2021 and picked up some seriously massive steam in a short amount of time. Each of the 10,000 NFTs was randomly generated using 170 possible traits, clothing, expressions, and accessories. Launched on the Ethereum blockchain, the Bored Ape Yacht Club quickly hyped up in prominence when celebrities such as Shaquille O'Neil, Paris Hilton, Eminem, Justin Bieber, Jimmy Fallon, among others, aped into the project.
Currently, the floor price is sitting right around $300,000, making it expensive to get in, but one of the most attractive projects to make money long term.
3. Cool Cats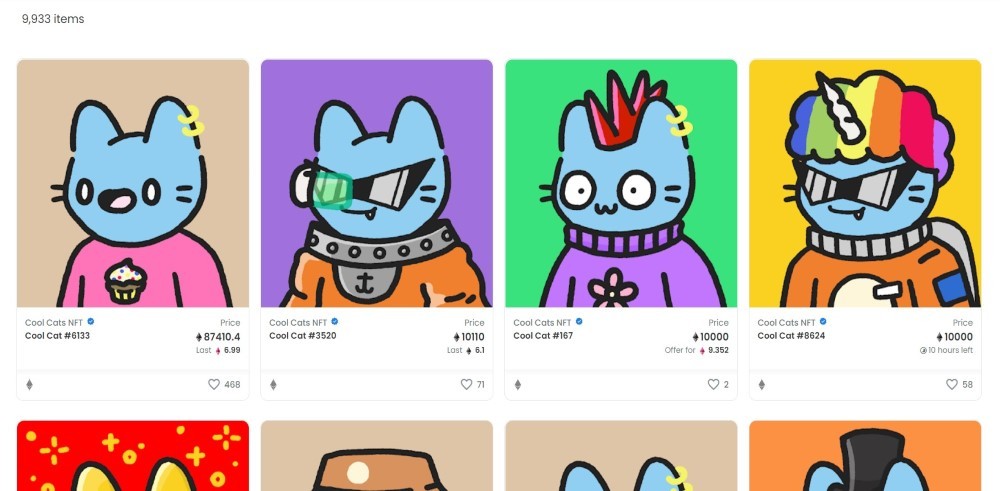 Created in June 2021, Cool Cats followed in the footsteps of the Bored Ape Yacht Club collection by making swift growth in a short period. Each of the 9,999 randomly generated NFTs features a unique cat that you can own on the Ethereum blockchain. Currently, there is an average daily volume of 210 ETH, equating to about $610,000 worth of cats at current ETH prices being exchanged each day.
4. The Sandbox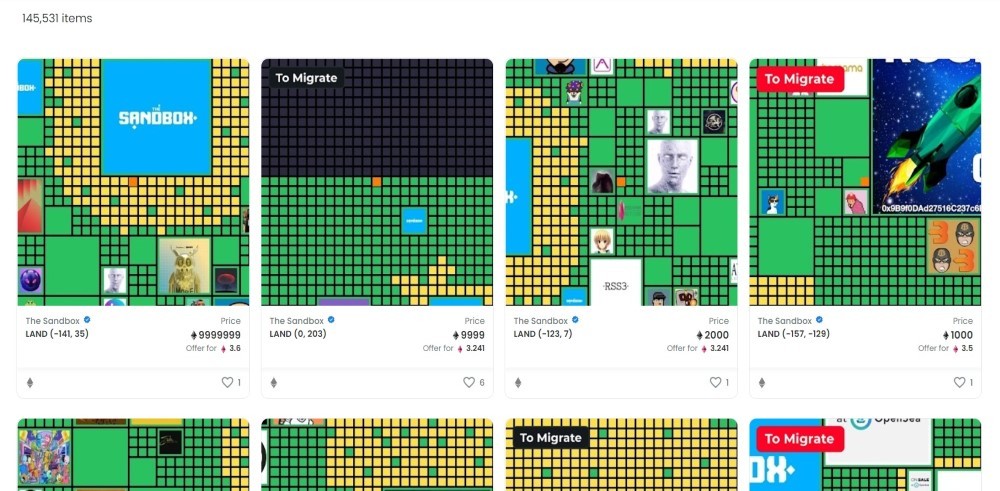 The Sandbox stands out as one of the more unique NFT collections. Since this is a so-called metaverse, you are not purchasing artwork per-say, but rather your own virtual land that you can build and improve as you see fit. One of the noteworthy actors to push Sandbox up to blue chip status was Snoop Dogg, who recently boasted an asset value of $4.8 million in the metaverse.
5. Decentraland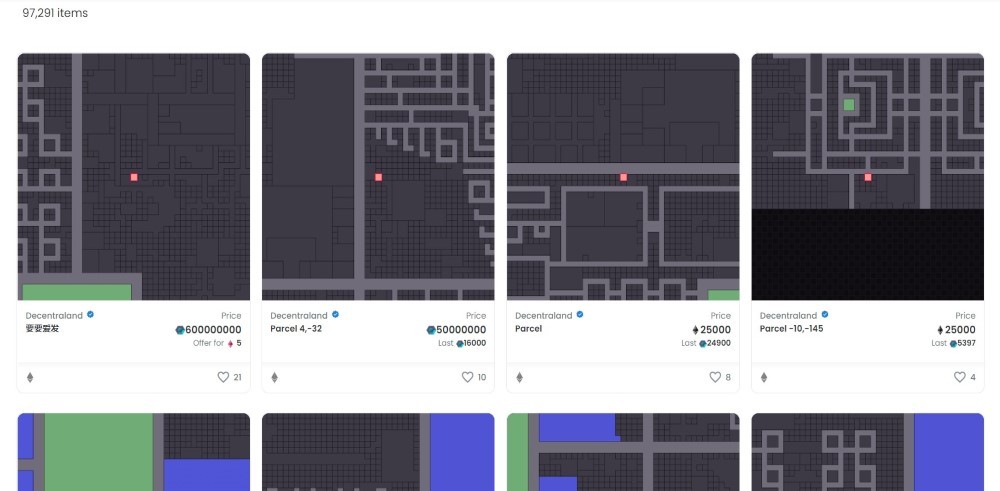 Decentraland is another metaverse project where users can buy fake land that doesn't exist anywhere but on the ETH blockchain. As we have asserted before, the game itself isn't that thrilling or immersive. However, the popularity of the platform itself is not to be questioned. One noteworthy sale on the platform was valued at $2.4 million, and about 10,500 ETH has been spent on the platform in the past 30 days alone.
6. Clone X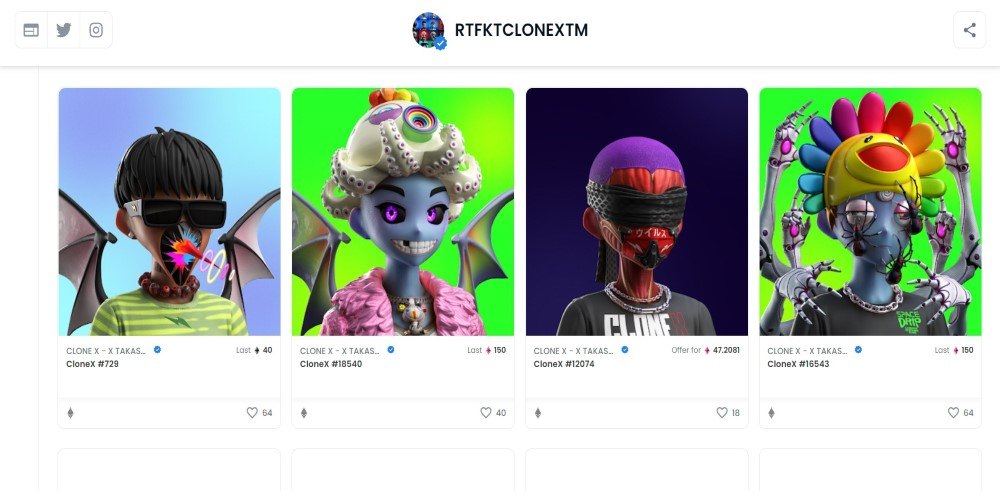 Clone X is an NFT collection that features 20,000 different high-quality 3D avatars. Like other similar projects, each avatar comes with its own characteristics and aesthetic features. One particularly unique part of these NFTs is that users can use them as avatars in the metaverse. On OpenSea alone, over 122,000 ETH has been exchanged on these NFTs.
7. Doodles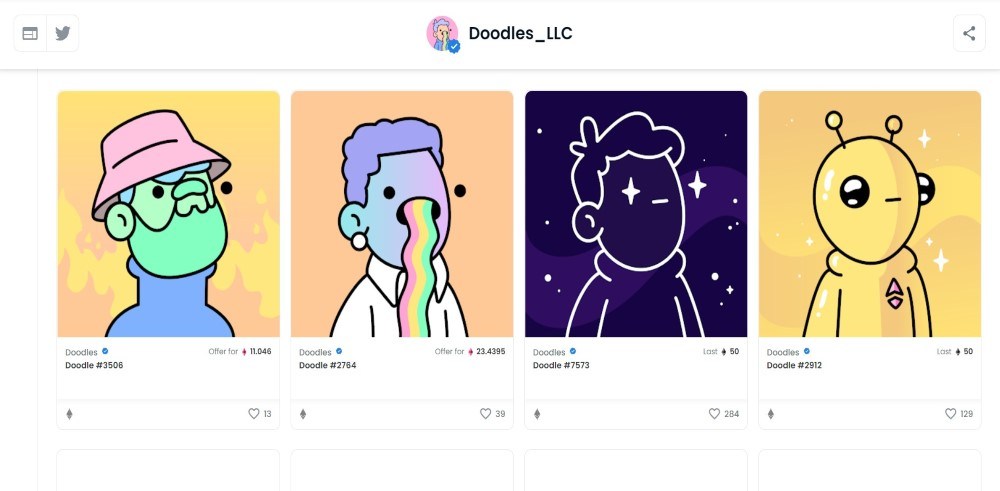 Designed by famous Canadian illustrator Scott "Burnt Toast" Martin, Doodles is a collection of 10,000 NFTs, which are all unique and come with a unique style of colorful animated artwork that resembles a kids' cartoon. With a floor price right around 14.34 ETH currently, one would have to spend over $40,000 just to have their own Doodle NFT, making them one of the most valuable collections.
8. Mutant Ape Yacht Club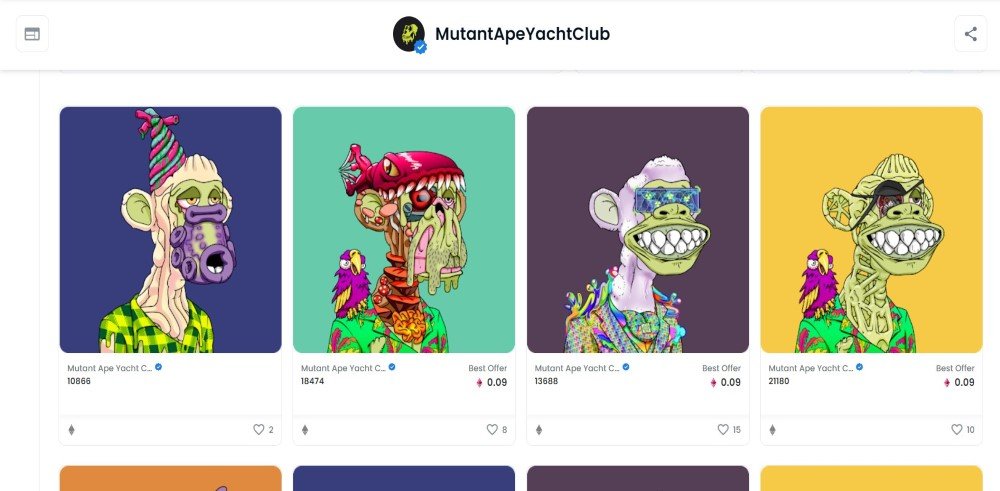 Clearly a spinoff of the famous Bored Ape Yacht Club, the Mutant Ape Yacht Club was rolled out by the same creator of its predecessor. Due to the notoriety of their previous project, a large number of celebrity endorsements, high trading volume, and a floor price currently sitting at 21 ETH, this is another blue chip project which could potentially grow massively.
9. PhantaBear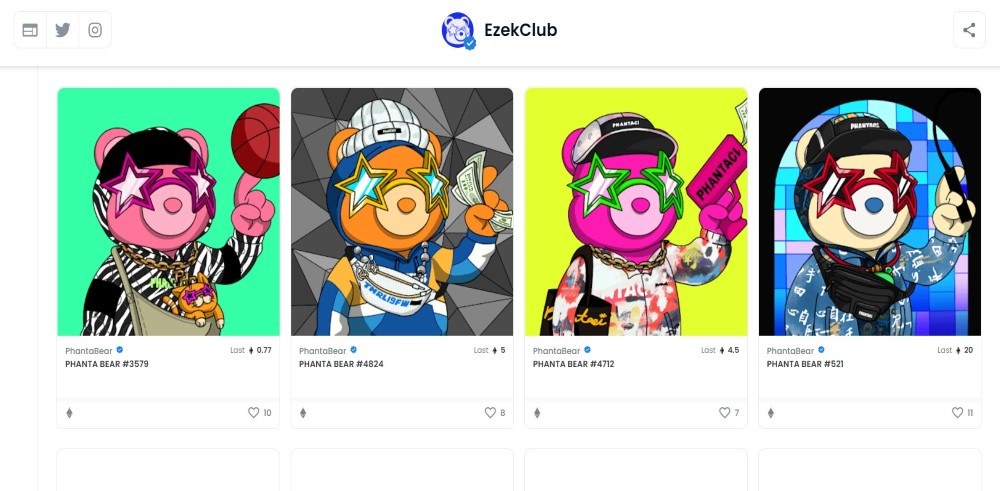 The Phanta Bear NFT collection is unique in that it features animated bears that have their own unique artistic style, with only 10,000 in existence. A fantastic utility offered by these NFTs is that it gives you membership to the Ezek Club, where over 30,000 people are active and use the platform for VR/XR virtual concerts. With an average of over 3,000 daily trades and almost 9,000 ETH spent on these bears, this is a blue chip item worth watching.
10. World of Women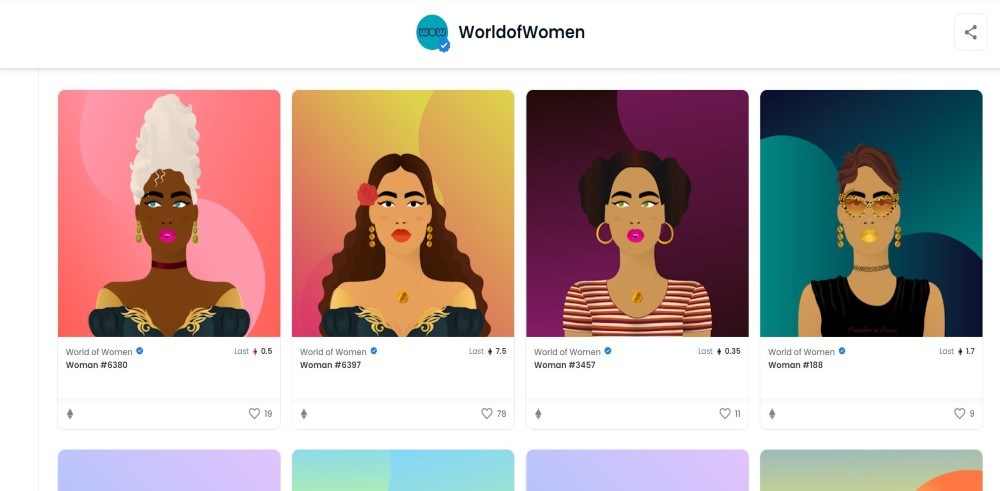 World of Women is another NFT collection that features 10,000 unique assets that feature human-like animations of women. The artwork itself is relatively high-quality and has generated quite a bit of attention in recent months. To get your hand on one of these beautiful women, you will need to have an average of 10 ETH ready, or about $30,000.
What About VeeFriends?
If you are NFT savvy, you may have noticed that a popular project called VeeFriends is missing. Most "top 10 lists" would include the VeeFriends NFTs since they are one of the most well-know projects in the NFT space, arguably even more popular than some of the projects I've listed above.
Personally, I think VeeFriends is terrible artwork. It's not cute. It's not funny. It's not creative. In my opinion, it's purely backed by the marketing of a the famous creator of the project, and as soon as he loses interest in NFTs (which I think is inevitable), the project will die out.
Look, I'm not very bulling on most NFTs. I think they are popular because creators and investors can make money selling them, as opposed to bitcoin, which is owned by nobody. Just like the ICO boom and bust from 2017, we're in an NFT boom and the bust is coming.
I do see the value in providing a medium for funding art you like, or for creators to get paid online. Perhaps this will be through NFTs, perhaps not. I don't really see what value a "blockchain" adds to digital art patronage, but who knows. Maybe there will be an NFT market in the future.
My guess is that good art will get funded. Good art will be worth money. VeeFriends is not good art. VeeFriends is an entrepreneur-backed marketing campaign taking advantage of a trend. It's just garbage and I can't recommend it.
Active NFT Projects Which Could Be Future Blue Chips
Blue chip NFTs are well known and established by definition, but this also means that future growth potential could be muted compared to newer NFT projects that haven't taken off yet. Buying a Crypto Punk in 2022 is definitely not the same as buying a Punk in 2017!
Of course, there are thousands of NFT projects minted daily, and finding the next one to experience a meteoric rise in price is not easy. The sweet spot between blue chip NFTs and undiscovered moon rockets would be what I'm calling "future blue chips", i.e. NFTs which have some notoriety right now, but have a good possibility of sticking around for the long term.
It's pretty much a given that 99% of NFT projects will fail over time, so how can we tell which will survive?
Our Criteria For Determining Potential Future Blue Chips
Before determining what a future blue chip NFT is, it was essential to start with some basic ground rules. Here are the criteria that we used to select the NFT collections that we list below as being a potential blue chip collection in the future:
Who Made the Collection
Quality of the Collection Itself
Potential Use Cases for the NFTs.
Sales Volume Trends
Floor Price (Past and Present)
Community Action
Noteworthy Endorsements
Of course, many of these criteria are the same ones that we used to choose which projects are already blue chip. To be clear, each of the projects below is only a stone's throw away from the same status as the projects we determined above to be blue chip in terms of these pieces of criteria.
1. Zed Run Genesis Horse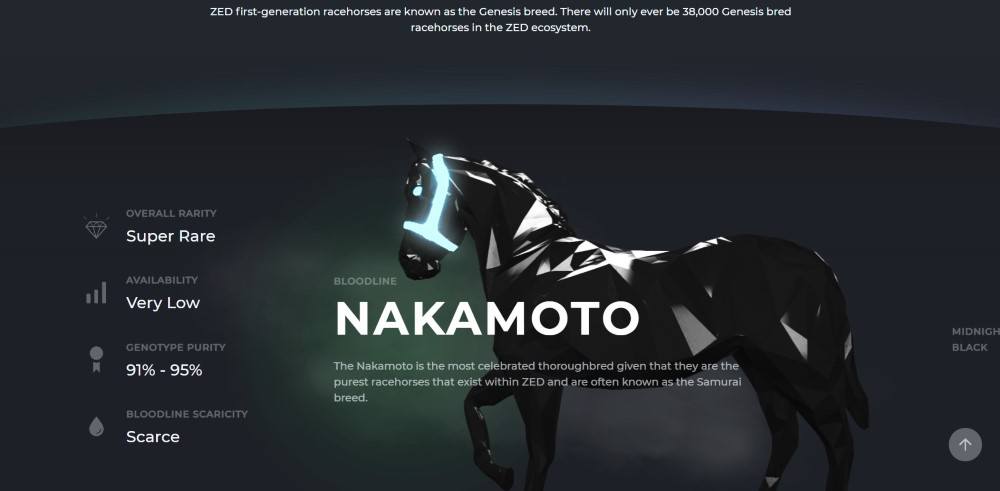 Being one of the up-and-coming popular projects, Zed Run Genesis Horse has been quickly making a name for itself, rising up the ranks all the way into the top 25 projects. Made for a digital horse racing game where users buy, race, and breed horses, these NFTs are unique and can be used in the game, making them particularly valuable for fans of the platform.
2. Currency by Damien Hirst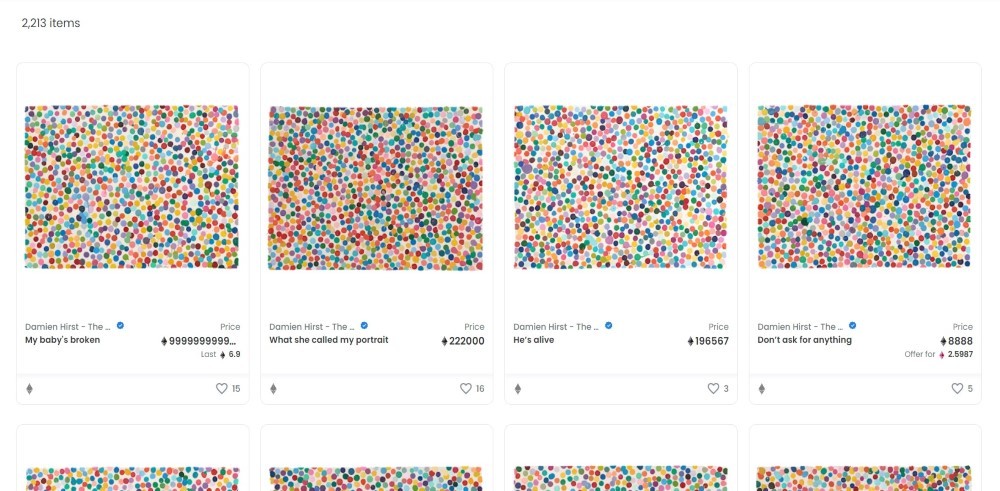 Made by one of England's most renowned artists (Damien Hirst), this collection of 10,000 different NFTs has quickly risen in prominence. The main reason for this is probably due to the artist's notoriety. The whole collection has a reported value of about $500 million.
3. Meebits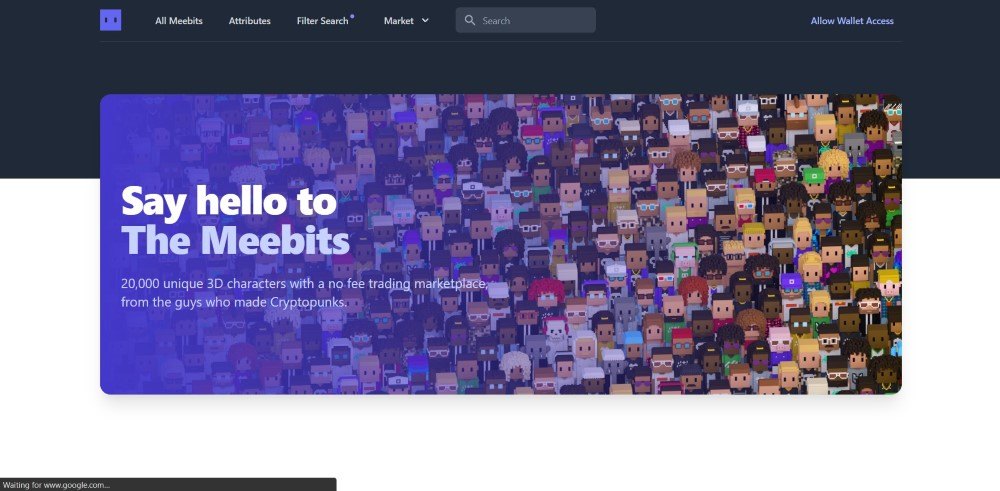 Made from the same people who brought us CryptoPunks, Meebits is a collection that features 20,000 unique 3D avatars that are of noticeably higher quality than the CryptoPunks. In addition, these avatars can be used in virtual worlds such as metaverses. After being released in May 2021, 9,000 NFTs were sold within 6 hours. Today, the market cap has already eclipsed 103,000 ETH, making this a collection worth keeping an eye on.
4. Cyber Kongz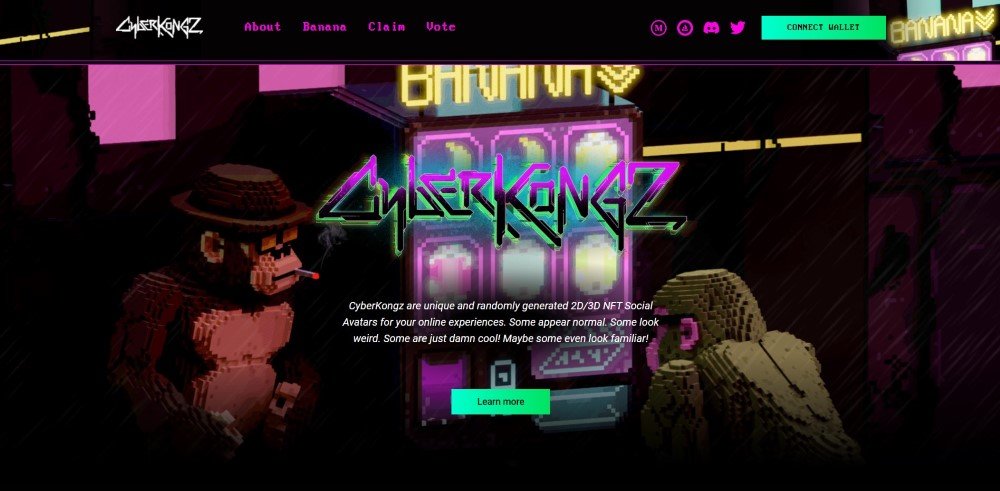 CyberKongz might already be seen as a blue chip collection due to its high 30-day volume of over 8,000 ETH that places it just short of what we find in the top 10 projects. The artwork itself is not too different than what it sounds like. These are NFT gorilla avatars that can even be used in metaverses as your own personal avatar.
5. The Doge Pound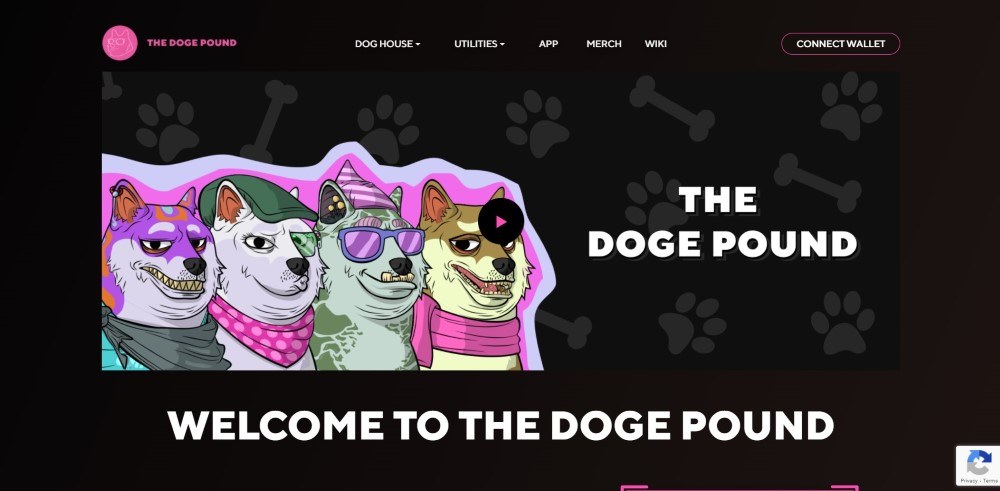 Given the trend of the dog meme coin, it shouldn't be much of a surprise that this movement has buried a bone into the NFT world as well. When you own an NFT doge, you can also mint your own puppy on the platform. Currently, The Doge Pound is one of the fastest-growing NFT collections and has a floor price of only 0.3 ETH, making it an option worth considering.
Noteworthy Companies Joining the NFT Boom
One piece of news that has been particularly fascinating is that various companies have even started to join the wave of the NFT craze and have been offering their own NFT sales. Here are some of the most notable names.
eBay
Takung Art
Oriental Culture Holding
Dolphin Entertainment
Funko
Each of these companies is either listing its own NFTs or, like eBay, allowing the listing and sale of NFTs on their platform. Another noteworthy actor in NFTs is Visa, who as we briefly mentioned above, recently purchased a Crypto Punk NFT for about $150,000 worth of Ethereum. It is easy to imagine that this is only the beginning and that other financial products and companies will roll out into the NFT world.
My Personal Thoughts About Blue Chip NFTs
In this article, I wanted to present to you the objective facts about blue chip NFTs and their possible value as long-term investments. Personally? I'm not buying NFTs, namely because I don't think ANY NFT will hold its value long term, regardless of whether they are blue chip or not.
As a whole, the global art investment space is fickle and not very accessible to the average person. It's unlikely that most people would be able to tell the difference between a $1,000 versus a $10,000 painting, or whether a sculpture belongs in a home foyer versus an art museum. The same is true in the NFT space. A LOT of the value of art comes down to personal preference and disposable income.
Ask yourself – how many homes have you ever walked in and been able to identify a custom piece of rare art? Personally, over my entire life, I don't think I've ever seen something that wasn't cheap and mass-produced. The idea that the average person is now an art critic and will trade digital art for profit or hold it as a family heirloom just doesn't make sense.
Sure, maybe NFTs can be used to raise money for charity projects, or artists, musicians, and other creatives can earn money by selling NFT to their fans. I'm not saying that the entire NFT space is a scam. As an investment, however, I just don't buy into it, and I won't be buying NFTs as an investment.
Furthermore, the idea that because a project is famous for two years doesn't justify the label of "blue chip" as compared to the context of blue chip stocks. Maybe…MAYBE there will be some interest in Crypto Punks in 20 or 30 years, but that's basically my only personal guess as to what might survive long term. So if you have $150k laying around and you don't mind risking it all, then that's a good place to start.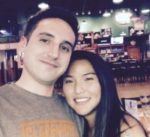 Nathaniell
What's up ladies and dudes! Great to finally meet you, and I hope you enjoyed this post. My name is Nathaniell and I'm the owner of One More Cup of Coffee. I started my first online business in 2010 promoting computer software and now I help newbies start their own businesses. Sign up for my #1 recommended training course and learn how to start your business for FREE!