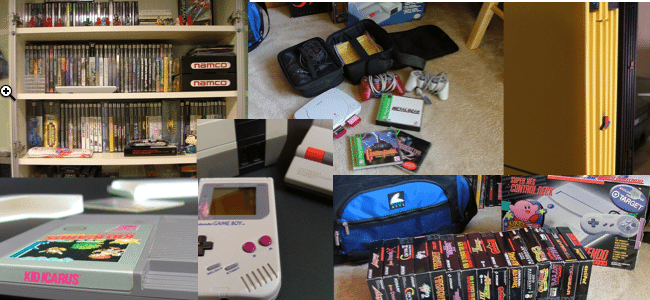 Why Video Games Is A Great Business To Be In
If you have a passion for gaming and want to help other people enjoy the games they play, then you should definitely start an online business related to gaming.
I teach people to build websites about their own personal interests, and one of the topics I get asked about most often is video games. "Video Games" of course, covers a huge range of topics, but that's the beauty of starting an online business in the video game industry – there's something for everyone.
Making money online with video games isn't easy – it can be quite competitive. However, there is a massive amount of growing global interest and if you can find a smaller submarket to focus on, the competition suddenly doesn't become that big of a deal.
For example, if you try to make a "video game" website, there's a really good chance that you'll fail just because it's much too big of a project to take on. However, if you target only competitive gamers playing Dota 2, now you have a much more specific audience, with set goals in mind that can help you take the necessary steps to profit.
There are hundreds of possible niches within the gaming industry that you could potentially choose to start your gaming website about.
gaming hardware for PCs
gaming laptops
virtual reality
competitive gaming
MMORPGs
RPGs
strategy game reviews
horror game reviews
family friendly games
games for kids under age 3/5/10
Dota 2
mobile gaming
indie games
retro gaming
retro console restoration
arcade cabinets
game design
gaming secrets
I did some research into some of these niches for writing this article, and found some really interesting trends that should get you excited about starting a website on these topics.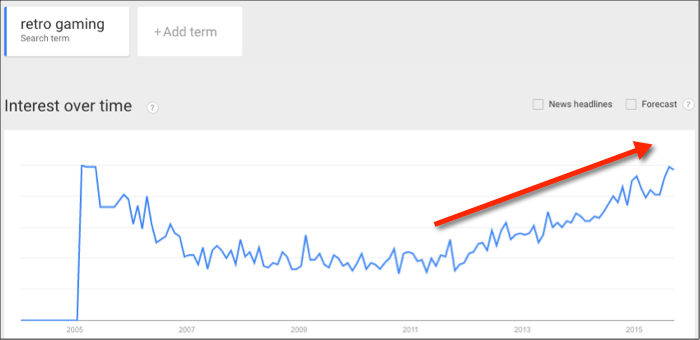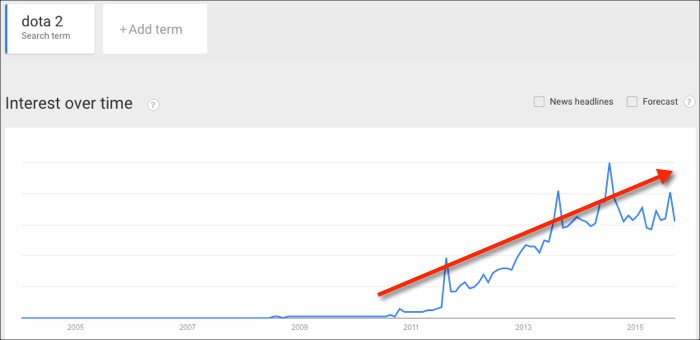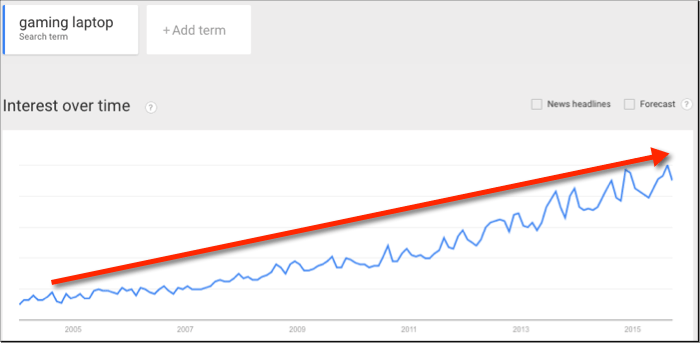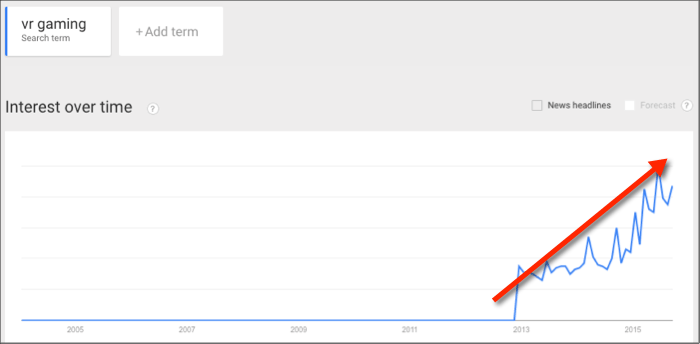 The gaming world is immensely diverse. People from different countries, with different cultural backgrounds, of all different ages, all playing for different reasons…these are all real people you could potentially reach out to online.
And starting a gaming website to make money doesn't have to be just about "turning a profit" (although that is one of the goals). Any successful business starts with a core concept of helping people.
If you have a passion for gaming and want to help other people enjoy the games they play, then this is the business you need to be in.
How To Make Money In Gaming Online
There are tons of business models related to gaming, but there are three main ones that I have experience with that I can provide you with some insight for.
YouTube Advertising
The LetsPlay community on YouTube is gigantic, and still growing (Twitch is growing faster) You might think, "Well, the market's saturated and who wants to watch MY channel when there are so many other good ones?". But consider this: There are so many channels already because there's a lot of interest and people are making money doing it. Competition is a good thing, because it means there incentive for the current players to keep producing content.
There are many other factors that make LetsPlay channels alone a possible source of income (from in-video advertising). Channels rise and fall in popularity all the time. That means there's room for new startups like you! Also, one viewer can subscribe to multiple channels, meaning they don't have to choose between you and another person. They can watch both! In fact, LetsPlay creators can also be potential viewers for you, so it's not always a "consumer/producer" relationship.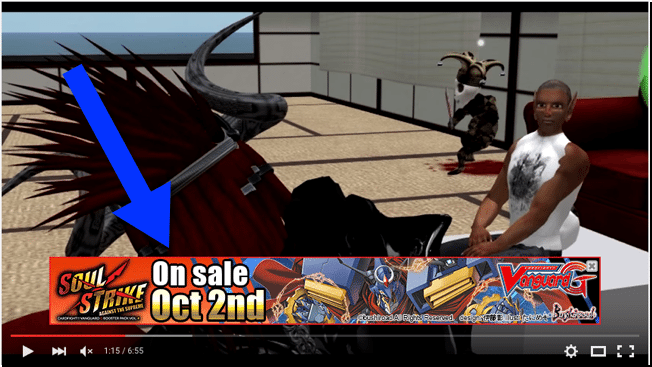 But that's just the LetsPlay arena. There are many other things you can do on a YouTube channel about gaming to make money. You can do reviews, tutorials, or even create your own 'gaming news' channel.
And don't be concerned if you don't have all the right equipment right now. You can record your PC screen with downloadable software and get started right away. Your computer's webcam can record you while you play as well. To record console games you may need some extra cables but there are lots of tutorials to be found online on how to set that up.
Create A Digital Info Product
Depending on which market you go for, creating a digital info product could be an option for you to make money from your gaming knowledge. Some examples of topics that could work would be vintage console repair, modern console repair (remember the red ring of death?), mame arcade cabinet construction, game mods, or game creation.

Even if there are free resources online, many of them are low quality or incomplete. They are also scattered around the web, and require a lot of research to find. Compiling your knowledge into an easily readable, concise, and user friendly format (written or video) is definitely something people would buy.
Finding people that want to buy your guide is as simple as creating a website to market your product, and using your blog and social media to attract gamers to your website. How to develop a marketing strategy is something you can learn about with online marketing courses.
Affiliate Marketing
Affiliate marketing is something you might not have heard about but it's something I'm passionate about and a real opportunity for you to make money online in the gaming industry. The basic breakdown of how it works is that you create a website and write articles for the website. On your website you can feature sponsored products, do product reviews, and place advertising on your site to earn revenue.
The "affiliate" part is that companies will pay you to do this. They pay for each sale generated through your website. Stuff you can promote include gaming laptops, downloadable games, game accessories (mouse, keyboard, monitor, controller), PC hardware, or other swag like shirts and action figures.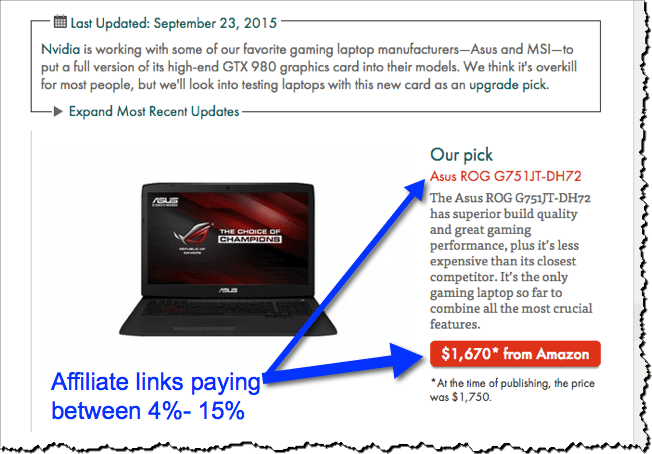 Some promoting is done directy through the company's affiliate program, and some can be done through Amazon or other online stores. Signing up is free, and you can pretty much create your website about anything and design it how you want.
There are lots of other ways to make money in the gaming industry including competitive gaming, game development, reselling retro games on eBay, or even playing games with real money systems, but in this article I'm going to focus on how to reach an online audience.
Reaching Gamers With A Website
The great thing about creating an online business is that it runs 24/7 and can reach anyone in the entire world that has internet access. Even when you're sleeping, there are people in the UK, China, Australia, and everywhere else in the entire globe that may be playing or researching things about video games. That's an opportunity for you to make money while you sleep!
Not only that, but there are billions of people without internet access right (or with limited access) that will be getting online for the first time in the next decade. As developing countries get faster internet speeds and more access to online technology, the gamer community is going to grow as well.
Plus, in the US, this is the first generation of "gamer parents" – people that grew up with video games systems like the NES and SNES and have positive memories of playing them. The stigma that playing video games is "unhealthy" is changing, and some people are starting to use game fandom as a way to bond with their kids.
The way to reach these people, whether they are 15 years old and just starting to buy their own games with money from an after school job, or 40 years old and building their own gaming PC from scratch is through a website. Owning your own website is a business asset that you can grow over time, including growing earnings from your first 15 cents to $15,000 or more per month. (Note: Growing earnings takes time and work!)
How To Get People On Your Website
So after all this info about how there's so many people into gaming and you can make money with video games as long as you have a website….how do you get people to find your website and buy stuff from you?
The secret is keyword research
Using a keywords tool software, or even just using regular ol' Google you can gain insight into what people are looking for online. You won't see who is looking for it exactly, but you see if people are searching in high or low volume, and what the approximate level of competition is.
As website owners, we want to find phrases that have a high search volume with low competition. Not all phrases will meet these criteria, but they still might be good topics for your site. Once we find those search terms, we write articles or create videos about it. Next time someone types that keyword phrase into a search engine, our website might pop up!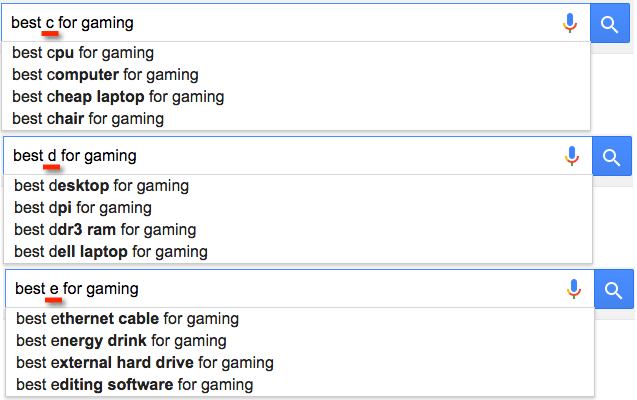 Google can actually be a really interesting resource that you can use for free. Google Instant (autofill) is a great way to get insight into what people are searching for. You can then create content based on these topics. I'll be you hadn't thought that someone was searching for the "best energy drink for gaming". Obviously it's Mountain Dew, but that's besides the point. It could be a funny video, or a serious research project into which drinks use the most caffeine, which have natural stimulants, and the effect of long term abuse of energy drinks.
Stuff like "best editing software for gaming" and "best chair for gaming" are keywords that are ripe for product promotion. Research five or six similar products, choose your favorite, and anyone that buys though your link can help you make money!
5 Ways To Make Money From Your Website
Affiliate Promotions
This is what I'm most excited about because it's what I know best. You might not be 100% familiar with how it works right now, but it's pretty simple to understand. You are basically a freelancer advertiser. You help promote companies on your website, and are paid a commission for each sale you make.
The cool thing though is that you don't technically 'work" for them, so you can still write whatever you want. You could review games from Blizzard and say that you loved World of Warcraft, but at the same time say that Diablo wasn't a very good game in your opinion. You can make money by linking to BOTH of these games.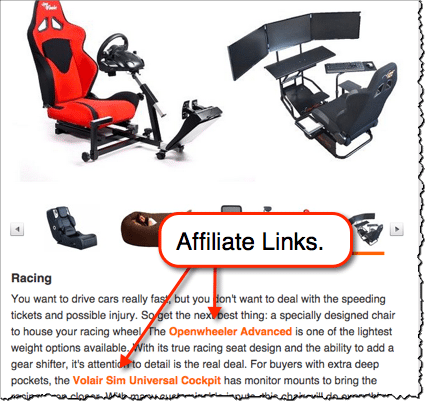 You can also promote gear like gaming headsets, hardware mods, or in game purchases. Not all products you talk about will have affiliate links you can promote, but many will. It's free to sign up with affiliate programs, and all you need is a website to get your links.
Sponsored Content
This is where a company pays you to write about their product. Sponsored content is a little more touchy because you need to have a disclosure, and most real gamers will not take your opinion very seriously if you are paid to write about things in a positive way. Some people are able to do it well and not offend their fans, while others bomb.
You can worry about this later though, because you'll need a well-developed fan base to even be considered for sponsored content. However, when you do, this can pay big. I'd bet ten bucks that those headphones PewdiePie wears were given to him by the company that makes them.
Display Ads
This is by far the easiest to do because you don't need to do any kind of promotions to make money. All you need is a website, and traffic to that website. In fact, if you are monetizing your YouTube channel, then you are using display ads!
Although Google Adsense isn't the only company that does it, they are the biggest, most widely known, and the easiest to get accepted to. In fact, there's really no requirement other than a website or a YouTube channel.
The downside is that they don't pay very much, and it's easy to get banned if you break the rules. If you decide to build a website about gaming and want to make money with Adsense the training I recommend will give you instructions on how to set up your account and what the rules are.
You can also place these same style ads on your website.

(If you don't see any ads in the picture, turn off your adblocker). You can see here that the game review website I visited showed me two ads for Chevy trucks. I recently bought a new truck, and Google tracked my searches and is showing me ads that are relevant to me. If I click these ads, the website owner makes money.
Create A Brand And Products
I'm sure you've seen all the big YouTube gamers with their own t-shirts and branded gear. This is big money. You can start a Patreon account, and supplement your income with a Twitch account and Paypal donations.
Once you really get rolling, you can get paid to play games, or even appear at events. Even if you don't go the YouTube route, you can do similar things with just a website.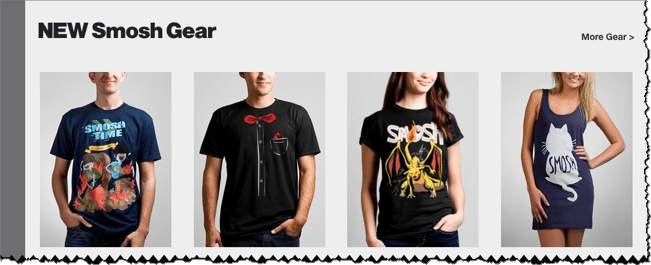 Gaming gear is getting immensely popular as "nerd culture" grows. Imagine designing your own shirts, hoodies, and bags? Growing your 'brand' online and developing surrounding products will largely depend on what angle you take with your business, but as you gain more followers, subscribers, and website traffic, you'll start to see more opportunities open themselves up to you within the larger gaming industry.
Can I Make My Website About Something Else?
Even if you read this entire post about creating a website about video games and are now thinking, "Hm, maybe I don't want to make my business about gaming", you can still create an online business about anything you want.
The great thing about building websites is not only that you can make money in a bunch of different ways, but also that you can do it with any topic you want. The same methods of earning money we talked about above can be repeated for other things like fitness, home improvement, trucks, pets, makeup, wine, and travel.
It's not a question of IF you can make money online. It's a question of which topic and business model you choose to pursue
Learn How To Start An Online Business About YOU
The best topic to earn money is going to be something that you enjoy learning about. Though you might not be an "expert" in your area right now, you can certainly become one over time. Building an online business is all about doing research and producing original content. Since you'll be spending all that time learning and writing about one topic, it's a good idea to have some interest in it!
If you want to pursue a video game related topic, that's great. Let's do it. If you decided to go in a different direction, that's alright as well!
Either way, you can learn how to take that idea and turn it into a business at the Wealthy Affiliate Online Business Community.
This is a community of people just like you that are starting businesses in a huge variety of industries, but all following the same reliable training that has produced results for many people before (including myself).
Here's what you're going to do inside the community:
choose a topic for your business
learn how to rank your website in Google
find products to promote for your business
share ideas on how to grow sales and increase earnings
Over time, as you follow the lessons, you'll learn how to grow your website from the very first page to an true authority on any topic. Some people choose to star ta business as a hobby and supplement their income in the evenings and weekends.
Other people have decided to make big changes in their lives, and created a full time business so they could start working from home.
Whatever you goals are, Wealthy Affiliate can help you achieve them. I was able to take my own passions and turn them into a full time business generating 6 figures per year in less than 2 years. How long will it take you?
Here's how they (and I) can help you start a successful online business:
community support, including 24/7 live chat
two free websites
1-on-1 support any business or technical problems you run into
personalized feedback from peers and professionals
brainstorming with me, a full time marketer with multiple six figure businesses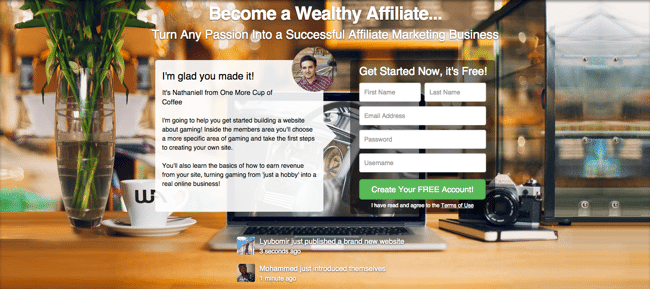 FAQ
Is it hard to build a website?
Building your basic website is very easy! Adding graphics and learning the interface will have a slight learning curve but all of the lessons come with video training so you can follow along withe the instructor.
Can I change my topic later?
You can build up to 25 websites with your membership, so you can have 25 different topics if you want! However, if you pick a new topic, you will need to purchase a new domain ($11). You should not have more than one topic for a website because it will confuse your visitors.
How much does is cost to run a business?
The one basic thing you need to run your internet based business is a domain name. This costs $11 per year to register. There are many extra things that are optional, but none are required. How much you invest in your business is up to you.
How much does Wealthy Affiliate training cost?
Wealthy Affiliate is free to join, and you are not required to upgrade. If you decide to continue beyond the beginner lessons and maintain access to the support network within the community, the cost is $47/month. They also offer a discount for your first month which means you only pay $19 for the first month of membership.
If Wealthy Affiliate hosts my website am I still the sole owner?
Yes, you own 100% of your website! If decide to leave Wealthy Affiliate at any point you can move your website to a new host.
How long does it take to earn money?
This is a tough question to answer because it's different for everyone. Some people see earnings in just a few months. Others take more than a year. It really depends on how much time you spend growing your business each day.
How much money can I earn?
This is the cool part – there's no limit! Because you are building an internet based business, the sky is the limit. There are billions of dollars being spent online every day. All you need to do is find a small slice of the pie and you can be making really good money.
Some people have businesses that earn a modest $30,000-$80,000 per year. Others grow to six figures and beyond. The really hard workers have multi-million dollar internet businesses.
Whoa. Wait a minute. Before you make a million bucks, let's begin with the first step – creating your FREE Wealthy Affiliate account and starting your free website!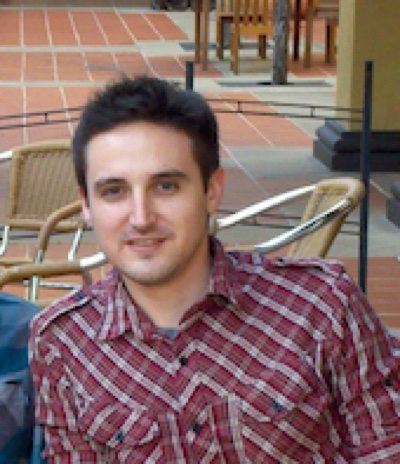 Q & A Discussion
Got any questions? Be sure to let me know in the comment section. I'm happy to help!