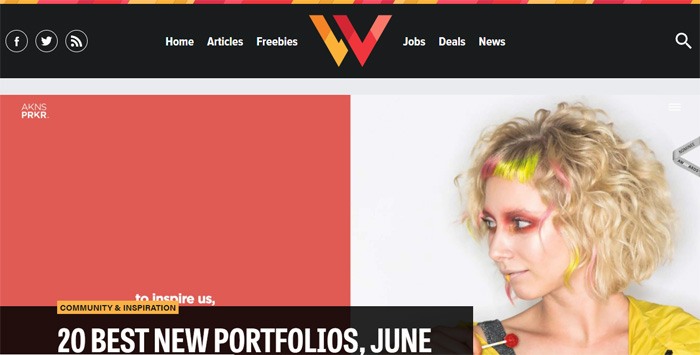 This website came to my attention as I was looking for more websites that hire freelance writers. I originally found it on a list of sites that hire freelancers online, and it looked pretty cool—so I decided to give it a review.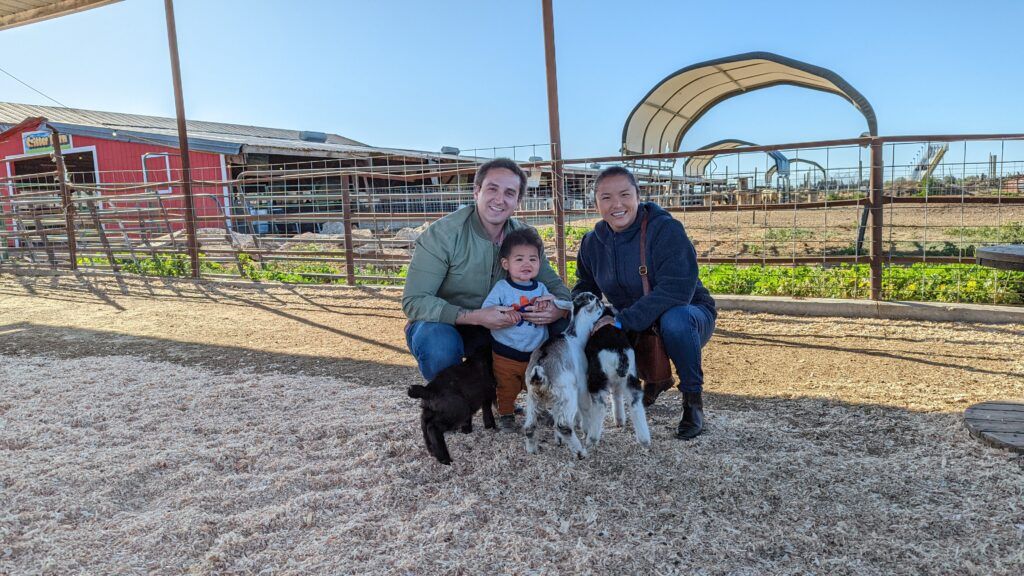 Are You Ready To Work Your Ass Off to Earn Your Lifestyle?
Are you tired of the daily grind? With a laptop and an internet connection I built a small website to generate income, and my life completely changed. Let me show you exactly how I've been doing it for more than 13 years.
But can you really make money writing for Web Designer Depot? Is this the kind of site that pays enough to make it worth the time?
These were my main questions as I took a look at the site, and I did my best to answer them during my research.
Here is what you need to know.
Making Money Writing For Web Designer Depot
The first thing to talk about is the website itself.
Web Designer Depot: The Basics
Webbdesignerdepot.com is essentially a website/blog that publishes content about web design. They have been in business for the better part of the last decade. In fact, they were founded back in 2008.
To date, they have over 1.1 million newsletter subscribers, over 740 thousand Twitter followers, and a thriving community where 90% of their writers start out as regular readers.
But the part about the writers is what interested me the most! This site seems quite focused on being community-driven—even in the sense that most of their freelancers are sourced directly from their own community.
This means that it is most certainly possible to get a writing job with them… but we will talk more directly about that in a moment.
But first, I am going to very briefly discuss the design of the site itself. You would expect that a website about web design would feature a very forward-thinking web-design of its own, and this certainly seemed to be the case with Web Designer Depot.
Their site was comprised of vibrant colors, well-thought-out graphics and font layouts, and an overall business-like simplicity that made it both functional and easy to navigate.
Next, I decided to read through some of their blog posts, just to get a feel for what kind of quality they look for. You can always get a feel for a website's style of content by reading through some of it, and that is what I decided to do next.
Checking Out The Quality Of The Content On WebDesignerDepot.com
After reading a few different pieces on the website, I was quite impressed to find that the level of quality was top-notch. The articles were entertaining, interesting, informative, and well-written.
This is good news, as it speaks to the higher level of craftsmanship they expect from their freelancers. This is likely why they have such a high number of readers too!
But it also means that you will not, as a freelancer, be able to just 'slip in' to the job without doing the work. If you want to pitch content to this site with the hope of making some money, then you are going to have to bring your A-game.
You are also going to have to be pretty knowledgeable about your subject, as this does not seem to be the kind of website that invests in 'fluff' content.
But now, I found myself wondering what was required of their writers. How do you even pitch to this website? How often do they hire? Do they accept unsolicited article submissions?
These were the questions I was interested in having answered next, so here is what I found out.
Researching How To Write For WebDesignerDepot.com
So the next part of my research process involved scrolling down to the footer, and clicking on the 'Write For Us' link located there.
Right away, I was greeted with this page.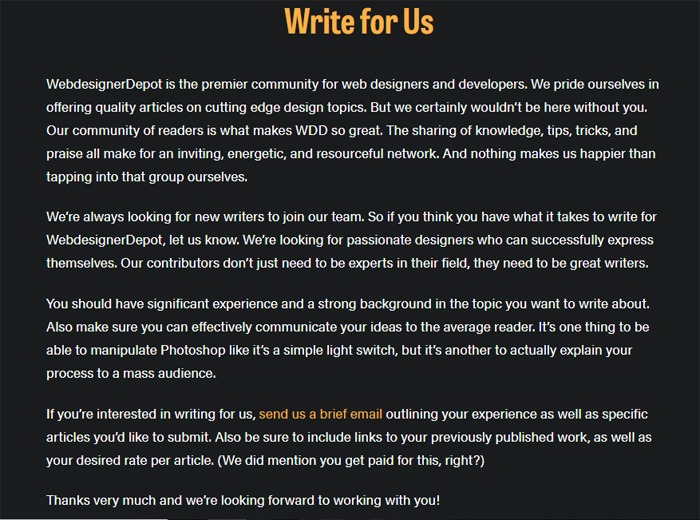 There was quite a bit of information provided here, so let's go over it.
It says that they are always looking for new writers who want to joint their team
They are looking for passionate designers who are also great writers to contribute to their site
You need to have 'significant experience' and 'a strong background' in your topic
They also say that it is important that you can communicate your knowledge with the reader
If you are interested in writing for this website, you are supposed to send them a brief email telling them about your experience and about the articles that you want to pitch
You should also include works to your previously published work, as well as a desired rate per-article
They confirm that you DO get paid for writing for them, but they do not necessarily tell you how much you can get paid
All things considered, this sounded like a pretty good deal. Obviously, there are still the usual 'challenges' associated with getting published. But for the most part, this site certainly seemed professional.
The Challenge Of Pitching Articles To Websites
At this point, I feel like it might be worthwhile to say a few things about freelance writing in-general.
First of all, I am looking into this line of work as a potential side-hustle because I do have some writing experience, which makes this a viable option for me.
But I should also note that writing as a freelancer is not a 'fast track' to riches. Freelance writers do not always make awesome money, despite what the media might say or how writers are often portrayed in the movies.
But then again, with that being said, I should also say that freelance writing is a trade.
It is a marketable skill, and if you can teach yourself to do it (or take classes to learn it), you can stand to make better money doing it than you would make doing work that does not require you to have any skills (like taking surveys or downloading apps for cash).
So this is pretty much why I am so interested in freelance writing as a potential side-hustle. Because I have tried both. I have taken surveys, I've used offer sites, I've tried coupon apps, and I have written articles for websites.
And writing articles certainly pays better.
But, there is also a certain amount of uncertainty that comes with it. With websites like this, you never know if they will accept your pitch or not. And once you write the article, there is always a chance that they will either return it for edits, or even reject it outright.
There is also a certain amount of time that you may have to spend learning all of this, and you may get several articles rejected at first while you get your bearings. Even really great writers can have this happen, and while it can be discouraging, it is still important that you don't let this discourage you too much.
The simple truth of the matter is that freelancers make more money the longer they are in the business… so finding your rhythm and improving your skills is all part of the game.
My Personal Feelings About Writing For WebDesignerDepot.com
Personally, I really liked how this website was designed and put together. I also really love how good the content is, and I also feel like they do a good job of letting writers know what they need in terms of contributing freelancers.
They do not necessarily share how much they pay on their website, but I don't have a problem with this. In fact, a lot of very respectable websites do not advertise this information—so I feel like it is completely understandable that they would not make it all 'about the money,' and instead, focus on what they are looking for in terms of content.
If I were a new writer looking for a freelancing gig, I would absolutely file this one away in my list of websites to pitch to, along with all of the other sites that I plan to try to write for.
The thing to remember about freelancing is that you often need to write for more than one site to stay busy, so compiling a list of websites like this, that pay freelancers for their time, is a great idea.
Other sites that relate to websites in some way are Scotch, The Income Diary, eCommerce Insiders and Rank Pay. Some of these require specialized knowledge, so you'll need to check each one out for yourself.
Granted, you may not always get your pitches accepted, but as you continue to write and get better, you will likely find that getting published gets easier and easier.
So yeah. Overall, I thought that this would be a good site to try… but keep in mind that you need to know what you are talking about!
This is not the kind of site that publishes fluff pieces, so make sure that you have enough knowledge to write about your topic with authority. And if you do happen to have the knowledge, make sure that you can also communicate about it in a clear, concise manner.
Knowing a lot about something does not make you a good writer on that topic. You need both knowledge and skill as a writer to get jobs like this.
So try to increase your abilities in both categories, and you will soon find yourself writing and getting paid for it!
Our Final Opinion About Web Designer Depot
Should you try to freelance for this site to earn some extra money?
There are a lot of ways to make money online. Some are good, some not, but ALL of them are still just trading hours for dollars.
Starting your own affiliate website really is the best way to build passive income and "make money while you sleep". Affiliate websites earn income in every timezone, and can be instantly accessed by billions of smartphones across the globe!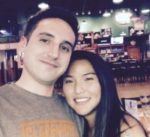 Nathaniell
What's up ladies and dudes! Great to finally meet you, and I hope you enjoyed this post. My name is Nathaniell and I'm the owner of One More Cup of Coffee. I started my first online business in 2010 promoting computer software and now I help newbies start their own businesses. Sign up for my #1 recommended training course and learn how to start your business for FREE!