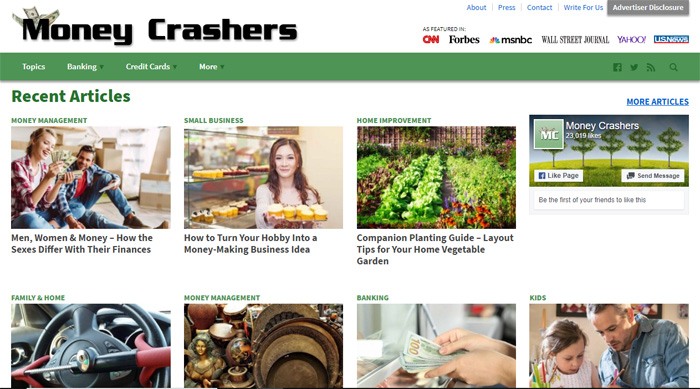 This is a personal finance site that is said to pay freelancers to write content. But can you really make money writing for the Money Crashers website, or was this just an online rumor?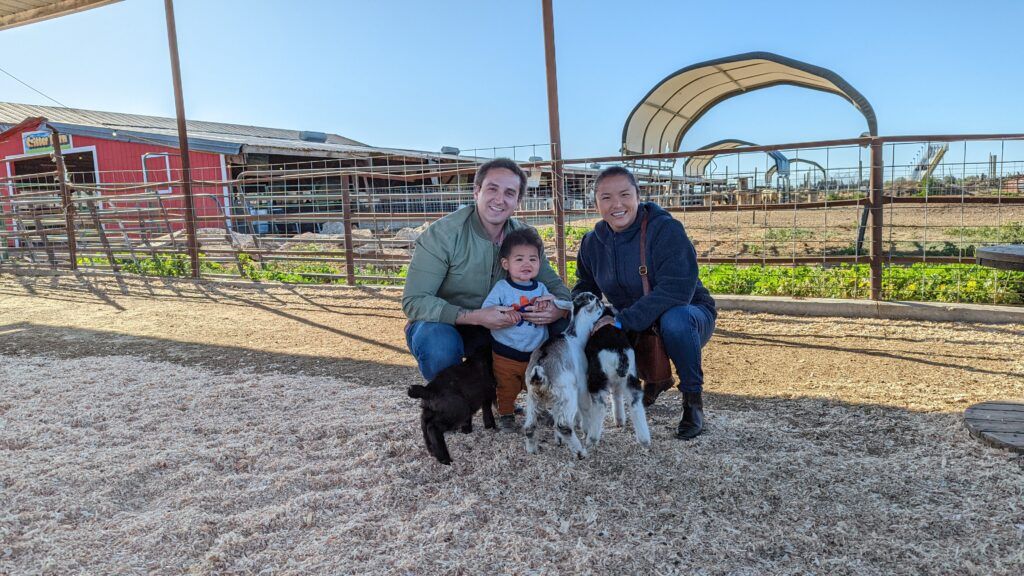 Are You Ready To Work Your Ass Off to Earn Your Lifestyle?
Are you tired of the daily grind? With a laptop and an internet connection I built a small website to generate income, and my life completely changed. Let me show you exactly how I've been doing it for more than 13 years.
I have been pretty invested in online side-hustles lately, and freelance writing is one area that I have more specifically been focusing on.
The thing about freelancing is that it generally pays a lot more than other online side-hustle opportunities. Plus, it allows you to exercise an art and develop a craft, which is really good for more long-term side-hustle plans.
The thing about writing is that it will always be in demand. As long as we interface with technology using any sort of visual technology, writing (and reading) will exist as means that we can use to communicate and spread information.
And this means that it will also remain a marketable skill… which is good news for people who enjoy writing and who are good at it!
I have done quite a bit of freelance writing, so I feel as if I am at least experienced enough to speak to this from some of the side-hustle work that I've done over the years.
I also feel like I know a good potential freelance-writing side hustle when I see one, which is how I came to decide to investigate moneycrashers.com.
Making Money Writing For The Money Crashers Website
So in this post, we are going to take a look at this website to see if it actually could be a viable freelancing side-hustle. The first thing to look at is the site itself.
The Basics: What Is Money Crashers?
MoneyCrashers.com has been featured in such noticeable publications as CNN, Forbes, MSNBC, the Wall Street Journal, Yahoo!, and more. On their 'about' page, they say that their mission is 'to develop a community of people who try to make financially sound decisions.'
The purpose for their site seems to be a blend of community and education, and they mostly publish content based on the following topics…
Credit
Debt
Investing
Education
Insurance
Real Estate
Spending
Etc.
They also have a list of '11 Indispensable Principles Of Money Crashers' that seems to serve as a guideline for all of the content they publish. Here is a screenshot of what these principles look like.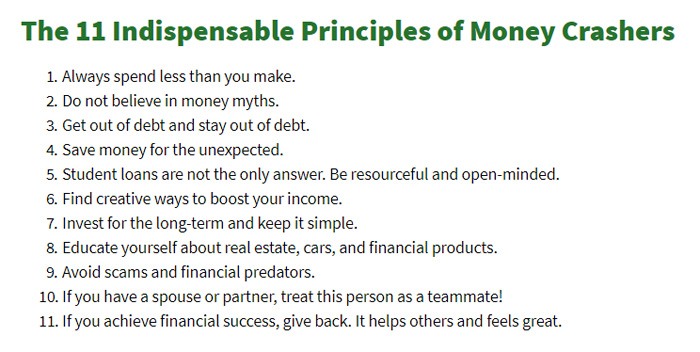 As you can see, this is all pretty common-sense stuff. But even more so than that, it actually speaks to what I have been looking into on my search for a quality side-hustle. They believe in paying down your debts, saving money for unexpected times, finding creative ways to boost your income, investing in the long-term, etc.
These are all things that are proven to help you achieve greater financial stability, and are paramount to what I constantly look at when I am looking for side hustles.
In fact, side-hustle opportunities fit right into the 'find creative ways to boost your income' principle, which is awesome. So as of right now, I was digging this site. This was right up my alley, and I had a feeling that I would actually enjoy reading it. I am honestly surprised that I have not looked at it before.
But what about the content? Is the content high quality, or are they mostly fluff pieces?
A lot of financial websites can easily fall prey to 'fluff' content, as personal finance is sort of an open-ended topic. So I decided that I would read a few pieces and figure out what kind of quality they tend to publish.
The Quality Of The Content On MoneyCrashers.com
I read through a few of the different articles published on the site recently, and was pleasantly surprised by what I found.
I found the content to be well-researched, sourced well, well-written, and also pretty entertaining! I read one article about how men and women tend to spend money differently that I was super-skeptical of at first, but it won me over because the author apparently put quite a bit of thought and research into the piece.
Granted, the articles tend to be pretty simple and, for the most part, are not very complicated. But I was impressed with the quality that went into them.
I feel like there is a reason for why this site is so popular. The content is good enough that even people with a more advanced knowledge of finances could learn things from it… so not only is it entertaining, but it also has some real information to offer.
But with that being said, what does it actually take to write for the site? I decided to take a look at the writer's guidelines, which I found linked-to at the top of the header under the 'Write For Us' tab.
Here is what I discovered.
Writing For MoneyCrashers.com
Here is a screenshot of what I found on this page.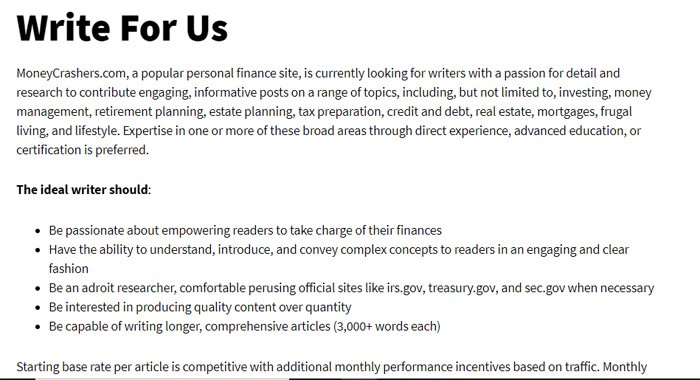 This is only the very top of the page. Beneath it, you will find a submission form and a bit more information about payment. So let's go over the most important details here.
The website is currently looking for writers, which is awesome for freelancers
Writers must have a passion for detail and research
It would also be best if the writer had expertise in an area of study covered by the site. In fact, certification is preferred, though not absolutely necessary.
The ideal writer would also be able to write long, comprehensive articles that are up to 3,000 words long, if not longer.
The ideal writer would also need to be able to research a variety of different trusted sources, to be sure that what they are writing is verifiable.
The starting rate per-article is 'competitive,' as described by the website, though an exact amount is not given.
There are also monthly performance incentives given based on traffic. These monthly payments are made either through PayPal or through direct deposit.
If you are interested in writing for this site, you need to fill out the online application.
It will work to your benefit if you can link to other articles that you have had published, though once again, this is not necessarily required.
From the sound of it, this is a pretty typical freelance-type situation. I am not surprised that they don't give out actual pricing on their web page, as a lot of sites like this do not openly advertise what they pay potential writers.
I will also say that this seems like a website that you would need actual, real knowledge to write for. You probably can't 'fake' pieces or articles on Money Crashers. The site seems pretty legit, so it would be in your best interest to have some financial experience before attempting to submit anything to them.
My Personal Feelings About Writing For Money Crashers
MoneyCrashers.com is most certainly a cool website, and it is a website that I think would be worth the time to write for. I am not sure exactly how much they pay, but then again, a lot of sites don't advertise this. But I do feel like it would be worth it to at least apply and try to find out.
I feel like this site may be difficult to write for if you are not at least pretty knowledgeable about financial topics. So if you are not up-and-up on one of the topics they usually cover, you might need to brush up before trying to write a piece (the same is true for Doctor of Credit, which takes a different approach to the topic of money).
If you have some kind of degree or certification in one of these areas, all the better. It sounds like they might pay more attention to writers who can prove that they are educated.
Also, don't forget that writing is never 100% certain. You may do a fantastic job and still get rejected. If this happens, don't give up. You can always try submitting the article somewhere else and crafting a different pitch for this site.
At the end of the day, it takes time, skill, and dedication to succeed as a freelance writer—which is why you may need to have either some incredible powers of focus, determination, or pure passion if you want to succeed and make decent money.
You may not get rich writing for websites like this either. But then again, there are jobs out there that can make you a lot of money—and websites like this can act as a stepping stone for larger projects that pay more. So that is also a good thing.
At any rate, if you are still interested in giving it a go with MoneyCrashers.com, then feel free to visit the site and submit an application.
Remember to always put your best foot forward, and remember that it may take a few tries to get something accepted. But if you don't give up, odds are good that you will likely succeed at some point!
Our Final Opion About Money Crashers
Should you apply and try to make money as a freelance writer?
There are a lot of ways to make money online. Some are good, some not, but ALL of them are still just trading hours for dollars.
Starting your own affiliate website really is the best way to build passive income and "make money while you sleep". Affiliate websites earn income in every timezone, and can be instantly accessed by billions of smartphones across the globe!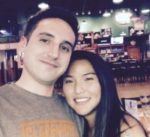 Nathaniell
What's up ladies and dudes! Great to finally meet you, and I hope you enjoyed this post. My name is Nathaniell and I'm the owner of One More Cup of Coffee. I started my first online business in 2010 promoting computer software and now I help newbies start their own businesses. Sign up for my #1 recommended training course and learn how to start your business for FREE!