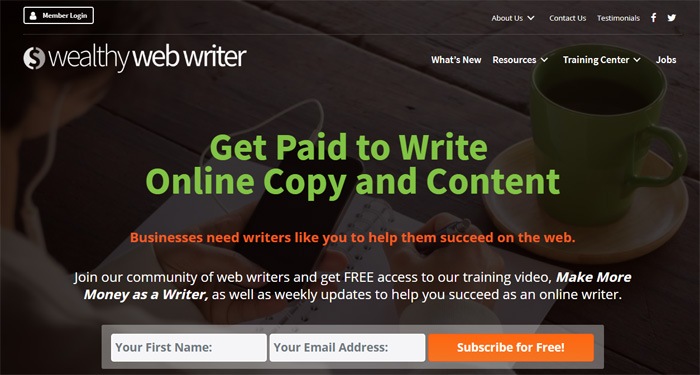 If you are an aspiring web content writer, then it is possible that you are looking to increase your earning potential by pitching to new and better websites. But can you really make money writing for WealthyWebWriter.com?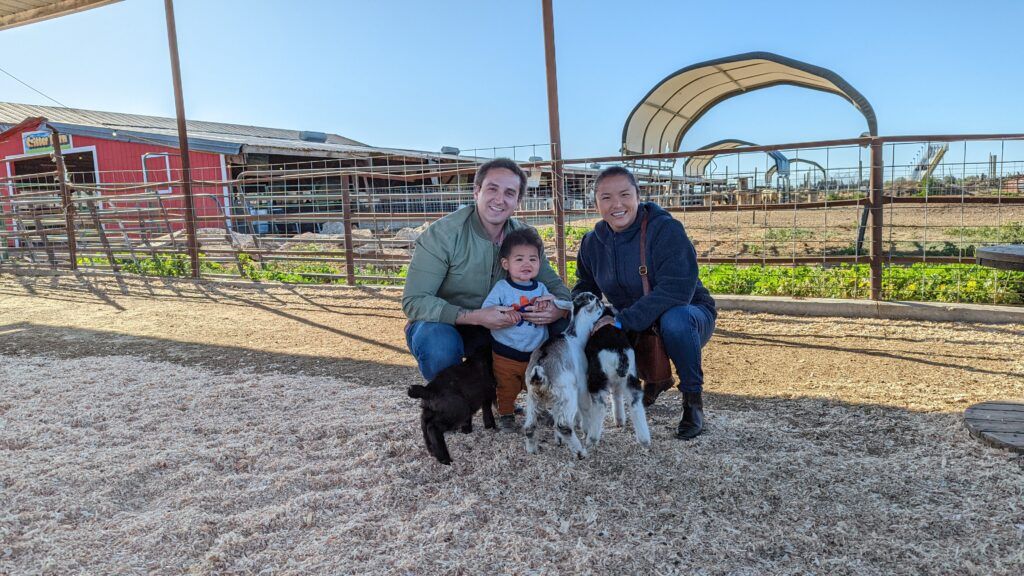 Are You Ready To Work Your Ass Off to Earn Your Lifestyle?
Are you tired of the daily grind? With a laptop and an internet connection I built a small website to generate income, and my life completely changed. Let me show you exactly how I've been doing it for more than 13 years.
I have done quite a bit of web content writing, and came across this website lately as I was looking for new and better ways to expand my content-writing side-hustle. I have found that writing money for websites can earn you some pretty serious cash—though it isn't always easy to find good writing gigs.
In fact, finding the gigs is probably the most difficult part of the entire process.
When I came across this website, I was pretty impressed with it. So let's talk for just a moment about what WealthyWebWriter.com really is.
Making Money Writing For Wealthy Web Writer
Let's start at the beginning: What is Wealthy Web Writer?
I came across this site when I was browsing a list of websites that will pay you to freelance write for them—and incidentally, this website happens to be about making money as a web writer. Of course, your pitch and article would need to be accepted before you can get paid, but the point here is that this website is focused on helping writers to make more money writing.
So there are two thing that you should know about this site right from the beginning.
Number one—if you have never made any money writing, it might be a bit tricky to write for this site and get your pitch accepted. Number two—I can tell you right now that this site only publishes really high-quality content, so if you want to get published on this site, you are going to have to crank up the 'quality level' to the top notch.
I am not actually 100% sure what this site pays its writers, but I do know that they charge their members to look at some types of content. Joining the site and their mailing list are free, but if you want full access to the entire site, you do need to pay to become what they call a Platinum Member.
Let's take a closer look at that.
Becoming A Platinum Member On WealthyWebWriter.com
I scrolled down the landing page a bit, and eventually ended up finding a link to the details about their membership program. I clicked on it, and was taken to this page.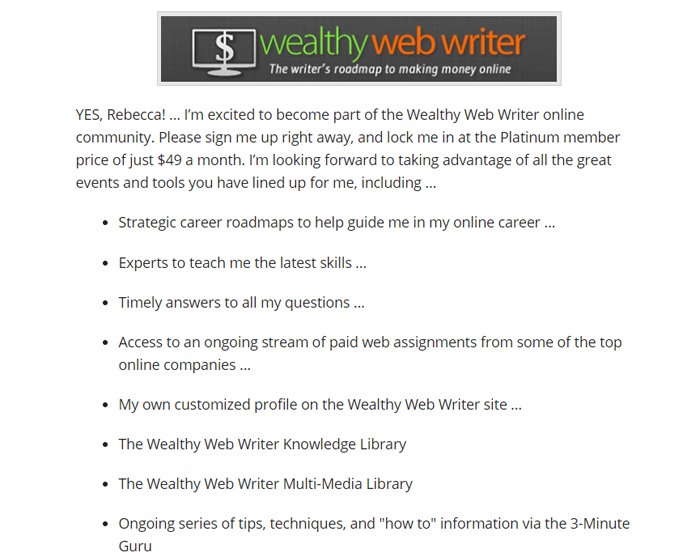 The first thing I thought to myself was "Wow! Becoming a member of this website is a bit on the expensive side!"
They will sign you up to be a platinum member for just $49 a month… which is kind of a lot at first glance, but to be honest, if the website does help you, it might not be that bad.
I looked through some of the content on the site, and was pretty impressed by what I saw. Some of the articles will only let you read the beginning if you are not a Platinum member—which I understand. I mean, that is the business that Wealthy Web Writer is in.
The content was well-done, though. I also felt like the website was very well-designed. I certainly didn't have any kind of a problem with it. In fact, I liked it more than I like the look of most sites. The dark colors and the minimalistic, clean look of the site really appealed to me.
But what about pitching to them? Let's talk about that next.
Pitching To WealthyWebWriter.com
Finding the portion of the site dedicated to writers who want to pitch is kind of difficult… but basically, you want to go here: http://www.wealthywebwriter.com/write-for-us/
Here is a picture of what the page looks like.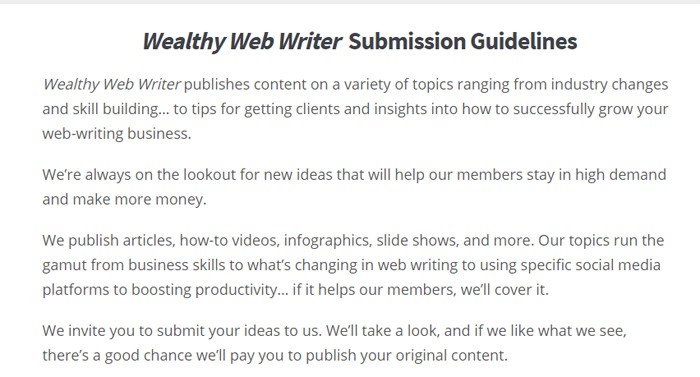 This isn't all of it, but this page basically outlines the process for submitting articles. As you can see, you do not necessarily have to be a 'member' to pitch to the site, though I did sign up as a member before I tried pitching to them.
I actually did pitch an article to them, though I only did so about three days before writing this review—so I cannot say for sure how easy or difficult it is to get published. They don't post their payment information on the page, so I have no way of knowing how much they pay writers for their work.
But judging by how the rest of the site looks, I feel like it is safe to make two assumptions about it in regard to this.
I feel like new and/or inexperienced writers might actually tend to move along instead of pitching when they realize that the payment info is not listed on the contributor page, and that the entire point of the site is to teach other writers how to get paid as writers. I find that many new writers looking for a quick buck want to know that their effort is not going to be wasted, and are usually less willing to take risks like this.
I feel like more experienced writers will be pitching to this site a lot, because it actually shows a lot of the signs of being a website that pays its writers quite a bit.
I feel like it is also worthwhile to mention that you do not write the article before pitching it. Instead, you write a query and pitch to them that way. So if you are not familiar with how to write a good query, you might want to Google that and learn the ropes!
On a technical level, pitching to WealthyWebWriters.com was easy. You just have to choose a category to pitch to, fill in the information, and send it off. Finding the list of categories was actually kind of a challenge, and it took me a while to figure out what category my article pitch would fall under.
But after a bit of browsing, I was able to locate it.
Some Tips On Pitching To Websites As A Freelance Writer
If you really want to earn extra money and freelance-write as a side-hustle, then it is really important not to put too much energy into one query.
Yes, do your best and pitch as well as you can. But some writers have this tendency to keep checking their email, wondering why they haven't heard back, wondering if they are ever going to hear back, worrying, stressing, feeling like they wasted their time, etc.
This is understandable to feel at first, but you will not make any money if you let it happen! Once you pitch, move on and pitch to more websites.
That is the best way to make money as a freelance writer. You need to pitch to as many different sites as you can. Pitch to one, two, five, or even ten websites every day. The point is that you need to really put yourself out there if you want to get noticed.
For example, if you're interested in content writing for websites, RankPay is one site that you could pitch to. Or, if you're interested in movies, what about Screen Rant?
The best way to get started is just to start, put in a lot of effort, stay consistent, and learn from your mistakes.
My Personal Feelings About Writing For WealthyWebWriter.com
Personally, I really liked this website. I feel like there is actually a lot of money to be made, so I am pretty excited about the query I sent in. I pitched a pretty generic article to try the waters first, and my plan is to wait for two weeks (which is how long they say it takes them to respond if they are interested), and then pitch something a lot more specific the second time around, if I don't hear anything back.
Yes, I am totally fine with pitching more than once. In fact, I kind of expect that to happen when you are learning how to get into a new writing gig. Most of my successful projects have followed right on the heels of failed projects, because failing gave me the knowledge I needed to try again for the win.
Writing is hard work, there is no way around it. And yes, it can be discouraging to get pitches, queries, and/or entire articles rejected. But it is also important not to think of the time spent on these things as 'by the hour' time.
Instead, think of them as steps that result in payment at the end… and that if you keep working and getting better, the number of steps you have to take before you get paid will get smaller and smaller, making the task both easier and more profitable.
Writing as a side-hustle may never make you super-wealthy, but it can absolutely help you to make some extra cash—and at the end of the day, that's what it's all about; leveraging your skills to make some extra money that you can use to either build a business, pay down your debt, or keep the lights on.
Our Final Opinion Of WealthyWebWriter.com
Should you pitch to them and try to make some extra money as a web content writer?
There are a lot of ways to make money online. Some are good, some not, but ALL of them are still just trading hours for dollars.
Starting your own affiliate website really is the best way to build passive income and "make money while you sleep". Affiliate websites earn income in every timezone, and can be instantly accessed by billions of smartphones across the globe!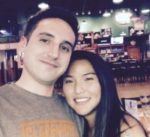 Nathaniell
What's up ladies and dudes! Great to finally meet you, and I hope you enjoyed this post. My name is Nathaniell and I'm the owner of One More Cup of Coffee. I started my first online business in 2010 promoting computer software and now I help newbies start their own businesses. Sign up for my #1 recommended training course and learn how to start your business for FREE!