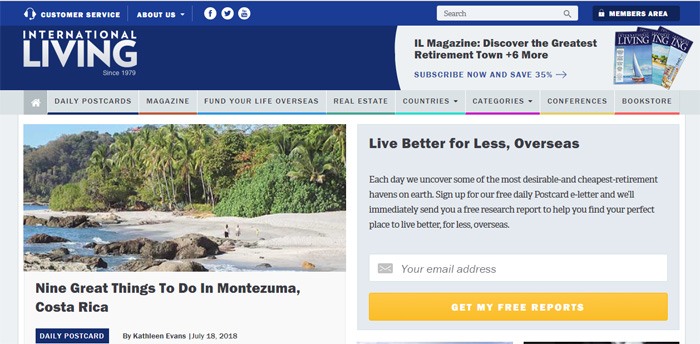 I love to write. I also love to travel. I also love making extra money. So it really shouldn't come as a surprise to anyone that I ended up coming across this website! But can you really make money writing for InternationalLiving.com?
Making Money Writing For InternationalLiving.com
To begin with, what is InternationalLiving.com? This is a website that is basically about traveling. In fact, on the landing page, they give you this little blurb right before they ask you for your email address.
"Each day we uncover some of the most desirable-and cheapest-retirement havens on earth."
That pretty much sums up exactly what they are doing here on IL. But of course, my goal was to figure out if I could actually make money writing for them.
I found this website on a forum where I often browse, looking for websites that pay for freelance writing work. Someone posted about this one, and I instantly found myself excited about it. I LOVE to travel.
I love the idea of seeing new places and experiencing new things. I love the idea of recording my experiences on my laptop. And of course, I also love the idea of making a little bit of extra money at the same time.
But is it really that easy?
Freelance Writing: Is It Really That Easy?
Before we jump right into talking about InternationalLiving.com, let's talk for just a minute about freelancing. Freelance writing is not the golden ticket to fame and riches.
It is very unlikely to allow you to quit your day job unless you put a LOT of energy into it and focus very intently on growing it as a business.
I have been freelance writing off-and-on, as a side-hustle, and sometimes full-time, since 2009. And I have actually found that it does pay pretty well if you set your mind to it and keep working toward it.
I have had articles accepted, and articles rejected… and I still sometimes face rejections, even to this day, with all of my experience.
The truth is that the writing game is competitive. Everyone wants to do it, so you need to work hard to get noticed.
Everyone wants to get paid to be a freelance writer. Granted, really good writers are somewhat statistically rare, but still—they are all competing for a piece of the pie.
And this is partly why it is so difficult to break into the industry. For most of your freelance writing career, you are going to have to grind and hustle your way to every dollar by writing and pitching a ton of articles.
That's it. That's the game. You research websites that pay writers, pitch to them, write content, and get paid… IF the submission is accepted.
And then you repeat that process as often as you would like to get paid. The more you write, the more money you will make.
So how does InternationalLiving.com fit into this?
Well, as it turns out, this website actually does pay you to write content. So I decided to give it a try.
Here is what you need to know.
The Basics: Taking A Closer Look At InternationalLiving.com
This is most definitely a travel website, and they seem to place a special focus on retirement havens. They publish content on their website in a bl0g-esque style, including their daily postcards… of which they publish one or two per day, from the looks of it.
These postcards are basically articles written by people who are living abroad, and are specifically based on the locations that these people are living in. For example, the latest article in this section was titled 'Nine Great Things To Do In Montezuma, Costa Rica,' and so on.
There is obviously a huge market for writers here. But in order to really match what this website is looking for, it looks like you would need to be traveling abroad. And even then, it is possible that you would be limited in how much you could contribute, based on how often you moved around.
But… I still didn't know the specifics about what it took to become a contributor for this publication, so that is something that I decided to look into next.
Contributing To InternationalLiving.com
Finding the 'Write For IL' page was easy. You just hover your cursor over the 'About Us' tab, and then scroll down to it. Here is what the top of this page looked like.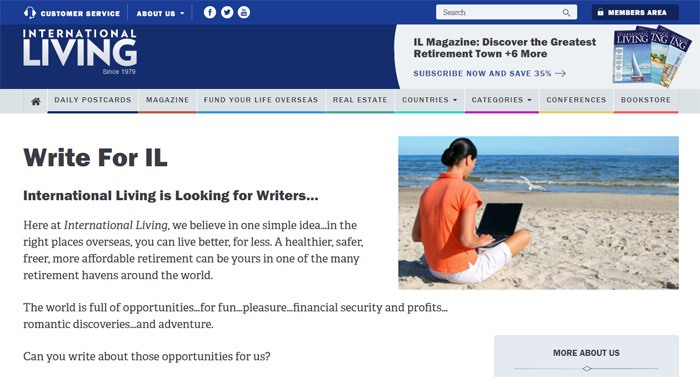 As you can see, they are currently looking for writers. They also say that they believe in one simple idea… 'in the right places overseas, you can live better, for less.'
Here are some of the more important details that I learned while looking over this page.
They publish new content every day
They are not necessarily only looking for professional writers. In fact, they say that they are more interested in what you have to say than in how you say it.
They are looking for authentic stories about overseas travel that are natural and organic
They like stories that are told as they would be told to a friend
Submitting an article idea is pretty easy on this site. You just submit your well-developed ideas and articles to their email address.
You are basically submitting a post-card-style article (as you can read in the postcard section of the site) when you submit articles to this site
You get paid a one-time rate of $75 if they use your postcard. You can also include photos, but they are not a requirement.
They also offer writers the chance to write for their monthly publication, which is called International Living Magazine. For this, there are writers guidelines linked-to on the 'Write For IL' page.
There is also a lot more offered on this page. There is a section talking about what their readers want, there is a section talking about what their editor is looking for, and there are tips for getting your work published on the site as well.
So yeah. This was all pretty interesting. I also liked how the website was designed. The style and lettering was really cool. I liked the photos and the general, overall feel of the site. I felt like it was neatly done and comfortable to read.
Two thumbs up so far!
If you are trying to fund your life overseas, this website also publishes a free E-letter called 'Fund your Life Overseas,' which is basically a publication with information that will help you to find better ways to earn a remote income.
InternationalLiving.com actually offers a lot, despite the fact that I saw a few typos as I was reading through some of the content. But at the same time, the content was mostly very nicely written and well-done.
I enjoyed it mostly for the content matter, though. I really do love the idea of traveling, and while I live in the U.S. and mostly just travel within it, I would love to be able to travel abroad and write for a site like this one day.
Since I am not currently traveling overseas, I am probably not eligible to write for this publication. But if you do fit the criteria, this could be an awesome way to earn some extra cash while also writing about something that you love.
My Personal Feelings About Writing For InternationalLiving.com
Personally, I really liked this site. Of course, as I said before, I may be a bit biased. I love the idea of traveling, and that is exactly what this site was all about.
But they also offer a very decent payout per article… and the fact that they publish content daily means that you have a better chance of getting published than you would if they only published a couple of times per week.
You would also be more likely to get published if your article was about a really exotic or interesting place (hence why I am not going to try writing for this site).
It sounds like you could even contribute to this site if you wrote about your vacation spot, which is pretty awesome!
Writing for a website like this will not make you rich. But it will earn you enough to possibly make some extra side-cash, and that is nothing to be scoffed at. At $75 a pop, they pay pretty well for articles—and that is a huge bonus!
So yeah. If you fit the qualifications and feel like you have something to offer, I would absolutely recommend that you give it a try!
If you have the traveling bug, there are other sites that you can write for too. InTheKnowTraveler.com is one example. Another is OpenRoadJourney.com, which is all about motorcycles, including traveling on motorcycles. WestJet Magazine also offers the chance to write about some aspects of traveling.
Our Final Thoughts About Writing For InternationalLiving.com
Should you pitch an article to this site and try to make a bit of extra money as a freelance writer?
There are a lot of ways to make money online. Some are good, some not, but ALL of them are still just trading hours for dollars.
Starting your own affiliate website really is the best way to build passive income and "make money while you sleep". Affiliate websites earn income in every timezone, and can be instantly accessed by billions of smartphones across the globe!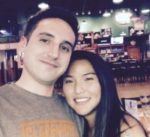 Nathaniell
What's up ladies and dudes! Great to finally meet you, and I hope you enjoyed this post. My name is Nathaniell and I'm the owner of One More Cup of Coffee. I started my first online business in 2010 promoting computer software and now I help newbies start their own businesses. Sign up for my #1 recommended training course and learn how to start your business for FREE!