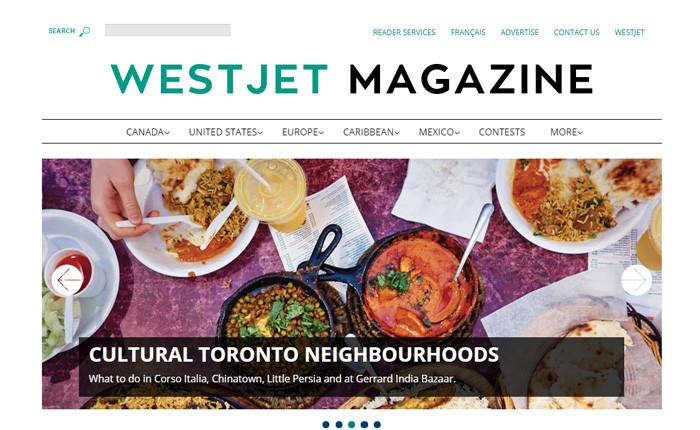 I found this website on a list of sites that supposedly hire freelance writers, and was intrigued right from the beginning. Word on the street is that this website publishes both an online and an offline magazine… but can you really make money writing for WestJet Magazine?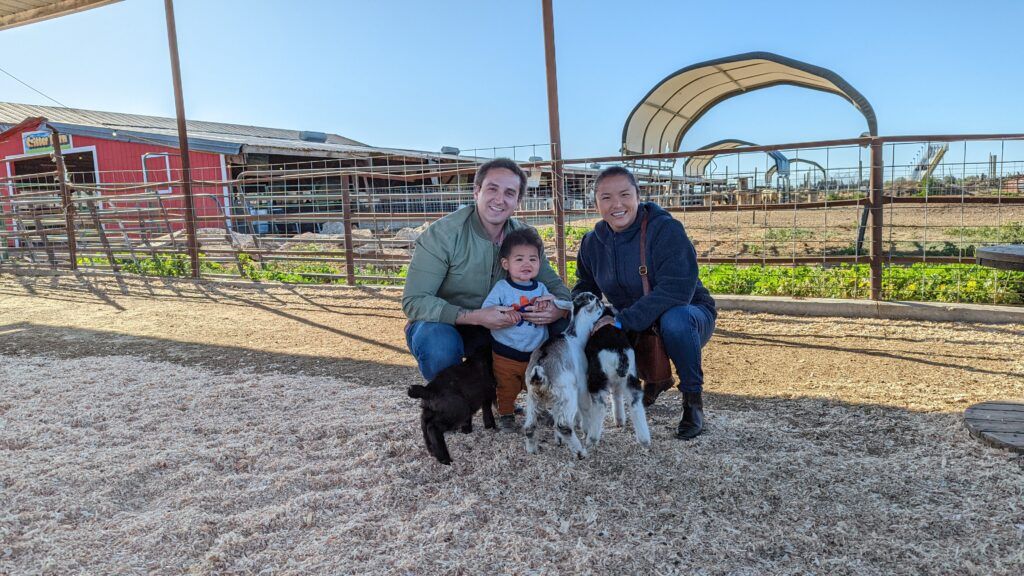 Are You Ready To Work Your Ass Off to Earn Your Lifestyle?
Are you tired of the daily grind? With a laptop and an internet connection I built a small website to generate income, and my life completely changed. Let me show you exactly how I've been doing it for more than 13 years.
You can find this site at www.westjetmagazine.com. In my continued search for websites that I could potentially write for, this one popped up and really grabbed my interest.
Freelance writing is a skill that has helped me to build a pretty decent side-hustle as of late, and I have learned that growing my base of websites to pitch to has really helped me to increase the return on my effort.
Freelance writing is most certainly an awesome way to earn extra money—though it is important to understand that it is not without its difficult moments. Freelancing is challenging, in a number of different ways, and it can take practice to become successful at it.
You may find that some of your articles get rejected in the beginning, until you get the hang of it—and you may even find that some websites are not a good fit for you, despite how well they may seem suited to your writing style.
It takes determination, flexibility, and perseverance to make it as a freelancer in today's world—but the good news is that there are countless websites out there that are willing to pay for content. And they actually pay pretty well!
But is WestJet one of these sites?
Here is what you need to know.
Making Money Writing For WestJet Magazine
Let's start with the basics. What exactly is WestJet Magazine?
WestJet Magazine is, to put it simply, a travel magazine. They publish their content both online and in an actual printed magazine, and it costs money to subscribe to the service.
You can read the content on the website for free, but if you want to buy the offline magazine subscription, it will cost you either $10 per magazine to buy them one-at-a-time, or $26.75 to get 12 issues over the course of a year.
You can also buy a 2-year subscription for $42.75, or view the publication on your computer or mobile device for free, though you have to download it in order to read it.
I will admit that I was surprised that you could view the online version for free. Usually, magazines like this will charge you for this kind of thing. But whatever. A good thing is a good thing, right?
As I looked more closely at this website, I became aware of the fact that it seemed dedicated to worldwide travel—to the point where you could almost find content about any major travel destination in the world by looking through it. In fact, you can look through the articles on the website based on location if you choose to, which is pretty awesome.
(I learned later that they only publish content related to actual WestJet locations… but we will talk more about this in a little bit.)
They seem to publish a lot of content on the website, and of course, they also publish the magazine—so it certainly seems like this site has the need to keep writers on-staff so that they can keep up with their content creation needs.
My Initial Opinion Of The WestJet Magazine Website
I will be the first to admit that I am not usually super-interested in travel websites. I do love the idea of traveling. But surprisingly, even though my work is mobile, I do not actually travel a lot.
But that also doesn't mean that I don't want to travel, either. I love the idea of going to new places and seeing new things.
I also love the idea of meeting new people and spending time in places other than where I live. So it goes without saying that I would like to travel more than I do.
But this website definitely inspired the wanderlust inside of me. I liked this site because it really did make me want to travel even more—and traveling is obviously a very good thing!
With that being said, I liked how the site was designed. It was simple, professional, elegant in style, and definitely wasn't overly cluttered or distracting. There were a few banner ads on the site, but even these didn't really stand out to me as much.
My next step, therefore, was to read through some of the content, just to see what kind of articles they tend to publish.
Here is what I found.
Checking Out The Content On WestJet Magazine
Checking out the content on WestJet was actually a pleasure. The articles all seemed focused on their topics, informative, and very well written.
I will admit that some of it was a bit on the 'dry' side. But then again, unless you are reading about something that you actually want to learn about, this can often be the case, and I do not see it as the fault of the magazine.
What I did learn, however, was that anyone attempting to write for this magazine would need to have quite a bit of knowledge about their topic.
This is most definitely not a website that publishes 'fluff' content, and I feel like the best candidates for this site would likely be people who want to write about tourist destinations/travel destinations that they either know very intimately, or have traveled to themselves. It could potentially also be a great place for professional or very experienced travelers to share their knowledge.
But what does the site pay? And also, are they even looking for other writers at the moment?
Here is what I discovered.
Writing For WestJet Magazine As A Freelancer
Finding the 'Write For Us' page was as easy as scrolling to the footer. Here is a screenshot of the page that greeted us when we arrived.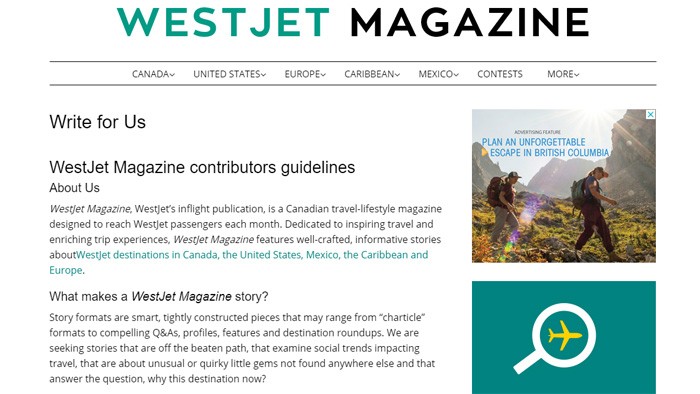 We actually found quite a bit of useful information here… more than we expected.
First of all, we found out that WestJet Magazine is actually WestJet's inflight publication, which is even cooler than this just being a travel magazine. But… as such, they also obviously demand a certain level of quality, which makes sense—because everything we read on the site was pretty well done.
They talk a bit on this page about how to craft the kind of story/feature that the magazine would buy, but I would recommend visiting the site to read this. There is a lot of good information here… much more than I could hope to convey in just one article about it.
Just trust me when I say that they do have a pretty structured idea of what they are looking for.
When pitching to the magazine, they also ask you to read some back issues so that you can get an idea about how they like things written. This will also help you to plan out which department to target.
You also need to make sure that any destination you will be writing about is a WestJet destination.
They review pitches on a regular basis but do not usually get in touch with writers if they do not accept their pitch. They also ask you not to call or follow up with queries.
If you pitch and don't hear from them within a month, they say that you can feel free to submit your pitch to a different publication.
If you do submit a pitch, you should include a one-page query letter, all of your contact information, and a list of locations where the editors can view your previously published work.
The site does not make any mention of payment in this section, but that is not so unexpected. Websites that pay freelancers rarely post their payment information online for everyone to see.
My Personal Feelings About Writing For WestJet Magazine
This website and the offline magazine that the company publishes are both obviously very high-quality publications, and any writer with a passion for travel would do well to pitch to them.
Keep in mind, though, that this is a competitive environment. You are going to have to bring your A-game as a writer, and even then you may need to try more than one pitch before you get a bite.
Remember that jobs like this take work and dedication, but that they can really be worth the time if you are committed to making extra money as a freelancer.
You won't get rich writing for websites like this, but they can be an awesome stepping stone to bigger and better things and can give you much-needed writing experience that you can use in the future.
For those interested in travel, there are other websites that you can write for too, including InTheKnowTraveler.com and InternationalLiving.com.
Our Final Opinion About Writing For WestJet Magazine
Should you try to pitch an article to this publication to make some extra money?
There are a lot of ways to make money online. Some are good, some not, but ALL of them are still just trading hours for dollars.
Starting your own affiliate website really is the best way to build passive income and "make money while you sleep". Affiliate websites earn income in every timezone, and can be instantly accessed by billions of smartphones across the globe!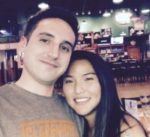 Nathaniell
What's up ladies and dudes! Great to finally meet you, and I hope you enjoyed this post. My name is Nathaniell and I'm the owner of One More Cup of Coffee. I started my first online business in 2010 promoting computer software and now I help newbies start their own businesses. Sign up for my #1 recommended training course and learn how to start your business for FREE!